Halloween without candies is like Christmas without cake. It's for these candies, children dress up in their best costumes and visit every house in the neighborhood for trick or treating. And for all these efforts, they definitely deserve some treats. If you're planning to make the Halloween candies at home rather than going for the same old store bought ones, you've come to the right place. We've included not just candy barks, but even truffles, meringues and pretzels so that kids can enjoy different treats. So take a look at our list below and shortlist your favorite Halloween candy recipes.
26 Scrumptious Halloween Candy Recipes
Skewered Eyeballs: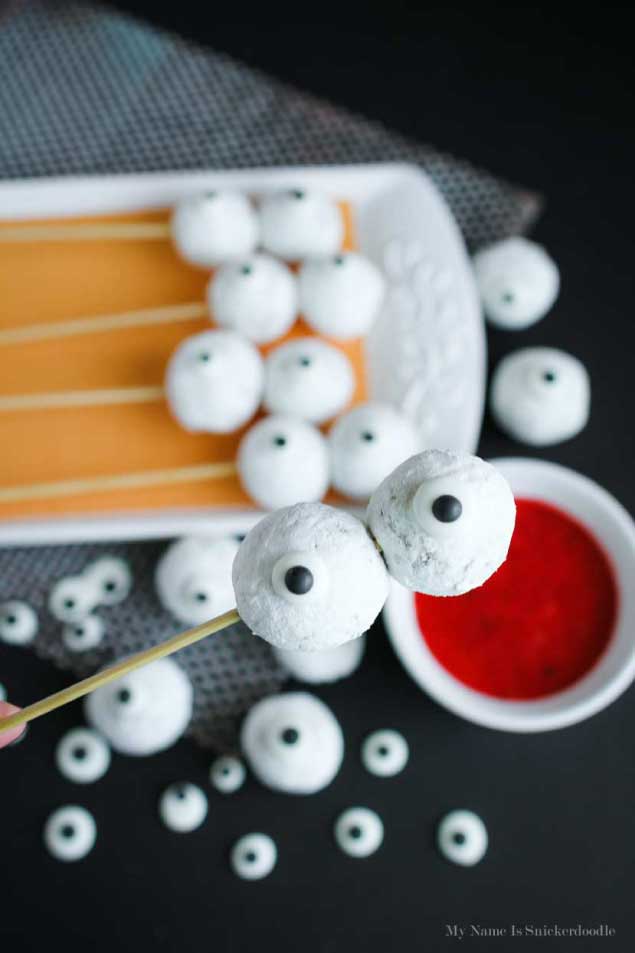 These skewered eyeballs have the right amount of quirkiness and gross, and tastes amazing. It's simple, inexpensive and is best made with children.
Goblin Truffles: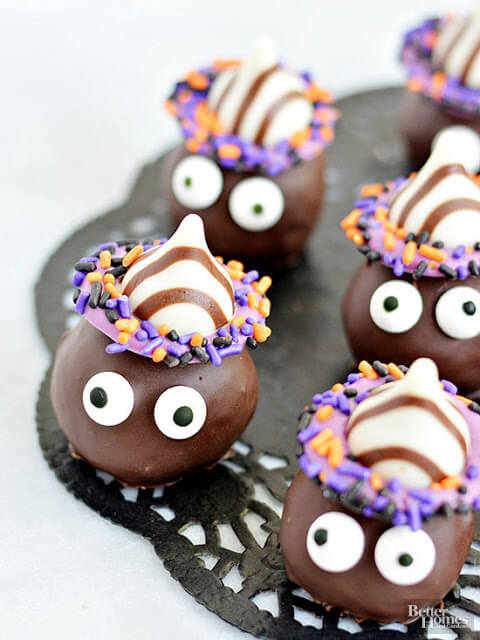 Have you seen such cute goblins before? We bet you haven't! These cute goblins require just three ingredients, cream cheese, chocolate sandwich cookies and melted chocolate for coating.
Cookie Pops Nutter Butters Mummies: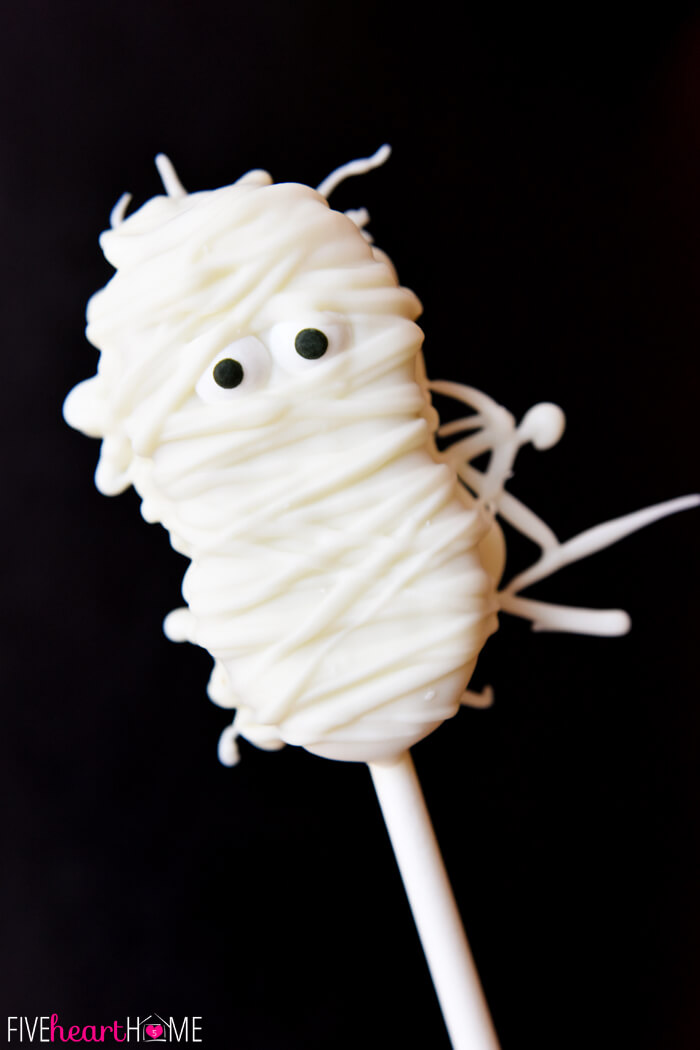 The shape of Nutter Butters can help make a number of fun creations, including these cookie pop mummies. You just have to prick a stick inside it, coat in white chocolate and add googly eyes.
Candy Corn And Orange Oreos Candy Bark: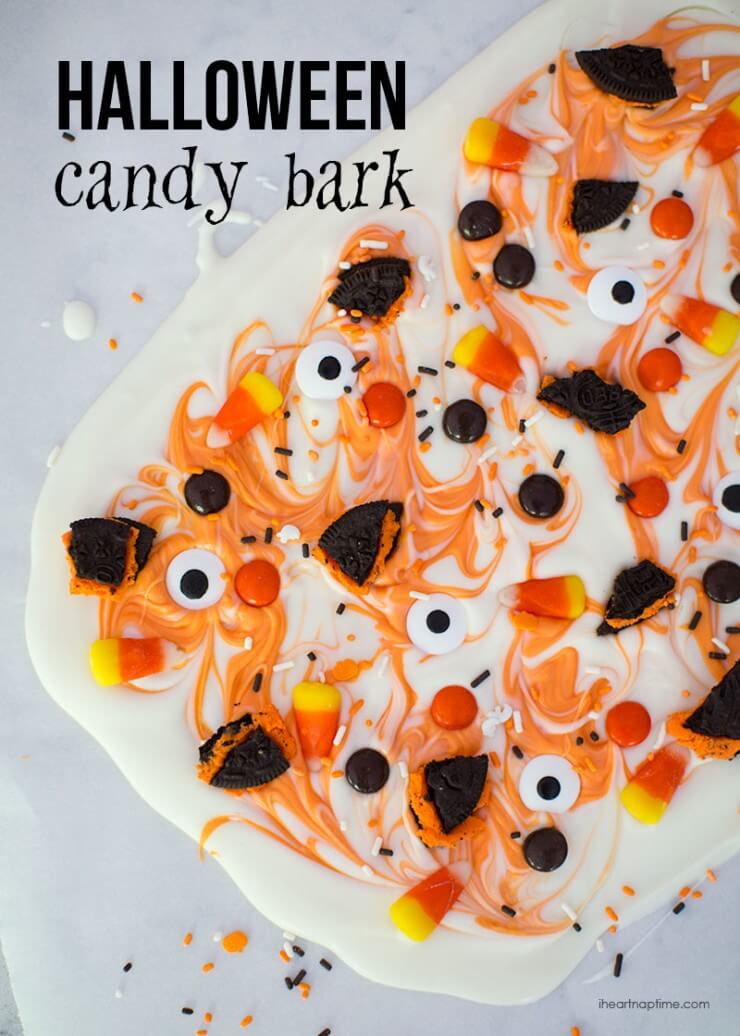 This easy to make Halloween bark can be easily customized as per your child's liking. We feel broken pretzels will make an excellent addition if you like a sweet and salty combination.
Frankenstein Marshmallow Pops: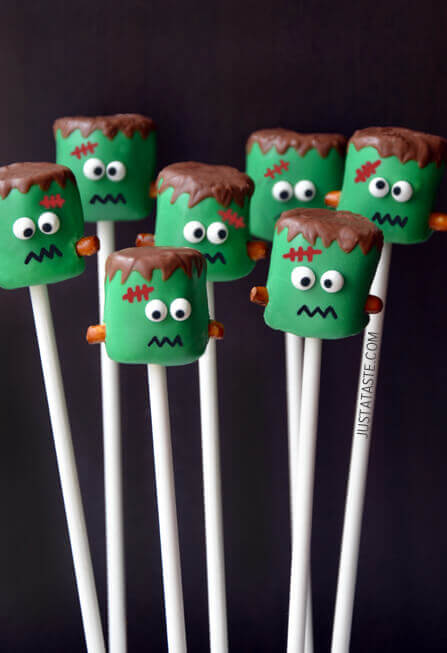 These marshmallow pops may freak out you all with its detailing, but it's actually quite easy to make. First coat the entire marshmallow in green candy melts, then give a chocolate coating for the hair and ad the detailing using the marker.
Eerie Eyeball Pretzel Rods: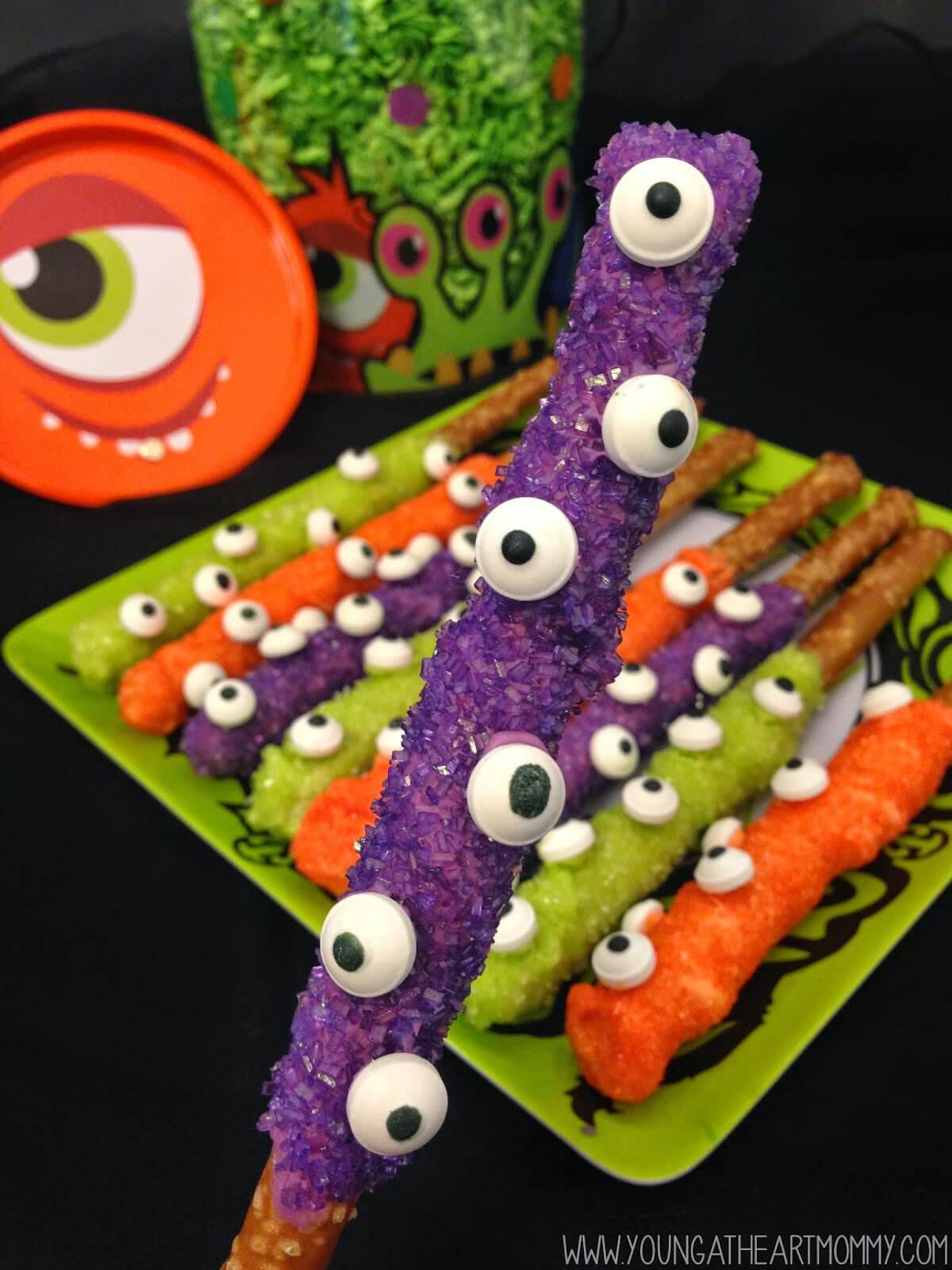 Sparkling sugar crystal is the main ingredient required for creating these amazing pretzel rods. All these eyes can perfectly creepy and you can even wrap them individually for each kid.
Pumpkin Patch Candy Bark: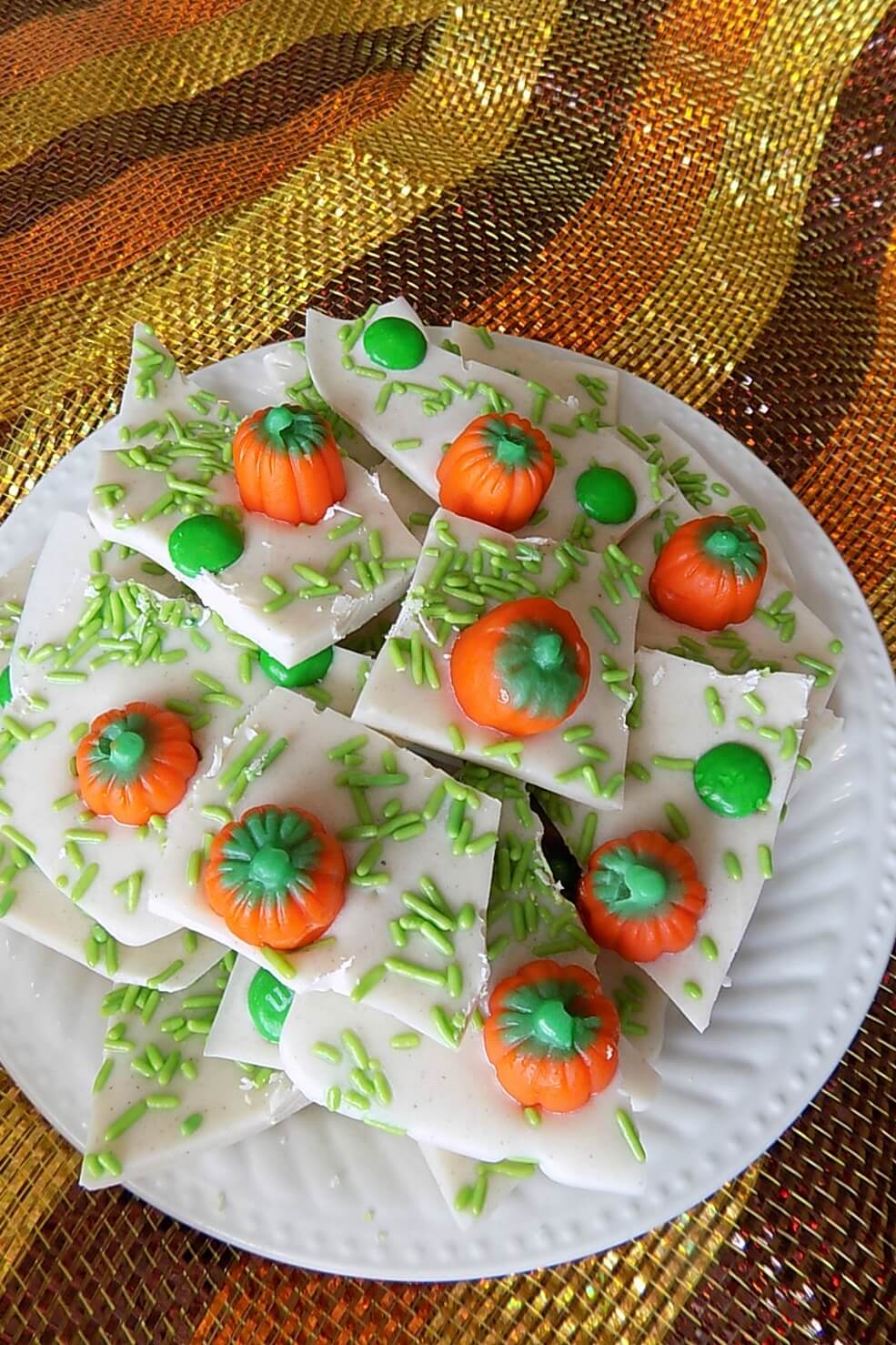 These are the most uncommon and beautiful looking candy barks we've come across. It's made to give it an appearance of a pumpkin patch and we must say it looks beautiful.
Jack Skellington Chocolate Apples: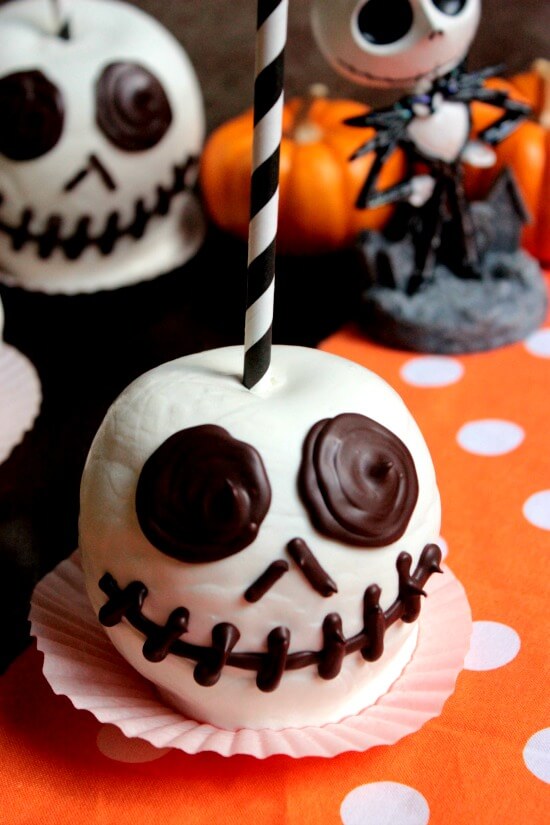 These apples actually look like Jack Skellington from "Nightmare Before Christmas", isn't it? And It's so easy to make that even an elementary school goer can make it.
Witch Finger Pretzel Rods: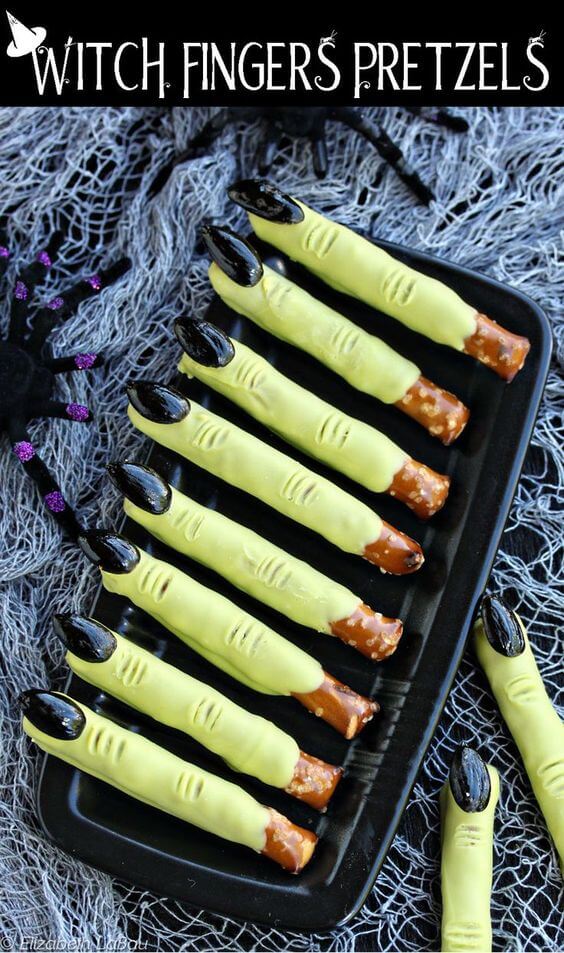 Kids, especially the little older ones are going to love this sweet salty and creepy Halloween treat. The detailing is absolutely fantastic and even you should aim to make something along the lines.
Monster Pretzel Bites: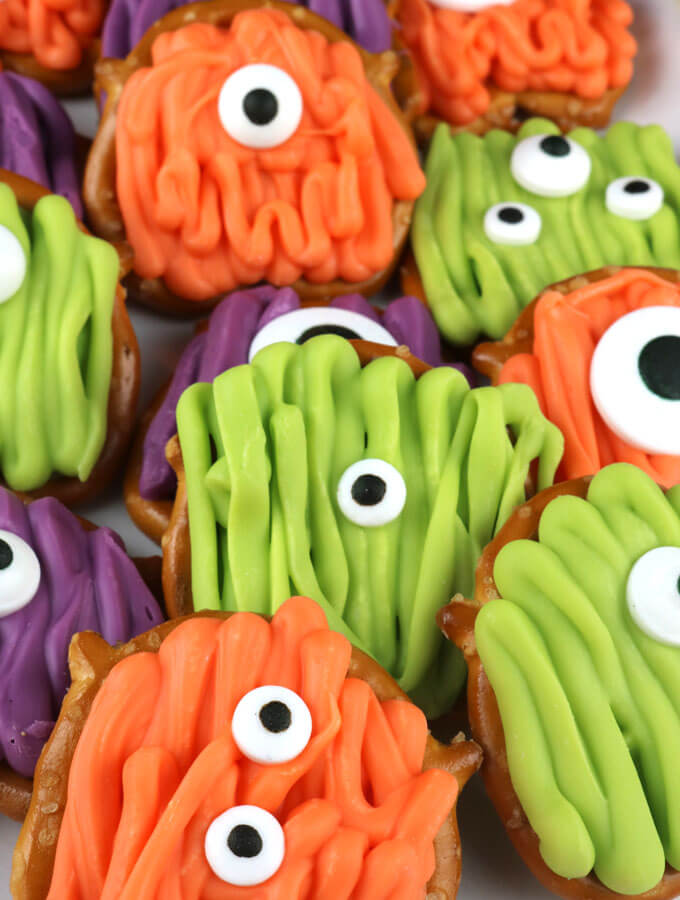 You'll need colorful candy melts, pretzels and googly monster candy eyeballs for making this masterpiece. We guarantee you that it will be a huge hit with the children.
Monster Mash Halloween Bark: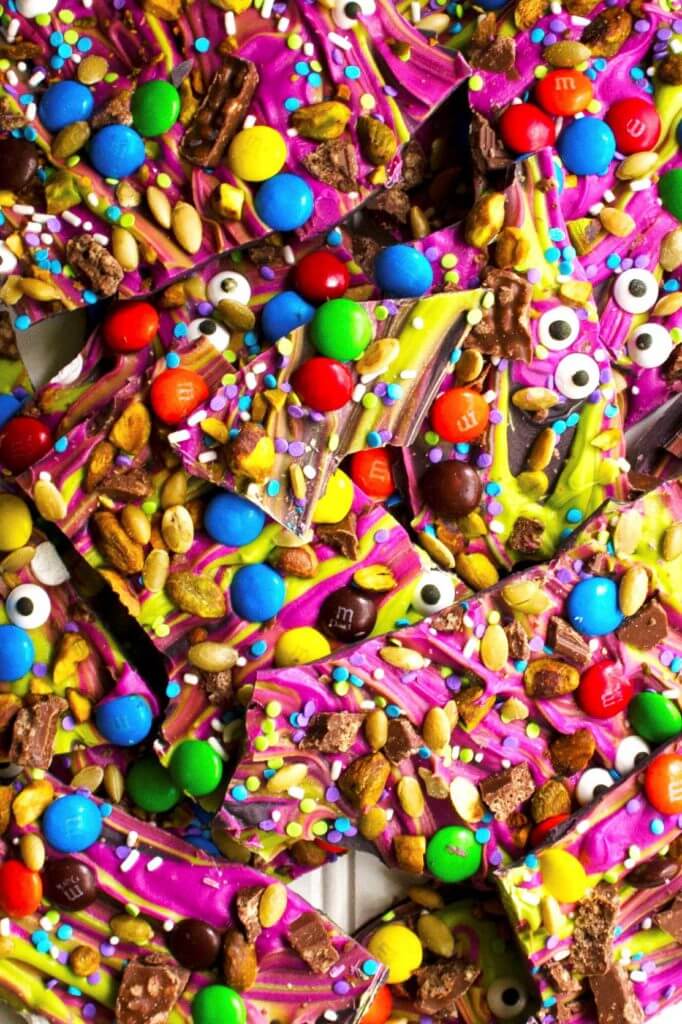 Do you think anyone can child can get scared of this Halloween bark? We think they'll merrily devour it. It looks so delicious after all.
Worms And Bugs Candy Bars: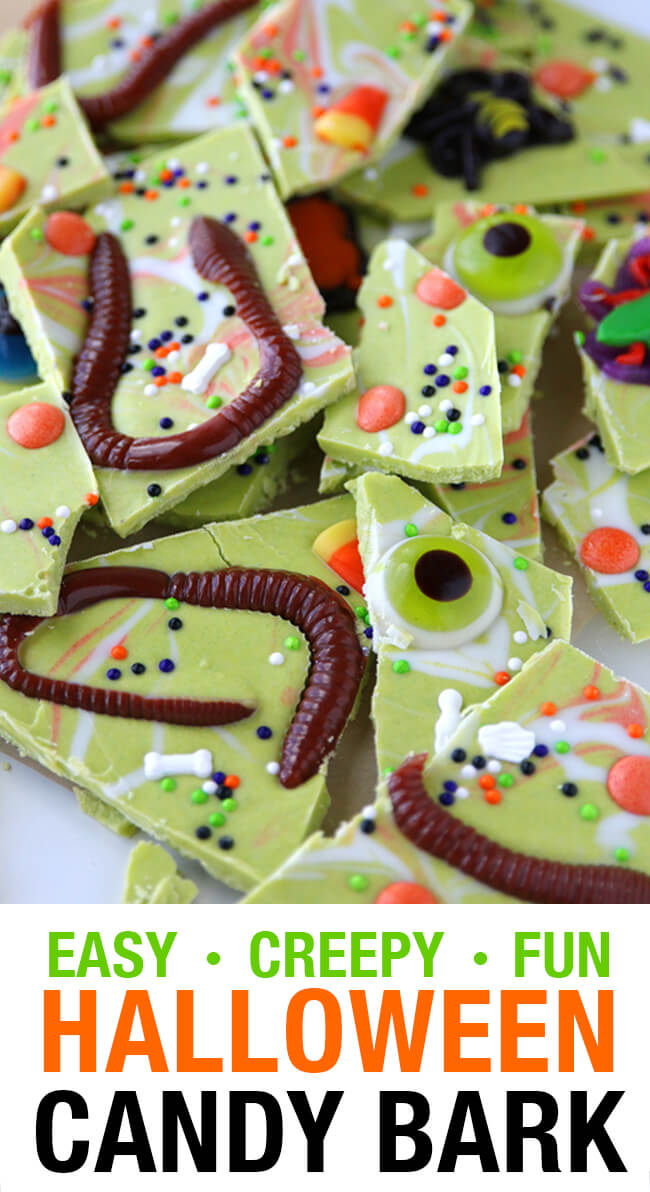 The worms in this candy definitely look icky and real. And the eyeball gummy candy is elevating the horror quotient even further.
Halloween Candy Bark: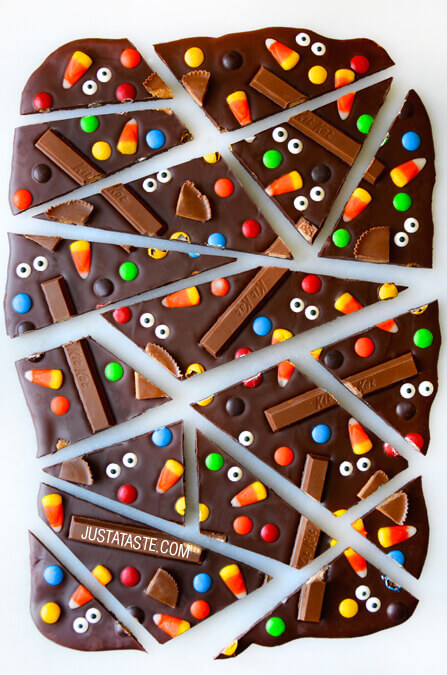 Here's Halloween's perfect answer to the peppermint barks, which are rampant during Christmas. It has so many elements that you'll get a burst of taste in your mouth.
Halloween Ghost Chocolate Bark: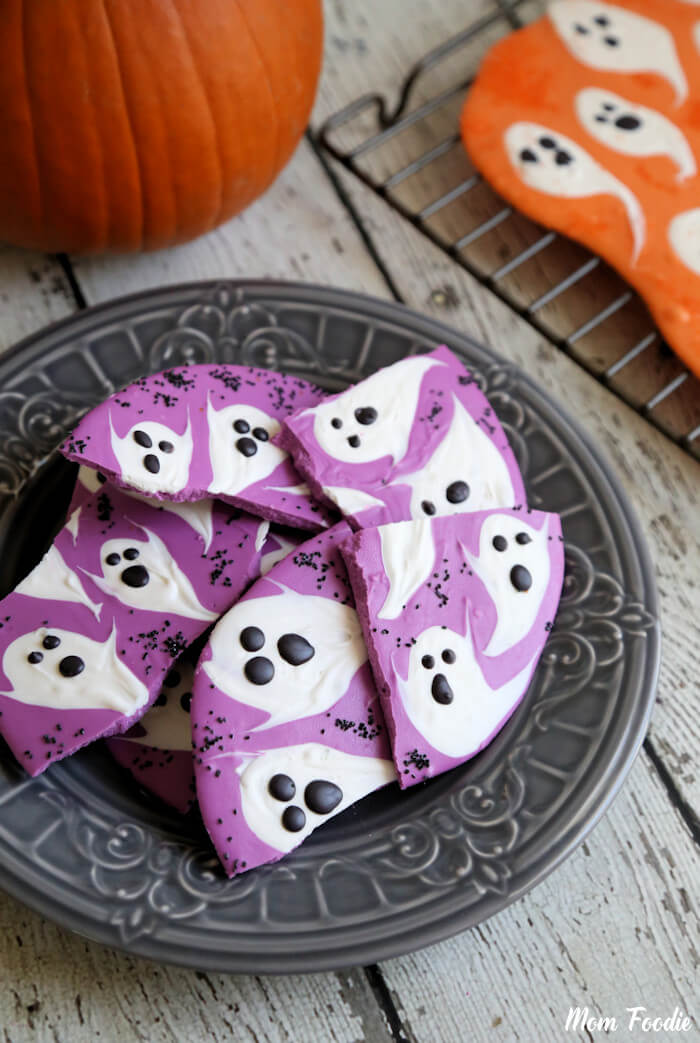 More than anything else, we love the Halloween colors used for making this bark. It's looking so neat, clean and fresh. Another great thing is that you don't even need any fancy equipment for making this bark. Just some candy melts and kitchen items will give you this beautiful bark.
Ghastly Candy Barks: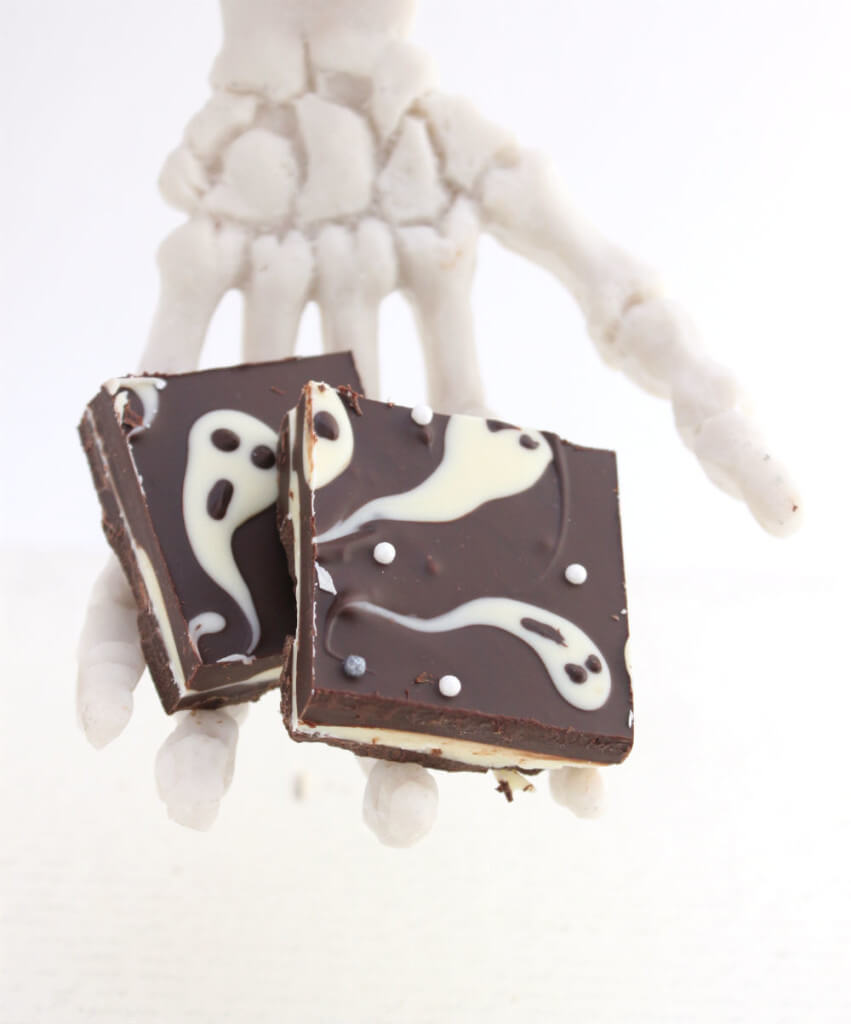 The name of this bark may have ghastly, but we are, not even slightly scared of these barks. We feel that it will taste delicious, more because of the white chocolate filling.
Mini Bat Treats: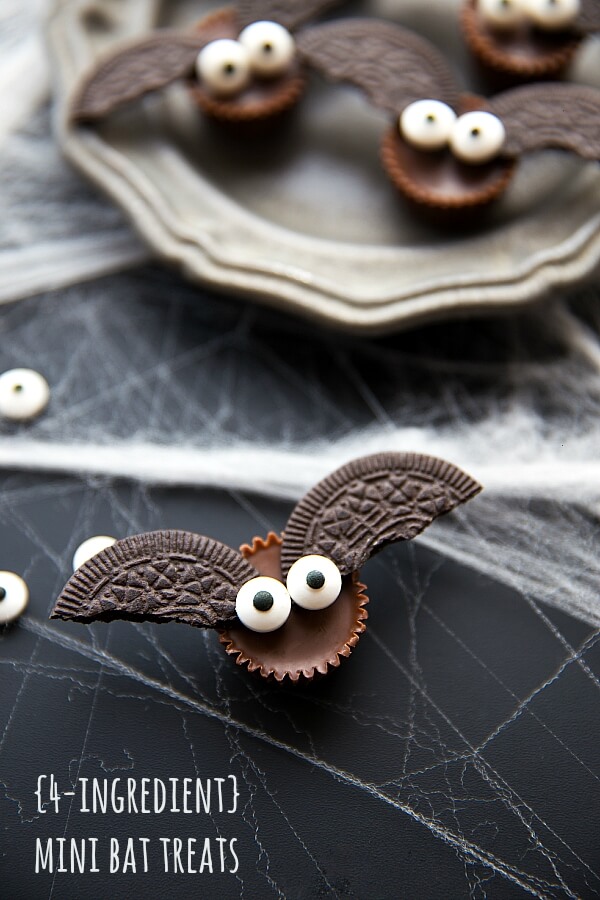 These mini bat treats take not more than a jiffy to come together and look absolutely amazing on the plate. The taste might not be anything unique, but the presentation will definitely attract children to it.
Candy Filled Cauldron Cookies: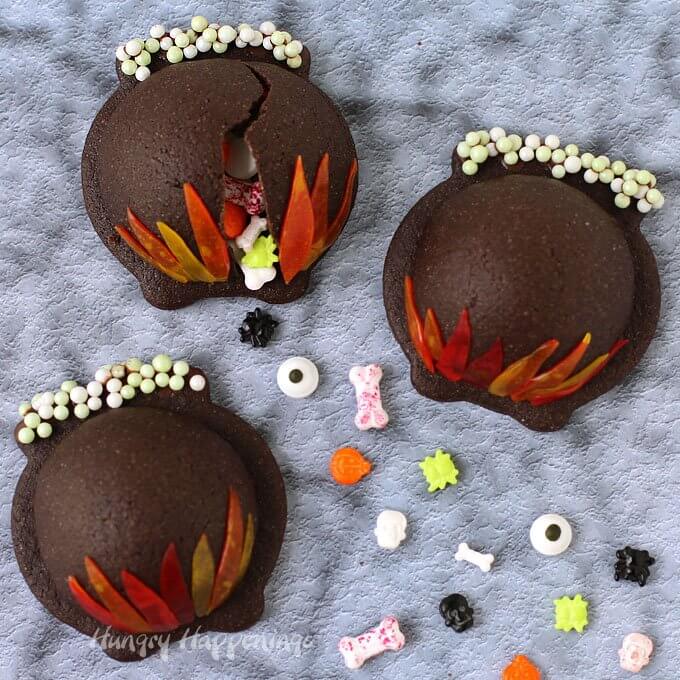 This is one of the most interesting Halloween candy recipes in our opinion. The cauldron breaks open to reveal the magical potion consisting of eyeballs, skulls and candy bones.
Ghost Meringues: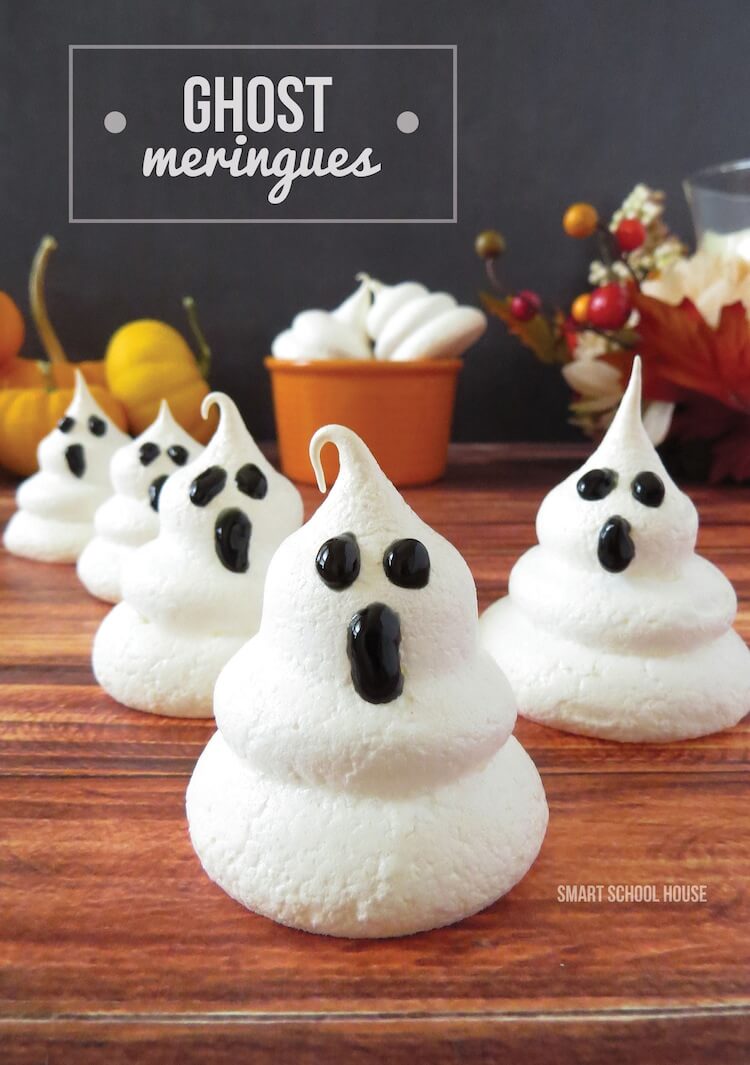 You need just a handful of ingredients, which would probably be lying in your house right now, for making these ghost meringues. And believe us, it will impress the little ones greatly.
Halloween Muddy Buddies: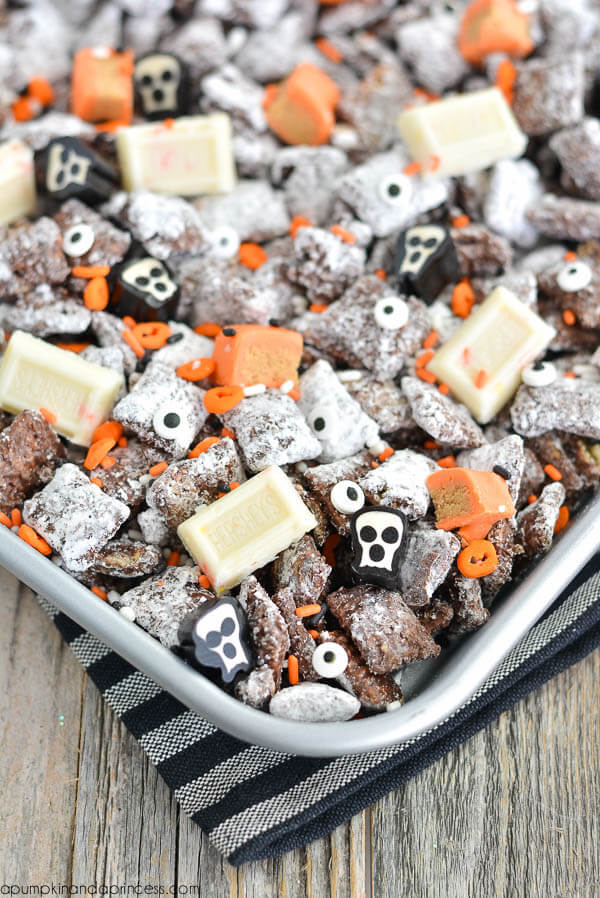 If you're looking for an easy peasy Halloween treat, this recipe would be the perfect one for you. It's great for munching while watching a Halloween movie or playing Halloween games.
Halloween Toffee Bark: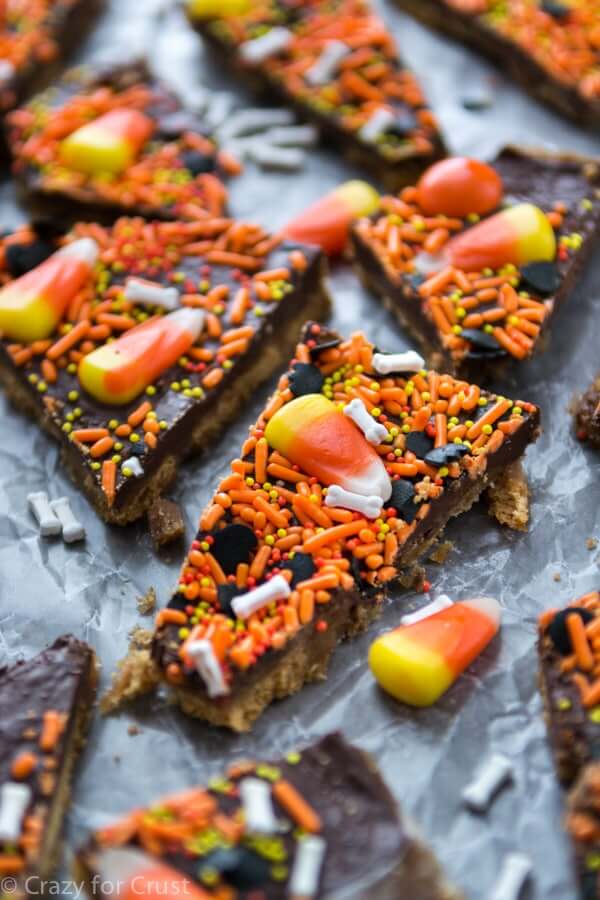 This bark is made using graham crackers, toffee, and Halloween sprinkles, which makes it look highly festive. It looks total delish and is even easier to make.
Candy Corn Pretzels: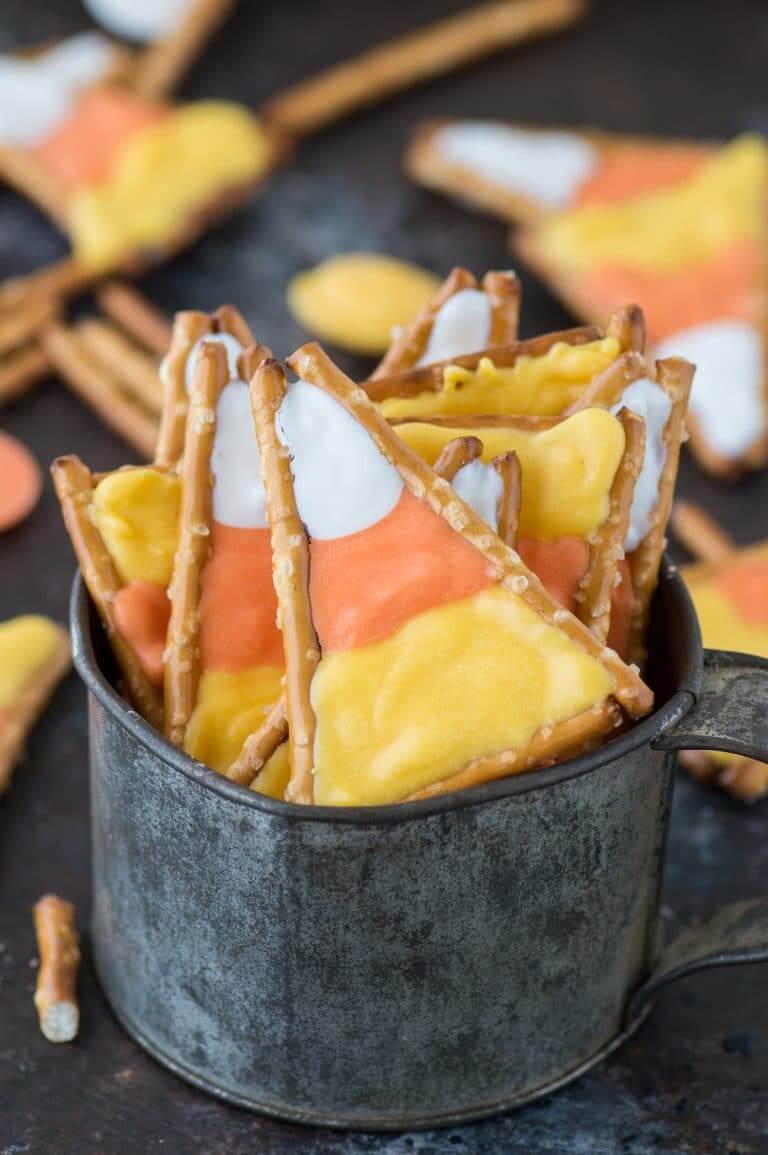 This beautiful candy, made using colorful candy melts and pretzels would make a fresh alternative to regular candy corns.
Boo Barks: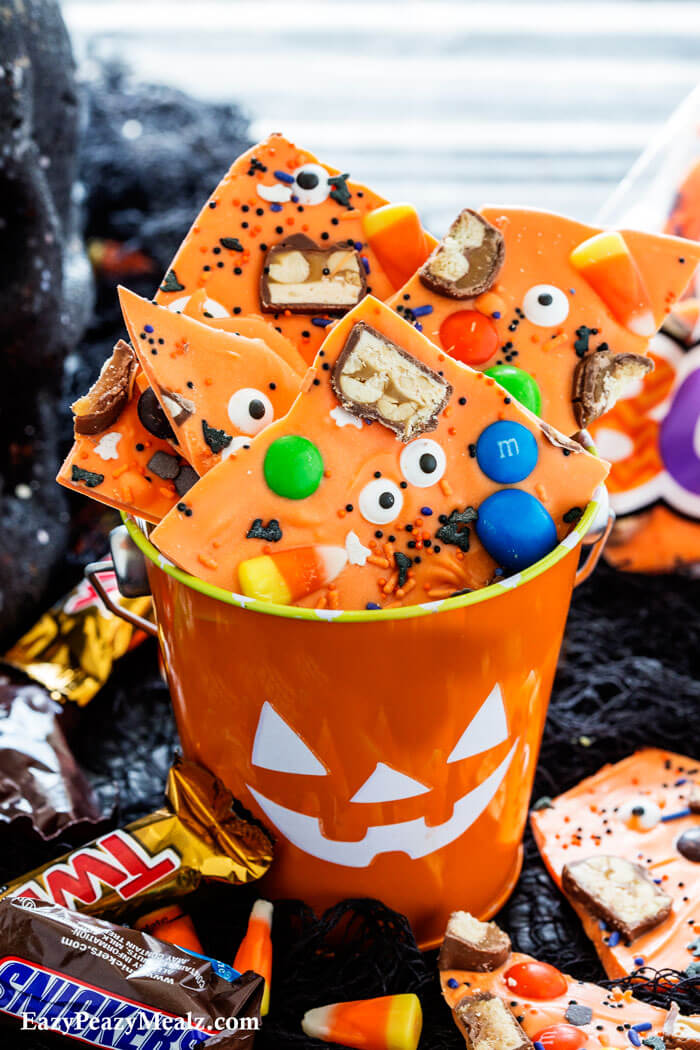 These cute Boo barks are filled with m&ms, Mars candies, candy corns, sprinkles and googly eyes. If you want, you can either make it using orange candy melts or melted chocolate.
Monster Halloween Bark: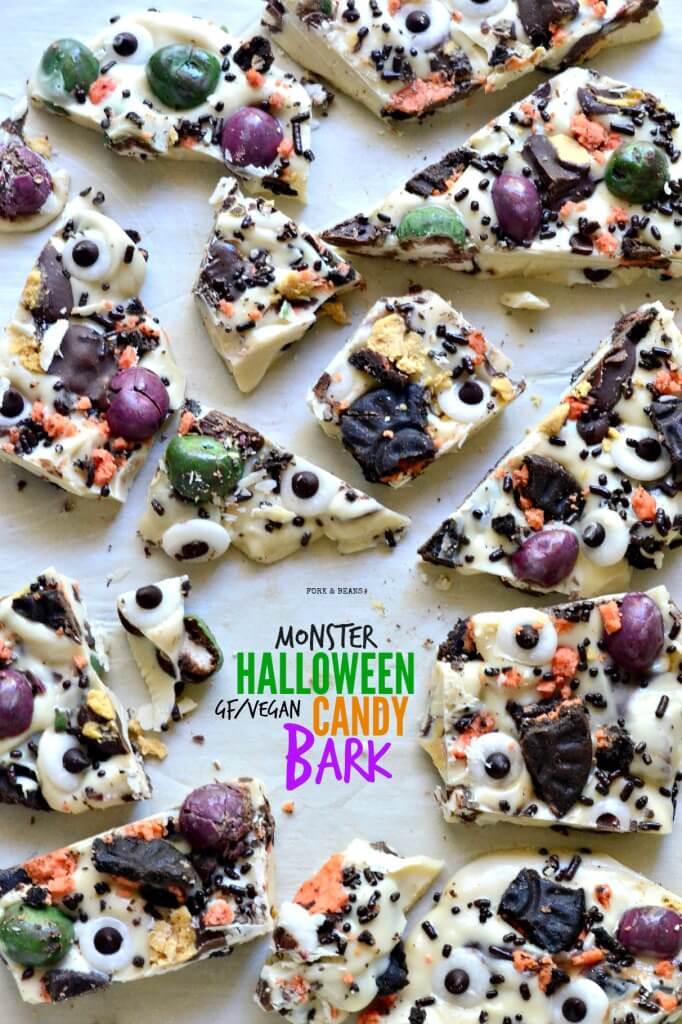 This monster bark is filled with loads of candies like Oreos, peanut butter cups, No candies and googly eyes. Isn't it looking beautiful?
Bloody Truffles: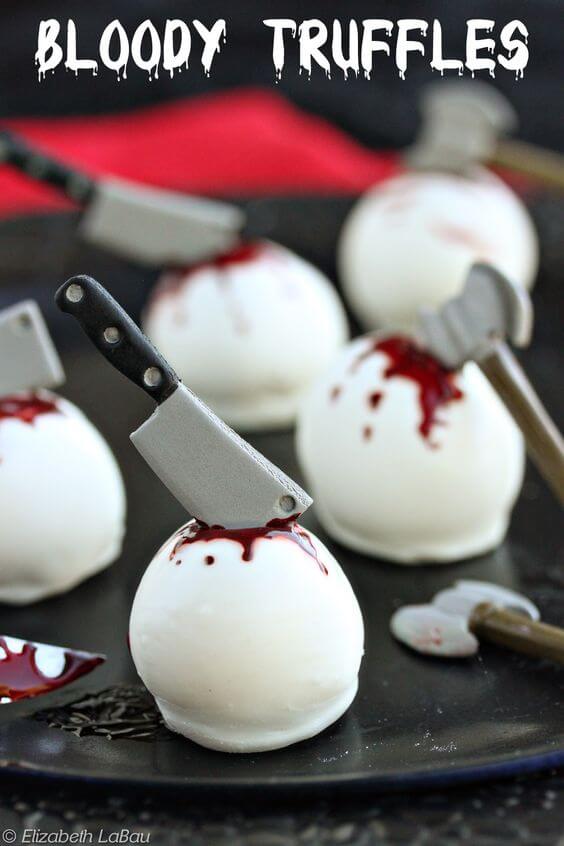 These truffles may look gross, but they are equally delicious. The weapon is made using royal icing and painted with food coloring. And fondant covers the truffles.
Candy Corn Pretzel Hugs: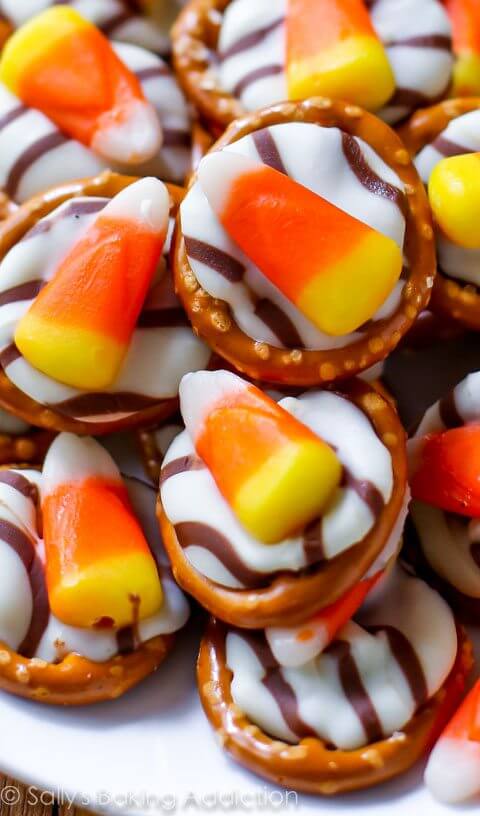 To make these candies, all you need to do is melt Hershey's Kisses on a pretzel and press a candy corn on it. Easy, isn't it?
Ghost Pretzels: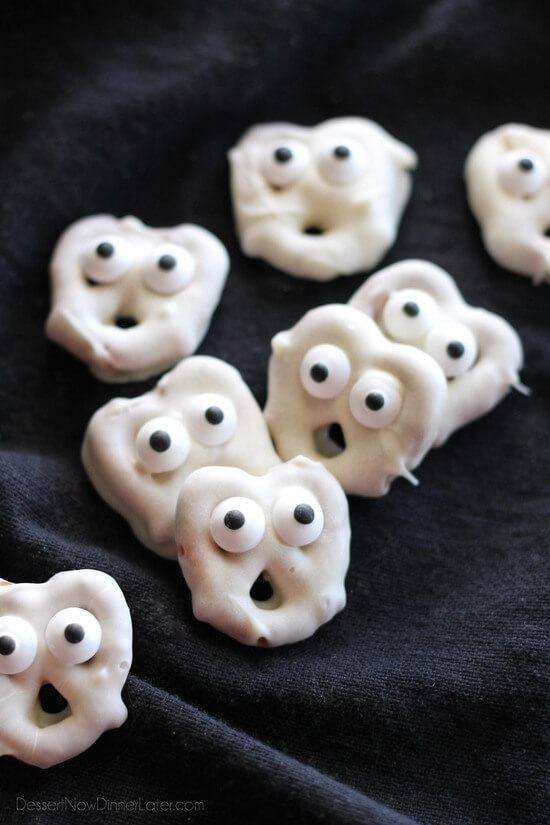 These candies are made by dipping pretzels in white chocolate and then make a ghost using candy eyes. They look a bit like teeth too!
We believe you must have decided what you want to make for the children by now. If you have some more Halloween candy recipes to share, leave us a comment below.