Halloween is the perfect holiday to get creative with decoration. While most of the people focus on decking up their porch, yard and door for Halloween decoration, there's absolutely no reason why you cannot extend the decoration to the indoors of your house as well. Mantel, especially, provides great scope for decoration, whether you light it or not. So whether you're planning to have a huge party or a quiet and cozy evening by the fire, these Halloween mantel decoration ideas can definitely be used to beautify your house. Check out the compilation below.
You May Also Like To Read:
Stunning Halloween Mantel Decoration Ideas:
Silhouette Mantel: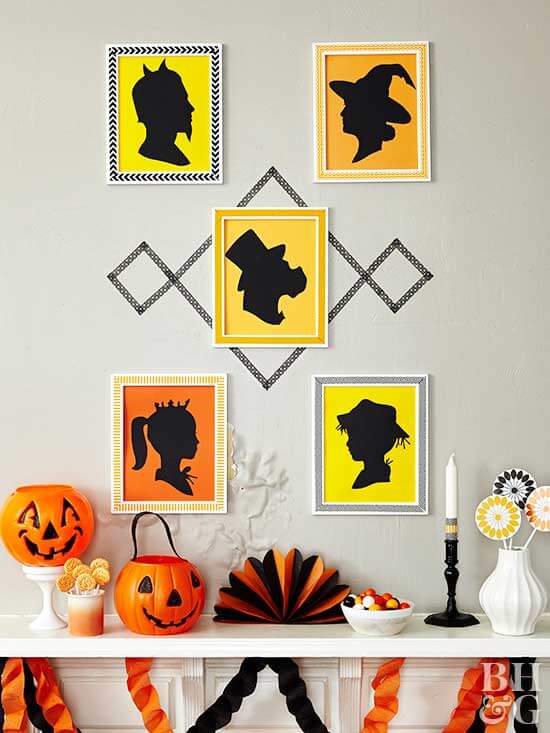 What do you think about the idea of decorating your mantel, or the wall behind your mantel with playful Halloween inspired silhouette? Just ensure that you follow the Halloween color code?
Black And Purple: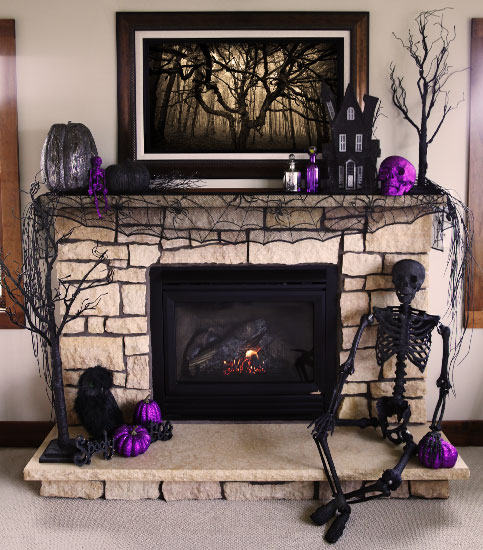 A dramatic color that purple is, it will make a wonderful addition to your Halloween décor. The purple colored skulls look even cooler than purple pumpkins.
White Pumpkins And Crows: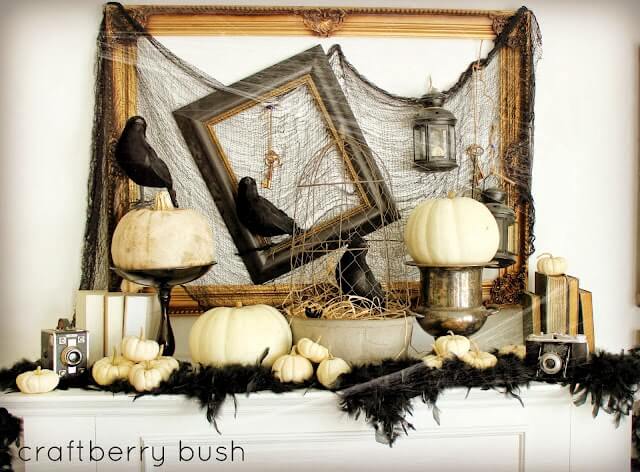 This is indeed one of the most magnificent Halloween mantel decoration ideas. The entire fireplace is done very tastefully with faux crows, white pumpkins, black cheesecloth and feather boa.
Use A Banner: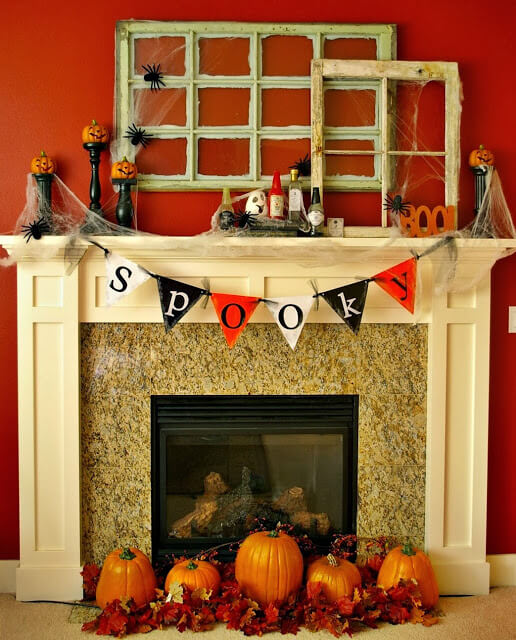 Fake spider webs are perfect props for creating a spooky and scary outlook, as seen in the picture here. The spooky banner is another great addition.
Hang A Hearty Wreath: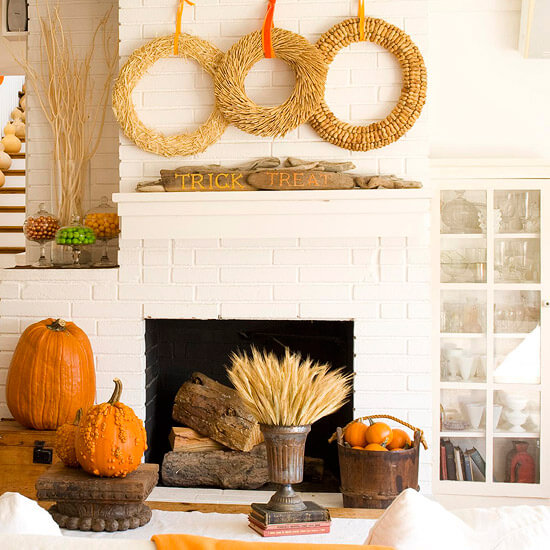 Halloween decoration doesn't always have to be creepy and scary. You can do simple adornments by hanging hay wreath from the mantel as well.
Make Use of Papers: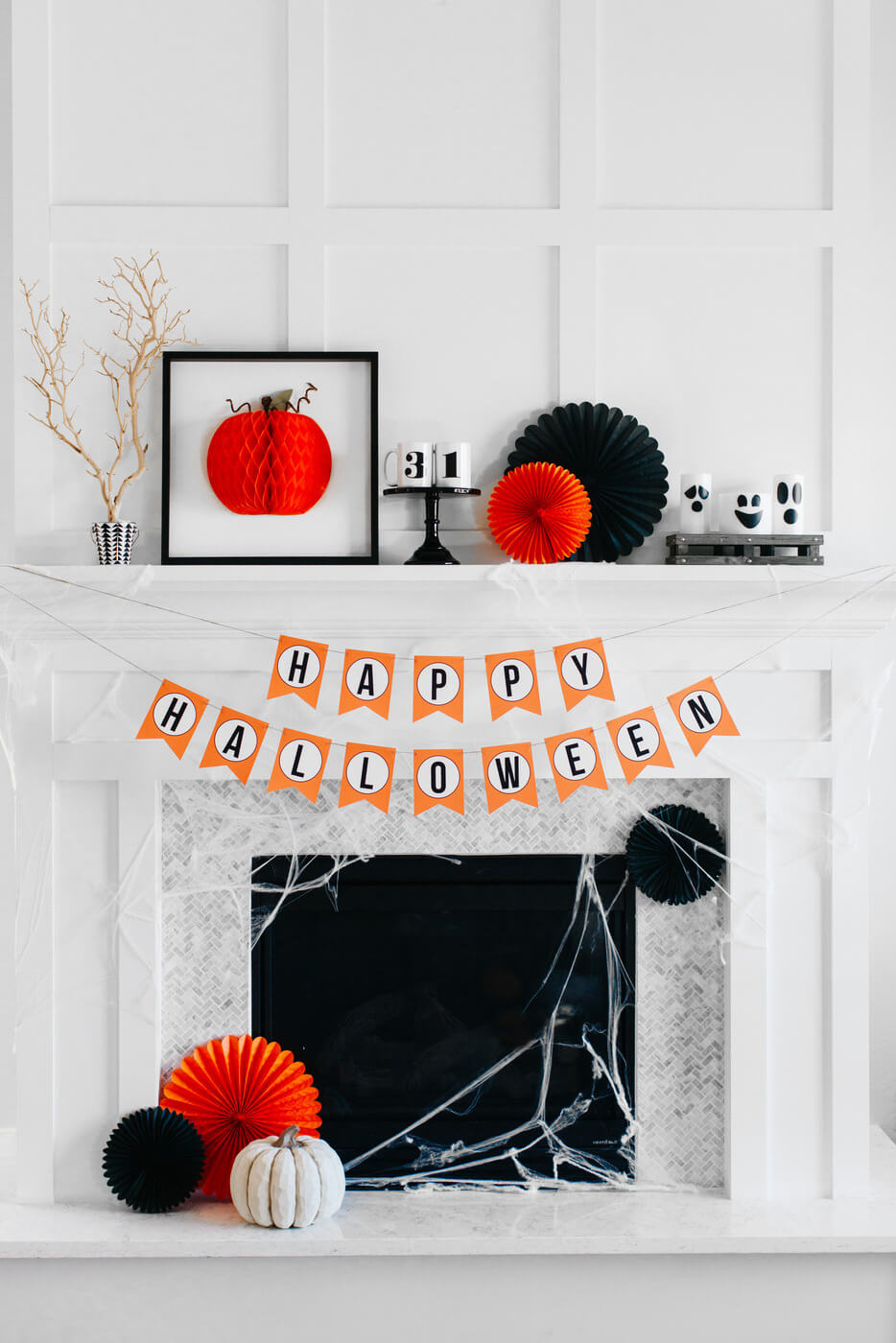 This one's a relatively simple and easy on the eye Halloween decoration. It has almost all the spooky elements, but in a subtle way.
Use Pictures Of Children: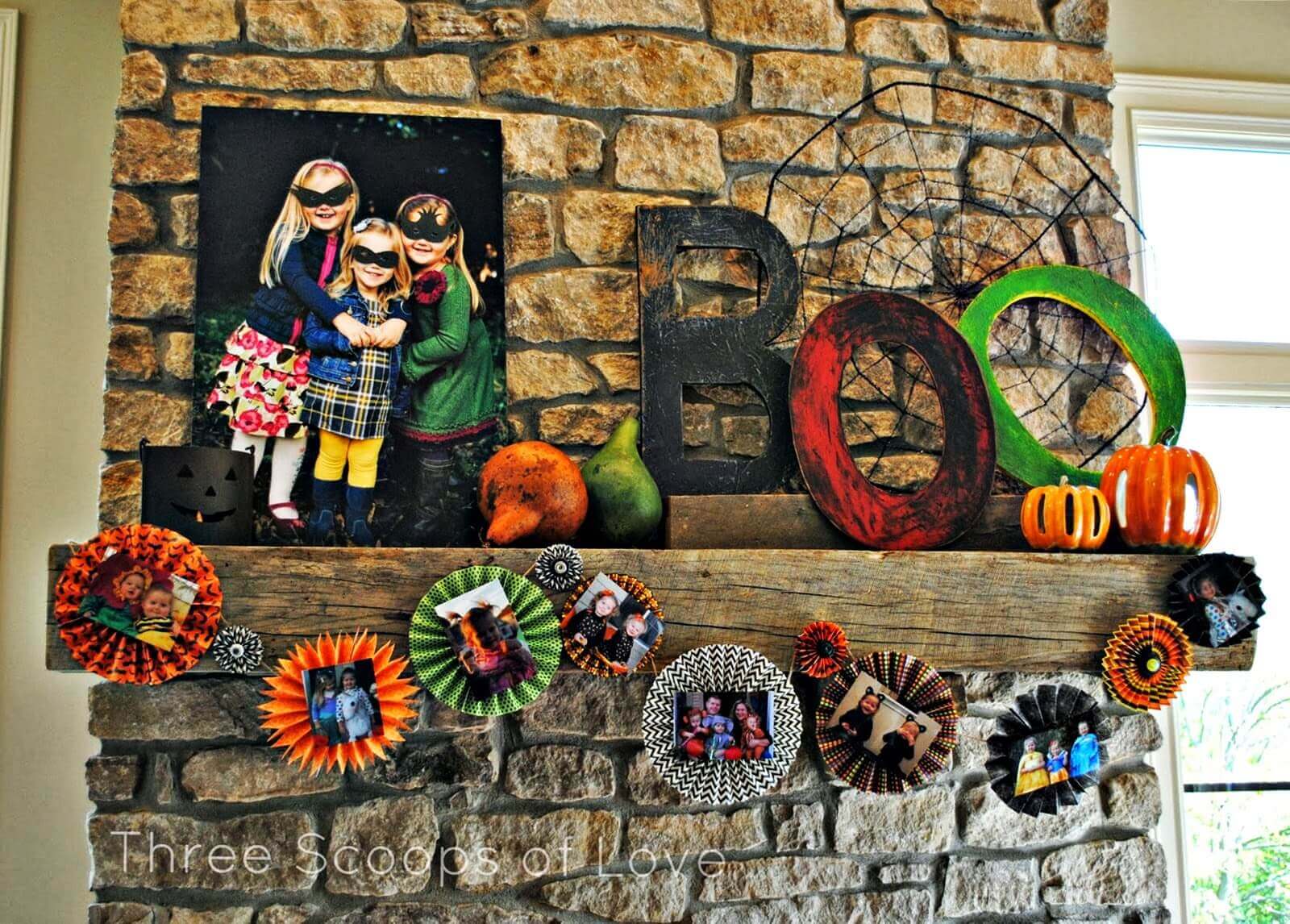 This one's really creative and whimsical as it incorporates the images of cute, little children.
SOURCE
Dark And Glamorous: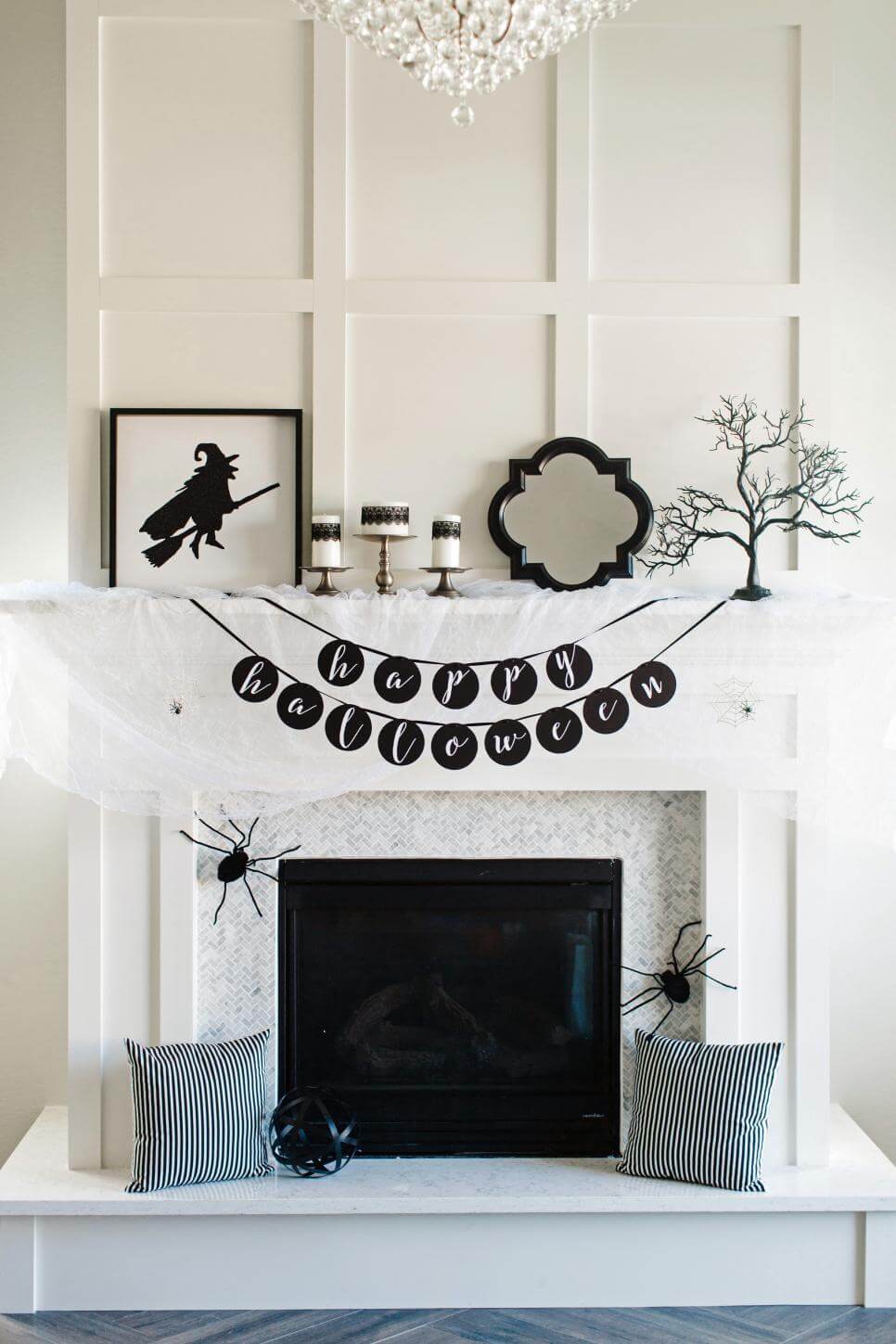 Create a bold statement with an all-black and white Halloween mantelpiece. You can begin by adding a white cheesecloth on the mantelpiece and topping it with spiders and spider webs.
Make Use Of Cheesecloth: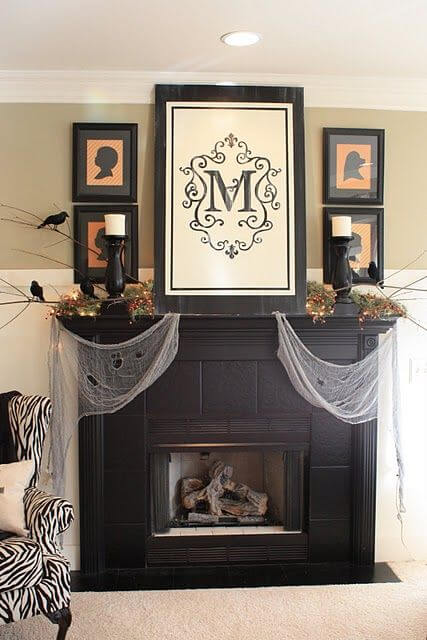 If you like to keep things simple and understated, use cheesecloth, branches and faux crows to create a spooky mantelpiece for Halloween.
That's So Raven: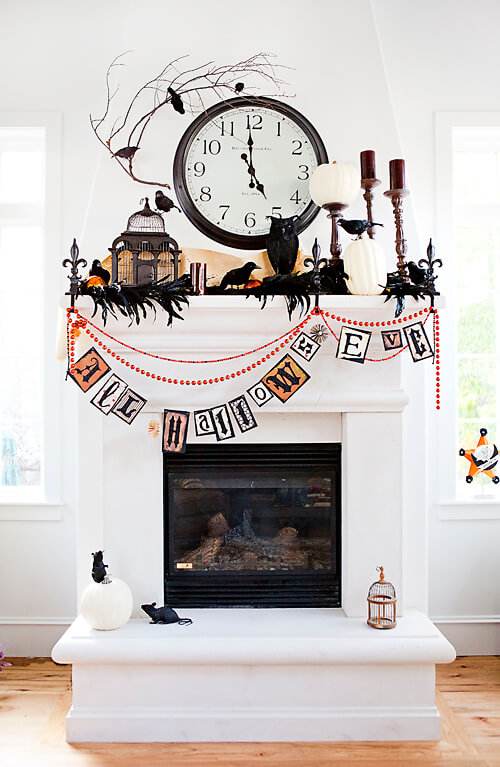 This mantel is covered with crows, ravens, black feather boa and a bird house. It even has a pumpkin and faux rats near the fireplace.
Black And White Elegance: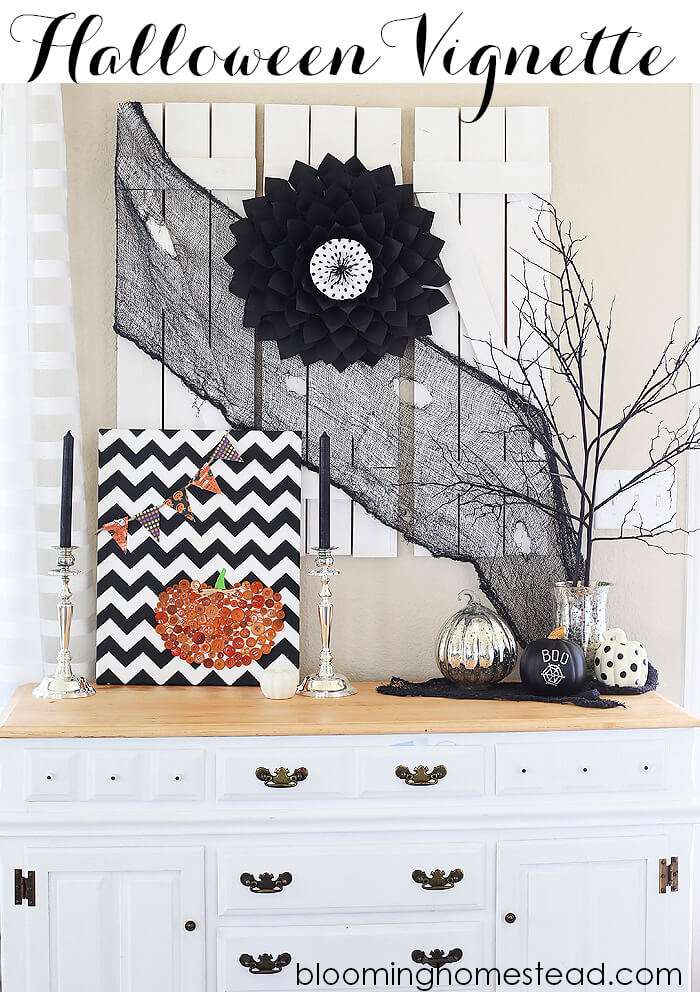 You don't always have to opt for orange and black colors to make a statement. Sometimes, a simple black and white color palette can even successfully create an eerie look. If you're finding hard to part with orange, include it as well, but not in a blatant way.
Pops Of Green: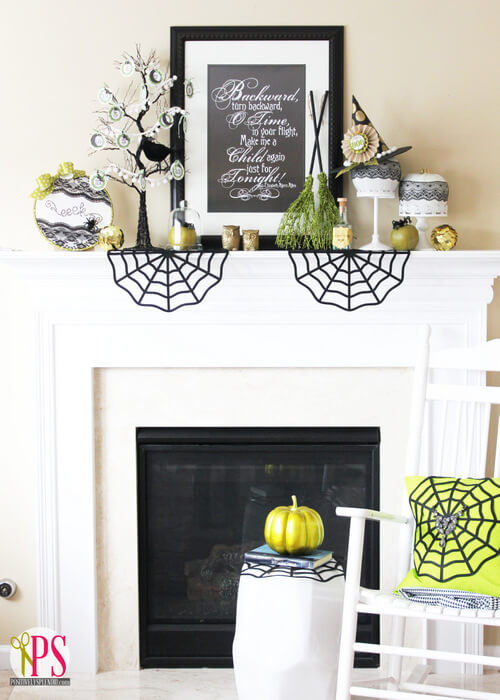 This is one of our most favourite Halloween mantel decoration ideas. It has pops of green, which makes it look absolutely stunning.
Jack O Lantern Signs: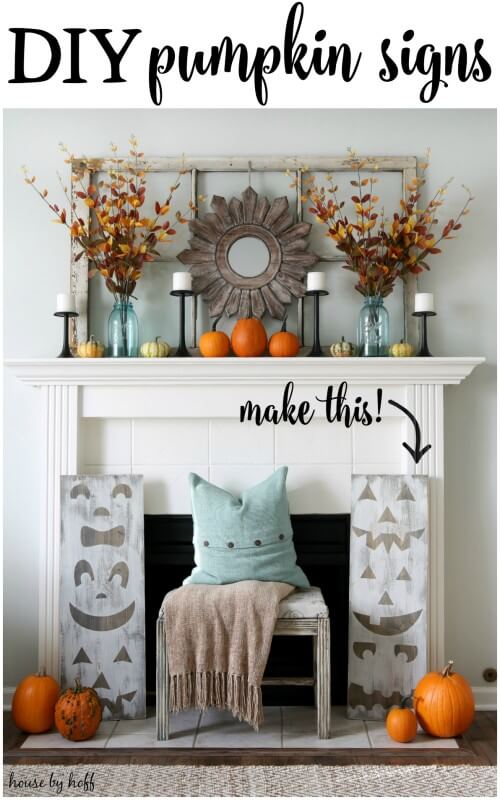 You can even place jack-o-lantern wooden signs on both sides of the mantelpiece for a different look. The rest of the mantel is decorated in traditional fall manner.
Place An Oversized Spider: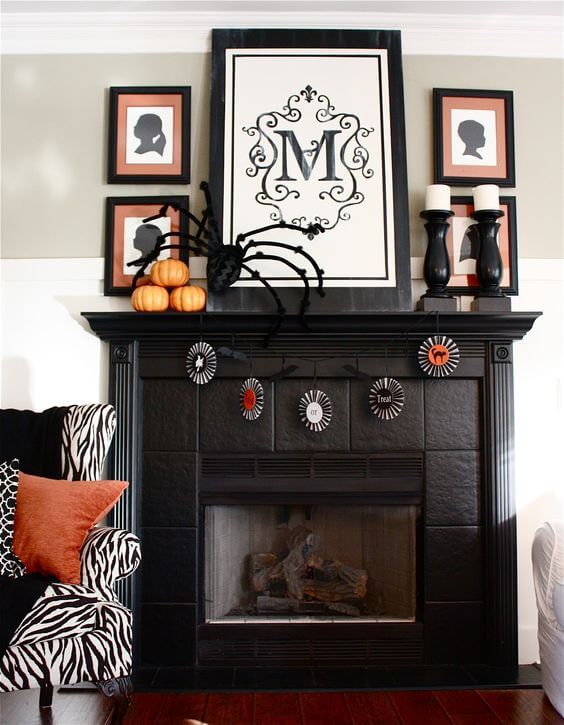 If you don't want to spend too much time on just one corner of the house, you can place a few pumpkins and an oversized faux spider to achieve the scary look.
A Fun Theme For Halloween Mantel Decoration: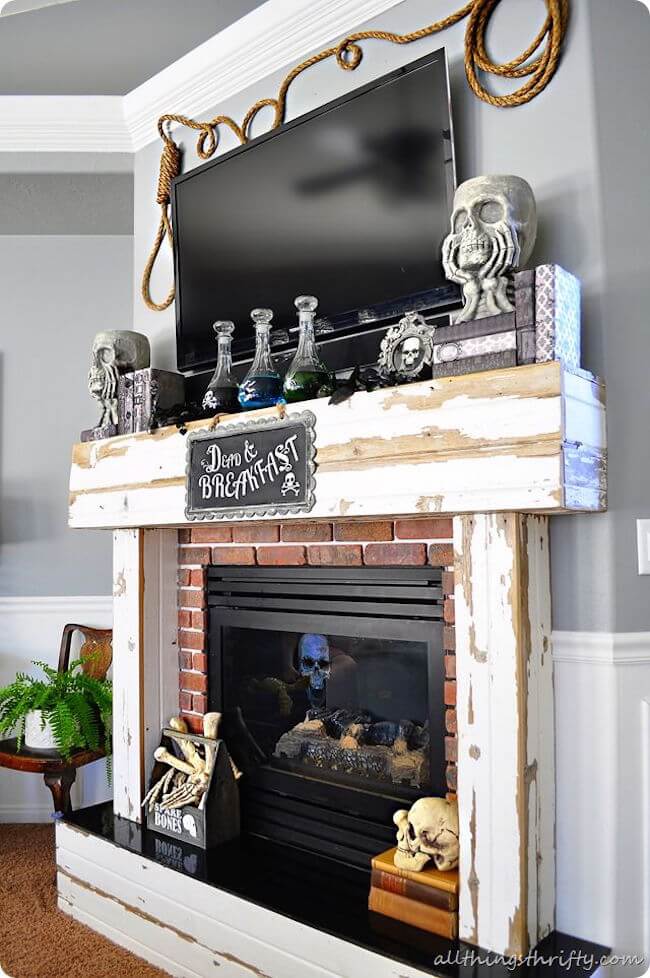 Let your imagination run wild with this skull and skeleton Halloween mantel theme. It isn't gory per say, but captures the Halloween spirit really well.
Black, White And Gold: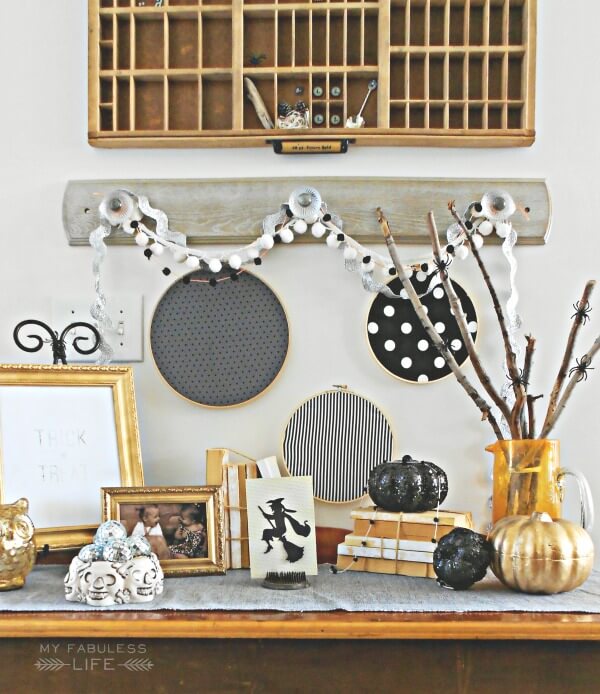 It's really amazing how embroidery hoops can be used to create interesting decoration. Just search your stash for black and white fabric and you'll be sorted.
Make Use Of Wood: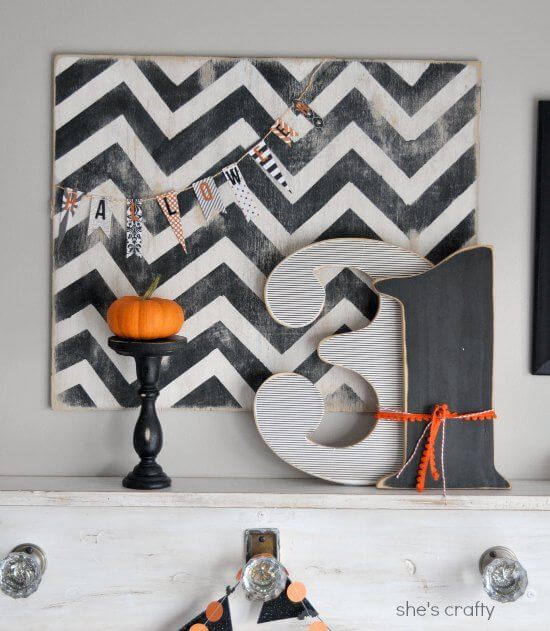 You can even make use of wood to create a magnificent fireplace for Halloween. It looks clean, simple and sophisticated.
Hauntingly Beautiful: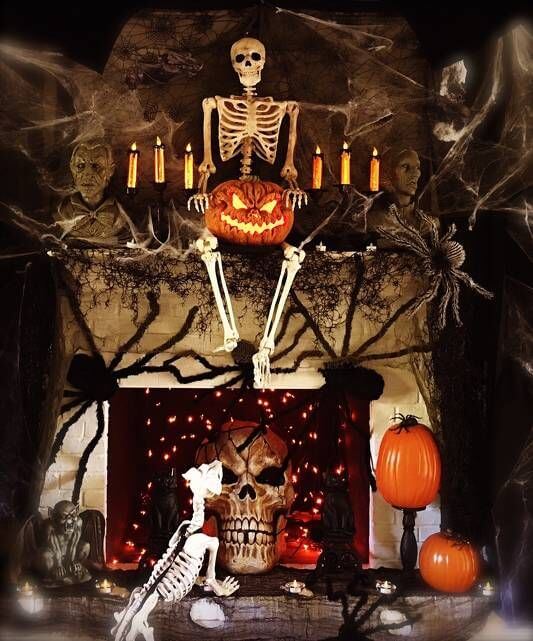 Over the top? Yes, but that's what Halloween is all about; including outlandish decoration items and making your house spookiest ever.
Place Skeletons: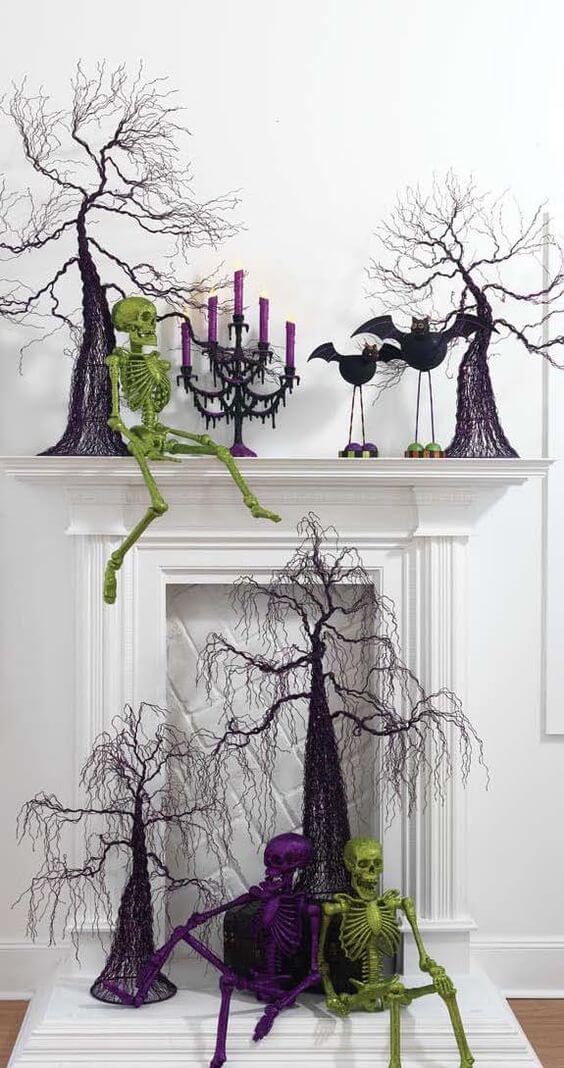 Paint the skeletons in green and purple and position them on the mantelpiece. The barren tree forms are equally important for this idea.
Pumpkins On The Fireplace: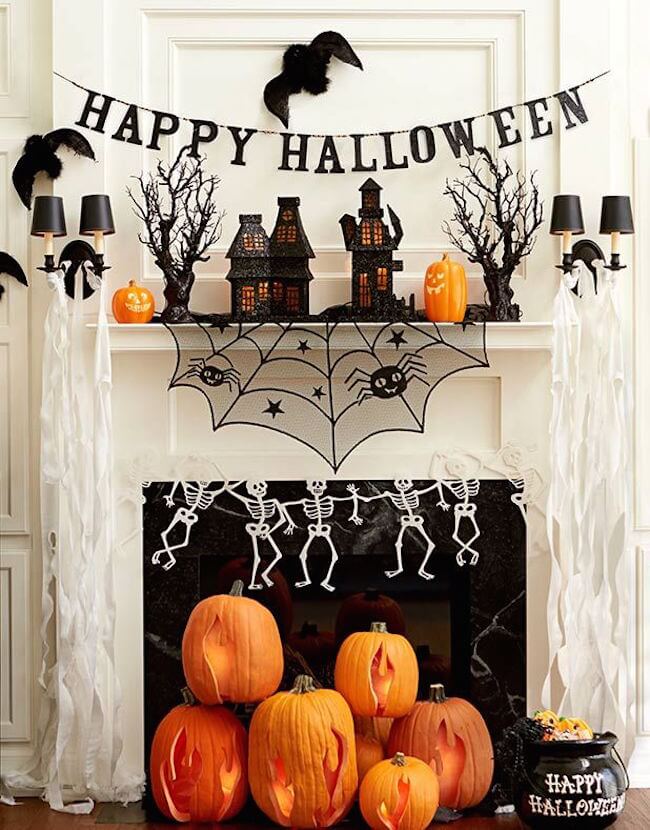 Instead of logs, you can even place pumpkins on your fireplace. It's easy, and looks really cool and trendy.
A Witchy Affair: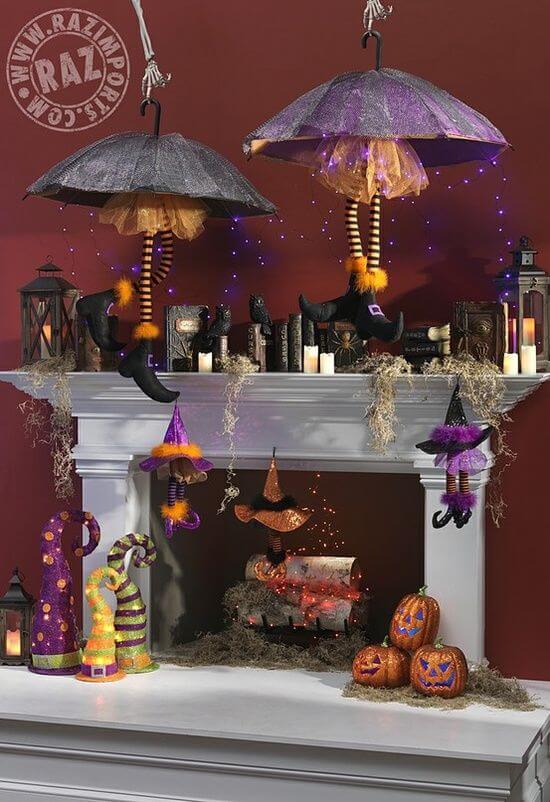 If you're hosting a witch themed party, this Halloween mantel decoration would be a perfect fit.
Place Loads Of Pumpkins: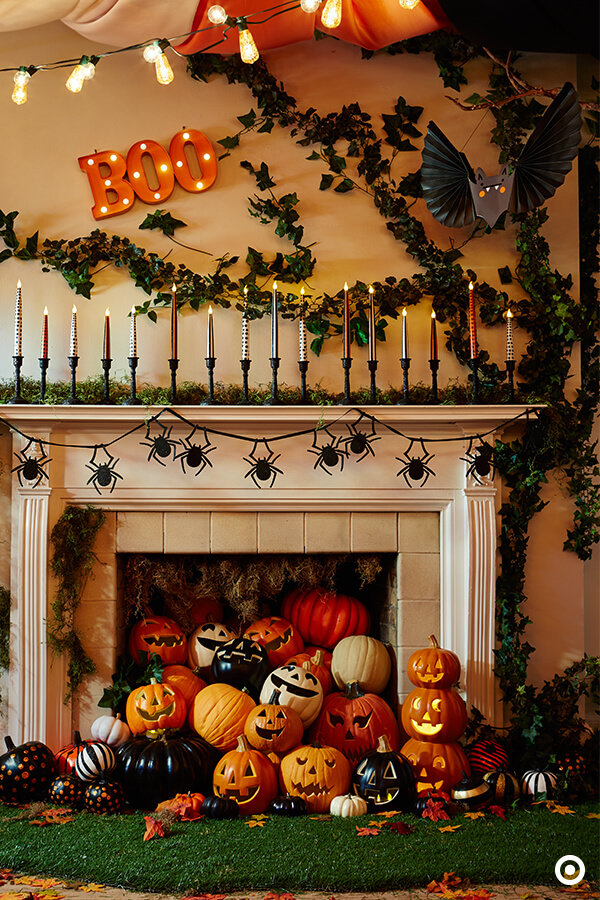 It seems that jack-o-lanterns are overflowing from the chimney. We even loved the candle arrangement on the mantel.
A Rustic Mantelpiece: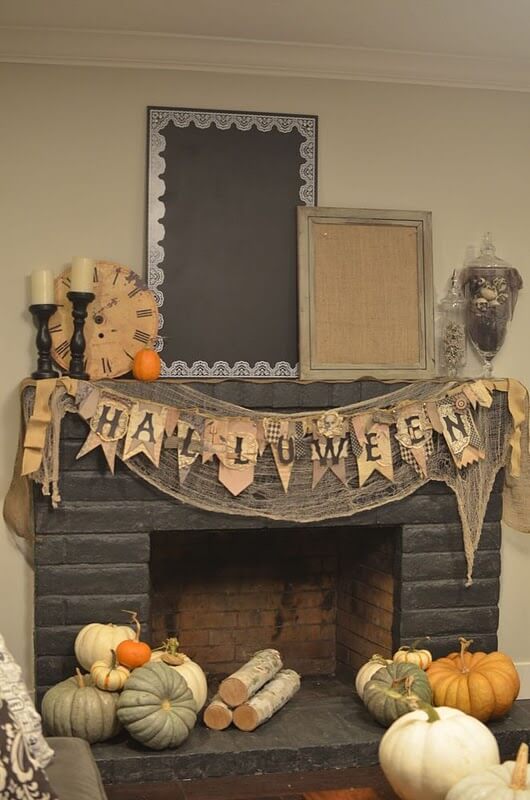 If you want, you can even recreate an old and rustic look for your Halloween mantelpiece.
Double Double Toil And Trouble: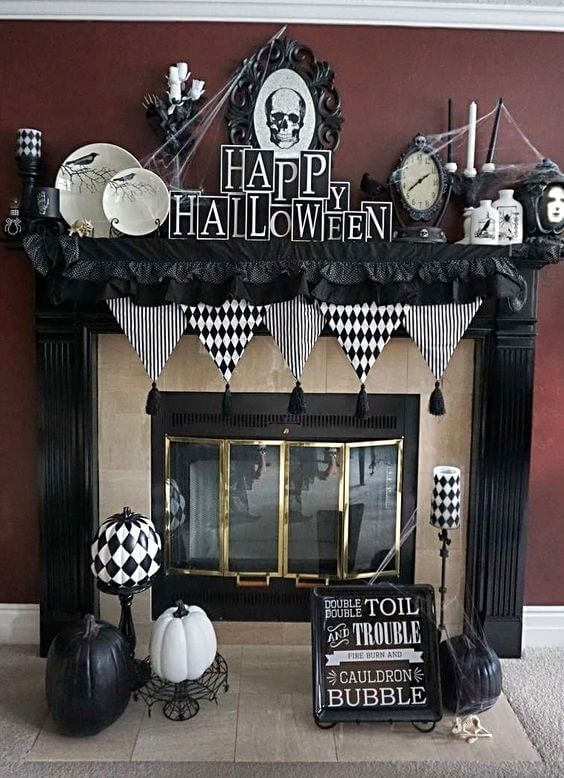 Here's another magnificent idea for Halloween mantel decoration. The entire setting has been done in black and white, which is exuding eerie vibes.
Use Marquee Letters: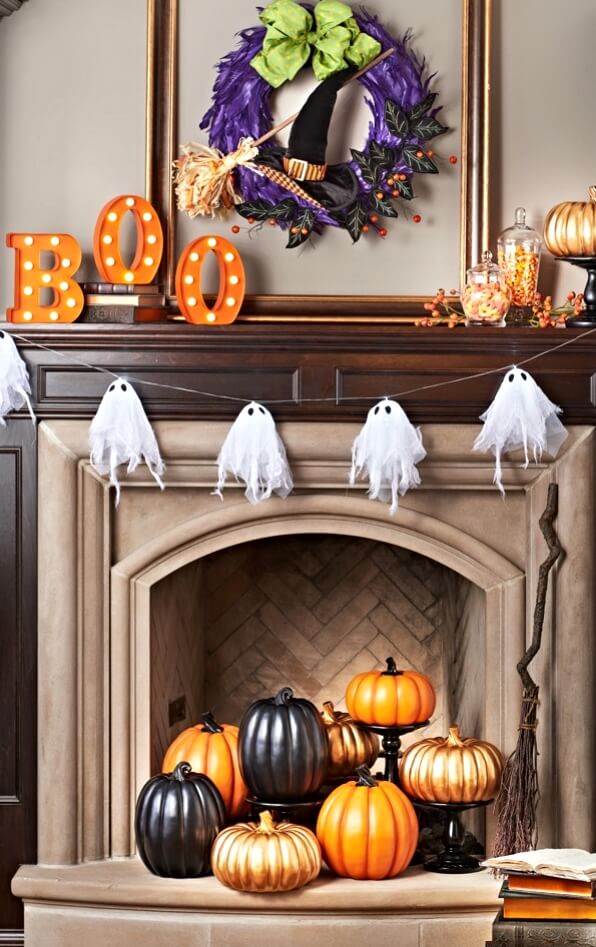 You can even use marquee letter arrangement to jazz up your Halloween decoration. We don't know if they're real or fake pumpkin, but they look amazing.
Black And Gold Halloween Mantel: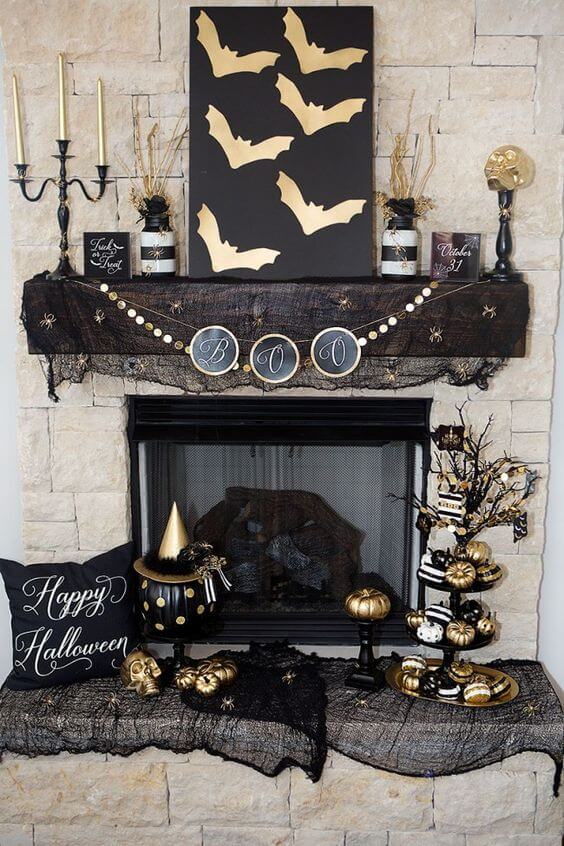 Black and gold color combination screams glam. And it just never seems to get old. We think you should definitely opt for something like this.
A Shimmery Mantel: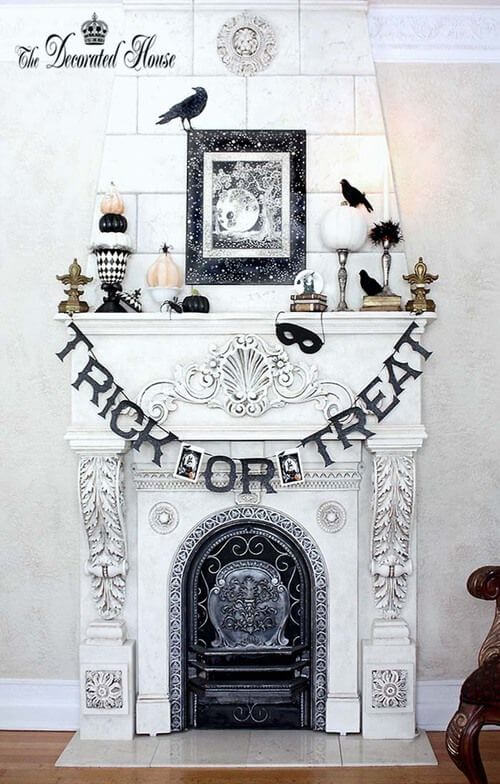 This mantelpiece has been given a shimmery look with all the silver, grey, and white. Make sure that you hang the trick or treat banner for an added effect.
Day Of Dead: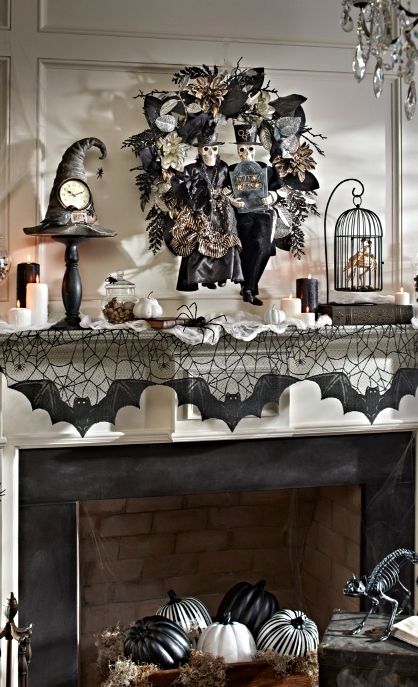 Create a frightful look by hanging a skeleton wreath from the mantel. The witch top hat lamp is amazing, so is the bat garland.
A Simple Halloween Mantel Decoration Idea: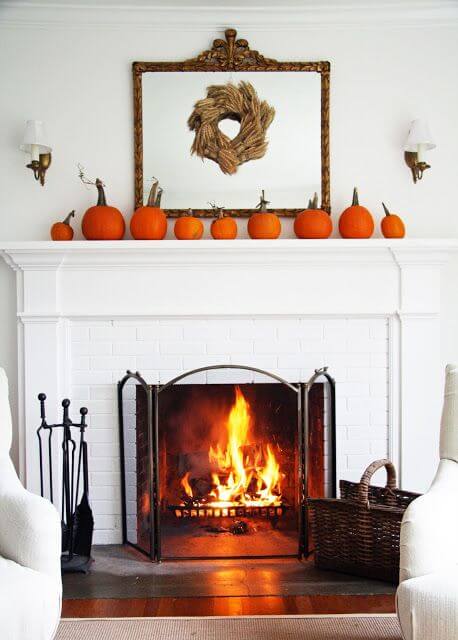 Sometimes, simplicity can be most beautiful and this picture is a proof of it. So just line different sized pumpkins on the mantel and you're set.
Black, White And Red: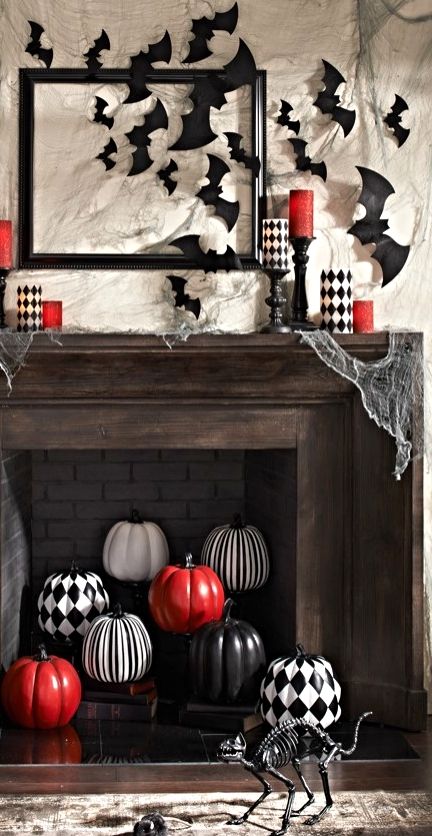 This idea looks classy, really very classy! We rarely get to see red incorporated in Halloween décor, so it's indeed a fresh idea.
We hope you liked our compilation. Don't forget to save these Halloween mantel decoration ideas by pinning the images.