A distinctive and hair raising table setting is an absolute essential to spread the joy of this festival in every nook and corner of the house. There is a plethora of ways you can deck up your dining table for Halloween. You can place creepy crawlies on the table, or put an elaborate centerpiece. Apart from these, you can even customize the cutlery and tablecloth to suit this holiday. So host a scary, yet sophisticated party with these beautiful and colorful Halloween table decoration ideas. Some of these ideas are a bit scary while some are interesting and will make your house stand out.
You May Also Like To Read:
30 Halloween Table Decoration Ideas
A Haunted House Background: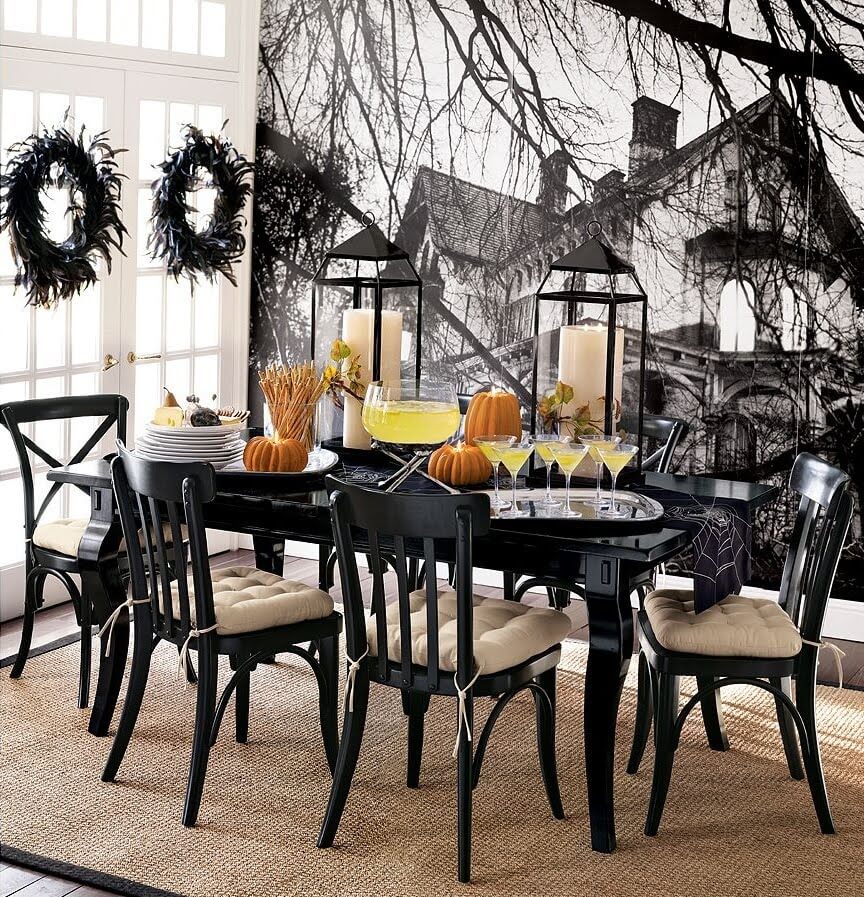 Not just the table, even the background has been done in a way to raise your Halloween spirits. We loved the idea of using pumpkins as the candle holder.
Classic Orange And Black: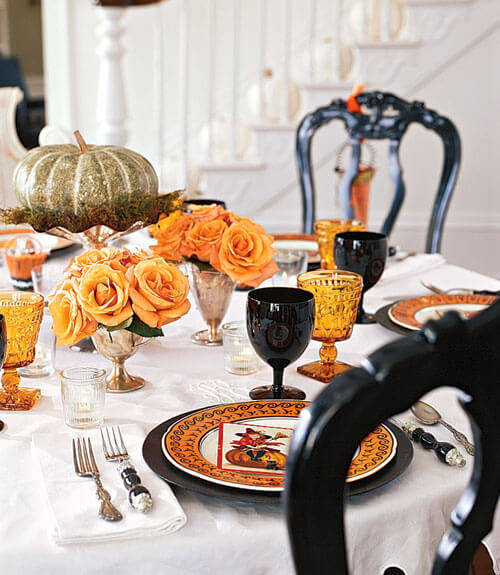 If you do not want to trade creepiness for elegance, you can go for something like this in the picture. The table has been done tastefully, keeping the holiday in mind.
Skeleton Centerpiece: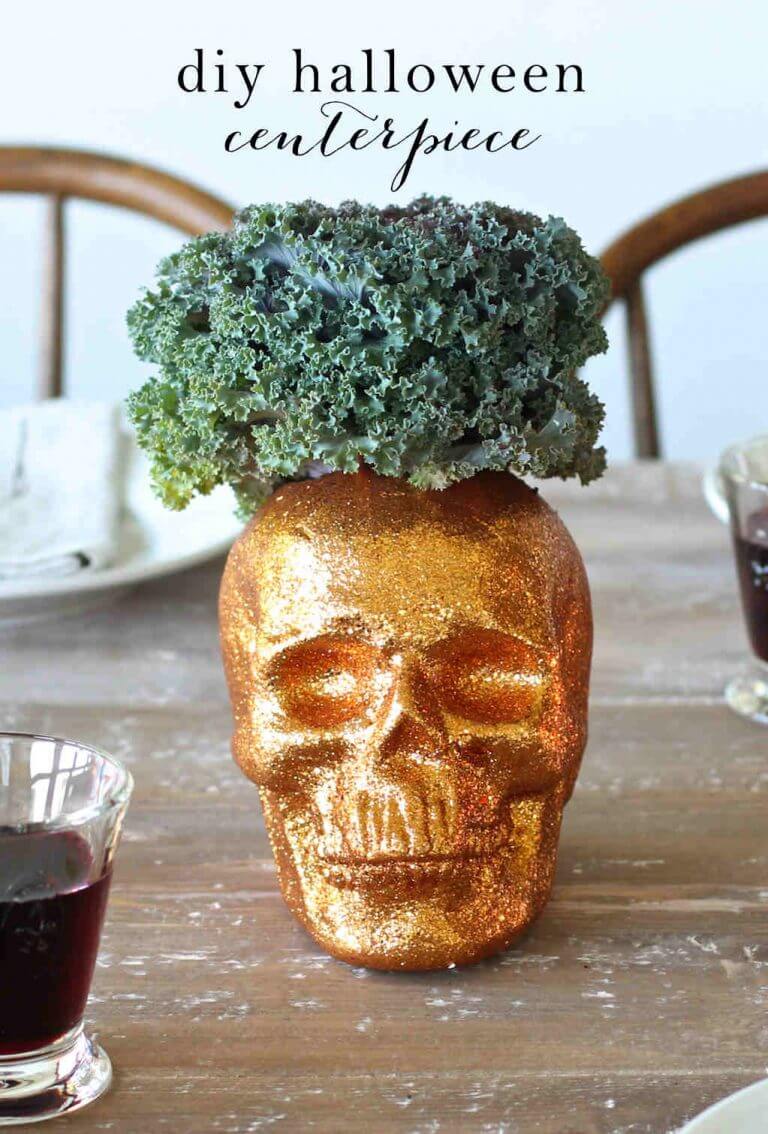 To make this skeleton centerpiece, you'll need a Styrofoam skull, greenery, paint and glitter. You can use this skeleton as a plant holder once Halloween is over.
Halloween Tree: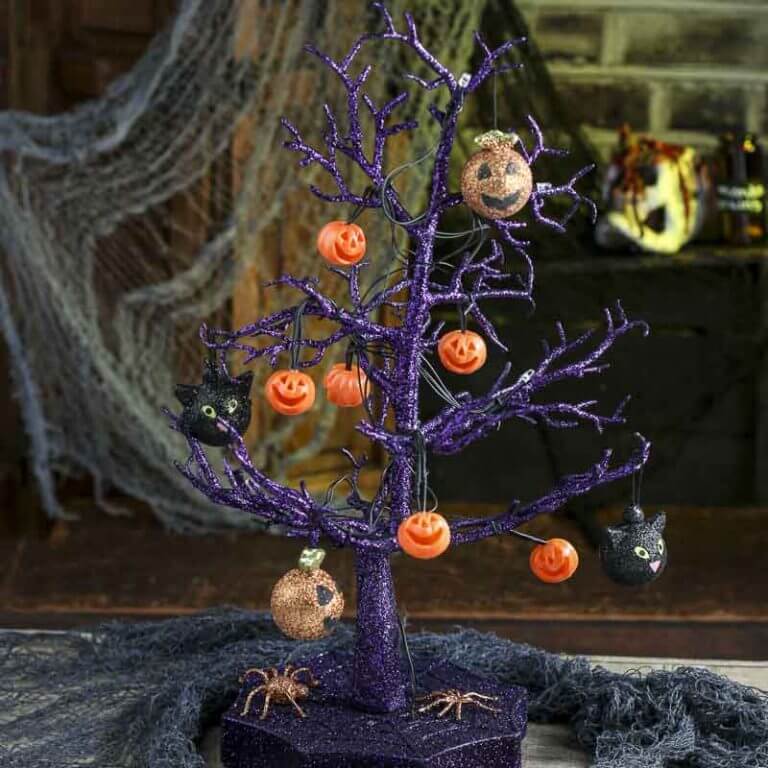 Christmas isn't the only time you get to decorate a tree. You can use a miniature, barren tree, decorated with cute ornaments as a Halloween table centerpiece too!
Halloween Table Setting For Small Dining Table: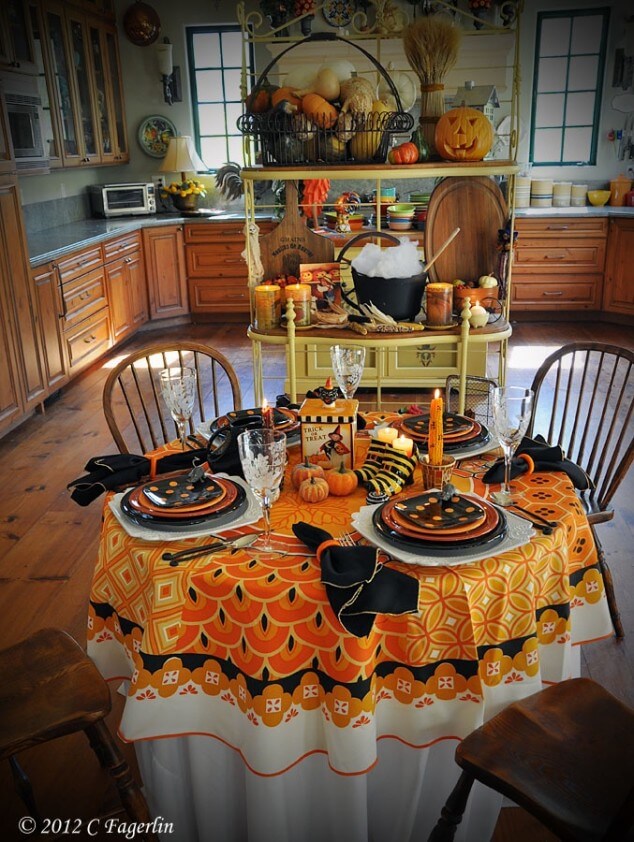 Just because your dining table is small doesn't mean you cannot paint it in Halloween colors. Here's a perfect example of decorating a small sized table for Halloween.
Candle Arrangement: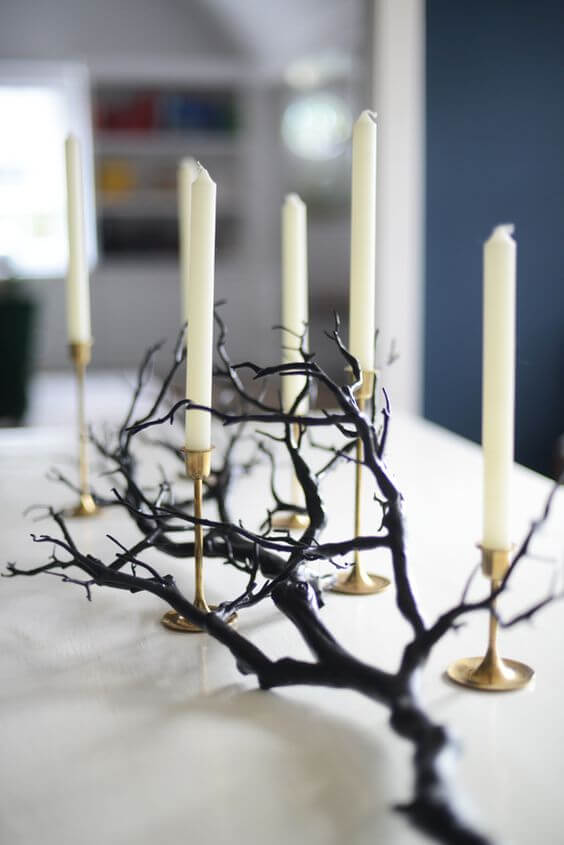 Sometimes, a simple candle arrangement may help create an eerie atmosphere, especially when it's paired with a spooky branch like this.
Fangs Napkin Holder: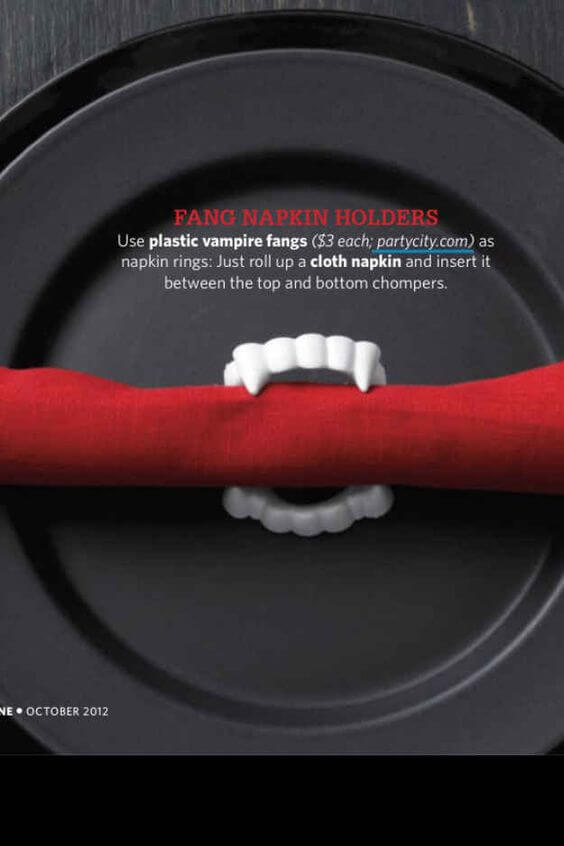 Don't you think this idea is innovative? It's really amazing how a simple element can make a world of difference to your décor. Just ensure the rest of the setting is black and red.
Ghastly And Gothic: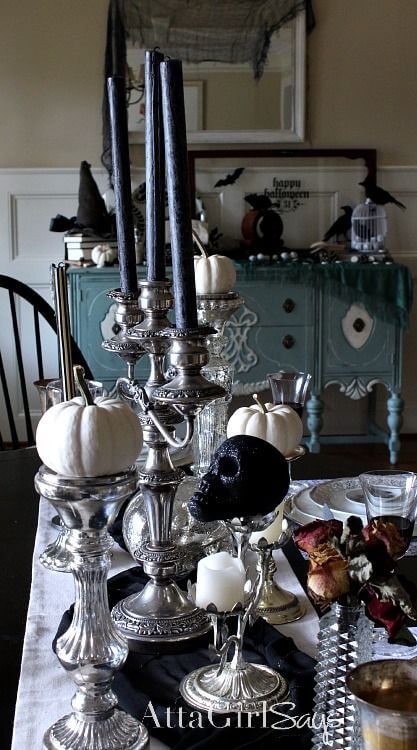 This gothic and ghastly Halloween table decoration idea is inspired by Edgar Allan Poe's "The Raven". Isn't it stupendous?
Use Fake Bugs: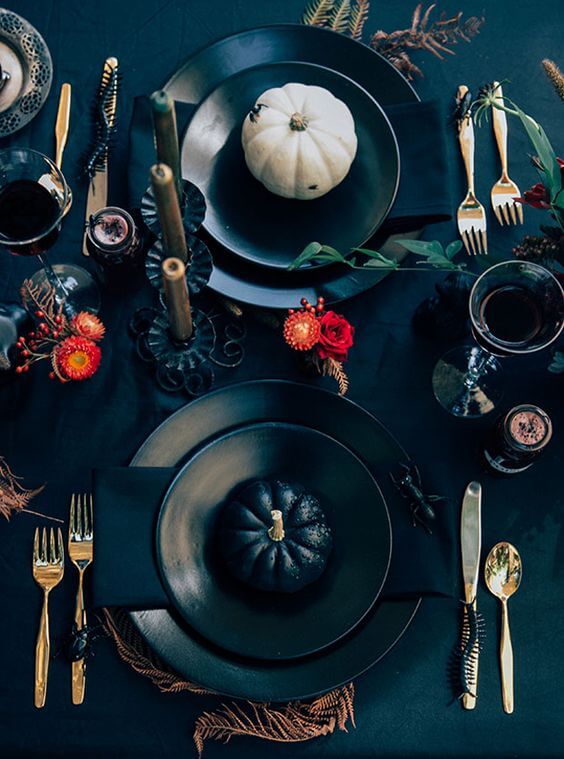 Make your table a bit extra festive and of course, creepy by using fake centipedes for decoration. And don't forget the black cutlery.
Snake Table Runner: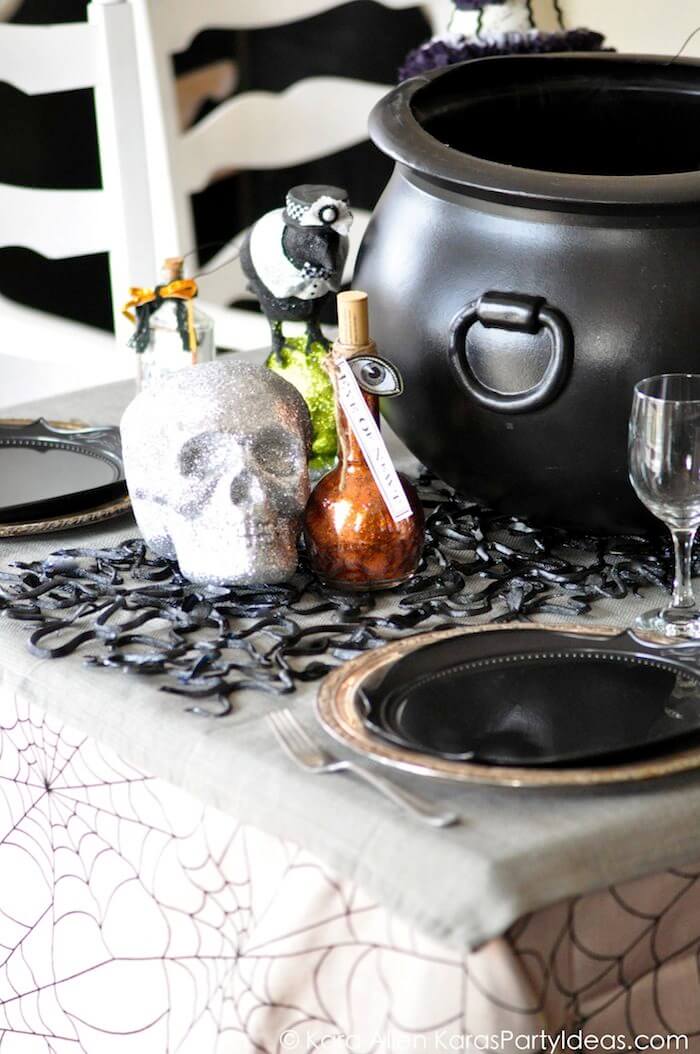 You can create this slithering table cover with several plastic snakes. Just paint the snakes black and leave it to dry. Lay out the snake on a long sheet of paper and then glue it together. It's way easier to make that it seems.
A Sophisticated Halloween Table Setting: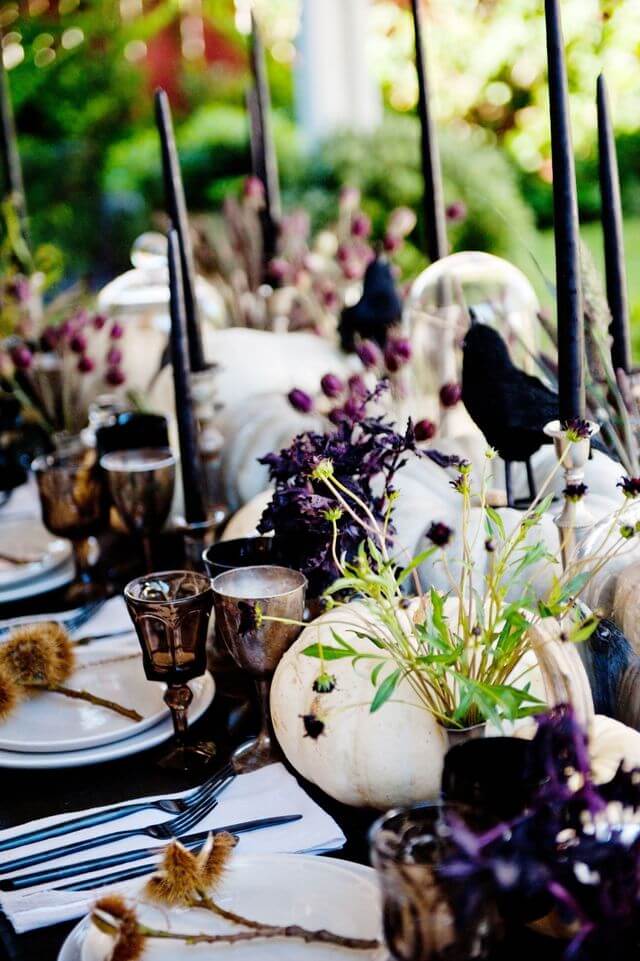 Those who're tired of the same old orange and black Halloween décor can take inspiration from this totally out of the box idea. It has the perfect spooky elements, without being over the top.
A Wickedly Gorgeous Halloween Decoration: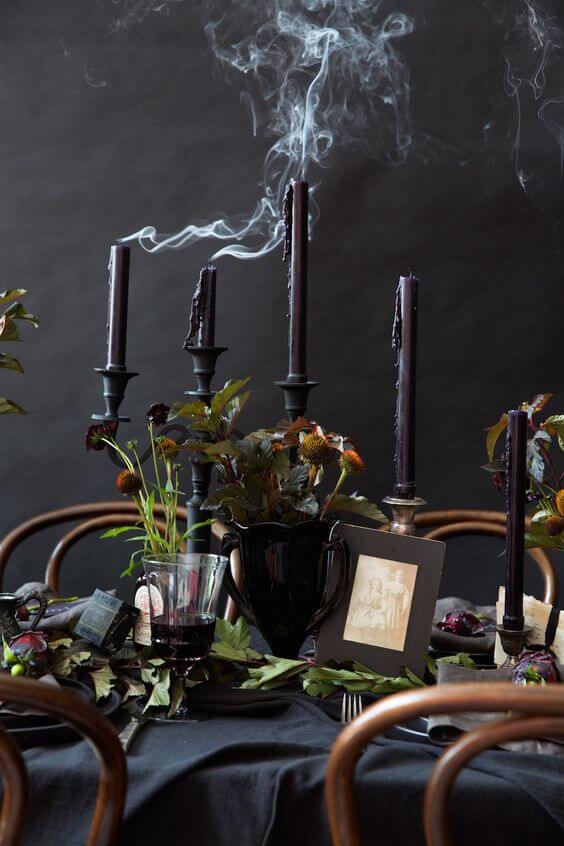 Now this is what we call a wickedly gorgeous Halloween decoration. First and foremost, it incorporates the most amazing color combination, black and plum. And the tableware used is also classy.
Black And White Halloween Table Setting: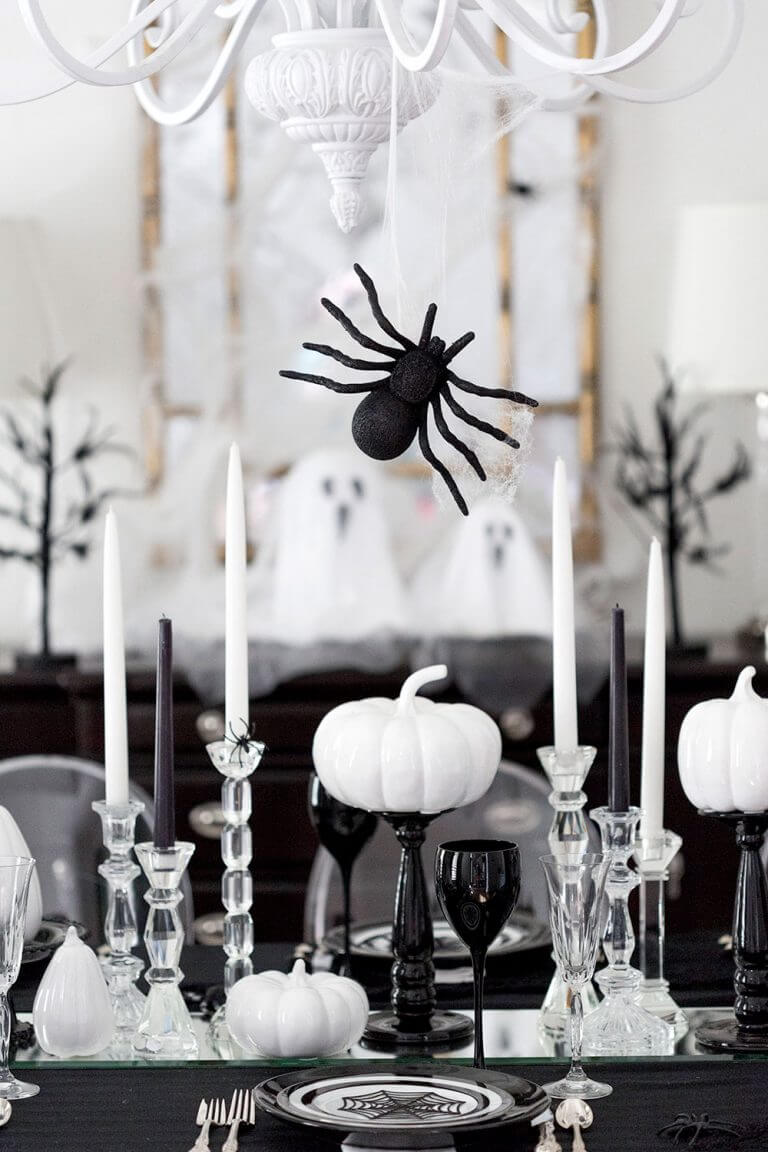 Here's another exemplary Halloween table decoration idea perfect for those who hate orange. The black wine glasses have taken our heart away.
Outdoor Halloween Table Decoration: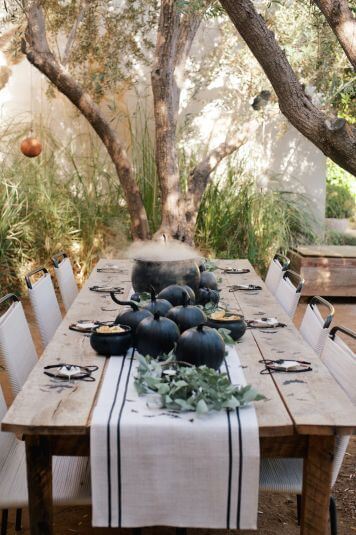 This Halloween table decoration, with cauldron and black squashes are simply perfect for outdoors.
Use Red Roses: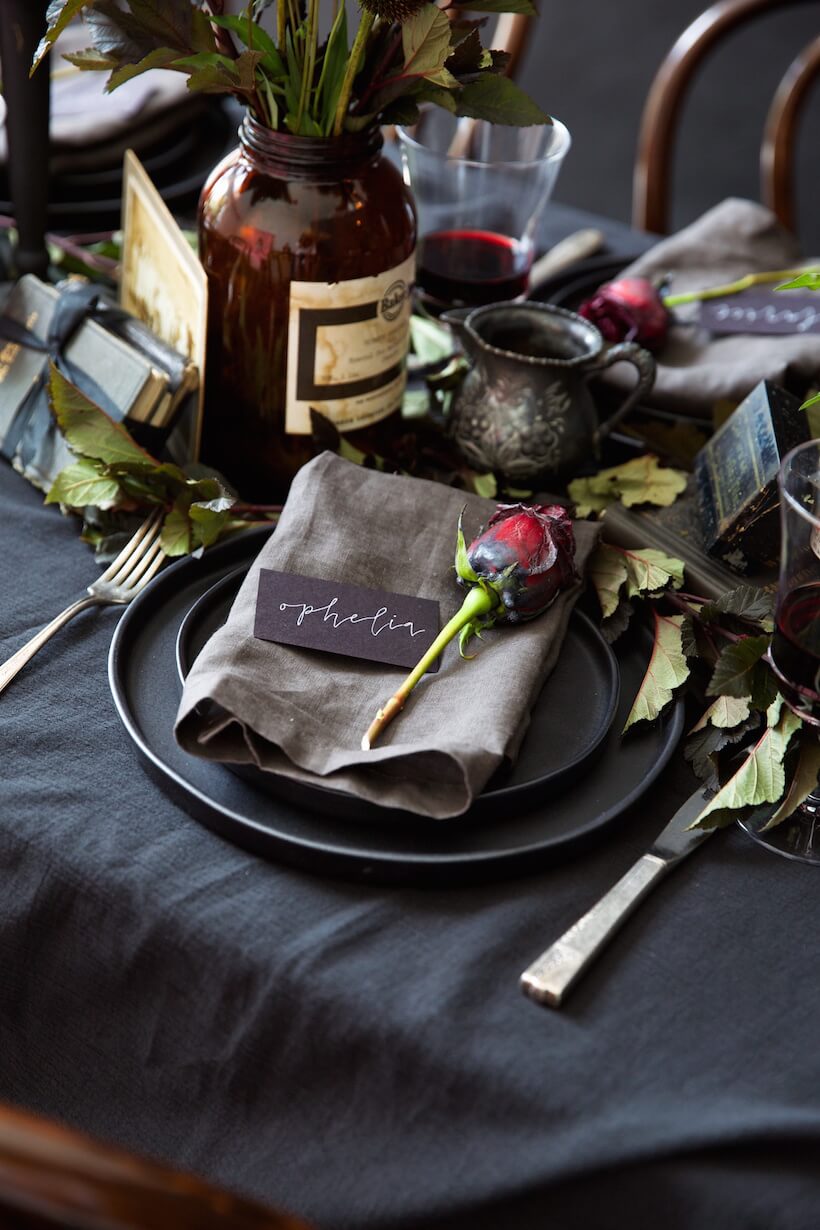 Roses can be pretty scary, especially when they're laced with poison. Oh no, don't take us wrong. We're not asking you to dip the rose used in your Halloween decoration in poison or anything along the lines. Just placing it on the napkin will do the job.
Dark And Broody: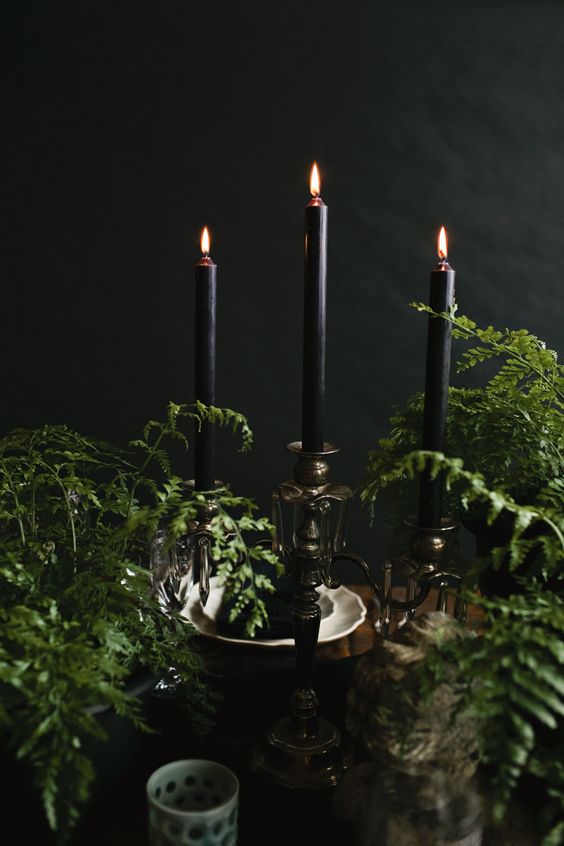 This Halloween table setting idea looks dark and broody with all the black candles, plants and candleholder.
Poison On The Table: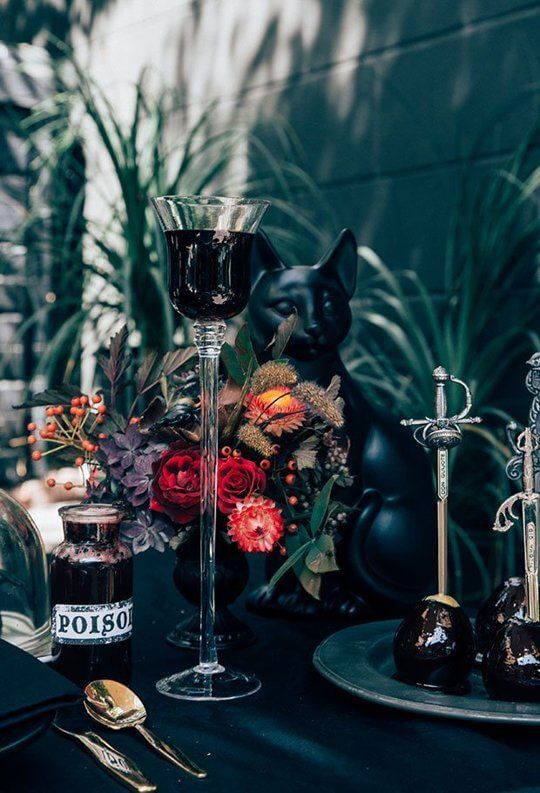 If you've become weary of the typical crepe streamers and plastic pumpkins, then you can take inspiration from this absolutely amazing setting.
A Hauntingly Beautiful Halloween Tablescape: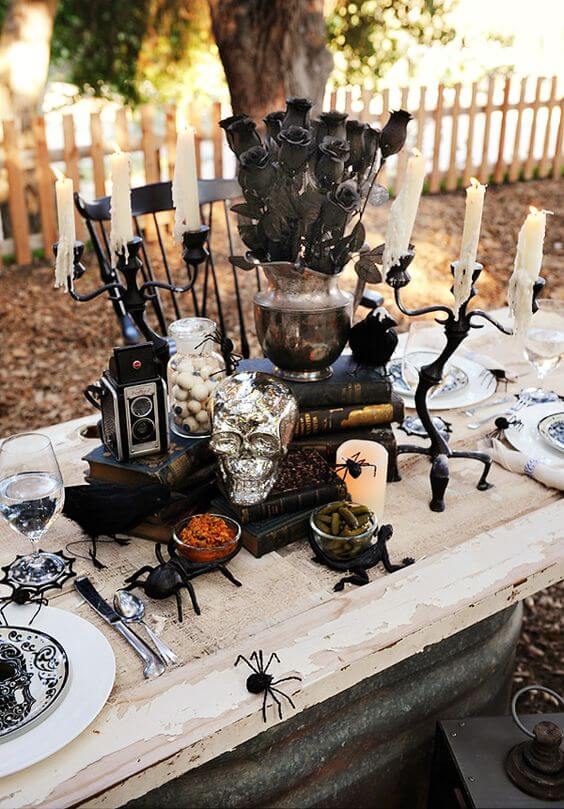 This Halloween table setting, with twisted candle holders, skulls, spiders and black roses is hauntingly beautiful.
SOURCE
Glitzy And Glamorous: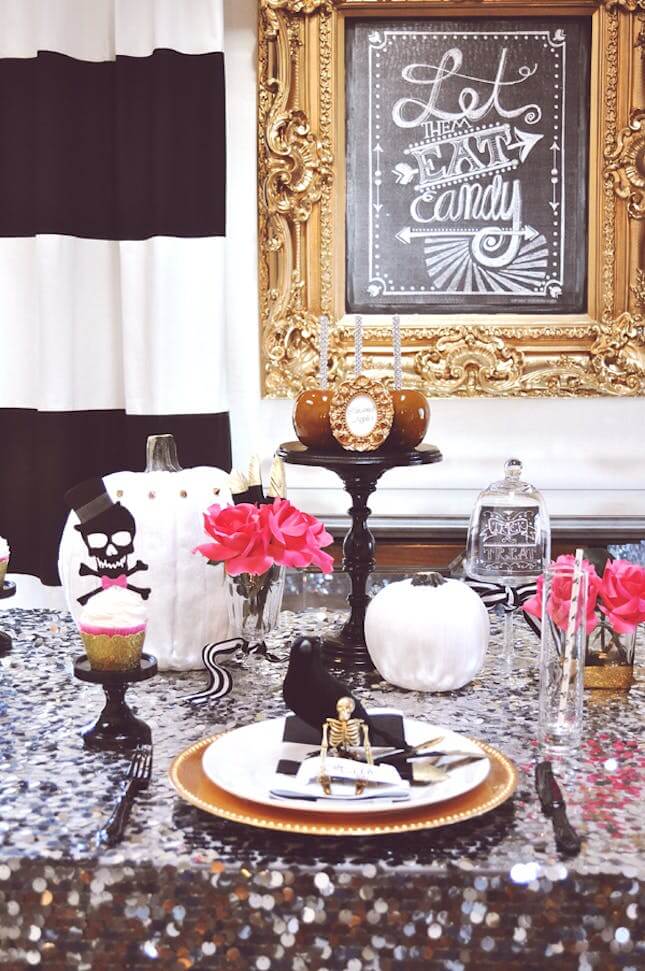 This Halloween table setting incorporates loads of glitter, gold and pops of black, pink and white to make a girly ghoulish table setting.
A Classic Design: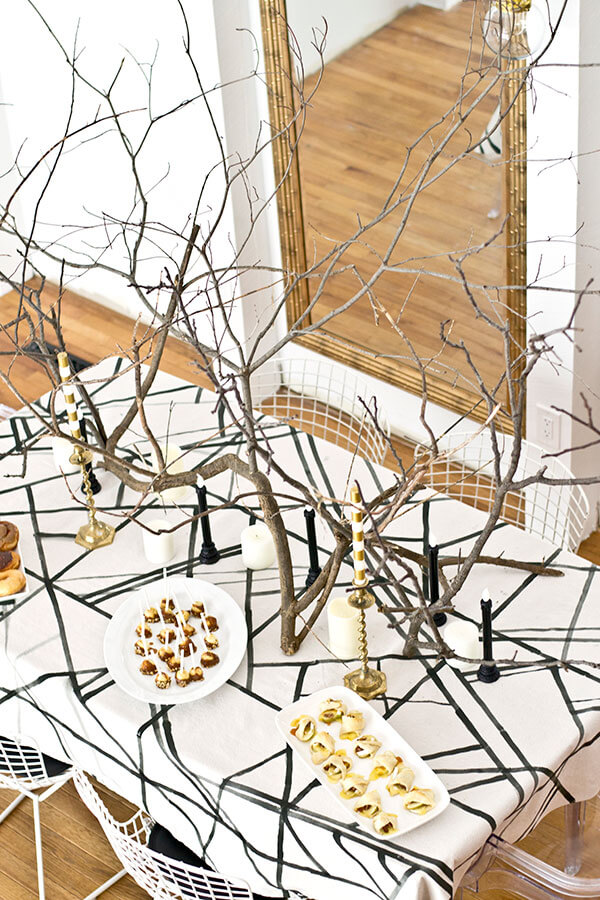 Keep it simple and classic with a basic black and white color palette for your Halloween table setting. The cluster of tree branches as the centerpiece is giving it a both chic and creepy look.
Glamorous Halloween Table Decoration: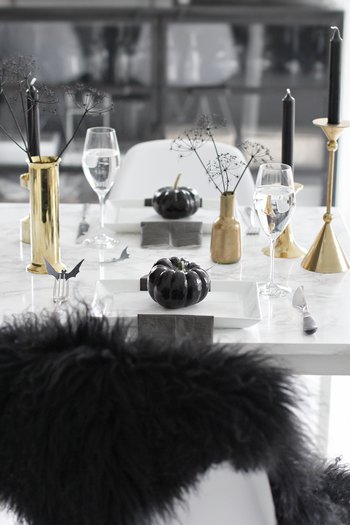 If you're more of a minimalist person, go for this white, black and gold color scheme for your Halloween table decoration. The fur chairs and black pumpkins are adding a perfect gothic appeal.
Candelabra: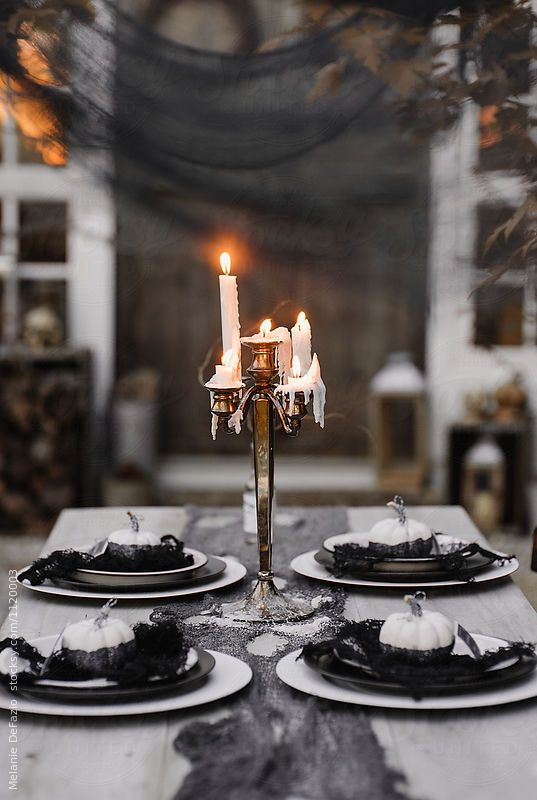 A gold candelabrum with waxed dripped all over would add a spooky touch to your table setting. Don't forget the black cheese cloth for added effect.
Witches Den Party Table: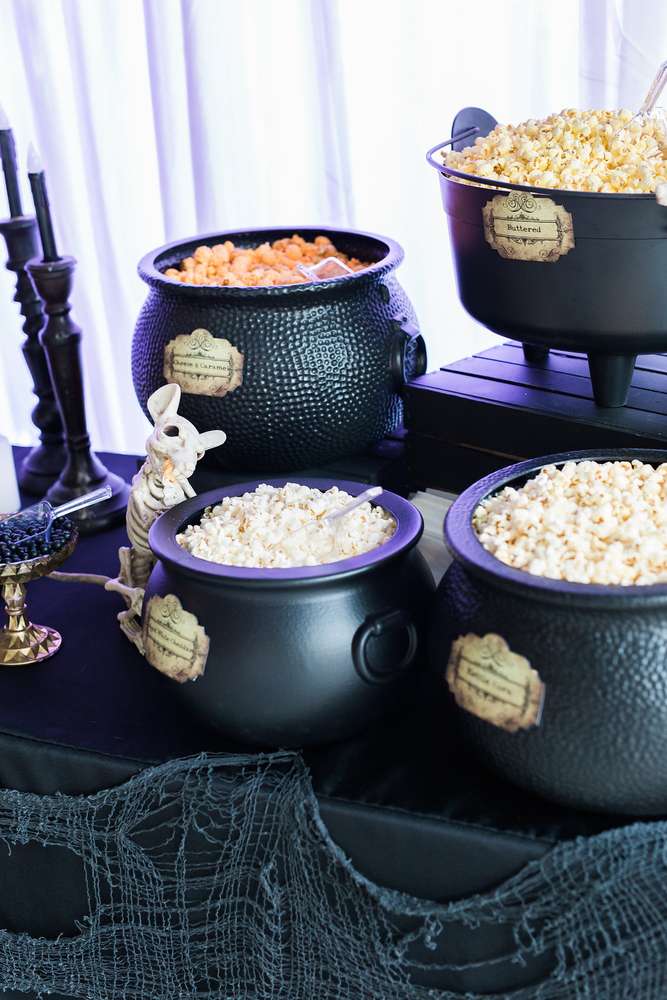 This purple and black table setting with cauldrons all over is simply perfect for a witch's themed party. The rat skeleton really cracked us up.
EyeSwoon Halloween Tablescape: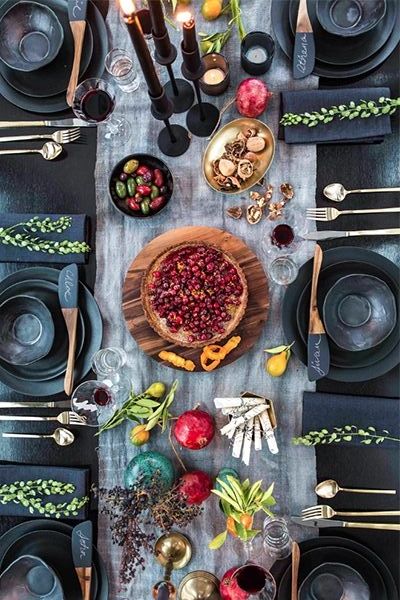 We indeed are swooning over this tablescape. It's simple, approachable and is still exuding Halloween vibes. We loved the inclusion of natural elements.
An Elaborate Halloween Table: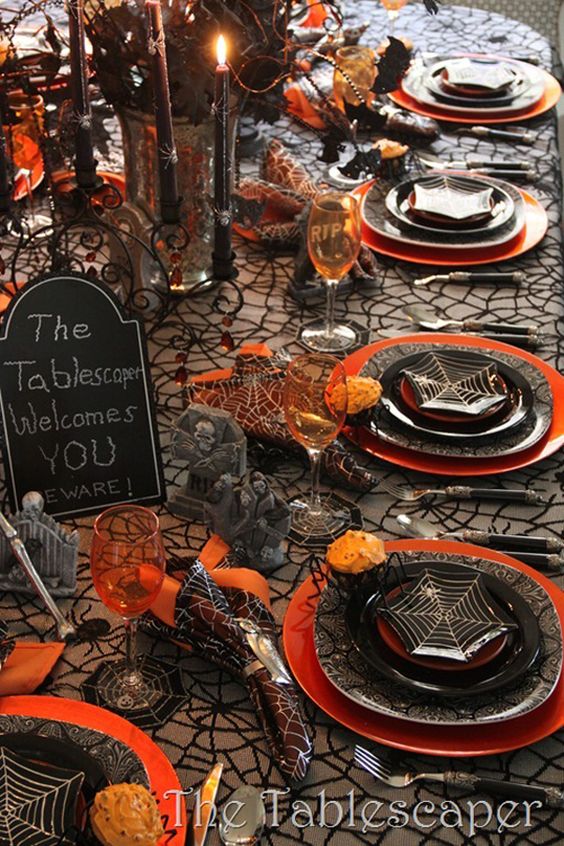 Those who want to go over the top with their Halloween decoration should definitely opt for something like this. It looks like Spiderman's Halloween table.
Pumpkin Bats: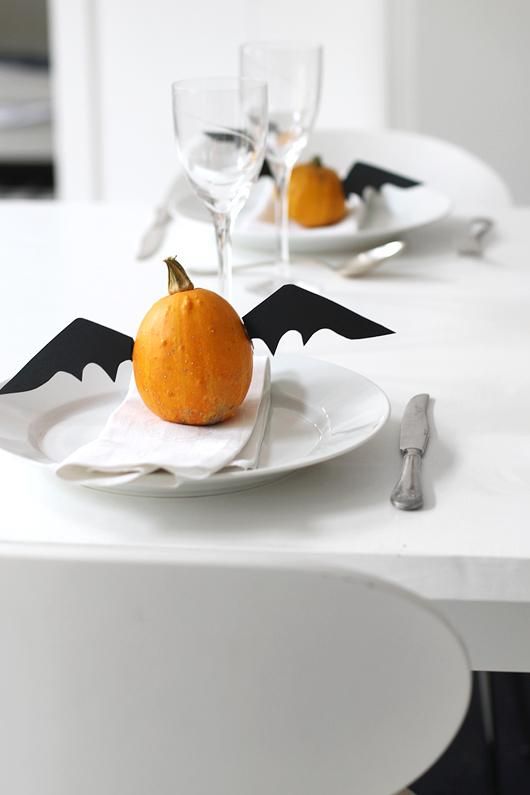 Have you ever come across pumpkin bats? Well, it's a first for us too! But don't you think it's unique? We're definitely going to try it.
A Spectacular Halloween Centerpiece: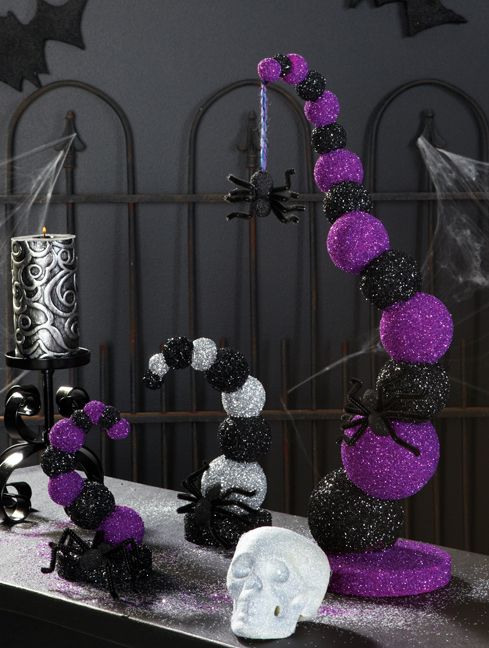 This idea is totally out of the box and unique.
An All Black Halloween Table: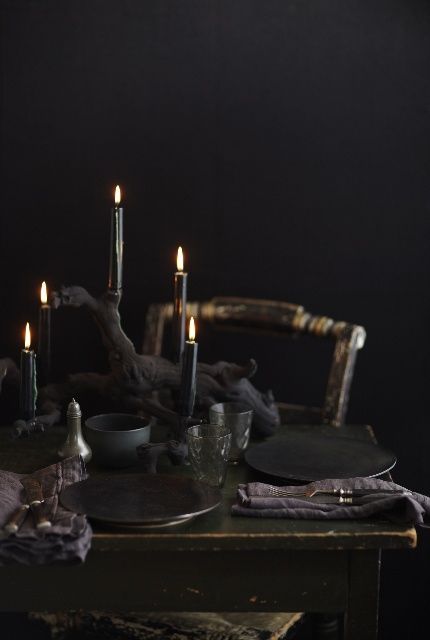 You can create an amazing Halloween table by opting everything black for the decorations.
SOURCE
Animal Skull: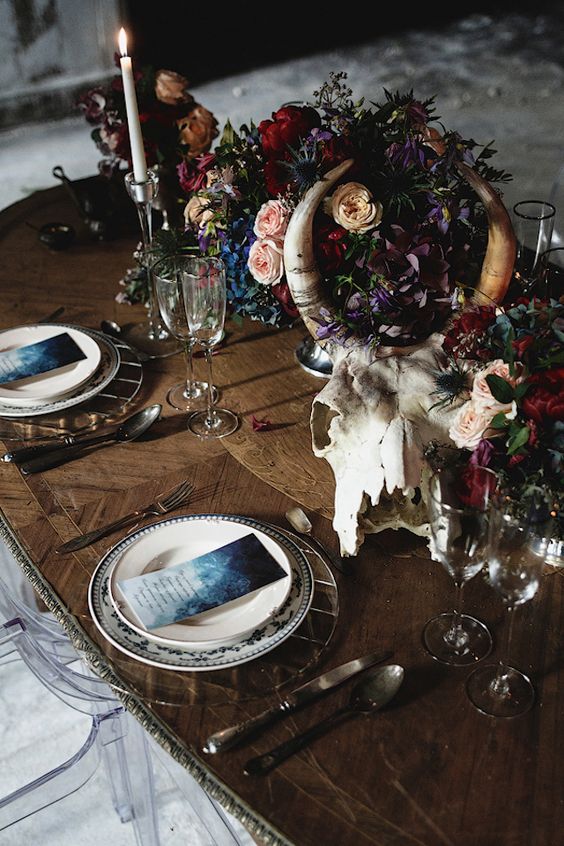 If you want to freak out the guests completely, use a cow or bison skull for the centerpiece.
Classy Halloween Table: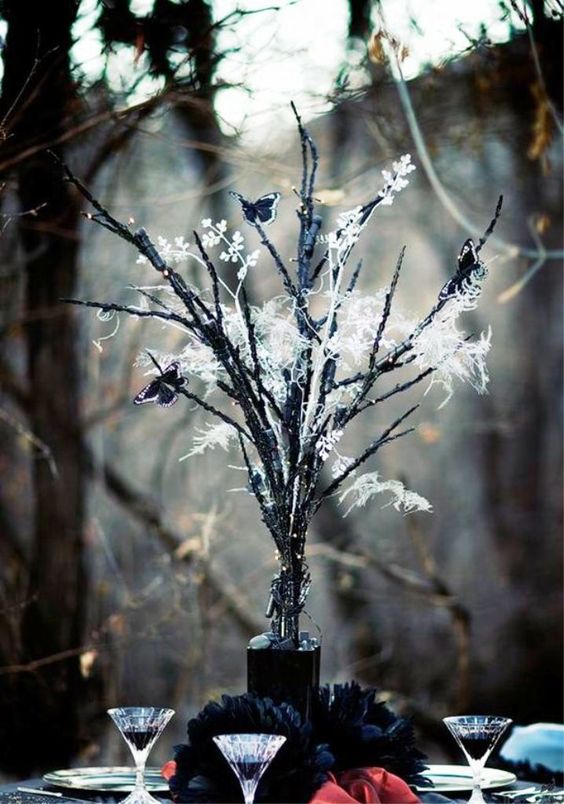 This Halloween table decoration idea looks really classy.
So why wait? Arm yourself with these creative and mind blowing ideas and set out to create the ultimate Halloween table setting. And don't forget to share your favorite Halloween table decoration ideas below.