Do you know what's the most fun filled Halloween activity? It's carving pumpkins to create scary, but essential jack-o-lanterns. Pumpkin carving has become pretty easy these days with all the carving tools and templates available in the market. So if you're looking for some Halloween pumpkin carving idea, you're at the right place. Below you'll find some of the most creative and amazing pumpkin carving ideas for Halloween.
You May Also Like To Read:
27 Pumpkin Carving Ideas For Halloween
Carve Your House Number On The Pumpkin: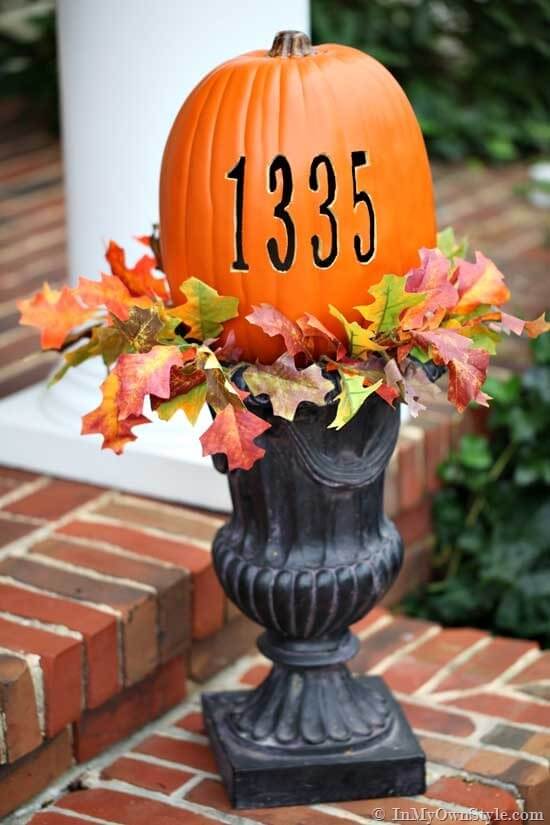 Instead of a traditional name plate, you can use a bright orange pumpkin to display your house number. Carve your house number on a pumpkin and place it on a planter for a graceful display.
Raccoon Pumpkin: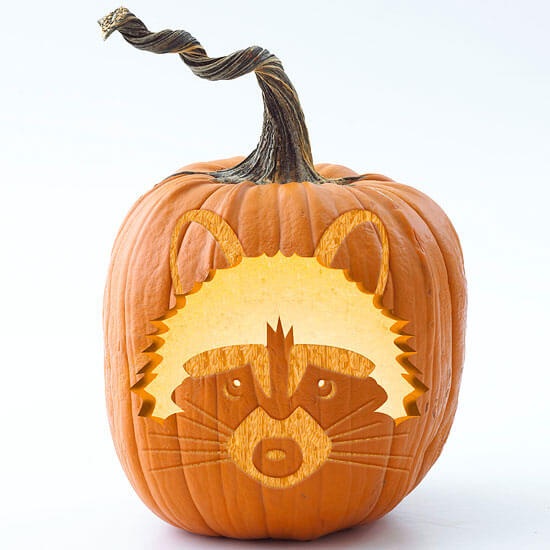 Your guests will be totally thrilled seeing this raccoon in your house. The carving is a bit intricate and can be a bit troublesome for those who're not a connoisseur at pumpkin carving.
Constellation Pumpkin: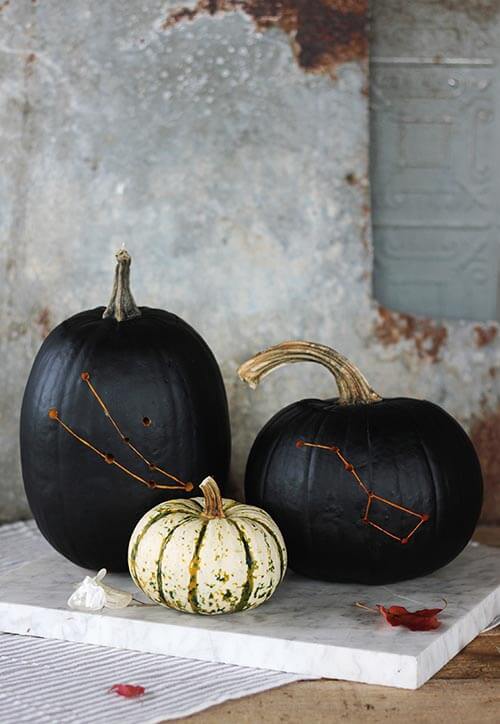 Nostalgia hit us really hard with this constellation pumpkin carving idea. This design is really unique and the black paint is enhancing its beauty like no other thing. And yes, it's one of the easiest pumpkin carving ideas for Halloween too!
Pumpkin Candy Jar: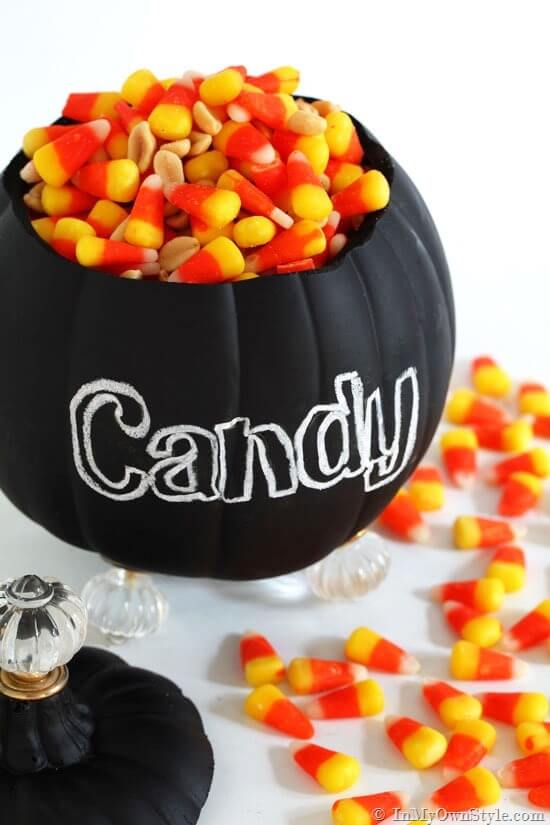 You don't always have to present candy corns in a conventional, glass bowl. Give the little guests in your house a major surprise by presenting candy corns in a carved pumpkin. Don't forget to write CANDY on the pumpkin.
Intricate Design On Pumpkins: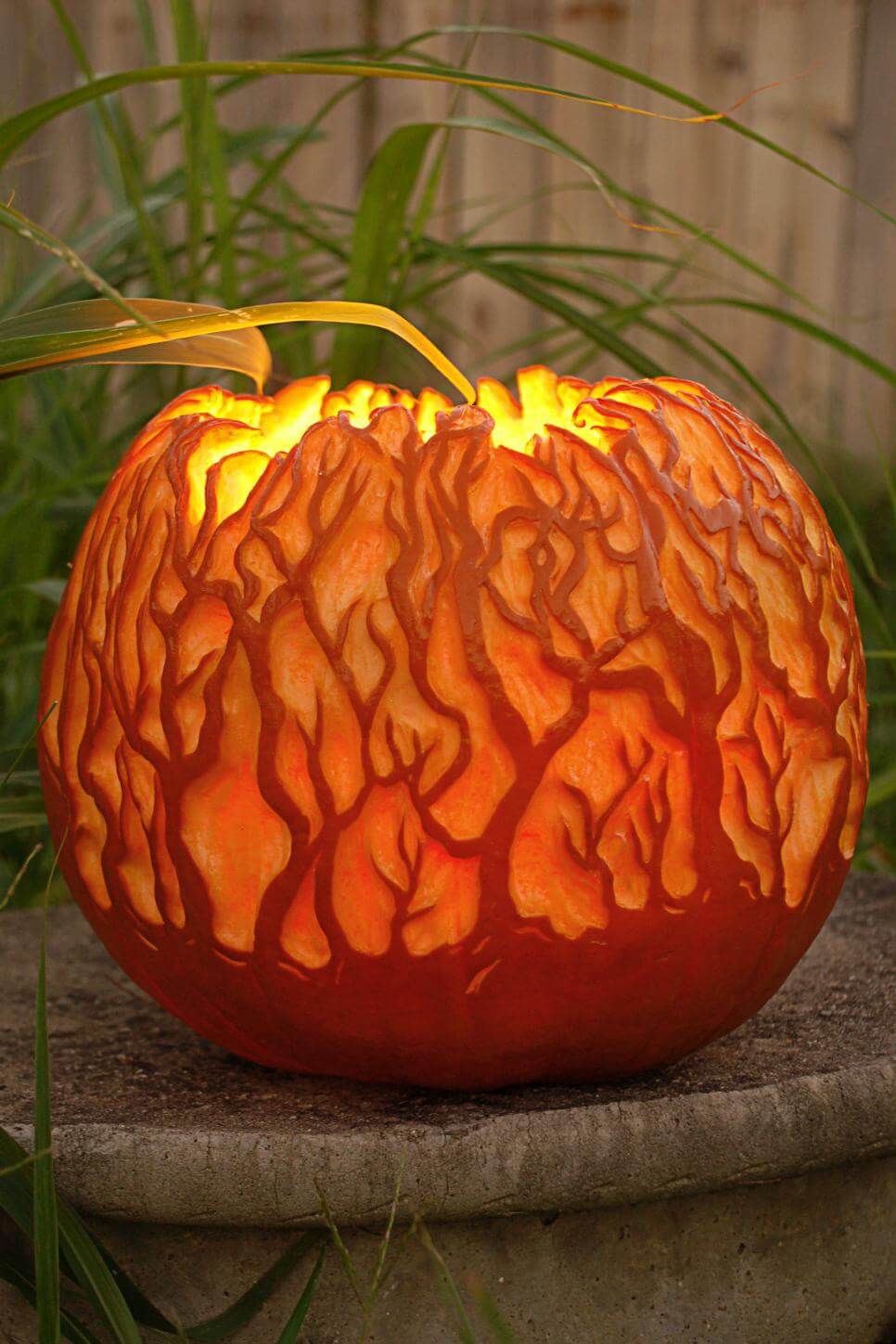 The spooky design on this pumpkin will make everyone feel as if they've stepped into deep forests. The golden glow, especially, is giving it an appearance of burning forest.
Firefly On The Pumpkins:
We know that fireflies are summer flies, but you can extend their magic into the Fall by capturing on a pumpkin. Don't forget to put a couple of holes in the jar.
Bat And Skull Pumpkin Peg: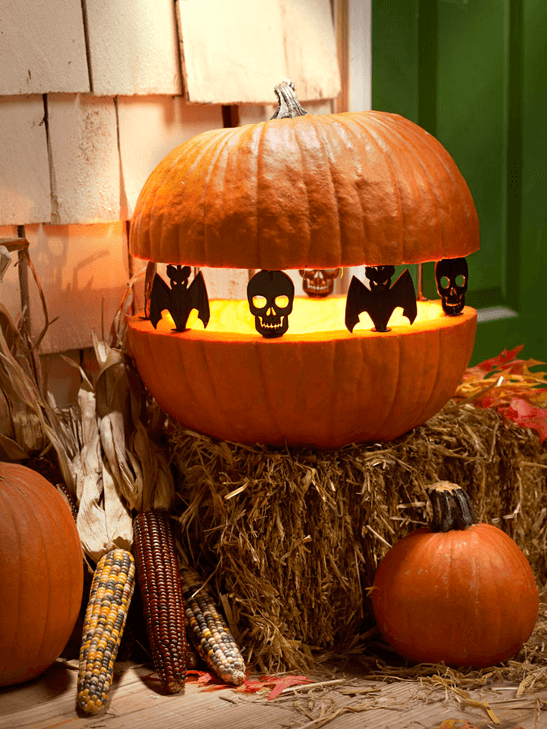 This idea is perfect for people who're not adept at carving veggies. Just slice open a pumpkin, scoop it out and attach both the pieces together using pegs. We must say the silhouette is looking awesome.
Emoji Pumpkins: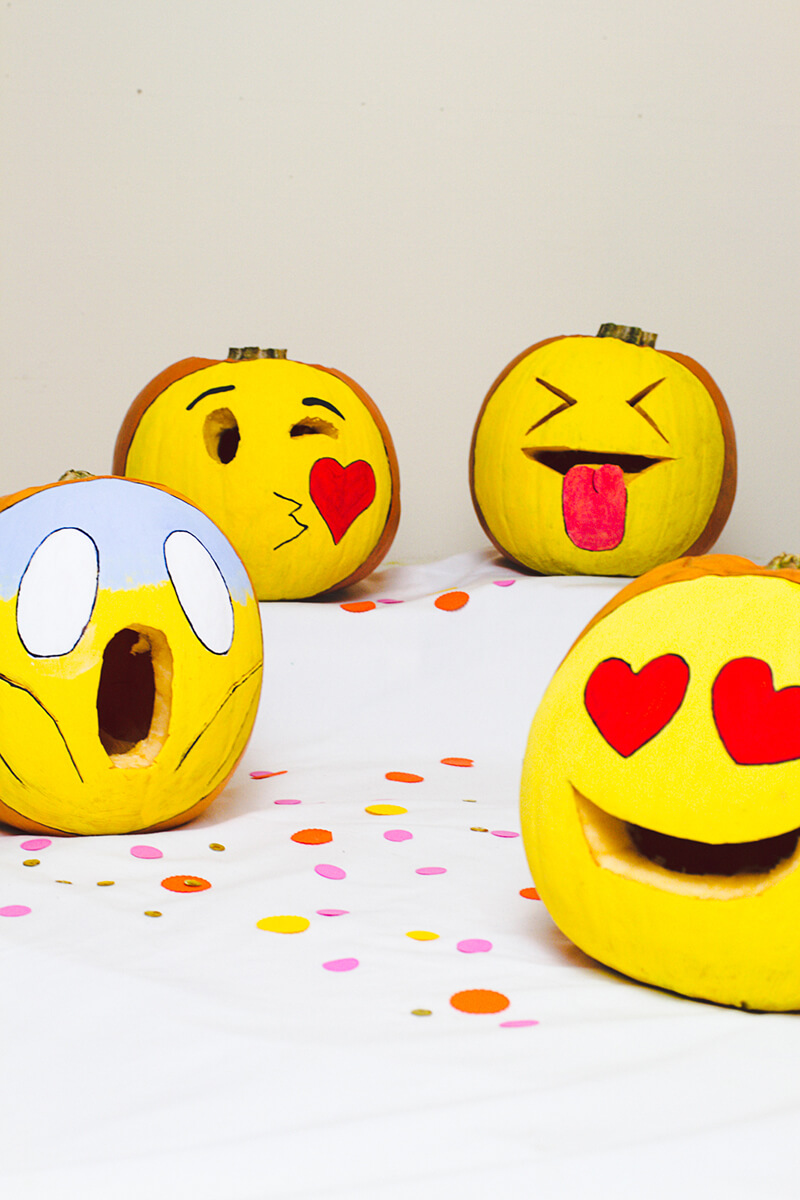 If you're totally into smartphones and instant messaging, these pumpkin emojis would make a perfect addition to your Halloween decoration. And since emojis are already flying high with the release of "The Emoji Movie, it would make a great inclusion.
Frog Pumpkins: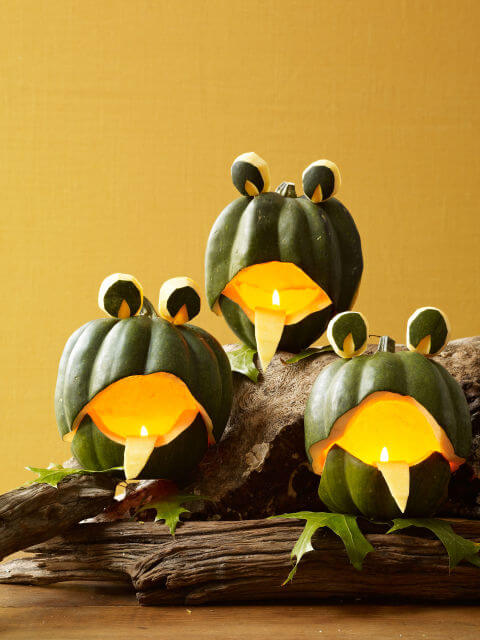 We won't say these frog pumpkins are easy to make, because, well, they're not. But with a little effort, it can definitely be achieved.
Classic Pumpkin Carving: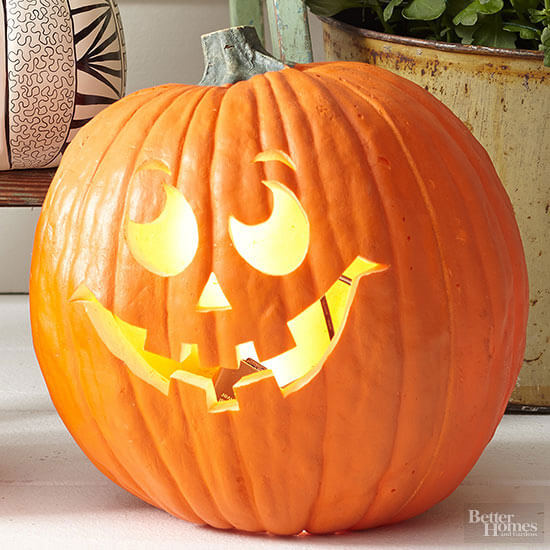 If not anything, you can go with the classic jack-o-lantern design. But we must say this idea doesn't look scary even a bit. Instead, it looks really cute.
Lego Carving: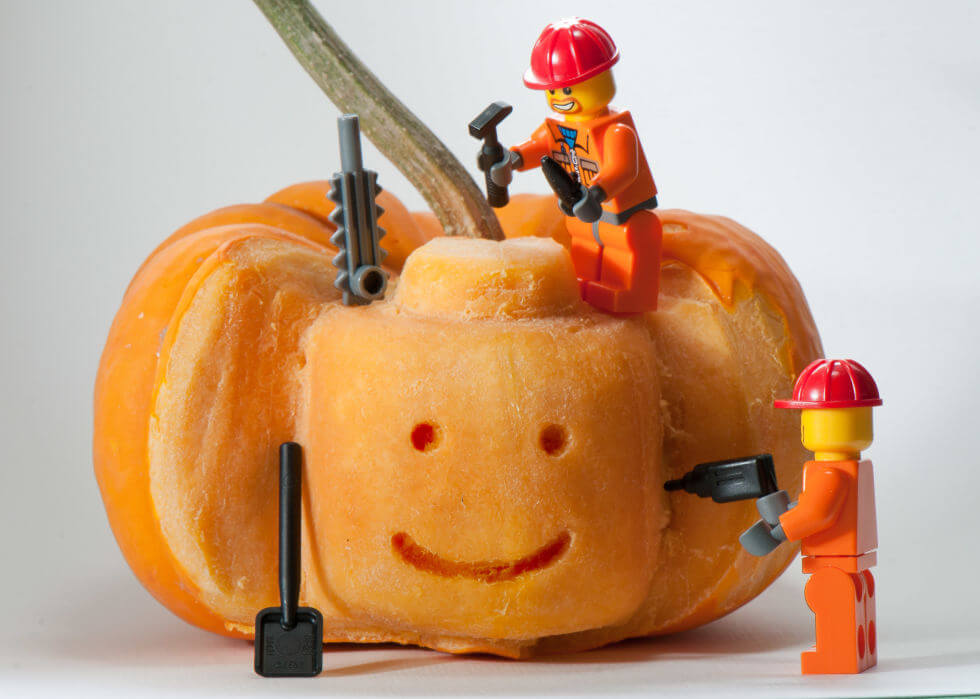 This is, by far, the most innovative Halloween pumpkin carving idea. After all, you're never too old to play with legos.
Corny Jackie: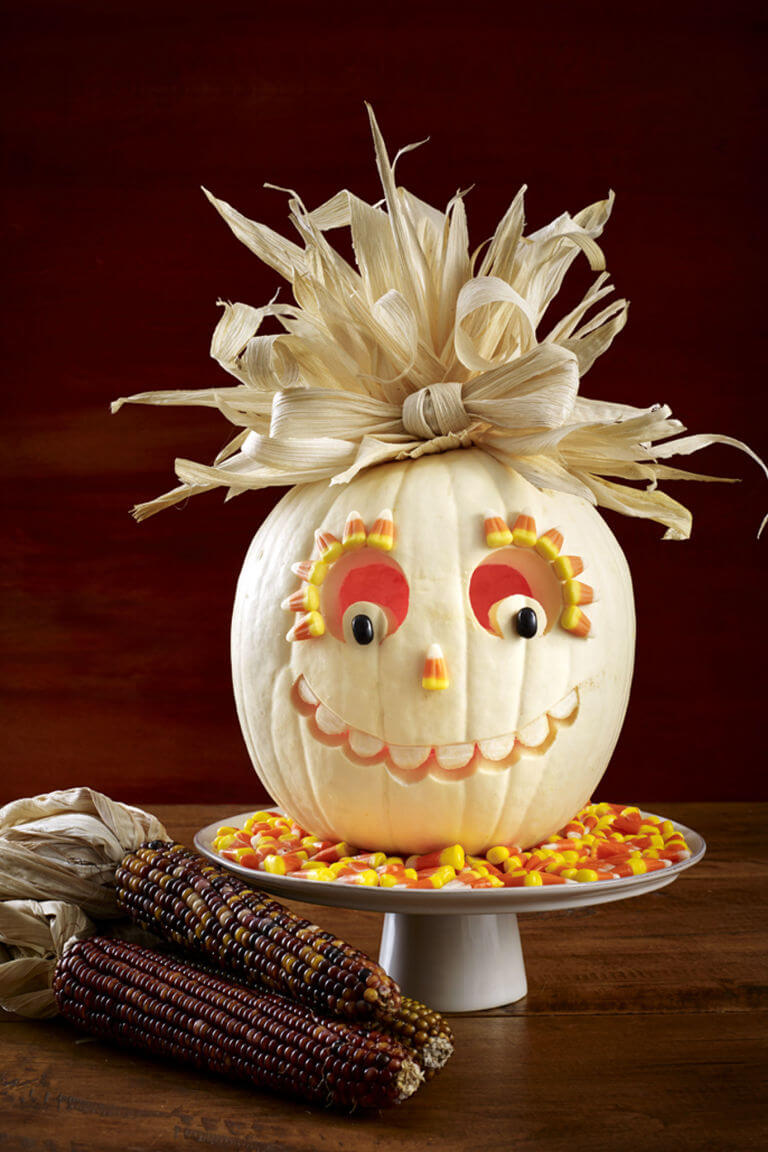 This looks really cute, probably one of the cutest jack-o-lantern we've even seen.
Zipper Pumpkin: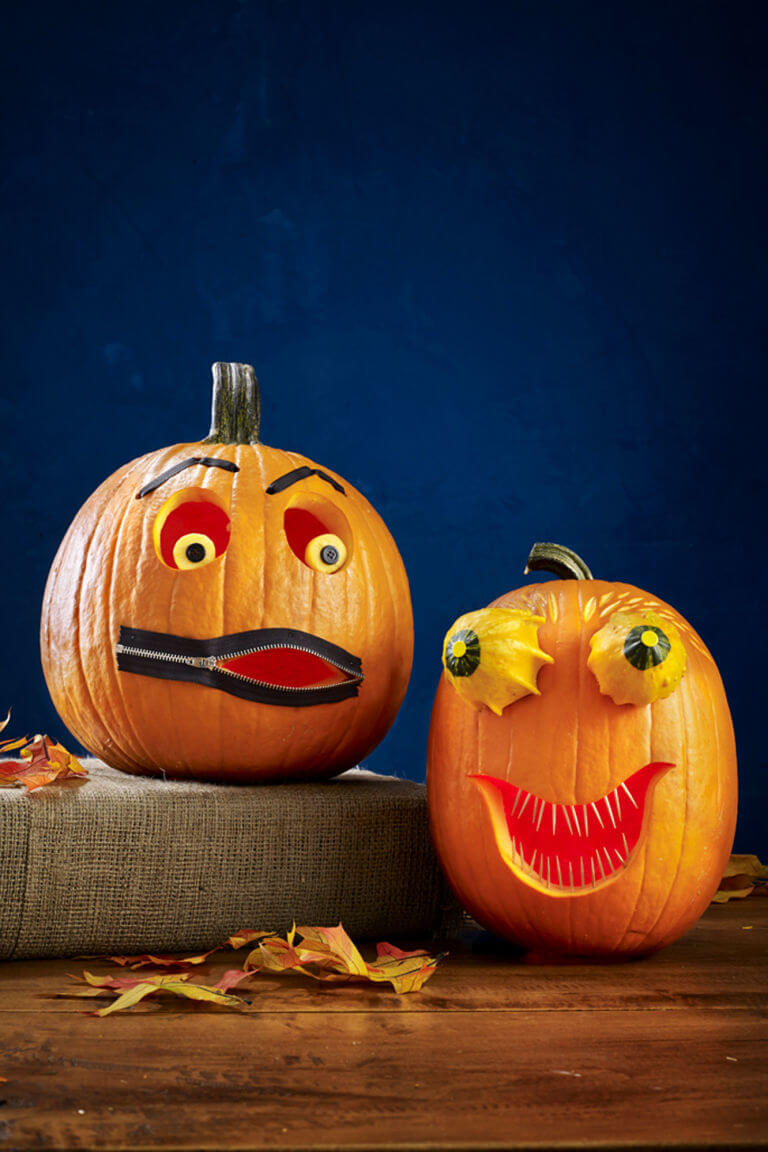 What a cute pair? A man has to zip it up in front of his wife. We feel it's a lovely idea for newly married couples.
Geometric Designs: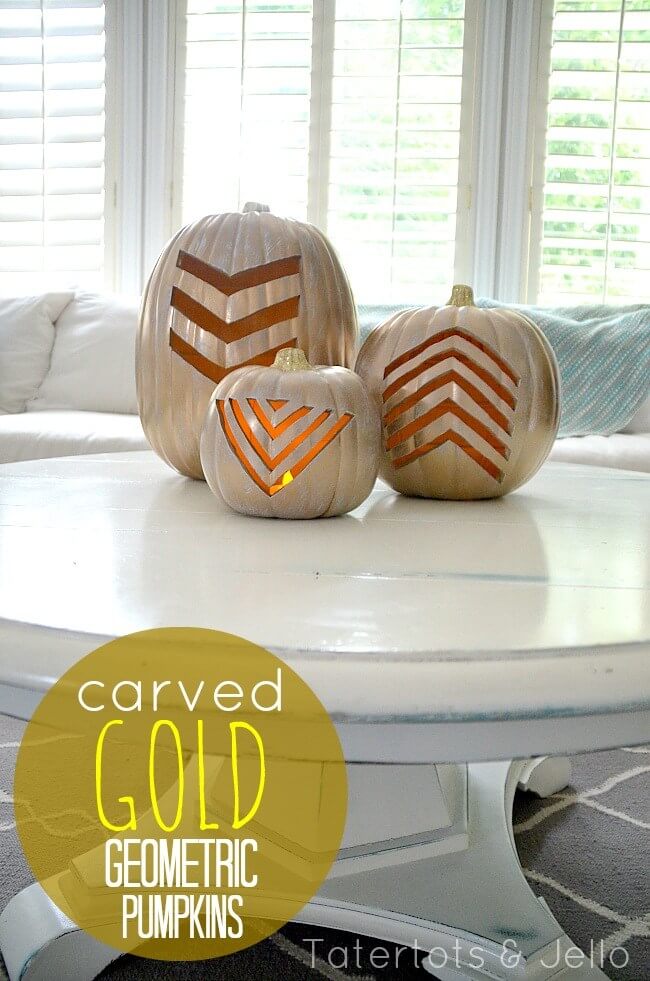 If you want to go an entirely different route or if you're a novice at pumpkin carving, go ahead with these geometric pumpkins. If you give the pumpkins a coat of paint, they'll last even longer.
Hungry Jack O Lantern: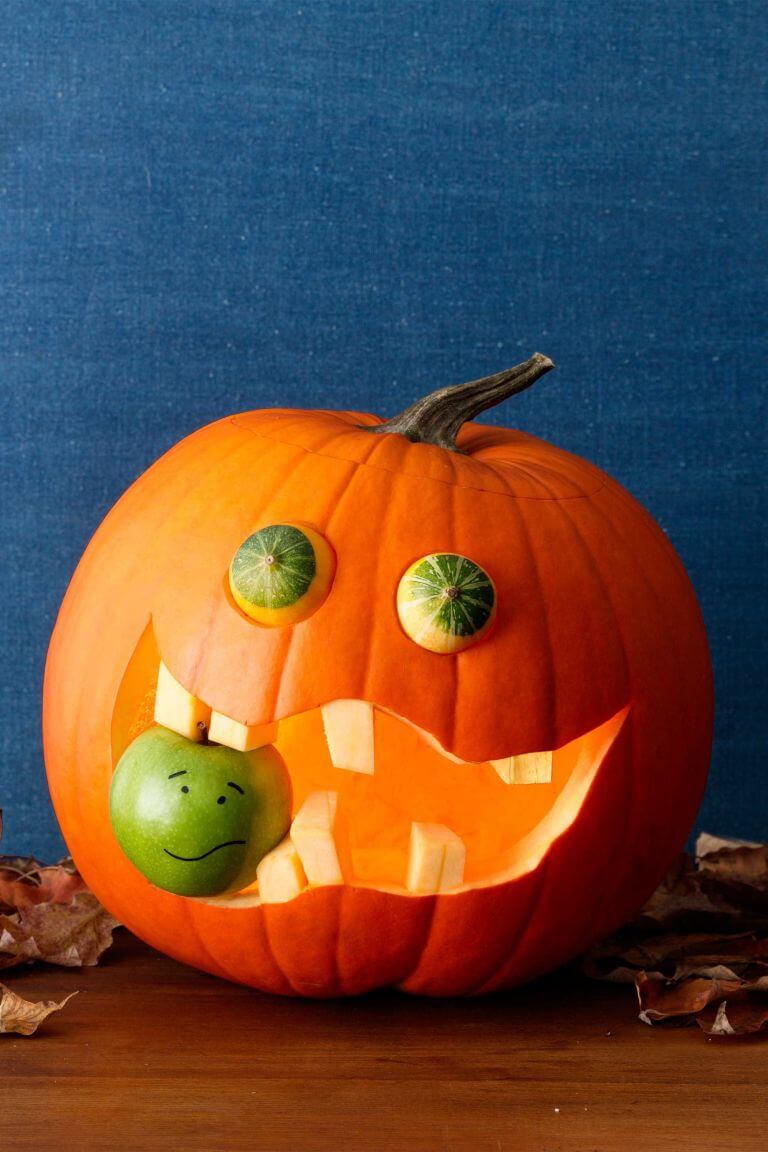 This jack o lantern was so hungry that he couldn't even wait until the Halloween feast. The apple doesn't look very happy being Jackie's food.
Frame The Pumpkin: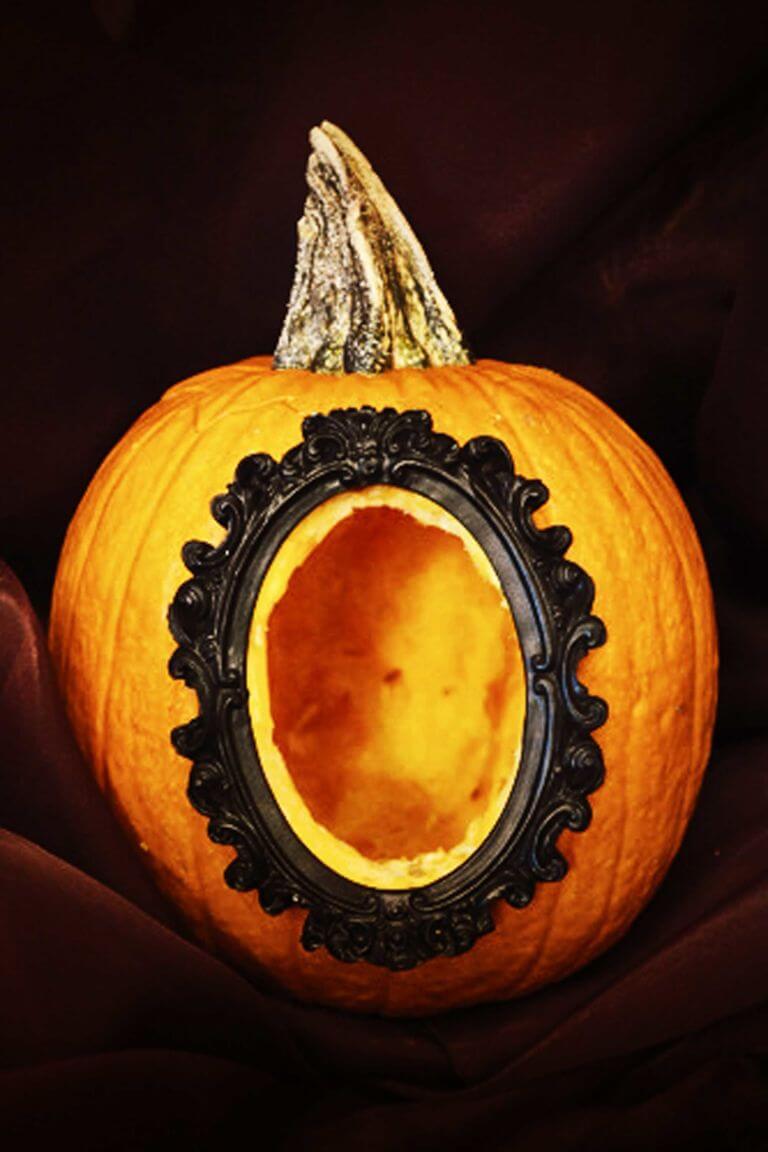 This pumpkin carving is incredibly easy to make and stands out from the crowd because of its beautiful, contrasting frame. It will look even better if you place a candle inside it.
Mickey Mouse Pumpkin: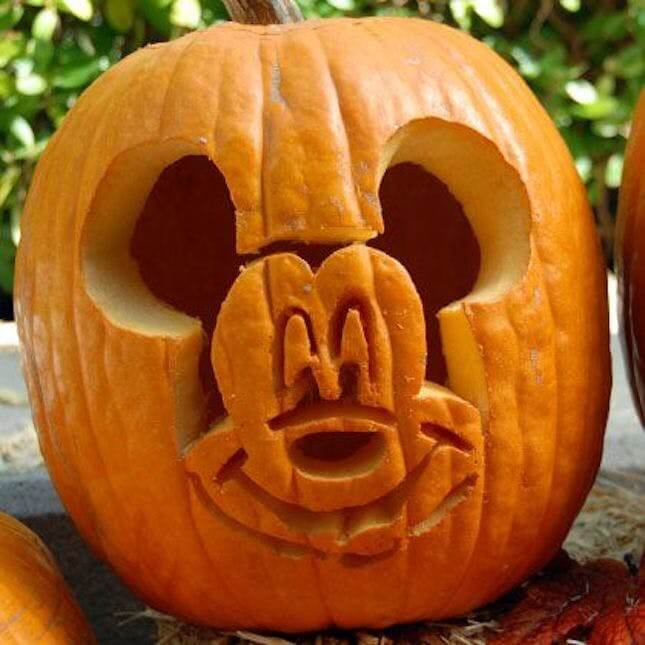 This pumpkin has the silhouette of Mickey Mouse! Do we really need to say anything else?
Cupcake Jack-O-Lantern: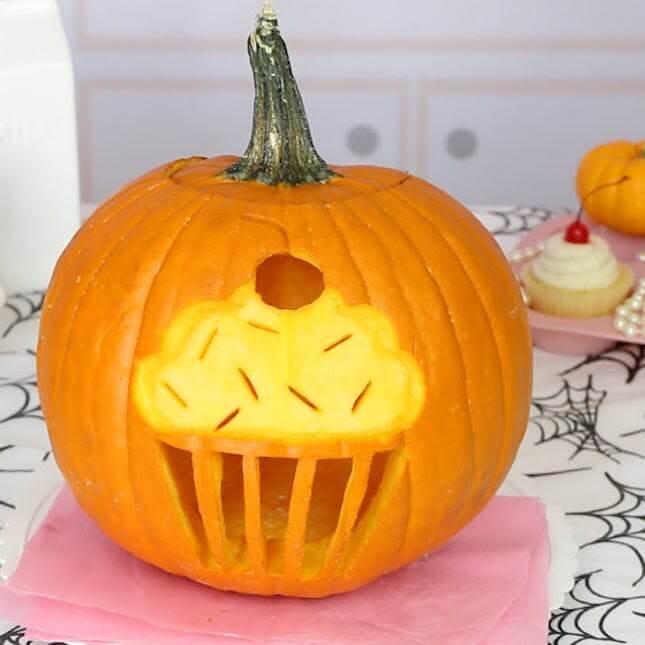 Display your love for cupcakes with this amazingly carved pumpkin.
Glitter Pumpkin: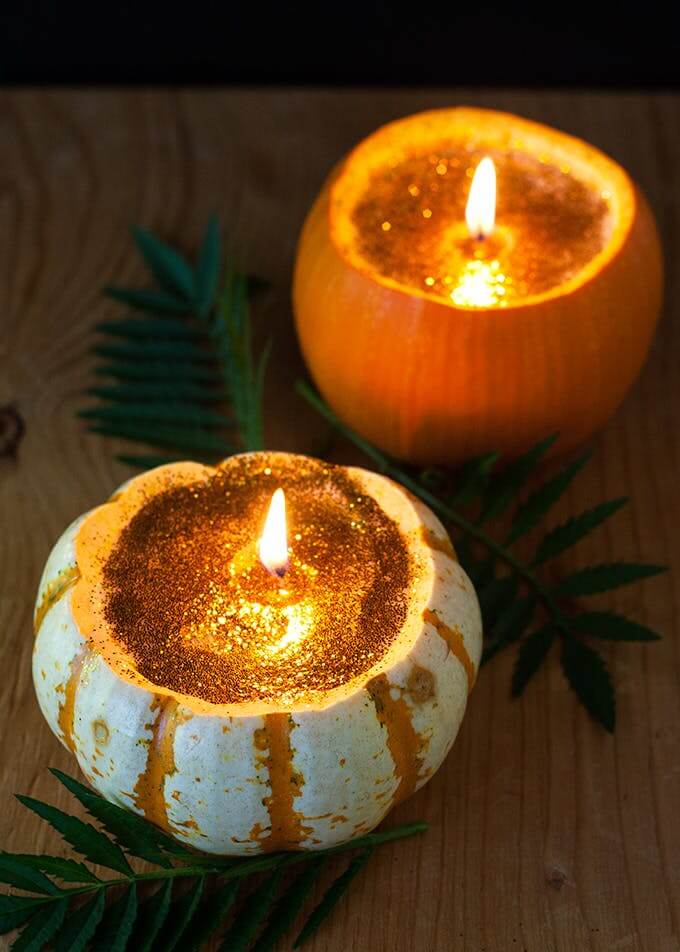 There could be nothing better than adding loads of glitter to your carved pumpkin. What more? You can turn it into a candle too!
Halloween Fairy Garden: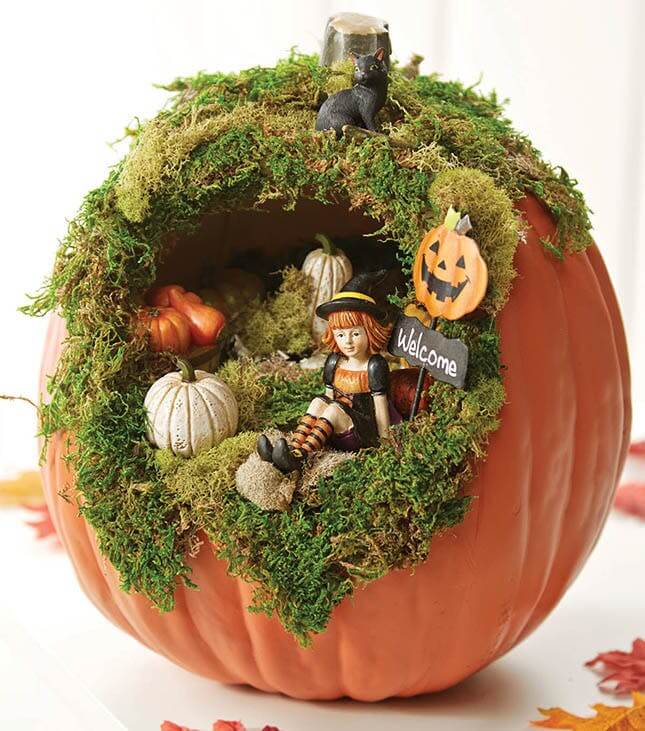 Skip making the terrifying jack-o-lantern this year by going the homey way.
Hen And Chick Pumpkin: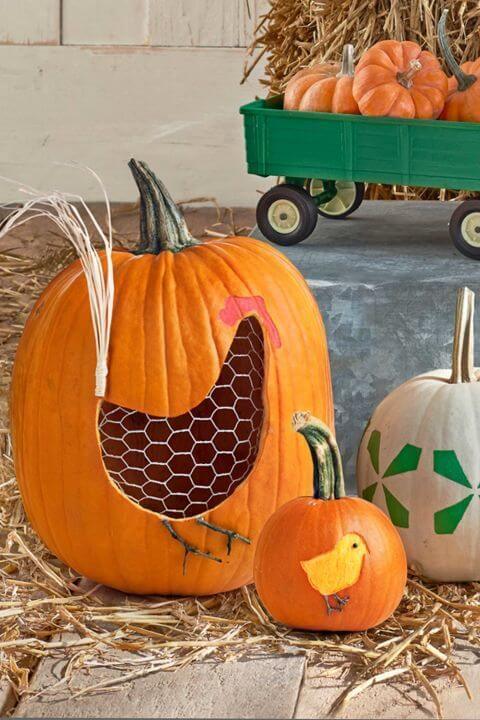 Just a little bit of chicken wire can help you create this masterpiece. It would be best suited for an outdoor decoration, especially a farm.
Monogrammed Pumpkin: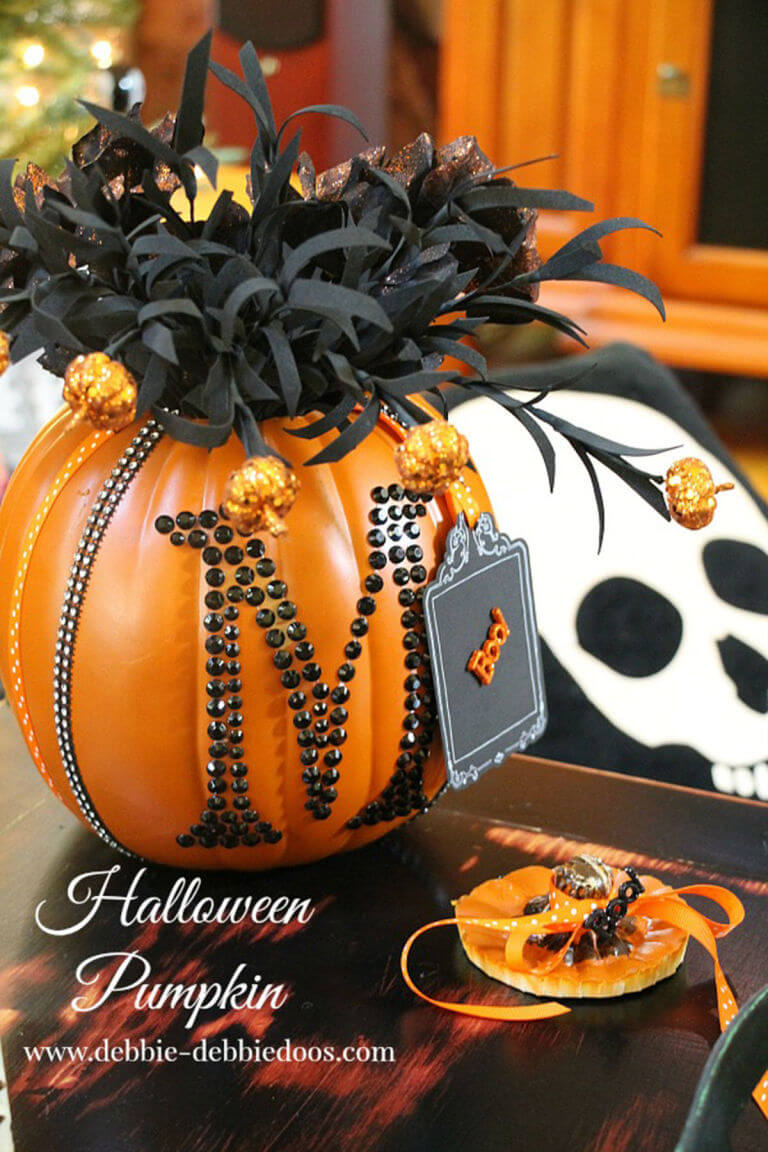 Have you even come across such fancy looking faux pumpkins? At least, we haven't. You can use this pumpkin either as a vase or an outdoor lantern.
The Lit Lanterns: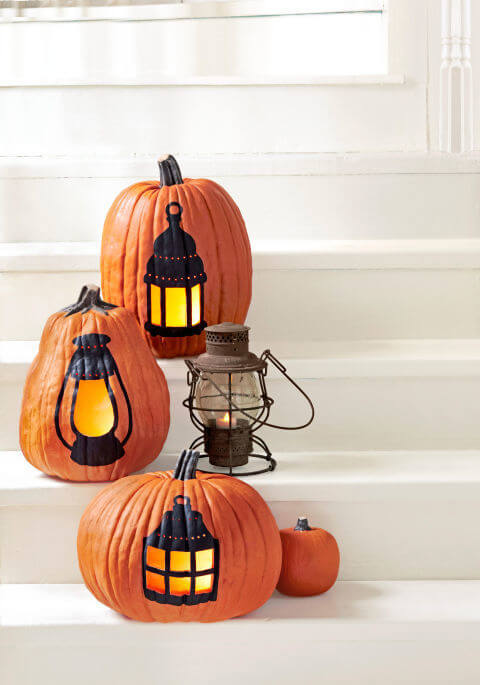 What do you think about the idea of decorating the pumpkin as an old school lantern and lamp? Don't you think it will make a fresh change from the regular jack-o-lanterns.
Polka Dot Pumpkin: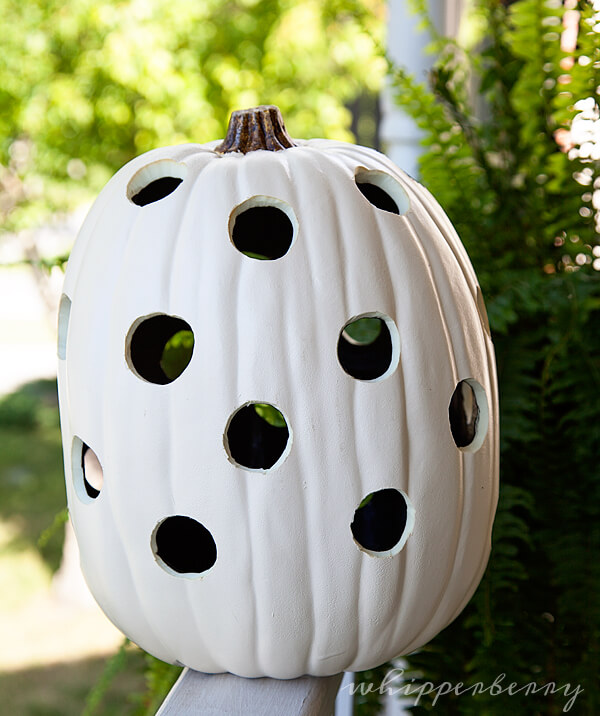 Give a modern touch to your décor by making small sized holes in your pumpkin to give it an appearance of polka dots. And don't forget to paint the pumpkin white.
Cinderella's Carriage: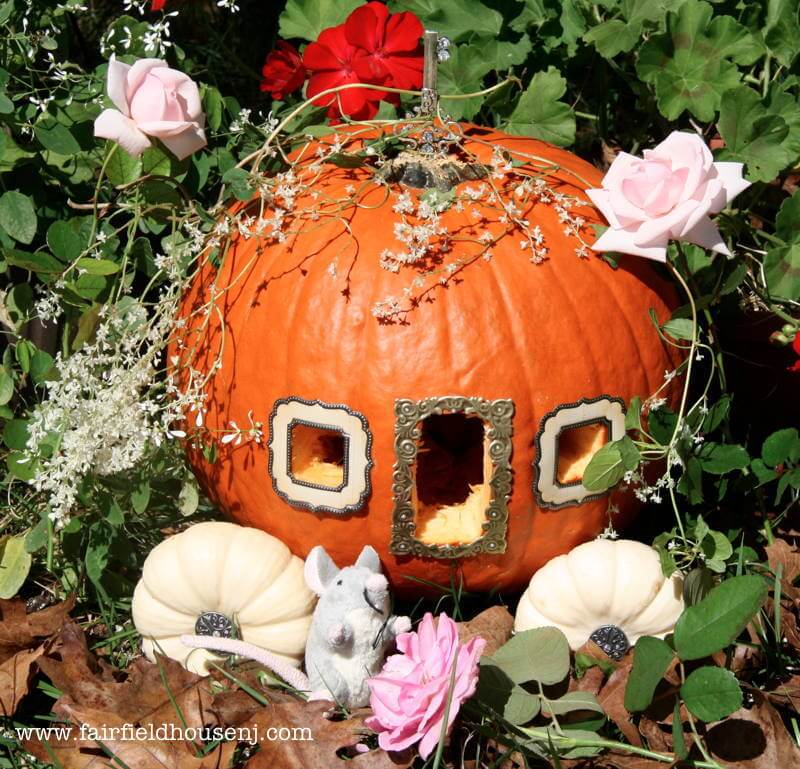 We think everyone can guess that this pumpkin is inspired by the Cinderella's carriage. Did you notice the little mouse? Thankfully, you don't require a magic wand to create this carriage. Just a handful of materials will do the work.
Boo: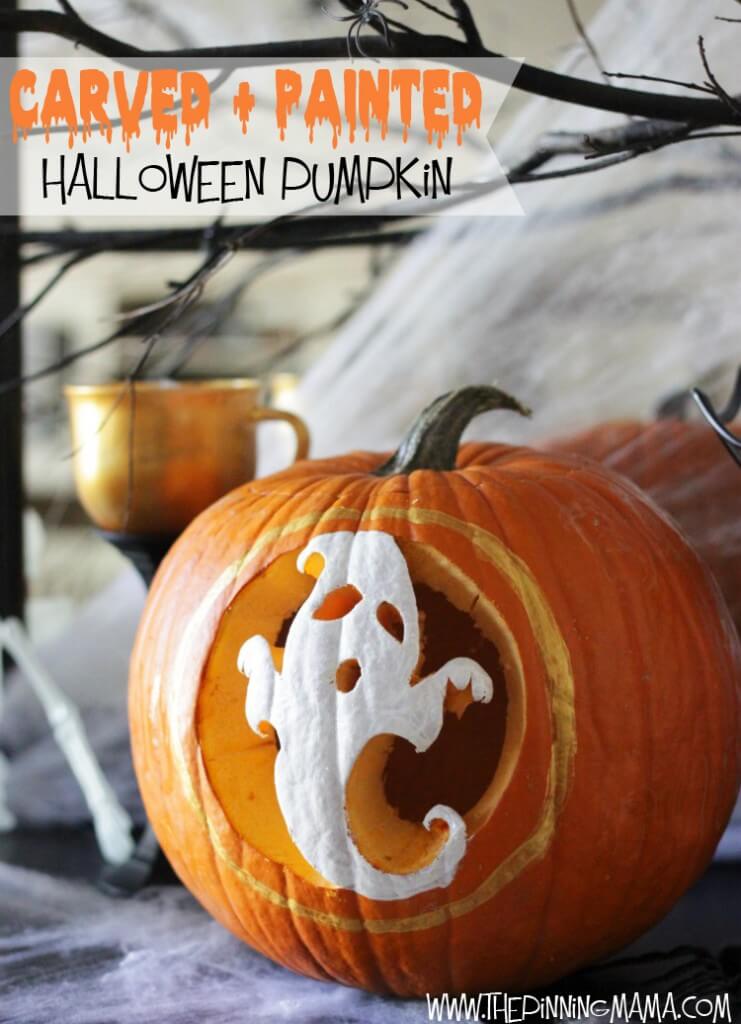 Take your pumpkin to an entirely new level by making on ghost on it. We must say the white paint is making all the difference.
Spiderweb Pumpkin: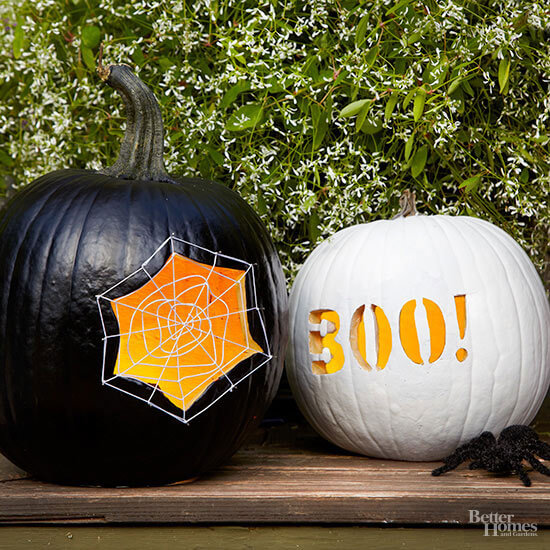 This black pumpkin with web highlights is contrasting really well with stark white BOO pumpkin. It will make a great outdoor and indoor decoration piece.
It's totally up to you what you want to make out of your pumpkins. Just try to make it the activity as fun and as amazing as possible. What are your most favorite pumpkin carving ideas for Halloween? Let us know by commenting below. And don't forget to pin your favorite images.