Halloween is one of the best times to decorate the house and a creepy or cool wreath could be the first step or the finishing touch to your home decoration. While orange and black wreath look cute, but it has been around for so many years that it definitely needs a change. So give the trick-treaters an evil eye with these unique and amazing Halloween wreaths.
You May Also Like To Read:
30 Creepy Halloween Wreaths
Sugar Skull Wreath: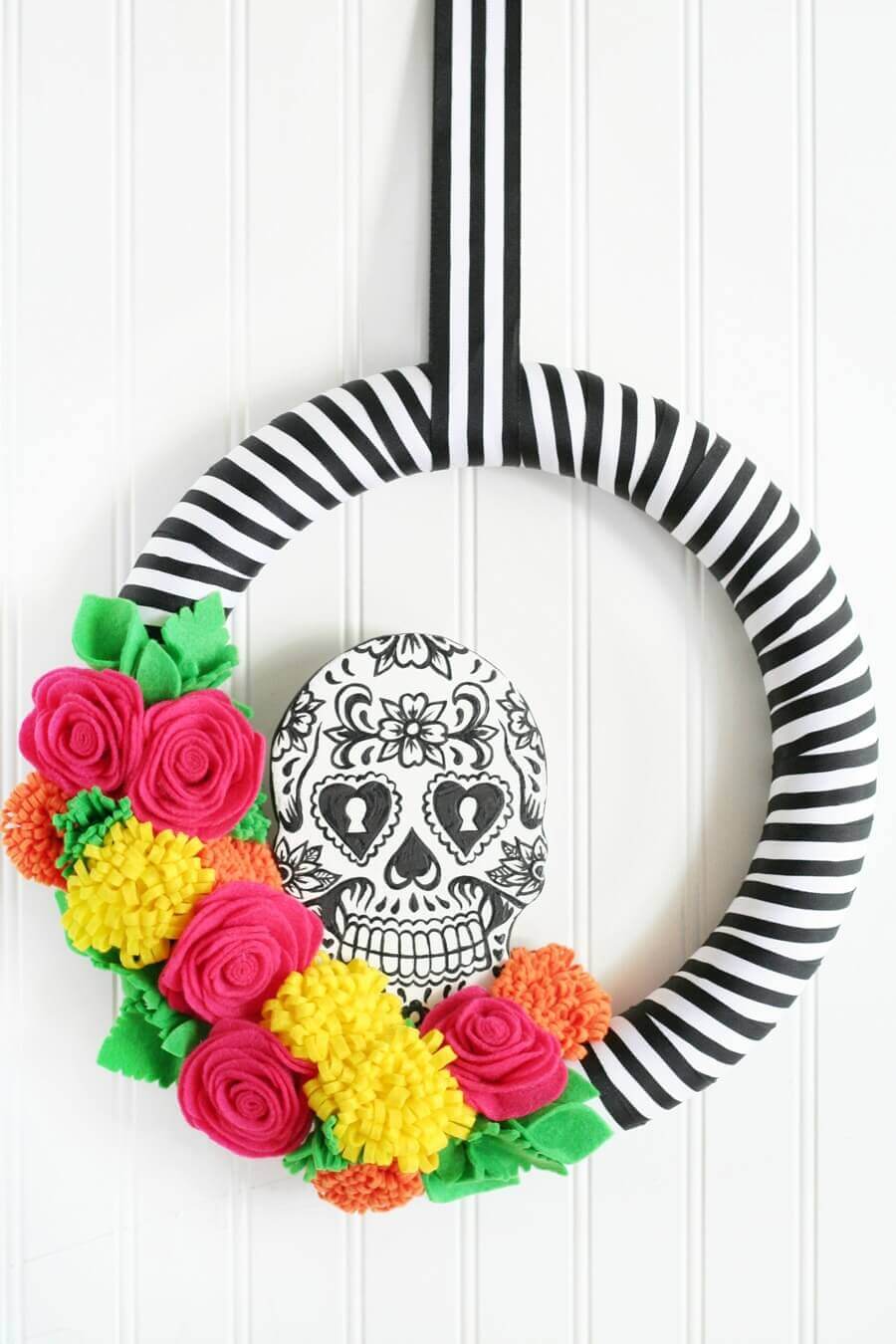 If you're opting for a black and white wreath, add a splash of colors by sticking some faux flowers on it. If you want, you can even go with felt flowers, if you're in the mood for DIY.
Black Cat Wreath: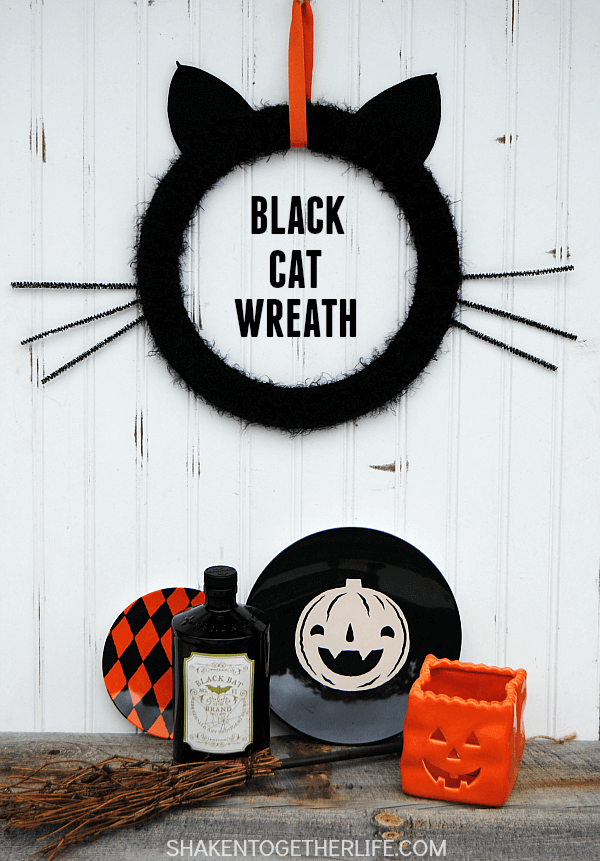 If you love cats, then here's a 'purrfect' wreath for you. You can create this wreath with black pipe cleaners, black felt and black yarn.
Coffee Milter Wreath: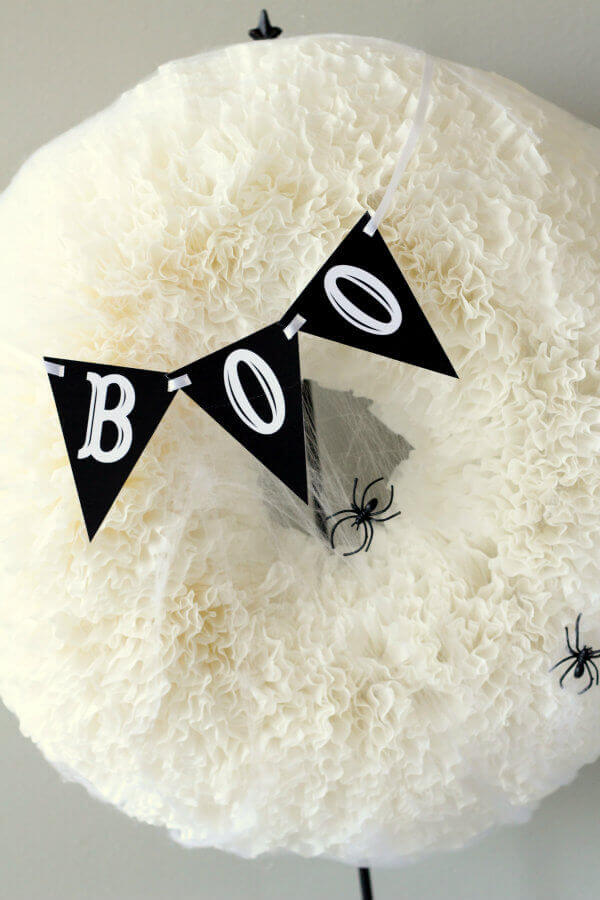 For this wreath, you'll need loads and loads of coffee filter, a few faux spiders, cheesecloth and a black and white banner. It will lend a classy look to your wreath.
Cute Witch Wreath: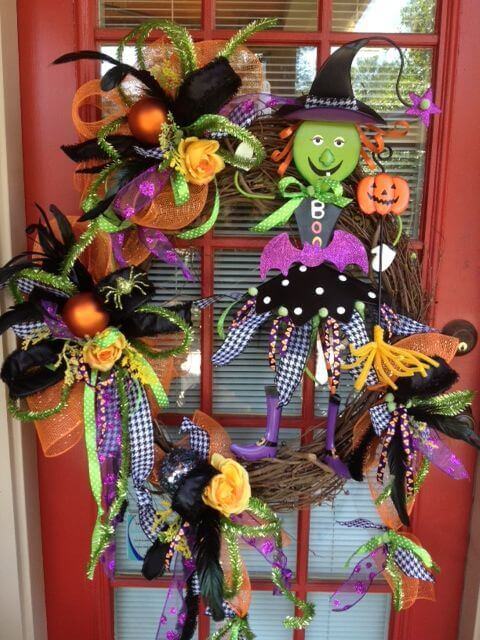 This cute wreath will definitely fail at scaring people.
Printable Eyeball Wreath: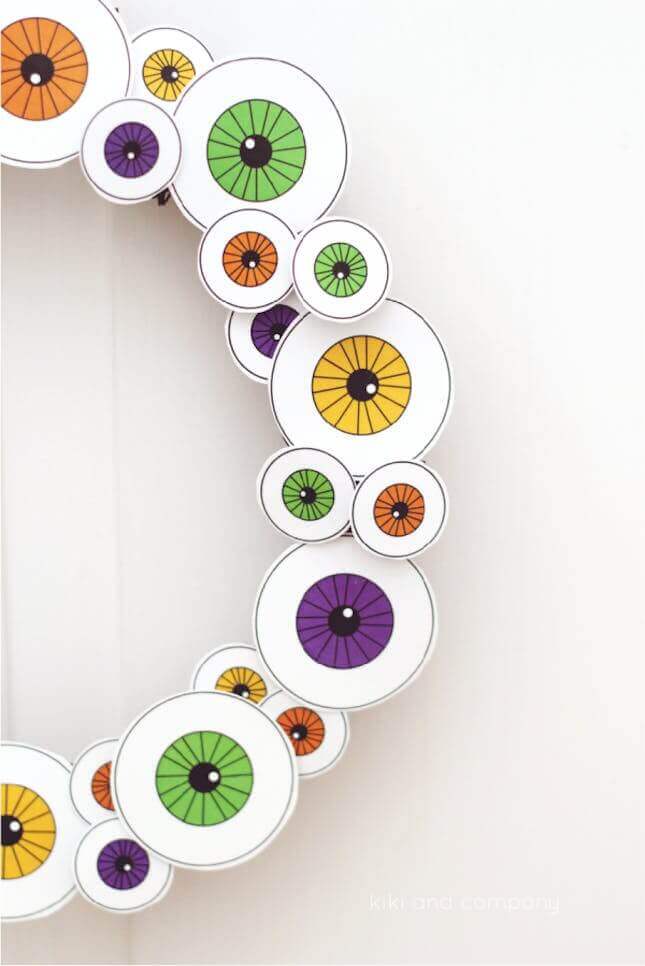 Start your Halloween decorations with this eyeball wreath. You just need to print out the printables and stick on the wreath form. Just a tip. You can even create masks out of these eyeballs.
Elegant Halloween Wreath: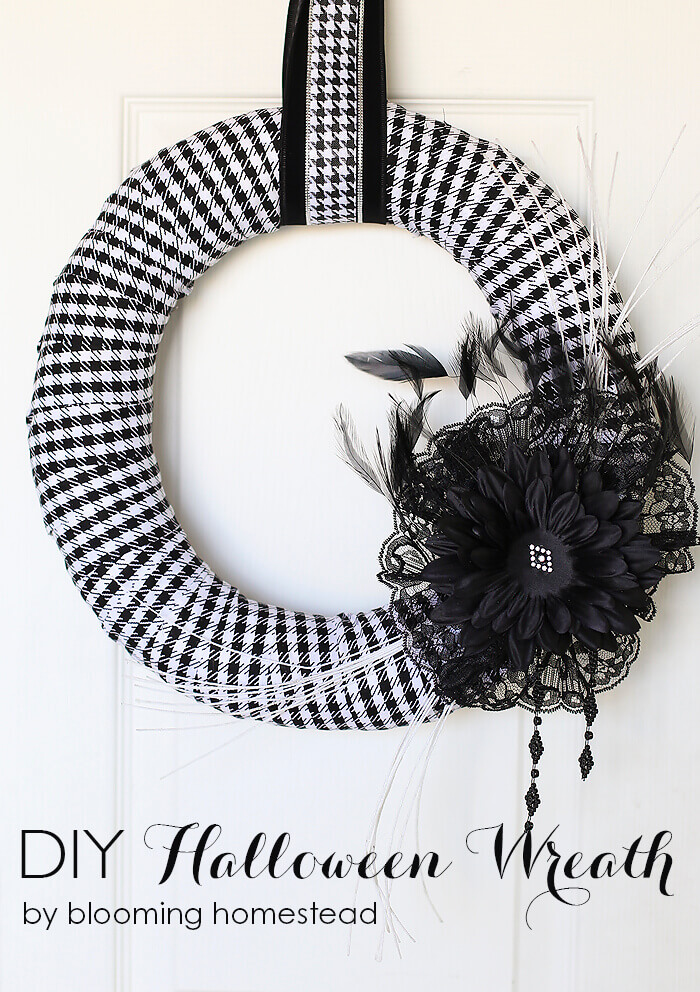 If elegant is what you what to make your door look this Halloween, go for this Halloween wreath. You can either buy a black and white wreath or make one yourself. It's quite easy. And then stick a black, oversized fabric flower and white sprigs.
Spooky Eyeball Wreath: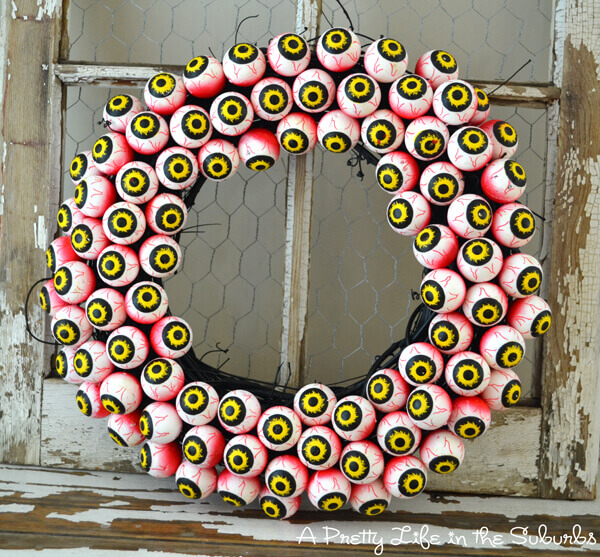 We just can't get enough of eyeball wreath, and this one is definitely our favorite of the lot. The lifelike eyes are making it look a lot better. Yes, it will give an uneasy feeling, but that's what Halloween is all about.
Oval Wreath: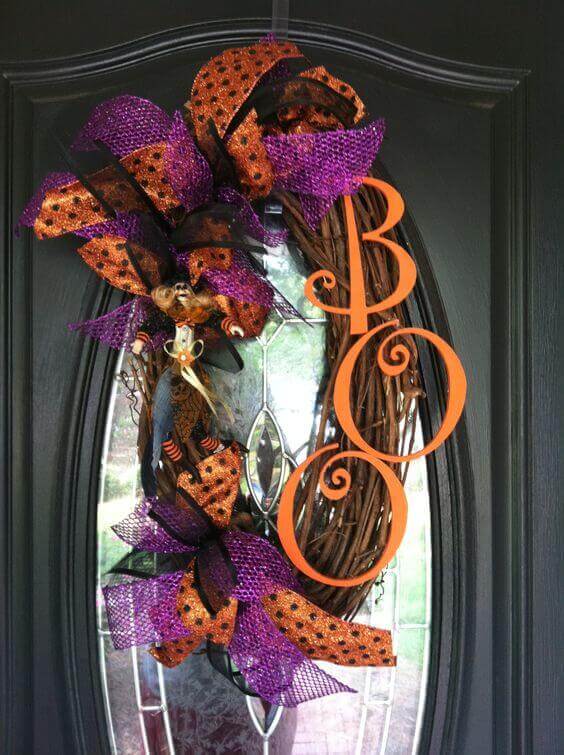 If you're tired of the same old round wreath, give the oval wreath a try.
Green And Black: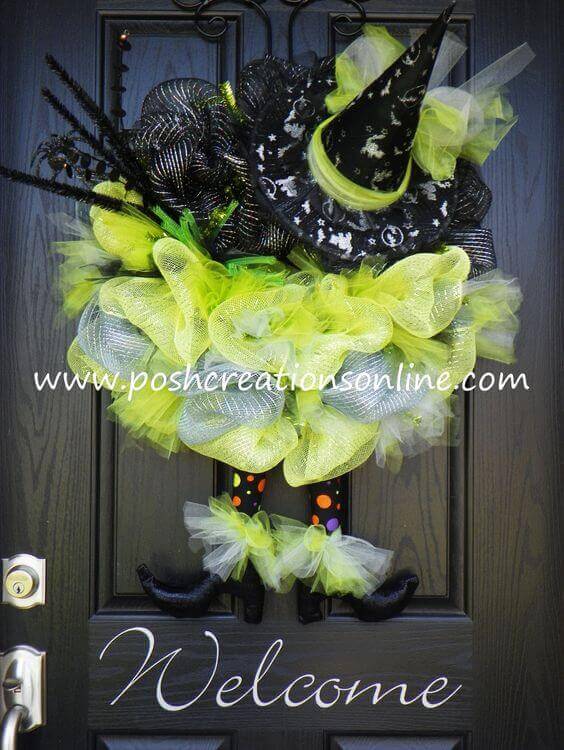 Orange and black can be popular, but green and black look every bit unconventional.
Candy Corn Wreath: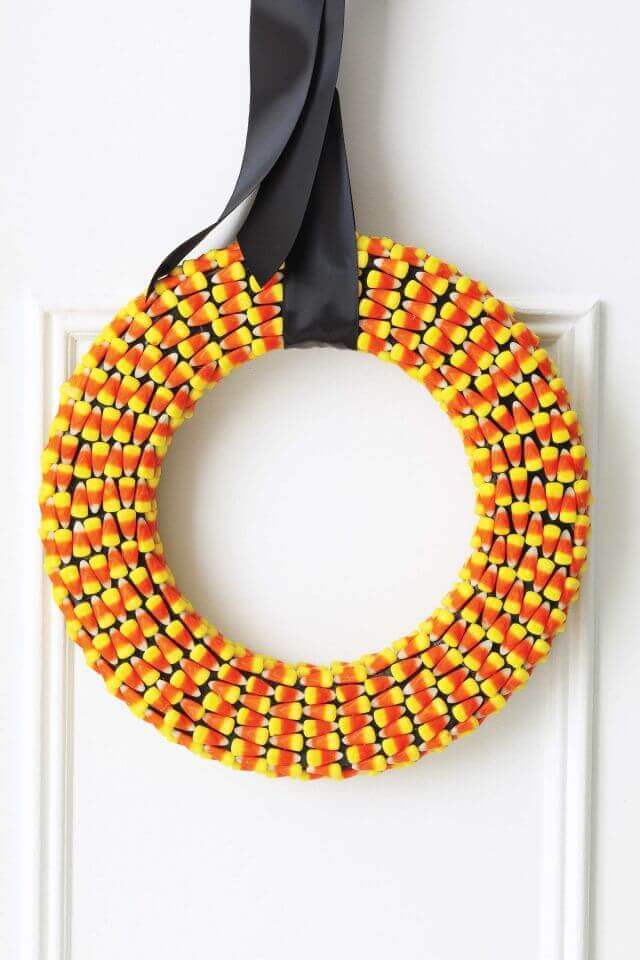 Yes, it has orange and it has black, but what makes it stand out that it made entirely of candy corn. You just need to cover a Styrofoam wreath with black duct tape and then arrange the candy corns to beautify it. To keep the insects away from candy corns, spray preservative gloss on it.
Spooky Eyeball Wreath: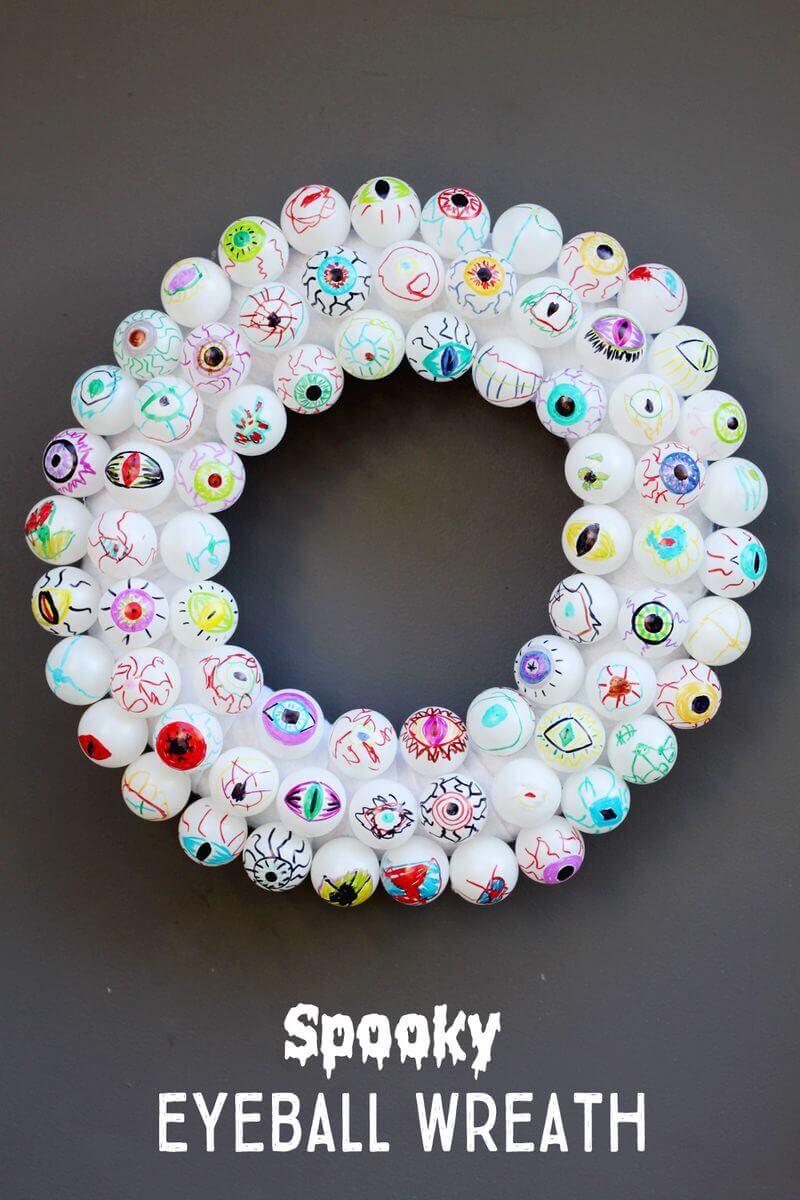 Got some ping pong balls in hands, then stick on a wreath form and then doodle some creepy stuff on it. It would be best if you make this wreath with your child. It will make a fun activity.
Wriggling Snake Wreath: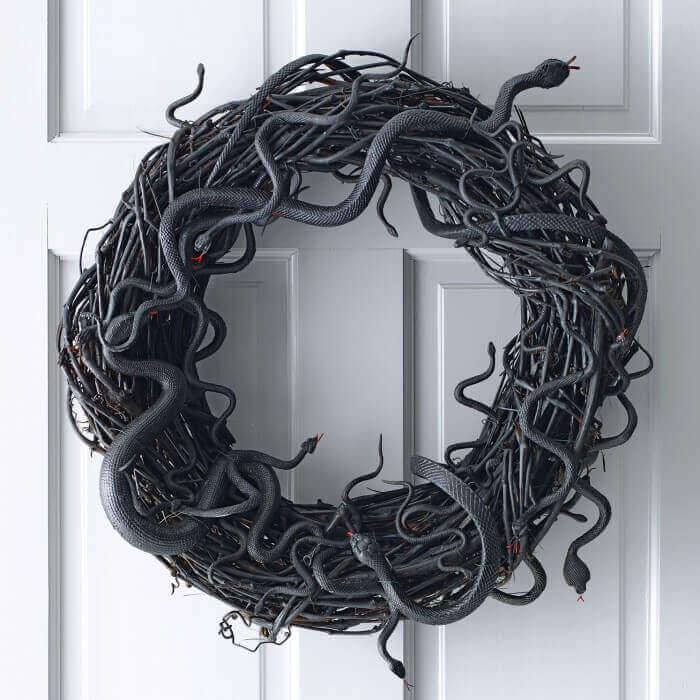 We love the creativity and imagination bloggers put on their works. See this wreath for instance, which is made using fake snakes.
Witch Wreath: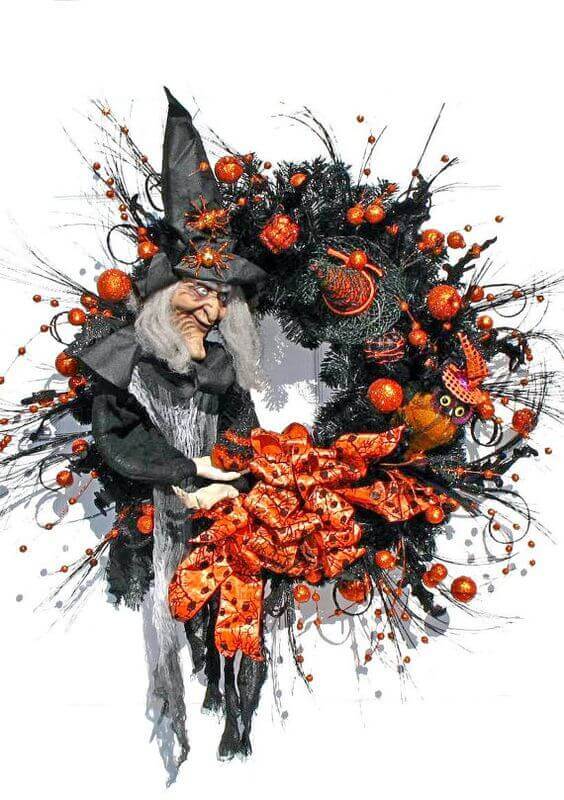 We must say this black and orange wreath is complementing the white door really well.
Frankenstein Wreath: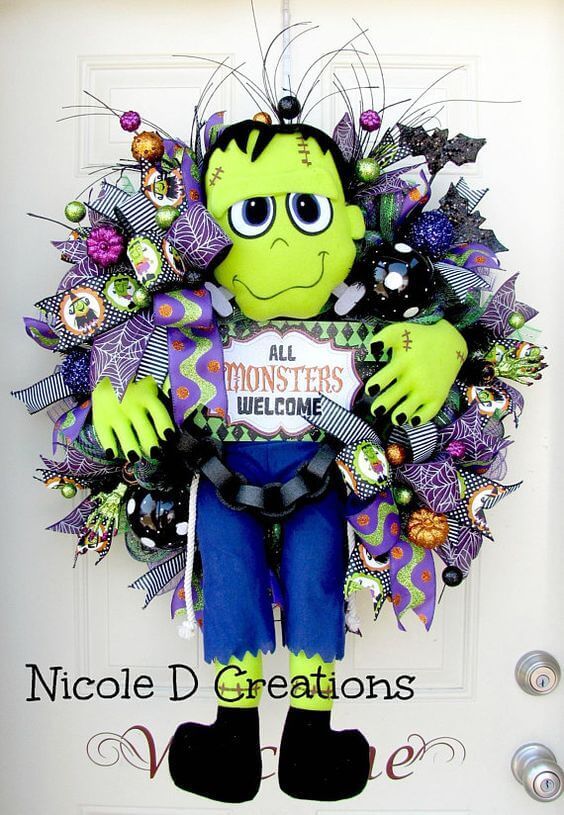 This Frankenstein wreath will look great hung from your child's room.
Spider Wreath: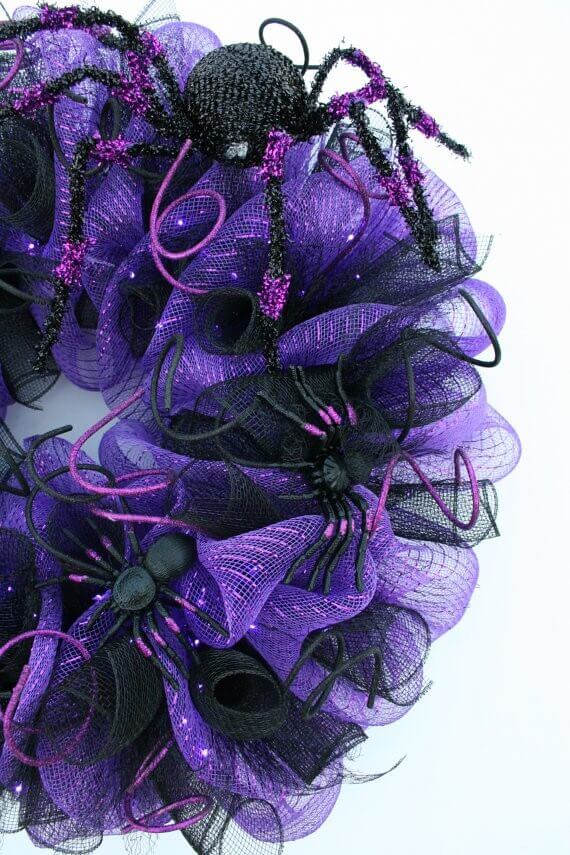 Channelize your inner witchy vibes with this black and purple wreath embellished with faux spiders. If you want to make it a bit more glamorous, pick ribbons that have metallic thread. It will shine and give a beautiful look to the décor.
Romantic Halloween Wreath: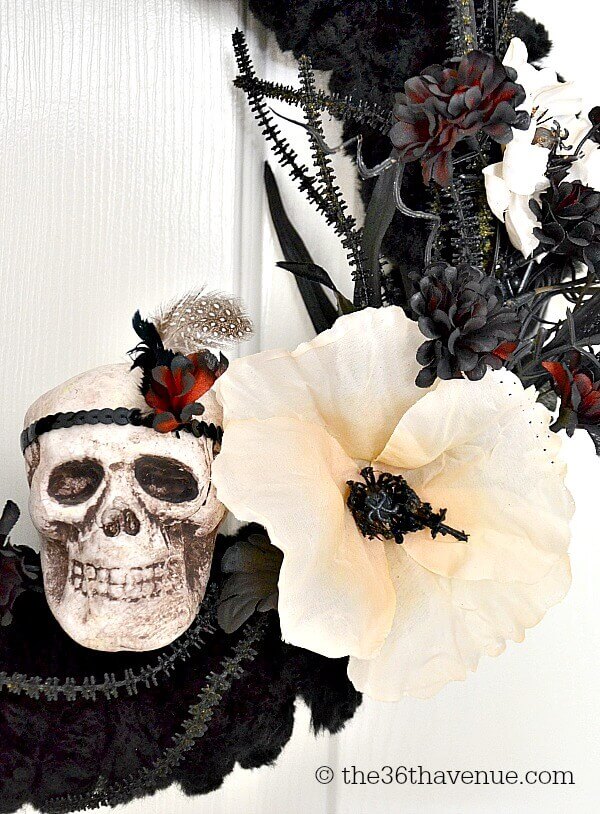 If dark and romantic is what appeals to you, go for this extraordinary wreath idea. The skull is adding the right amount of fear and the flowers are perfect romantic elements.
Candy Corn Fabric Wreath: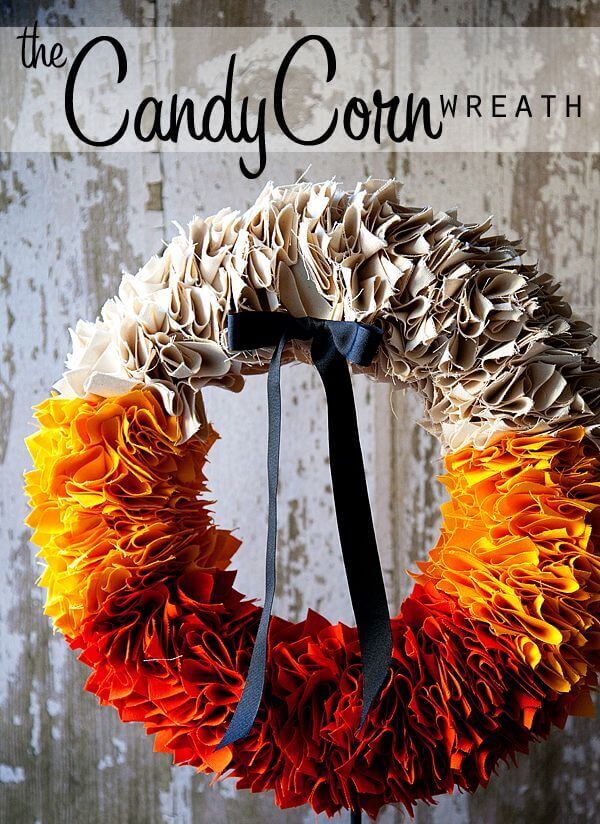 At least you wouldn't have to waste real candy corns for this wreath. But a lot of time will be spent cutting the fabric.
Crow Wreath: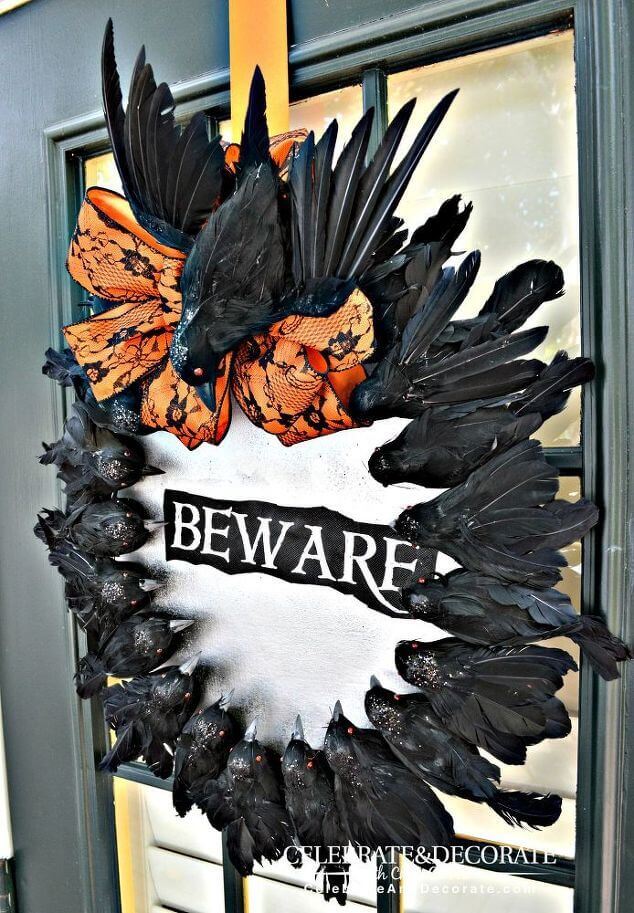 This one's seriously creepy and scary. And we think it will make a cool warning sign for the trick or treaters.
Monster Wreath: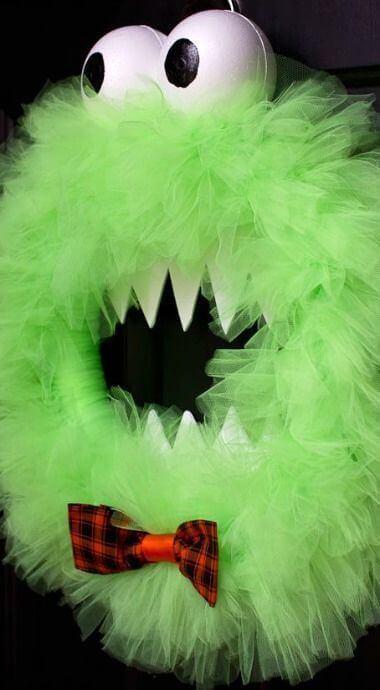 We really doubt anyone would be scared of this monster. It looks so cute and adorable.
Pinecone Monster Halloween Wreath: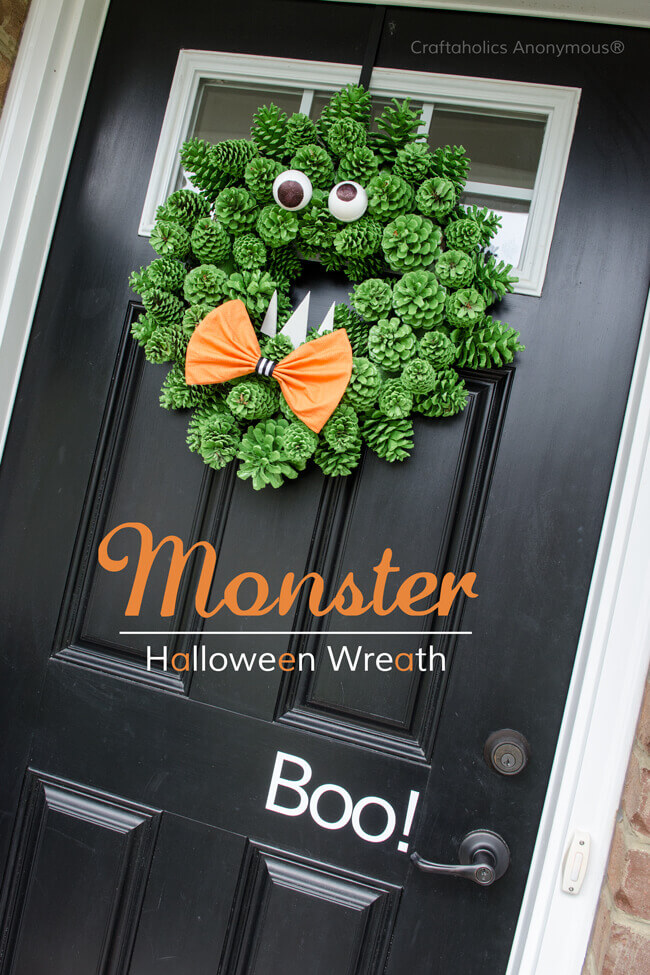 If you've drums full of pinecones lying in your backyard, bring them to good use by making this beautiful wreath. This pinecone monster wreath is definitely unique and easy to make. You just need to paint the pinecones green, add a pair of googly eyes, and a bow to make it look dapper.
Skeleton Hands Halloween Wreath: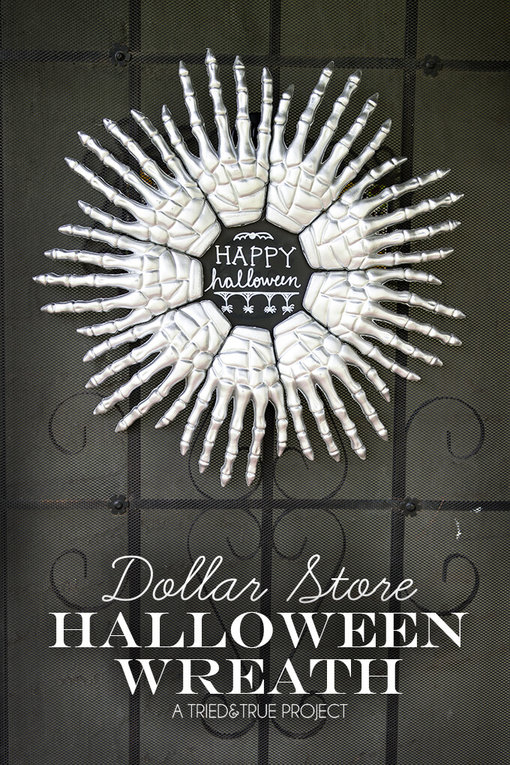 This is one of those Halloween wreath ideas that each of your neighbors would want to replicate. It's basically made by spray painting skeleton hands metallic silver and then arranging it on the chalkboard.
Mickey Mouse Wreath: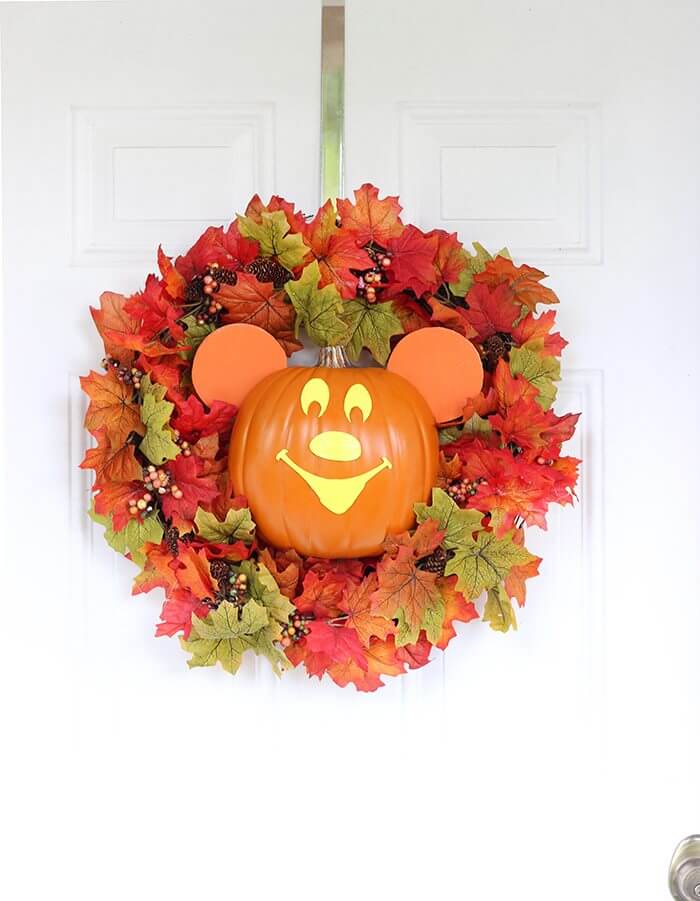 This idea is for those who want to make their Halloween decoration a bit children friendly. It will bring a wide to their face the moment they see it.
Colorful Spider Web Wreath: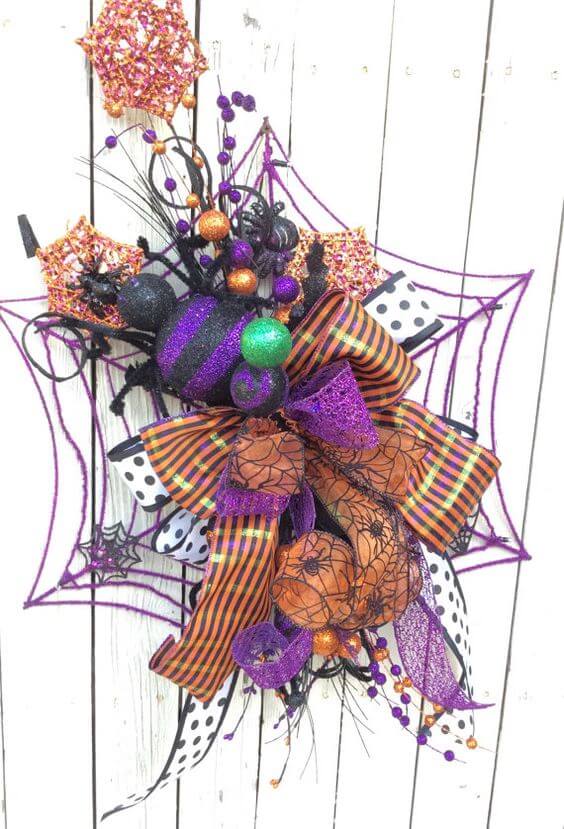 This colorful wreath will get each of your neighbor, friends, and family in the Halloween spirit. It incorporates the perfect Halloween colors also.
Wicked Wisteria Halloween Wreath: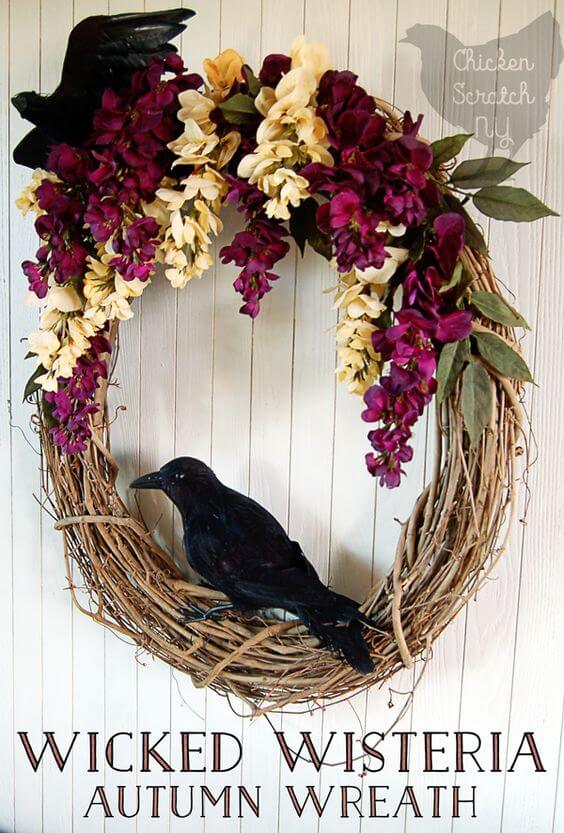 Add a bit of color to the otherwise dark environment by creating this Halloween wreath. If you want, you can make it all black to keep it according to the theme.
Animal Eyes Wreath: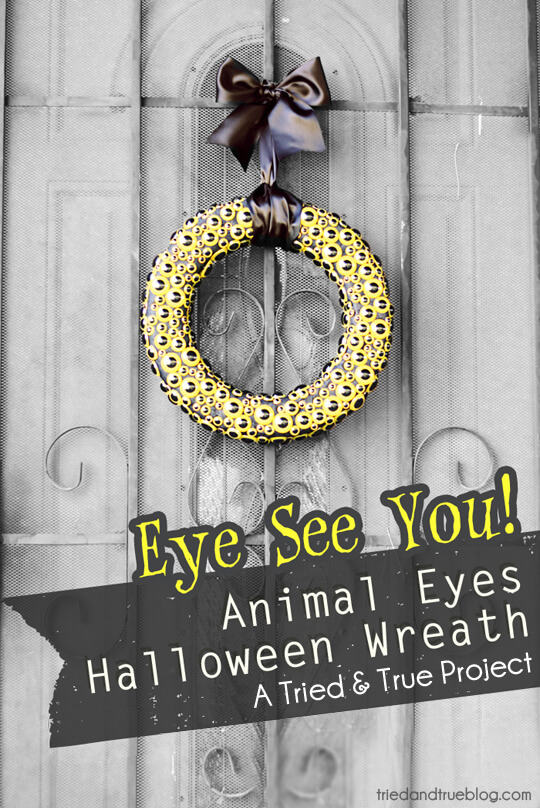 If you want your front door to look extremely creepy, create this wreath decked with bright yellow animal eyes. It's quite easy to recreate as you just have to stick bright yellow eyes on a wreath form wrapped with black crepe paper.
Halloween Spider Web Wreath: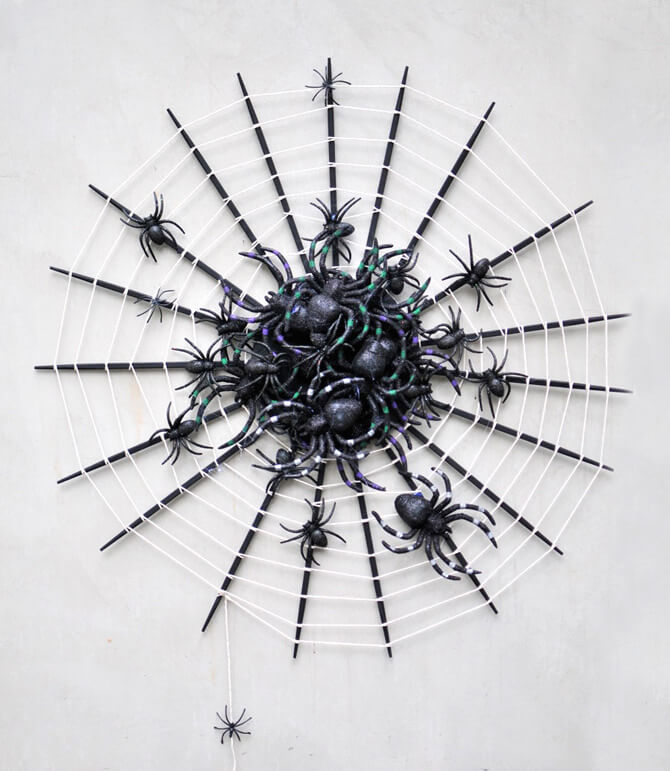 This creepy crawly wreath will add a spooky touch to your porch. If it makes your skin crawl, then you can skip it. But if you don't want unwanted visitors, then you must definitely make it scare them off.
Maleficent Wreath: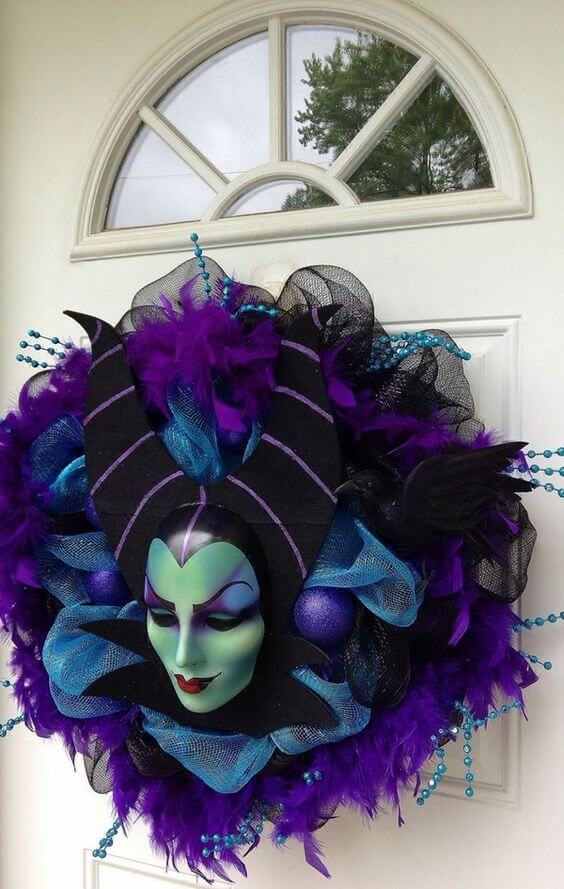 Disney lovers can try making this Maleficent wreath, one of the most happening Disney villains of all time.
Halloween Skeleton Wreath: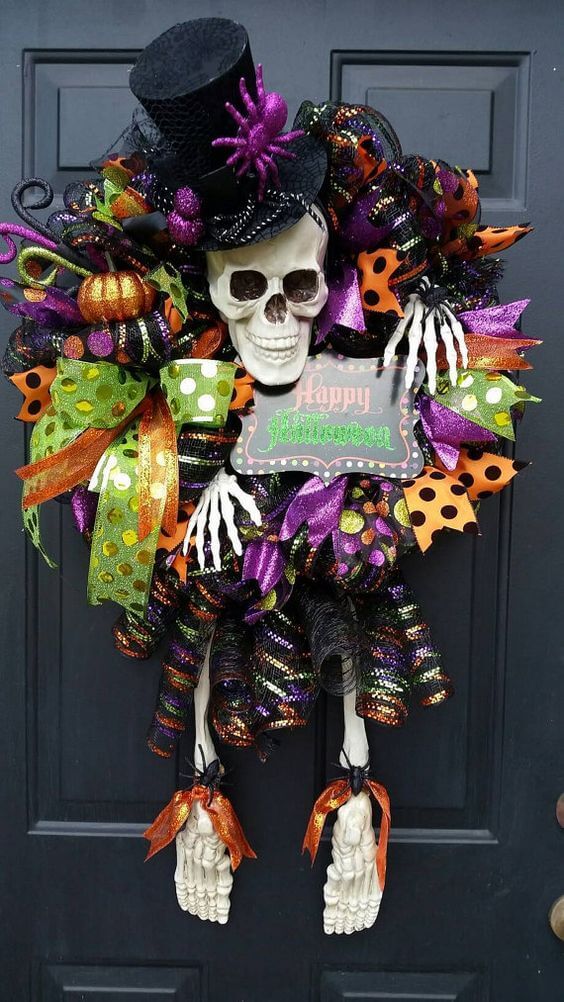 Spook everyone out by making hanging this skeleton wreath on your door. It may look a bit jazzy to some, but we think it's fine, considering Halloween is all about going over the top.
Nevermore Halloween Wreath: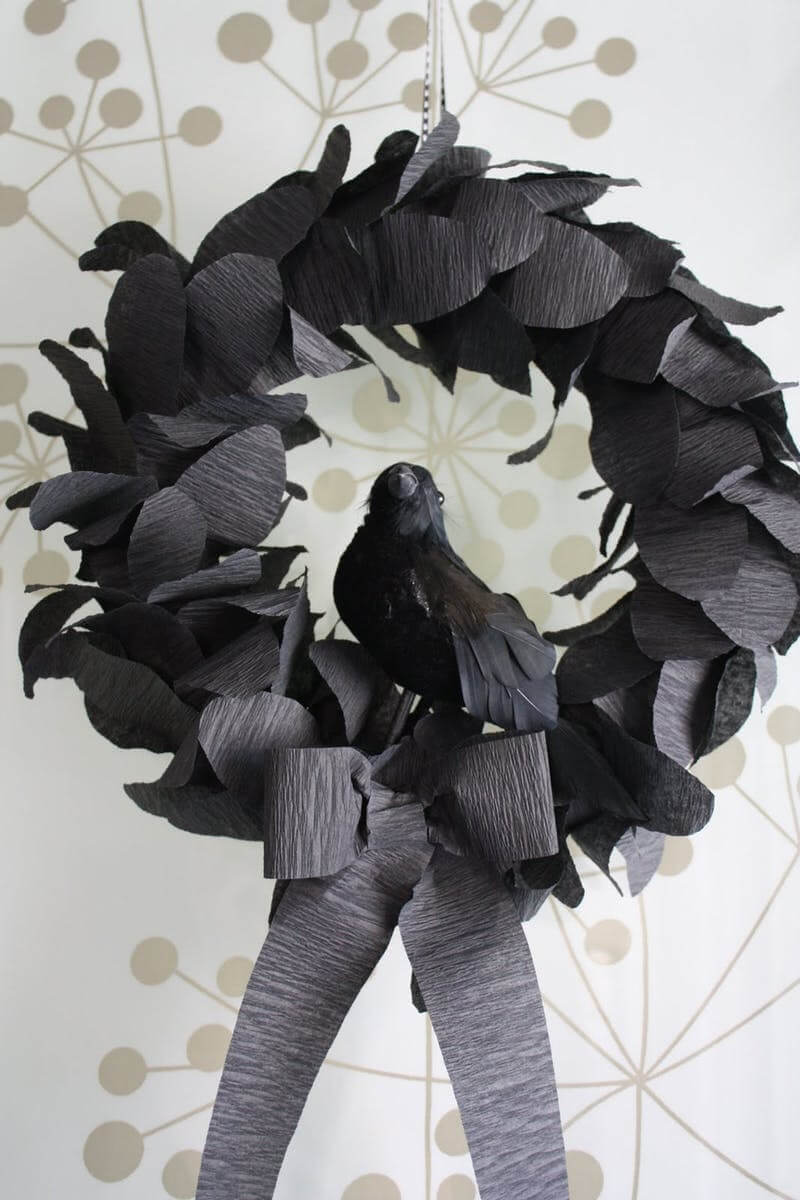 If you're a huge fan of Edgar Allan Poe, then you may want to try out this wreath, inspired by his work, "The Raven". If you hang it outdoors, the onlookers will think that an actual raven in gracing this wreath.
Raven Wreath: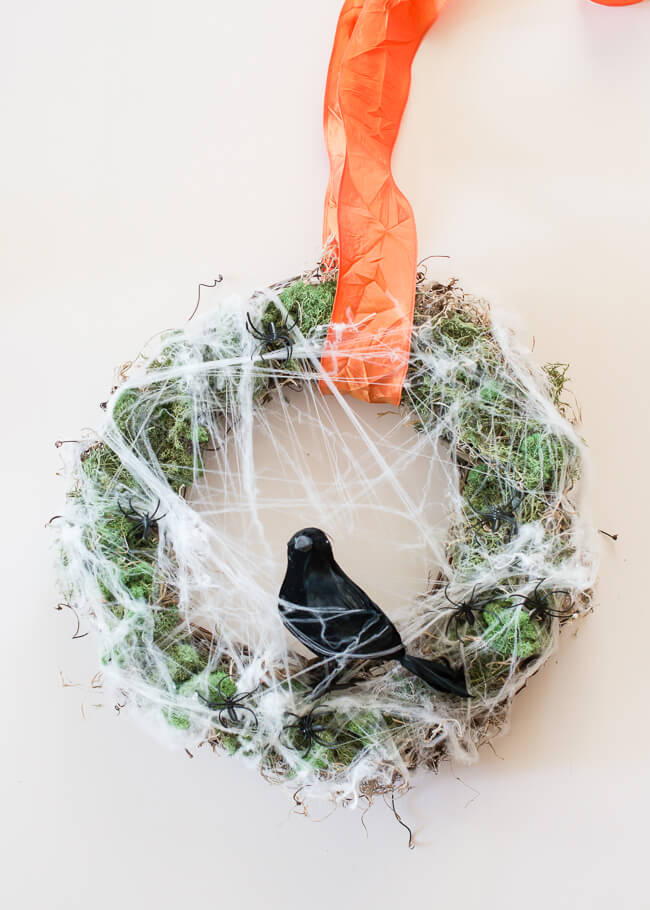 Faux spider ring, moss, grapevine wreath, black raven and cheese cloth are some materials you will need to create this lovely wreath. Hang it with a broad orange ribbon for maximum effect.
So these were the creepiest Halloween wreaths in our opinion. If you have any query or suggestion regarding this article, leave us a comment below. And don't forget to share some of your favorite Halloween wreaths below.