Halloween is around the corner and you must have taken every step by now to make the house holiday friendly. What! You still haven't? Don't fret as we're here to help you. We've rounded up a list of last minute Halloween decoration ideas to help you. Take a look!
You May Also Like To Read:
Top 30 Last Minute Halloween Decoration Ideas
Fanged Pumpkins: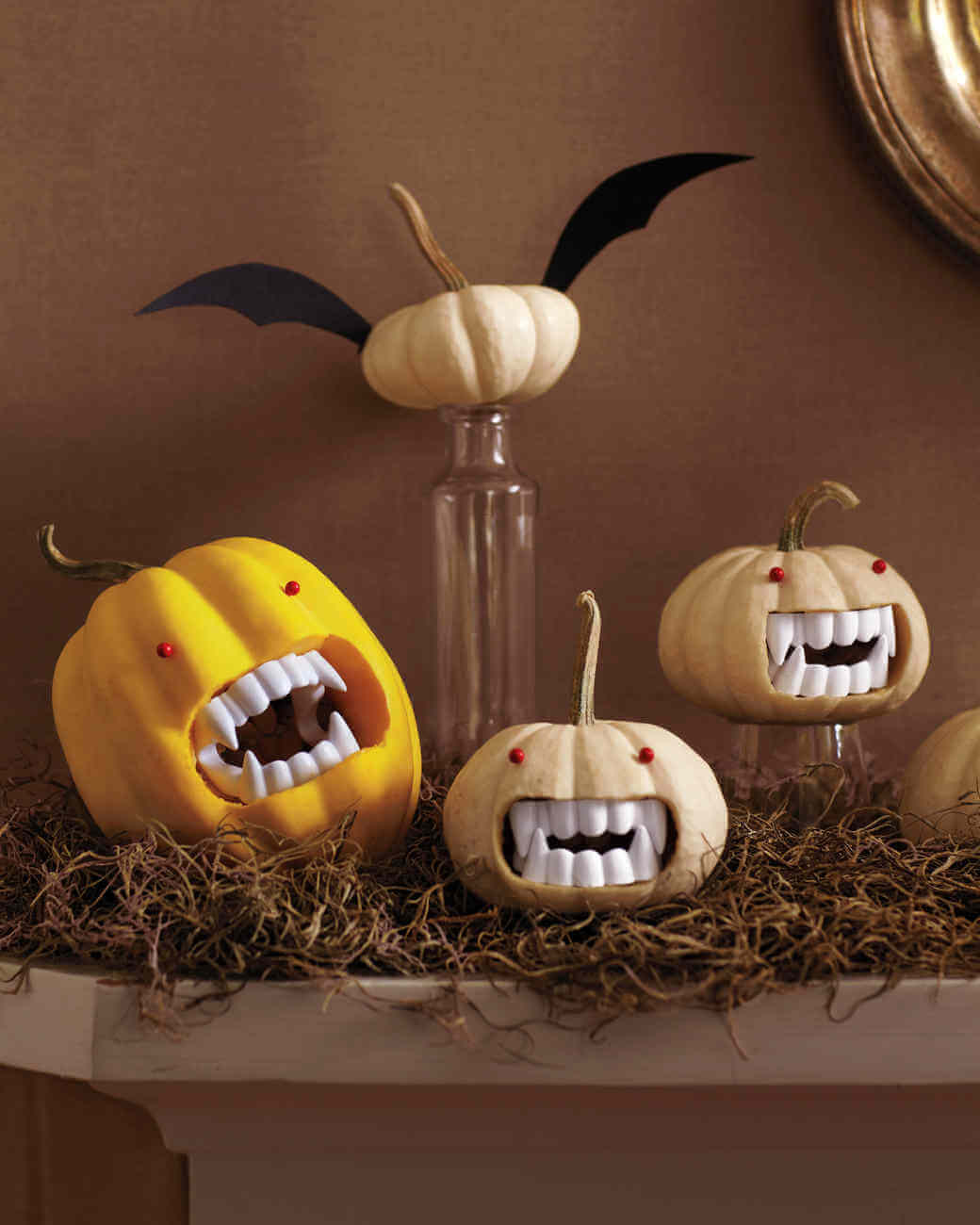 If you feel too lazy to do pumpkin carving or are short of time, you can try this no carve fanged pumpkins. The pumpkins aren't looking very scary, but at least you'll cheer up your guests.
Jack-O-Lantern In A Snap: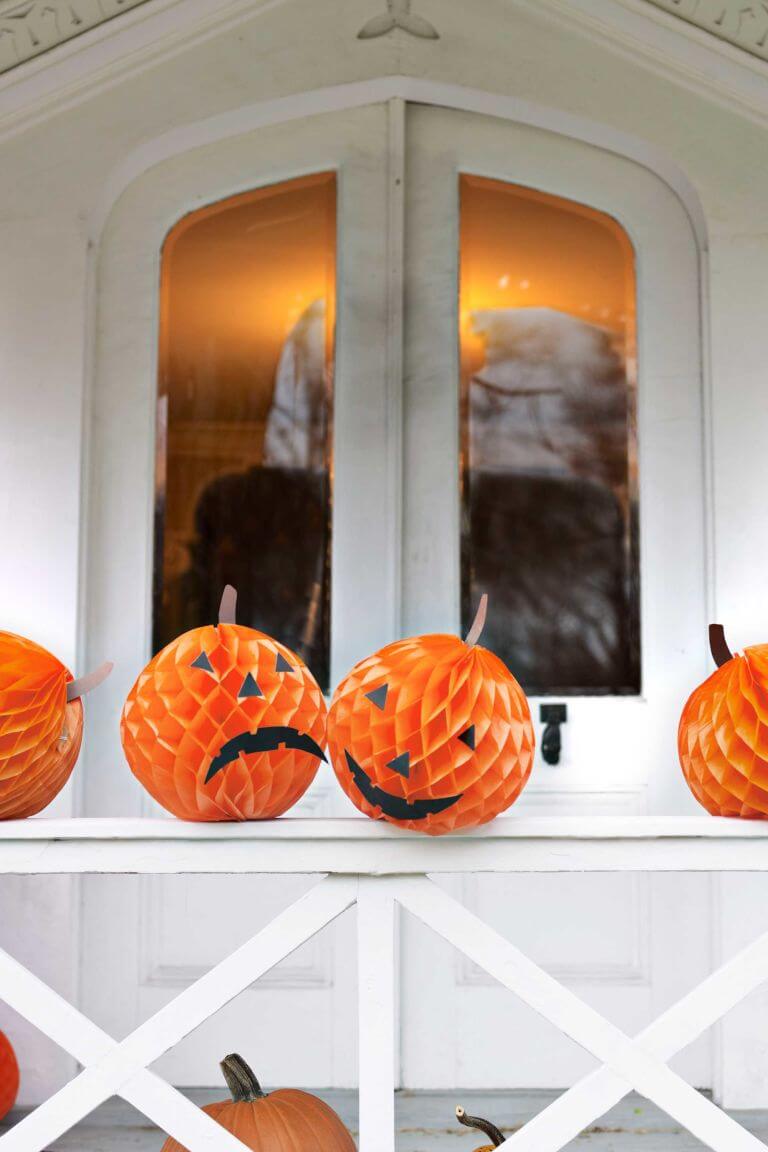 If you don't have time to prepare elaborate Jack-O-Lantern, you can use tissue paper balls to give a similar effect. You just need to cut and stick the eerie facial features on the tissue paper balls.
An Eerie Living Room: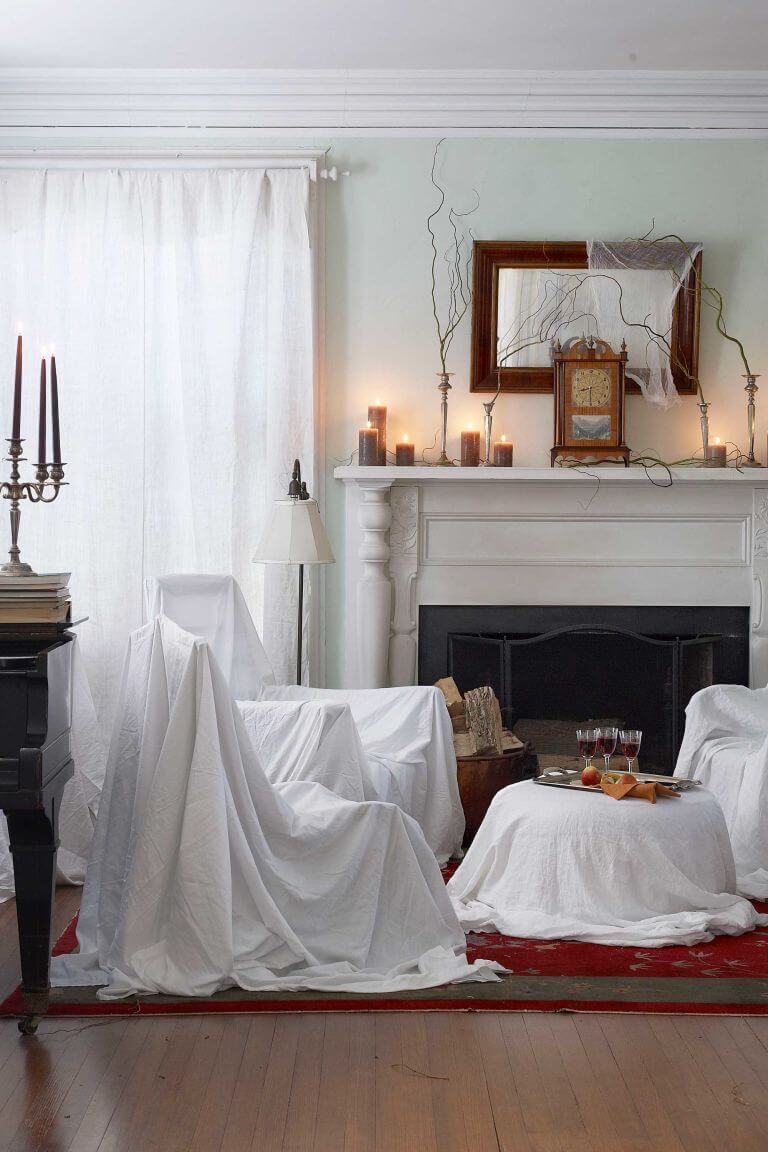 This eerie looking living room is reminiscent of Miss Havisham's room from "Great Expectations". You just need to cover the sofa set with while draperies. And to give a cobweb look, use cheesecloth.
A Sinister Looking Owl: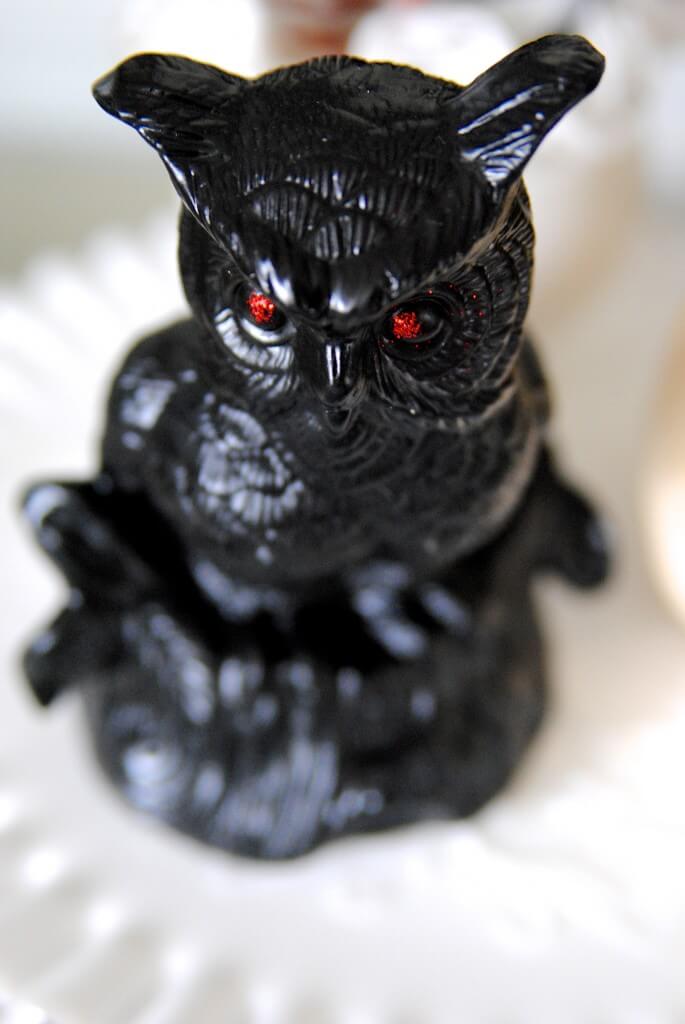 If you have an owl figurine to spare or you if you think you can get it from the nearby store, then go ahead with this idea. You just have to paint the owl figure black by spray painting and adding red, glow in the dark paint in the eyes.
Hanging Bats:
Welcome the little ones in your house, or rather give them a hair raising entrance by decking up your porch with hanging bats. Just download a bat template, make cut outs on black paper and hang from the porch.
Floating Ghosts: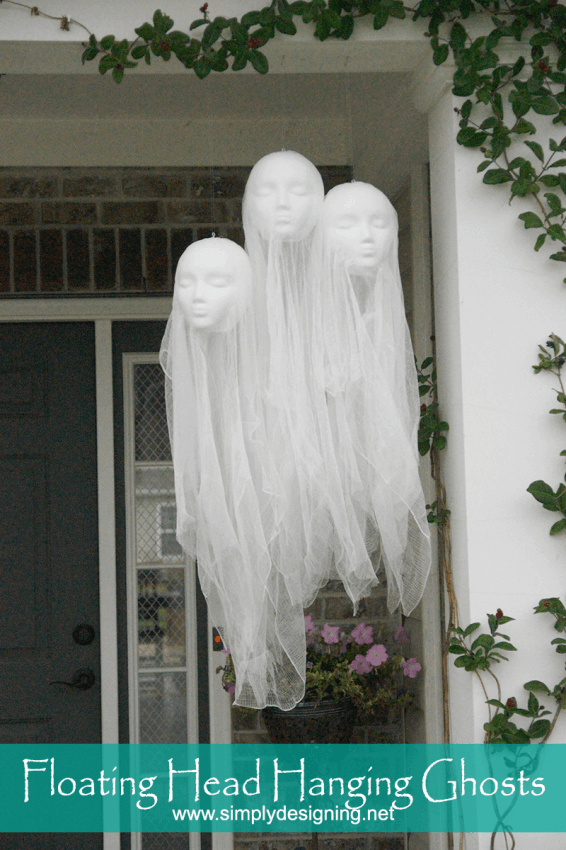 Just a few mannequin heads and cheesecloth can help you create these creepy looking, floating ghosts. Let us warn you beforehand. Your dog may freak out seeing this.
Boo Halloween Door Décor: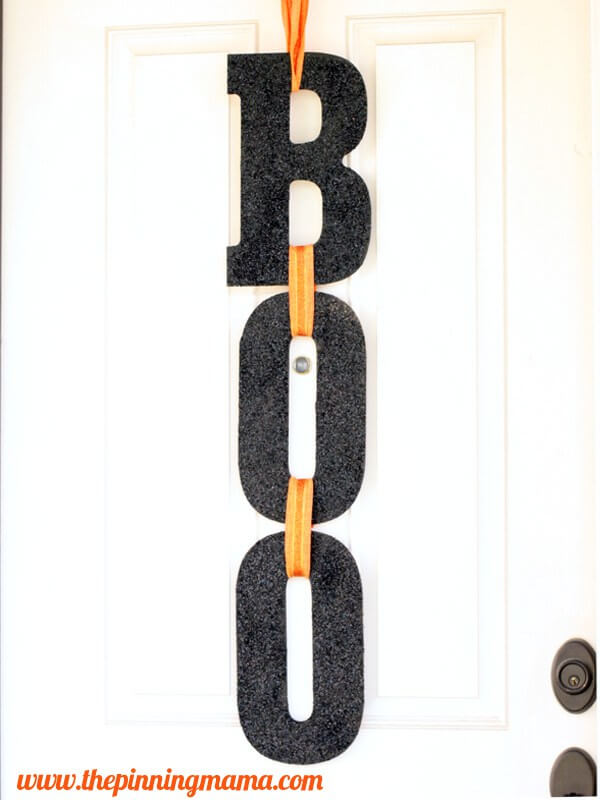 All you need is craft store wooden letters, black glitters, orange ribbon and black spray paint to create this wooden décor.
Skull Candle Holder: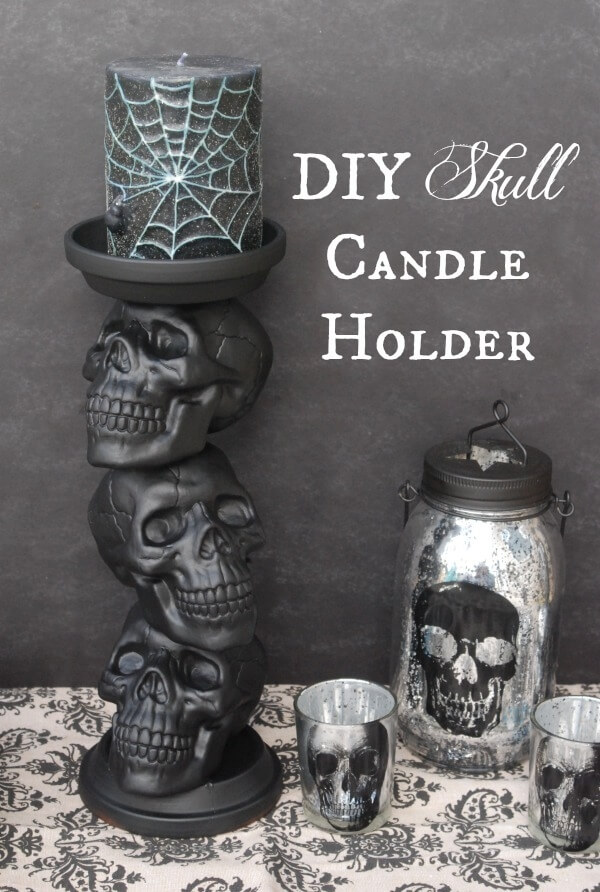 This is seriously cool! You just need a few plastic skulls, spray paint and hot glue gun to create this candle holder that literally screams Halloween.
Tin Can Luminaries: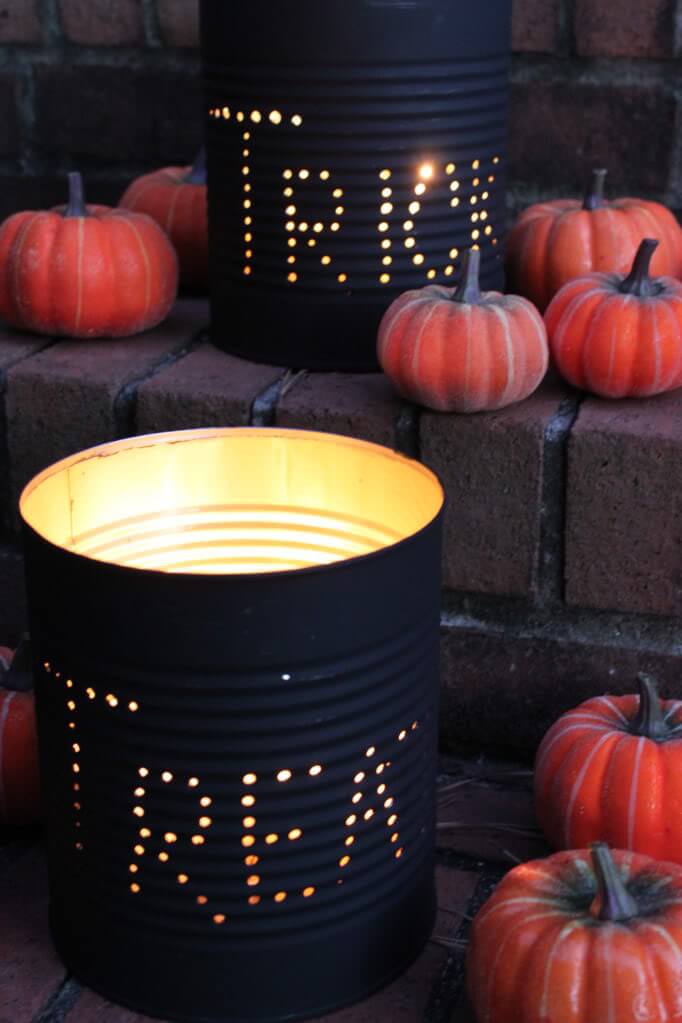 This is one of the easiest and most affordable ways to decorate your house for the Halloween. Just make some holes along the wordings 'Trick' or 'Treat', paint in black and place candles inside it.
Cocktail Corner: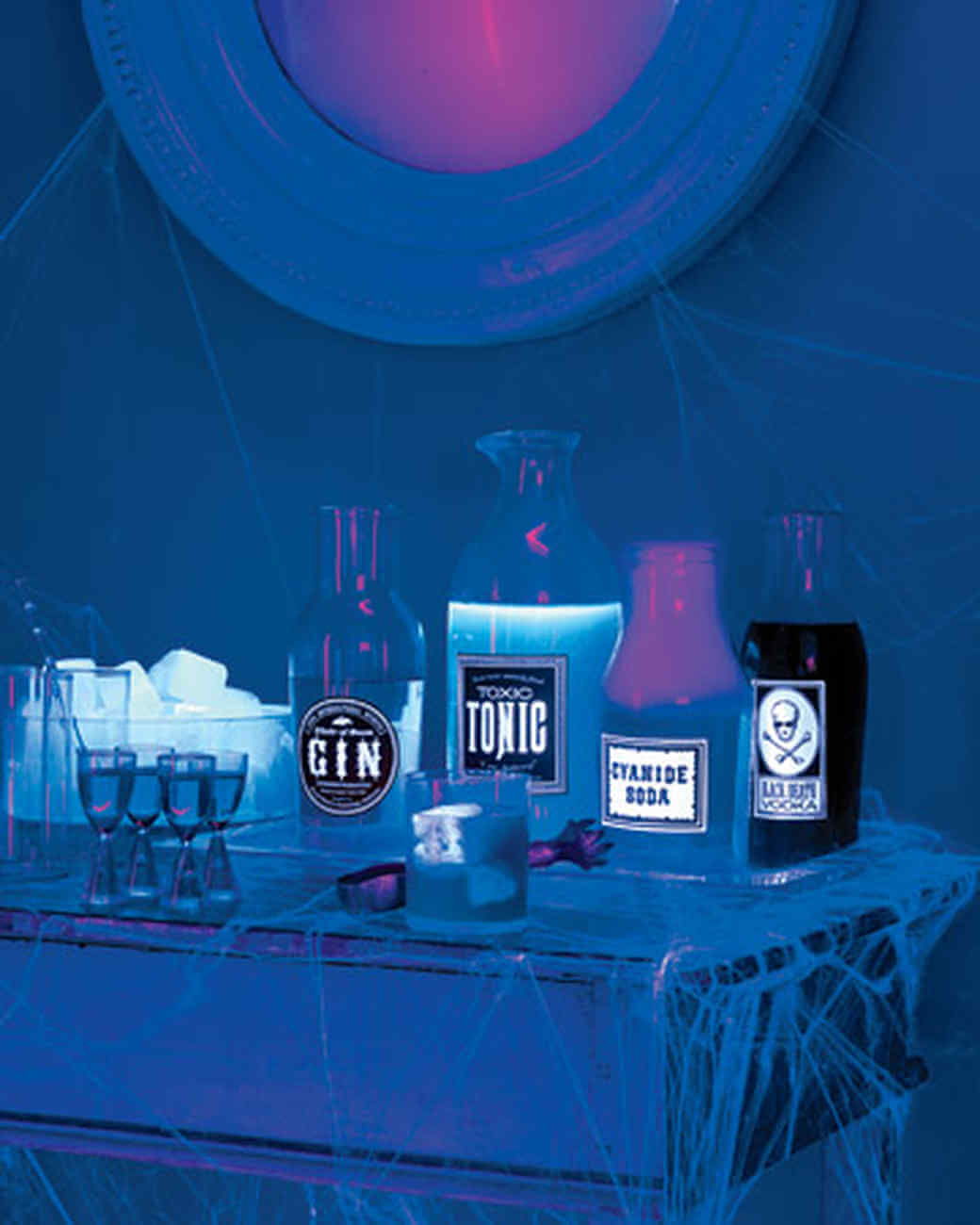 Turn the corner of your house into a spooky one by giving it a similar effect. You have to create glow in the dark bottles and paste creepy labels on it.
Spooky Eyeball Wreath: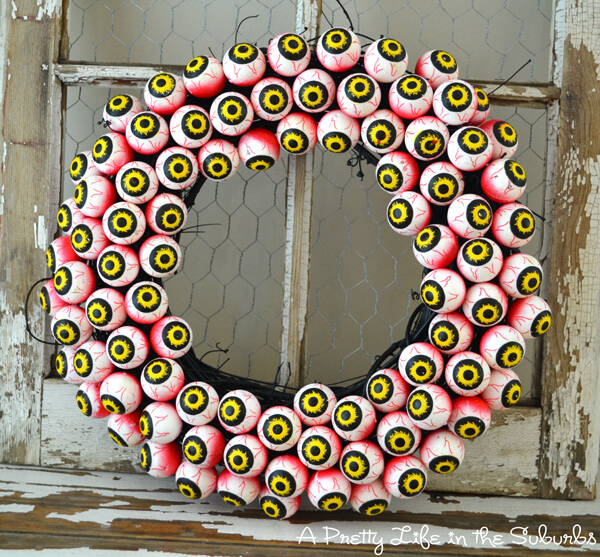 Not exactly a last minute decoration, but it still qualifies for a quick Halloween decoration as you just need to stick eyeballs to the wreath form.
Chalkboard Tombstones: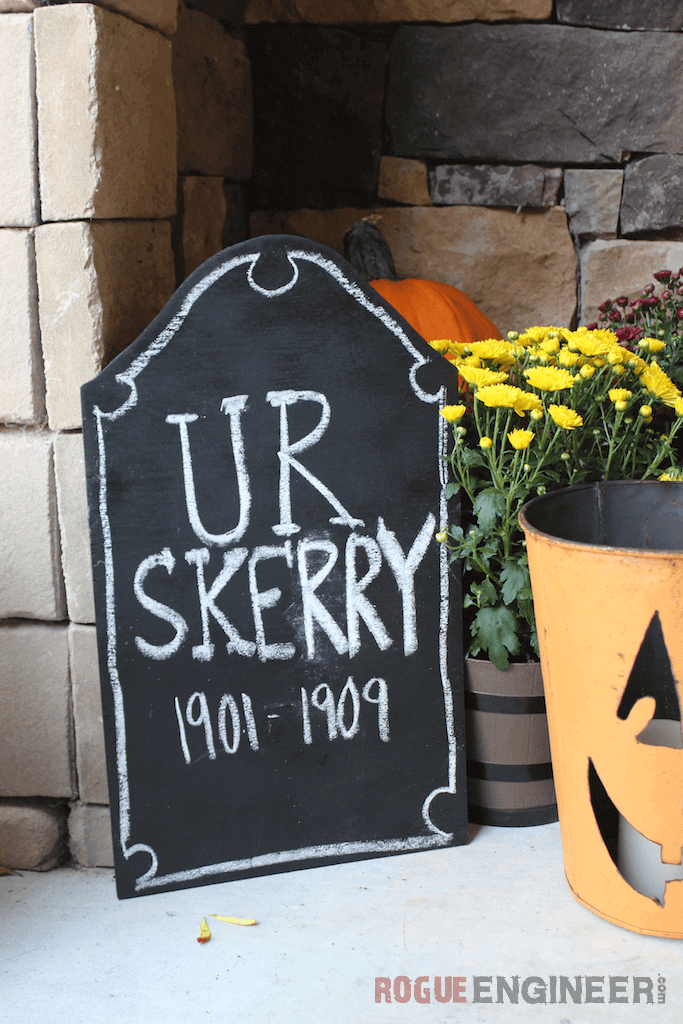 This would be really creepy and innovative at the same time. You can make it using chalkboard paint, plywood and saw.
Eyeball Decoration: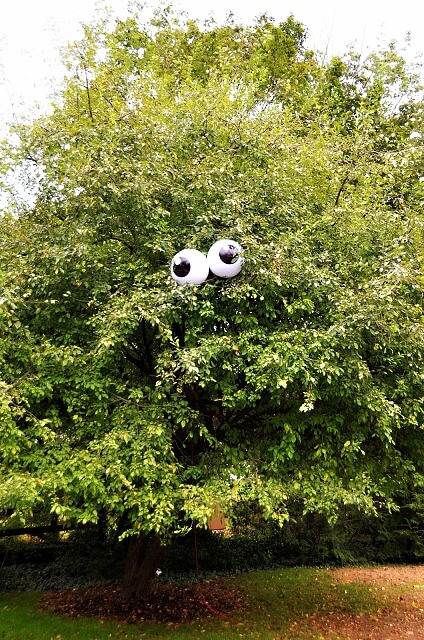 Make the trees in your backyard come alive with just two beach balls and a Sharpie. It will surely spook your neighbors.
Halloween Party Cups: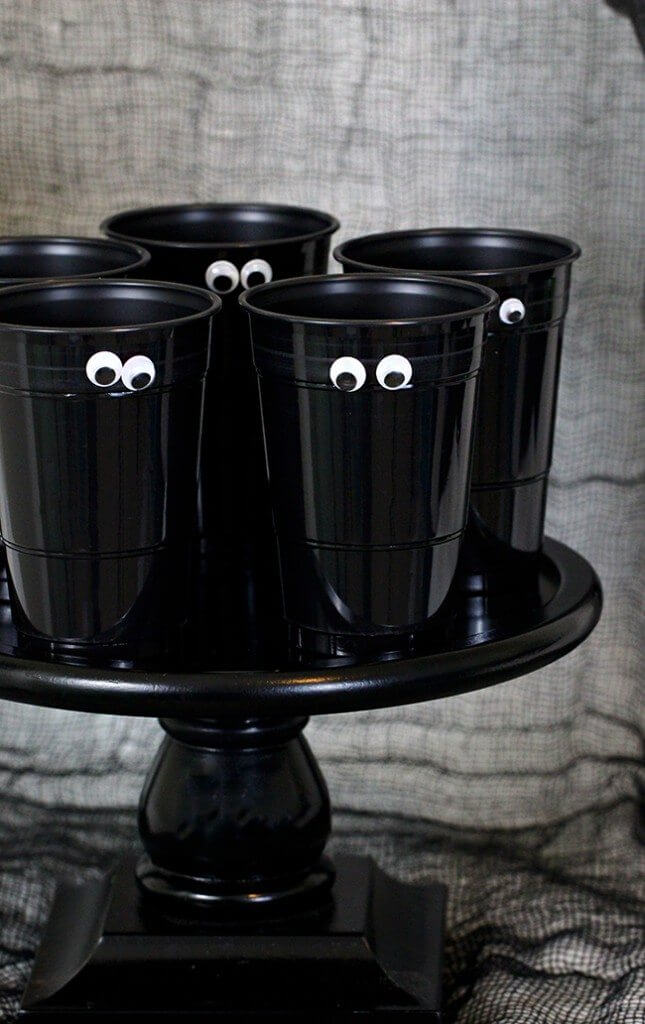 If you have some plastic cups in your kitchen, give them a Halloween friendly makeover by sticking some googly eyes on them.
Bat Paper Garland: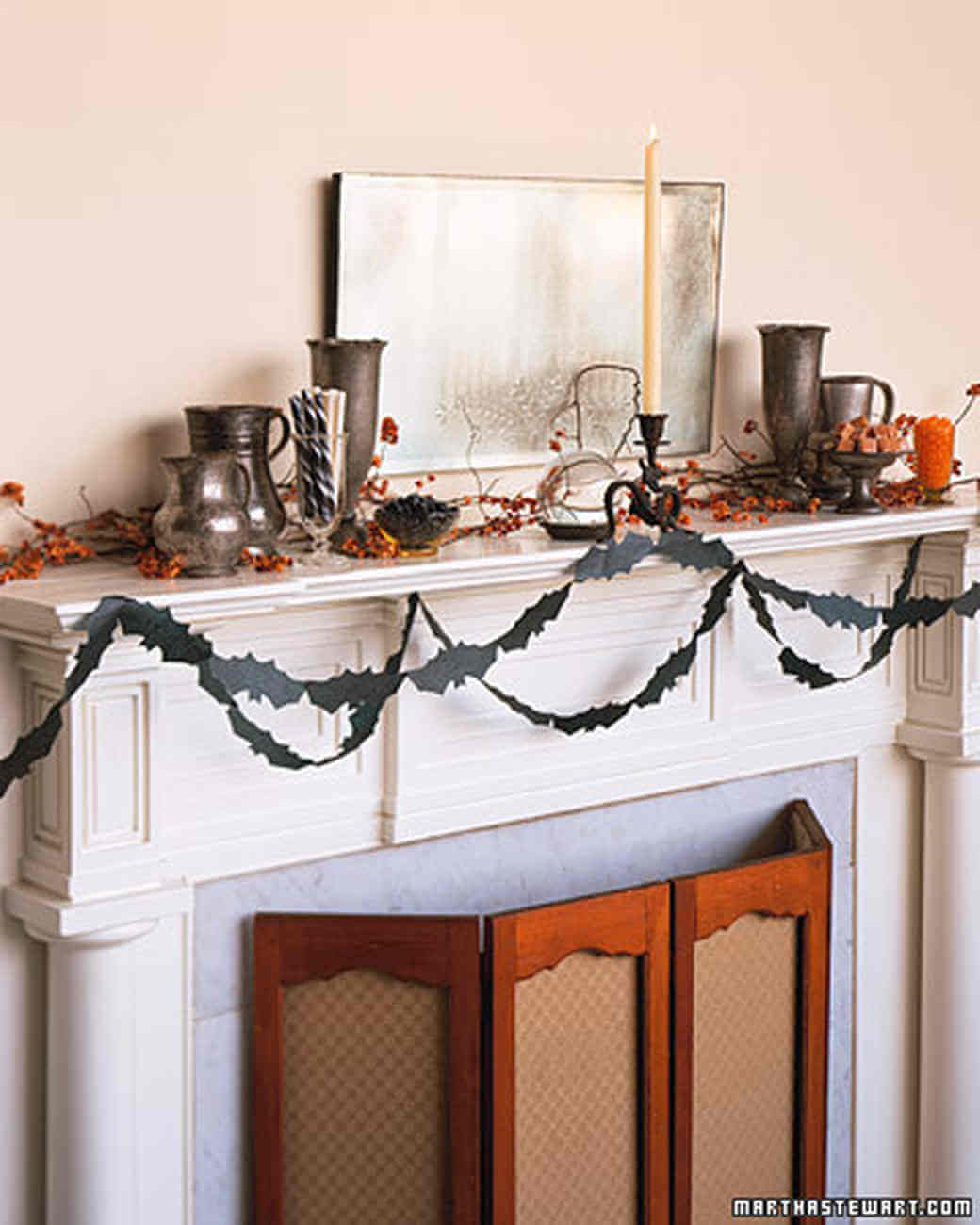 Create a spooky environment in your house by hanging bat garlands from the mantelpiece. Before anything else, you must download bat template.
Bloody Candles: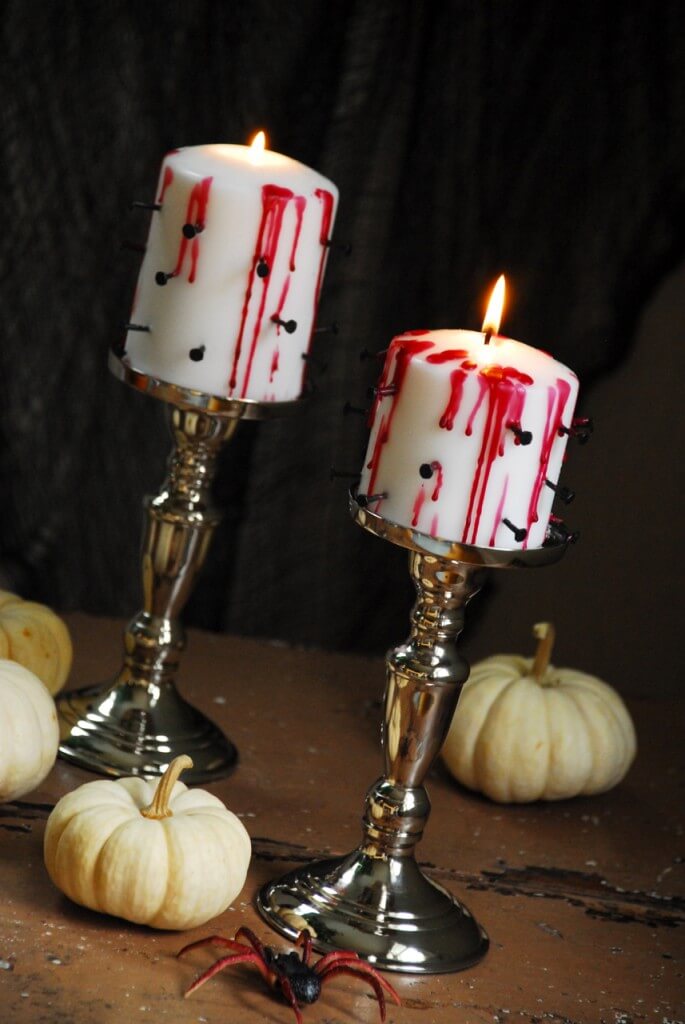 This candle looks like it was tortured badly. Was it a victim of voodoo? Whatever it may be, we think it will make an excellent addition to your Halloween décor. The best part is that it will take just 5 minutes to come together.
Halloween Washi Tape Candles: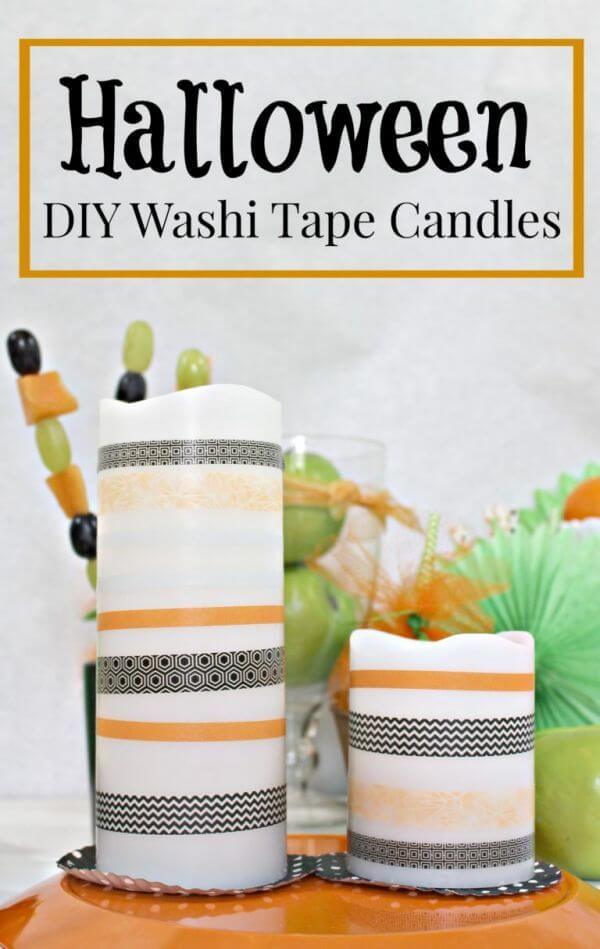 If you have some black, white and orange washi tape, you can easily recreate this look. It won't take even ten minutes of your time.
Witch Light Fixture: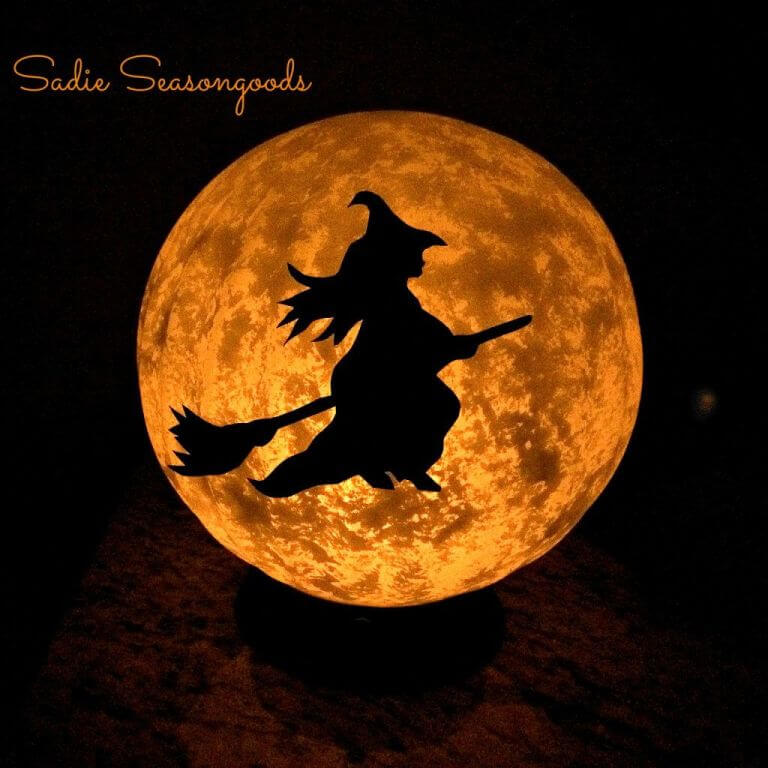 Bring an eerie environment to your house by creating this witch light fixture. To recreate the look, blot the interior of the fixture with putty colored paint. Next, trace and cute out a witch's picture and stick on the light.
Glow Stick Broomsticks: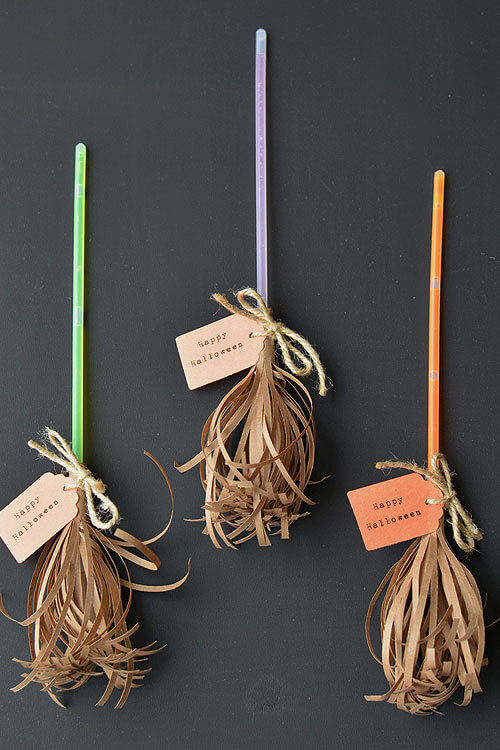 This easy and hassle free craft can be made using construction paper, glow sticks, twine, scissors and double sided tape.
Pumpkin Vase: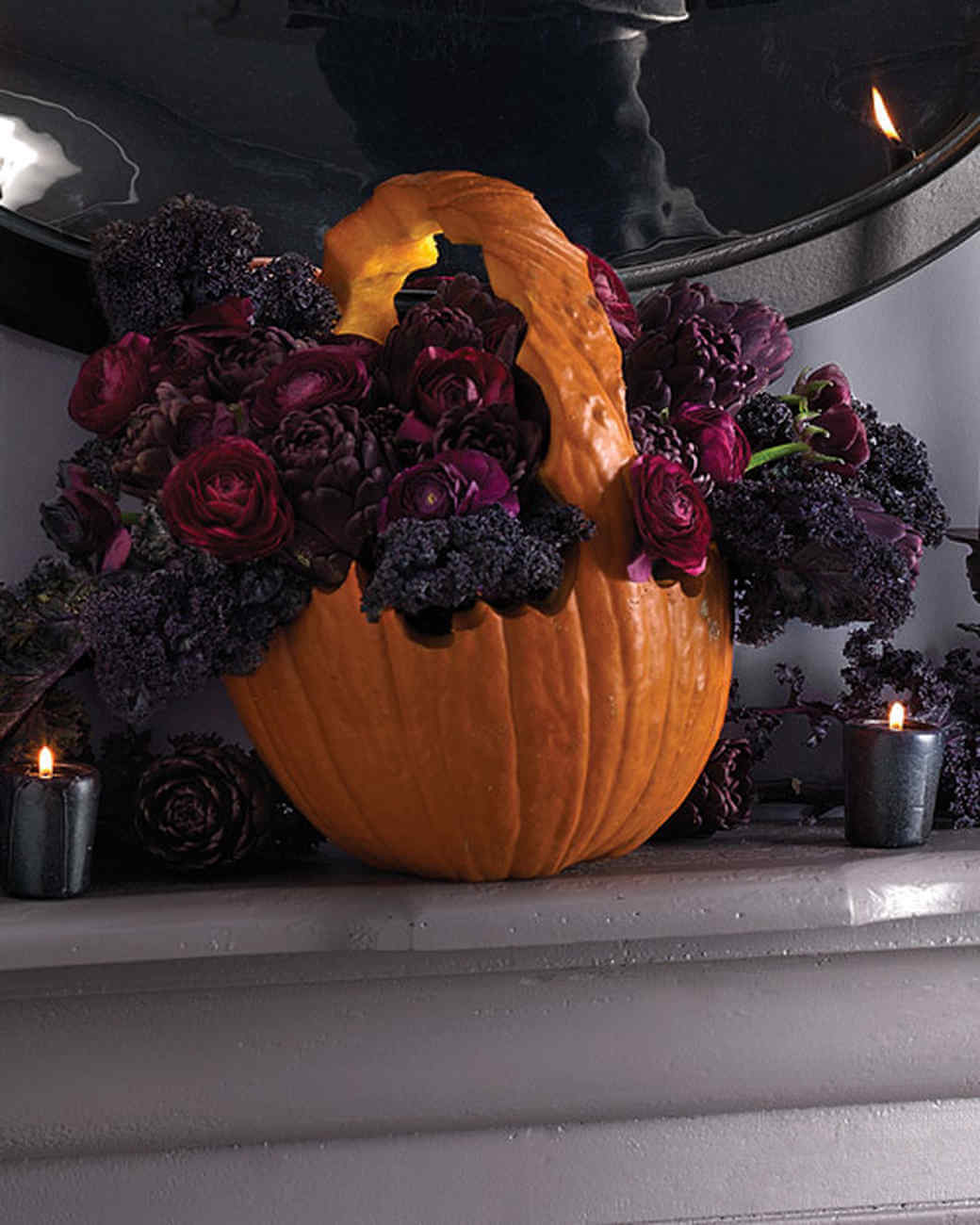 Turn the extra pumpkin in your house into a floral basket. You can either place it on the mantelpiece or leave it on the dining table as the centerpiece.
Leaf Pumpkins: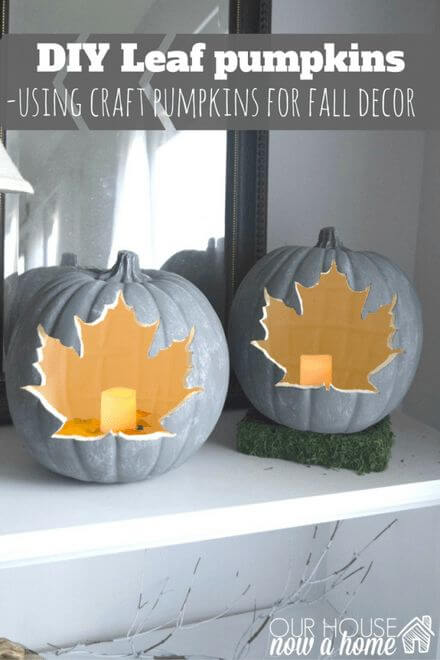 If you're good at carving pumpkins, you can create this lovely, and sophisticated centerpiece. Don't forget to paint the pumpkin grey.
Pumpkin Candy Jars: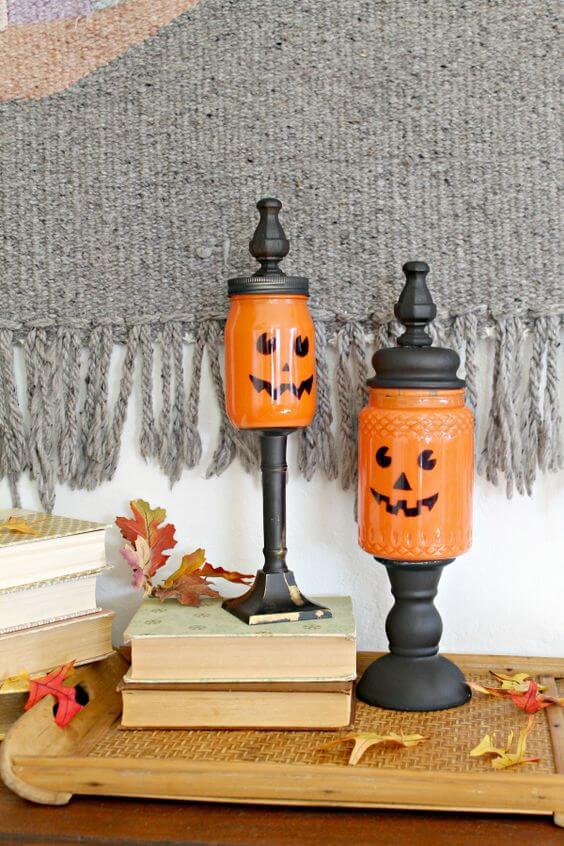 You can easily create these cute, but spooky candy jars by repurposing the old jars and even mason jars. It will look amazing.
Halloween Trick Or Treat Banner: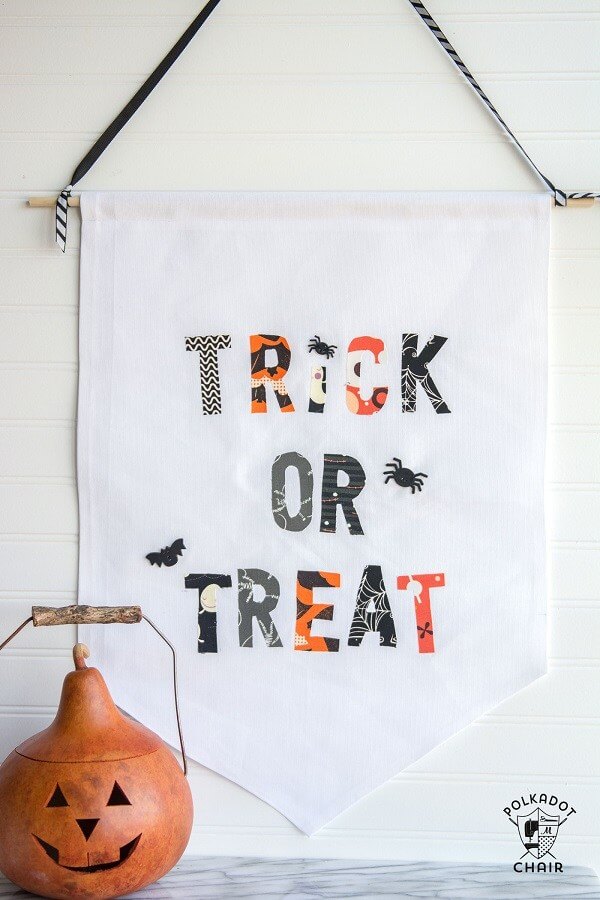 This cute trick or treat banner can be made within an hour, as it has just one seam to sew.
Cute Jack O Lantern: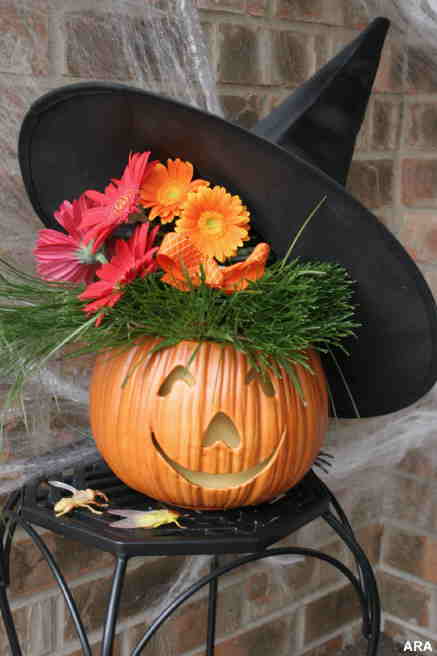 Instead of making the Jack o lantern all scary, and creepy, we'd suggest you give a cute makeover this Halloween. We've given you an example to follow.
Ghost In The Mirror: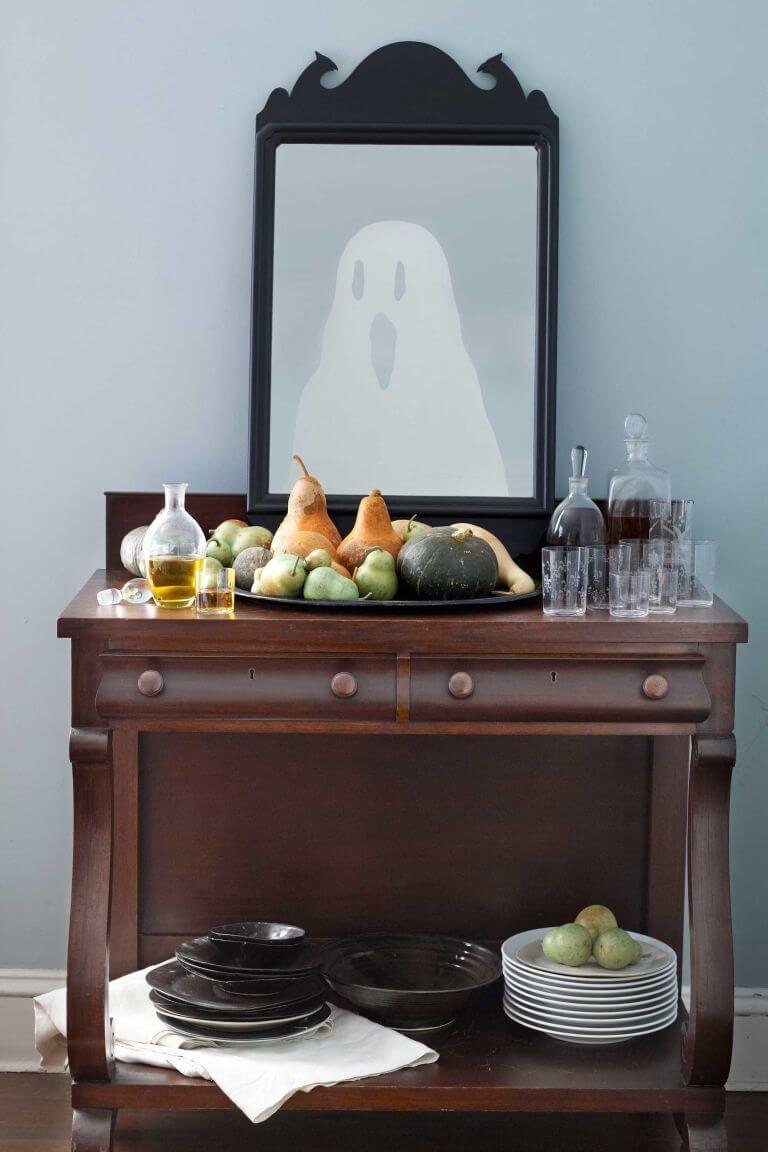 This last minute Halloween decoration idea will make an excellent prank too. You just have to draw a ghost figure on a frosted window film, cut it out and stick it on the mirror.
Pumpkin Without Carving: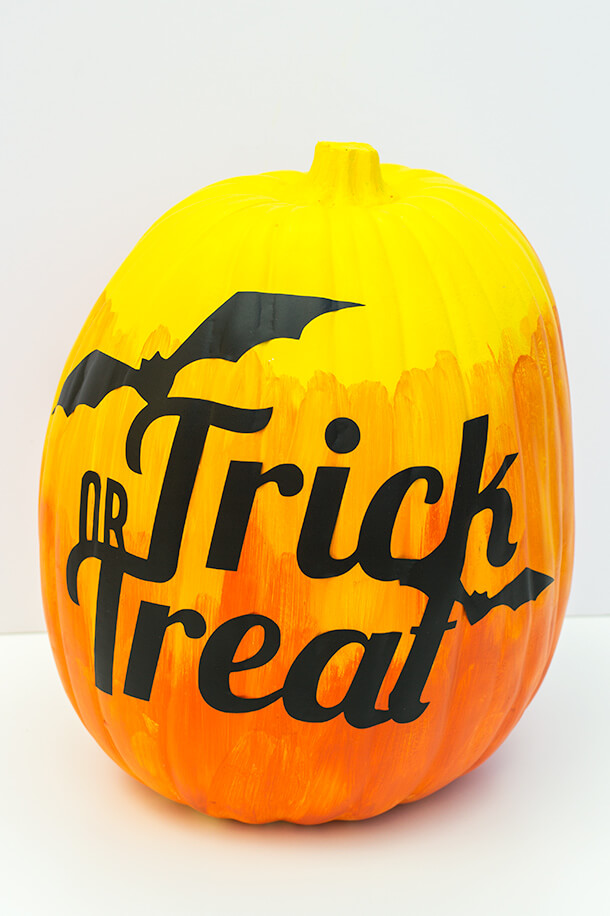 If you don't have time to carve the pumpkin, you can create this simple idea by downloading the templates, cutting it out on vinyl and sticking it on the pumpkin. Don't forget to spray paint.
Mummy Front Door: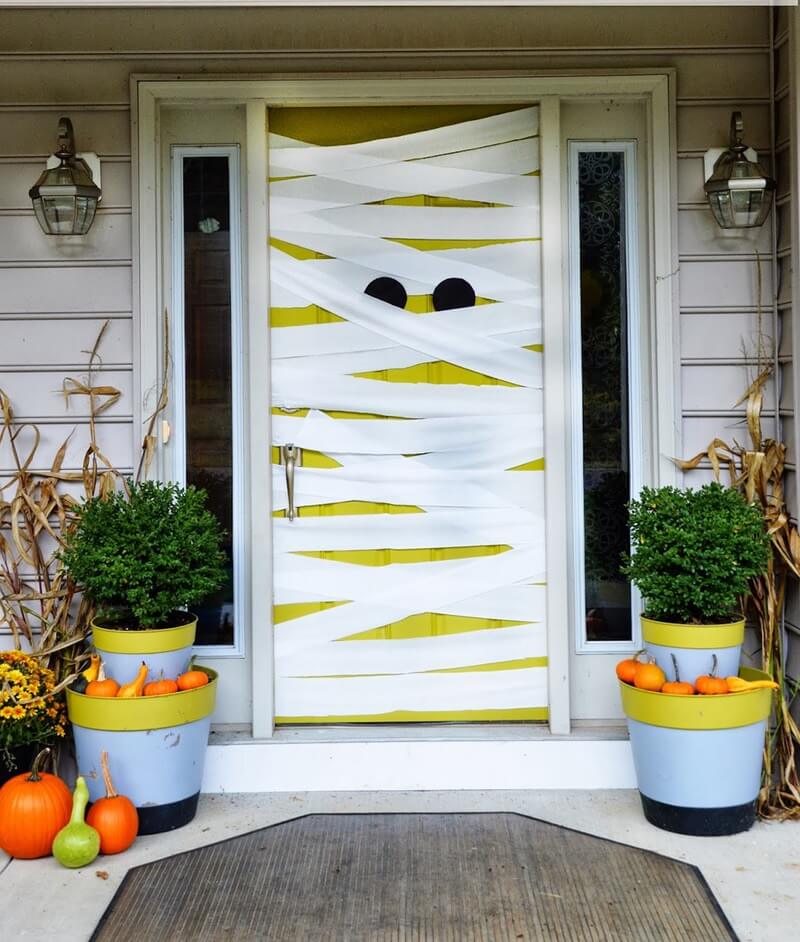 You just have to wrap your front door with loads of toilet paper to make it look like a Mummy. And don't forget the Mummy's eyes. The little trick and treaters will be either delighted or scared.
Wine Bottle Decoration: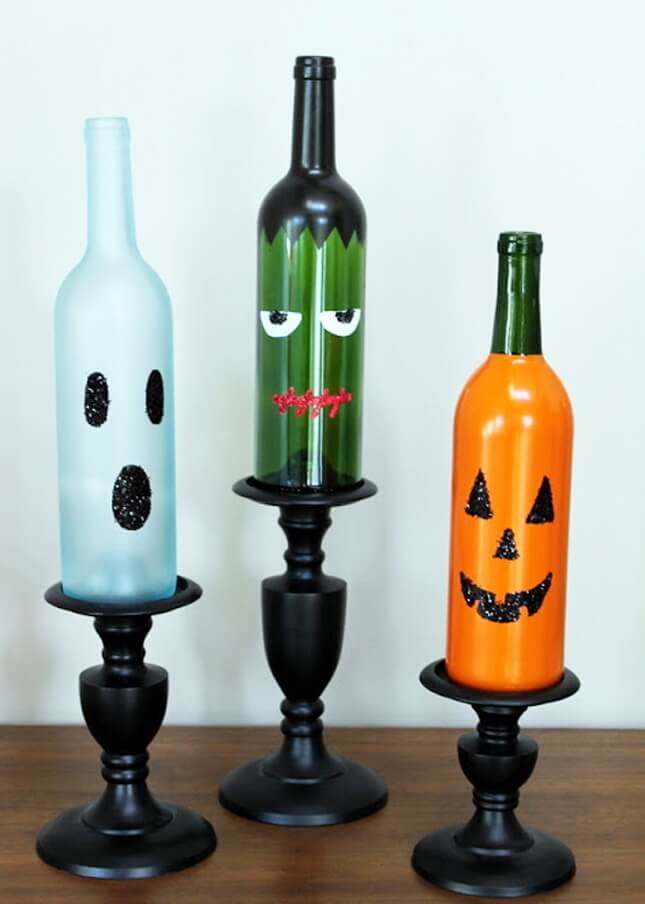 Make use of the leftover wine bottles by painting cute creatures on them. It will make excellent candle holders too.
Wire Wall Sign: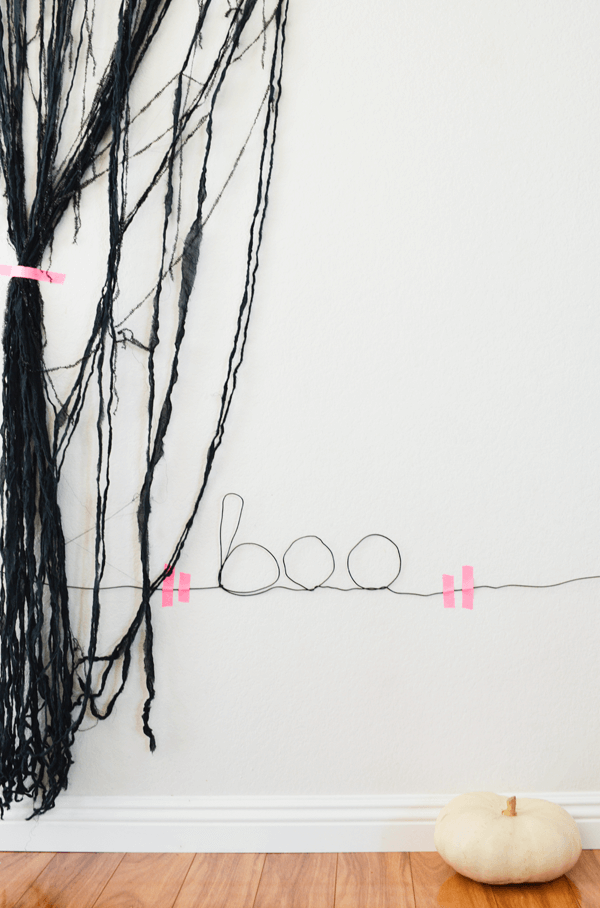 Use wire and washi tape to form your favorite spooky saying and stick it on the wall. You can place it anywhere you like.
Poison Tumbler: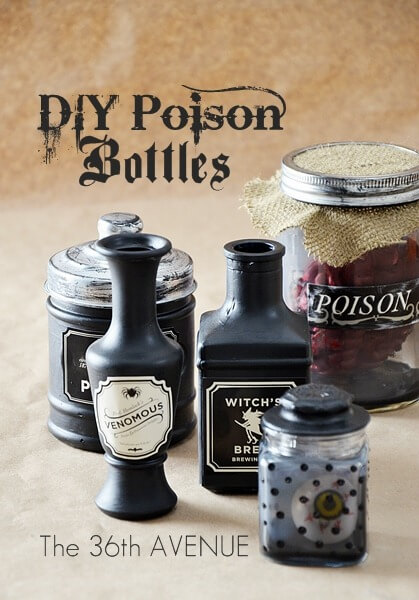 All you need is some dark glass stain and chalkboard to create these eerie looking poison tumblers. You don't really have to serve these witches' poison. Use it only for decoration purpose.
So these were the best last minute Halloween decoration ideas in our opinion. If you have any more to share, leave us a comment below.