Halloween is rightly considered one of the most DIYable holidays. You have several Halloween costumes to make, Halloween foods to prepare, and of course Halloween parties to go through. But even after all the planning, people forget carving the pumpkins, which forms one of the most essential forms of Halloween decoration. But you don't have to worry as we've got you covered in this front as well. We have rounded up some of the best no carve pumpkin ideas for Halloween. Take a look.
You May Also Like To Read:
Top 30 No Carve Pumpkin Ideas For Halloween
Sequin Polka Dot Pumpkin: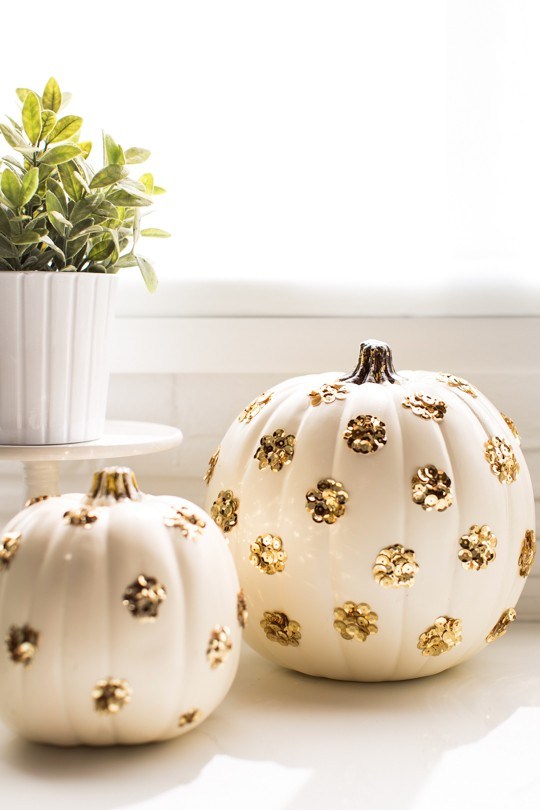 Polka dots look great any way, but when they are made using sequins, they look even better. And the gold sequins against white pumpkins are looking even better.
Frozen Elsa Pumpkin: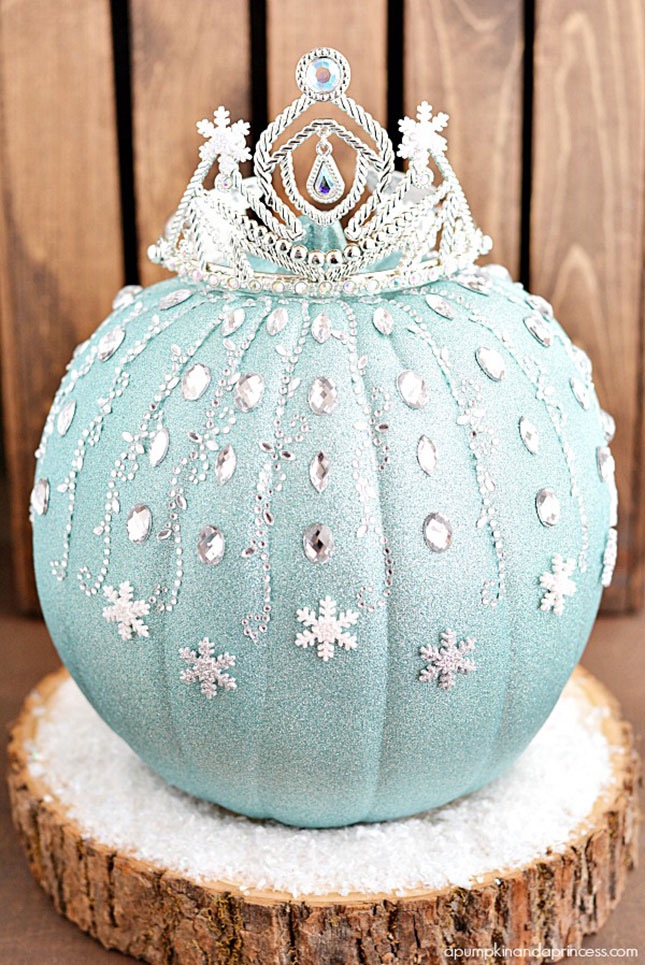 Technically, it should be Cinderella's pumpkin, but we love anything associated with Disney. And honestly speaking, no pumpkin has ever looked so beautiful before.
Cactus Pumpkins: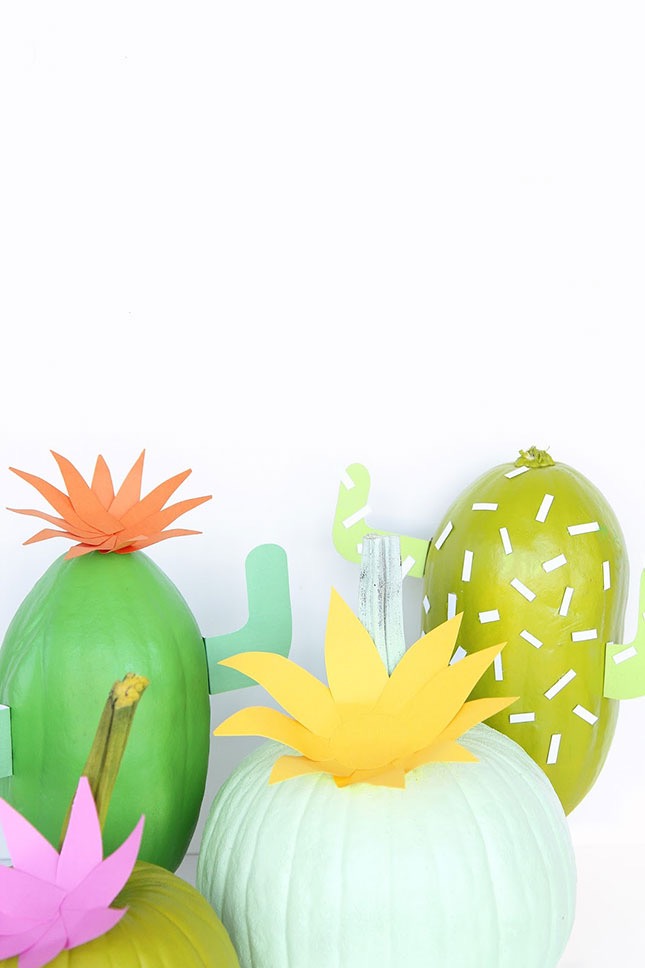 One of the most innovative ways to decorate the pumpkin for the Halloween. And truly speaking, many people would be surprised after being greeted with cactus pumpkins on their doorsteps. And believe us, they're super simple.
Happy-Hued Halloween Pumpkin: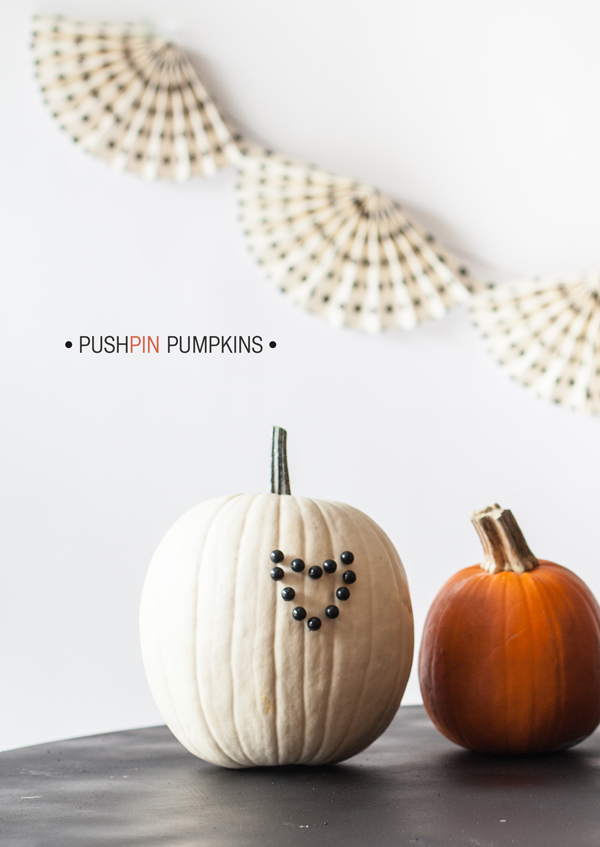 We believe you must be having everything required for creating this lovely pumpkin. Most of all, we loved the setting of the pumpkin. All bright and beautiful.
Galaxy Art Pumpkin: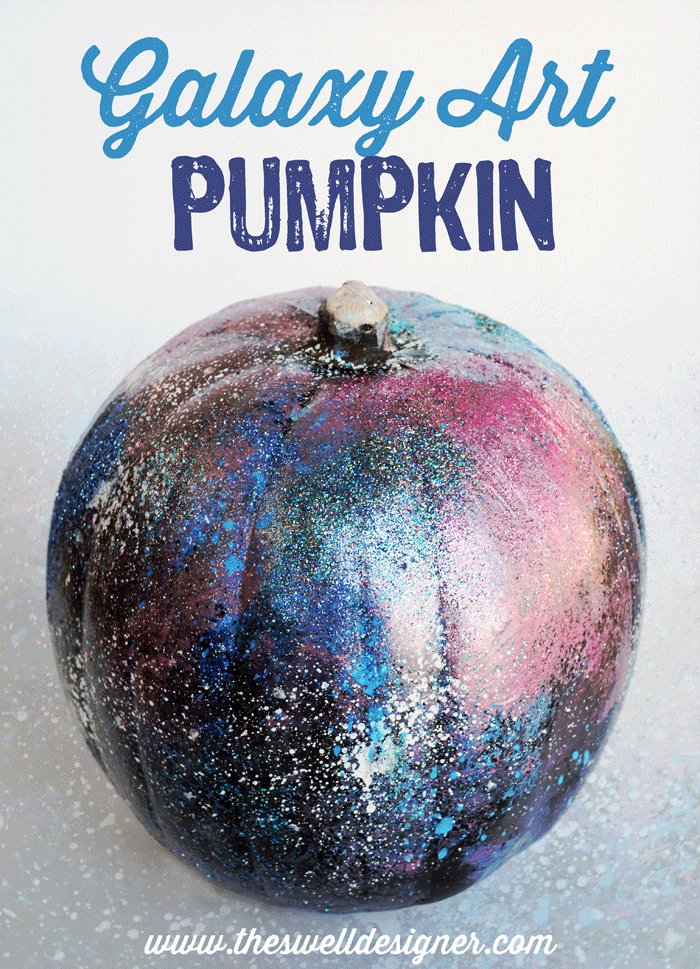 How we wish the galaxy also looks as beautiful as the pumpkin featured here. We feel it will make a perfect addition to the house of a nerd, or sci-fi lover.
Pushpin Pumpkins: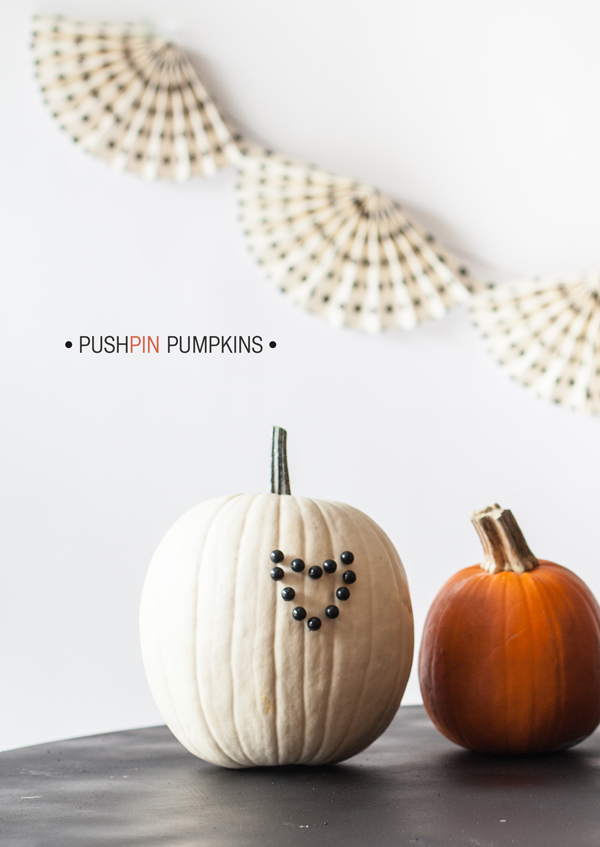 This would be just perfect for office Halloween decoration, considering it's made using office supplies. Simple, yet a masterpiece.
Oil Pastel Colored Pumpkins: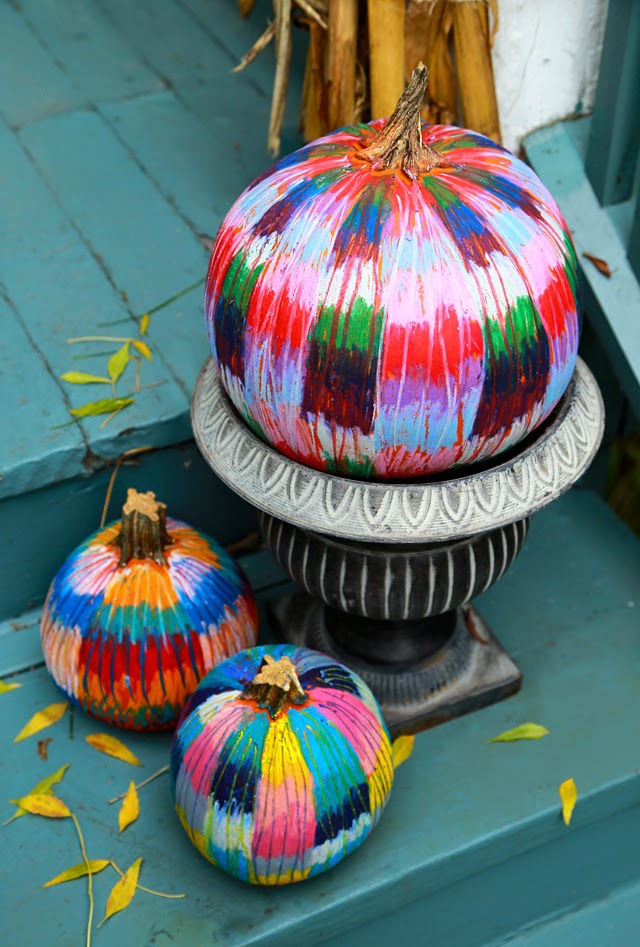 We're seriously crushing on these. They are actually looking like art. Amazing. Only people who are good with paint brushes would be able to make it.
Watercolor Pumpkins: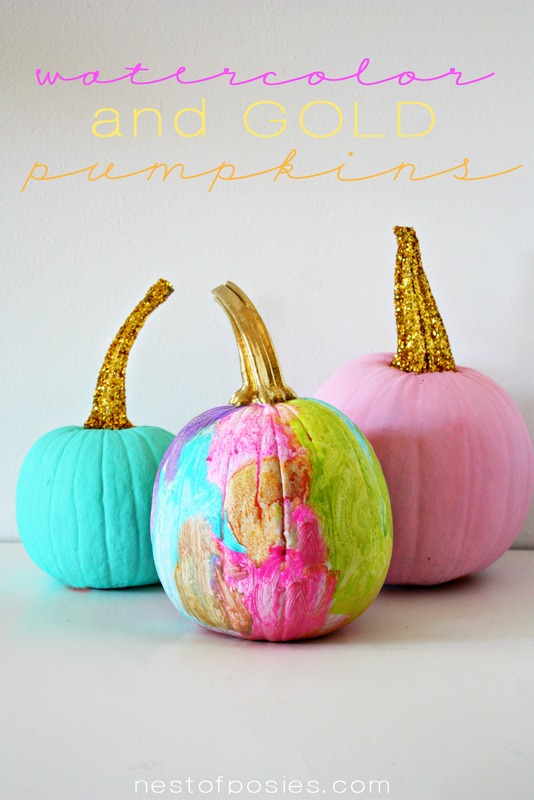 As they say, even a bit of gold makes everything look great, and here's a perfect example of it. We even loved the abstract watercolor work on it.
Golden Doily Pumpkins: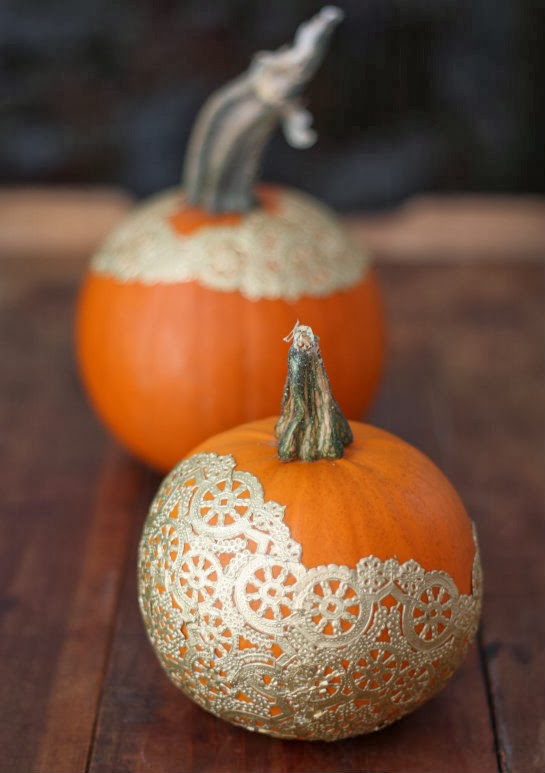 If you want a vintage and beautiful design for your pumpkin, this one's simply perfect.
Sprinkle Silhouette Pumpkins: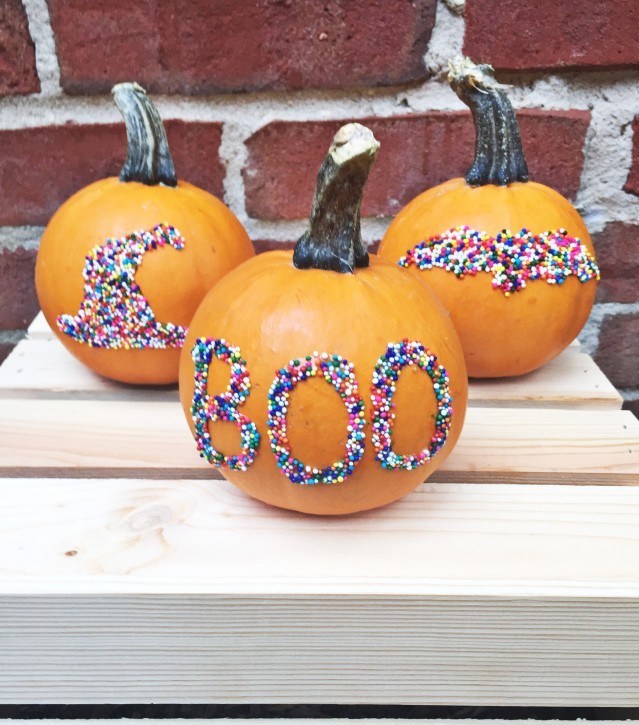 This bright and beautiful no carve pumpkin idea for Halloween is perfect for children. Tell them to make anything they like on these pumpkins. It will hone their creativity.
Gold Confetti-Dipped Pumpkin: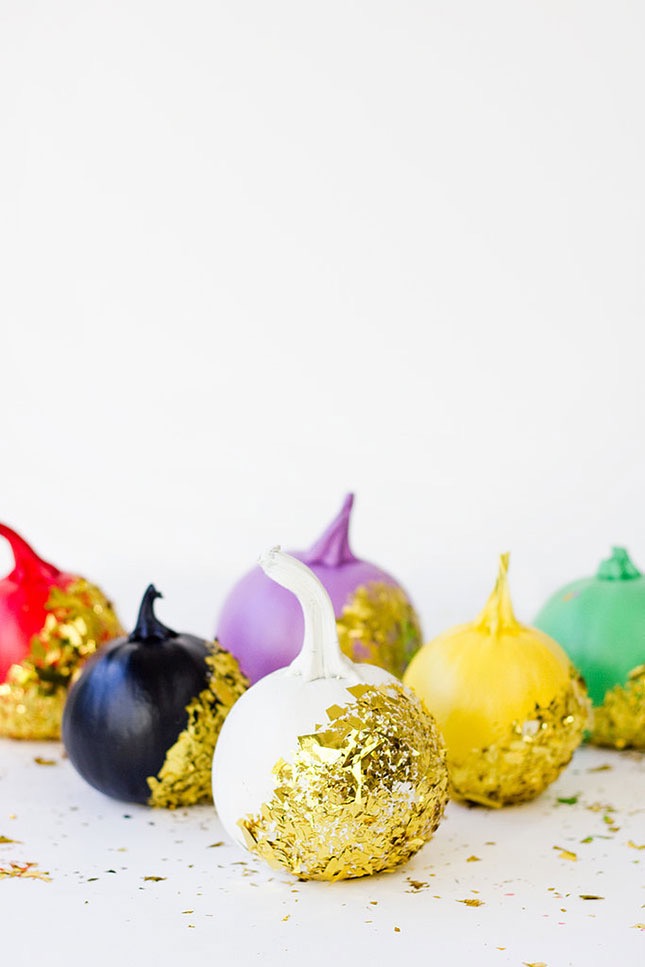 No one can miss seeing these bright and beautiful pumpkins. Try to go multicolor for these pumpkins. It will give an even better appearance.
Paint It Black: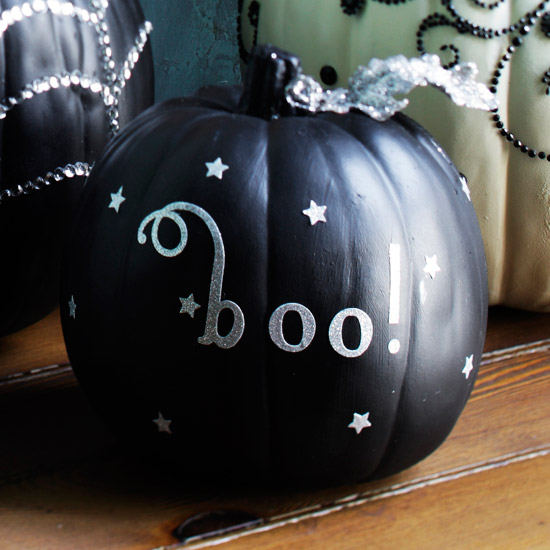 Making this pumpkin would be as easy as coloring it black and beautifying it with silver stickers.
Crayon Drip Pumpkin: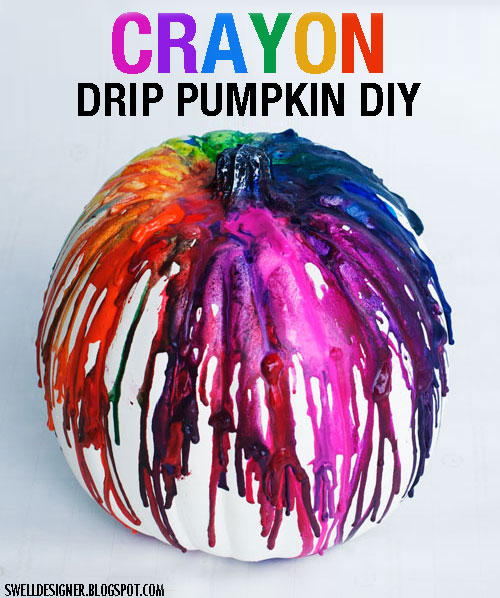 This craft is simply perfect for our readers who are obsessed with colors. Feel free to go as wild as you can with this décor. Every color looks amazing against the white background.
Draw It Up: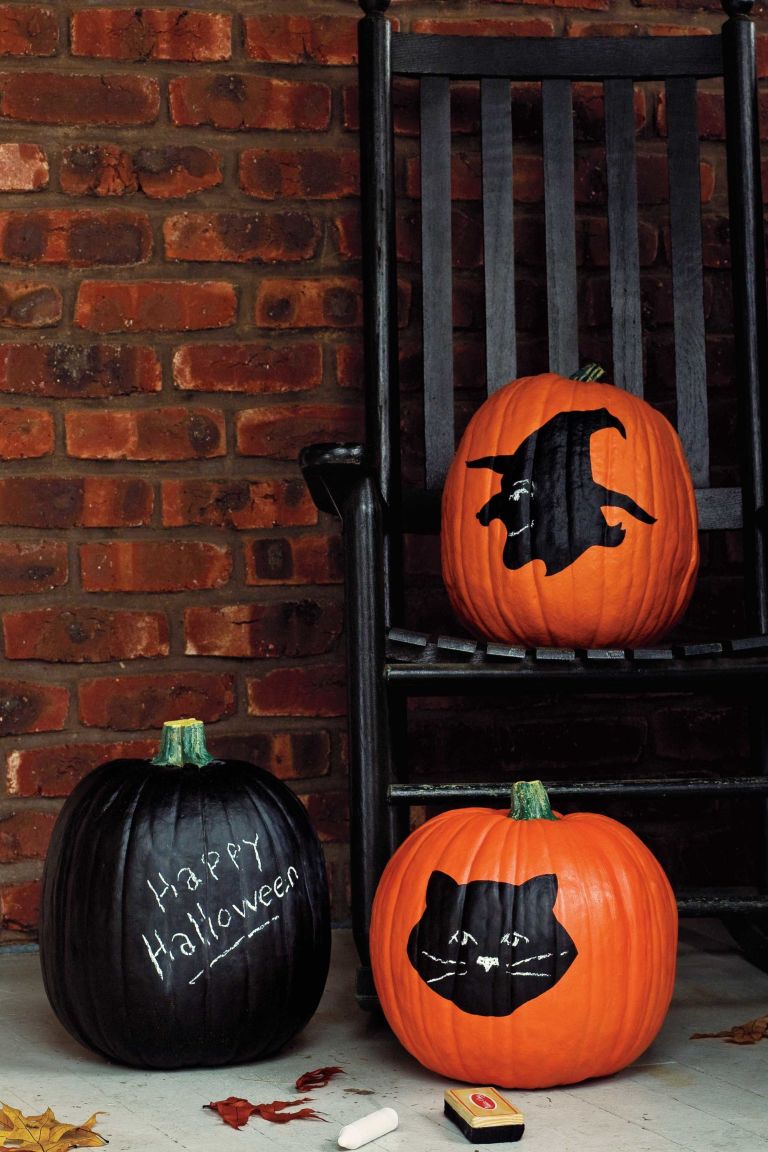 If you're good at drawing, you can consider making creepy faces of cats and witches on the pumpkins. If you want, you can paint it black and write 'Happy Halloween' on it.
Go The Cute: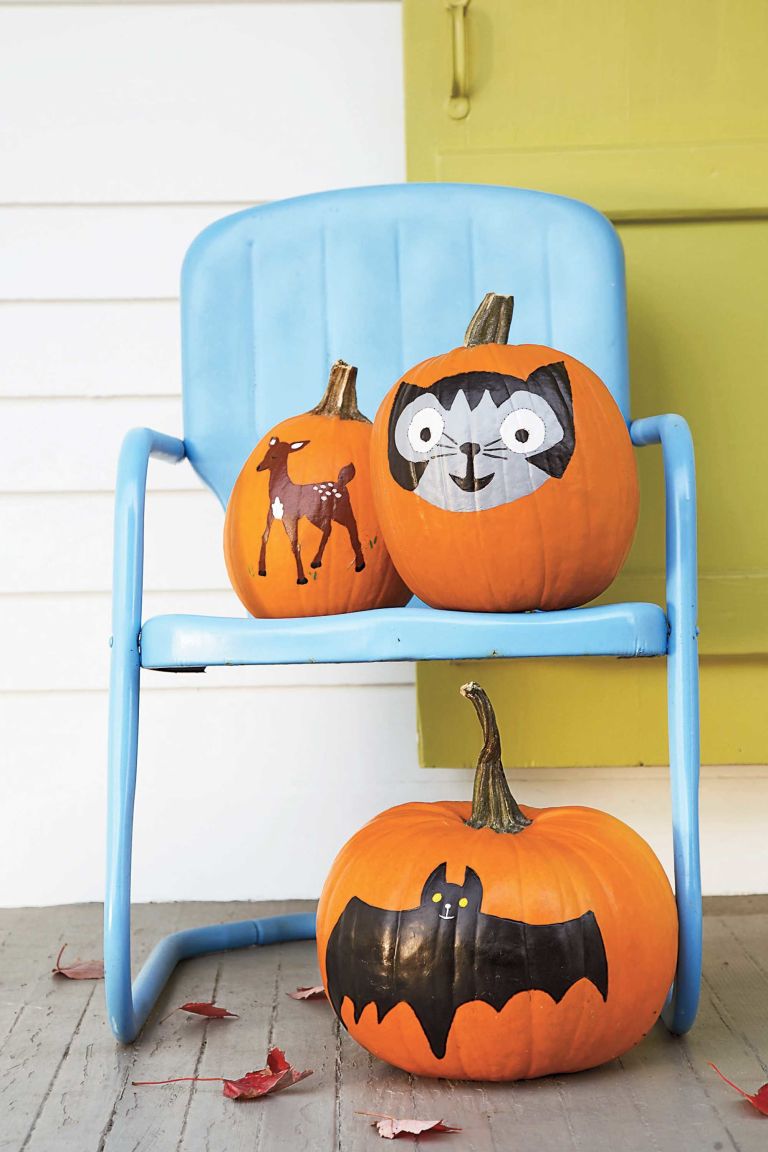 If not anything, draw cute animals on the pumpkins, especially if you have children or toddlers coming to the Halloween party. It will be less scarier for them.
Add Patterns To Your Pumpkin: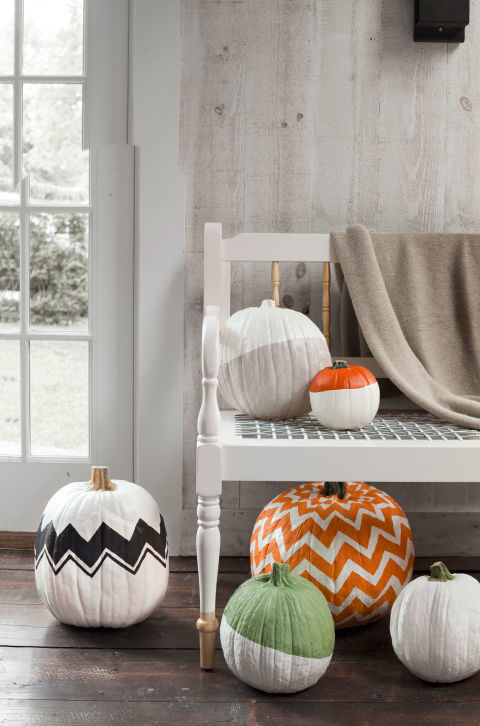 If you want, you can even add fun patterns to your pumpkin. You'll need painter's tape and acrylic paint to recreate this look.
Write Address Numbers On The Pumpkin: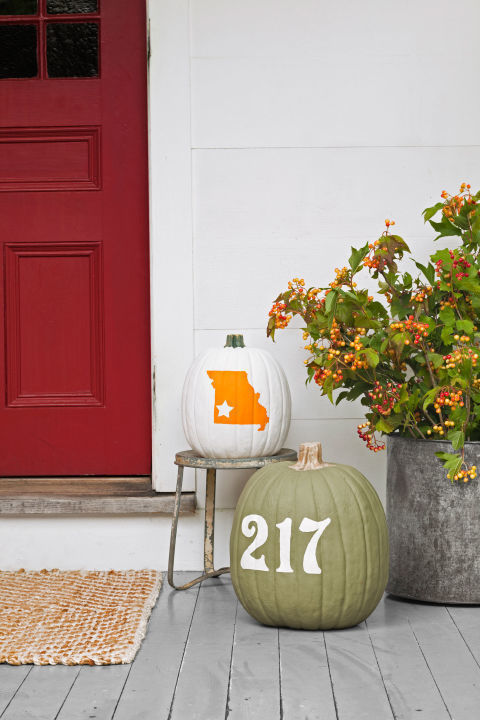 Let your visitors know that they've reached the perfect place by painting or writing your address number on the pumpkins. It's a perfect idea for people who want to keep it low key.
Dripping Paint Pumpkin: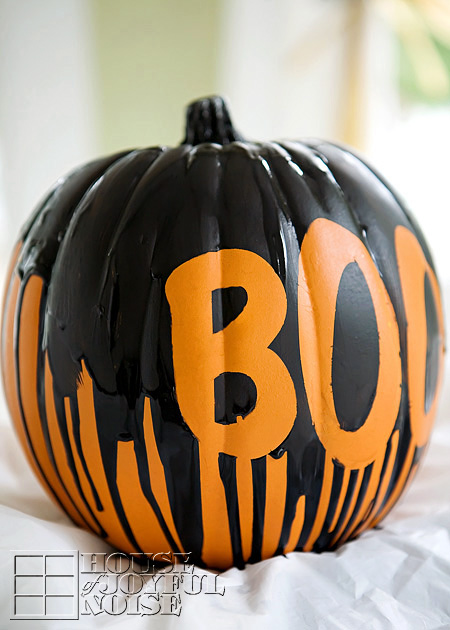 This one's both spooky and artistic. You just need a duct tape and black ink to create this centerpiece. Believe me, it will go very well with the theme.
Cinderella Butterfly Pumpkin: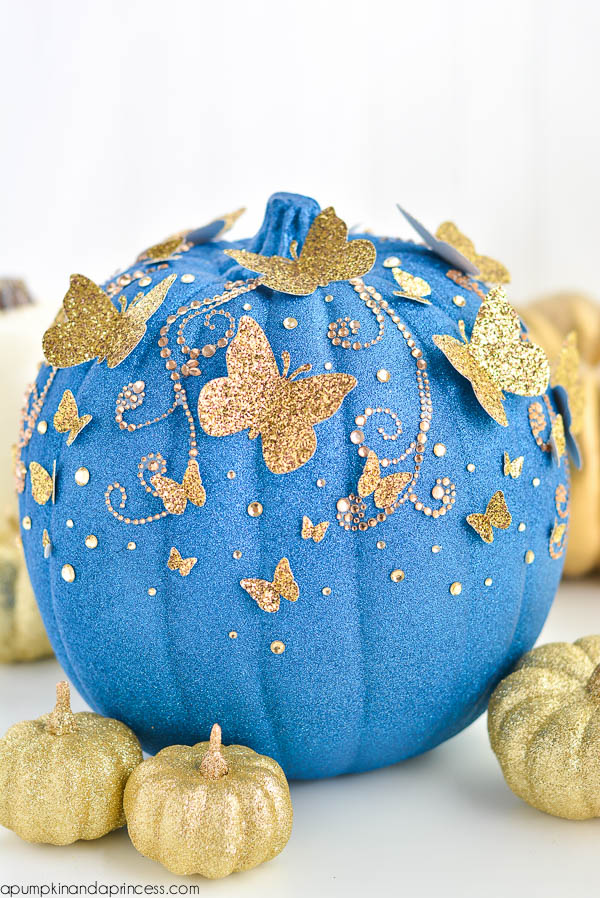 This beautiful pumpkin, made with paper and glitter reminds us of Cinderella's carriage. It's just spellbindingly beautiful.
Donut Pumpkins: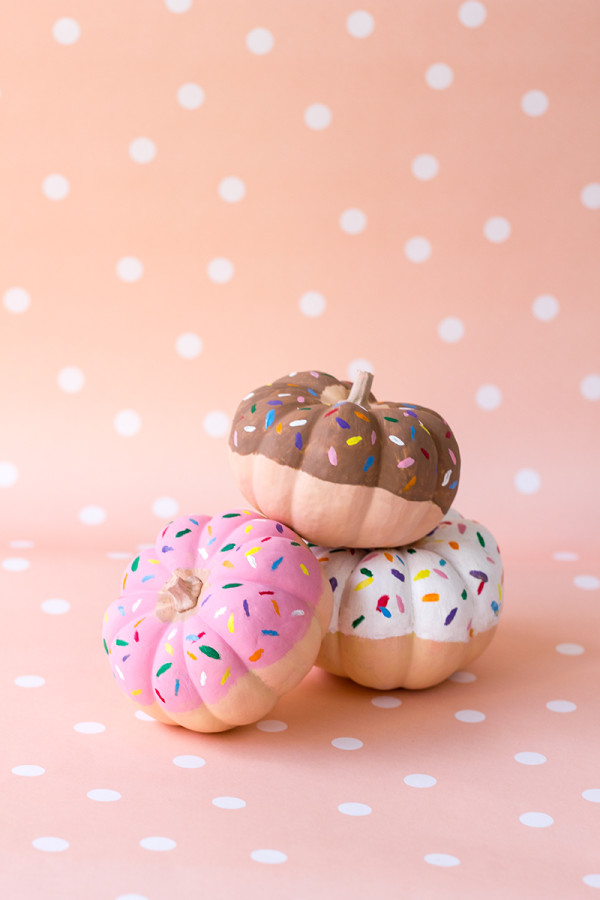 Who doesn't like donuts? At least, we don't know anyone who doesn't like pumpkins. It's looking fresh, unique and beautiful.
Gold Confetti Pumpkins: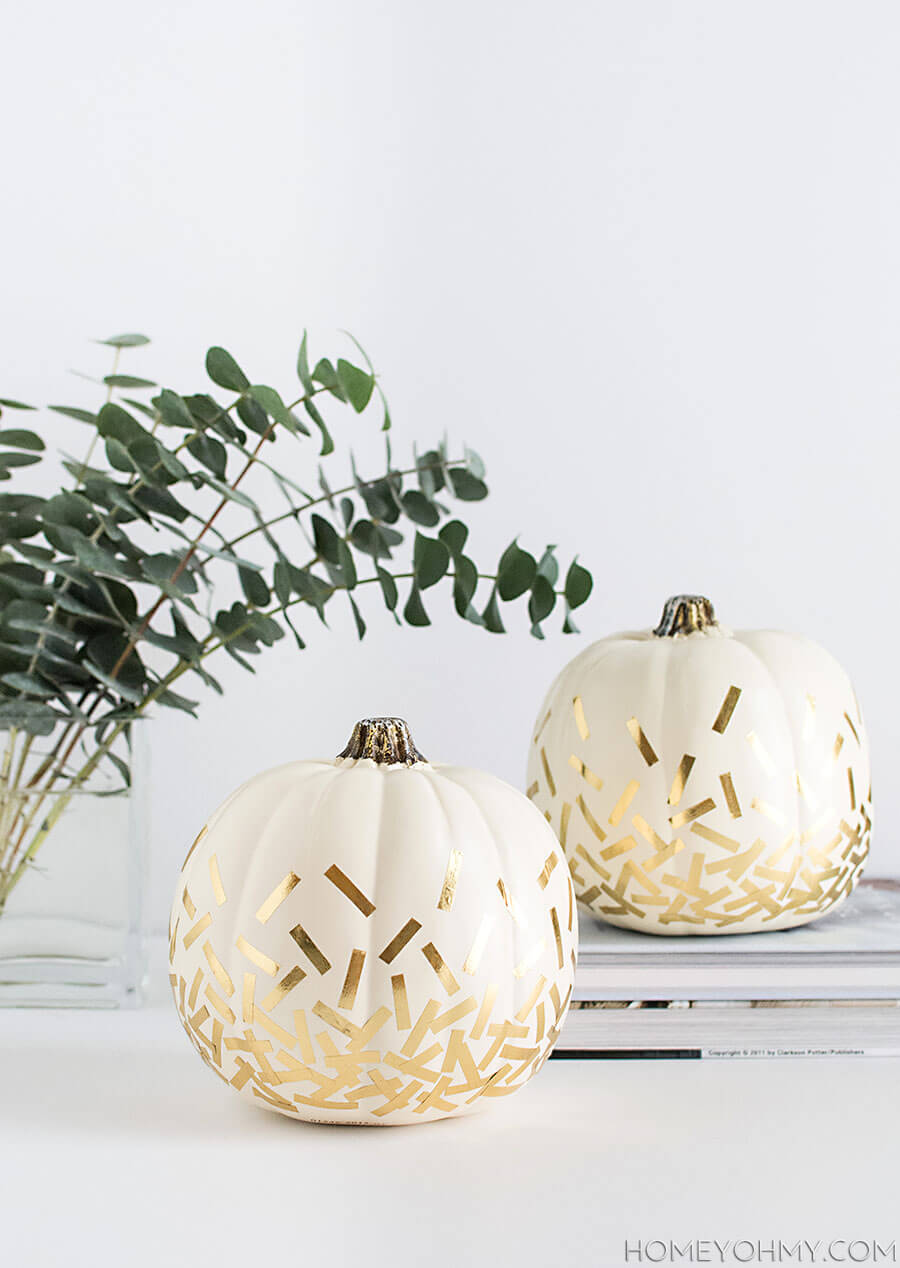 Create these ultra fancy and sophisticated pumpkins by using washi tapes. We think it will look stunning against a clean off white or white wall.
Pun-Kins: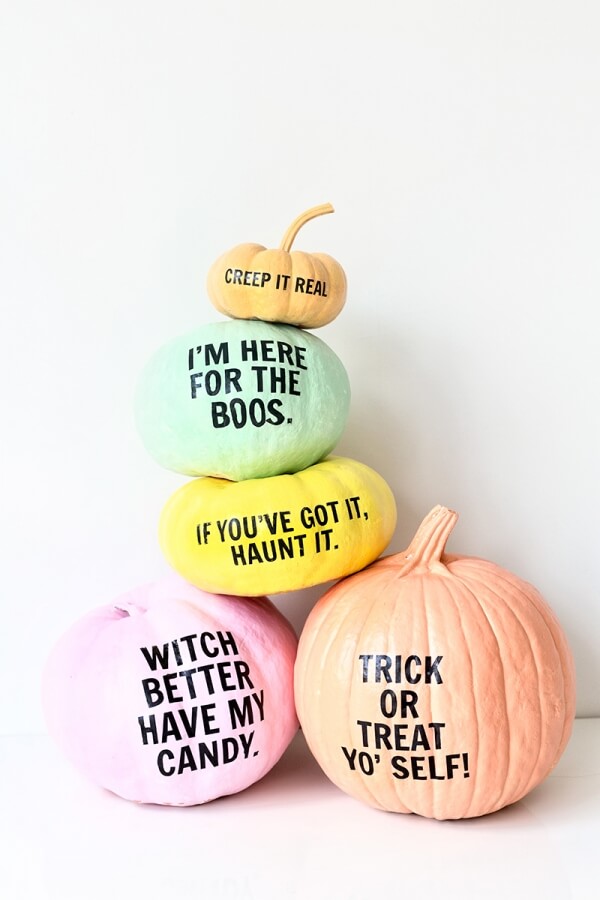 Make the mood lighthearted by writing your favorite Halloween sayings on the pumpkins. Tip: Use a white primer before painting the pumpkin. It will make the color pop.
Elegant Pumpkins: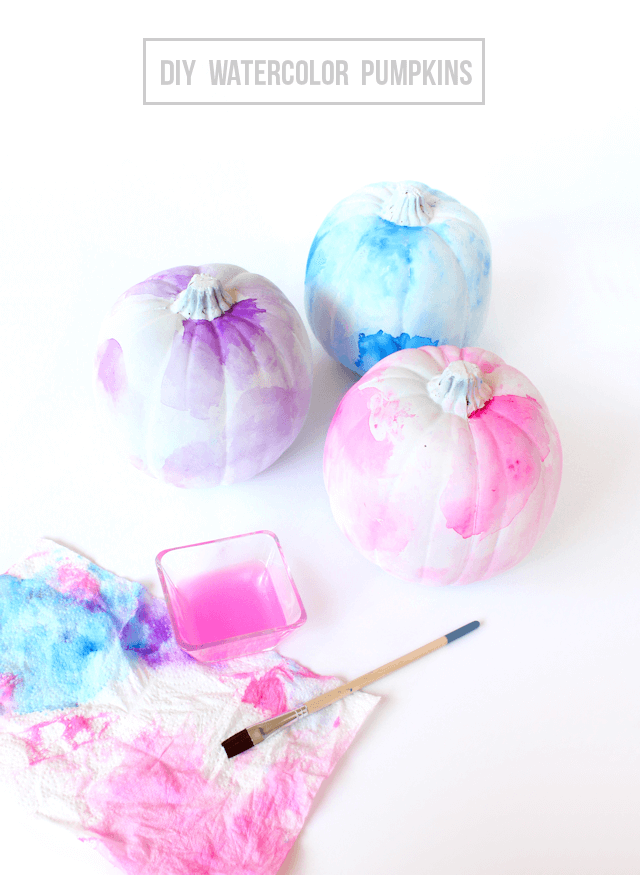 Watercolor pumpkins never fail to impress us. Just try to play as much as you want with the colors. And use complimentary colors. Do not go totally out of the way.
Kate Spade Pumpkins: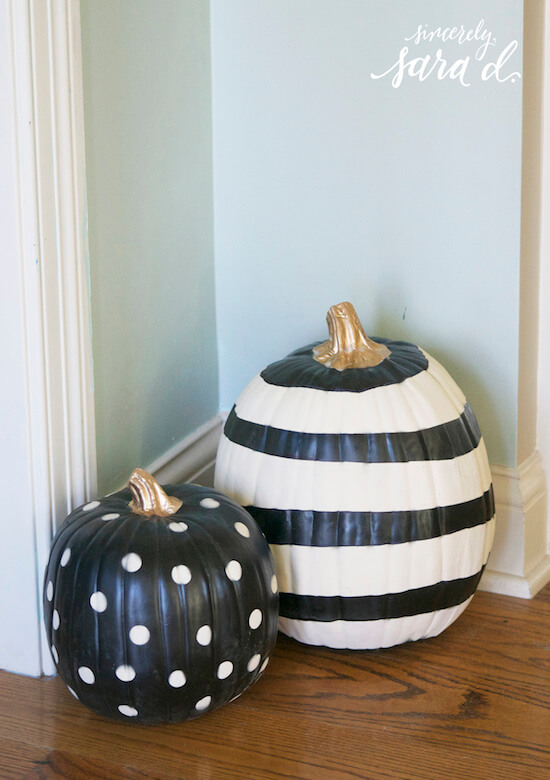 Duct tapes, spray paint and some creativity are what you need for creating this amazing design. And don't forget to paint the top gold. It will look stunning.
Wrapping Paper Pumpkin: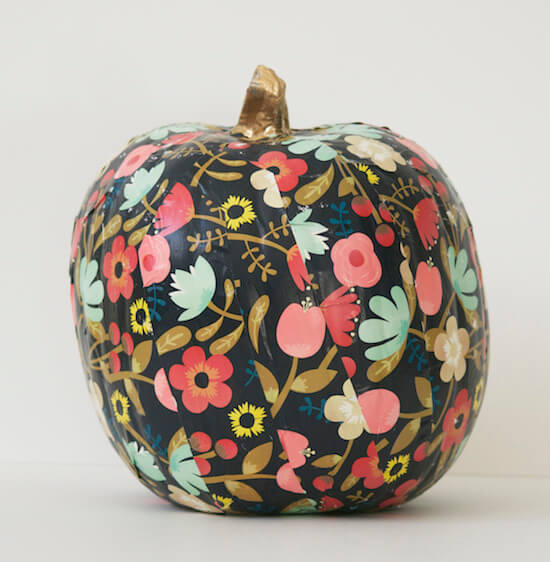 This one also qualifies for last minute Halloween decoration. After all, you just have to wrap a beautiful wrapping paper on it, using mod podge and you're set.
Floral Moon Pumpkin: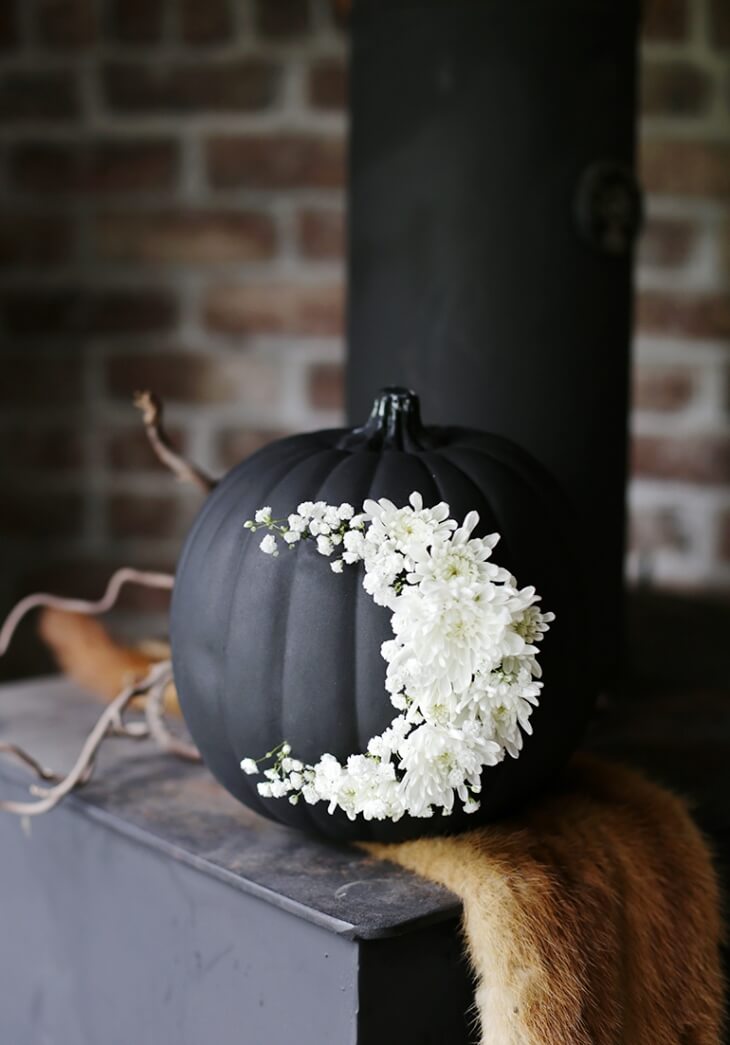 One of the most unique no carve pumpkin ideas for Halloween. Paint the pumpkin, drill moon shape holes in it and inset flower in the holes. It will make a sweet smelling decoration.
Copper Herringbone Pumpkins: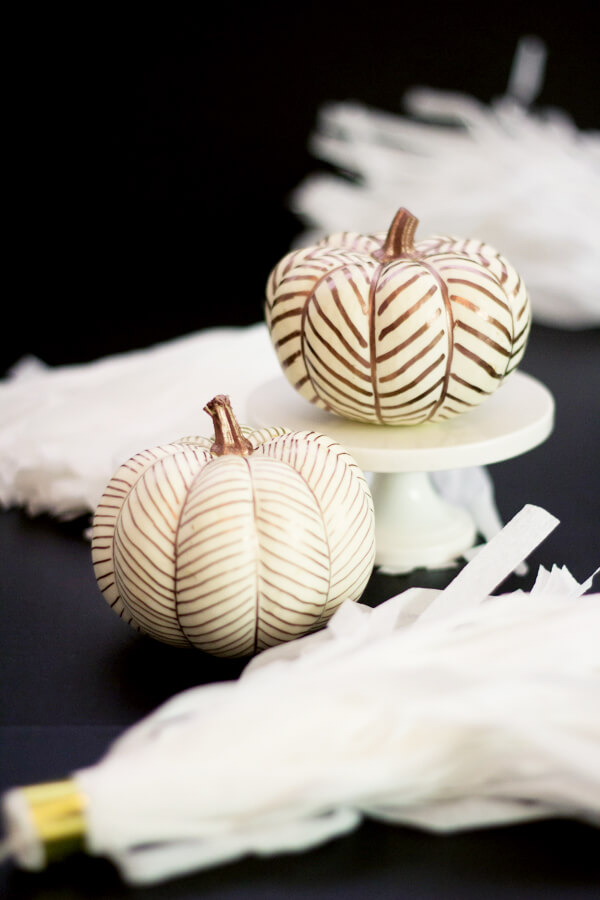 This is one of our most favorite no carve pumpkin ideas. You can either use white pumpkins or paint the pumpkins white for this décor.
Colorful Pumpkins: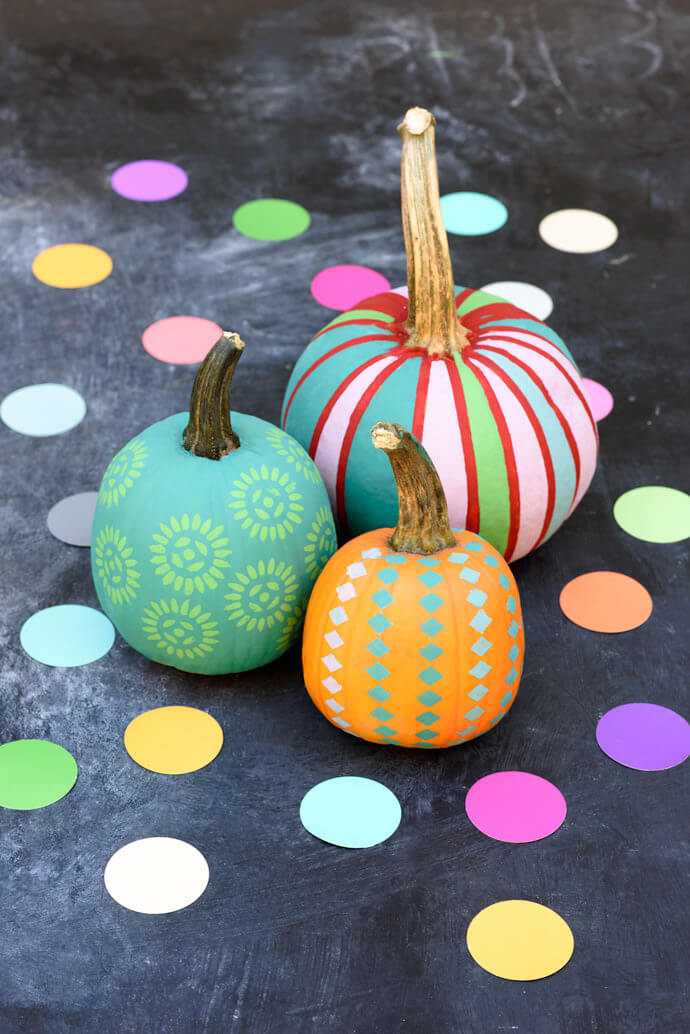 Combine different colors and patterns to create a patterned pumpkin patch. Try to be as creative as possible by using different colors and patterns.
Sharpie Owl Pumpkins: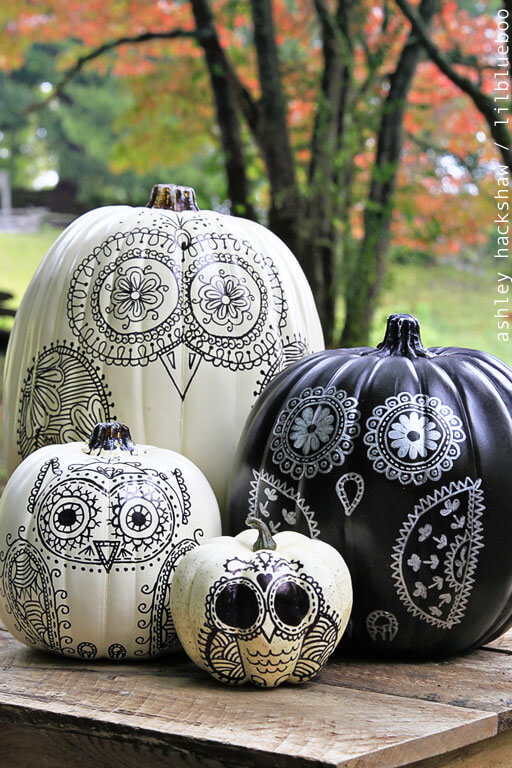 How about drawing owl or owls on the pumpkins? Don't you think it will go really well with the theme, considering owl is believed to be an eerie bird?
Pumpkin Guest Book: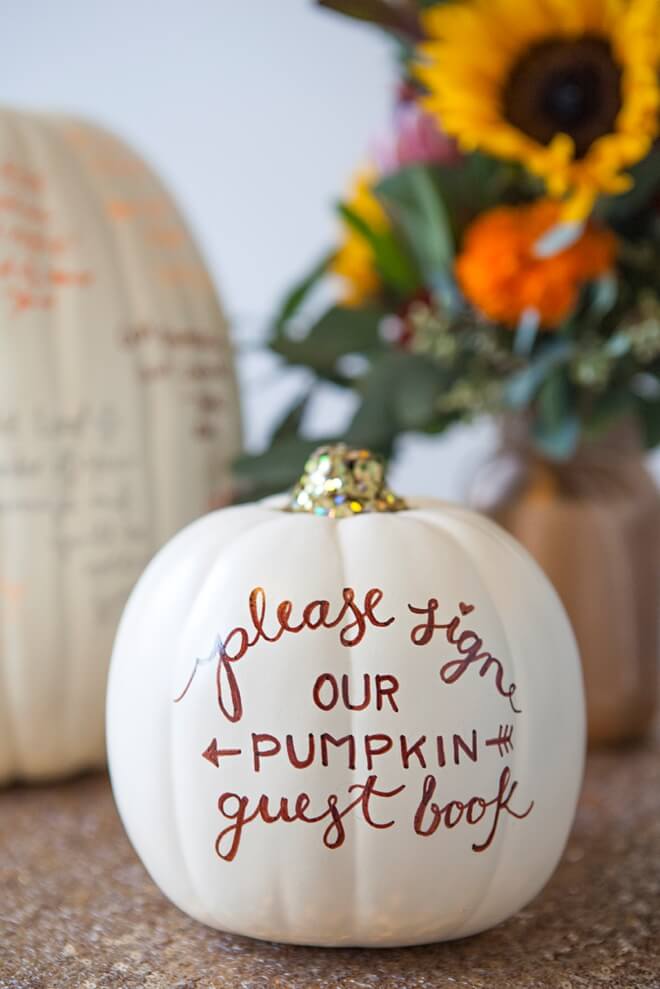 We're ending the article on a very sweet note. Instead of using the pumpkins only for decoration, use it as a guest book. Tell the guests to sign their names or write messages on it.
These no carve pumpkin ideas will truly rock your décor. Just ensure that you execute it nicely.