Halloween, my dear readers, is getting closer. So are you ready for it? We'd like to believe that most of you must have decided on the décor. And if you haven't, we're here to help you. We've scoured hundreds of Halloween decoration ideas so that you don't have to take the trouble of doing so. Below are 30 of the best Halloween decoration ideas for 2017 for you.
Top 30 Halloween Decoration Ideas For 2017
Dress Up The Mantle: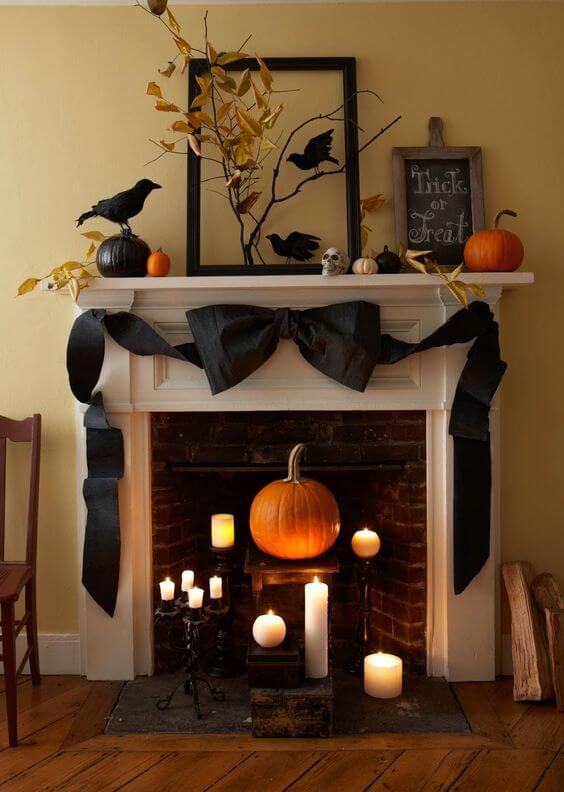 Dress up your mantel with a black, oversized bow for maximum effect. And don't forget the pumpkins, candles, and crows, the faux one of course.
Mandarin Jack-O-Lanterns:

People will be surprised seeing such tiny Jack-o-lanterns in their house. And you'll be equally surprised to know how easy these are to make.
Pumpkin Keg: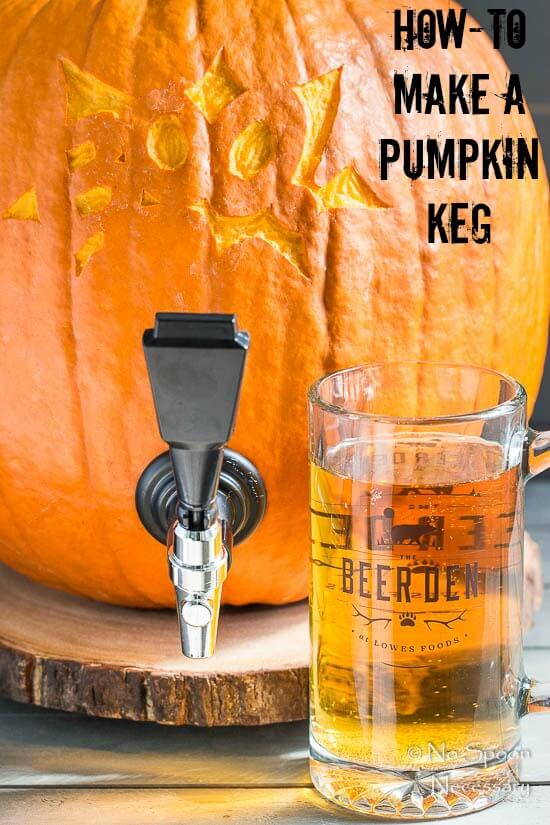 Transforming a pumpkin into a keg is one of the coolest Halloween decoration ideas ever! You can either keep this keg on your dining table or place it outdoors for a barbeque party.
Boo Door Sign: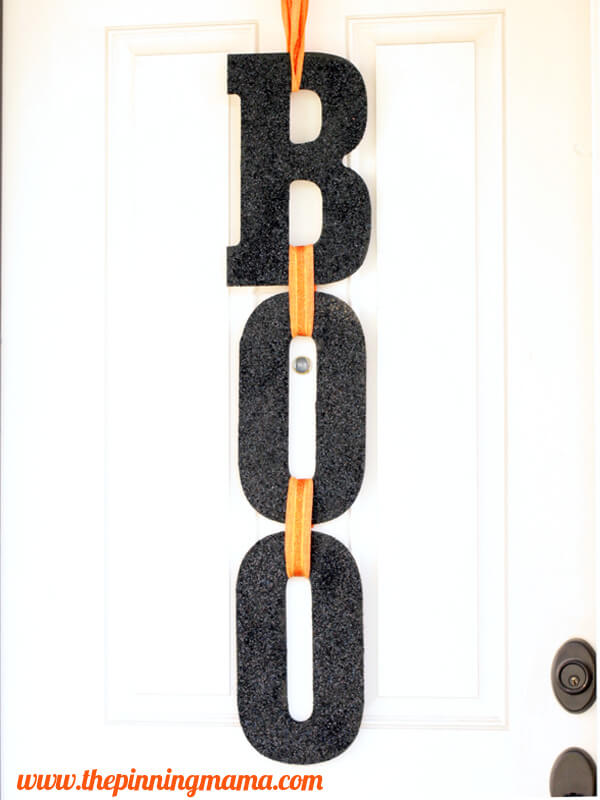 If you want an understated decorative item for Halloween, go for this simple and elegant boo sign. It will look excellent hung on the door.
Use Apothecary Labels: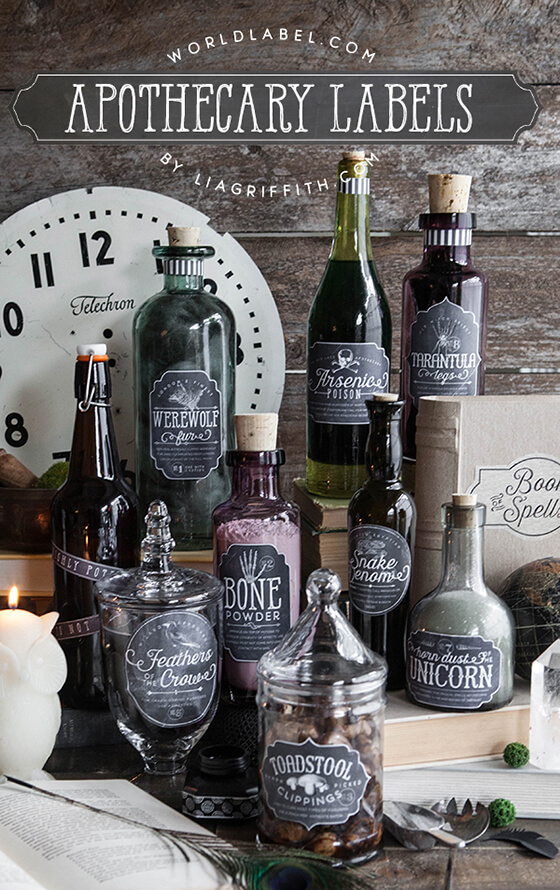 Wrap your wine bottles in apothecary labels to give them a gothic element. It's a relatively easy idea as you just have to download the templates and stick it on the wine bottle.
Floating Witch's Hat Luminaries: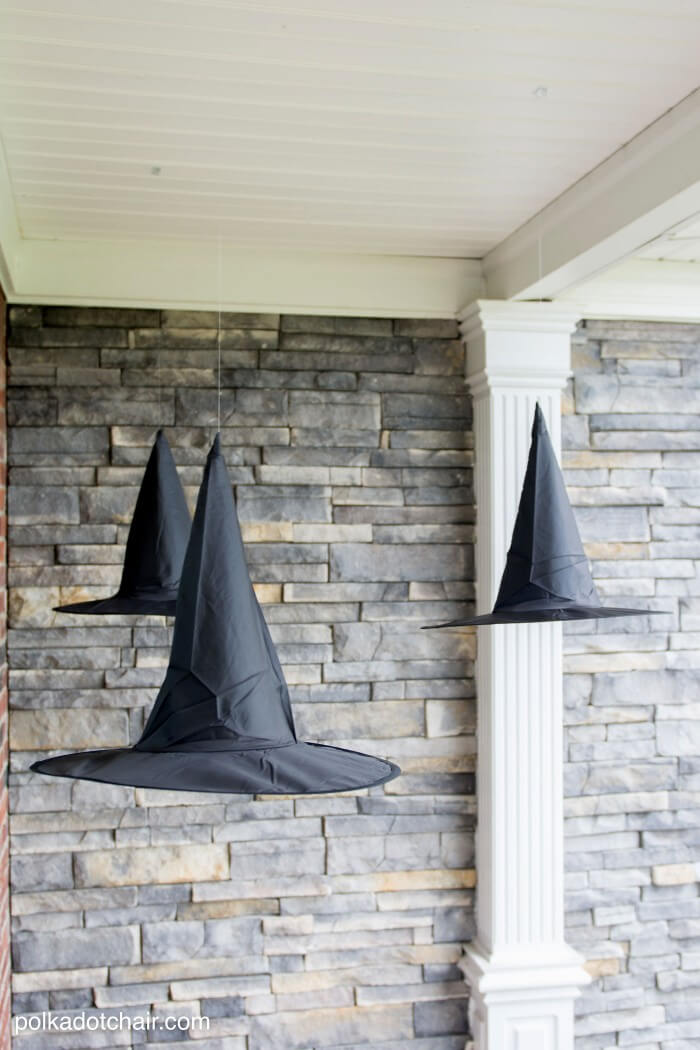 We have to admit that this is one of the most popular and fun Halloween decoration ideas on Pinterest. And it will look great in 2017 as well.
Candy Corn Button Art: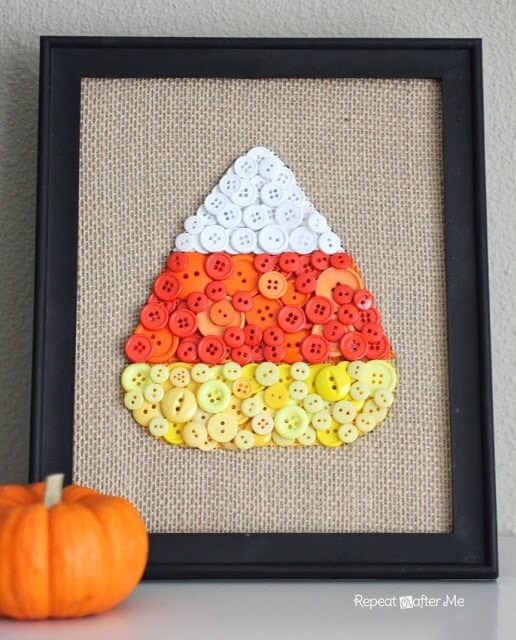 This craft idea will double as decoration as well. It would be best if you let the children do this craft and then hang it on the wall. They will be pleased.
Halloween Decoration For The Front Door: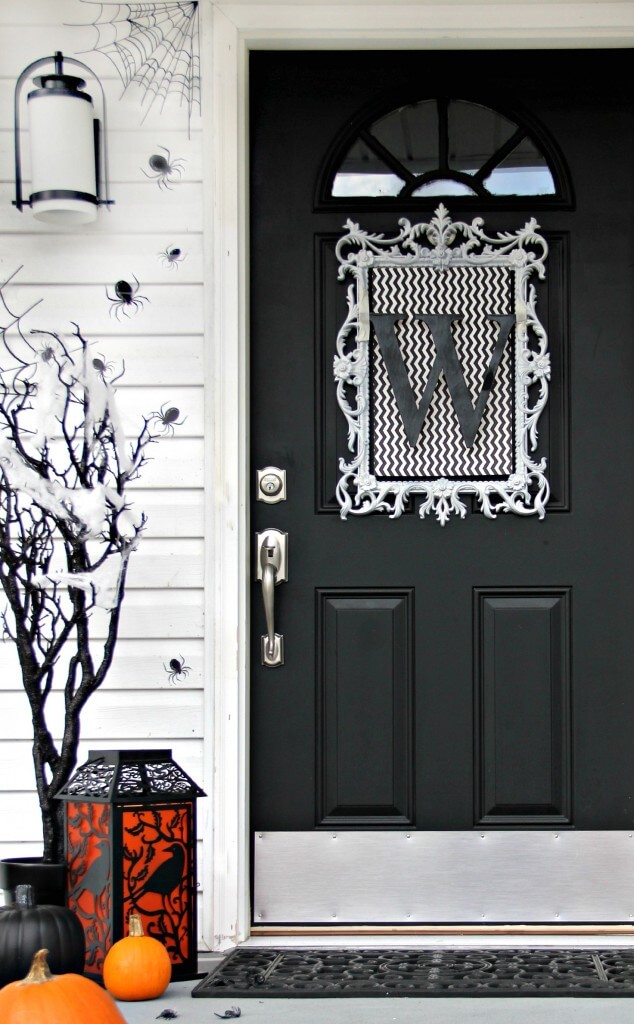 We must admit that the color palette of black, white and orange is making it look creepy, but in a sophisticated way. The door sign is like the icing on the cake.
Skeleton Hand's Wreath: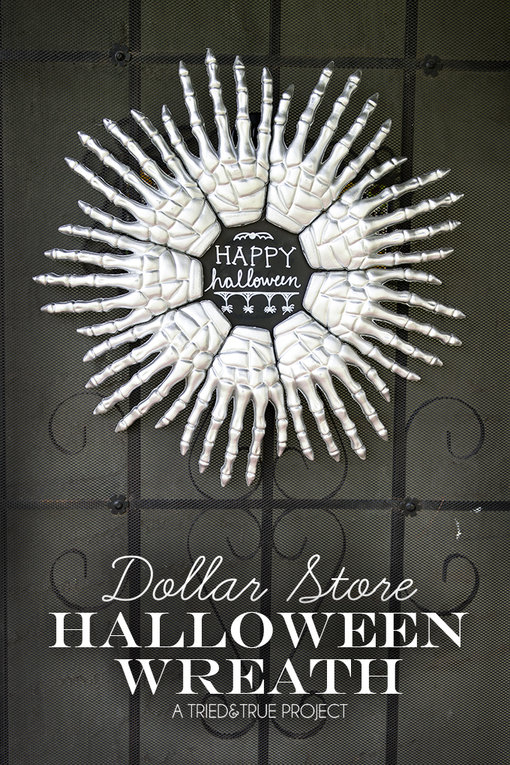 Woah! This one is a bit too spooky, especially for children. But they'll probably get used to it, after freaking out for the first time, for sure.
Branch Wreath: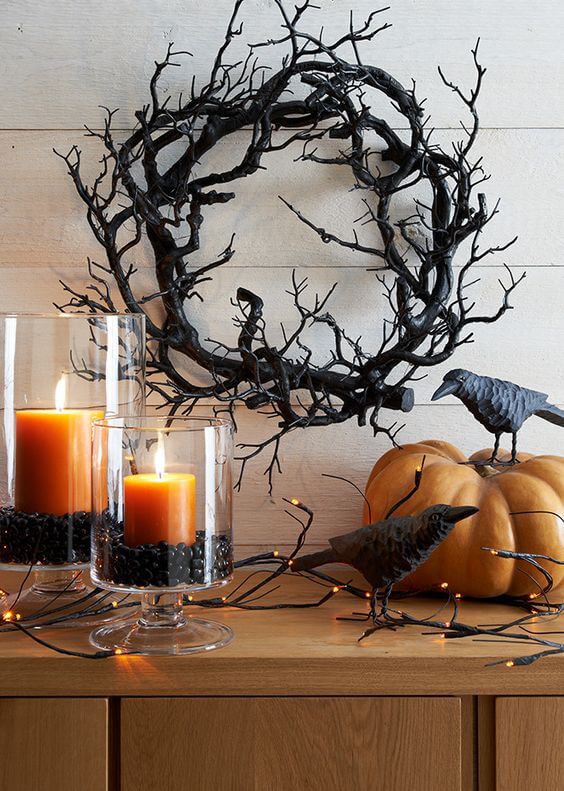 This spooky and gnarly wreath is created using thick branches and then painting it stark black. The rest of the setting including LED light shaped as branches, faux crows, pumpkin and candles.
Paint The Wine Bottles: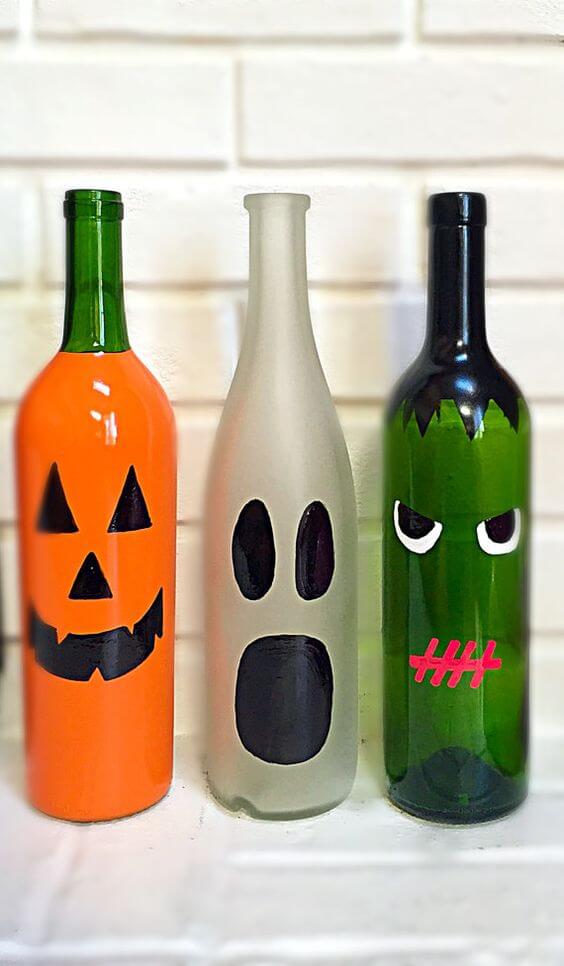 Paint the wine bottles into creepy characters for a quick decoration. The characters featured here include Frankenstein, Casper and Jack-O-Lantern, but you can include any character you like.
Black And White Décor: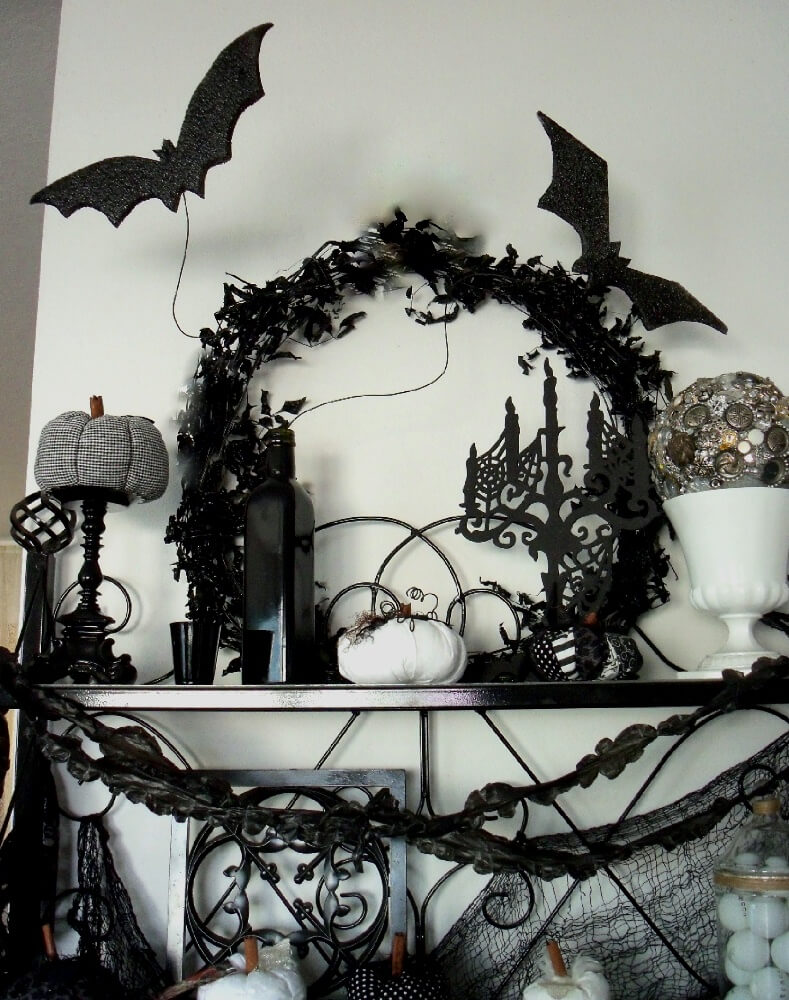 Nothing exudes an eerie feeling more than a black and white décor. So how about going a black and white Halloween decoration this year? Here's an idea to get you started.
Witch's Legs: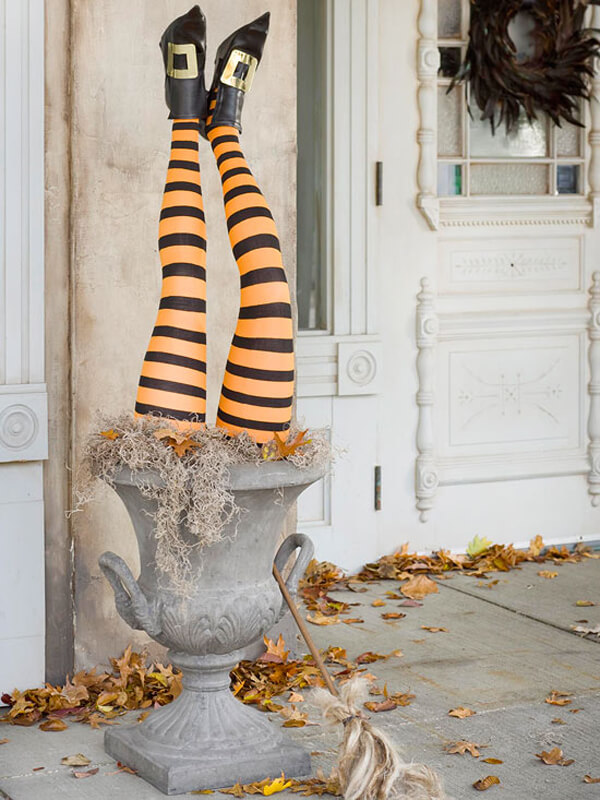 Get hold of mannequin legs, put a striped tights on it along with pointed shoes and stick them in a planter upside down. This Halloween decoration idea is both silly and scary.
Hang Some Skulls From The Porch: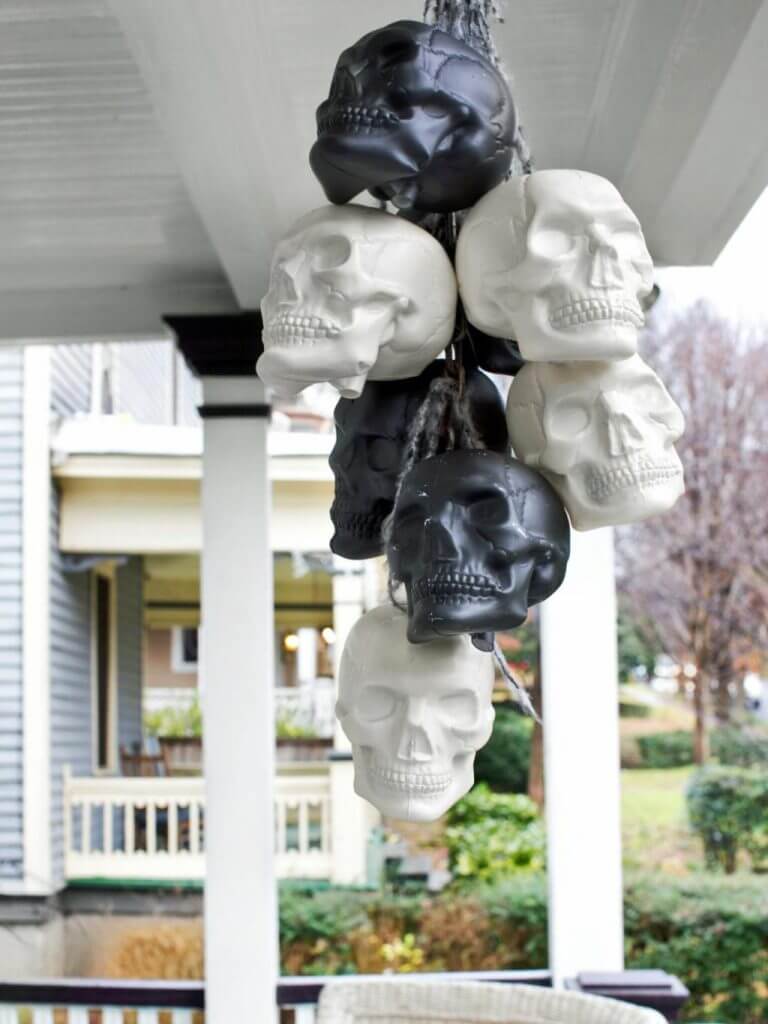 You can even hang a cluster of skulls from the porch to freak out the neighbors. A few have been painted black, but we'd suggest adding some droplets of red paint from the white ones.
Happy Halloween Banner: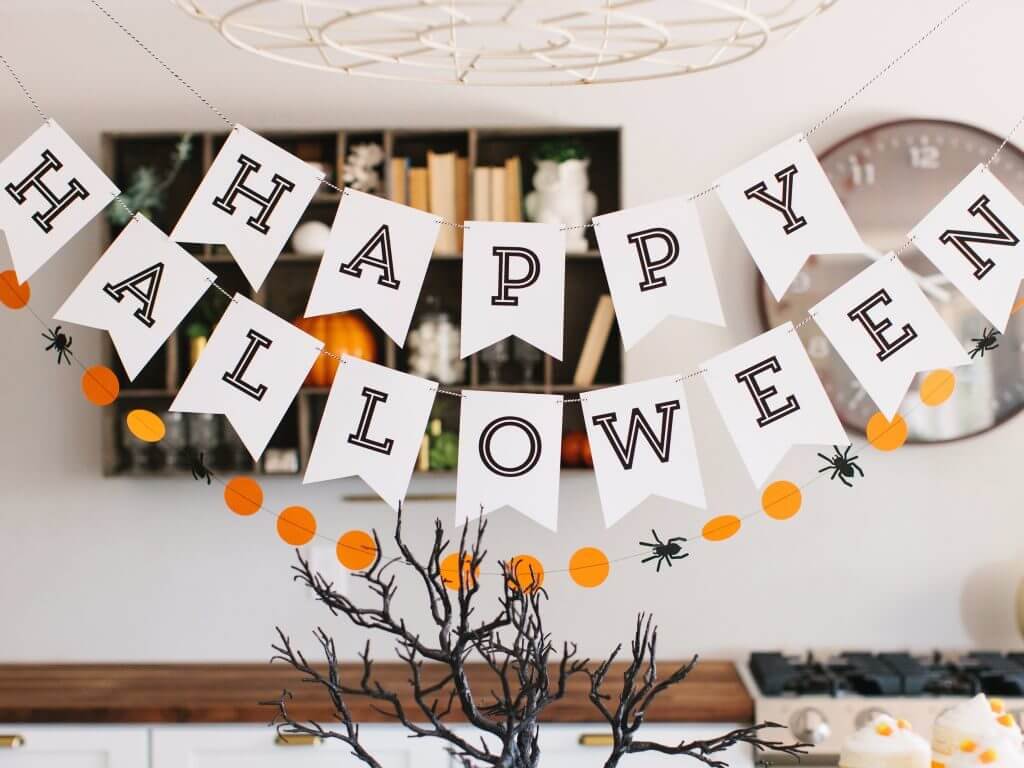 A banner is the easiest way to dress up any part of the house, including mantelpiece. To add an extra dimension, hang some garland along with the banner.
Skull Headed Spider: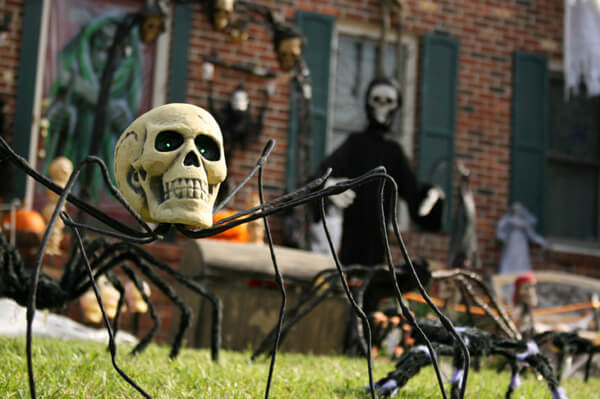 Now this one is really scare and will freak out any faint hearted person. It's made using spider legs made with thick wire and then artificial skull mounted on top.
Give A Metallic Touch: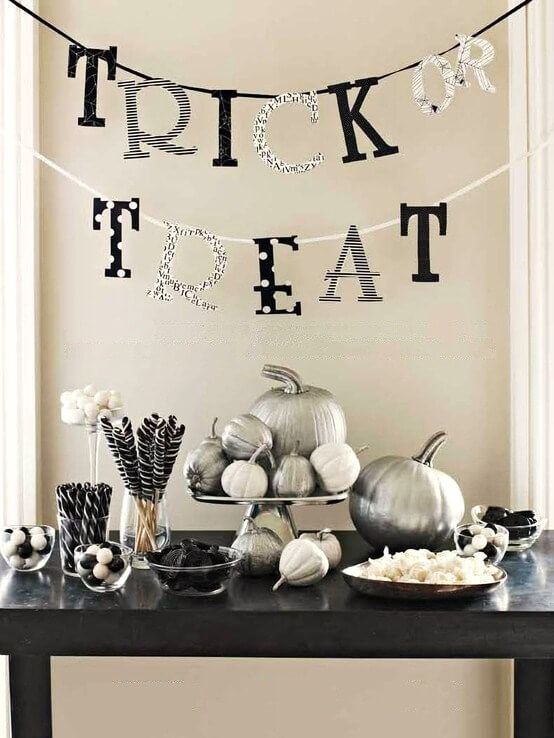 People are so busy with orange, black and white during Halloween that they forget metallic shades all together. This image shows that metallic can add vistas to a décor. So go for it!
18. Grim Reaper: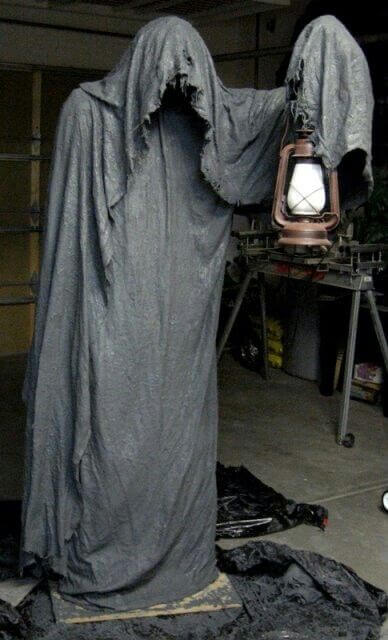 Now this one can scare even the bravest of souls. Put it out on the walkway for maximum effect.
Witch Wall-hanging: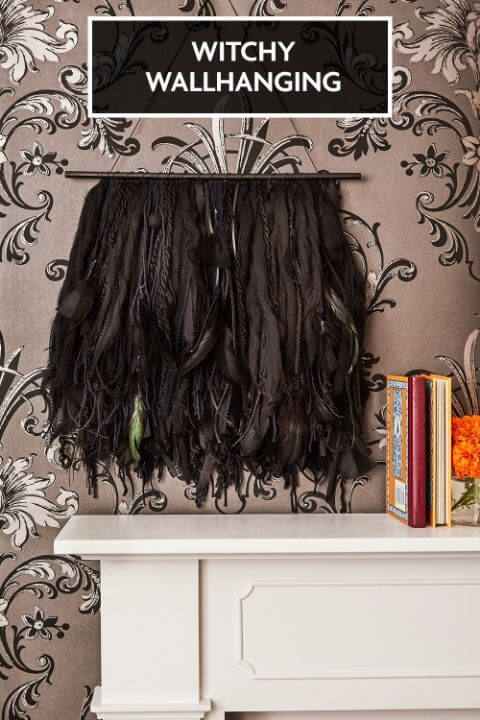 Now that's funny, and slightly creepy as well. Your guests won't stop questioning you what exactly it is.
Glass Dome Head: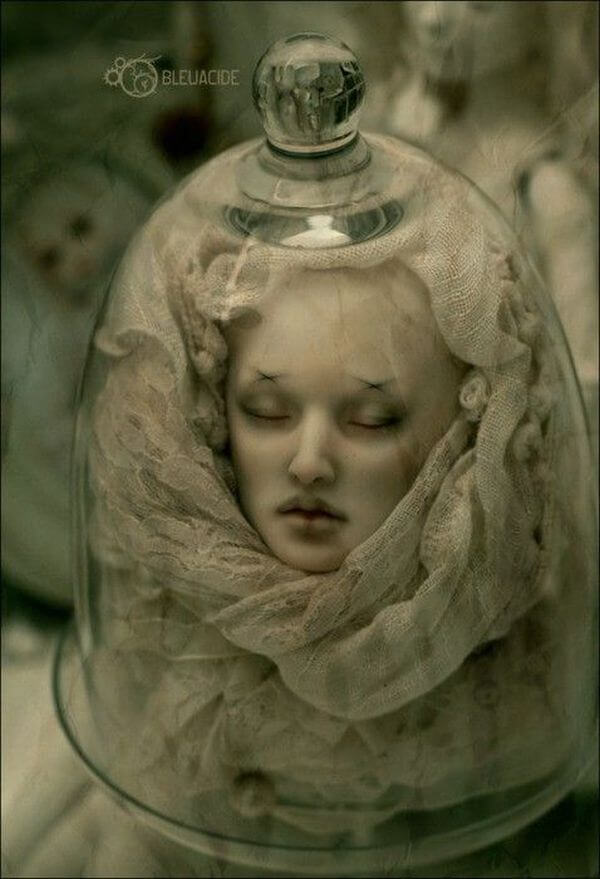 This one is scary, really scary and is taking the internet by storm, particularly after being featured in "Game of Thrones". It's disturbing, but even impressive.
Haunted Houseplants: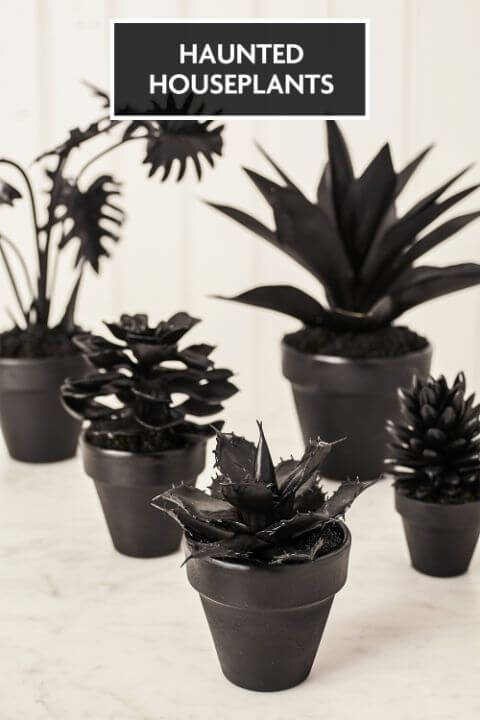 These haunted houseplants will give nightmares to everyone. But ensure that you use fake plants for this decoration.
A Messy Shelf: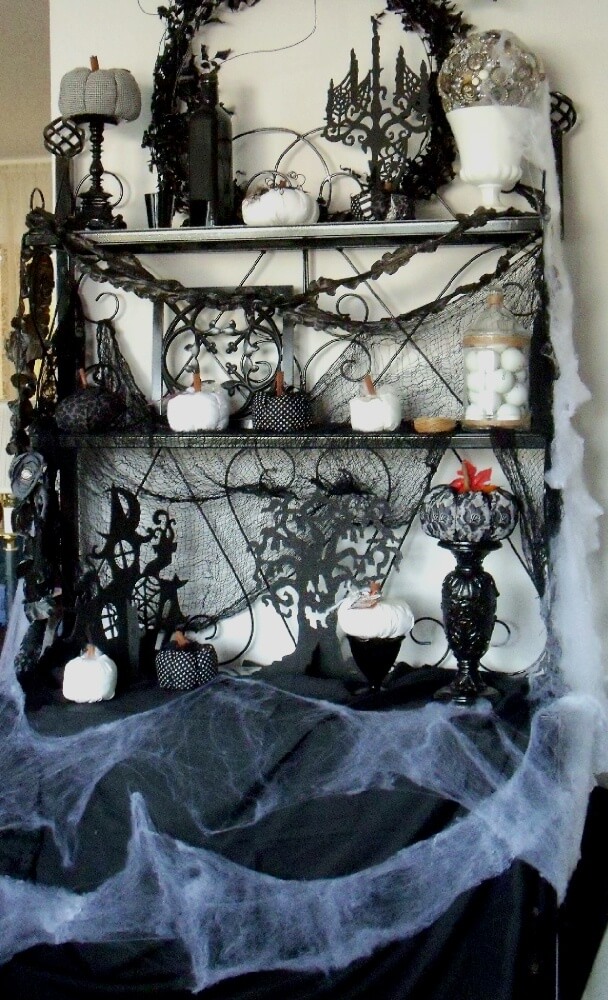 It looks like this messy shelf hasn't been cleaned since years. Just look at the spider web? Well those spider webs are made using cheese cloth. Isn't it amazing.
Spooky Mason Jars: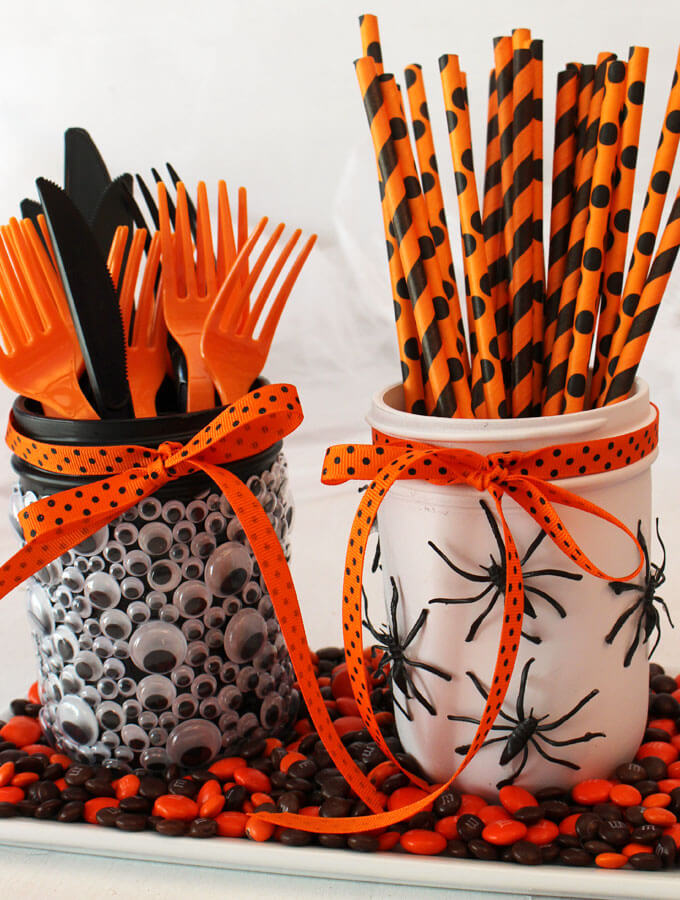 This idea will make a fun DIY for your children.
Blood Splattered Vases And Cups: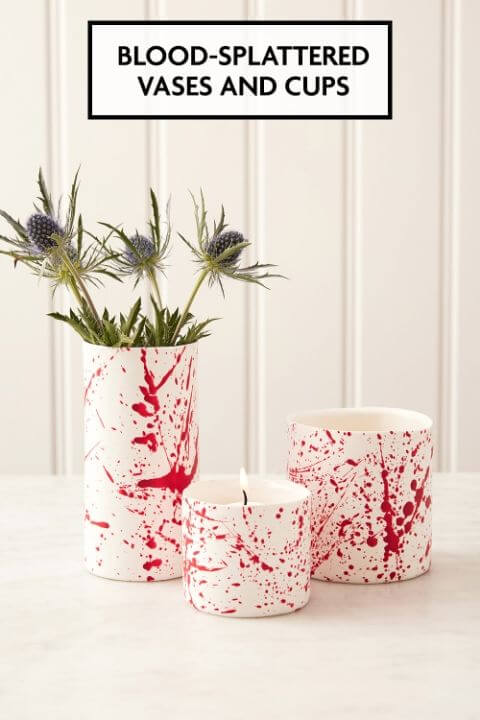 There are chances that people might mistake this blood splattered pattern for modern art.
Paint The Pumpkins Black And White: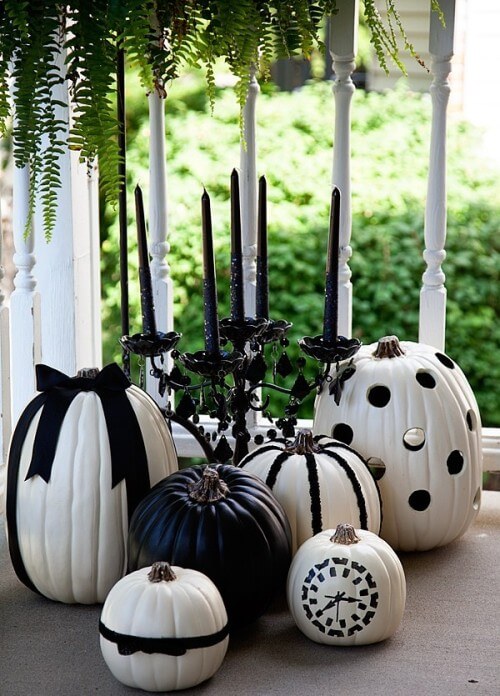 This looks like a very neat, clean and not so scary idea. You just need to get paint the pumpkin black and white and decorate it in the following way. Don't forget the candelabra.
Halloween Fabric Wreath: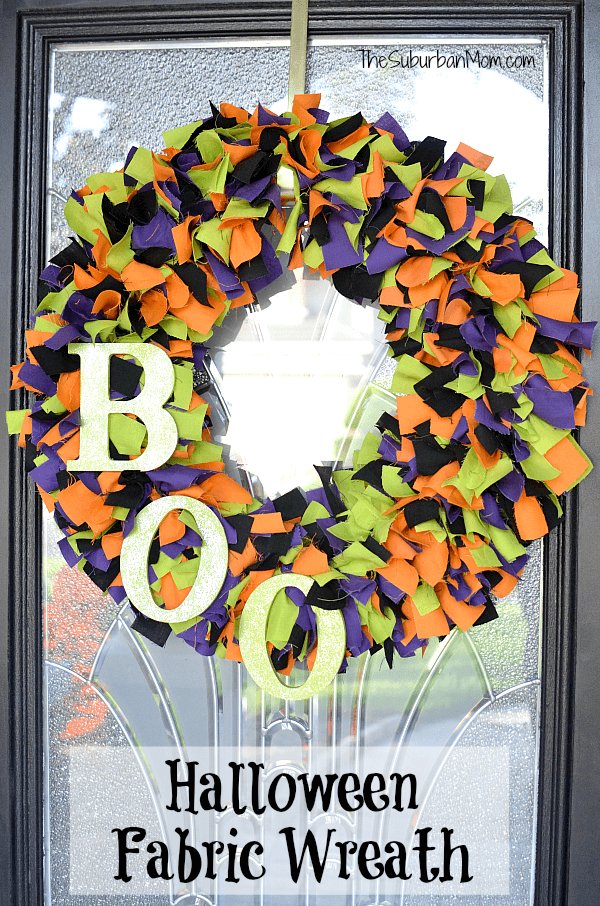 With some cloth strips you can create this wreath within the comforts of your home. And don't forget the BOO sign. That's vital to this décor.
Spidey On A Lamp: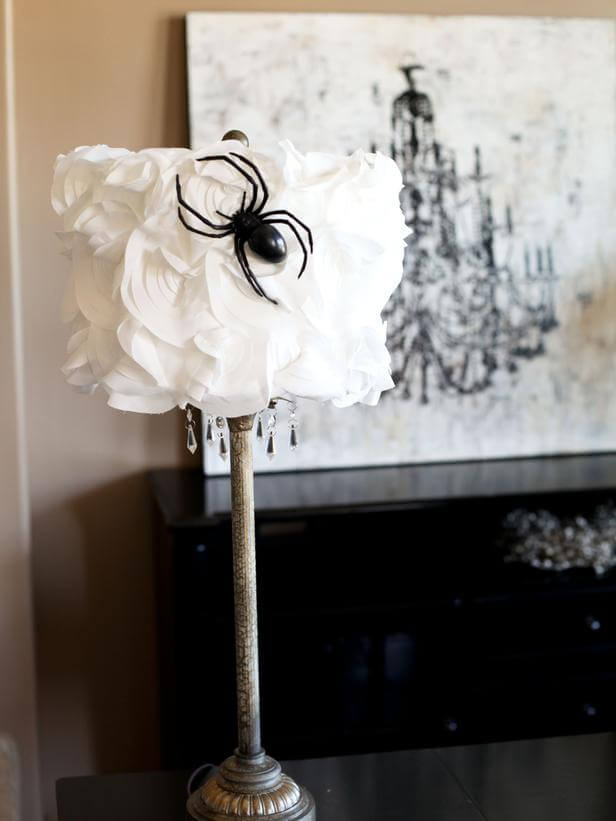 Another quick fix Halloween decoration idea. Just affix a spider on a lamp and you're done.
DIY Halloween Eyeball BOO-quet: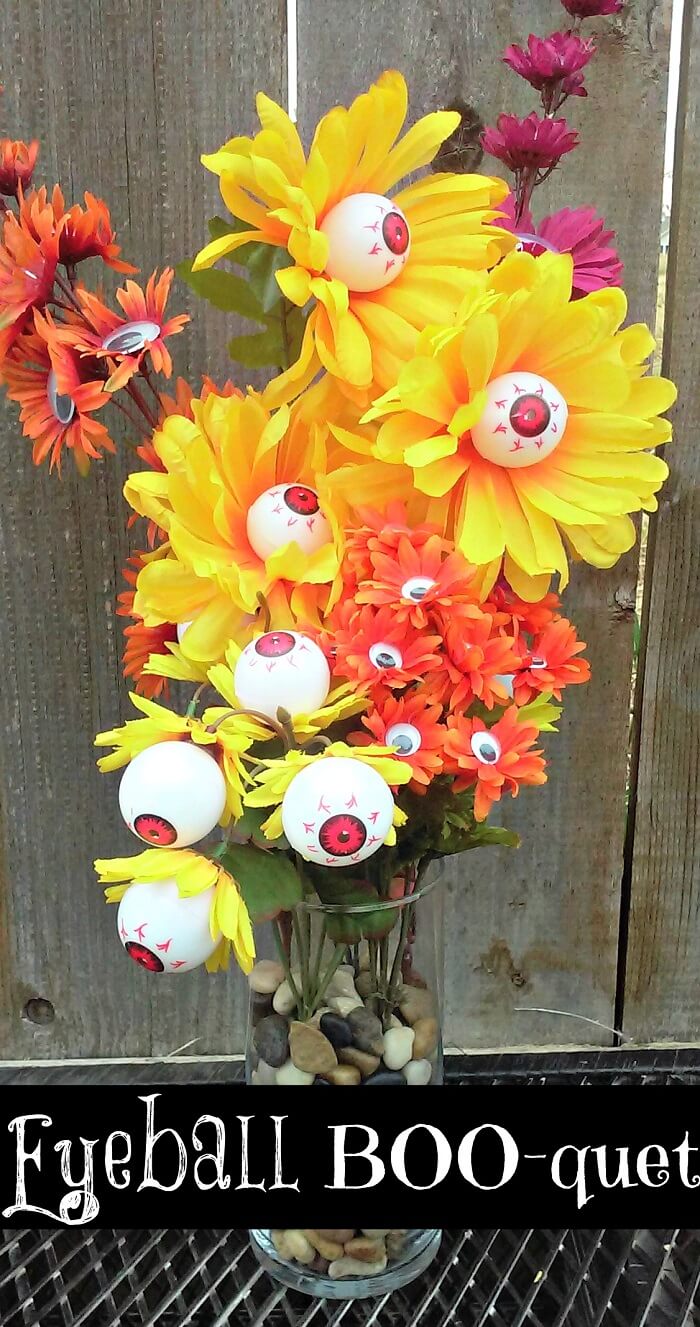 Whom would you like to present this eyeball bouquet? We wonder if they'll be pleased or not!
Halloween Costume Trophy: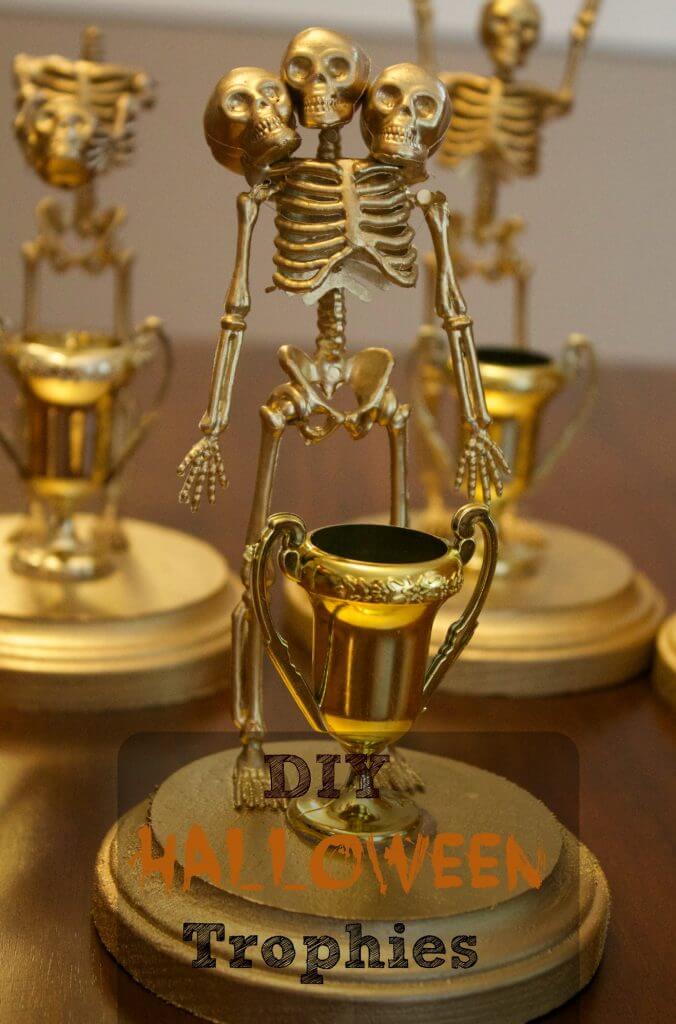 If you're hosting a costume party, you must present something to the best dressed people. Here's a Halloween costume trophy idea, which can double up as a decorative item as well.
Hang Skulls From The Chandelier: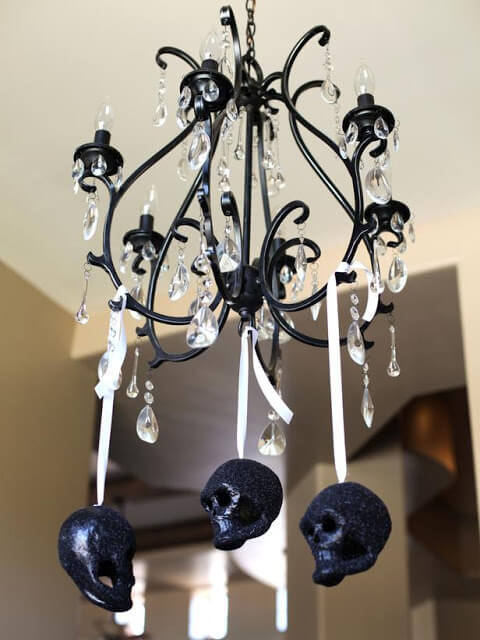 We're rounding it up with this excessively cool Halloween decoration idea. Just hang some black skulls from the chandelier and you're set.
Don't forget to pin these Halloween decoration ideas for 2017 images. We'll keep updating the list as often as we can. What's your favorite Halloween decoration ideas for 2017? Let us know by commenting below.