It's almost that time of the year when we deck our house with terrifying and ugly things. Yes, we're talking about Halloween here. We wonder why it's so fun decorating the house with creepy things during this Halloween. And it's so addictive that you start creating decorative items meant just for Halloween. So bring a devilish air to your house with these DIY Halloween decoration ideas. We've rounded up some of the best DIY Halloween decorations for you. Take a look!
You May Also Like To Read:
Top 30 DIY Halloween Decoration Ideas:
DIY Floral Skull Centerpiece: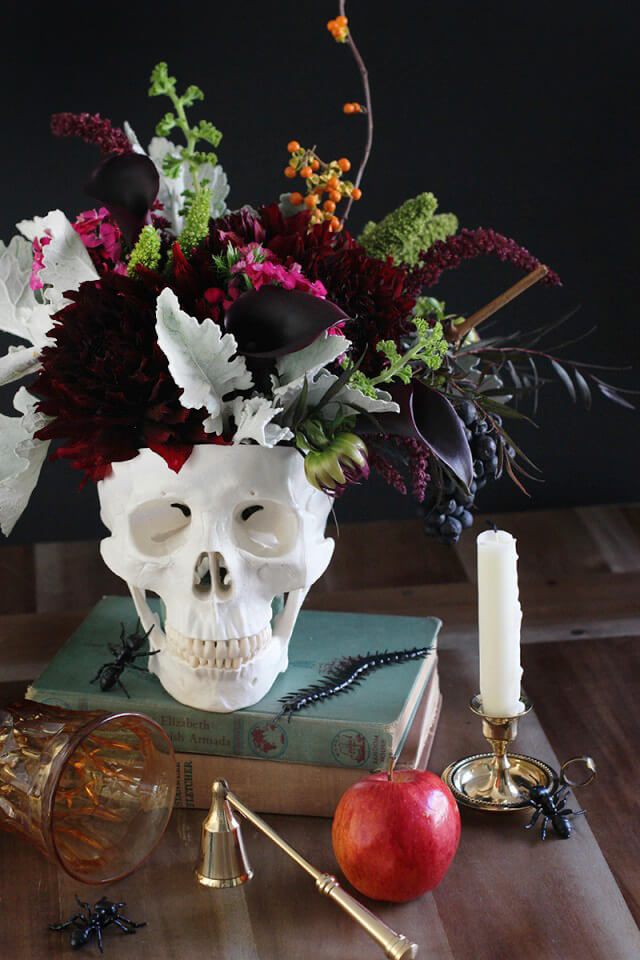 Beautiful, yet creepy, that's exactly what this centerpiece is. It's exuding a ghoulish and dark spirit, just perfect for the Halloween. For this DIY ensure that you have a life sized skull with a removable calvarium.
Candy Corn Halloween Vases: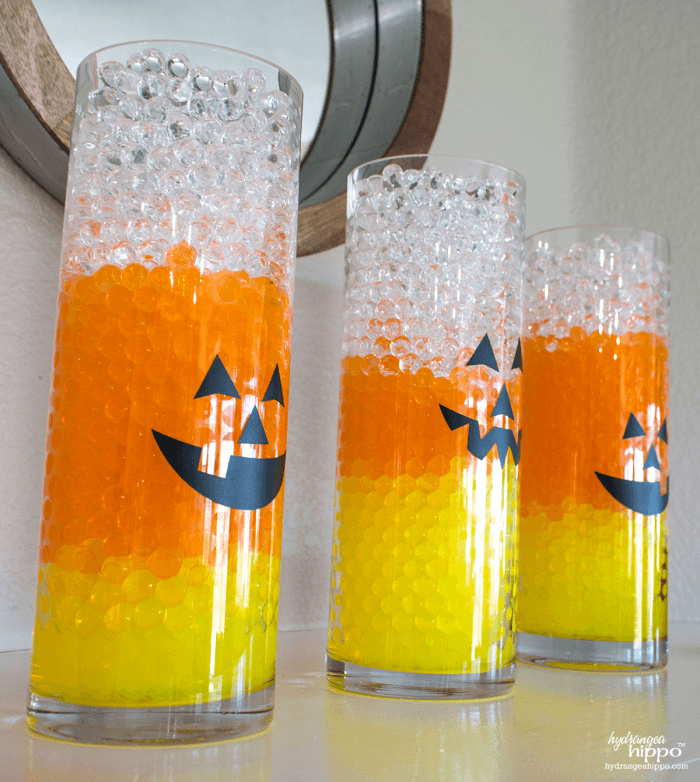 Bring your crafting a few notches higher by making these colorful candy corn vases. Don't forget to add the mouth, eye and nose cutout to give it a jack-o-lantern appearance.
Skull String Art: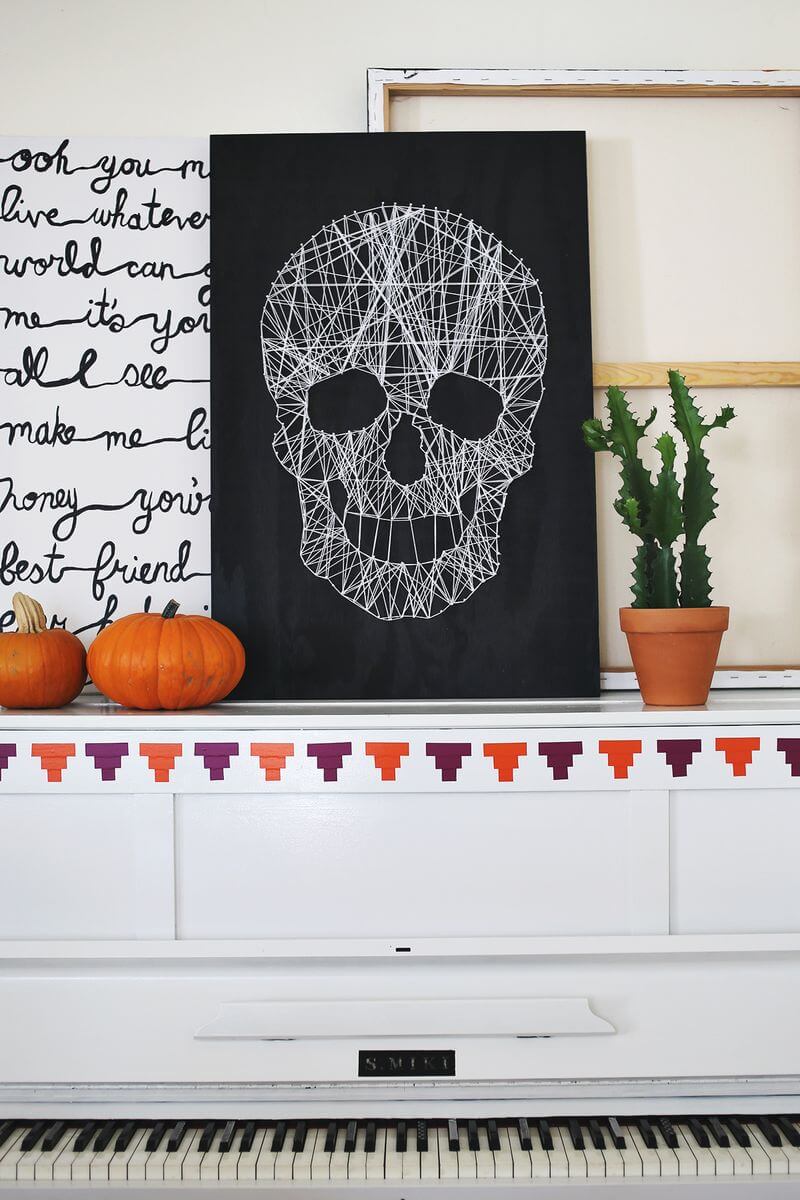 If you want a simple and refined DIY Halloween decoration idea for your house, then you must take a look at this skull string art.
Paper Flower Bouquet: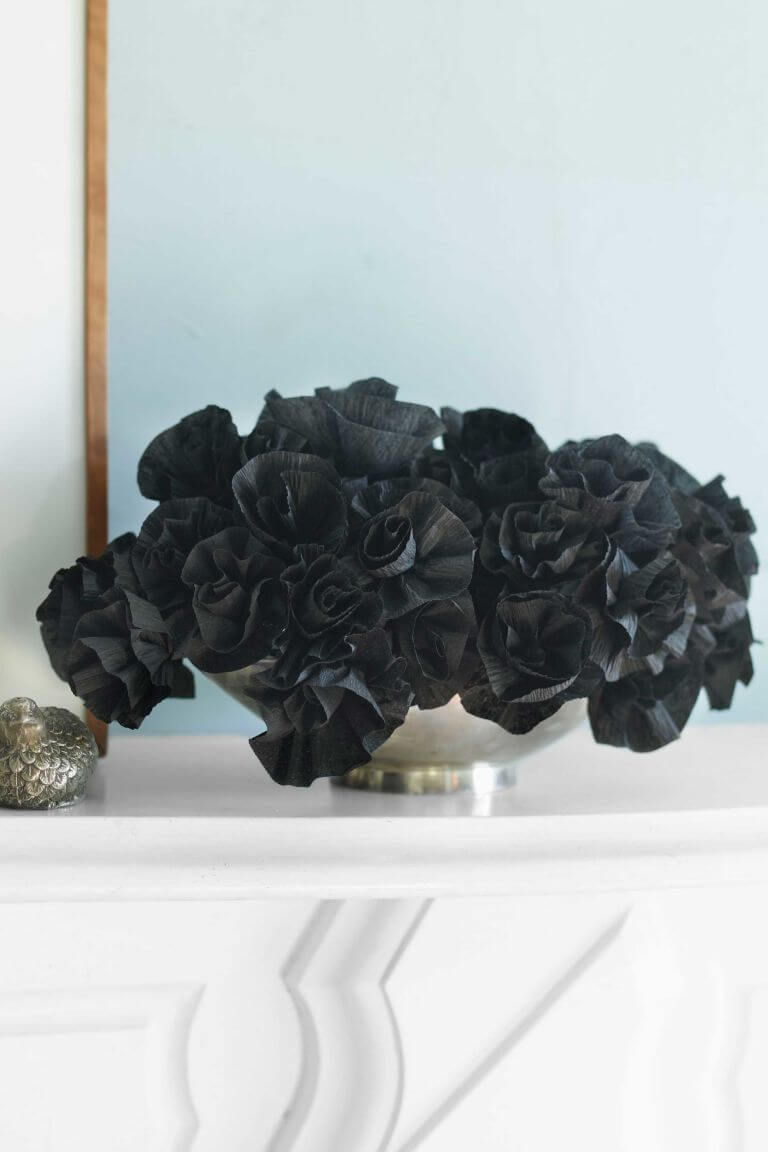 A bunch of black floral arrangement will give your house the perfect eerie atmosphere, without going over the top. You just need to make black paper flowers and put it on display.
Halloween Mummy Lights: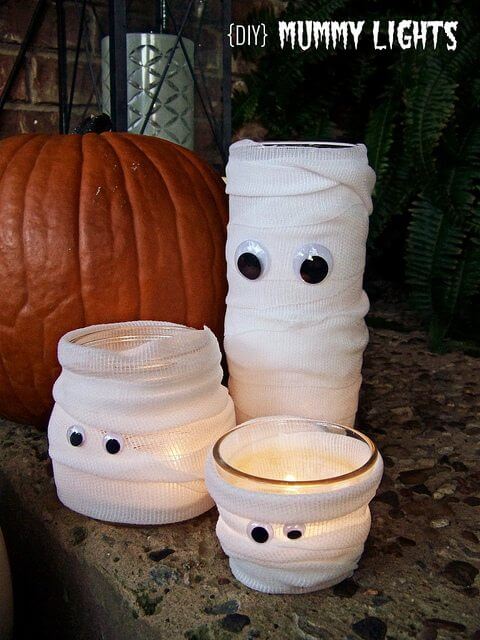 All you need for creepy and cute Halloween decorating item are some mason jars, preferably in different sizes, googly eyes and gauze.
Poison Bottles: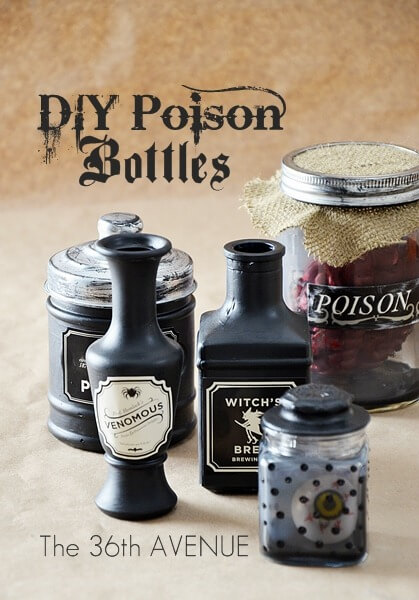 Place these poison bottles on your coffee table and notice the kind of vibe it exudes. You'll need chalkboard paint, dark glass stain and ancient looking bottles to create these poison bottles.
Floating Head Ghosts: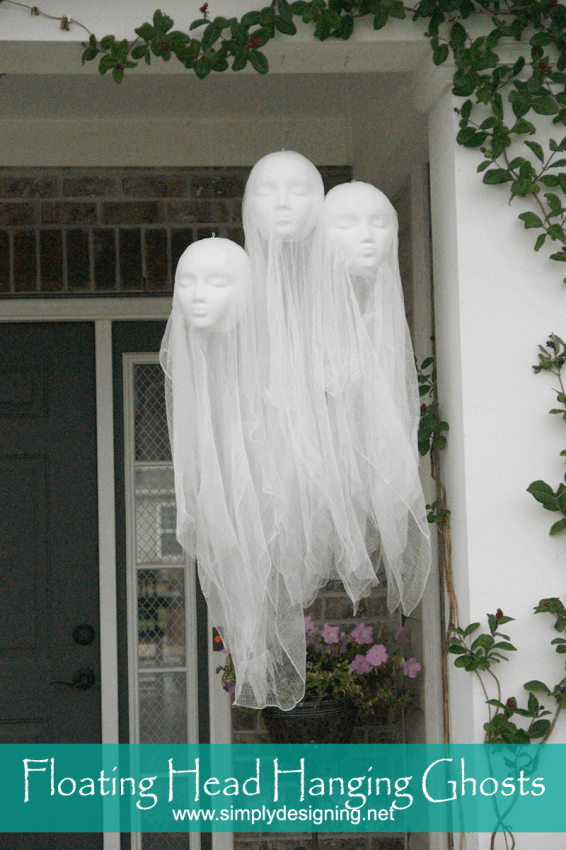 With a few yards of cheese cloth and mannequin heads, you can create these creepy looking floating head ghosts. Hang from the porch for maximum effect.
Illuminated Ghost Garland: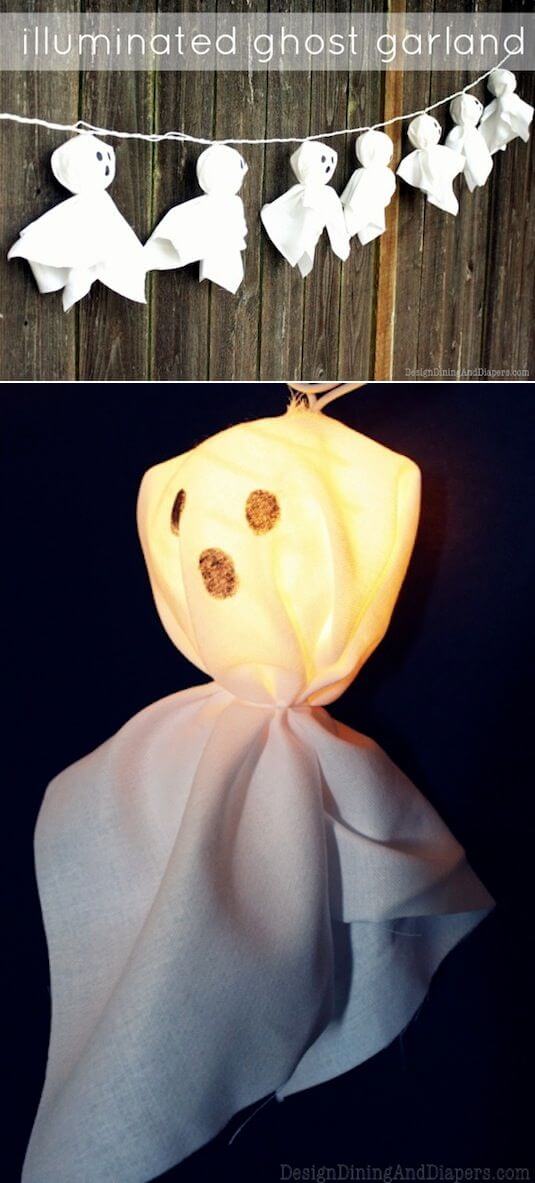 Spruce up your porch, yard or mantelpiece with this ghost garland. It's made in such a way that it illuminates at night. So we think it will look best outdoors.
Wooden Pumpkins: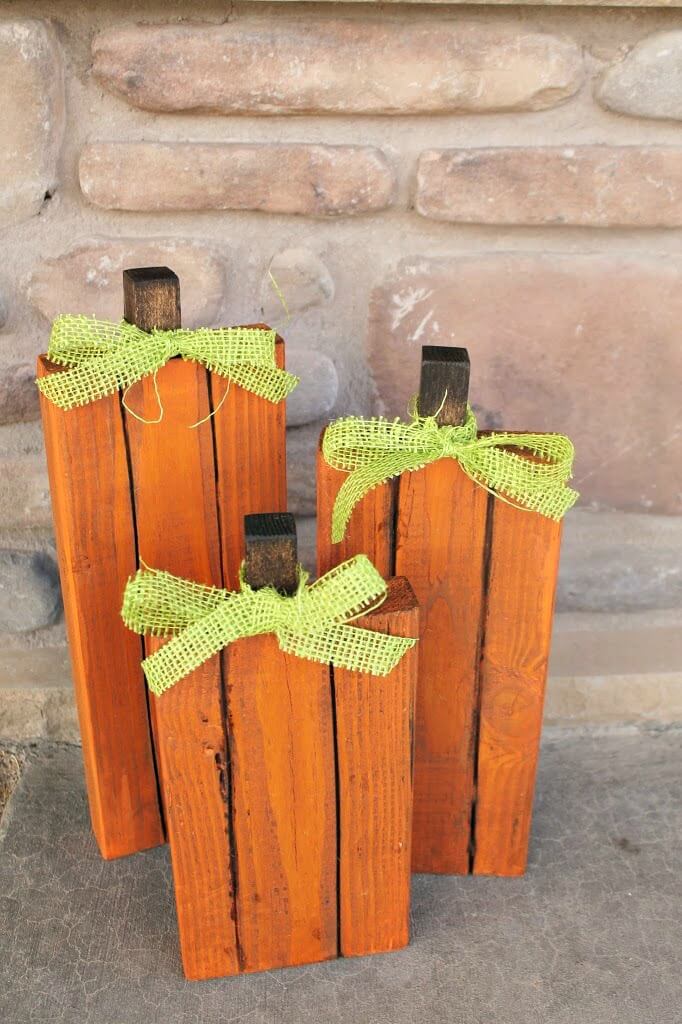 Decorate your house in an interesting way by using these wood pumpkins instead of regular pumpkins. It's so easy that even a child can make it.
Monster Door: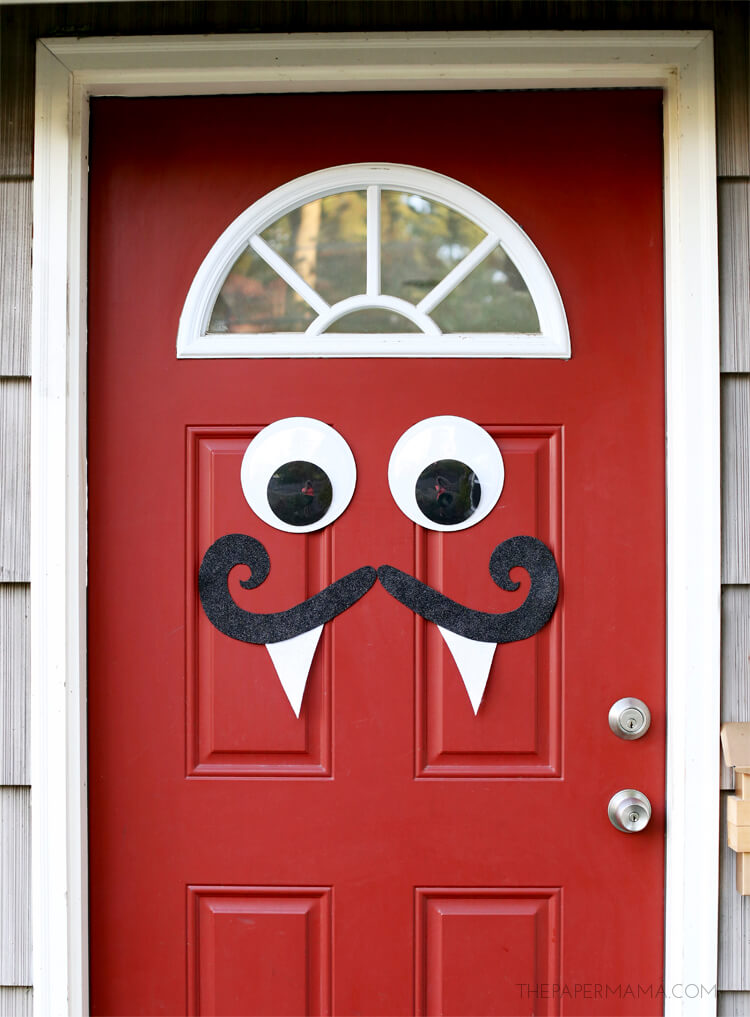 This one's really cool. It captures the spirit of Halloween in a fun, yet freaky way. You'll need oversized googly eyes, black glitter foam and felt to create this monster door.
Witch Hat Luminaries: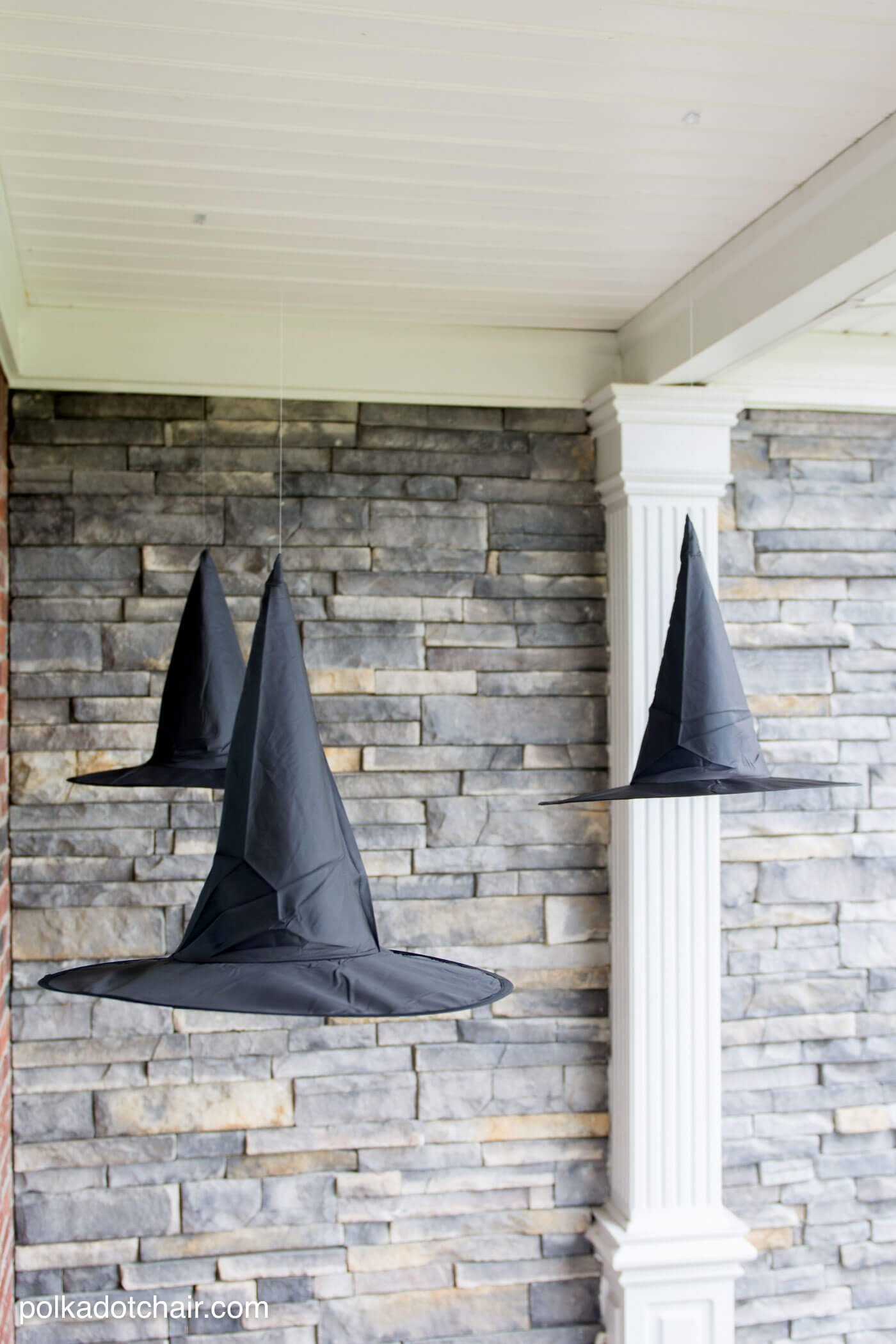 These witch hats will bring perfect illumination to your porch on the Halloween night. It's cost effective and very easy to make. Most of all, it will add a whimsical touch to your décor.
Candy Corn Centerpiece: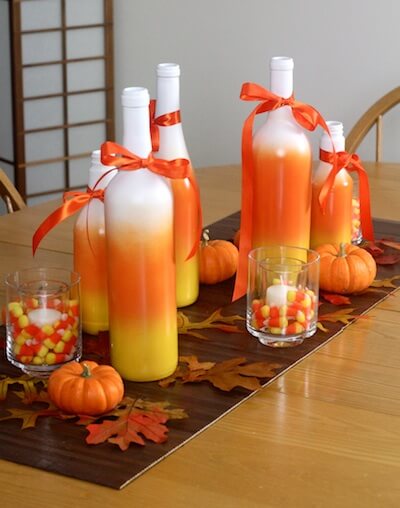 A Halloween table would be incomplete without a candy corn centerpiece, isn't it? So we've got you a fabulous idea to transform the wine bottles into a candy corn centerpiece.
Cardboard Tombstones: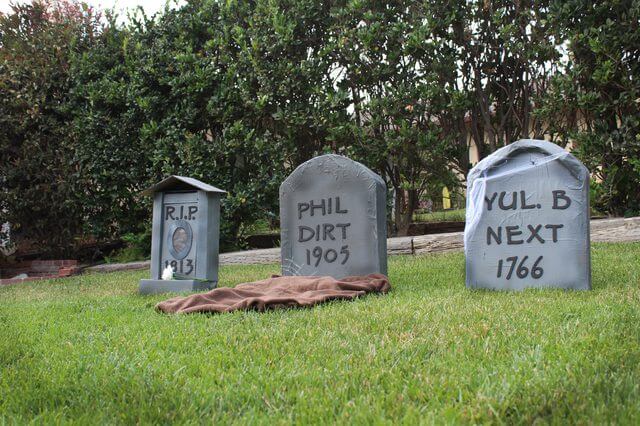 A tombstone decor is a staple during Halloween. But this time, instead of purchasing tombstones from thrift stores, we'll tell you how you can create a few at your home using cardboard.
Halloween Mason Jar Luminaries:

No one will believe that such gorgeous luminaries were made within an hour.
Spooky Eyes Mason Jar Halloween Party Decoration: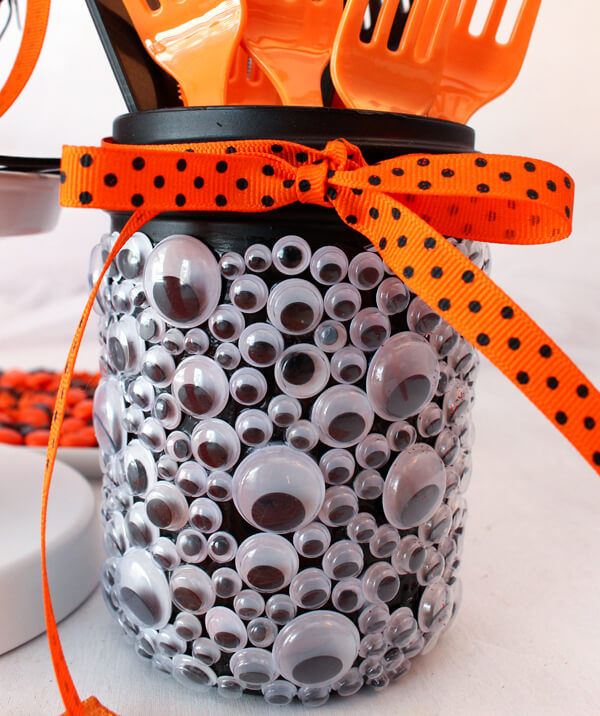 Eyes are beautiful, but excess of it, especially eyeballs, can be really creepy. But creepy is what we want during Halloween, right? So make this spooky eyes mason jar, right away.
Ghost Leaf Bags: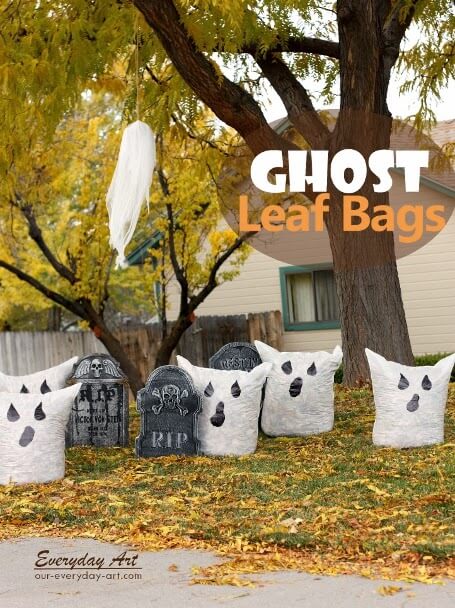 If you really want to spook out children from their neighborhood, make these ghost leaf bags. It's so easy that even children can pull it off. We think it will pair really well with the gravestone decoration.
Painted Doormat: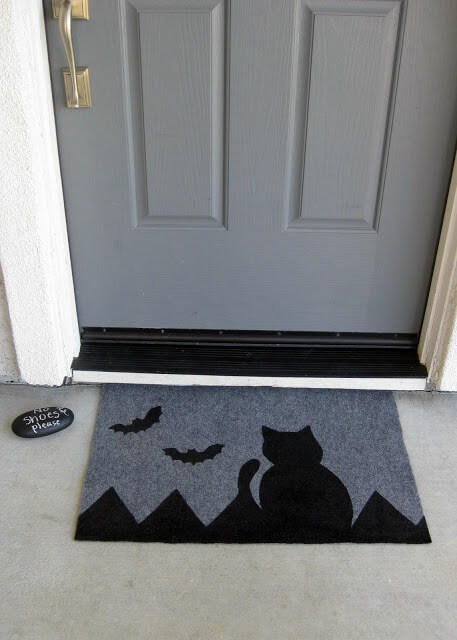 Don't you think this door mat, with cat printed on it, looks very Halloween friendly? You just need to get hold of a plain doormat and make freaky Halloween creatures on it, using a stencil.
Paranormal Portraits: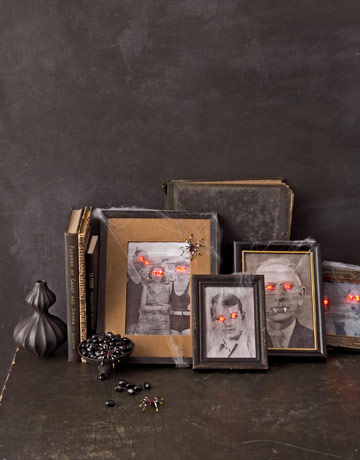 What do you think about the idea of transforming the old portraits into paranormal portraits? Won't it make a bone chilling decoration? You can hang these portraits in the black shed or display them on the table.
House With Fangs: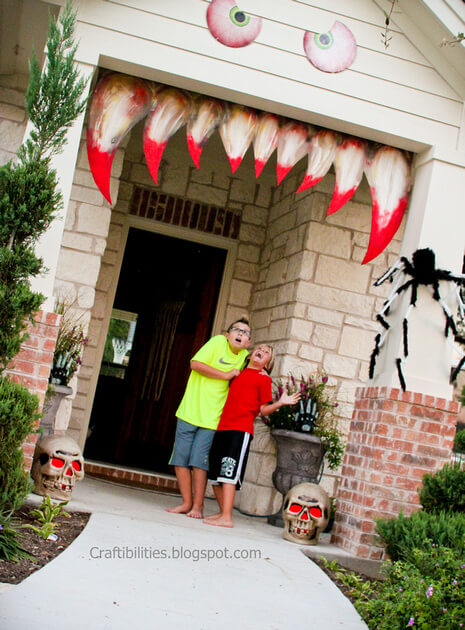 Make your house come alive with this unique and creative Halloween decoration. You'll need loads of acrylic paint and wooden sheets to make your house look creepy and devilish.
Origami Pumpkin Garland: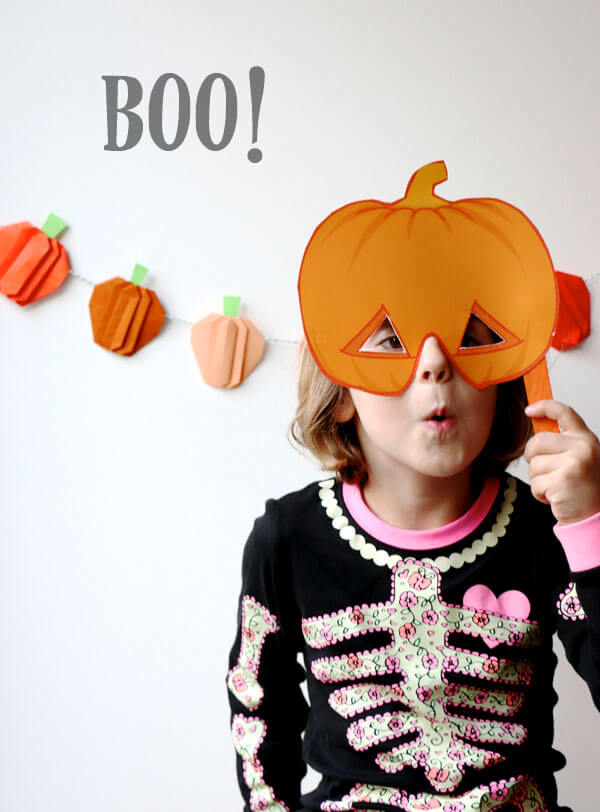 This is one of those decorations, which you can make with your children. And don't fret seeing origami in the title. Even people with little to no hand at origami can make this decoration.
Stacked Pumpkin Topiary: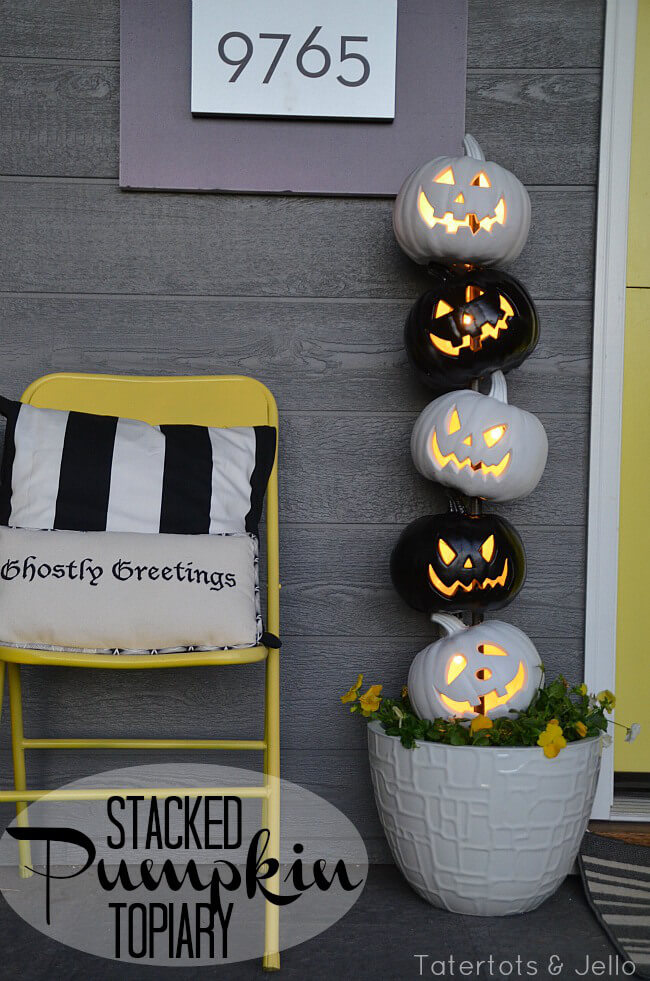 Nothing, we repeat, nothing can beat the classic color combination of black and white. And believe me, this color combination looks great incorporated in Halloween decoration, especially when it's coupled with pumpkin topiary.
Climbing Halloween Skeletons: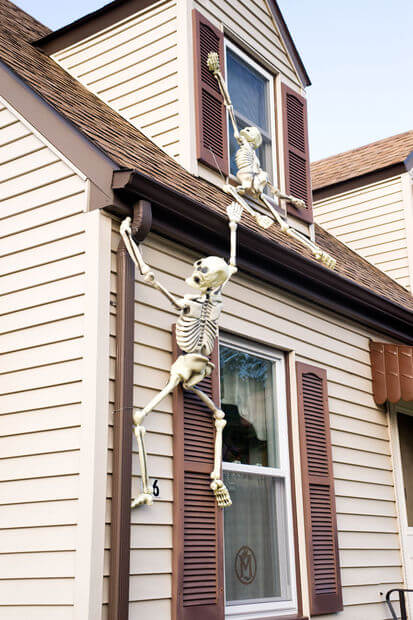 Spook out the passerby with this bone chilling decoration. You just have to get hold of some plastic skeletons and place them strategically outdoors.
Flying Bats: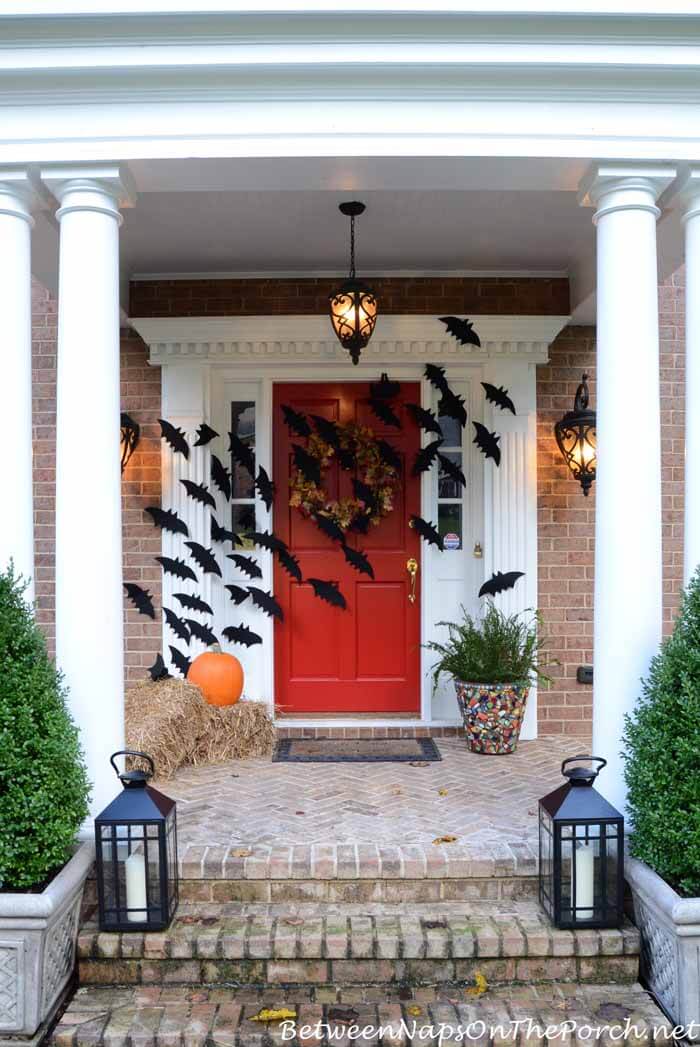 These look like real bats, isn't it? And it will create an eerie look too. So just go for it.
Skull Table Centerpiece: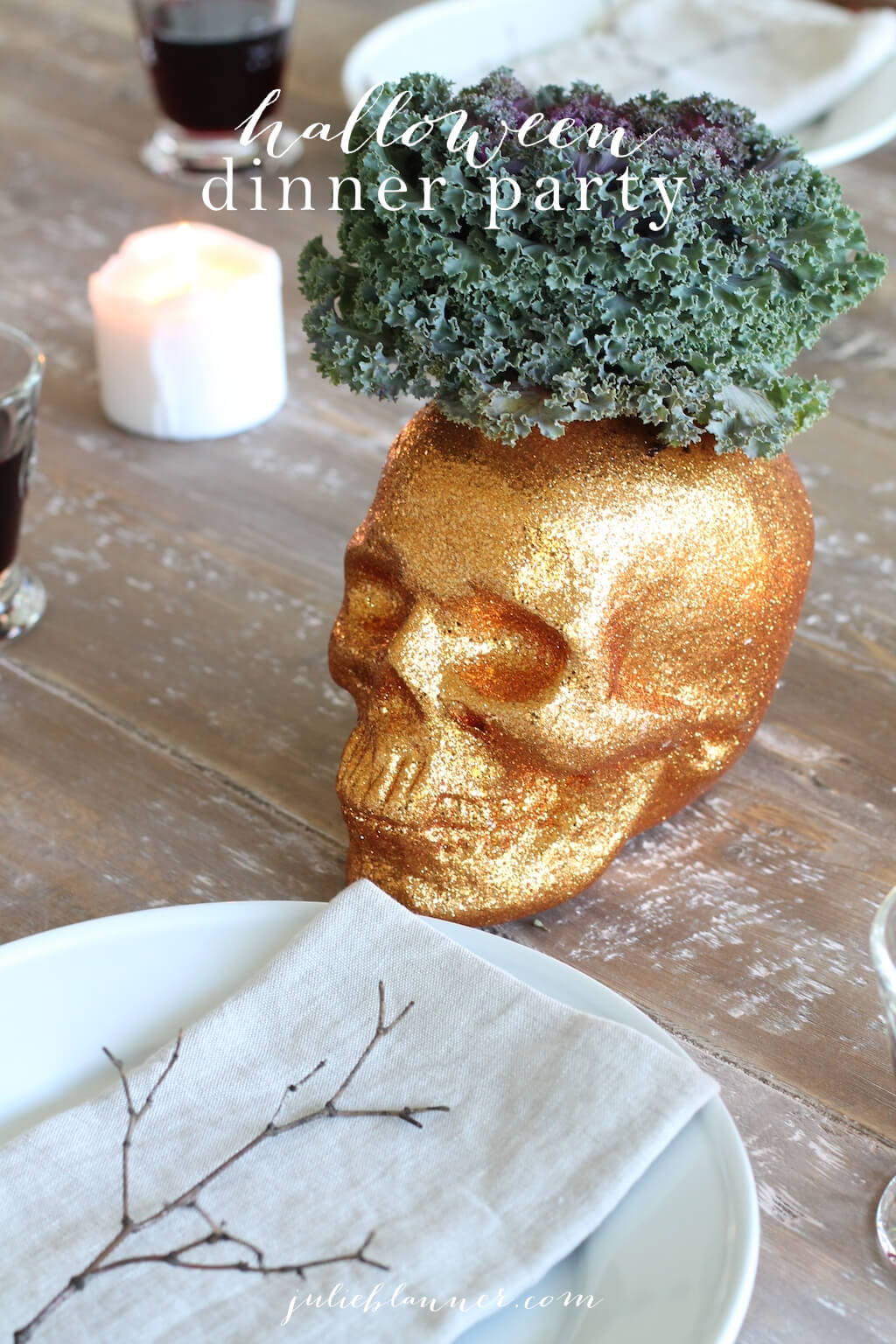 Here's another way to make use of the skull. But this one looks a bit less scary, with all the paints and stuff.
Spider Garland: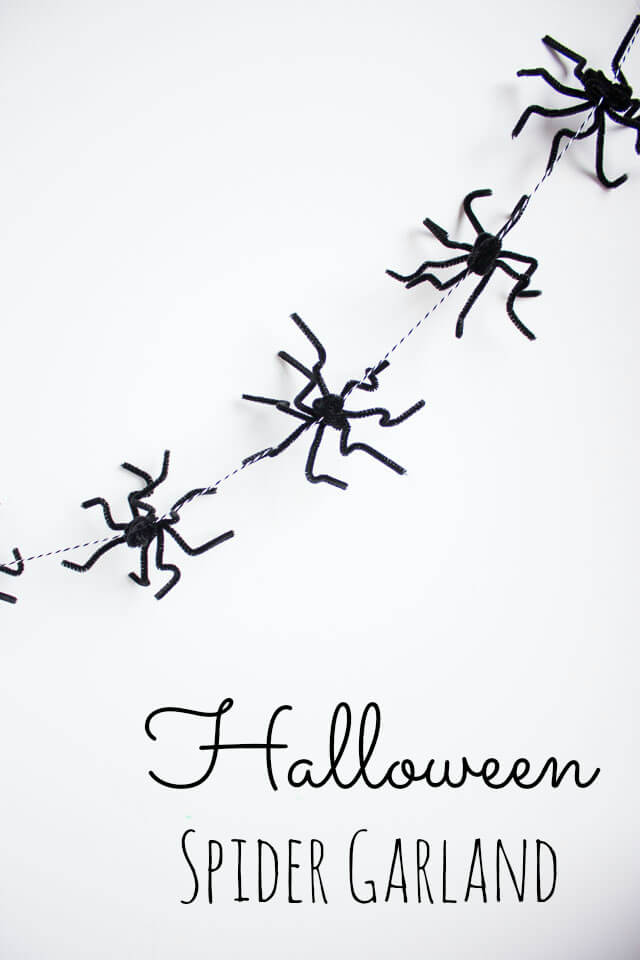 Spiders aren't usually welcomed at home, unless it Halloween. And when they're in the form of garlands, they look even better.
Rustic Halloween Sign: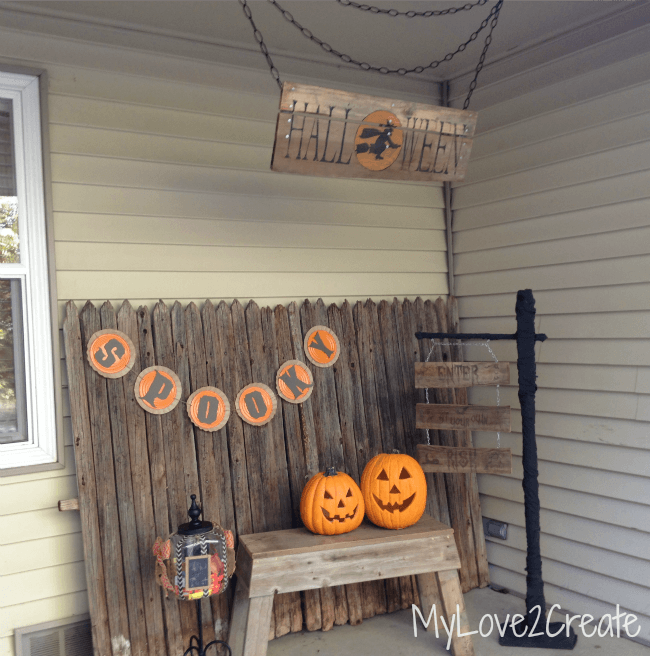 This rustic Halloween sign is just perfect for countryside Halloween decorations.
Halloween Mantel: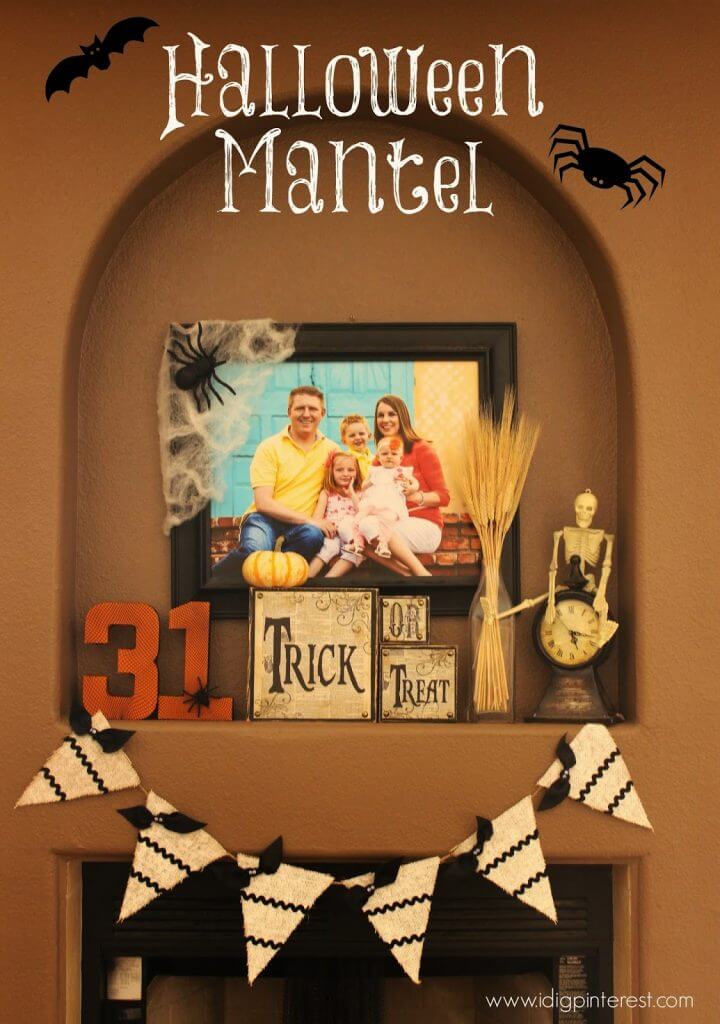 This mantel has been dressed up beautifully for Halloween. Each and every element used is just perfect. We love it.
Crystal Ball Candlesticks: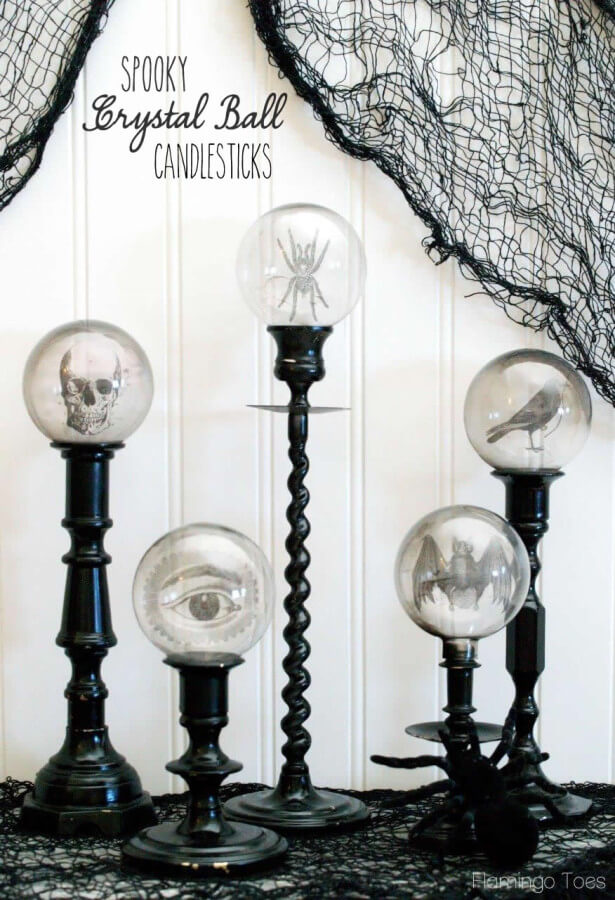 Print creepy objects on a crystal ball and transform it into goblets.
Tin Can Ghost: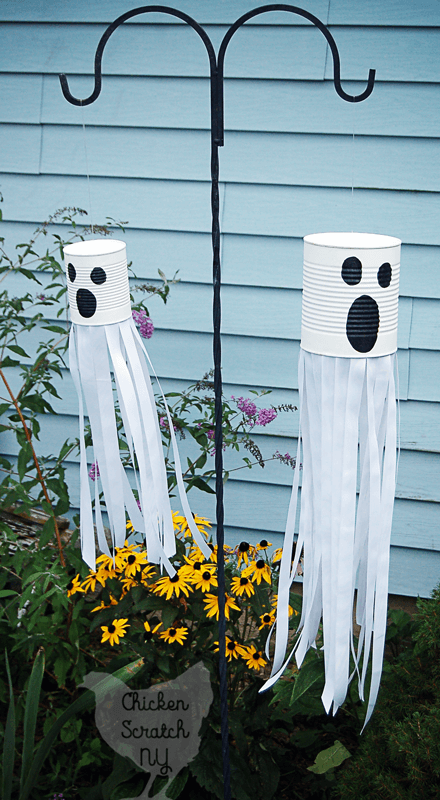 We think this tin can ghost is both cute and spooky and simply perfect for outdoor Halloween decoration.
Gilded Insect Plaques: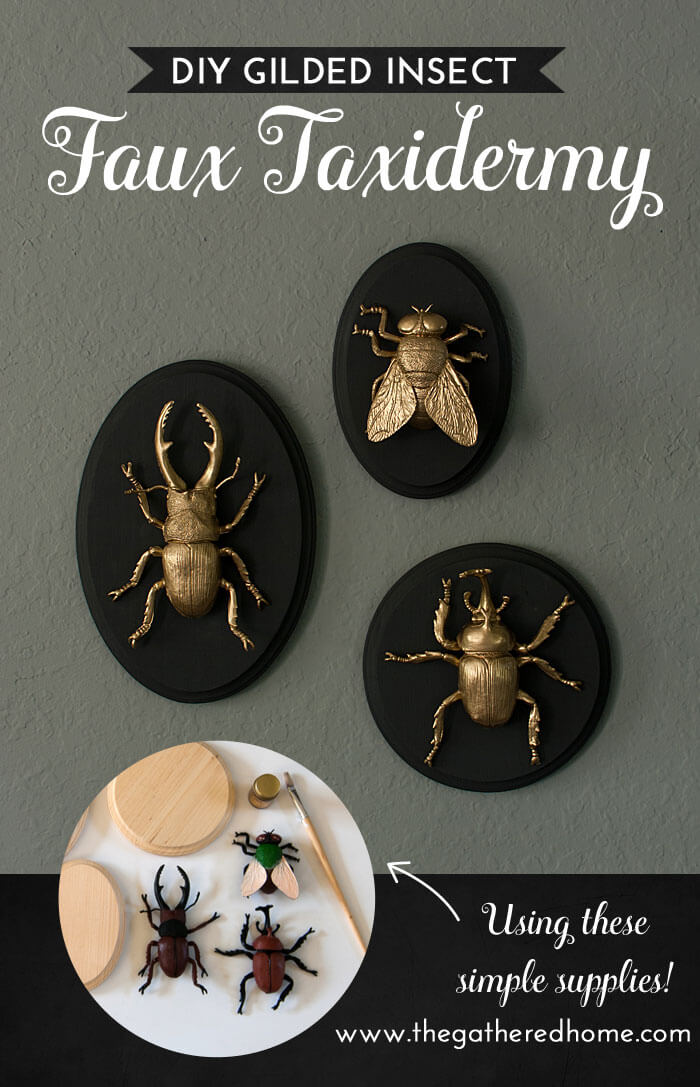 Dead insects and animals are really creepy and that's what makes them perfect for Halloween. So how about creating a taxidermy to hang on the walls.
All these DIY Halloween decorations are extremely easy and will make lovely decorations. Which of these DIY Halloween decoration ideas is your favorite? Tell us by commenting below.