Halloween isn't just about dressing up in weird costumes and attending parties. It's also a perfect time to indulge in fun crafts. And crafting isn't just for kids. Even adults can make fun art and crafts to display in the house. So if you're looking for some Halloween craft ideas, you've landed at the right place. From Glow Stick Broomsticks to Witch Hat Button Craft, we've got you all in our compilation of Halloween craft ideas for 2017.
You May Also Like To Read:
Top Halloween Craft Ideas For 2017
Yarn Pumpkins: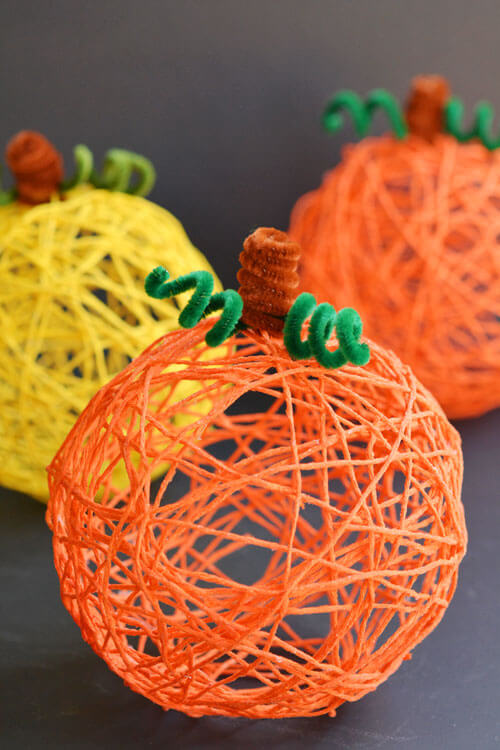 These yarn pumpkins, made using balloons, and of course, yarn, are perfect for children to make. You can either use it for table centerpiece or decorate the mantle with it. They look excessively beautiful on their own, but will look even better when grouped.
Witch Hat Button Craft: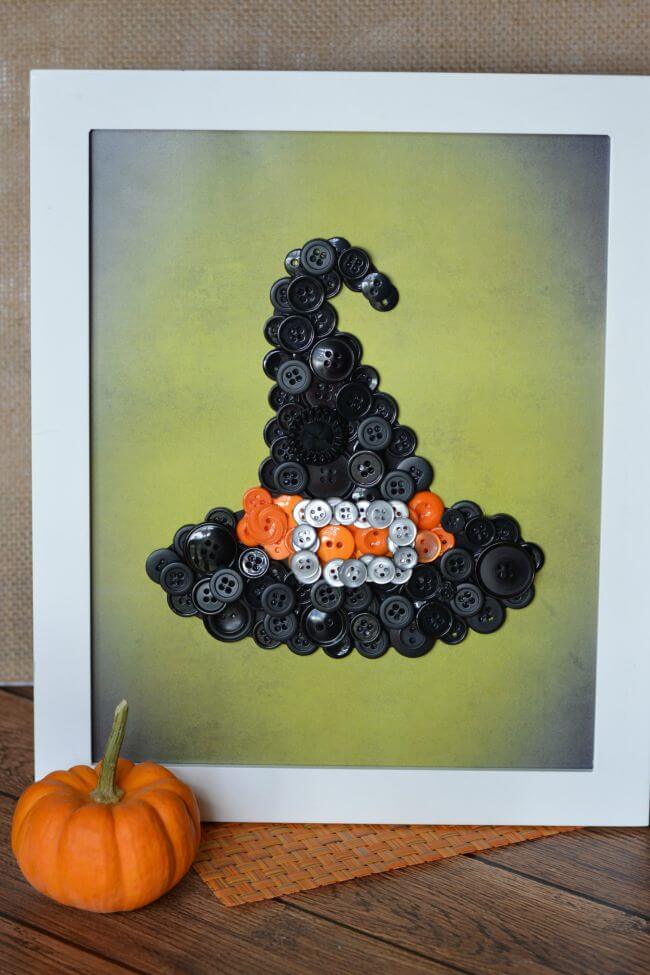 If you're looking for a Halloween craft to keep the children busy, then look no further than this witch hat button craft. Since this craft requires no drawing or painting, even toddlers can try their hand on it. Just keep an eye that they don't swallow the buttons.
Craft Stick Spider Craft: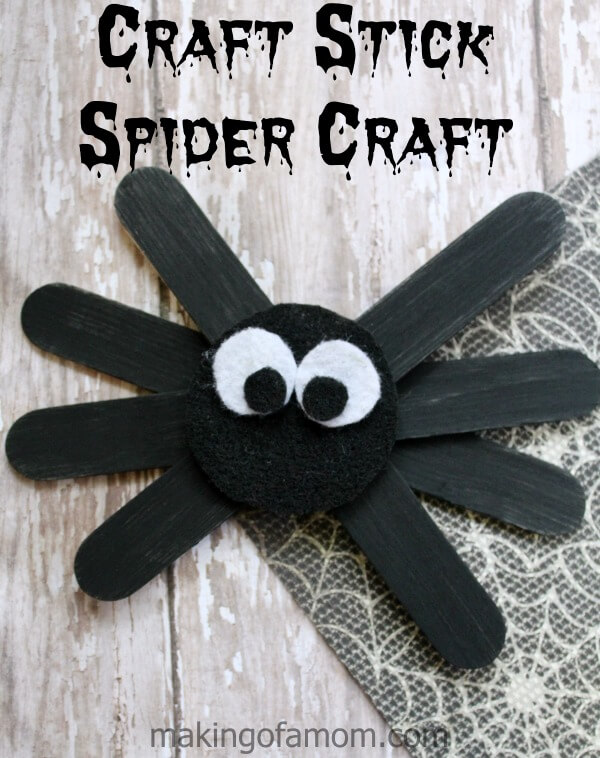 Here's another easy to make Halloween craft for kids that doesn't even required loads of supplies. After making this craft, your child won't feel scared of spiders, at least.
Tin Can Ghost Windsock: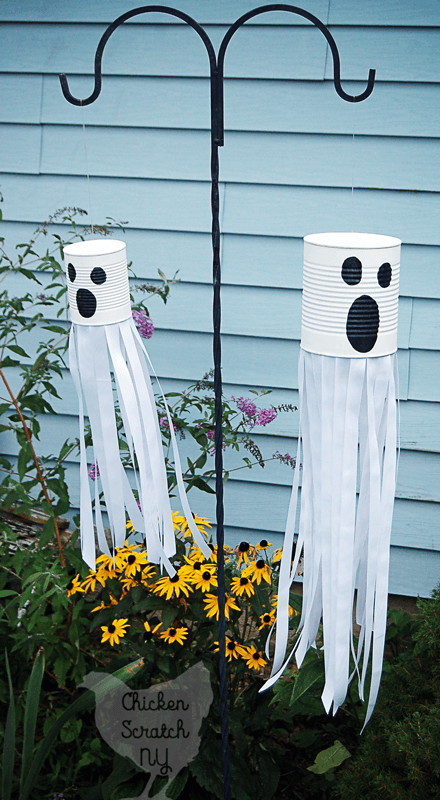 Recycle the old tin cans lying in your house by making this fun looking ghost windsock. You just have to paint the tin white, make eyes and mouth on it and attach ribbon to give it a creepy look.
Ghosts In A Jar: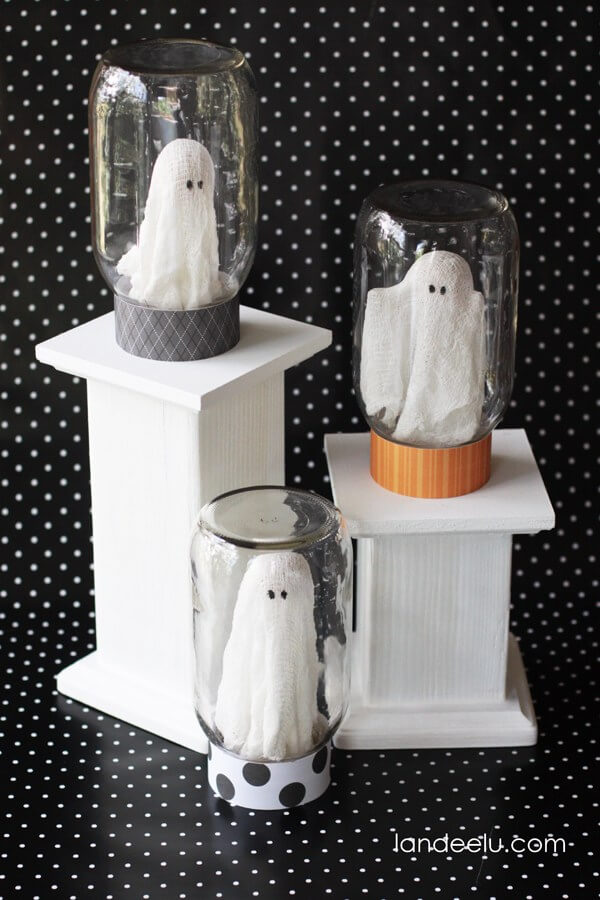 We're sure there are many people like us who would squeal seeing the cuteness of these ghosts. Just look how adorable they are? And they are way easier to make than you can ever think.
Cute Clothespin Button Bat Craft: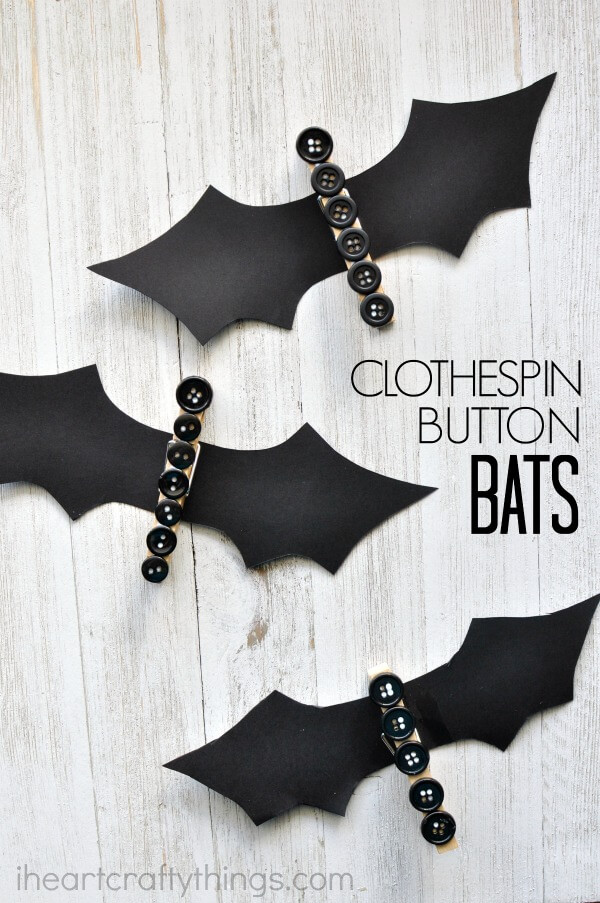 If you're planning to spend some quality time with your children, put this cute clothespin button bat craft on your list. It's simple enough for even a preschooler to pull off. Also, you can use this craft as a cute, shelf decoration.
Origami Bats: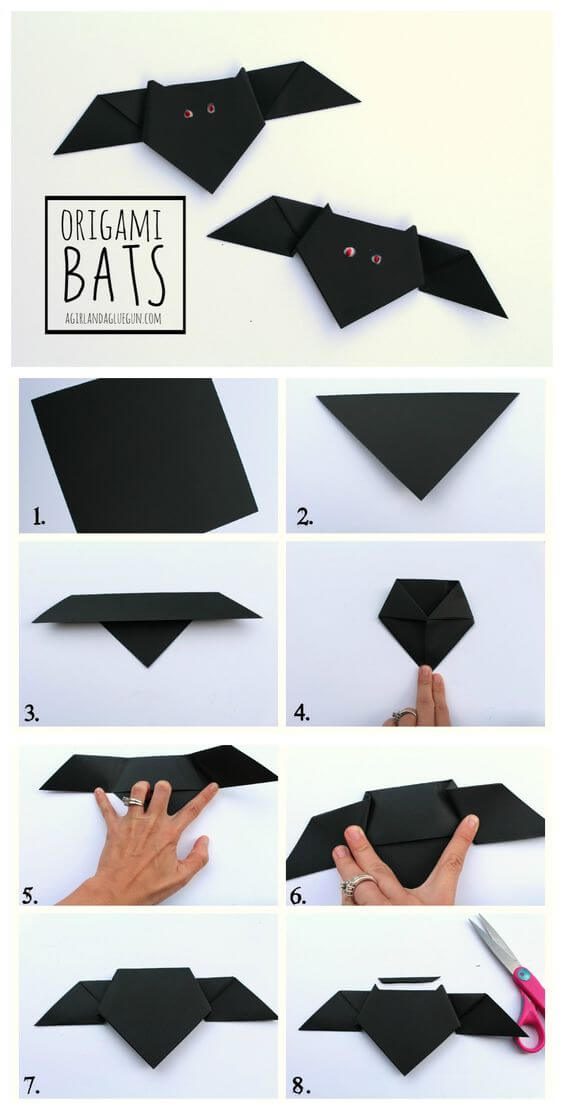 Jazz up your Halloween décor by making these fun Halloween bats. Even children will be delighted seeing their creations up on decoration.
Paper Plate Witch Craft:

This Halloween craft idea just never seems to get old.  But this one's a bit different as it made using not just paper plates, but even the handprints of children. It looks absolutely cute, but if kids want, they can make it look meaner and creepier.
Glow Stick Broomsticks:
This is currently one of our most favorite Halloween craft ideas for kids. It's reminding me of good old Harry Potter days. While the rest of the materials would be easily available in the house, you may have to arrange for the glow sticks.
Pinecone Spiders: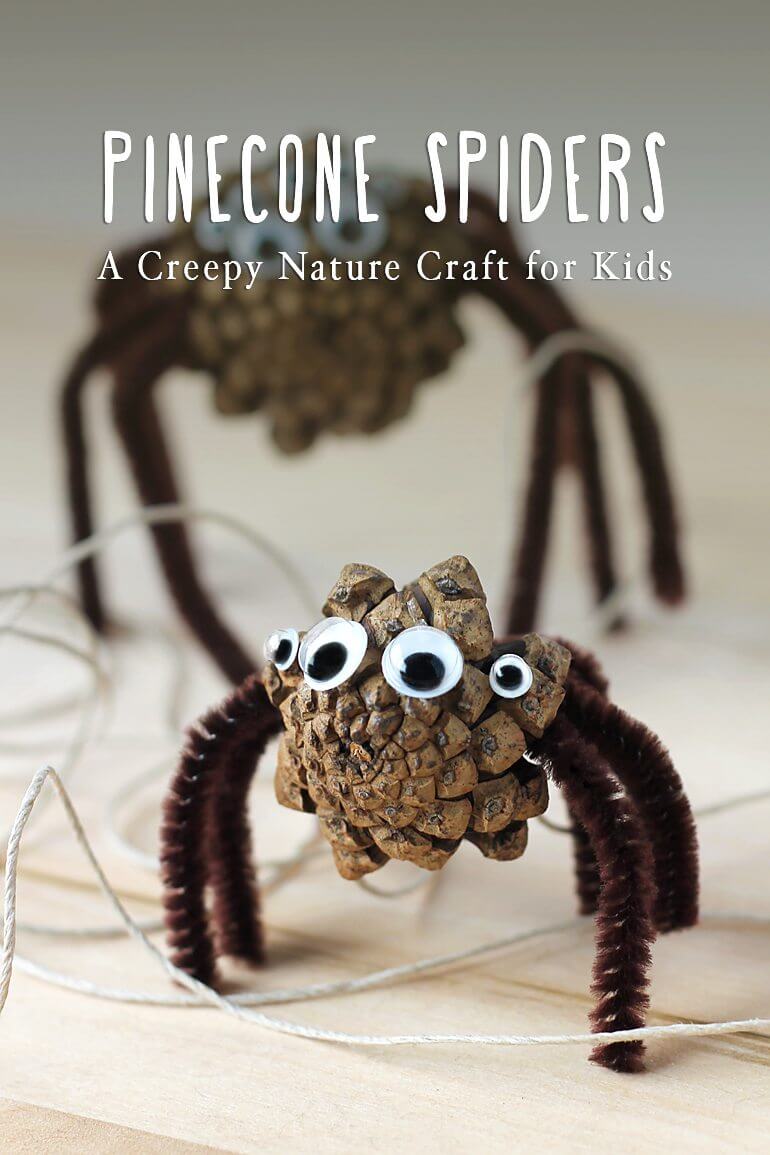 It's up to you to decide whether these pinecone spiders look cute or creepy. We'll go with the former. The best thing about this craft is that it can be made with just a handful of supplies, like pipe cleaners, pinecones and googly eyes.
Pumpkin Diorama: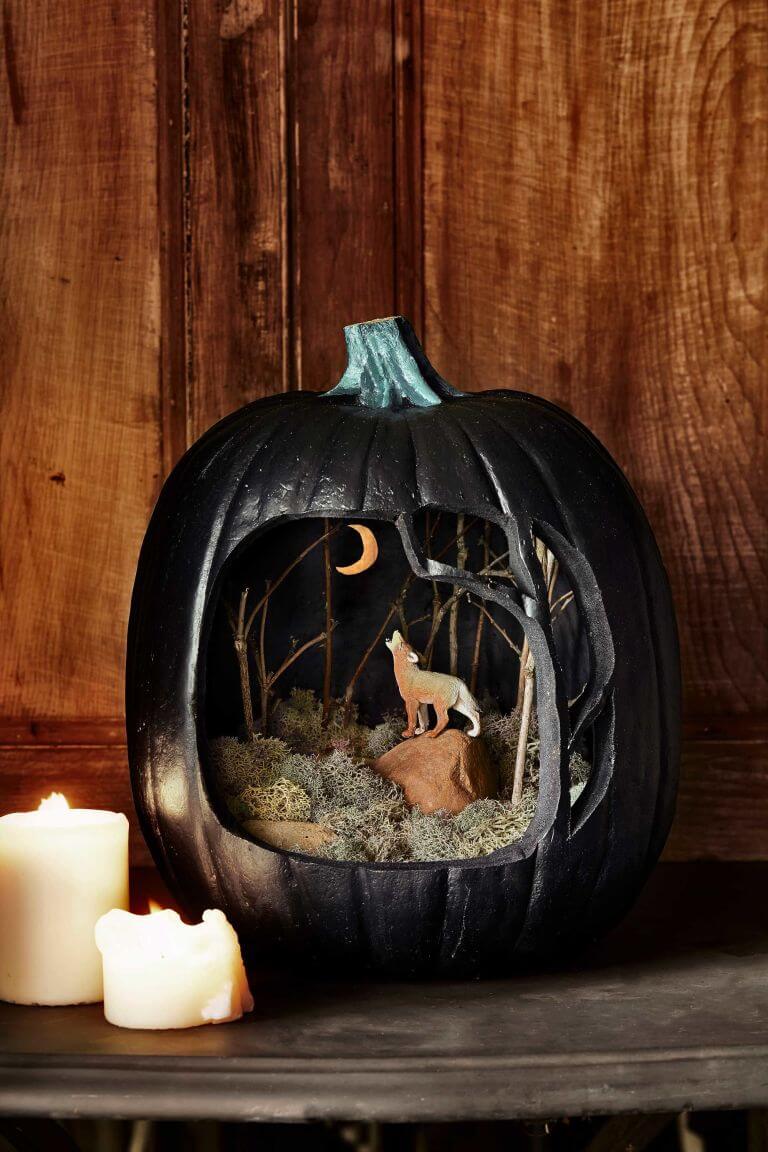 This is one of our most favorite Halloween craft decoration ideas. We shared the complete details with you in the link above.
Spectral Mirror: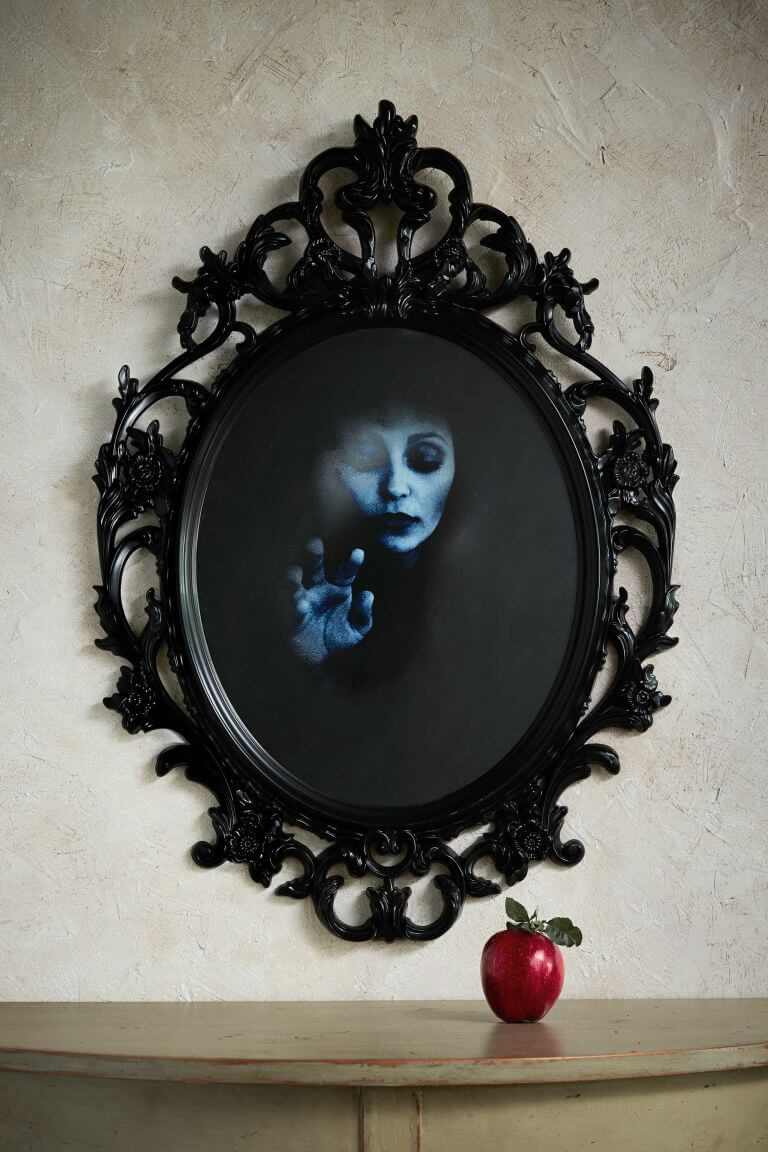 Reflective paint is the secret behind this mirror. Purchase, a vintage style mirror and paint it pitch black. The reflective paint will take care of the rest.
Bat Filled Door: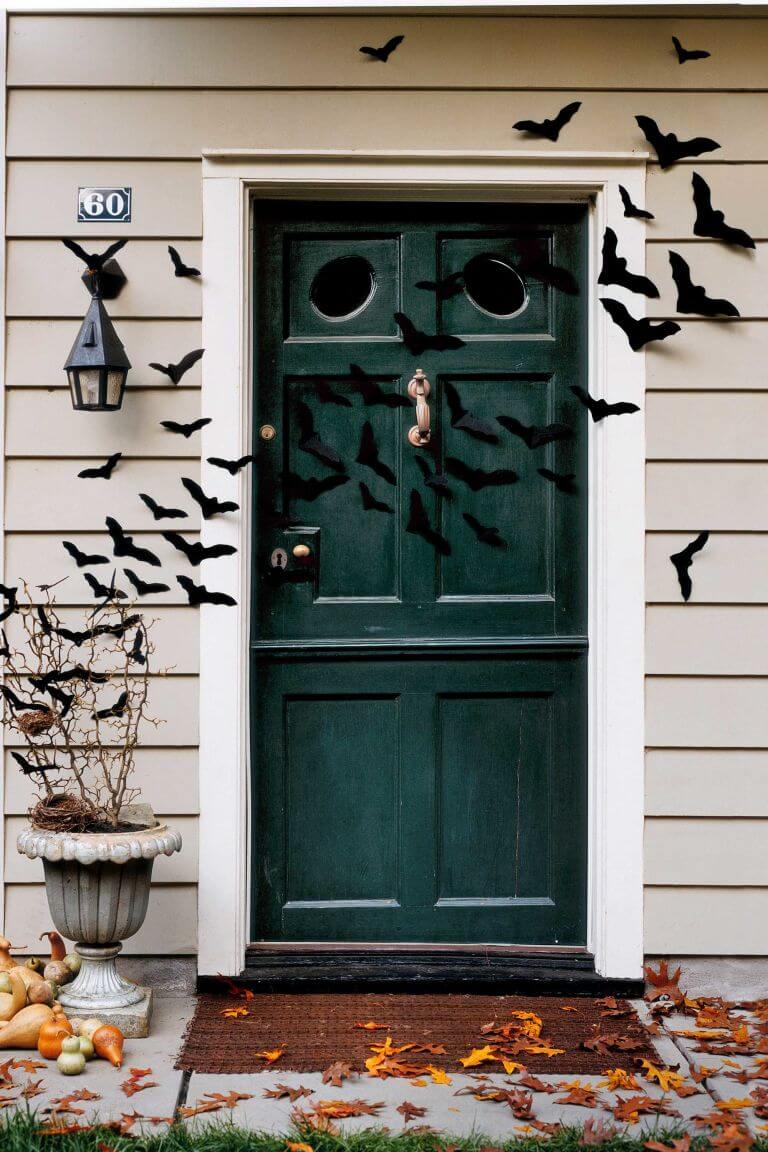 This craft will give your house the perfect spooky, Halloween feel. And it's easier to make than it appears. And it's one of the classic designs too.
Lantern Pumpkins: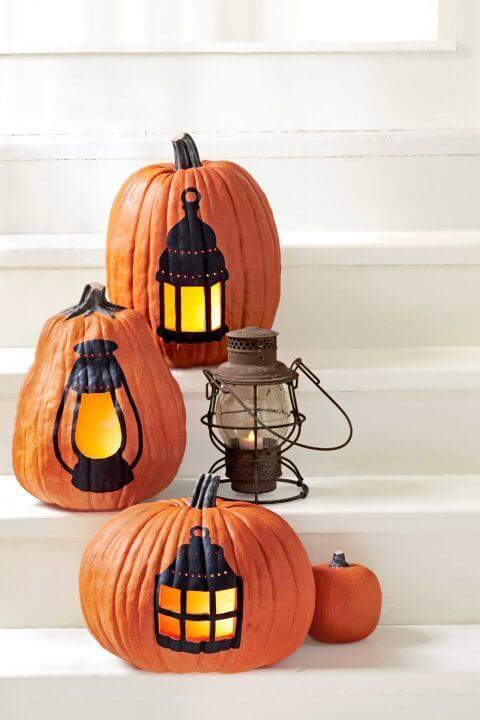 This is one of the freshest takes on jack-o-lanterns. The light from these lamps will fill a soft glow in your house. And honestly speaking, they look a lot more elegant than typical jack-o-lanterns.
Black Wreath: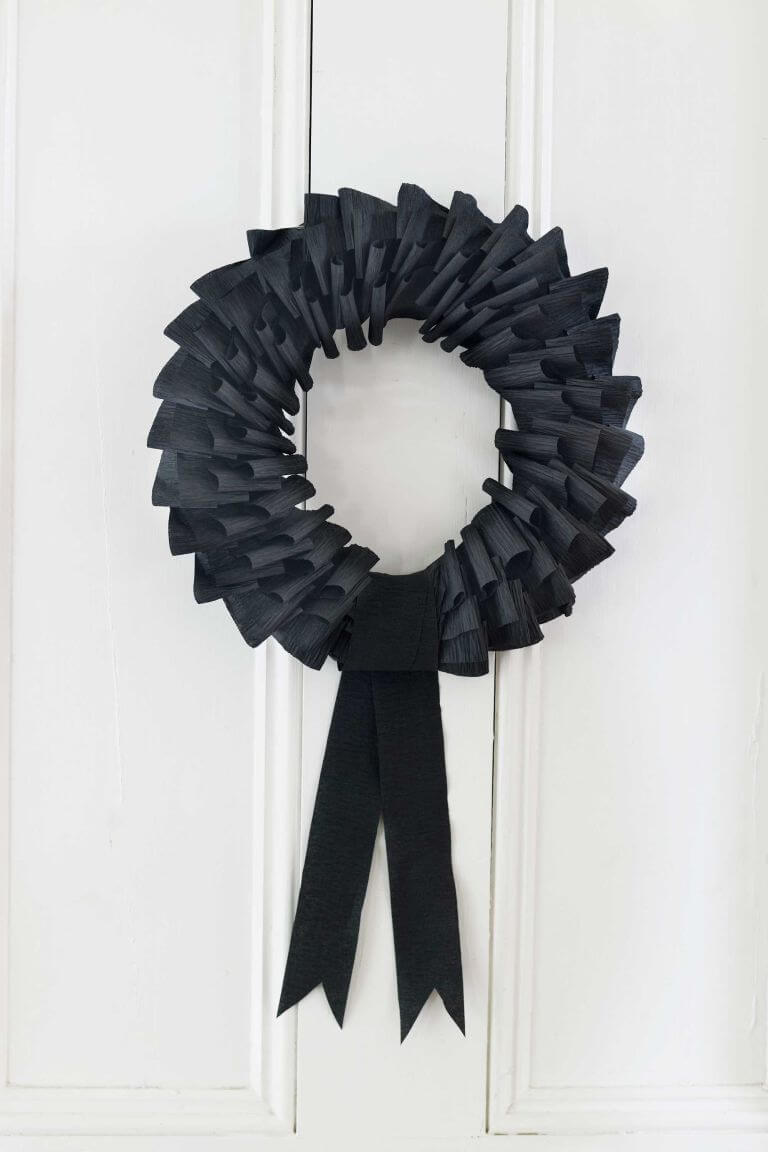 If you have some streamers in your house, turn it into this creepy wreath for the Halloween. It will add a perfect accent to your décor, without going over the top.
Creepy Crystal Balls: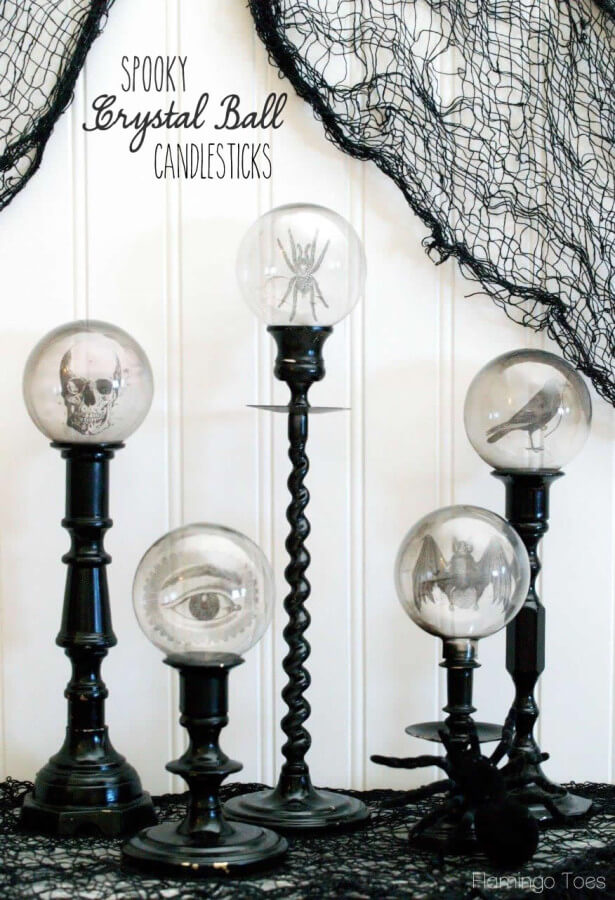 These creepy crystal balls are made using clear crystal ornaments, transparency film and of course, candlesticks of varying heights. Don't forget to paint the candlestick black and use eerie pictures for the crystal ball.
Spider Crowns: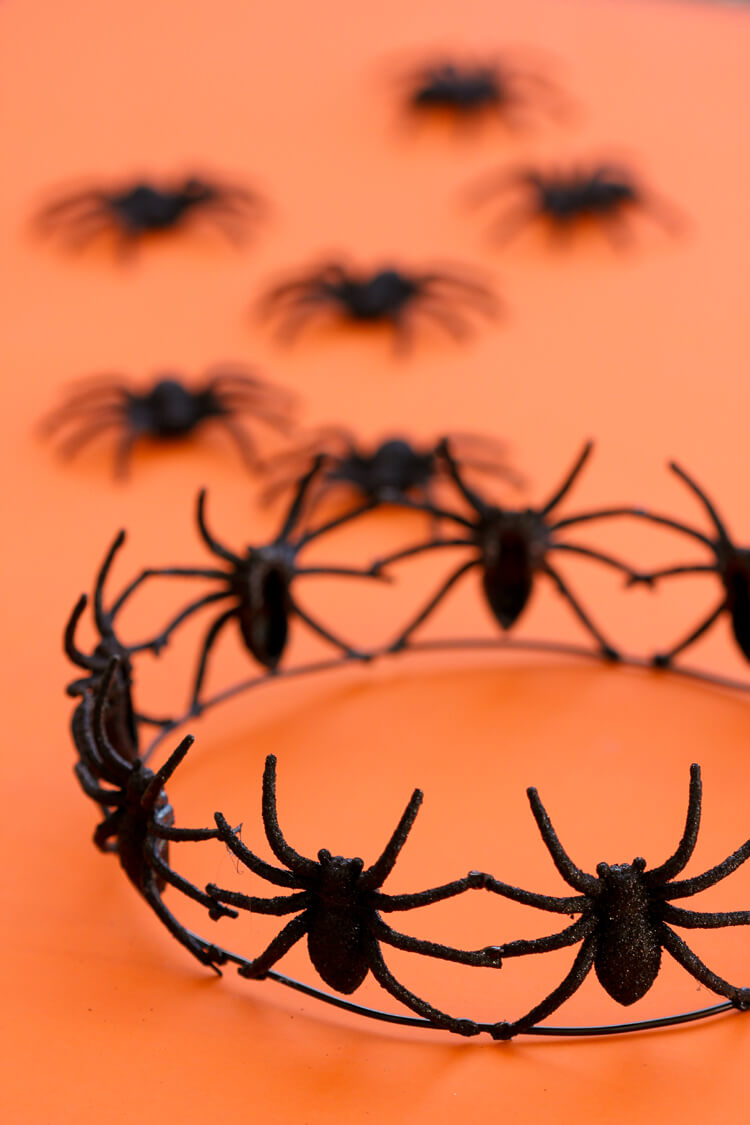 This easy to make spider crown is made using black tape, large plastic spiders and a 12-gauge wire. You or your child can use it for your Halloween costume.
Apothecary Bottles: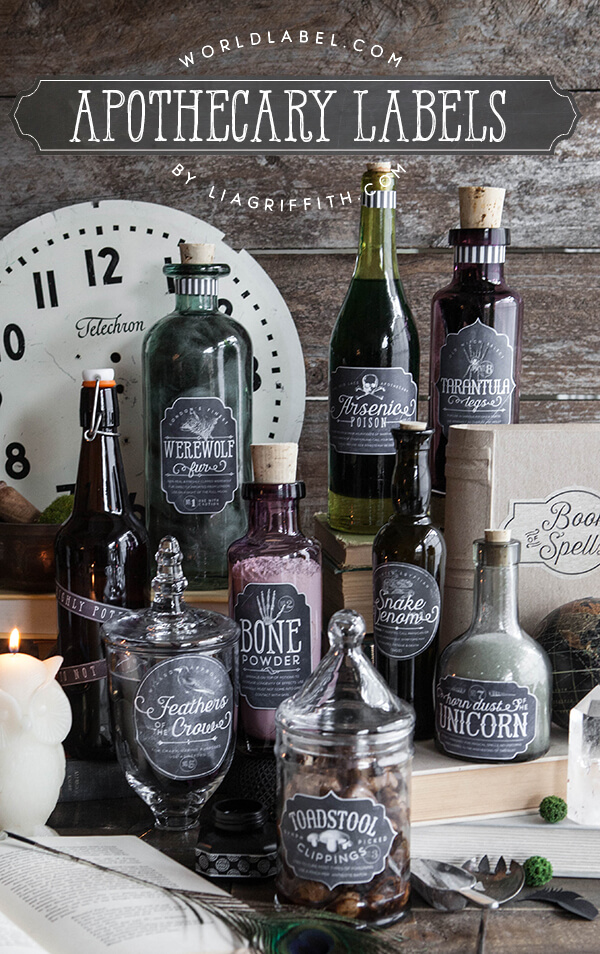 Just print out the labels to turn simple wine bottles into creepy bottles ideal for witches. We'd suggest you pick ancient look bottles for this craft.
Paper Cone Witch: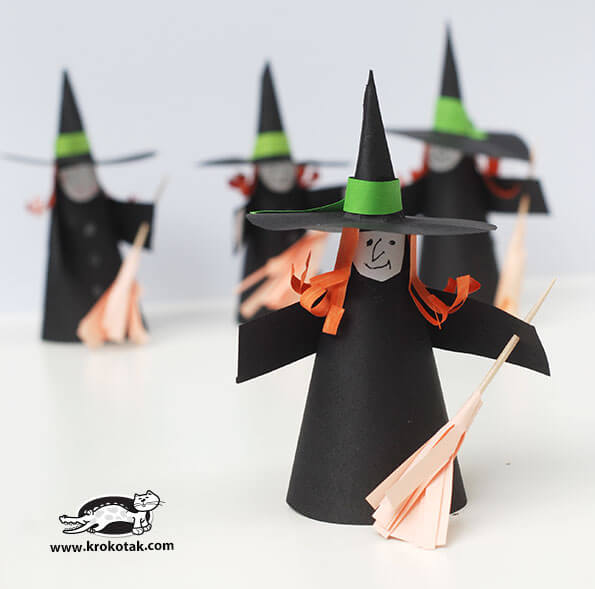 How about creating a paper cone witch with your children this Halloween? We think it looks absolutely adorable, and makes a unique craft idea too.
Halloween Candy Jar: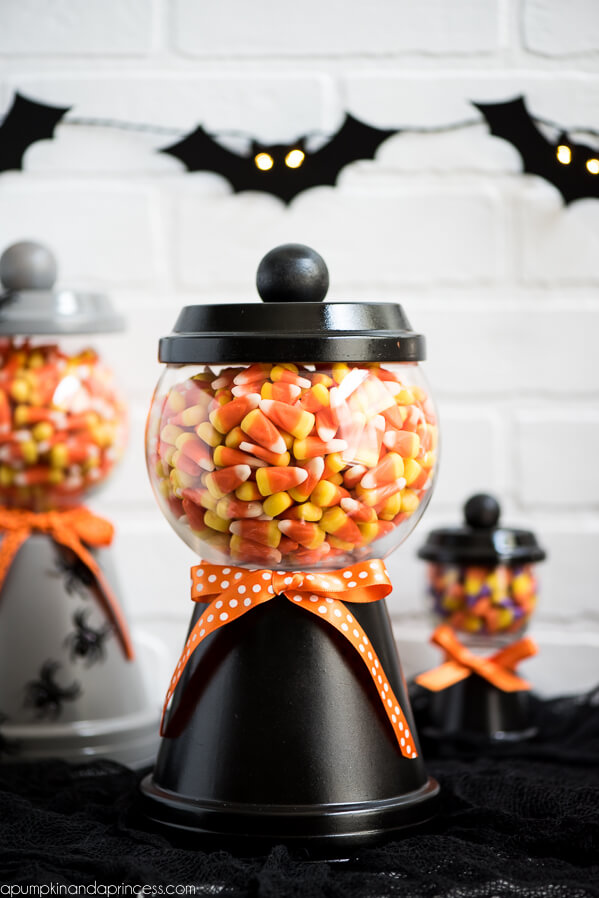 This Halloween candy jar is made using a glass bowl, terra cotta pot, wooden knob and a saucer. It's just perfect for displaying candy corns, children's favorite Halloween treats.
Witchy Door: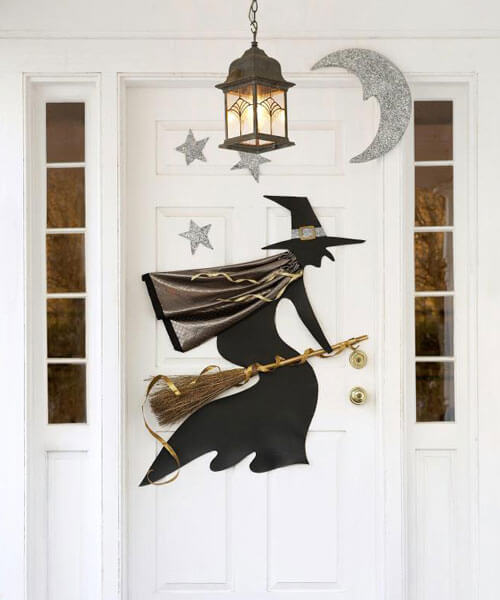 Download the template and trace on the black cardboard or cardstock paper. The rest is up to your imagination how you want to decorate it. The broom, glittery stars and moon are adding perfect airborne effect.
Leaf Mobile: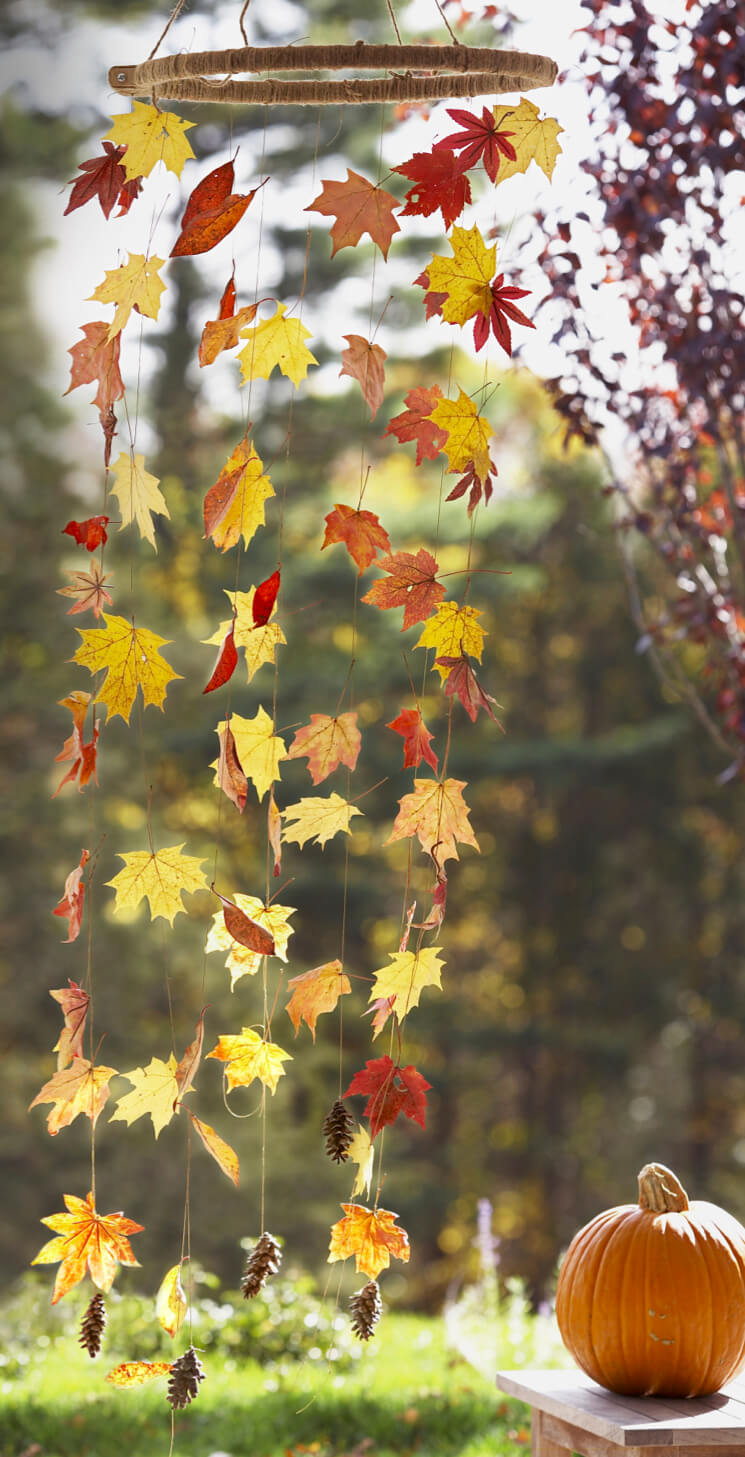 Don't rake away all the leaves! Pick your most favorites one to create a stunning leaf mobile. We've shared the tutorial with you in the link above.
Tombstone Trio: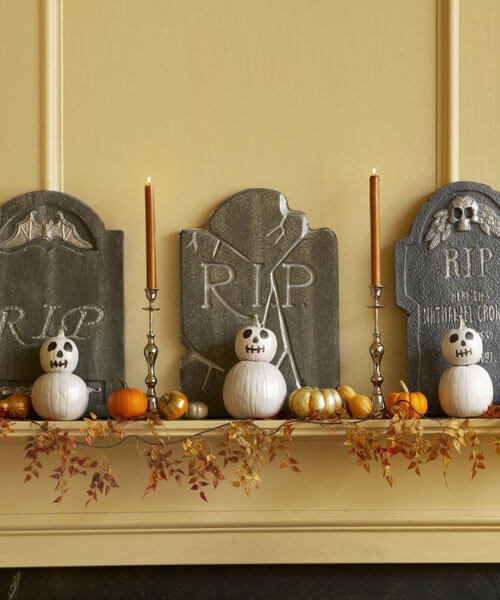 Look at this tombstone trio? Aren't they looking adorable? You can create the ghosts by spray painting the ghosts white, creating sunken sockets with a marker and putting it on a bigger pumpkin.
The Ghost Crew: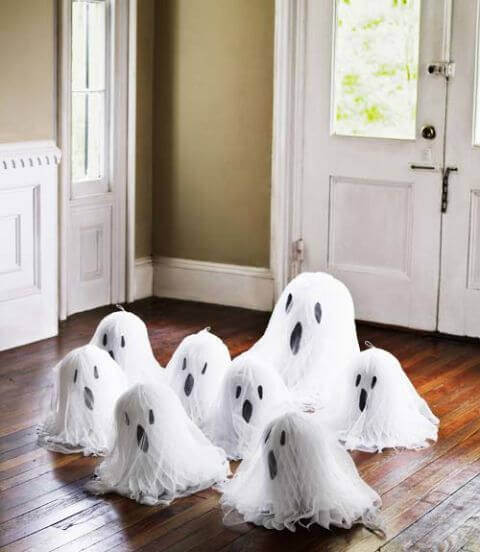 Wedding bells and different sized tissues papers are what you need for creating this group of silly ghosts. But don't you think they look totally adorable?
Googly Eyes Halloween Wreath: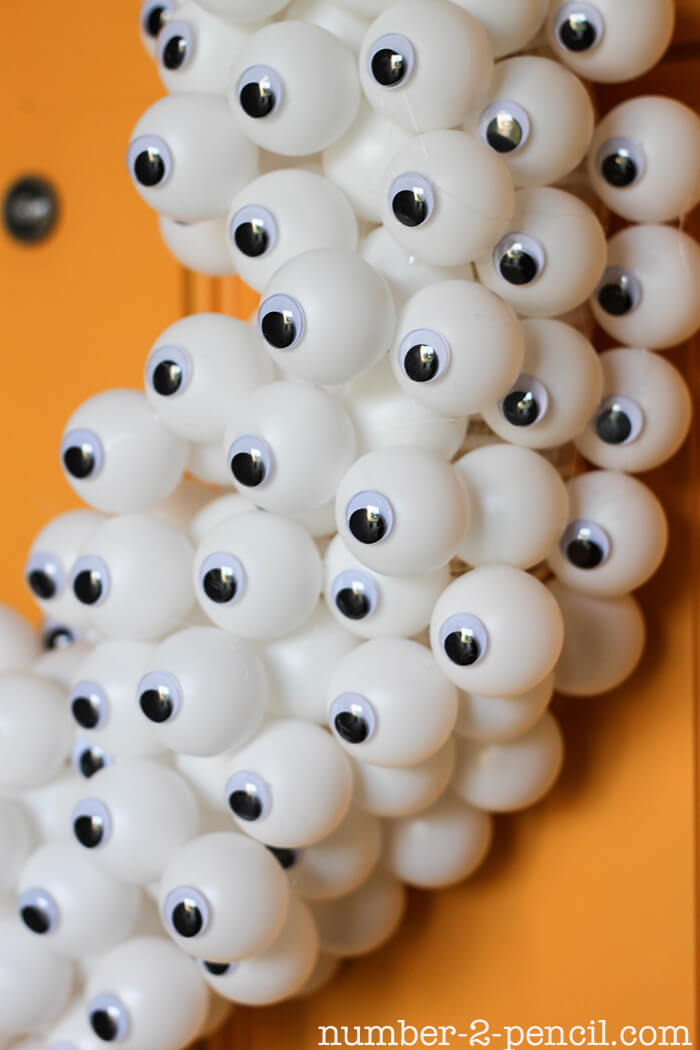 You just have to purchase a packet of ping pong balls ad googly eyes to create this Halloween wreath.
DIY Halloween Candy Door Hanger: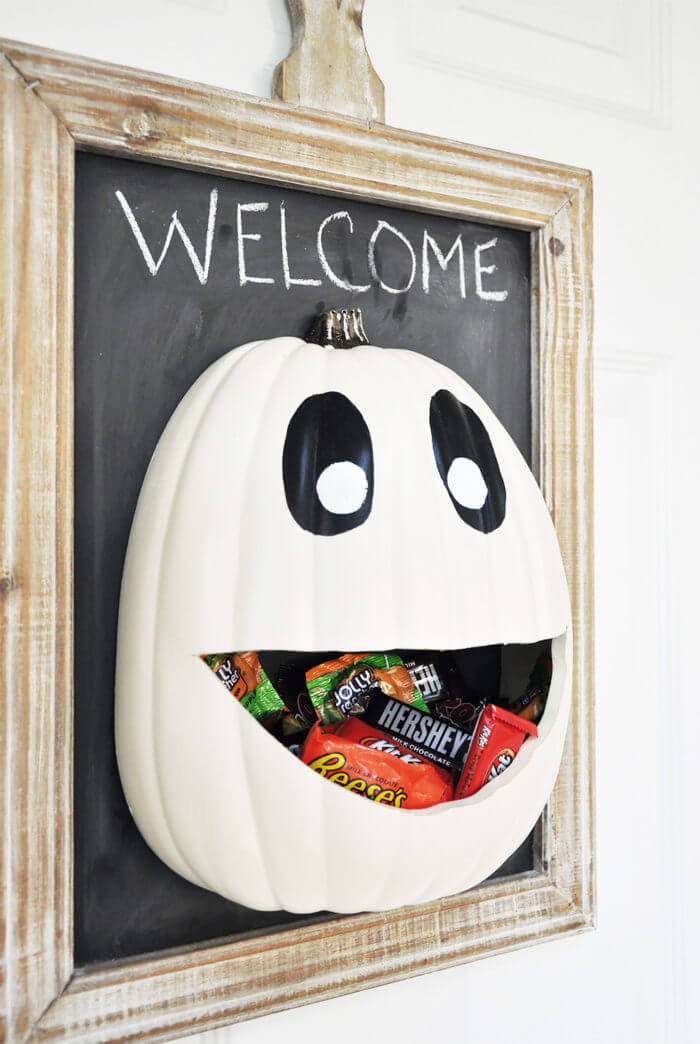 One of the most unique looking Halloween craft ideas in our opinion. Children will be absolutely delighted seeing it.
Sugar Skull Wreath: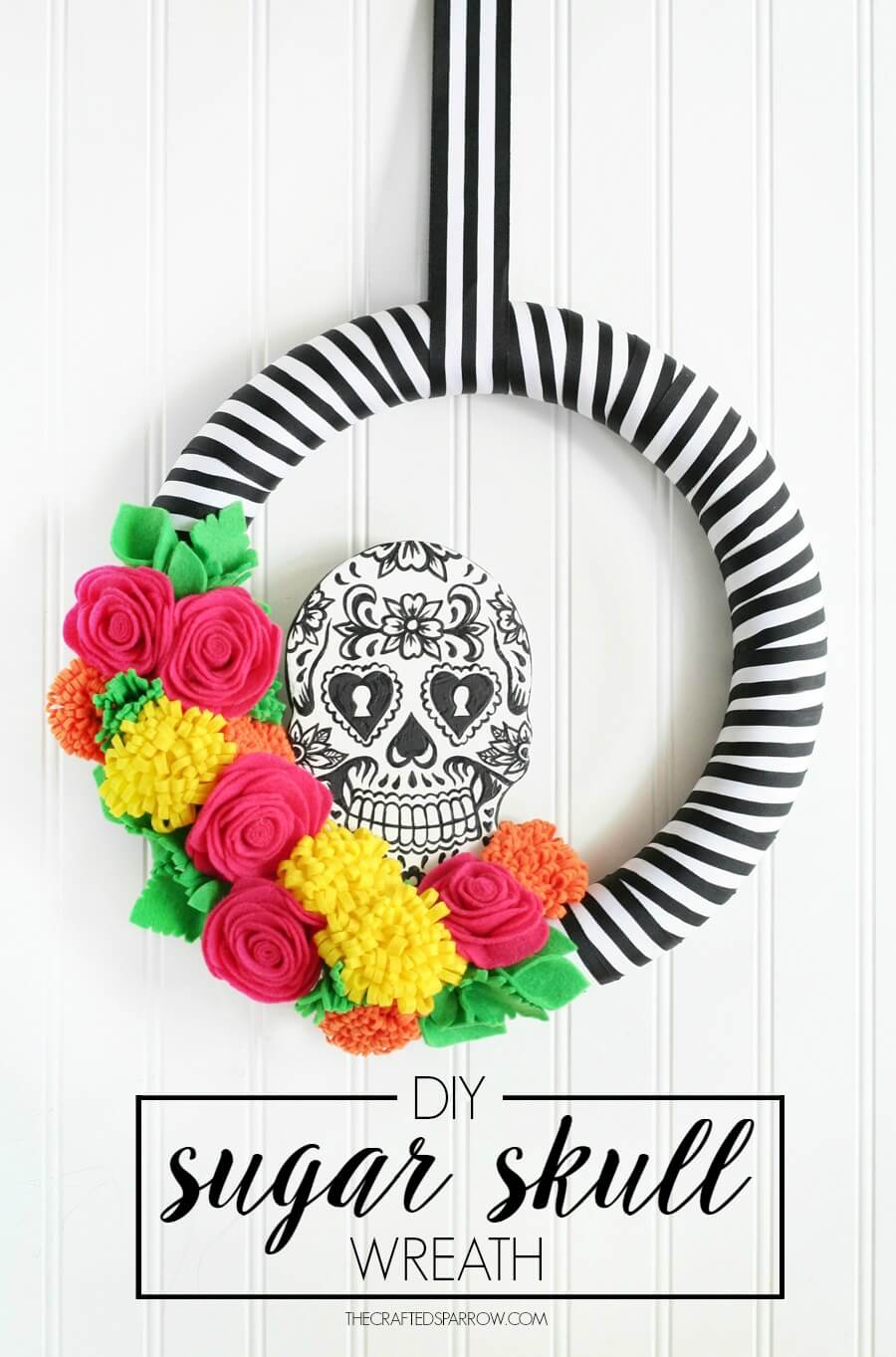 This Halloween craft idea is perfect for adults.
Bandana Pumpkins: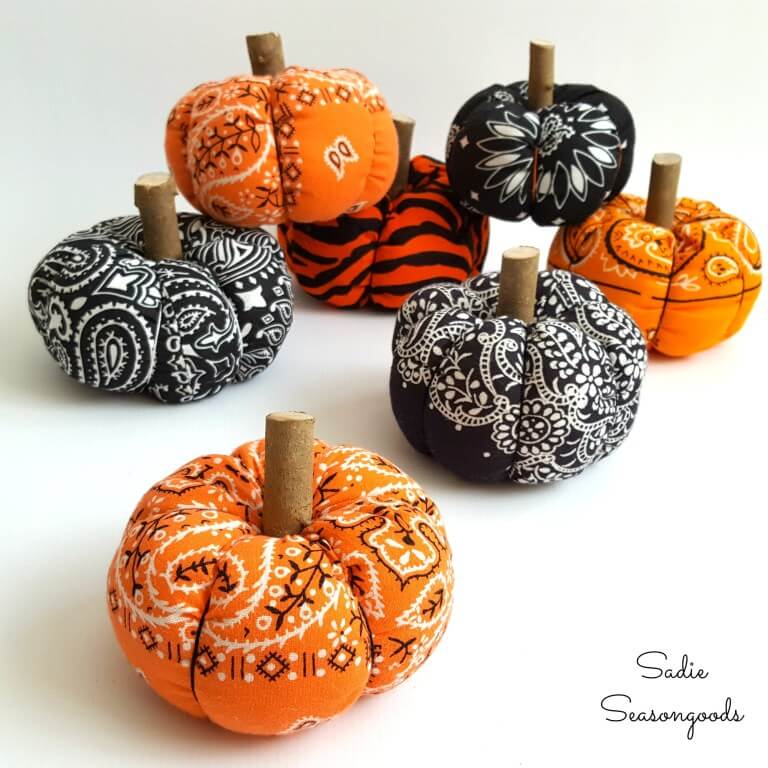 How cool are these bandana pumpkins? Teen would be totally thrilled with this idea.
Coffee Filter Monster: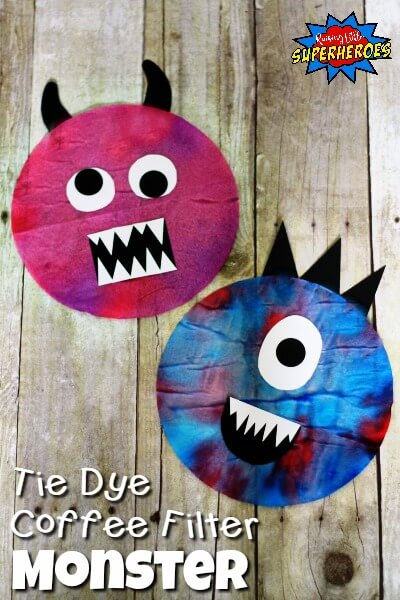 Have you ever seen such lovely and colorful monsters before?
Coffee Filter Ghost Lollipop: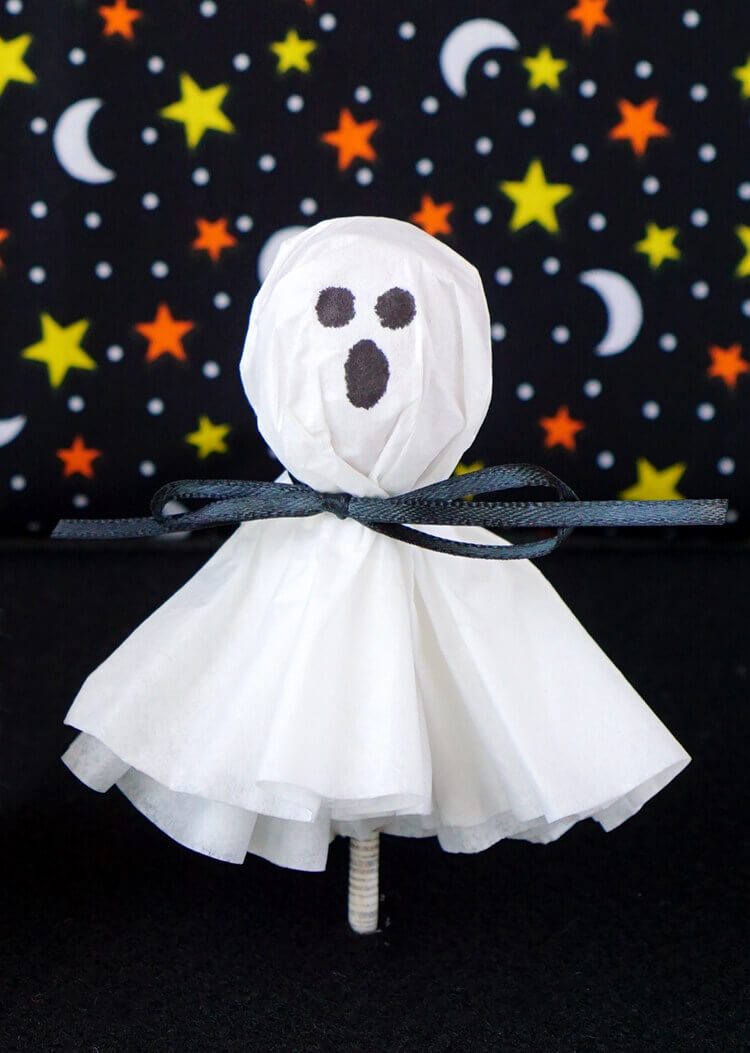 Here's another Halloween craft made using craft filter.
We hope you liked our collection of Halloween craft ideas. If you have any more Halloween crafts to share, let us know by commenting below.