Halloween is one of our most favorite holidays. There's something absolutely fantastic about dressing up as someone entirely different for a day and act in the wackiest and craziest manner, without being judged by anyone. But planning for Halloween costume isn't easy. Every year, most of us scratch our heads thinking about what to dress up, how to look different, how to make the maximum impact. Of course, budget is another problem. So if you're on the same boat, we're here to help you. Below we've sorted some of the most happening DIY Halloween costume ideas. Take a look.
You  May Also Like To Read:
Top 25 DIY Halloween Costume Ideas
DIY Ice Cream Cone Costume: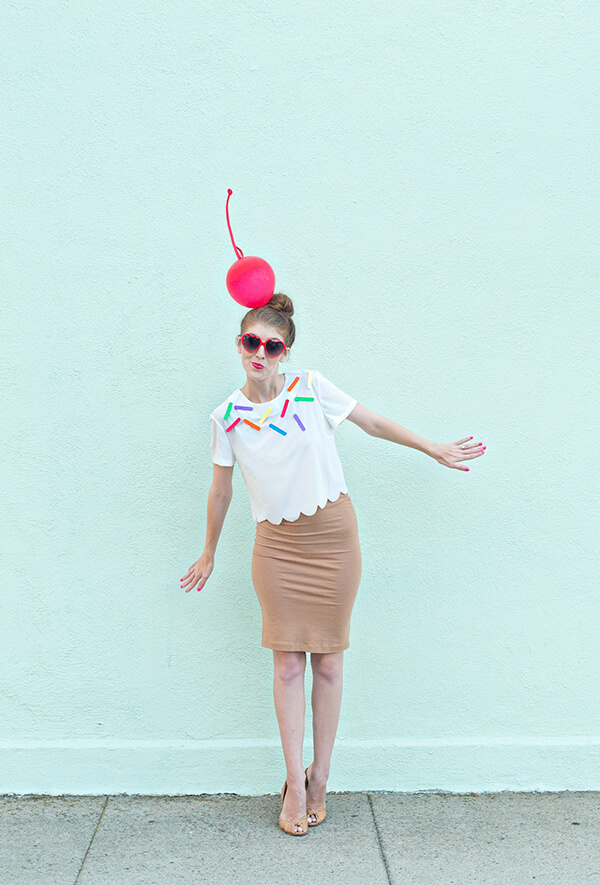 Let everyone scream as you enter for the Halloween party by dressing up as ice cream for the party. The scallops on the t-shirt is reminiscent of the ice cream scoops. But it's the cherry, which is looking the best.
Big Bad Wolf Costume: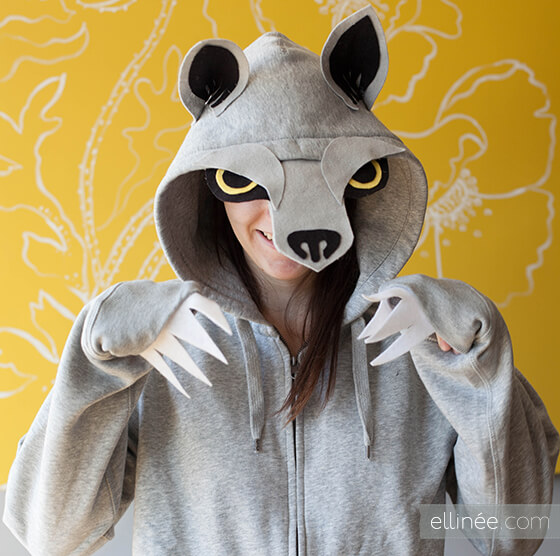 If you're opting for this idea, make your friend dress up like Little Red Riding Hood. As for this look, you just need to cut a few rounds of felt to make the wolf face. And don't forget the nails.
DIY Paper Doll Costume: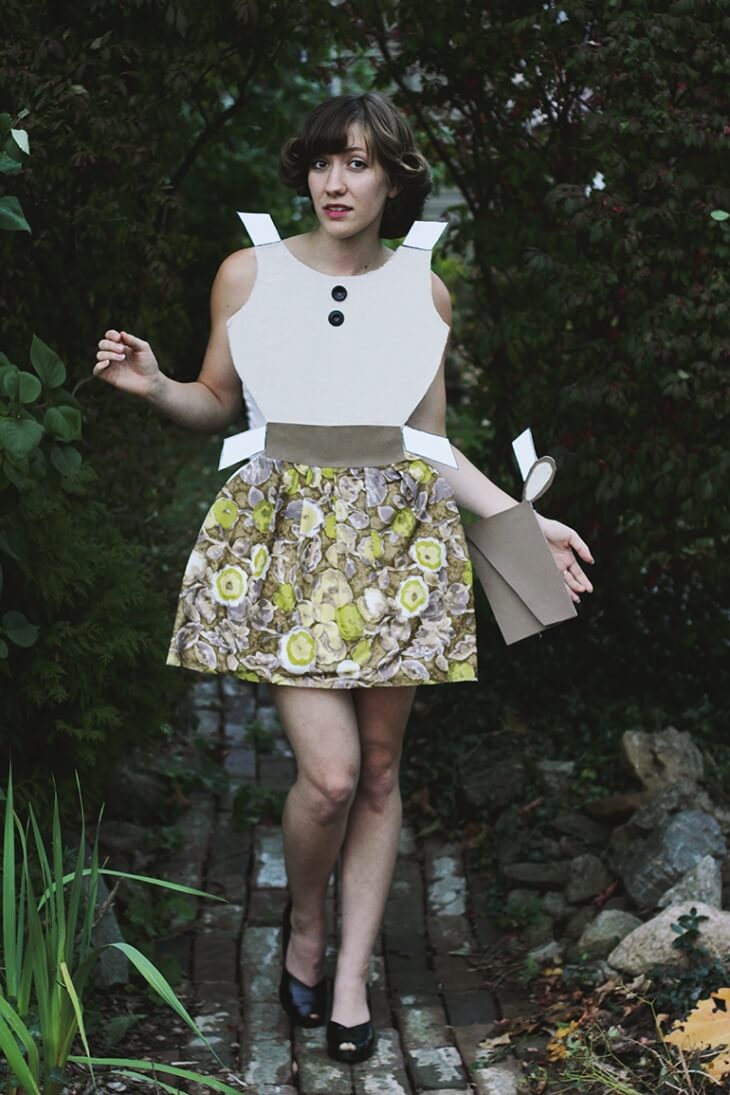 If you want to present your wackiest self this Halloween, go for this paper doll costume look. We guarantee that you'll look no less than a doll in it.
Bat Costume: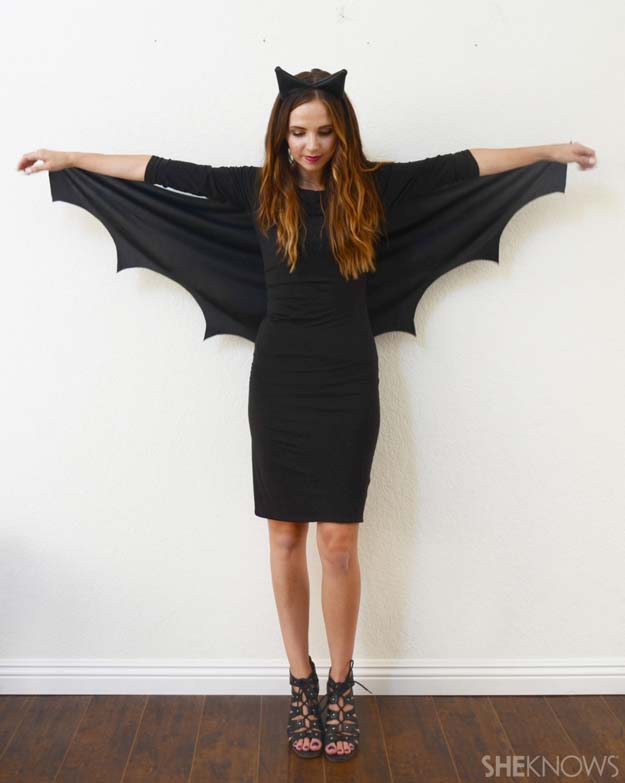 This DIY Halloween costume comes together in just ten minutes. Isn't that amazing. A perfect last minute costume, we must say. Just ensure that you have all the materials in stock beforehand.
Sushi Costume: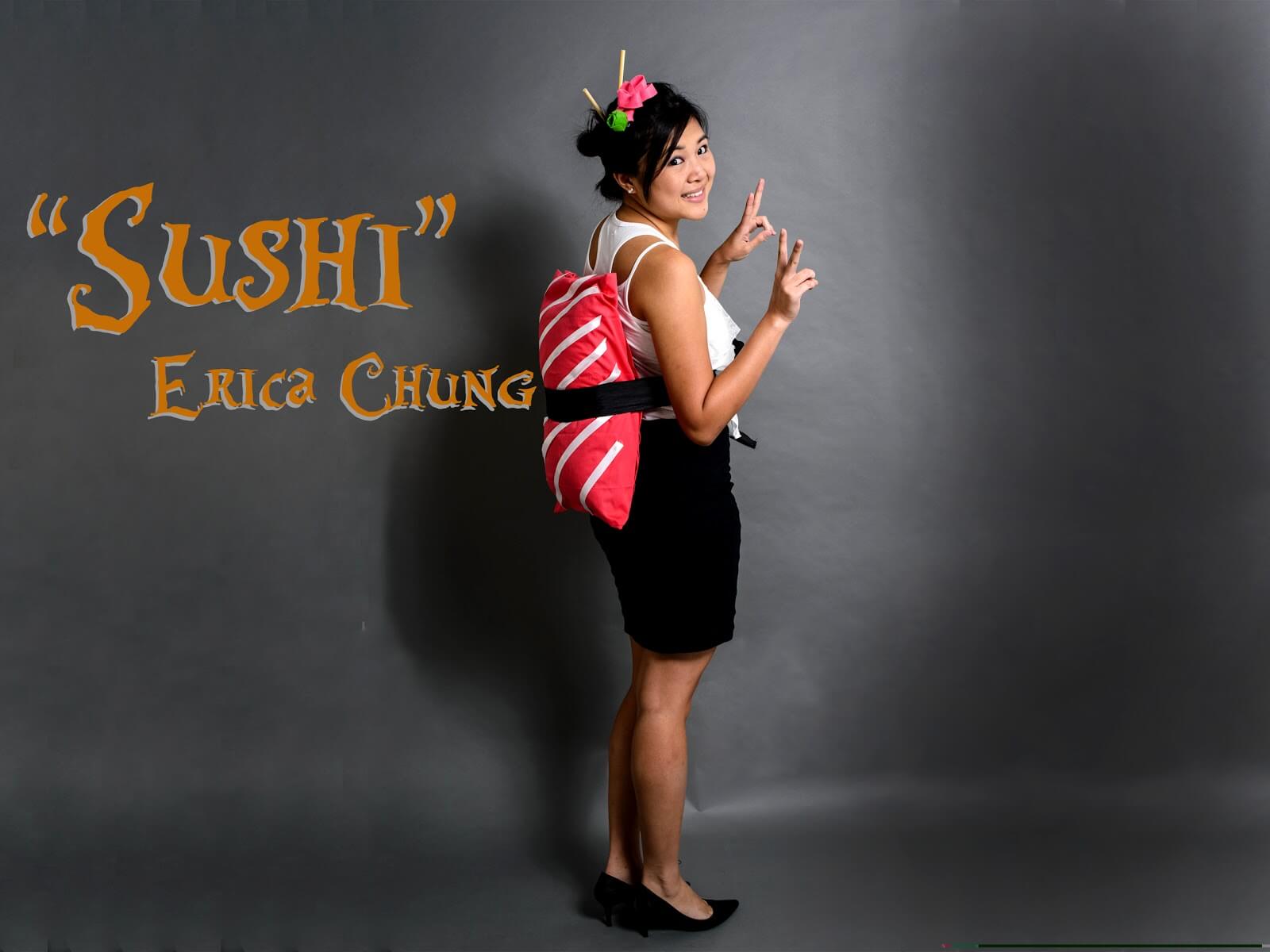 Whether you love sushi or not, you'll surely love this DIY sushi costume for Halloween. Your Japanese friends will surely be impressed.
Taco Costume: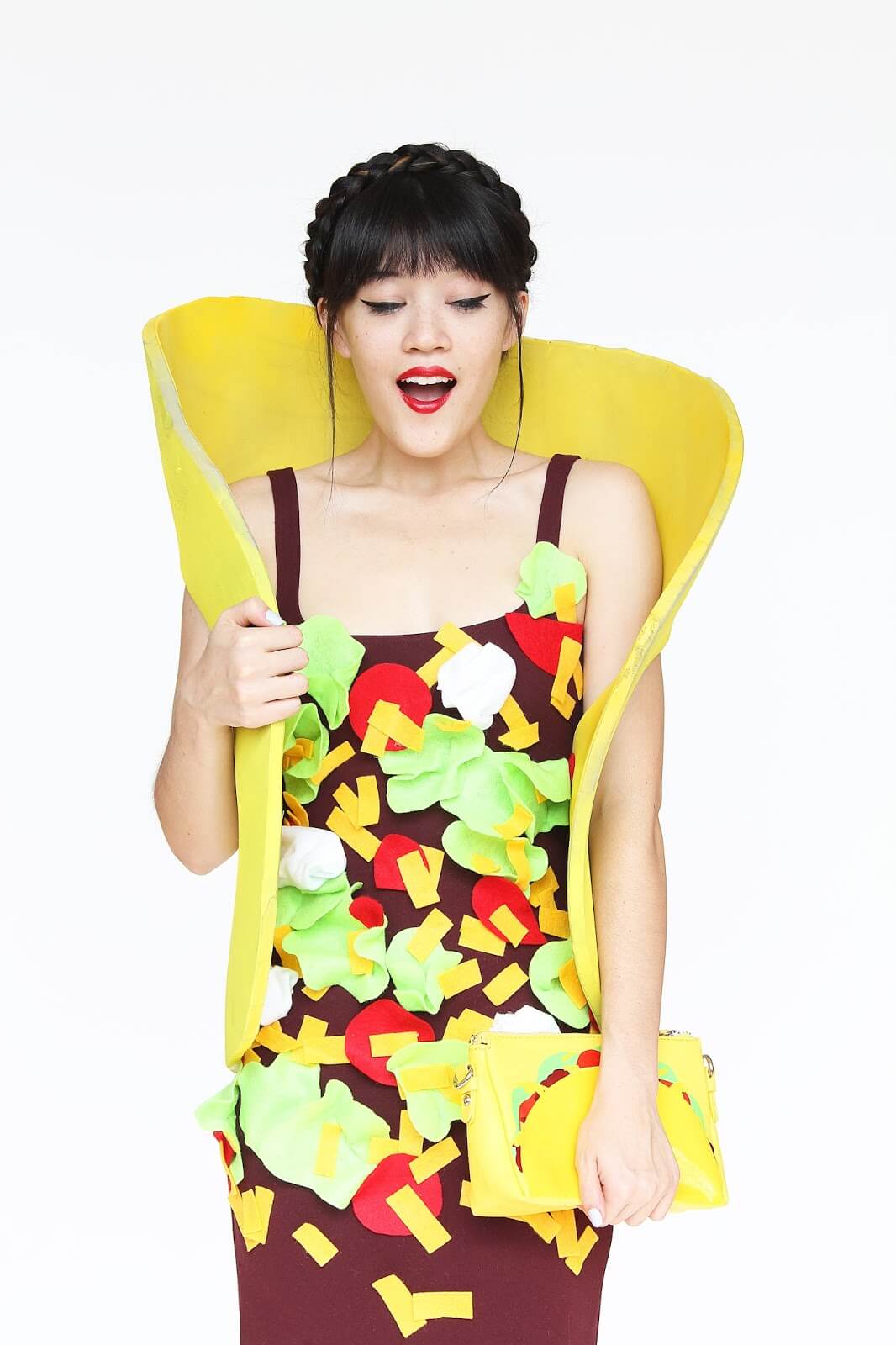 This outfit looks really fun and different too. People can feel hungry after seeing you decked up in this costume.
League Costume: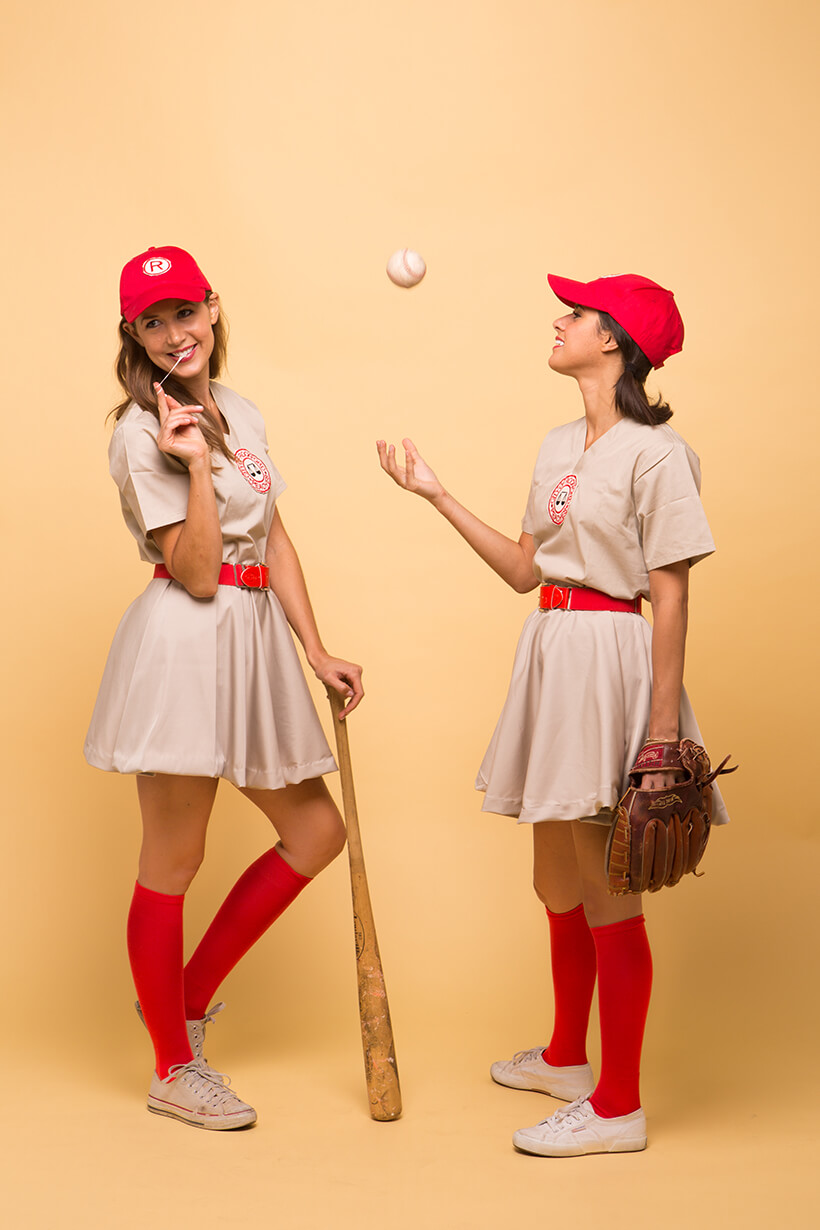 If sassy is what you want to look this Halloween, go for this League baseball costume. The styling has been done very well. Try to twin it with your best friend. It will look great.
Wednesday Adams: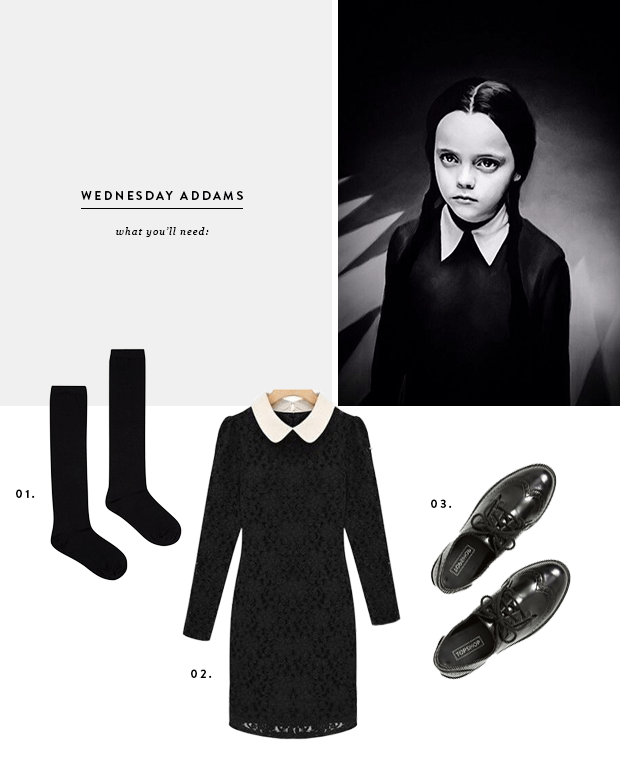 If you want to create an eerie environment in the Halloween party, dress up like Wednesday Adam from The Addams Family. Apart from the costume, you must even pay attention to your expression. You have to keep a straight face all the time.
Thing 1 Thing 2: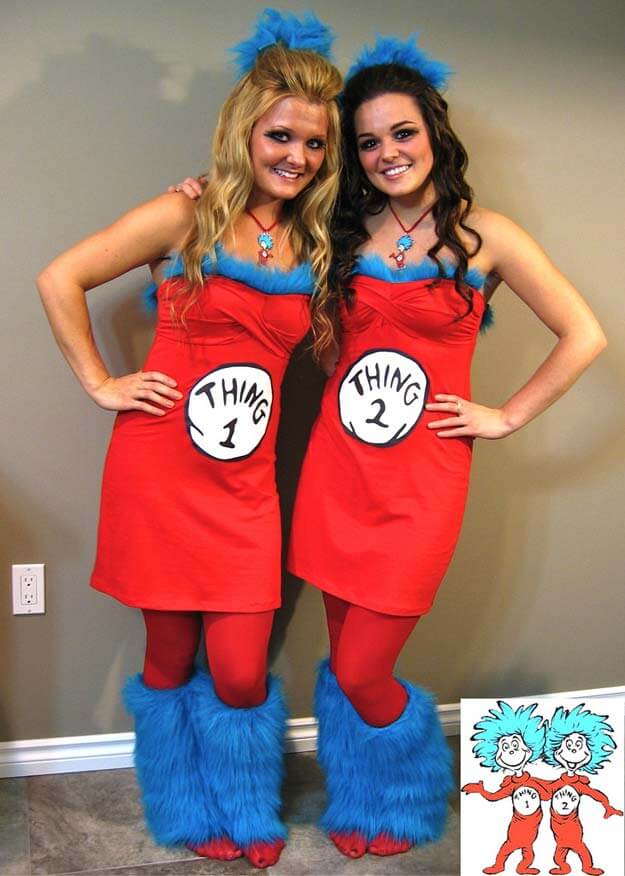 Here's another lovely idea if you want to tandem with your best friend. Believe me, it just never gets old, like the stories of Dr. Seuss.
Rabbit From Alice In Wonderland: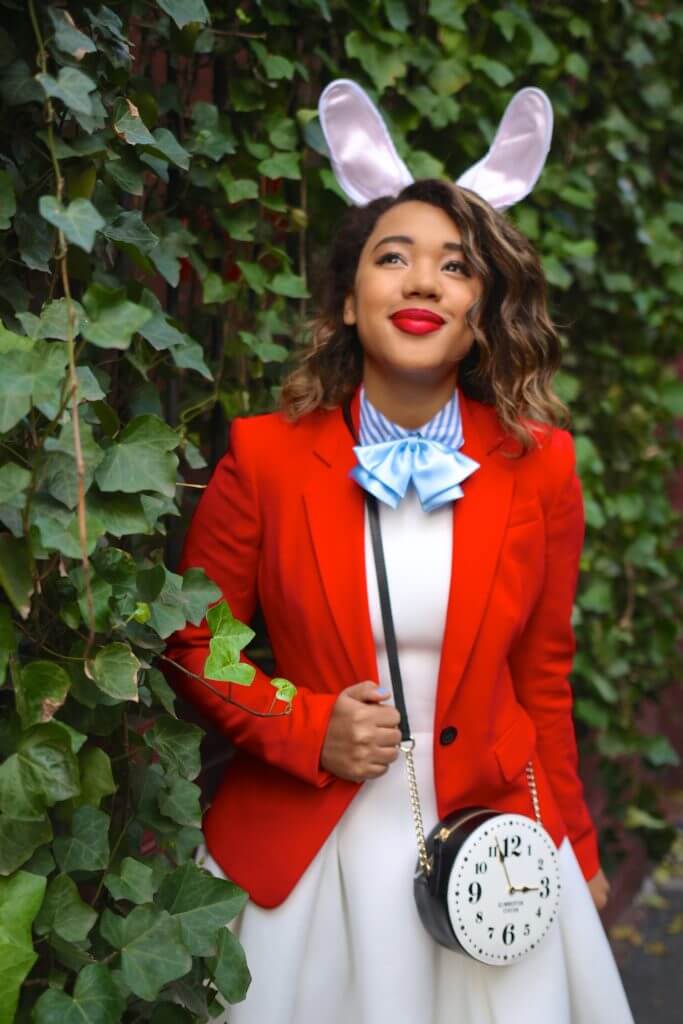 Look your classiest best dressed up as the rabbit from Alice in Wonderland. You'll need a beautiful and flowing white dress and red blaze for starters. Collar and rabbit ears can be made at home. And we must say the blogger has been very creative with the clutch purse.
Modern Little Mermaid: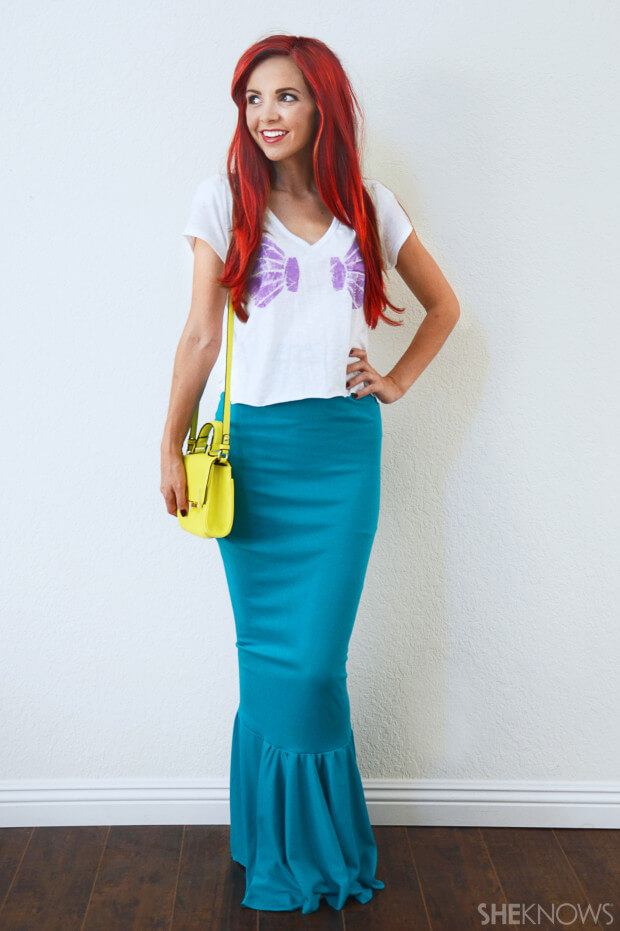 If you wish to be a modern Ariel for at least once, dress up in this sassy way. It isn't technically a mermaid dressed. It's just inspired by the same. And it looks really cool.
Queen Of Hearts: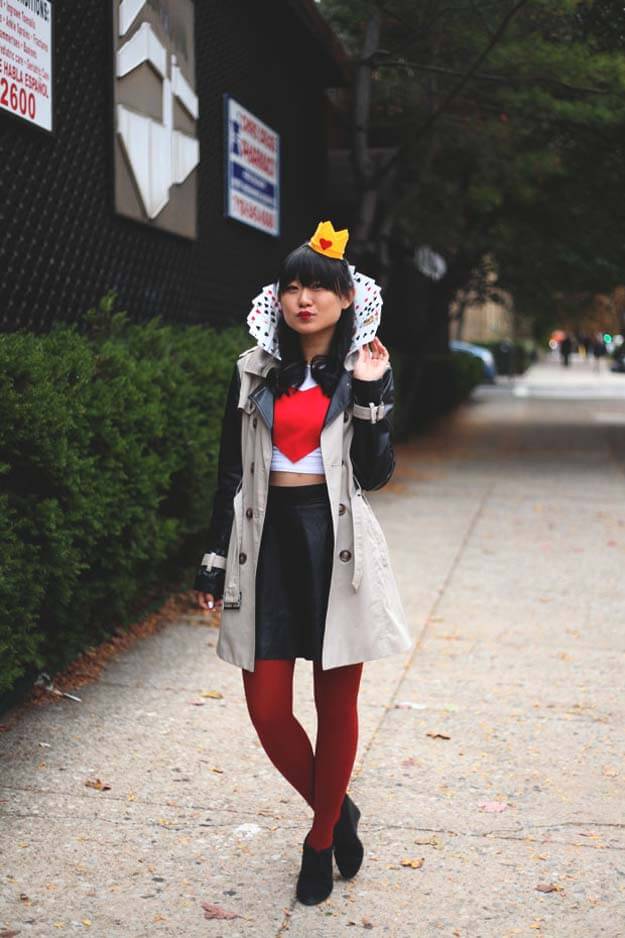 Snatch away everyone's heart in the Halloween party by dressing up as Queen of Hearts from Alice in Wonderland.
Burglar Costume: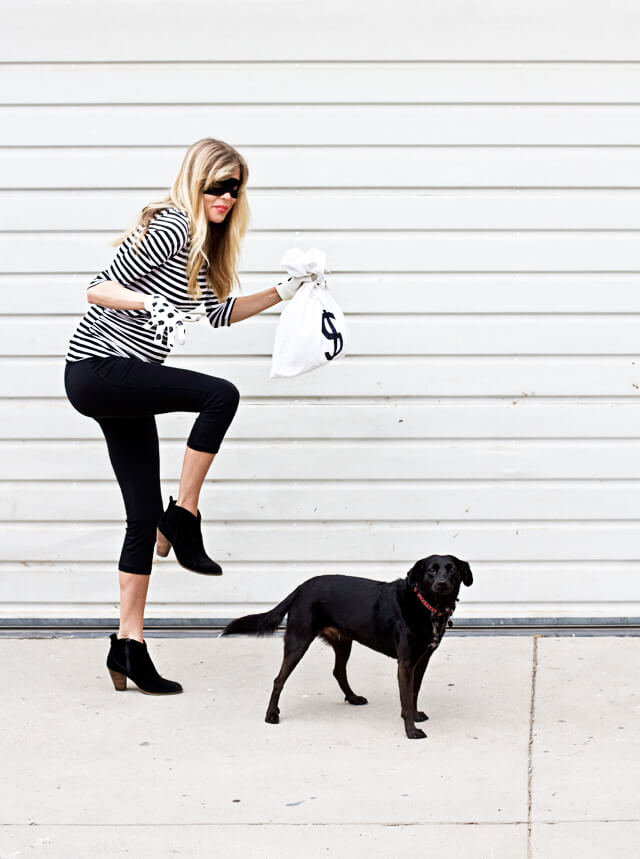 This is indeed a five-minute costume. And also one of the best DIY Halloween costume ideas for girls. The best part about this costume is that it won't age, unlike most of the pop culture inspired costumes.
Katniss Everdeen Costume: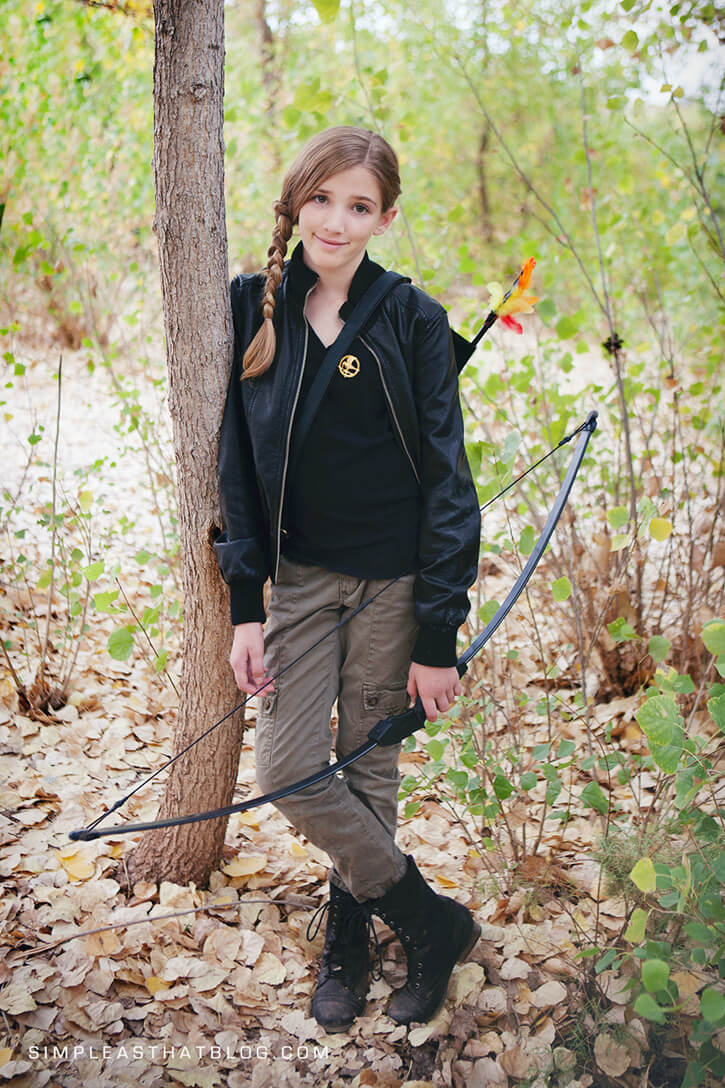 This character from Hunger Games is taking the world by storm already. And why not, after all, everything is just so perfect about her. Even if we try, we cannot take out one flaw of this amazing person.
Belle: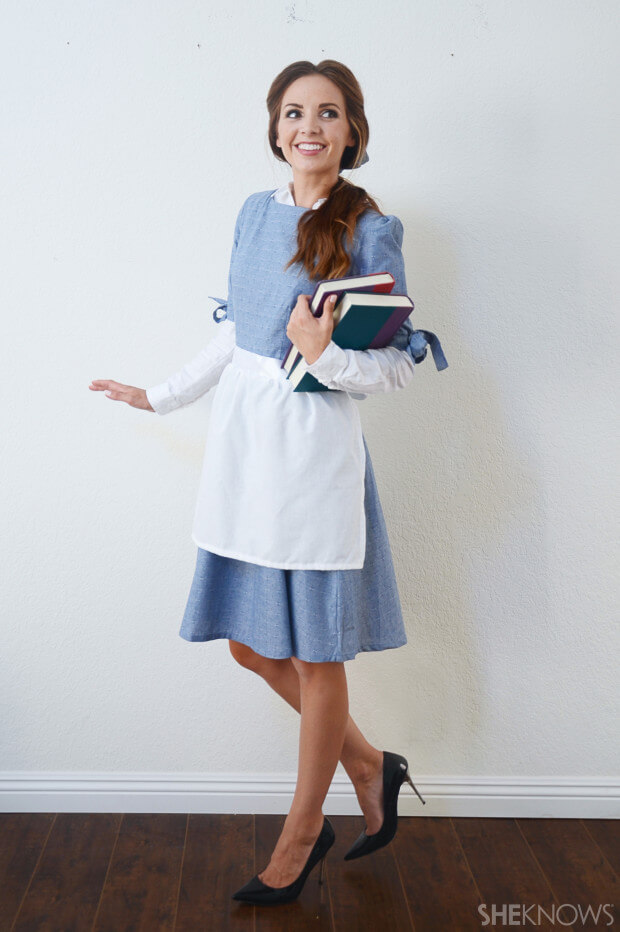 It's almost the end of the year and we still haven't been able to brush away the hangover of "Beauty and the Beast". So rock the Halloween party dressed as super cute Belle.
Cactus: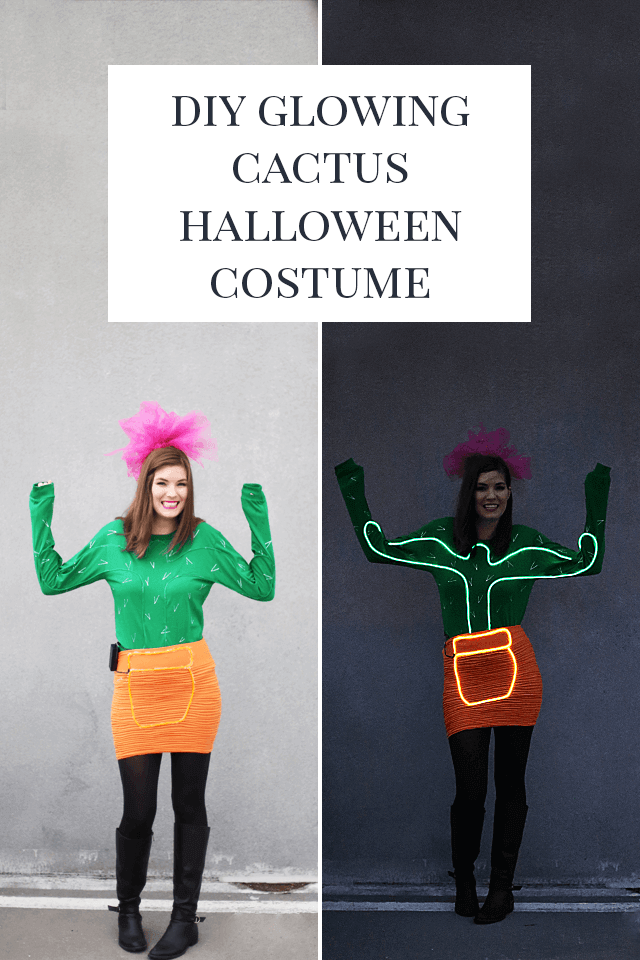 Have you seen such a happy cactus before? You'll bring happiness and cheer wherever you go dressed in this costume.
Unicorn: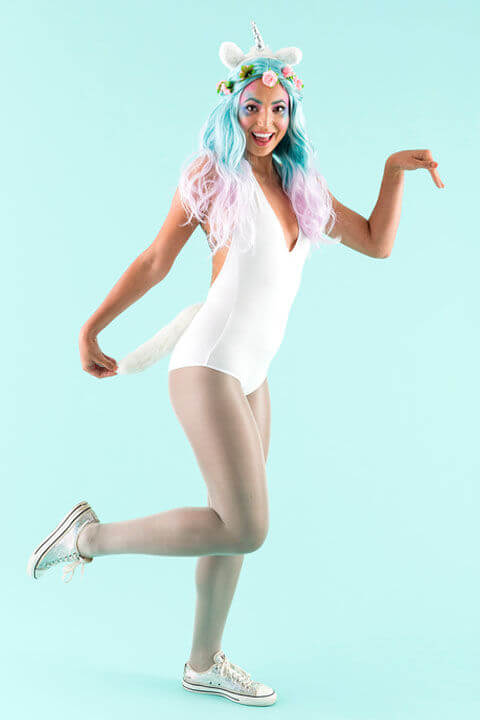 If you've always dreamt of being a unicorn, then fulfil it this year by dressing up as it for the Halloween party. This dreamy costume looks playful, pretty, sporty and sexy, all at the same time.
Shooting Star: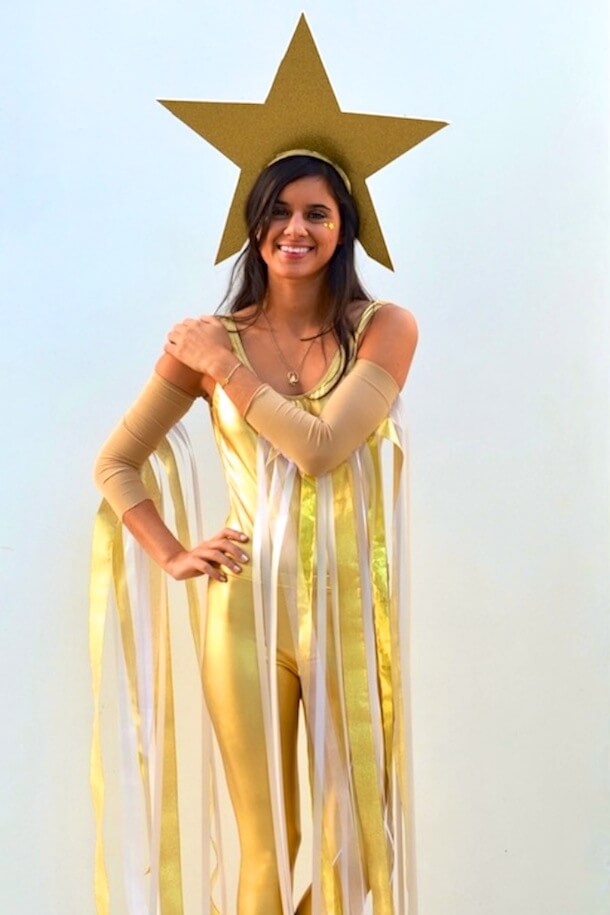 Aim for the sky and beyond with this shooting star costume. You just have to purchase a gold bodysuit, cardboard, gold spray paint and ribbons to create this look.
Scarecrow: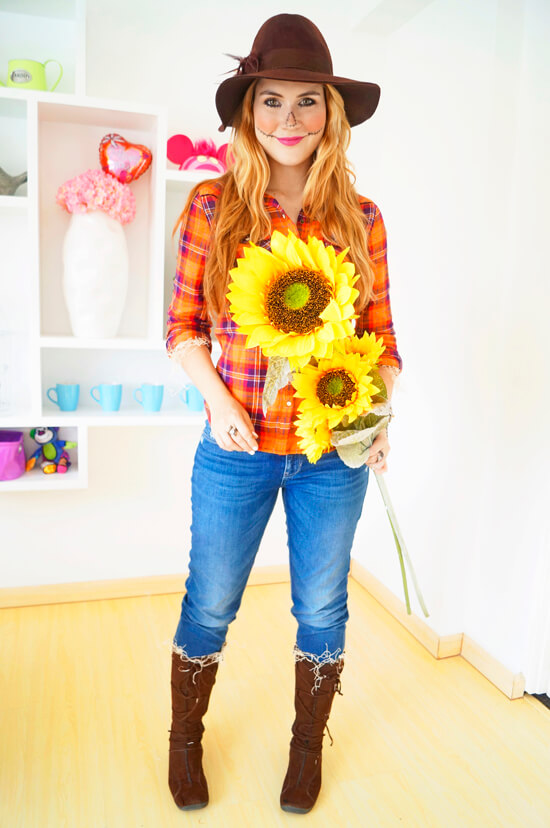 She's the cutest scarecrow ever. Just look at the smile. The costume brings to mind the amazing weather of fall. You just have to wear jeans, plaid top, and sunhat to get the look. Don't forget to paint the face to complete the look.
Family Peter Pan Costume: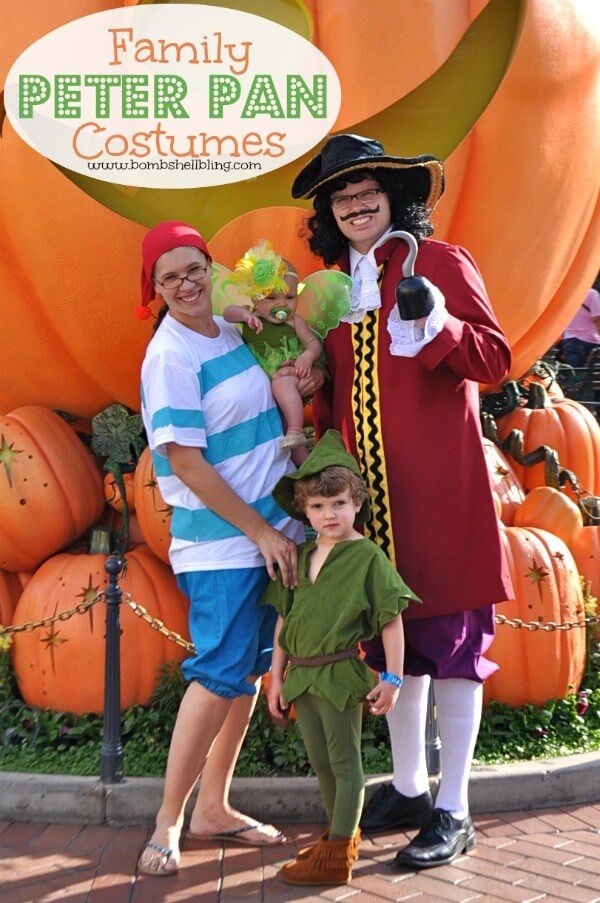 Pay tribute to one of the greatest Disney films of all time, "Peter Pan" dressing up your entire family in the Peter Pan inspired costume.
Madeline Costume: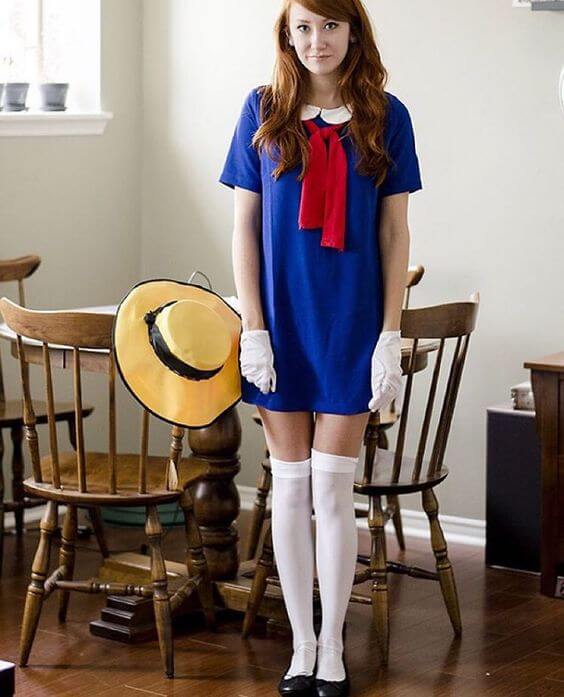 Another easy to recreate costume. You don't really have to do anything special for this costume. You just have to arrange for the materials required.
Ice Cream Cone: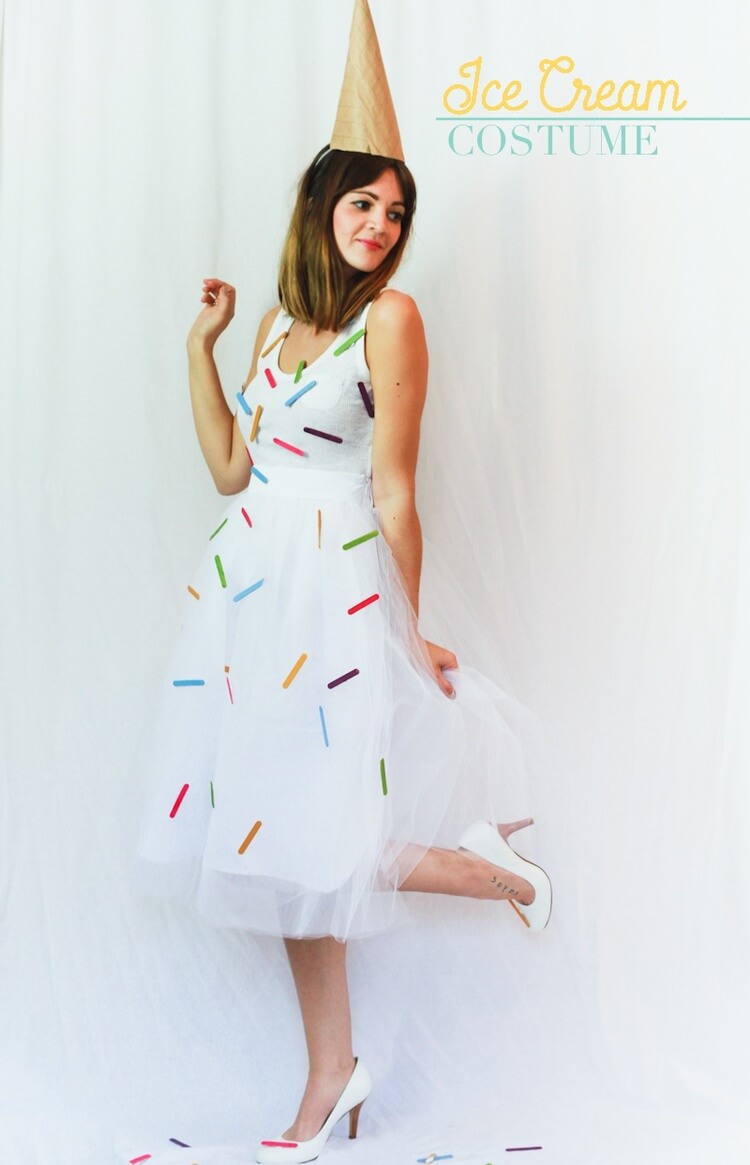 Here's another ice cream cone DIY. This adorable costume requires little to no preparation work. And the best part is that it will work for both teens and adults.
Sriracha Costume: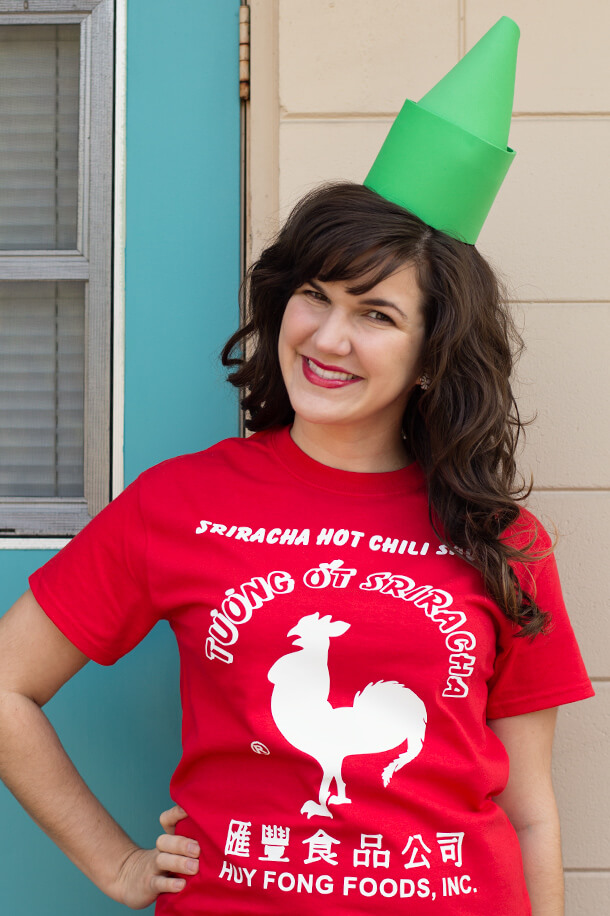 Be the hottest amongst all in the party by dressing up as one of the most popular condiments, Sriracha Sauce. You just need a green hat, a red shirt and red lipstick for the look.
Starbucks Coffee: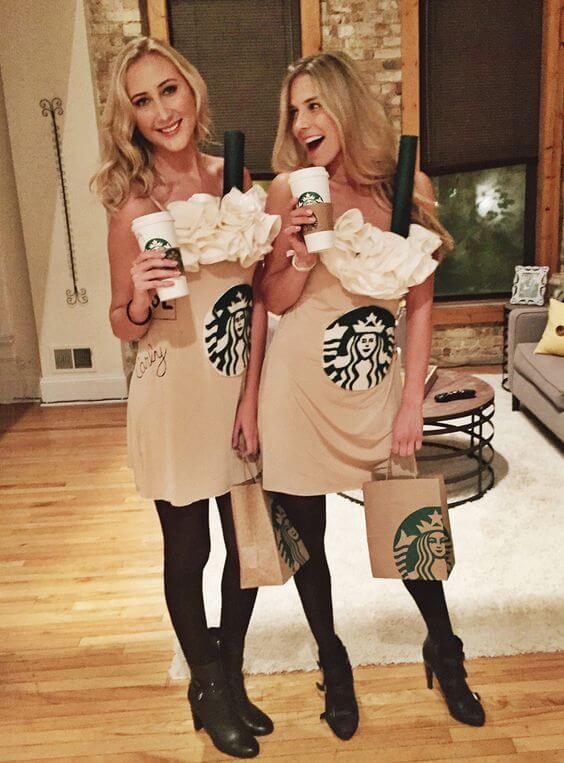 Show off your love for caffeine by dressing up as none other than Starbucks coffee. You just need a beige dress and some felt cut out to create it.
No Sew Burger Costume: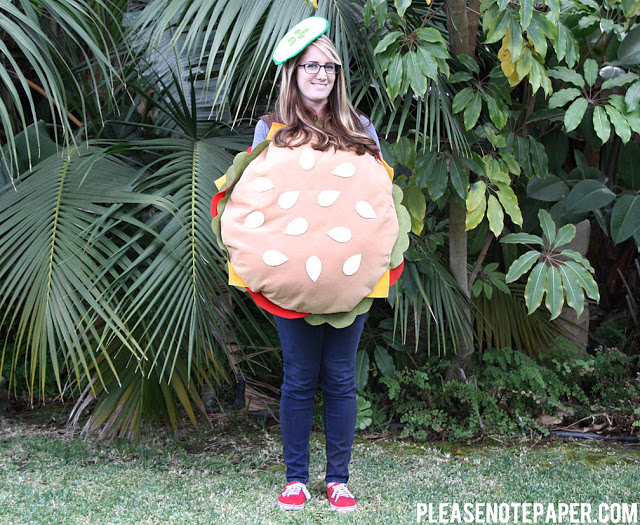 No stitching is required for this yummy burger costume.
What's the best DIY Halloween costume in your opinion? How are you planning to dress up this Halloween? Share your DIY Halloween costume ideas with us in the comment section below.