What would be a better accompaniment for your Halloween costume than some cute or spooky Halloween nail art? Halloween is one of those Holidays where you can be as quirky and creative as possible and people won't judge you. And when it comes to nail art, there are a plethora of themes and ideas, you can choose. Alternatively, you can even try nail art that goes with your costume or the character you're portraying.  Below we've shortlisted some of the most stunning Halloween nail art ideas for you.
You May Also Like To Read:
Go For Halloween Colors: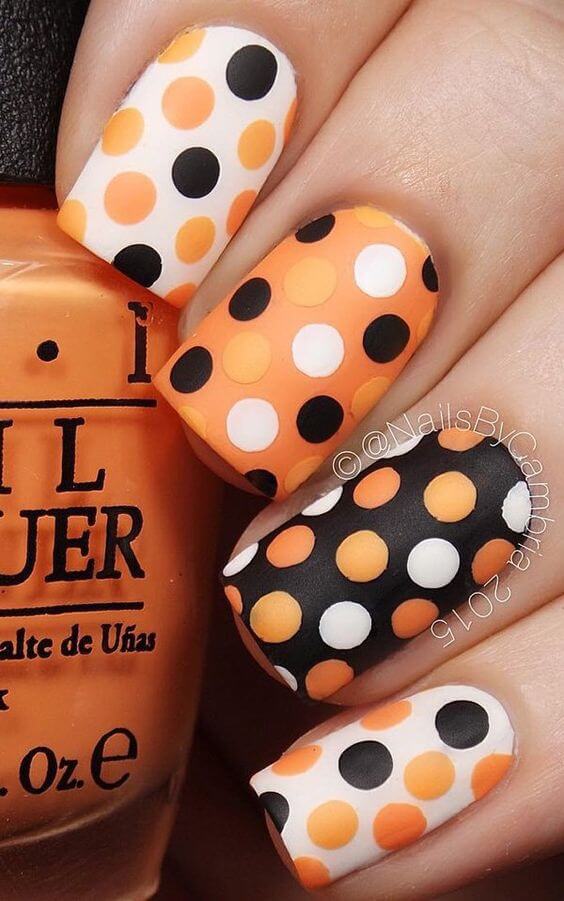 To get yourself into the Halloween spirit, decorate your nails in quintessential Halloween colors like orange, black and remind. It will remind everyone of the Jack-o-lanterns.
Skull Nail Art: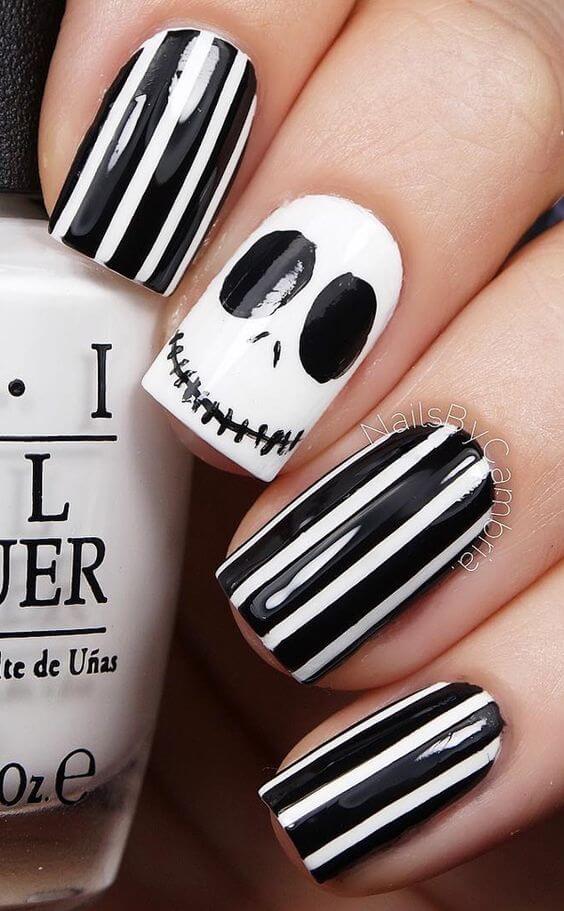 This creepy, yet extremely stylish nail is in no way difficult to achieve. And the black and white color combination is always a classic.
Skull With Floral Patterns: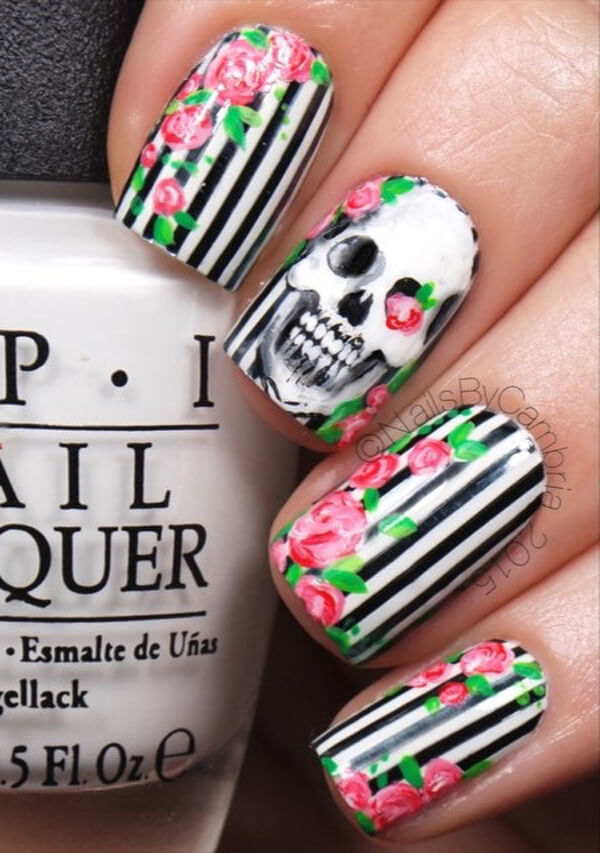 If you want a balance between badass and cute, opt for this skull with floral pattern nail art. It's sure to make you stand out from the crowd.
Witch's Feet Nail Art: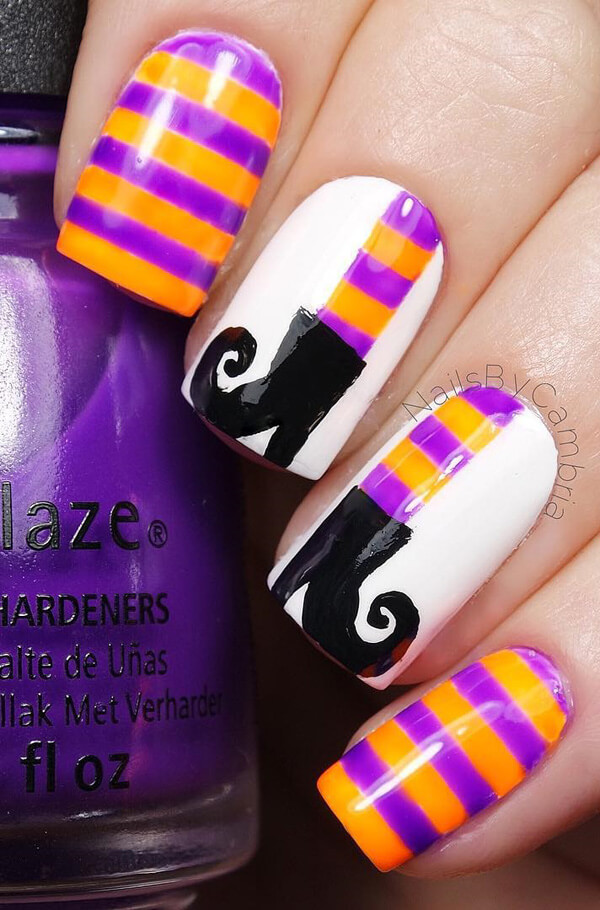 Witch's feet prop is one of the most common ideas people incorporate into their Halloween decoration. So why not make use of the same for your nail art as well?
A Muted Nail Art: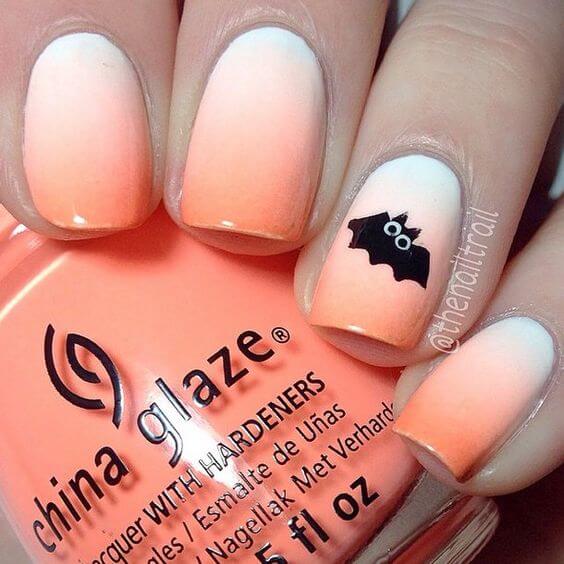 If you like to keep things understated, you can go for this ultra feminine, yet appealing Halloween nail art.
Go The Pink Way: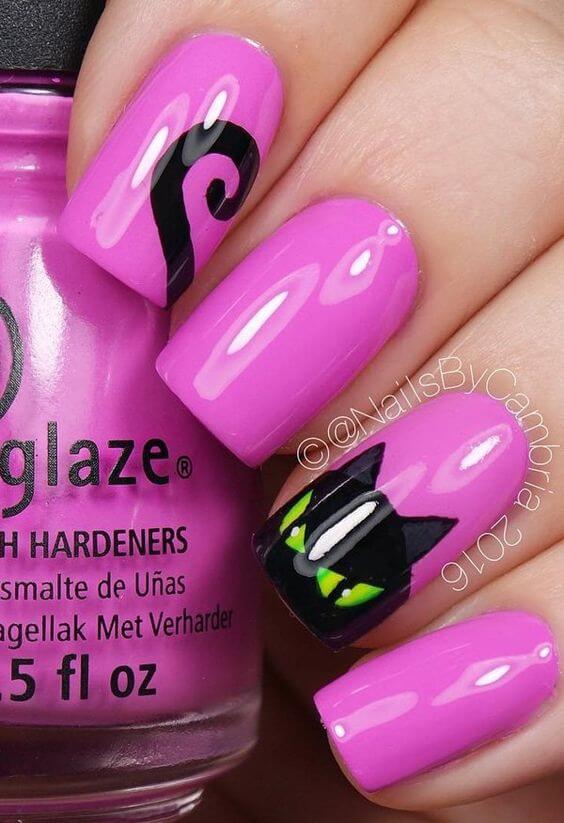 This one's a relatively easy nail, with just one statement nail, which features a black cat with creepy eyes.
Colorful Halloween Nail Art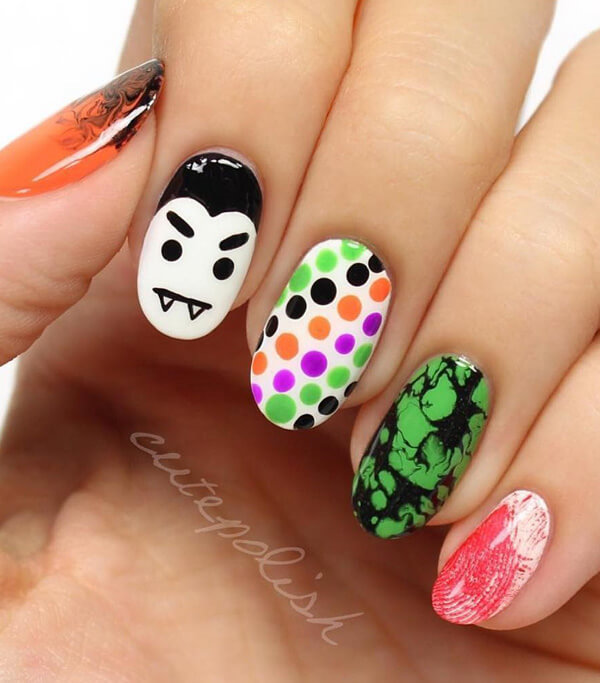 This one looks so cool and fun. Colorful nail arts pair best with white, so opt for something similar while donning a mummy costume.
Blood Oozing: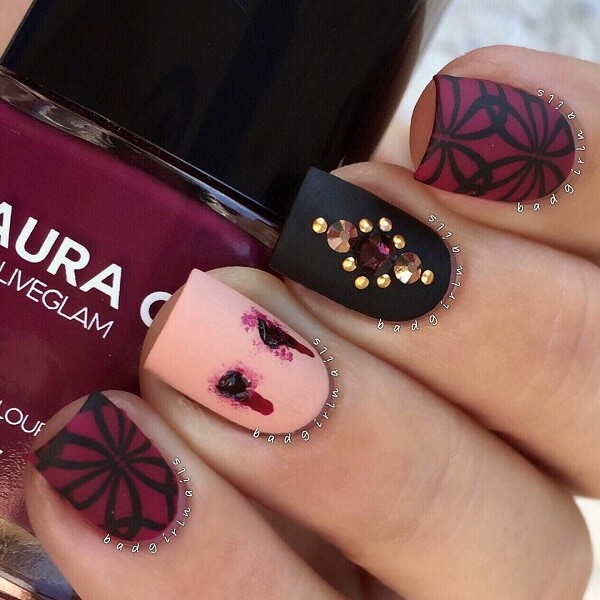 It seems like someone stabbed the nail and it's oozing blood out of it. The ornaments are doing full justice to the nail art.
Neat And Clean: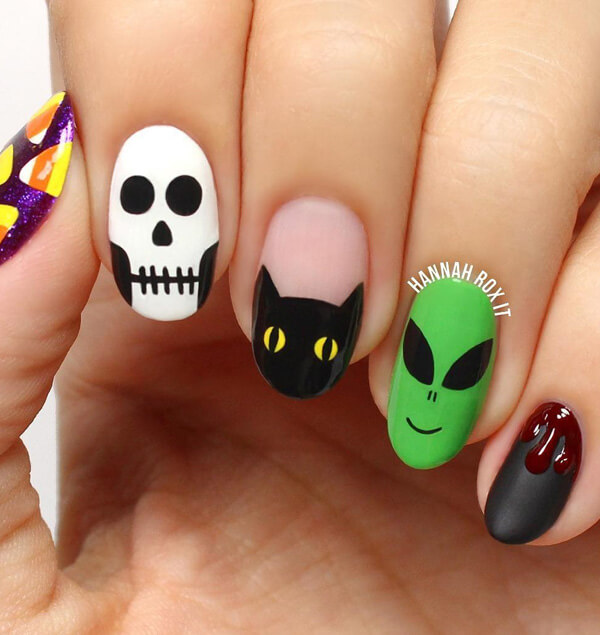 Here's another neat and clean Halloween inspired nail. We loved the pinky finger one, with black base and blood droplets the most. What about you?
Jack-O-Lantern Nail Art: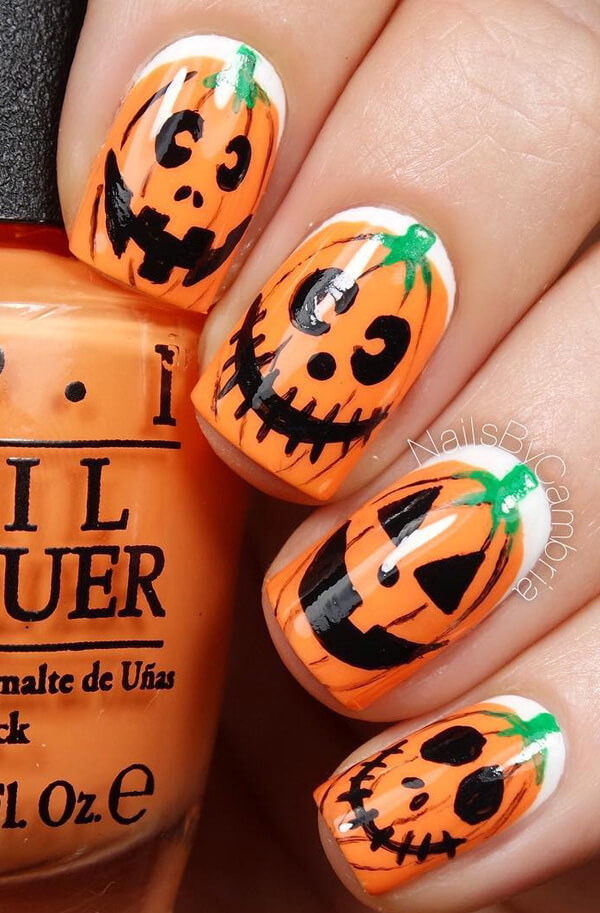 Since Jack-o-Lantern plays a crucial role in Halloween, both in decoration and for freaking out people, how about use the same idea for nail art as well?
Use Tiny Ornaments: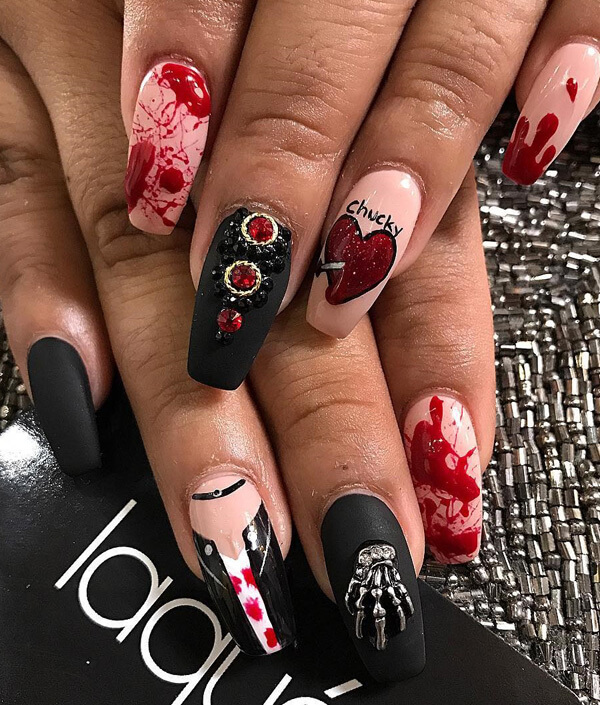 You can even make use of tiny ornaments for decorating your nail art. The one featured here is quite badass, with all the blood shots and pierced heart.
Gray And Black: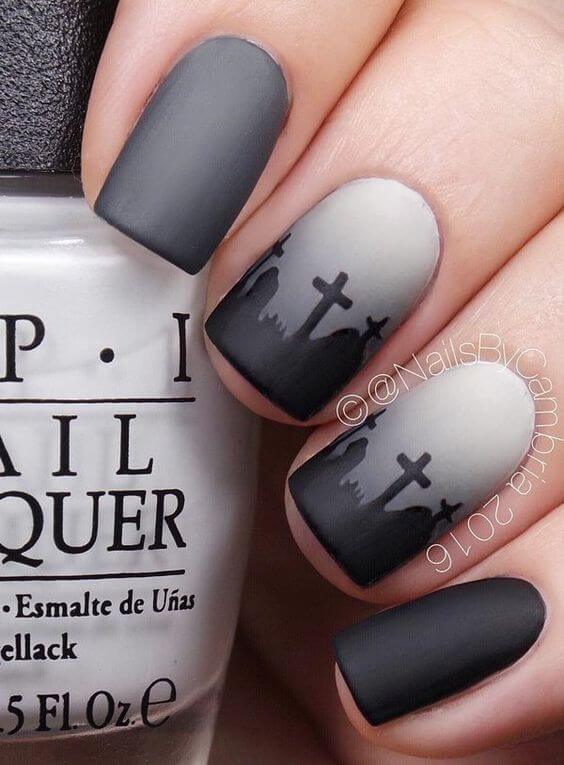 Here's a gothic, graveyard nail art to inspire you. We love the gradient of gray shade used in this nail art.
A Full Night Scene: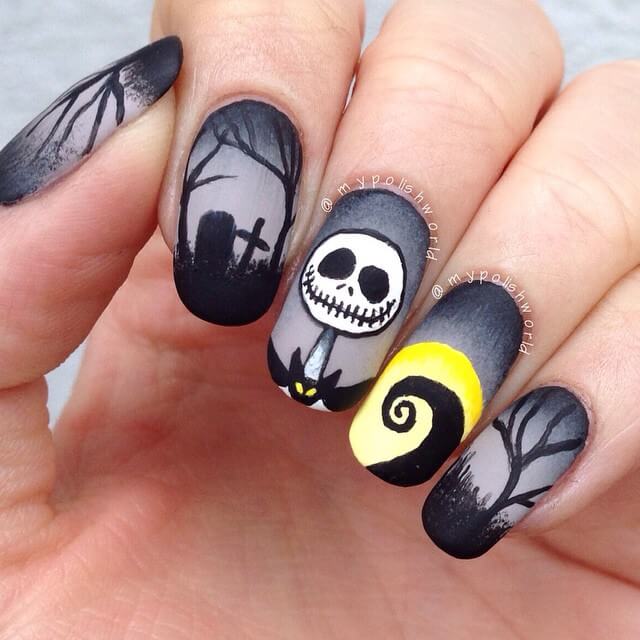 A complete Halloween night scene with graveyard, full moon, ghost and barren tree is depicted in this nail art.
Boo: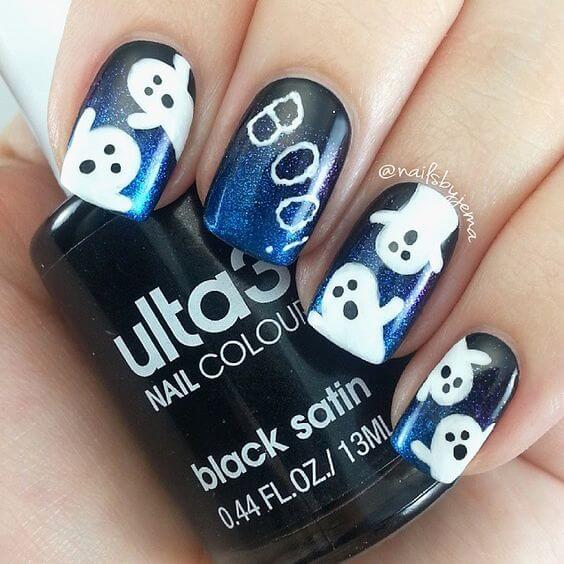 Do you think these cute, little ghosts can even scare anyone? We don't think so. They are just too adorable to freak out anyone.
Mummy Nail Art: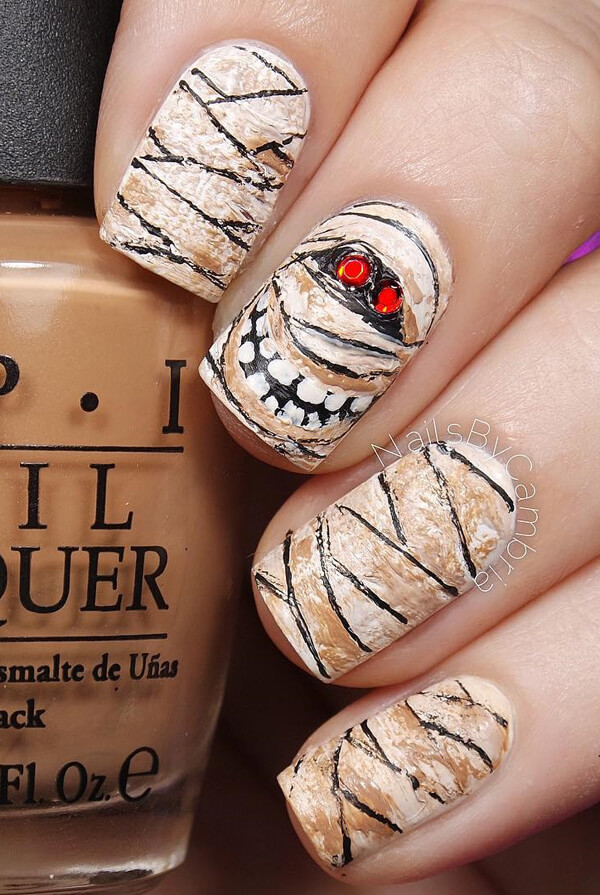 This one is seriously creepy and even unique. And hat's off to the blogger for this creative and out of the box idea. It's seriously our top pick.
Cute Pumpkins: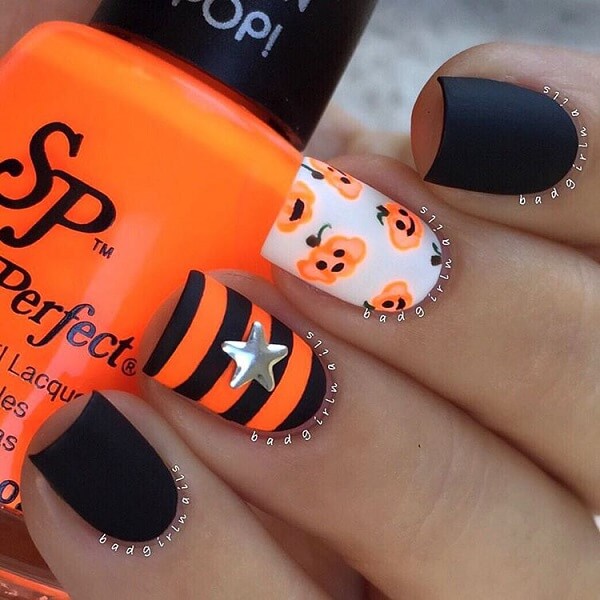 These pumpkins seriously look really adorable. And the star sticker is also complementing the nail art really well.
Ombre: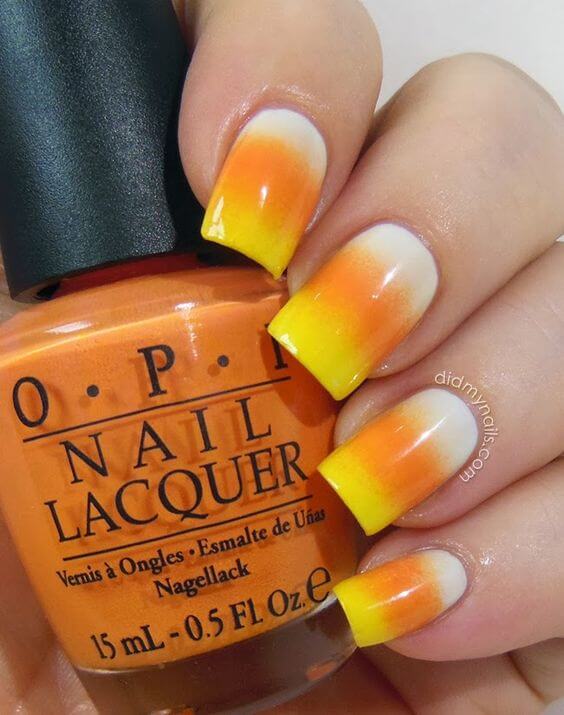 This ombre nail art inspired by candy corn is making us all hungry. And it's going with the theme too.
Graphic Designs: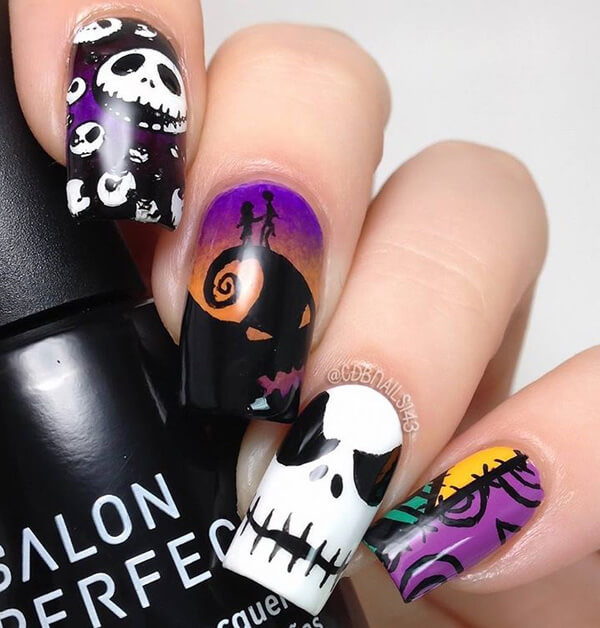 Graphic designs on the nails are in and going by the looks of it, we don't think it will go out of fashion, at least for this year.
Alien Nail Art: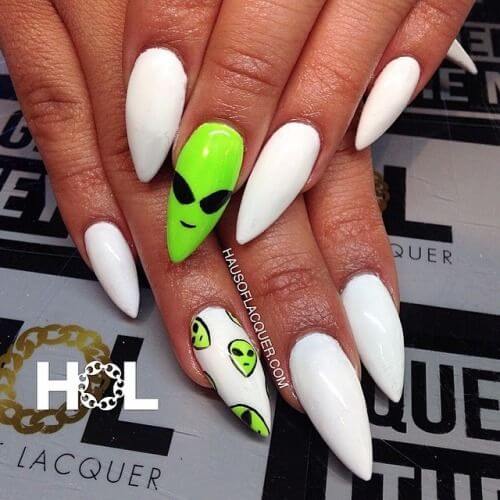 This alien nail art is really sassy and cool. First and foremost, we absolutely adore the color combination. It's really fresh. Secondly, the shape of the nails is also different.
Cute Ghost Nail Art: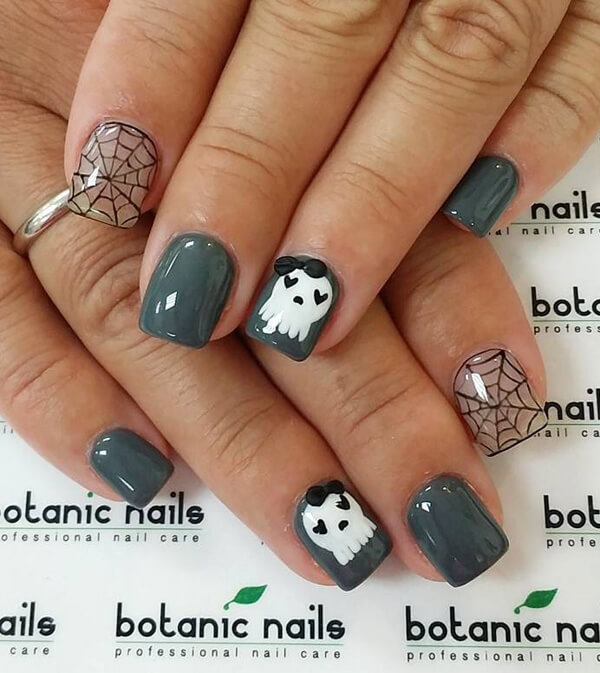 This nail art is a bit different as it has not one, but one statement nail art, one is of a cute ghost and the other is of a spider web. The bow on the ghost looks adorable.
Skeleton Nail Art: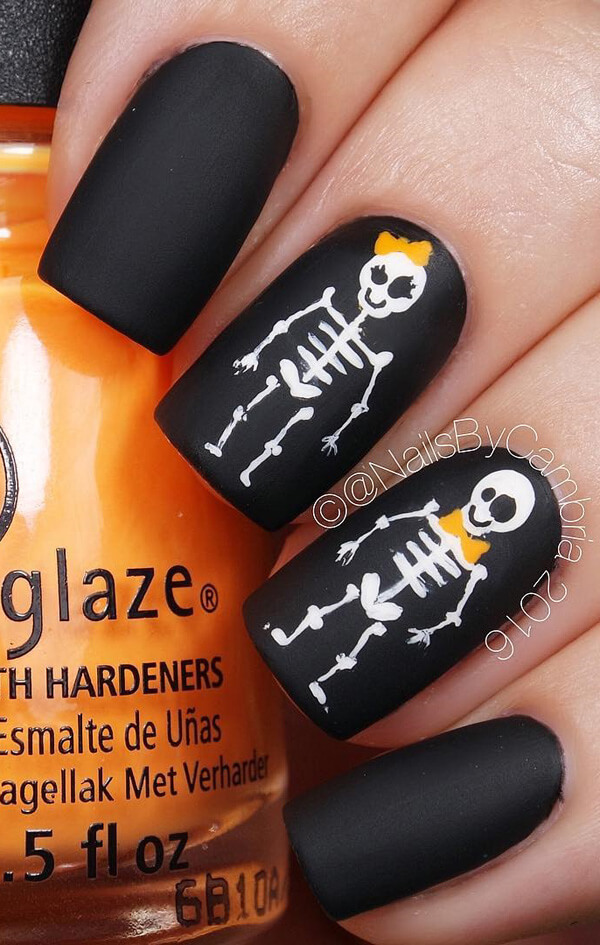 Aww! That's an adorable skeleton couple. The red bows are suiting the black really well. And it's a welcome break from traditional red and black too.
Cute Ghost: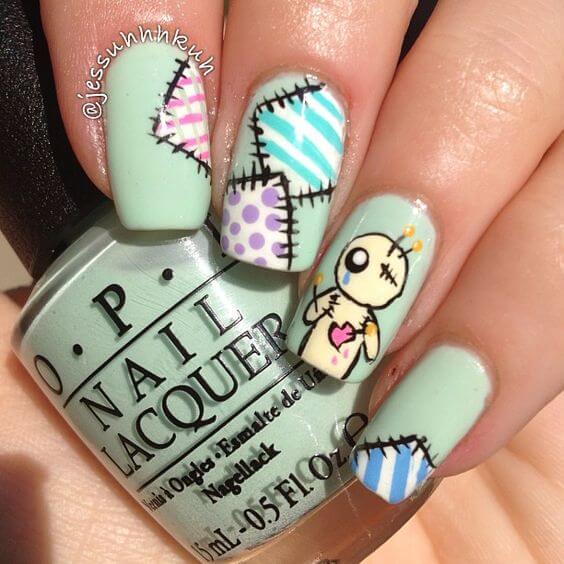 Look at this cute little ghost? Seems like his heart has been, and that's why he's become so upset. Is there anyone who can mend his heart?
For The Cat Lovers: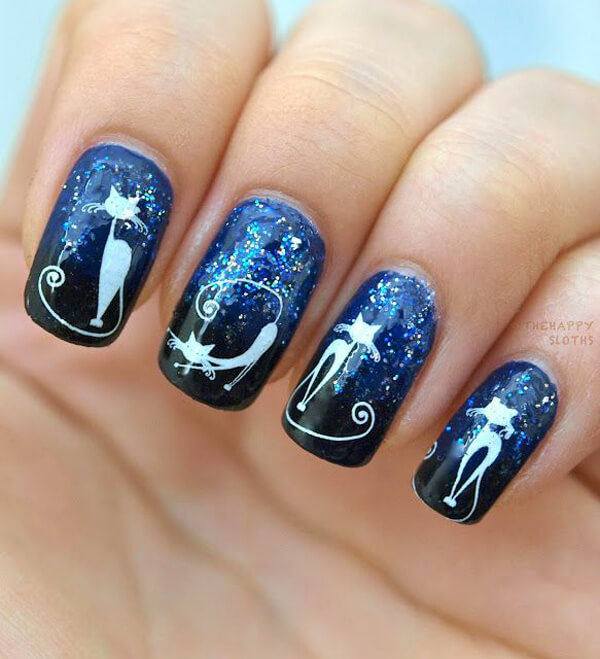 If you have an extreme love for the cats, you can draw them on your nails too. And cats are known to be a bit evil-ish, so they'll go with the Halloween decoration too.
Maleficent Nail Art: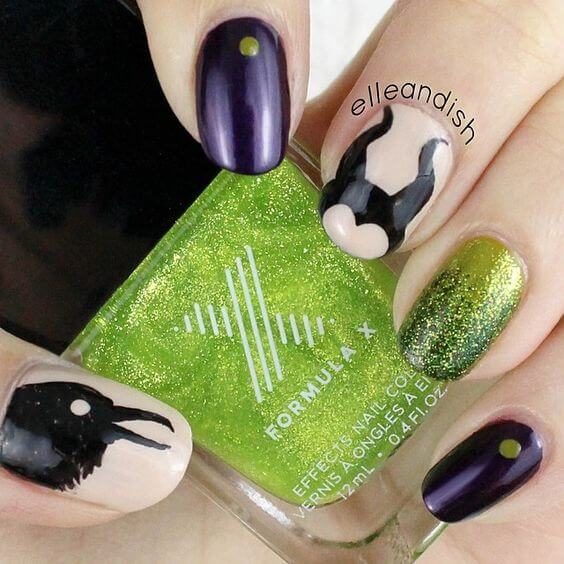 Another unique and creative nail art featuring Maleficent and her pet Raven. This would be one of your most favorite Halloween nail art ideas for 2017.
Creepy Nail Art: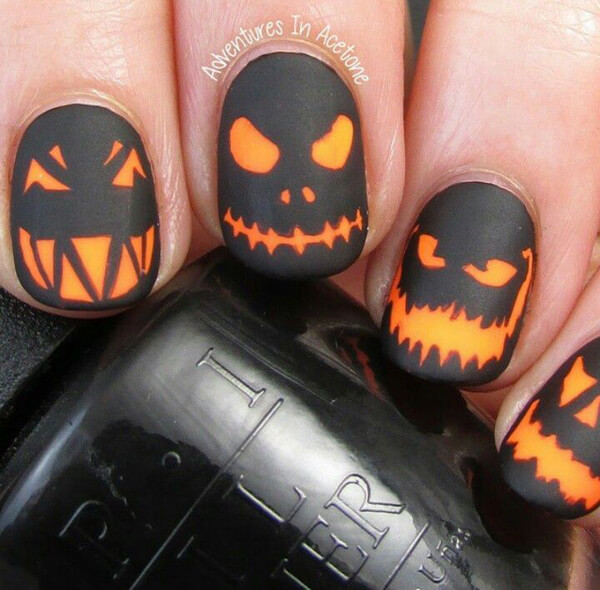 Jack-o-lanterns are not always cute. Sometimes, they can be terrifying too, as seen in this picture. We think it's a nice break from the regular, cute ones.
Frankenstein And His Lady Love: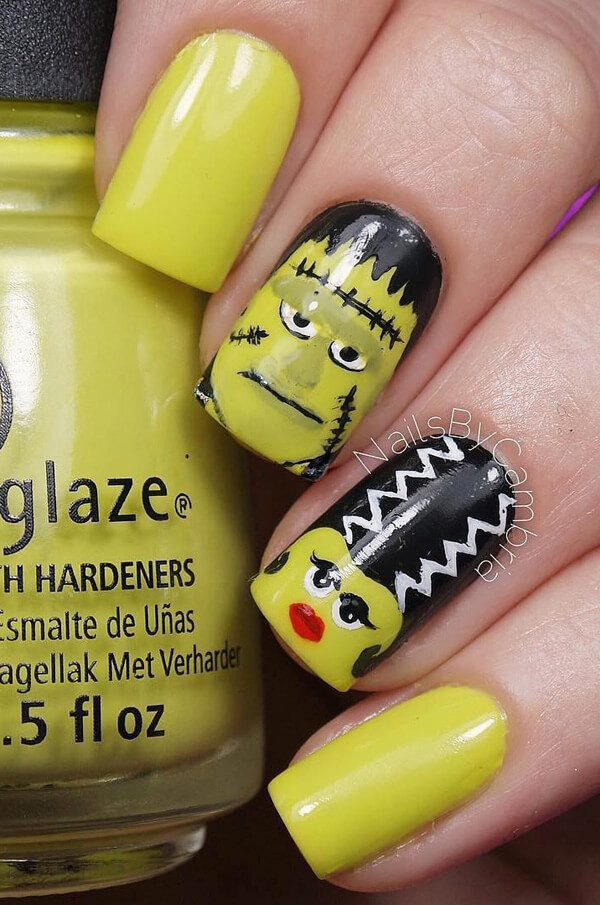 This nail art features Frankenstein and his beloved. Both of them look a bit serious here. What could be the reason?
Adorable Halloween Nail Art: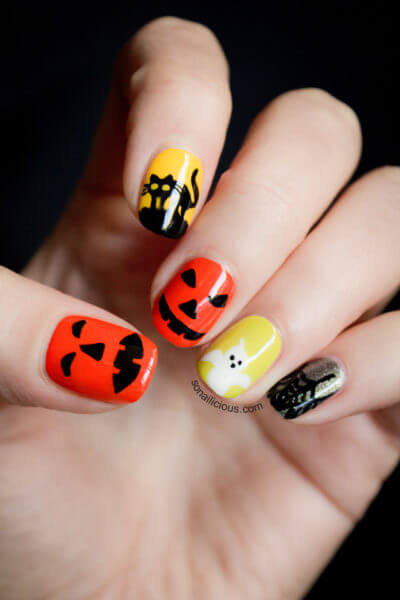 Here's an absolutely adorable nail art idea for you to refer. We loved the color used in this nail art.
Graveyard Theme: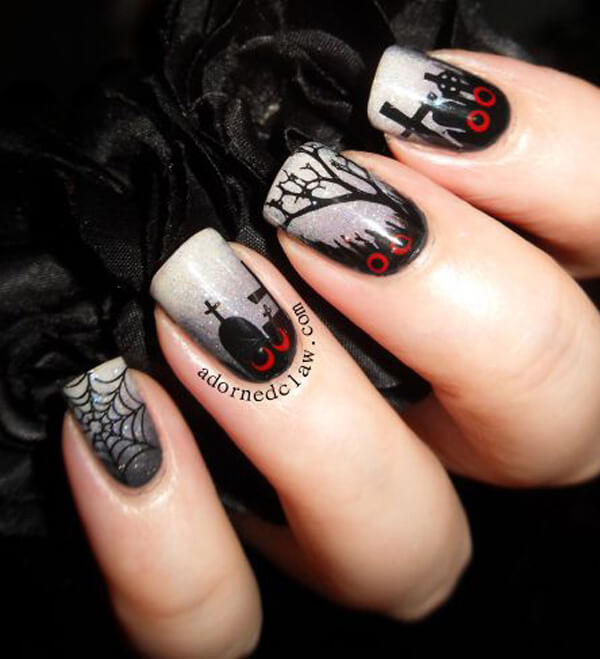 This is one of the creepiest Halloween nail arts we've come across. And we must say it's been done meticulously. We adore it.
Spider Web: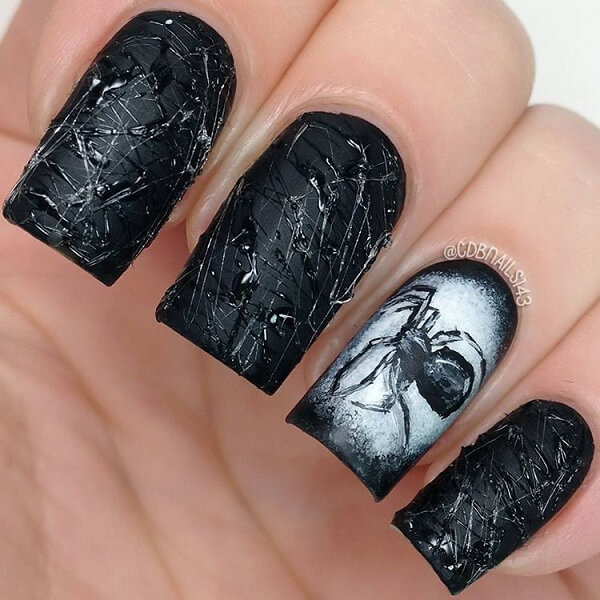 Here's another unique and different Halloween nail art idea. The statement nail features the spider and the rest of them have web. We particularly loved the 3D webs.
Trick-O-Treat: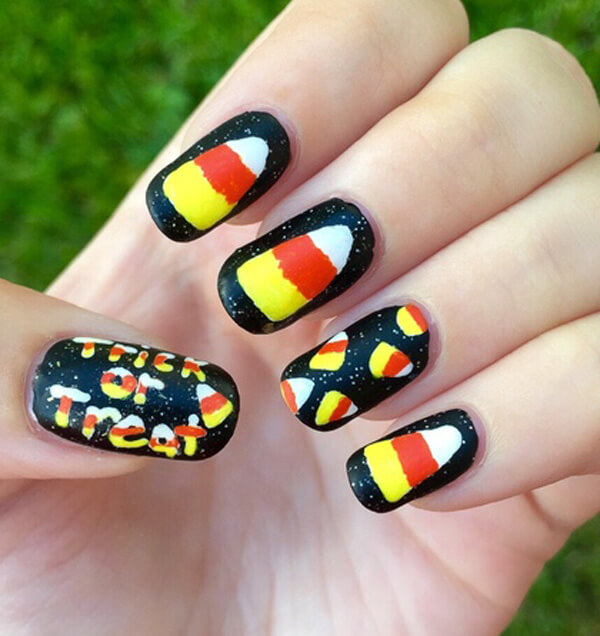 Since trick-or-treat play a vital role in the Halloween, display the same on your nail art too. This nail art features candy corns and wordings 'trick or treat' on the thumb.