What's the first thing that strikes your mind when you hear about Halloween? While most would say Halloween parties and costumes, foodies like me will shout out 'food' loud. Yes, Halloween gives everyone the opportunity to experiment and present their wackiest ideas on the table. And out of all, desserts give the highest opportunity to help you bring your best foot forward. For your assistance, we've rounded up 30 of the best Halloween dessert recipes to satisfy your and your family's sweet tooth. Take a look.
You May Also Like To Read:
Halloween Decoration Ideas For 2017
Top 30 Halloween Dessert Recipes
Witch Finger Pretzel Rods: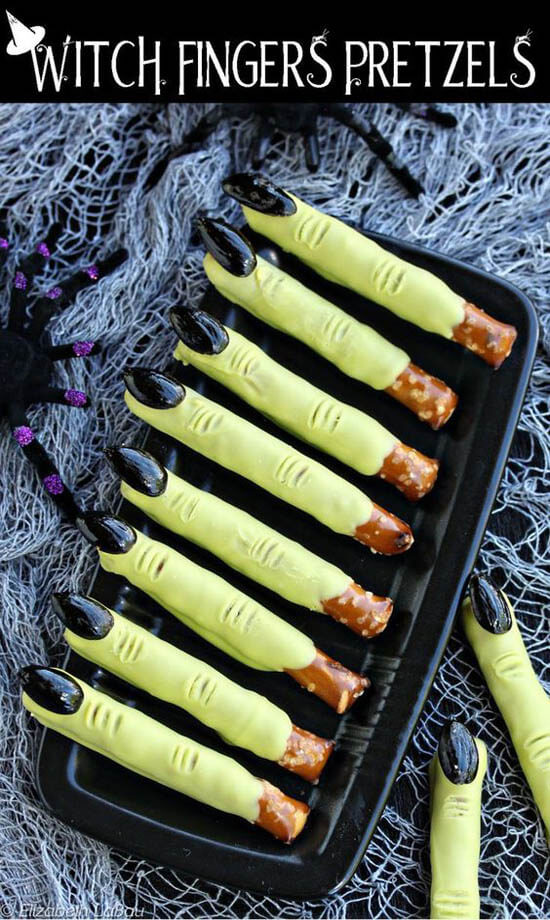 We have to admit that these are a bit creepy to look at. But at the same time, we applaud the creator of this genius idea on how meticulously he's done it. And don't worry, they are pretzels, not fingers.
Halloween Marshmallow Pops: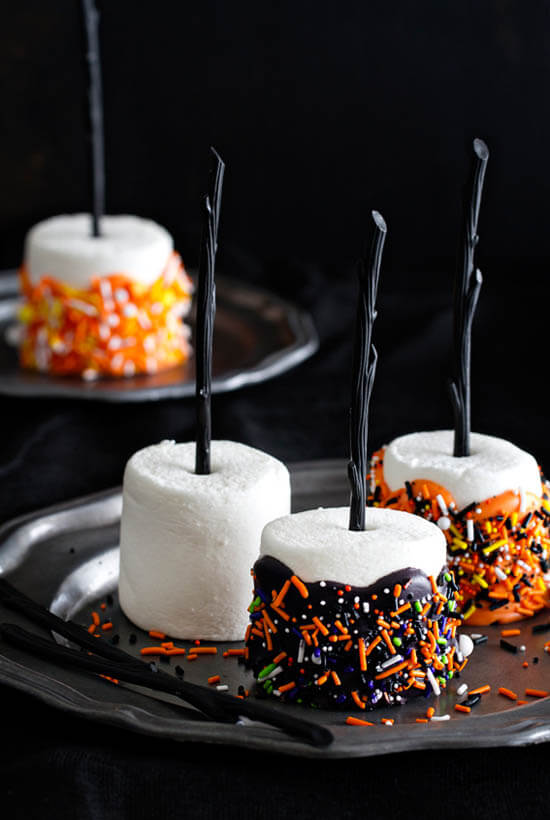 It just cannot get more festive. Most importantly, they are absolutely easy to make.  And believe me, children will squeal with delight seeing these.
Pumpkin Lollipops: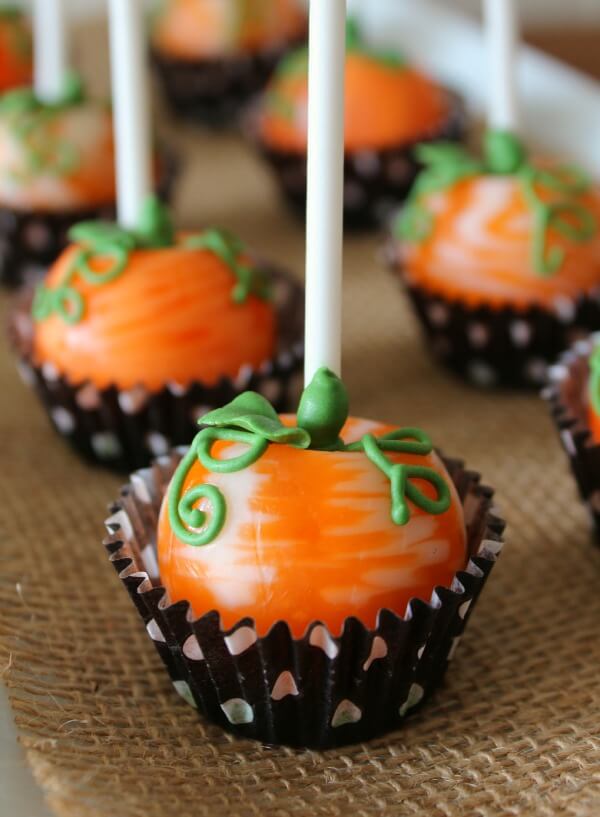 These pumpkin lollipops look so lifelike, just like miniature versions of pumpkin. We particularly like the simplicity of this dessert.
Chocolate Dipped Candy Corn Treat: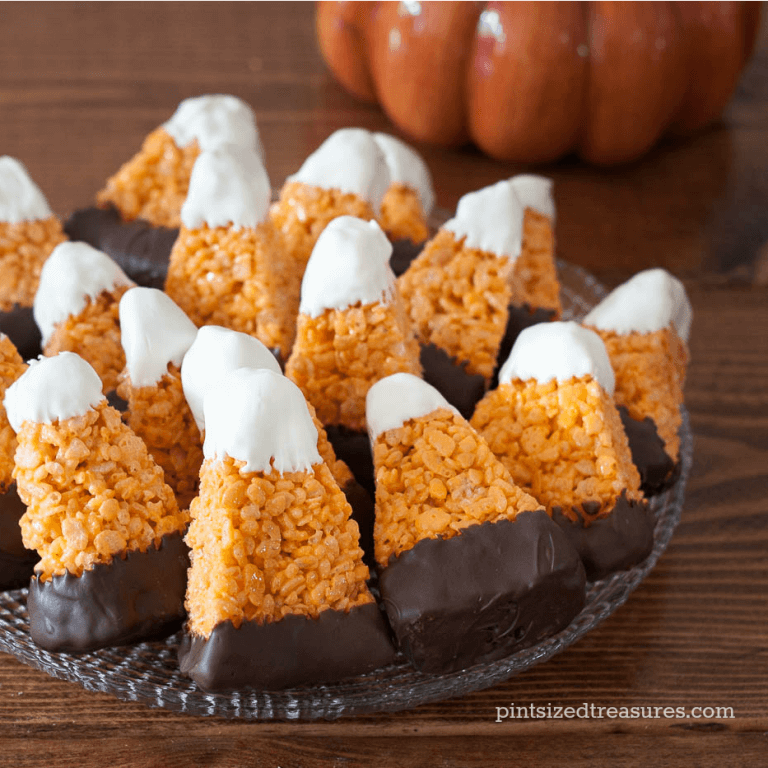 Here's another amazing Halloween sweet treat recipe for you. You can make the kids nibble on these as they wait for the scrumptious Halloween dinner.
Mummy Pretzels: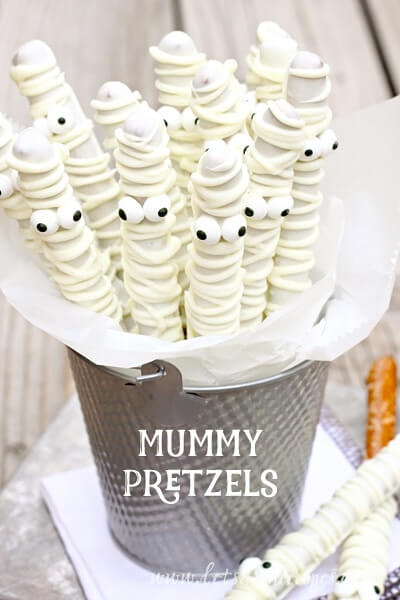 No child can even escape from the cuteness of these mummy pretzels. All you need to do is melt white chocolate, then first coat the pretzels in white chocolate and drizzle some on top of it using a squeeze bottle.
Poison Toffee Apple: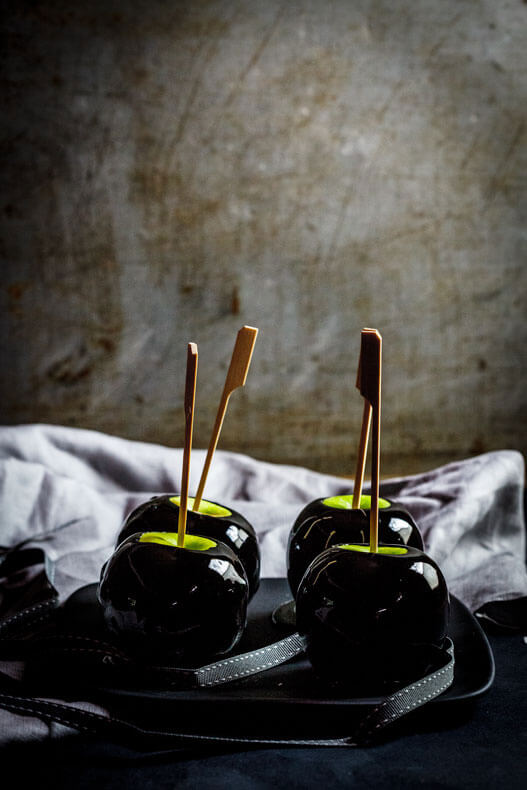 Don't let its name freak you out. It just looks sinister. But when you'll eat it, you'll realize it's perhaps the most delicious form of apple you've tried in your life.
Candy Corn Milkshake: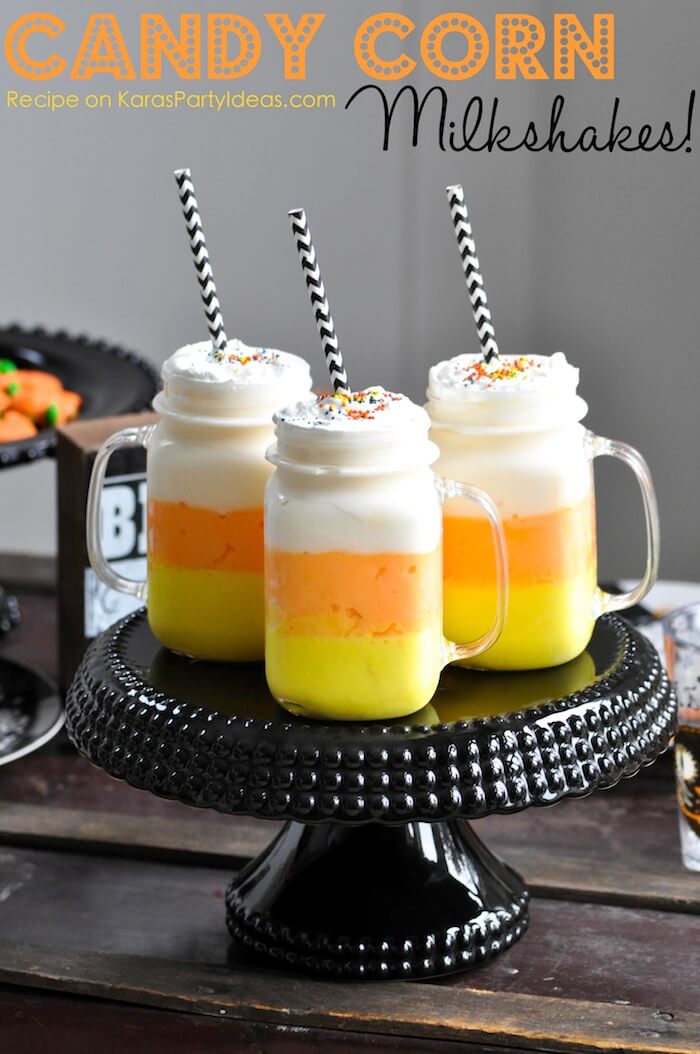 This candy corn milkshake will quickly recharge your child for the 'trick or treat'. Just see how pretty it looks? Most of the ingredients used in the dessert would be found in your house, except maybe, yellow food coloring.
Strawberry Ghosts: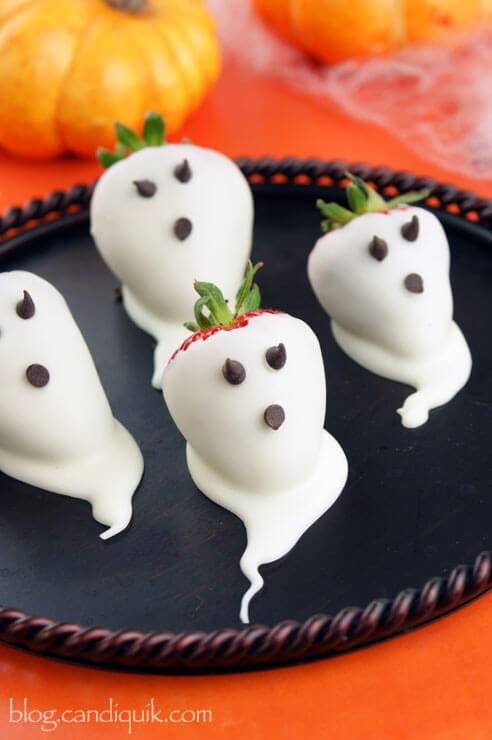 Who on earth can even get scared of these strawberry ghosts? Going by their looks, it seems that they do not want anyone to eat. So even the ghosts get scared?
Halloween Mini Bat Treats: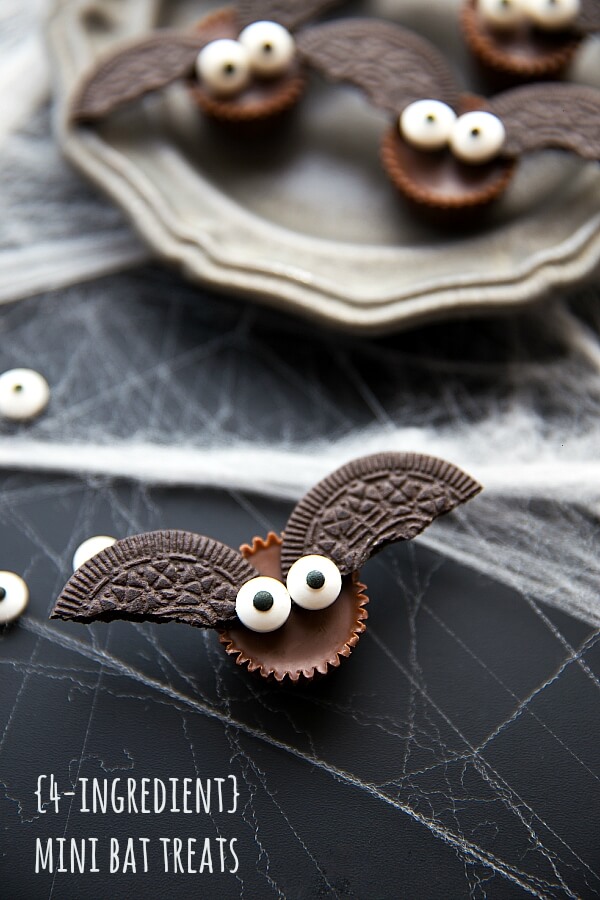 We guarantee you that your child won't stop at one with these Halloween mini bat treats. You can include this sweet treat if you're hosting a bat themed Halloween party. It will make an excellent addition.
Halloween Bundt Cake: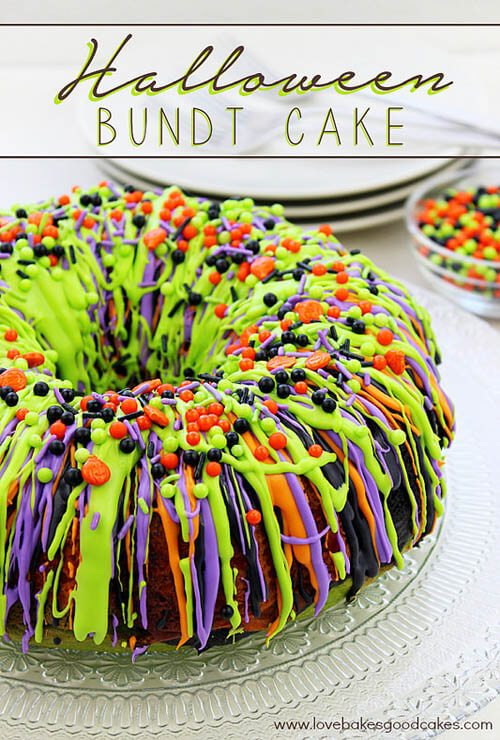 The Halloween colors used for decorating this Bundt cake are making this dessert stand out. And surprisingly, it's easy to make too.
Halloween Ghost Pops: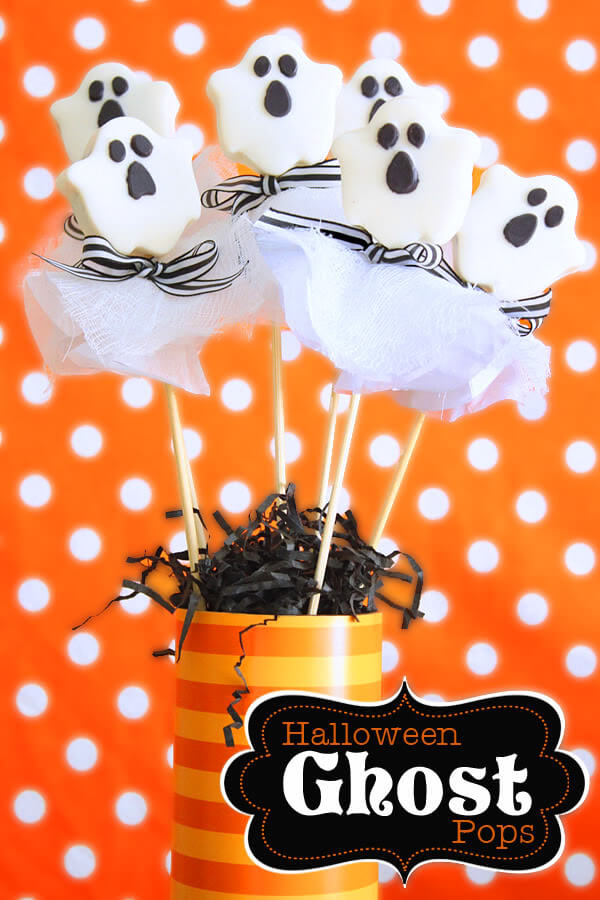 These Halloween ghosts are so cute that they won't even think of harming you. And unlike what you think, these ghost pops are not made using marshmallow. They have been brought together using Oreos.
Cauldron Cupcakes: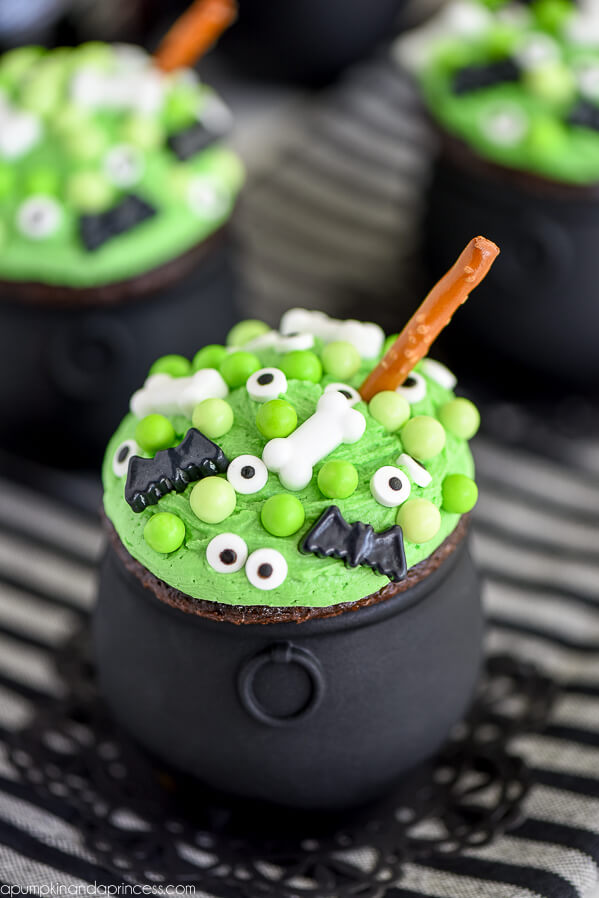 These cauldron cupcakes look quite lifelike. But let us tell you, the cauldron is silicon mold, so you must remove it before eating.
Nutter Butter Boos: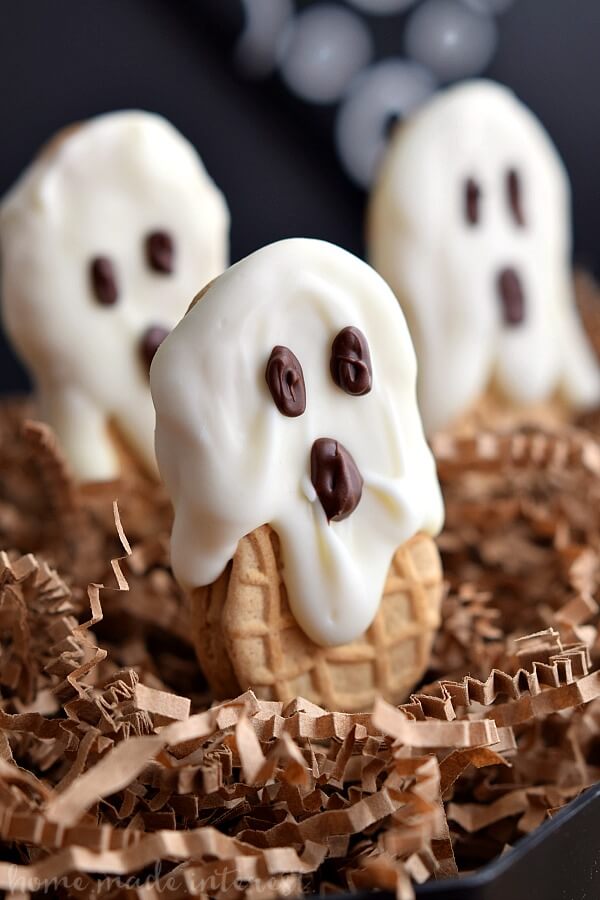 This is seriously the easiest we could come up with. Yet, it's so adorable. Just ensure that the white chocolate is dried completely before you make the nose and mouth on it.
Little Devils Meringue Cookies:

We've got these meringues for the little devils in your house. These cookies will add a mischievous touch to your dining table.
Red Bloody Red Velvet: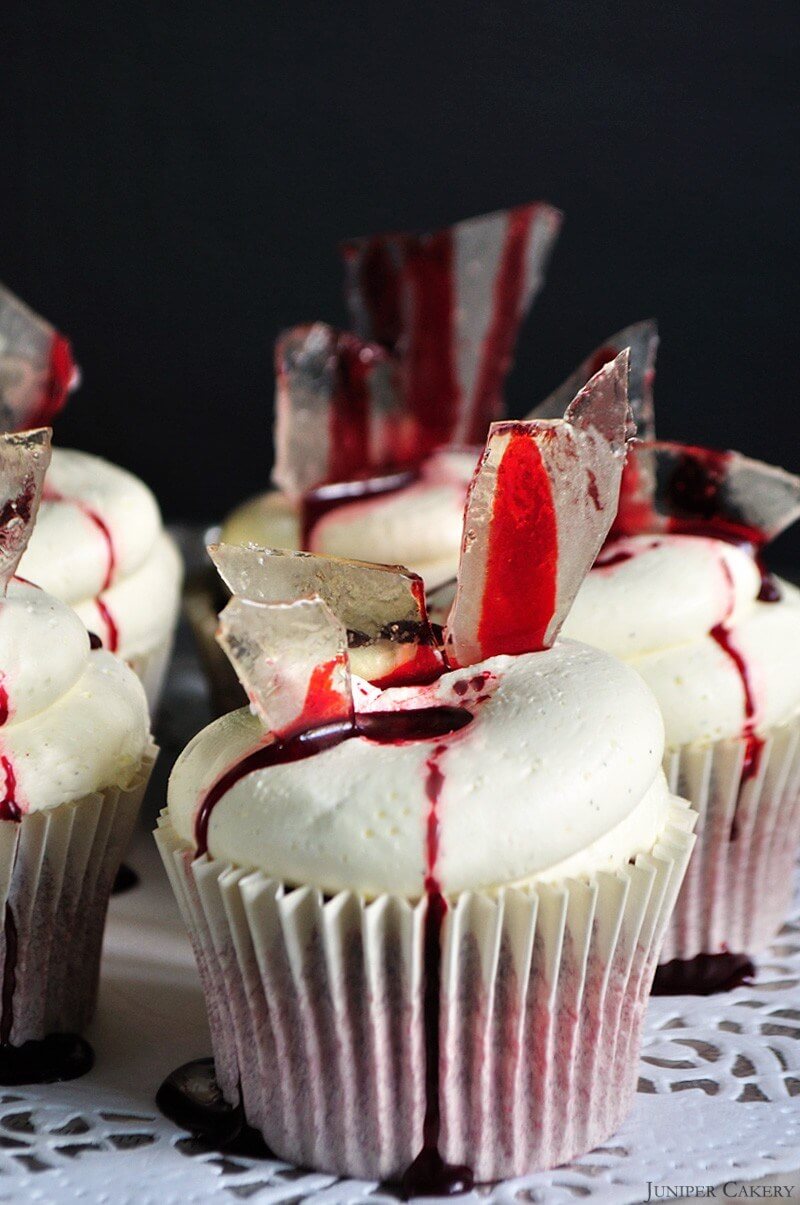 Sweet and cute looking red velvets just do not go with the season of Halloween. You have to make it look a bit outlandish to stand out. This red velvet cake will be a bit messy to make, but it's definitely worth it.
Bloody Truffles: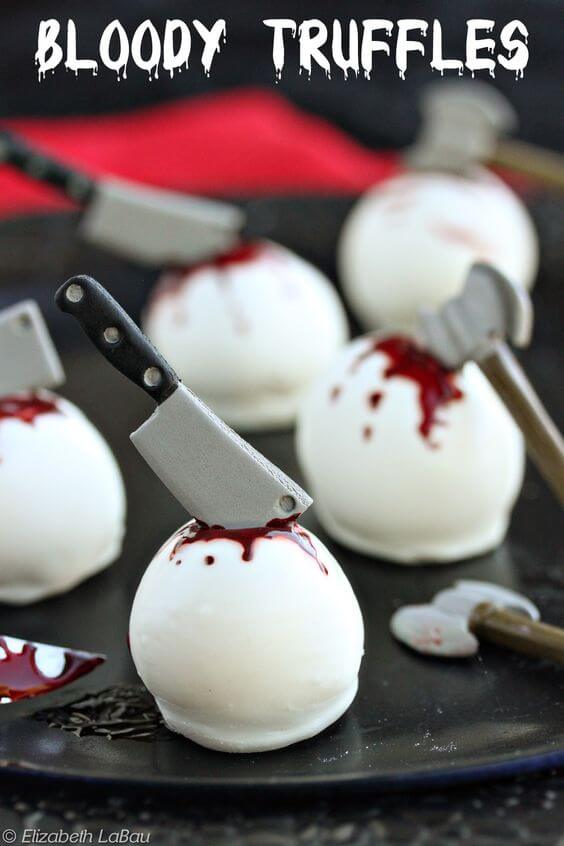 These truffles are gross to look like, but will make a cool Halloween candy. The embedded knives are giving an extra dimension to this truffle.
Vampire Float: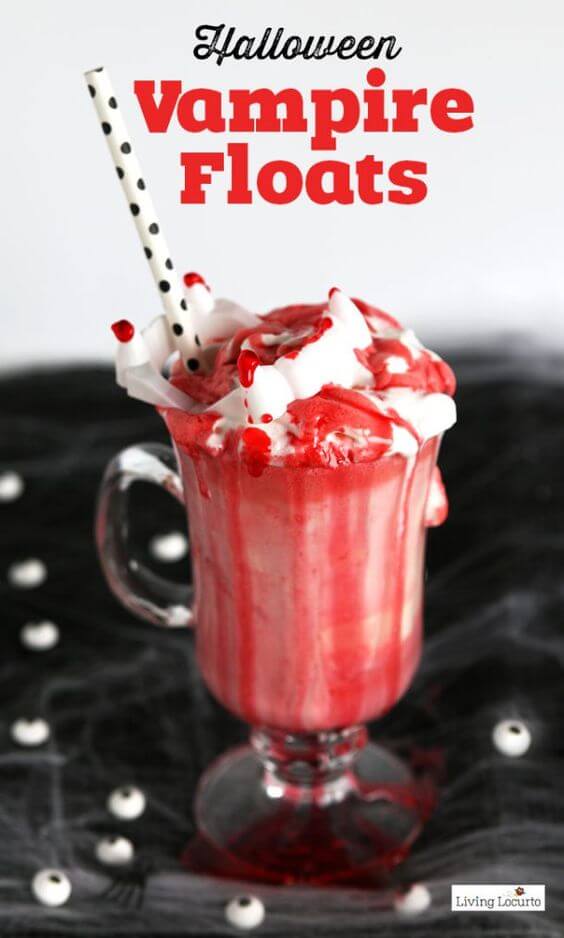 Float isn't technically a dessert, but it will at least, satisfy your sweet tooth. And before you say, even we know that it looks a bit gross, but it's equally delicious too.
Chocolate Monster Cookies: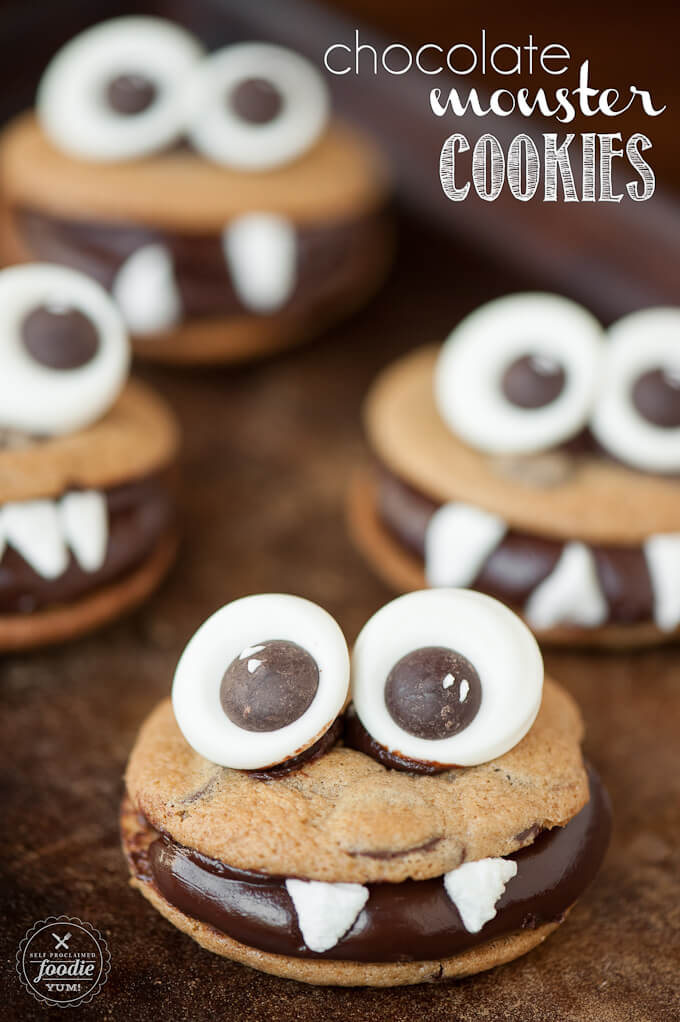 These adorable monster cookies are made using chocolate chip cookies, homemade googly eyes and chocolate ganache. And they taste really good.
Witch Hat Cookies: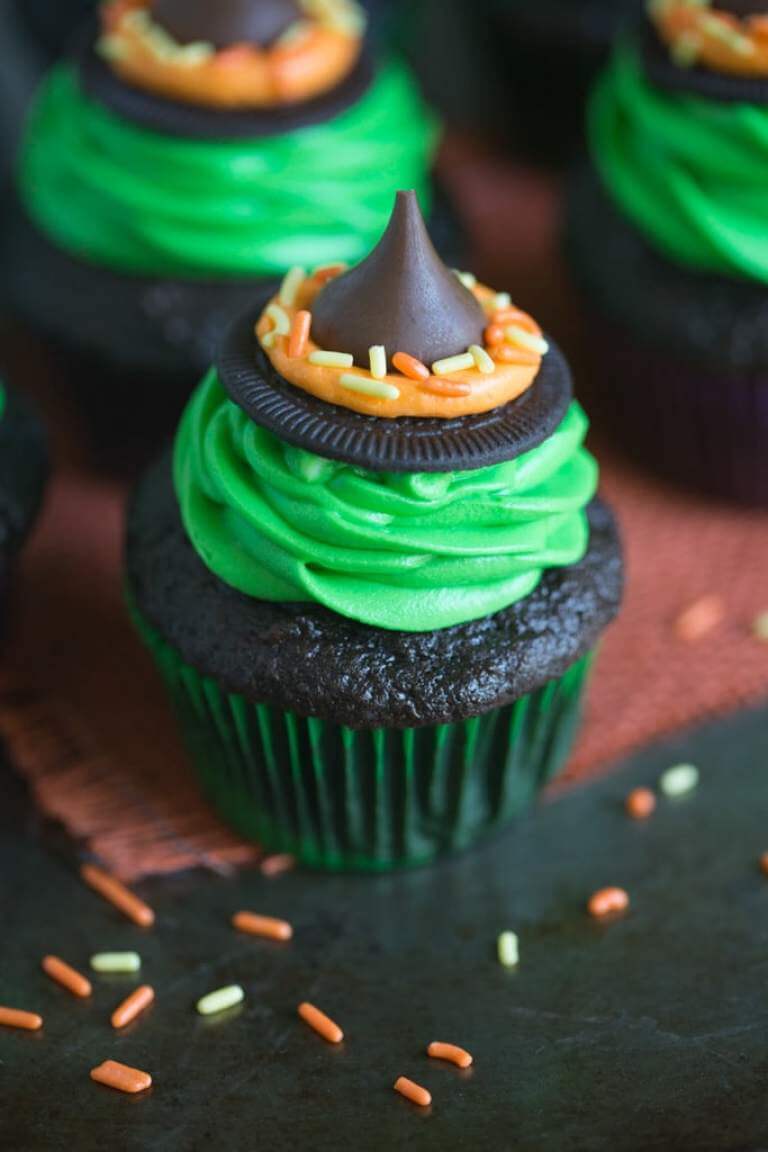 Let your child assist you while making these cookies by having them put sprinkles and witch's hat on it.
Rice Krispie Treat Mummies: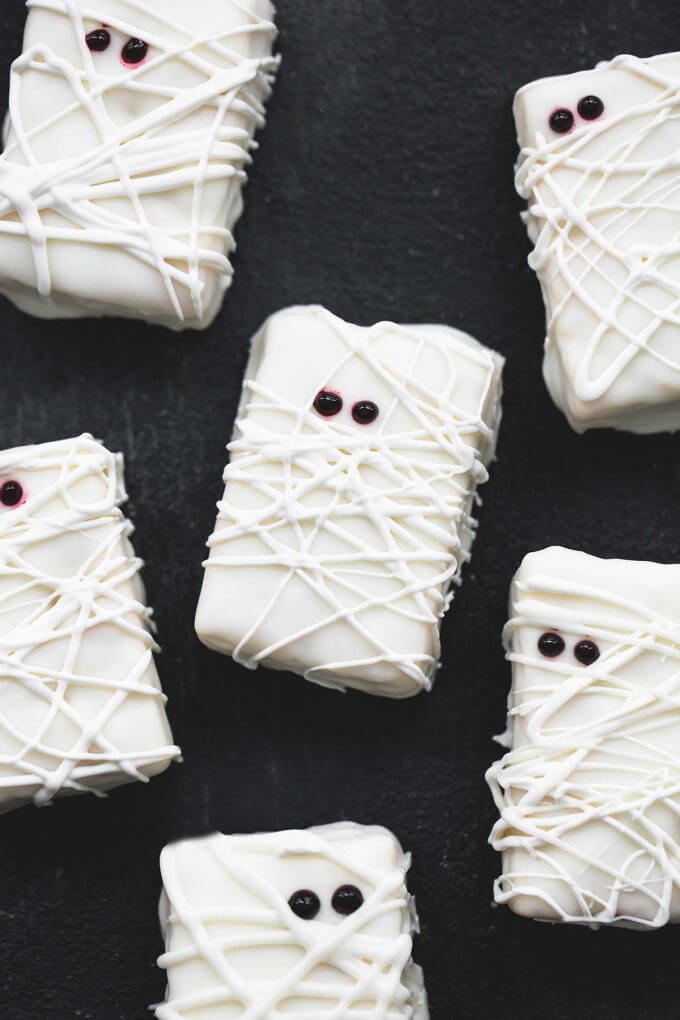 These 3 ingredient rice krispie treats will make excellent Halloween party treat.
Five Ingredients Halloween Oreo Truffles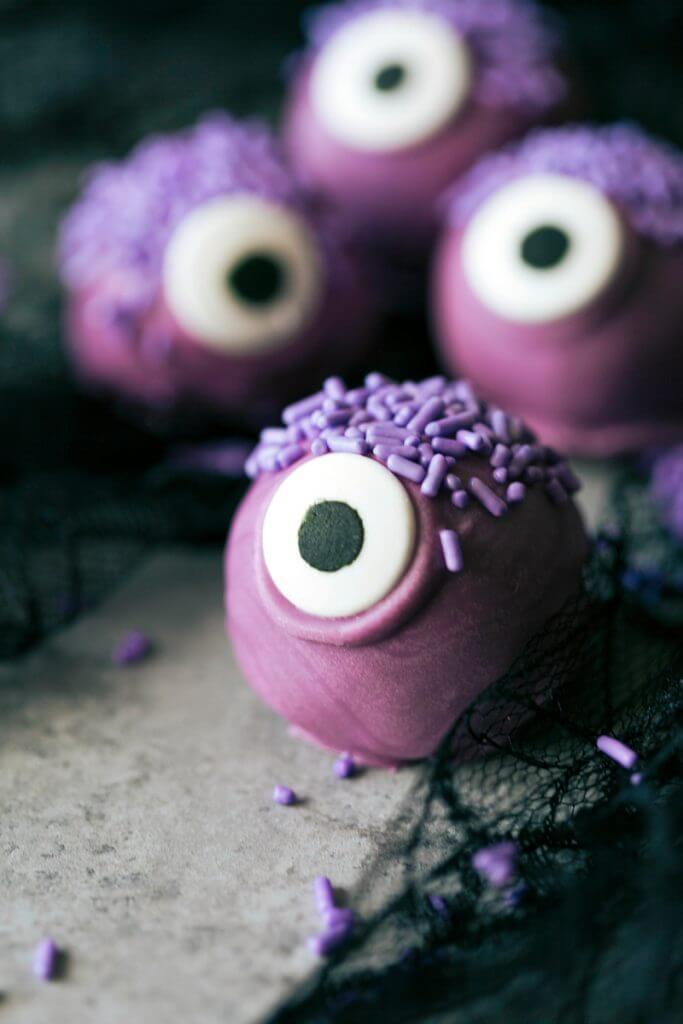 If "Monster INC" is your child's most favorite movie, you can make these truffles, which will remind them of their favorite character. It's basically a big eye with sprinkles on it. You can change the color to green if you want.
Chocolate Spider Trifle: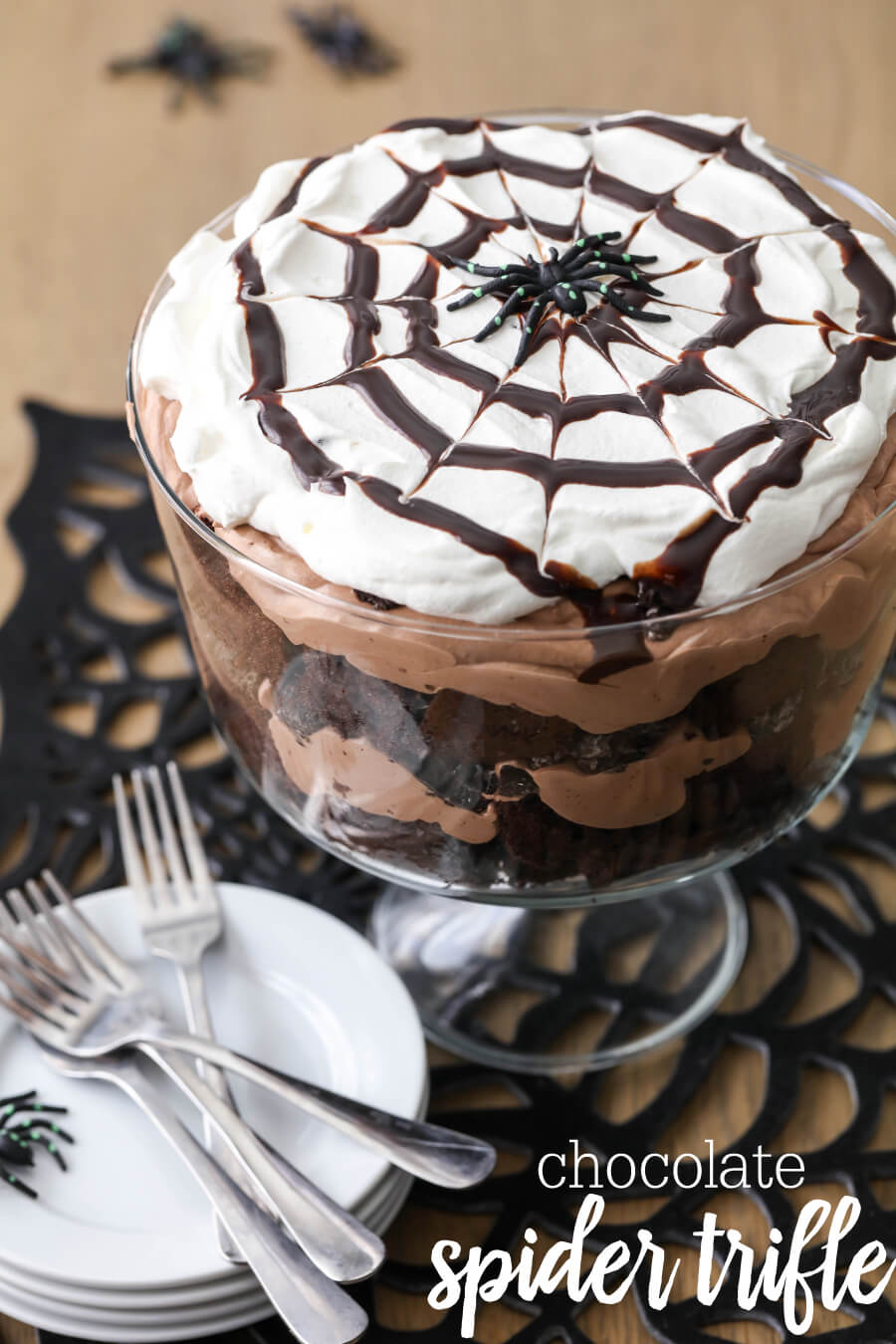 This chocolate spider truffle will be a huge hit with your children and their friends, of course. It's simple, delicious and requires ingredients that are easily found in every home. So you can enjoy it all year long.
Melted Witch Cupcakes: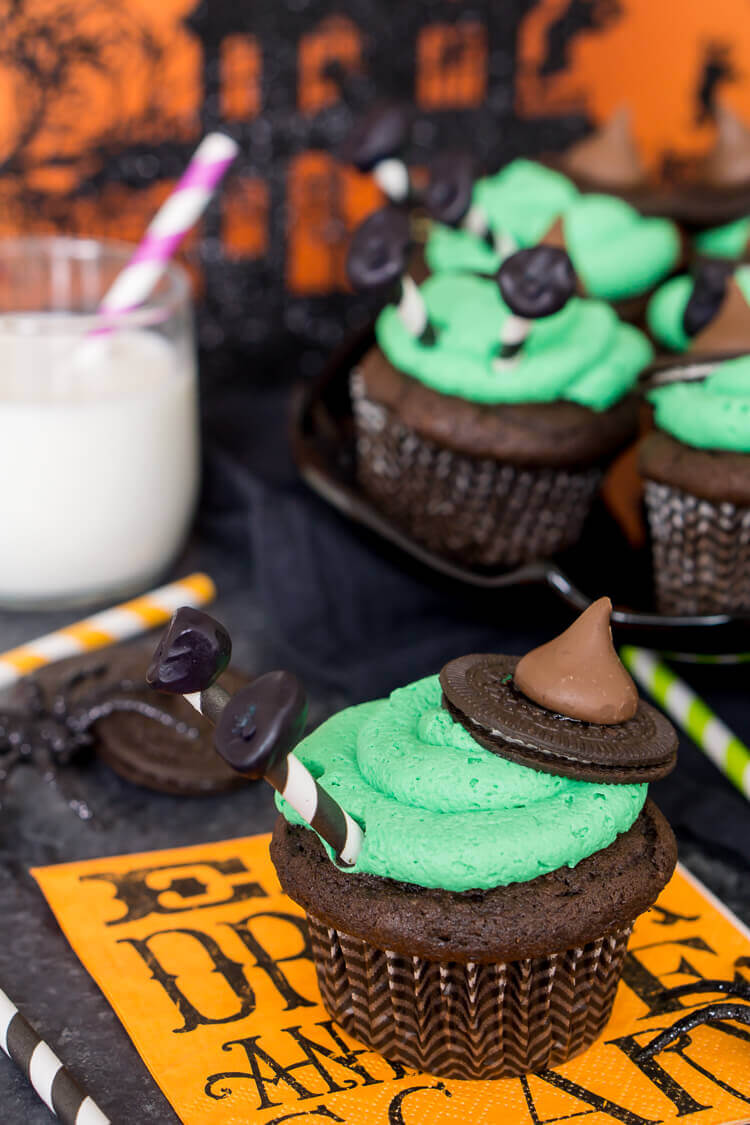 If you've seen the movie, "Wizard of Oz" movie, you'll know what we're talking about here. And trust us, the movie is such a classic that these cupcakes will be a hit even if they are made in 2027.
Chocolate Turtle Apple Slices: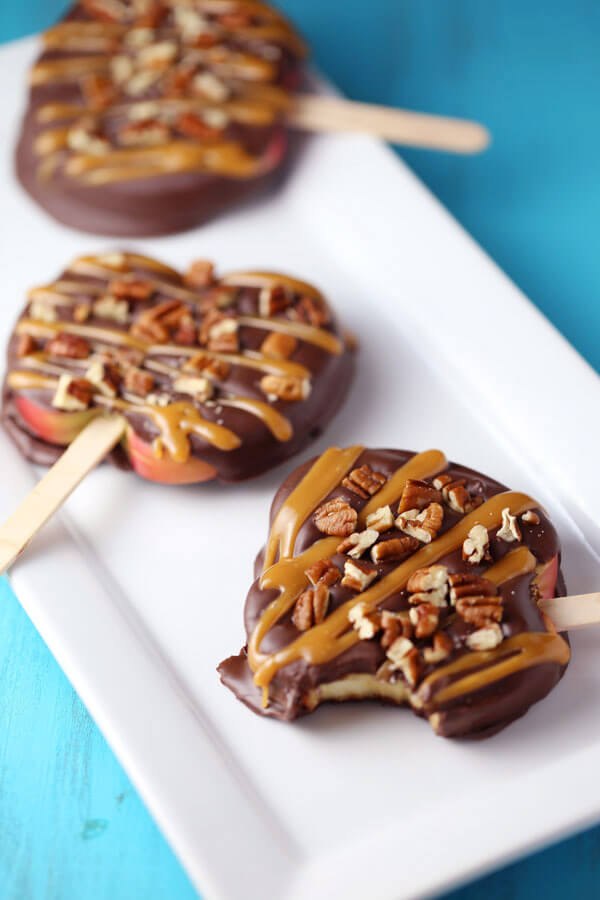 Since autumn is all about ripe apples, and Halloween happens to fall in this season, why not make use of it and prepare these delicious chocolate turtle apple slices?
Monster Mash Halloween Candy Bark: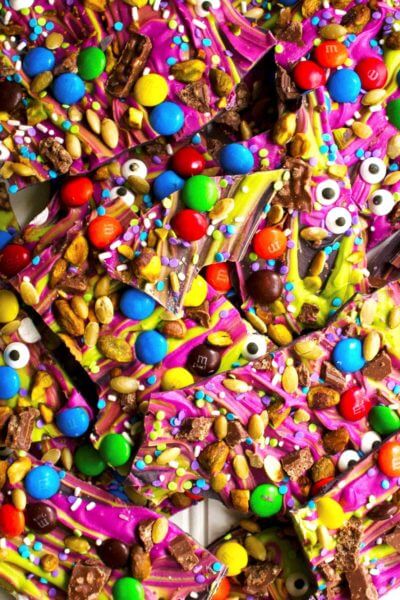 You can prepare these monster mash candy barks to gift your child's friends as return gifts.  Or let them enjoy it at the party itself.
Melted Witch Bark: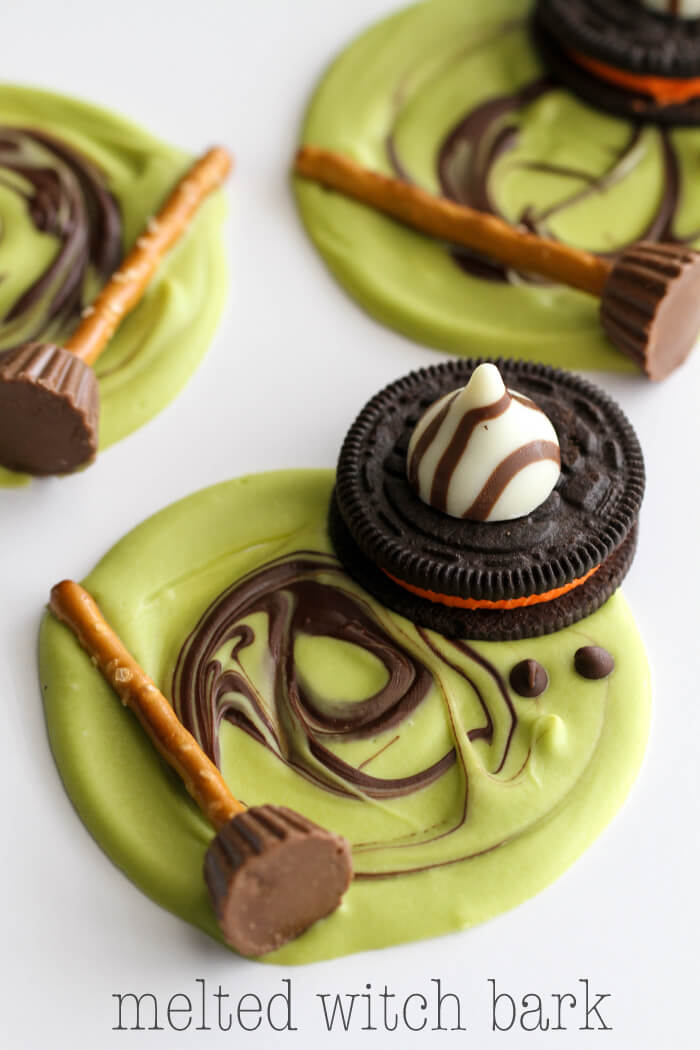 Instead of the melted witch cupcakes, you can even prepare these melted witch barks, especially if you're pressed for time.
Monster Cupcakes: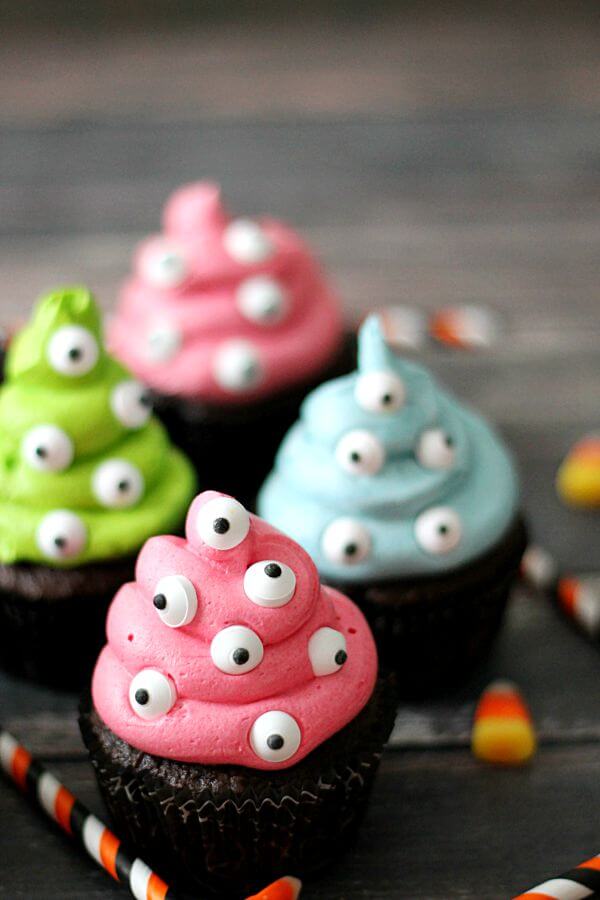 These monster cupcakes are also perfect for Halloween treats. We loved the idea of not using a single color for the frosting.
Stenciled Halloween Sprinkle Cake: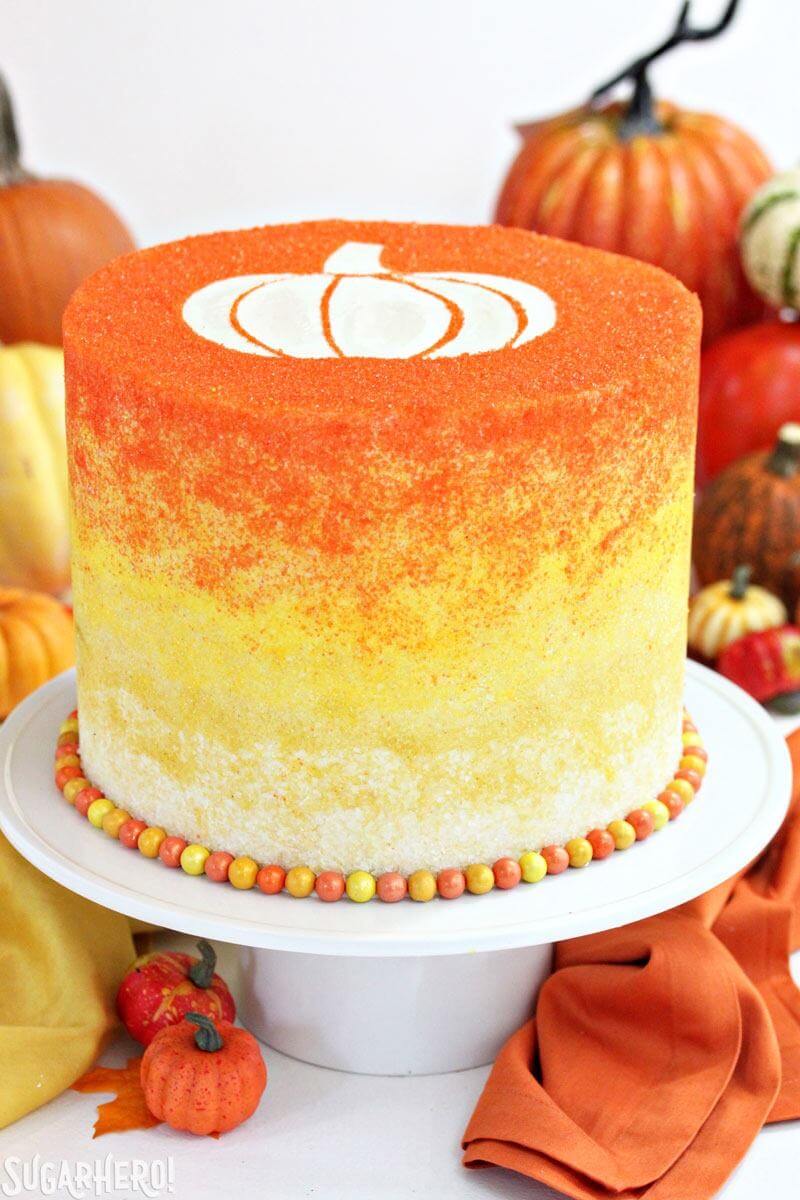 Who thought baking a cake could be such as easy task. You just need to get hold of some ombre sprinkles and a parchment stencil to make this masterpiece.
Monster Pumpkin Pie Pudding: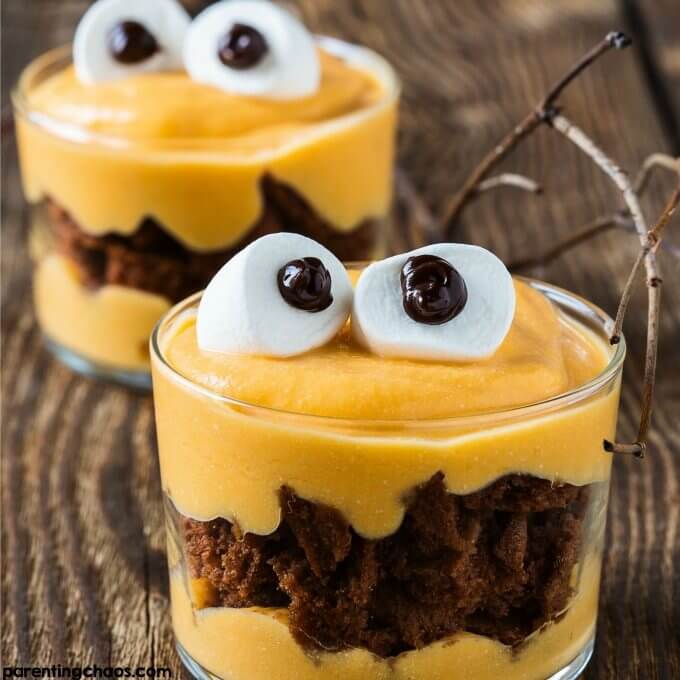 Since pumpkin pie is already a major hit with children, we decided to tweak it a bit to make it even more fun. You can even try making it with your child. I'm sure they'll enjoy it.
Halloween Marshmallow Pops: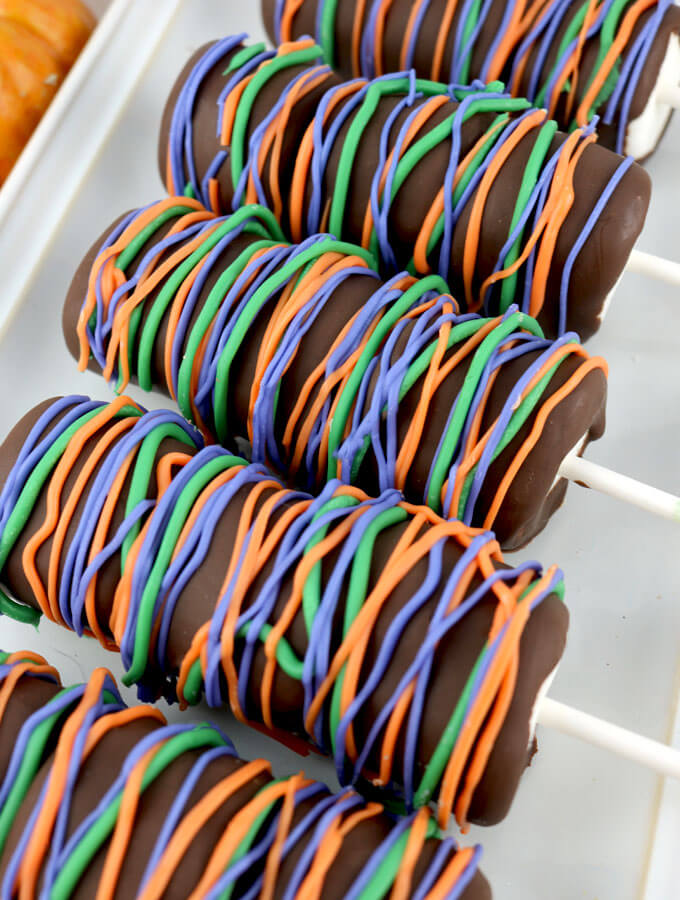 If you want to keep things understated, you can go for these Halloween marshmallow pops. It's yummy and comes together in a jiffy.
These Halloween dessert recipes are sure to leave everyone impressed in your house. What are your favorite Halloween dessert recipes from this list? Let us know by commenting below.