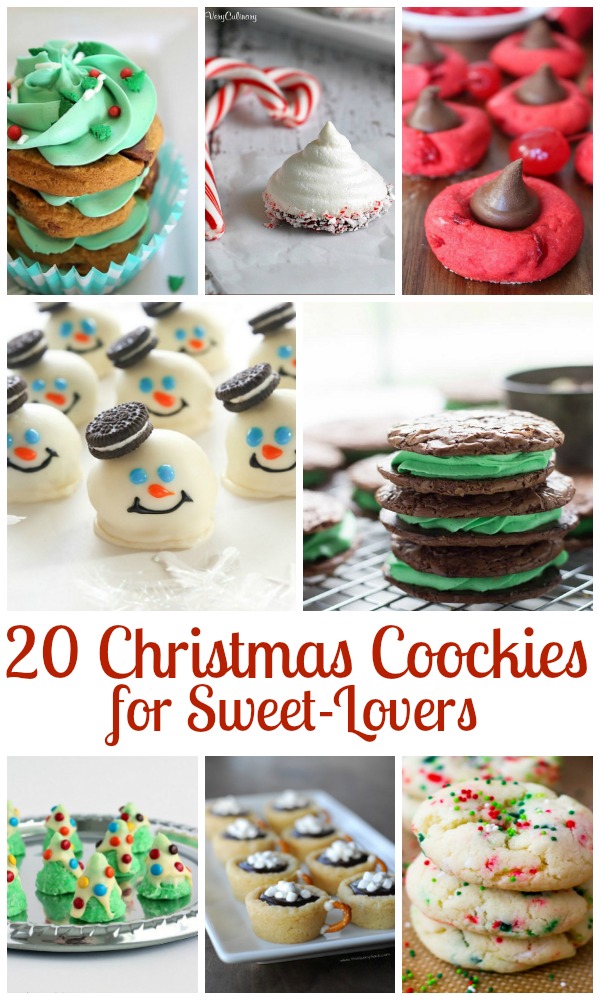 What's Christmas without cookies? The combination itself is mouthwatering isn't it? Most families in our place just enjoy baking cookies, in fact for them it's a tradition!
Do not worry if you feel that you are short of creative ideas for cookies this season. We will guide you with some exclusive collection of best creative cookie recipes of this season.
So are you ready to give a treat to Santa this time? For the all the sweet lovers out there we are presenting the 20  " must try" cookies of the season. Check out and enjoy a happy cookie time!
1.The Christmas Cookie Tree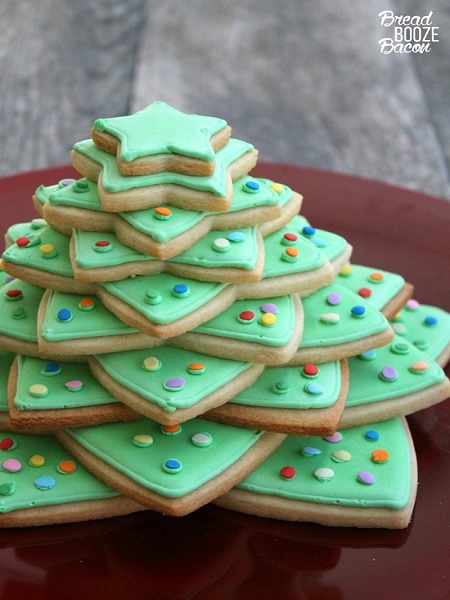 This easy to make Christmas Cookie Tree will delight your kids and catch the attention of holiday guests in a minute! Who won't get a happy smile when they see this cute little cookie tree? The kids will definitely wish that this Christmas stays on forever!
U think its hard job to bake the cookie? It's really that simple if you know the right steps. And you can also engage your kids while baking this pretty cookie tree.
Check out the easy recipe for Christmas Cookie tree right here at breadboozebacon.com
2.The Rolo Cakes with Sea Salt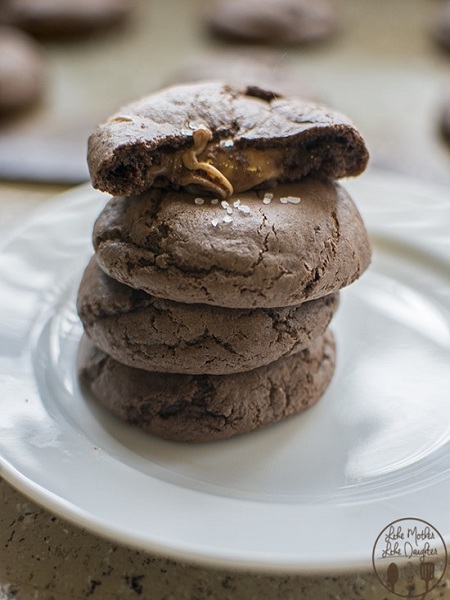 The Rolo Cakes are the best thing ever among the Christmas special cookies! It is filled with  caramel and is so perfectly sweet and chewy that your heart will melt the second u have it. The pinch of salt sprinkled on top of the cookie makes it extra delicious!
So don't u wanna try baking this cookie? We bet you would wonder that why didn't u come across this recipe earlier!
Check out the easy recipe for the Rolo Cakes right here at lmld.org
3. Confetti Cake Batter Cookies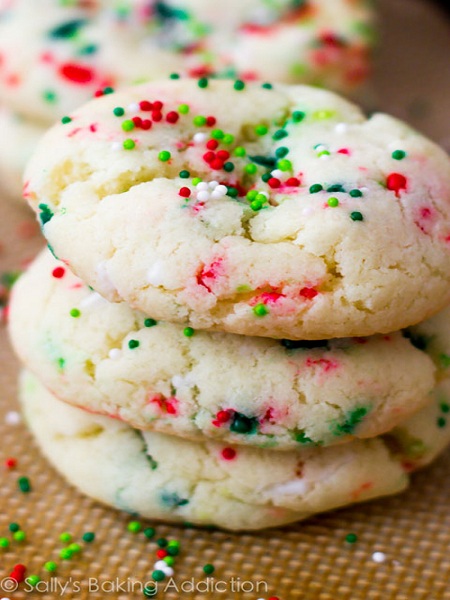 Are you a sprinkle lover? Then this is one of the easiest cookies u can make within no time!
This fluffy cute looking cookie covered with sprinkles is the going to be the best cookie u have ever baked on a Christmas season. You would want it everyday!
Check out the easy recipe for Confetti Cake Batter Cookies right here at sallysbakingaddiction.com
4. Chocolate Mint Sandwich Cookies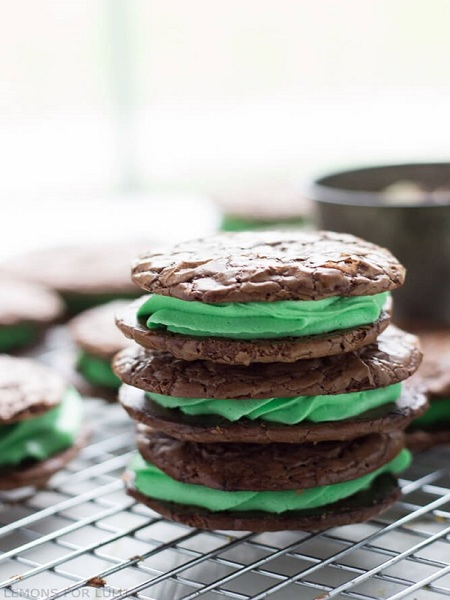 Hello Mint lovers! This recipe is exclusively for those who have a sweet tooth with a soft spot for mint. This cookie is rich in chocolate with a filling of soft mint and is so delicious! Not only on Christmas, but trust me, if you feel like u are having a bad day, then this cookie is the right choice for u!
Check out the easy recipe for Chocolate Mint Sandwich Cookies right here at lemonsforlulu.com
5. The Chocolate Crinkles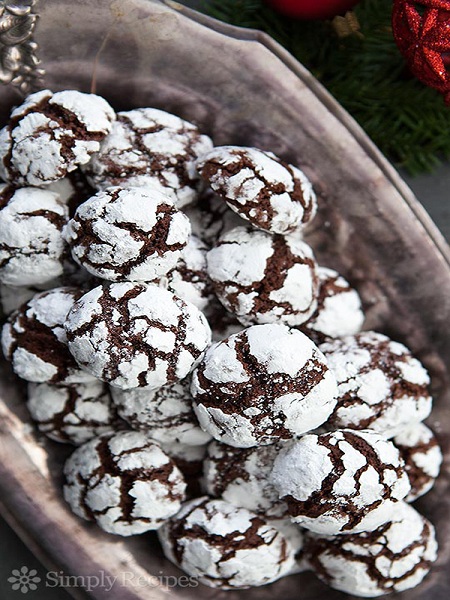 The chocolate crinkles are not just for the christmas, but also for any season of the year!
This cookies are  one of the best loved cookies all over the world. This is the right choice if you are craving for some special chocolate treat this season.
Check out the easy recipe for chocolate crinkles right here at simplyrecipes.com
6. German Chocolate Cookie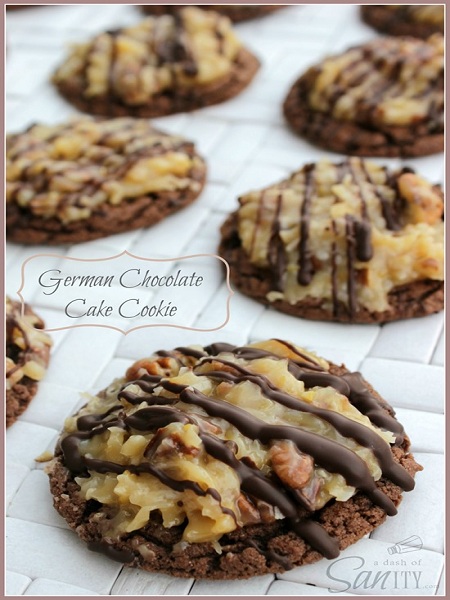 The German Chocolate cookie filled with caramel pecan and caramel frosting  is one of the best cookies you will ever eat!
This cookie is one of the most traditional cookies you will get to make! Too delicious to handle!! So why don't u give it a try this Christmas?
Check out the easy recipe for The German Chocolate Cookie right here at thegraciouswife.com
7. Christmas Tree Cookie- Again!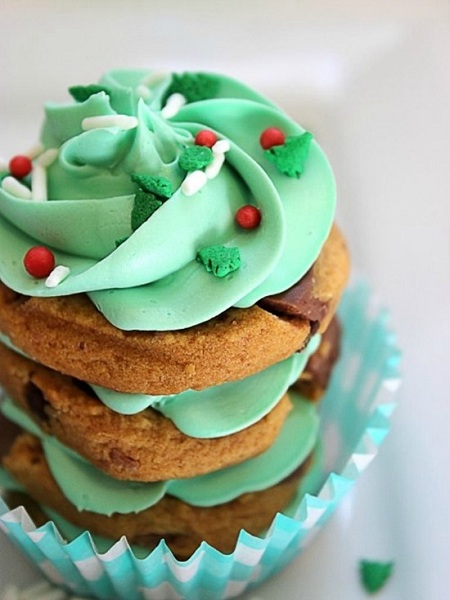 Yet another Christmas tree cookie.. Look how cute it is!
Check out the easy recipe for this Christmas Tree cookie right here at adashofsanity.com
8.Hot Chocolate Cup Cookies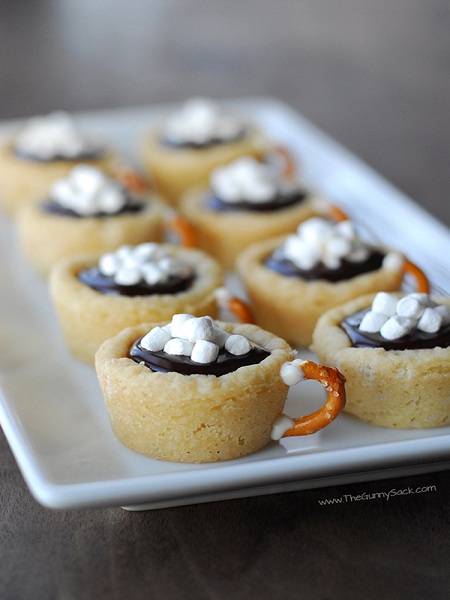 The hot chocolate cup cookies are filled with chocolate ganache and have a pretzel handle
This cookie is to be baked when you are going through a typical cold winter day. Keep yourself warm! It is really a cute idea for this Christmas season! Also, it so simple to make as well.
Check out the easy recipe for  hot chocolate cup cookies right here are at thegunnysack.com
9. Melted Snowmen Oreo Balls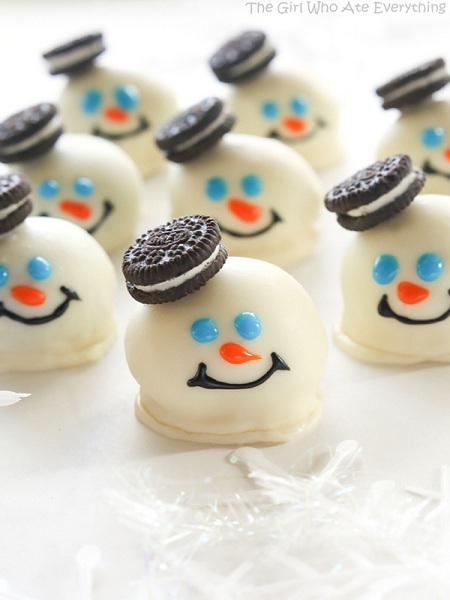 The melted snowmen oreo balls are in trend festive cookies and is very creative! Just bake it and give away at parties, you will see how fast this cookies vanish in no time!
Check out the easy recipe for Melted Snowmen Oreo balls at the-girl-who-ate-everything.com
10. Peppermint candy cane cookies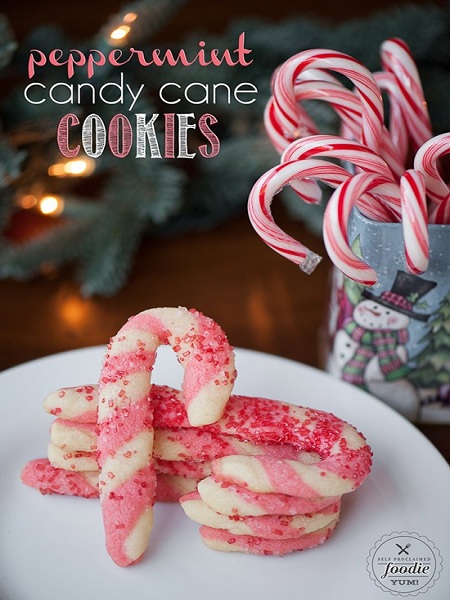 The peppermint candy cane cookies are one of  the most favorite cookies of Christmas season. Its attractive design will right away grab the attention of your guests!
Check out the easy recipe for Peppermint Candy cane cookies at selfproclaimedfoodie.com
11. Chocolate Kiss Powder Puff Cookies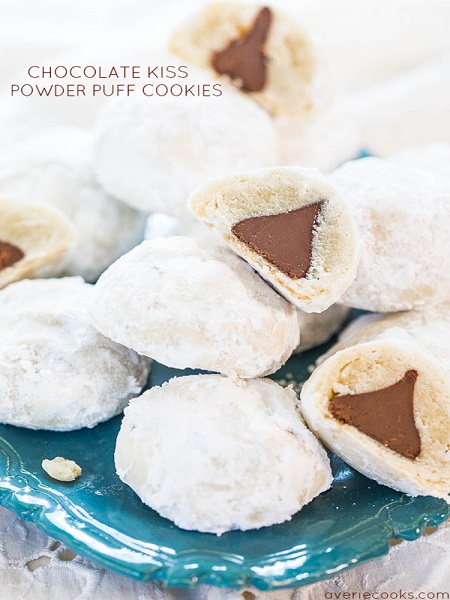 Have you heard of  Russian tea cakes? Well..The chocolate kiss powder puff cookies is just another version of it! It is so fluffy just like a cloud and utterly delicious!
Check out the easy recipe for Chocolate Kiss Powder Puff Cookies at averiecooks.com
12. No- bake Christmas Tree Cookie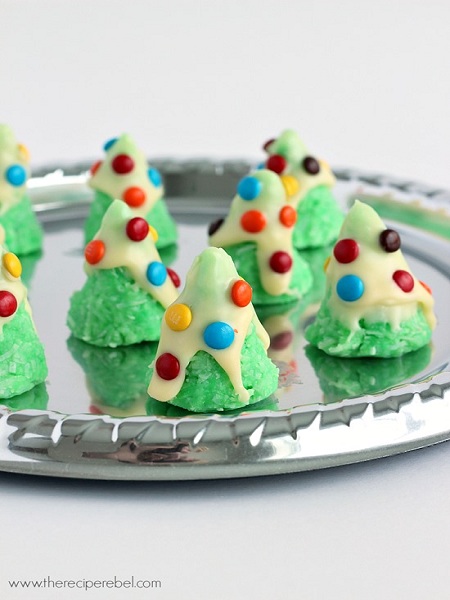 Why don't u try a no- bake Christmas tree cookie this time?
Make your Christmas day extra colorful this year!
Check out the easy recipe for No bake Christmas tree cookie right here at thereciperebel.com
13. Three ingredient buttery short bread cookies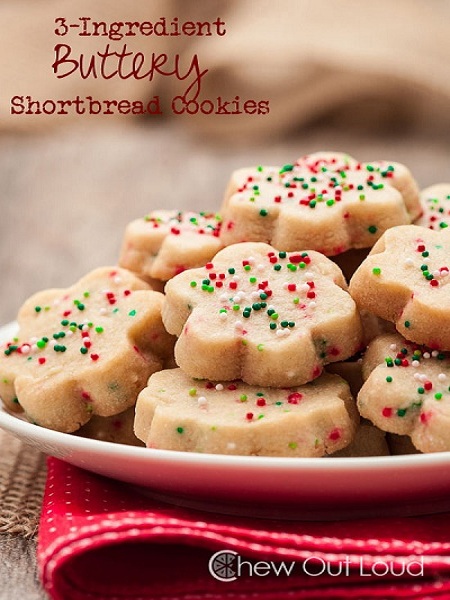 This  three ingredient buttery short bread cookies is a true addiction!
And what more, you can bake this cookie with just 3 ingredients! Just like the name says..
Don't u wanna know which are those 3 ingredients to bake this gorgeous cookie?
Check out the recipe right here at chewoutloud.com
14. Chocolate Cherry Blossom Cake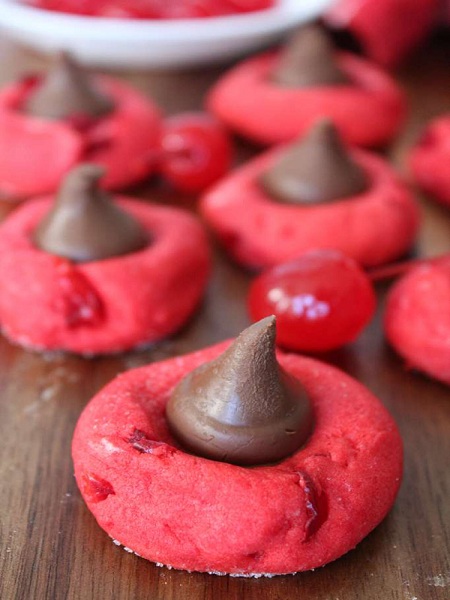 The chocolate cherry blossom cake is a treat to your taste buds! The kids will love it, and not only kids, your guests will be at awe when u serve them, coz its that gorgeous looking!
Check out the recipe right here at bakingbeauty.net
15. Grinch Cookies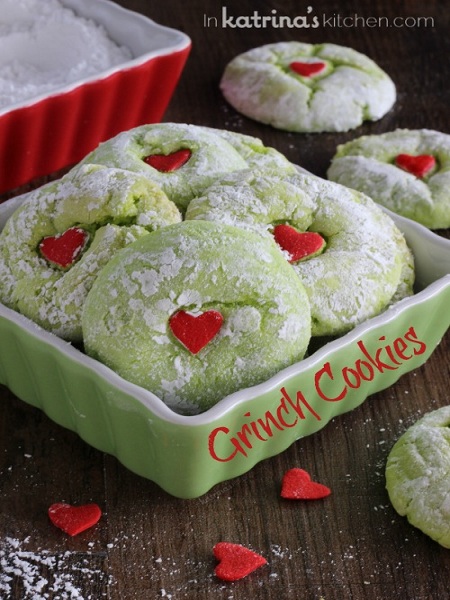 The Grinch cookies..Get ready for a taste of Nostalgia!
Check out the recipe right here at inkatrinaskitchen.com
16. Triple Dark Chocolate Cookie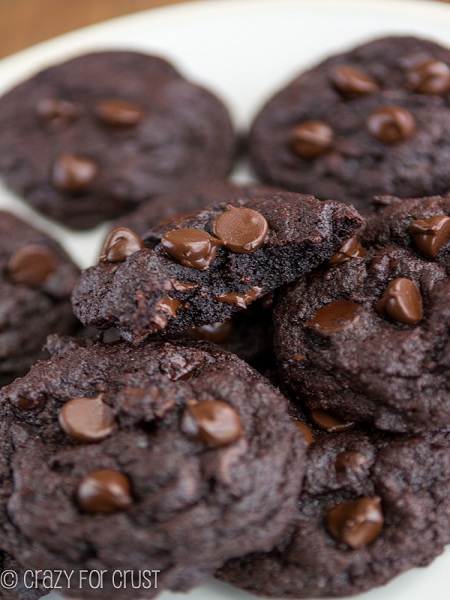 The Triple dark chocolate cookie is a definite try if you are a chocolate lover!
Check out the recipe here at crazyforcrust.com
17. Peppermint snow cap Meringues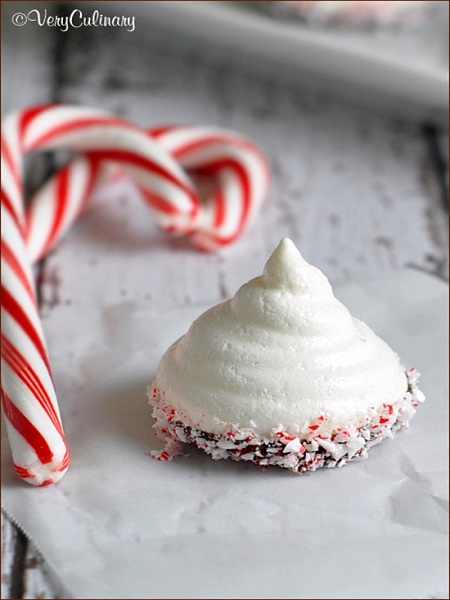 Another peppermint combination cookie which is the worth a try!
Check out the recipe here at bellyfull.net
18. Triple chocolate Turtle cookies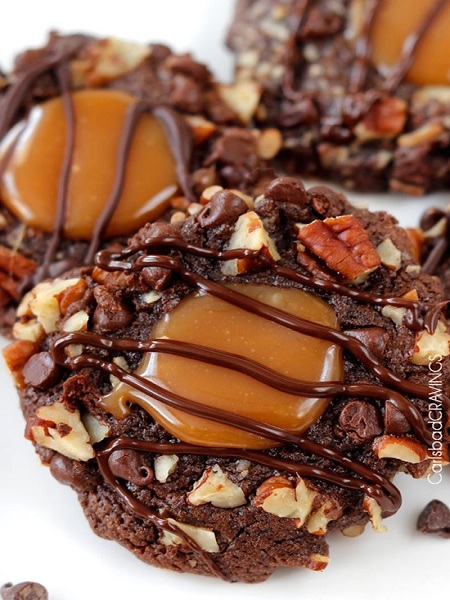 The triple chocolate Turtle cookies is in one word, heaven!
This soft cookie made in chocolate chips and pecans are filled with creamy chocolate.
Check out the recipe here at carlsbadcravings.com
19. Chewy Molasses Cookies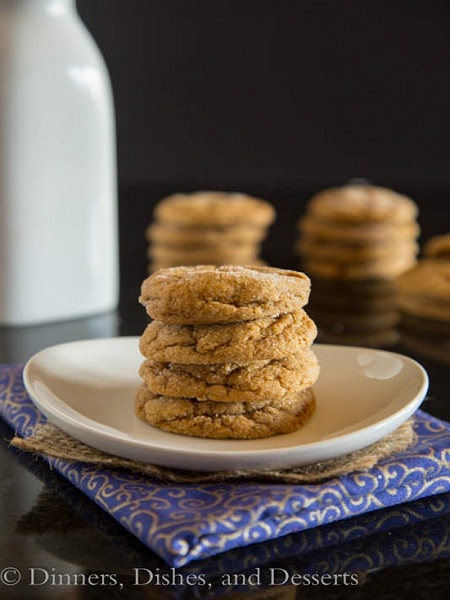 The chewy Molasses cookies , is a perfect treat for a holiday! And its very easy to bake!
Check out the recipe here at dinnersdishesanddesserts.com
20. Rainbow Pin Wheel Cookies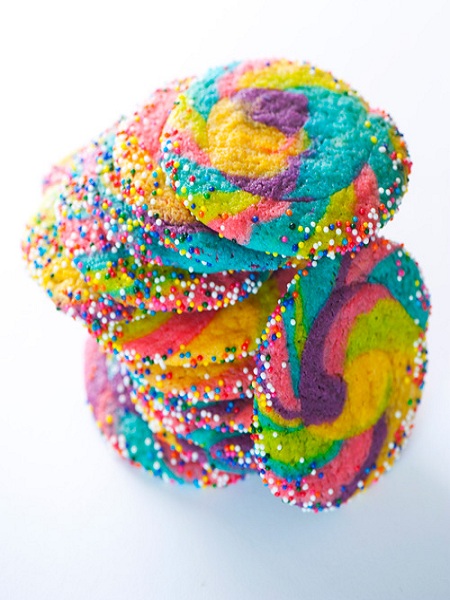 And last but not the least, presenting you the Rainbow pin wheel cookies! Colorful and delicious to the core. For all the sprinkle lovers out there, there is no better cookies than a Rainbow pin wheel!
I'am sure just by seeing this picture you are eager to know the recipe and make it as soon as possible.
Check out the easy recipe for  Rainbow pin wheel cookies here at tablespoon.com
Aren't these cookies just what you were looking for? Hope you will enjoy baking this special cookies this Christmas!