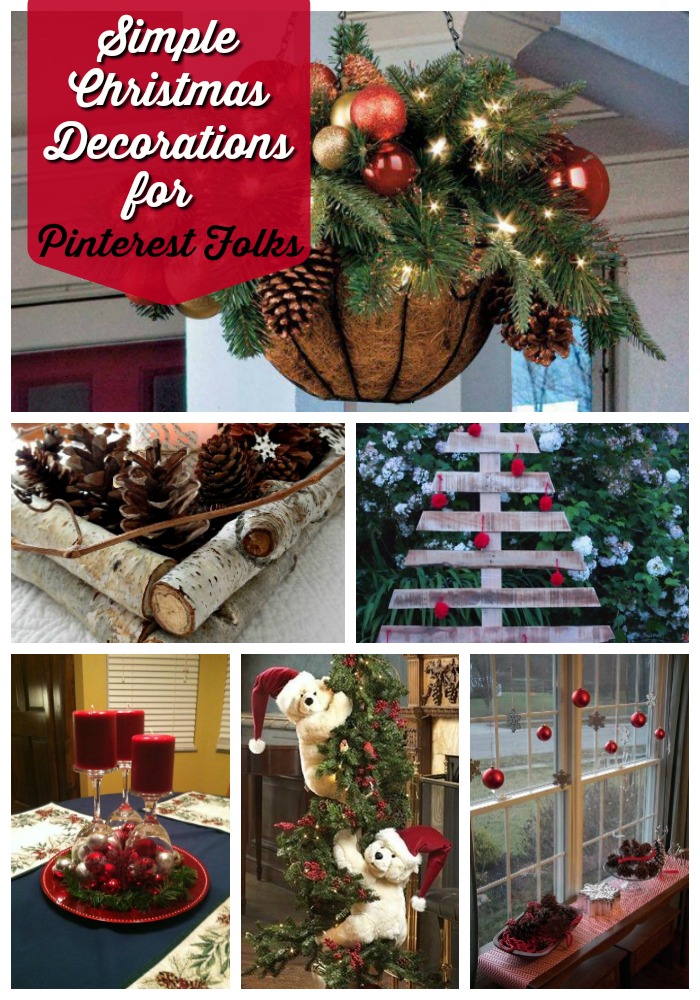 Hi friends, Christmas is fast approaching and our family and children are waiting for the fun and joy Christmas brings to our home. Kids are looking for vacation and holidays. But at this time we will be wondering how to decorate our home for Christmas, so that our home also will have a prominent place in our street. I am in Melbourne and here I can see people decorating houses in a competitive mood. Some time the whole street will look like a santa claus street.  So I thought, I will produce some simple Christmas decorations ideas that will will inspire you.
Polar bear Christmas Tree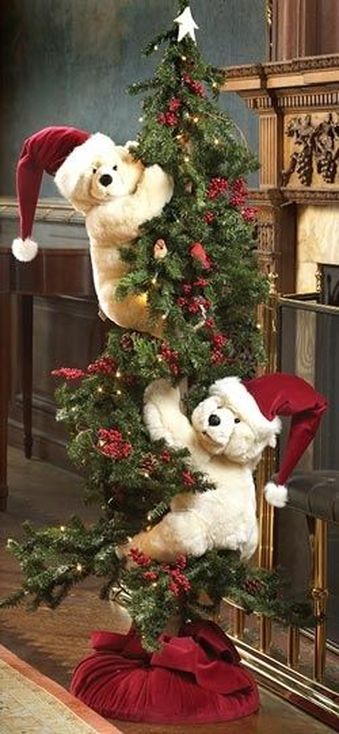 I am sure that the above Christmas decoration will make your home, to stand up on the street. Kids will look and adults will envy you and blame himself for not having this idea before you.
Source :http://www.livemaster.ru
Christmas ball window decor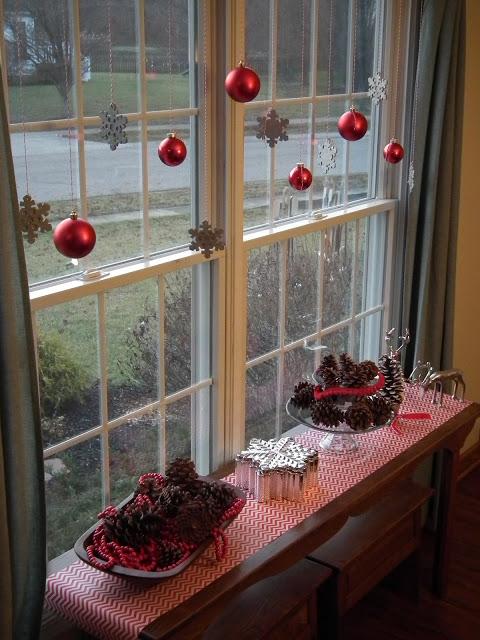 See the above Christmas ball window decor. Really simple and wonderful, after all those 157 k pinners repinned this image for nothing. So go for it. you can find the instructions at meaningfulnest.blogspot.com.au
Golden Wine Glass Center Piece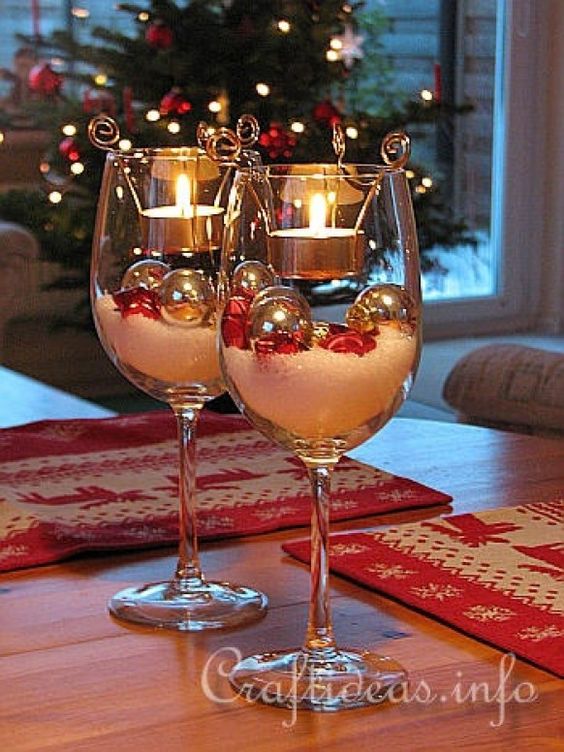 The above pic speaks itself
Source :https://au.pinterest.com/pin/310607705524425302/
Framed Christmas Wreath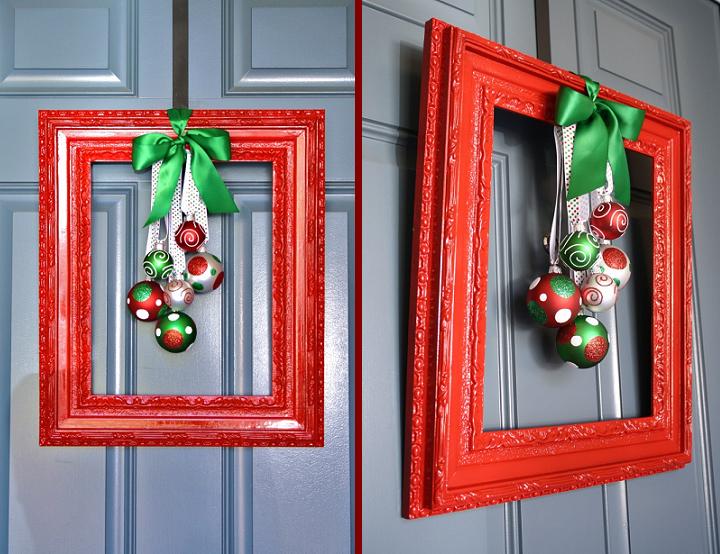 Simple, Wonderful and super. I have to say that. because it is exactly simple, wonderful and super. I found this at adiamondinthestuff.com.  Courtney says "I am personally a big fan of fun wreaths.". When we see this decoration, every body will agree with her.
ChrisTmas WinTer SNOWMAN DOLL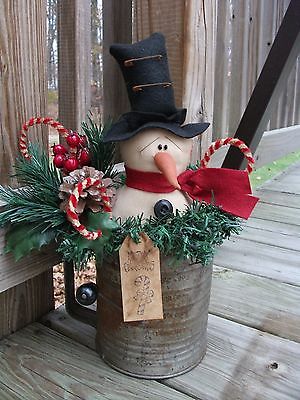 Make your garden table something wonderful by adding the above Christmas WinTer SNOWMAN DOLL. I found this in https://au.pinterest.com/pin/470063279839835798/ .  I think it is pretty easy and simple to make. Enjoy
diy unique christmas tree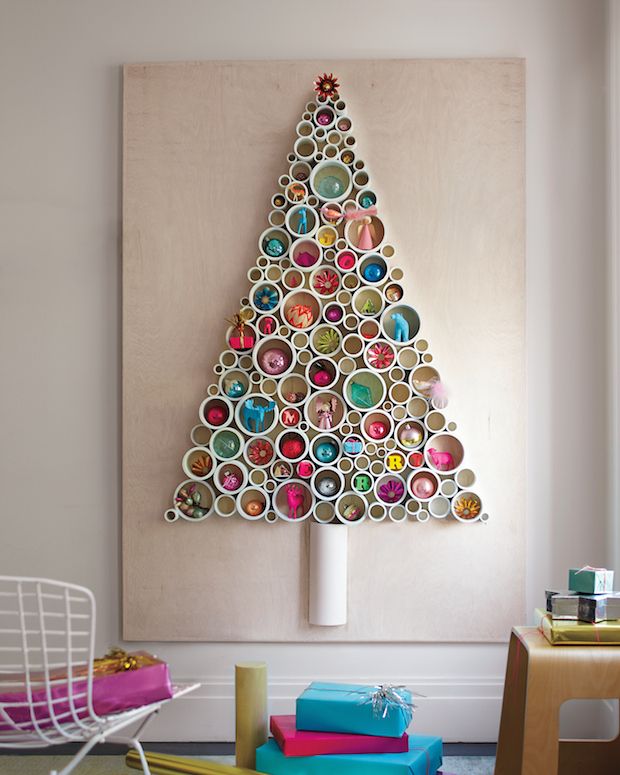 source: http://www.decorpuzzle.com/2015/10/unique-christmas-tress-decorations-2016.html
Hanging Christmas ornaments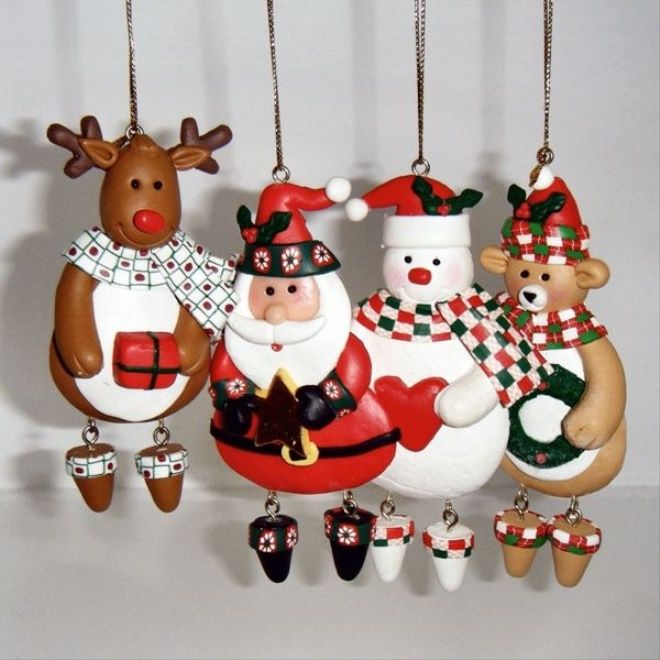 source : http://profotolib.com/picture.php?/26790/category/767
Outdoor wooden Christmas Tree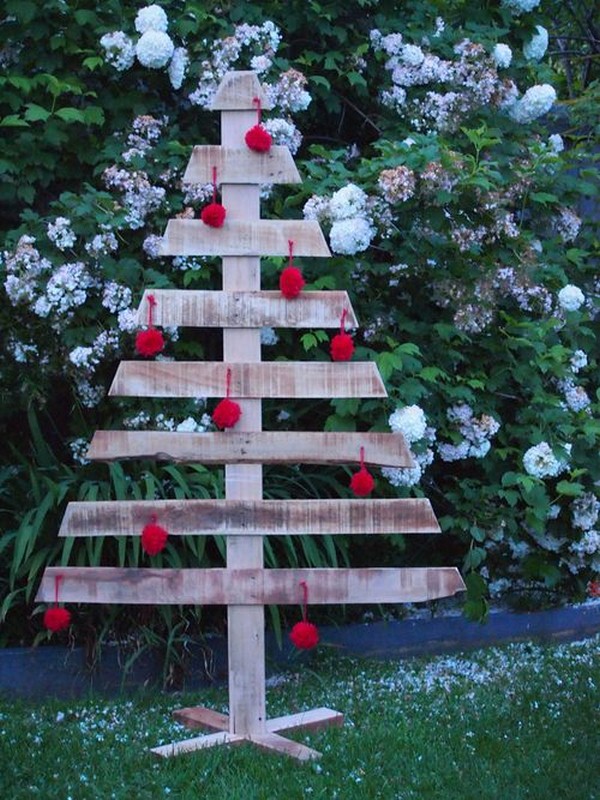 src: http://christmas.365greetings.com/christmas-decorations/most-beautiful-christmas-trees.html
Birch Pine Cones and Book Pages Woodland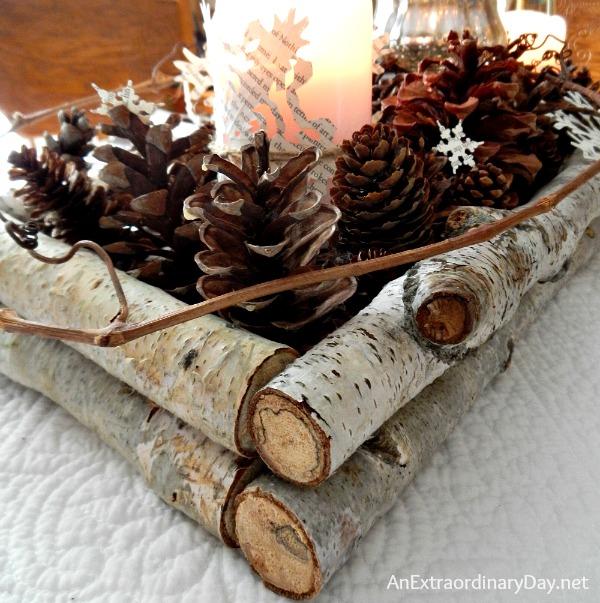 What about the above decorations by birch branches. Diane says "We had a few longer birch branches that hadn't been used over Christmas, so I thought creating a birch branch winter woodland tablescape would be fun.". yes it is true. this Christmas centerpiece is really wonderful. visit anextraordinaryday.net for more details.
Red and Simple Christmas Center Piece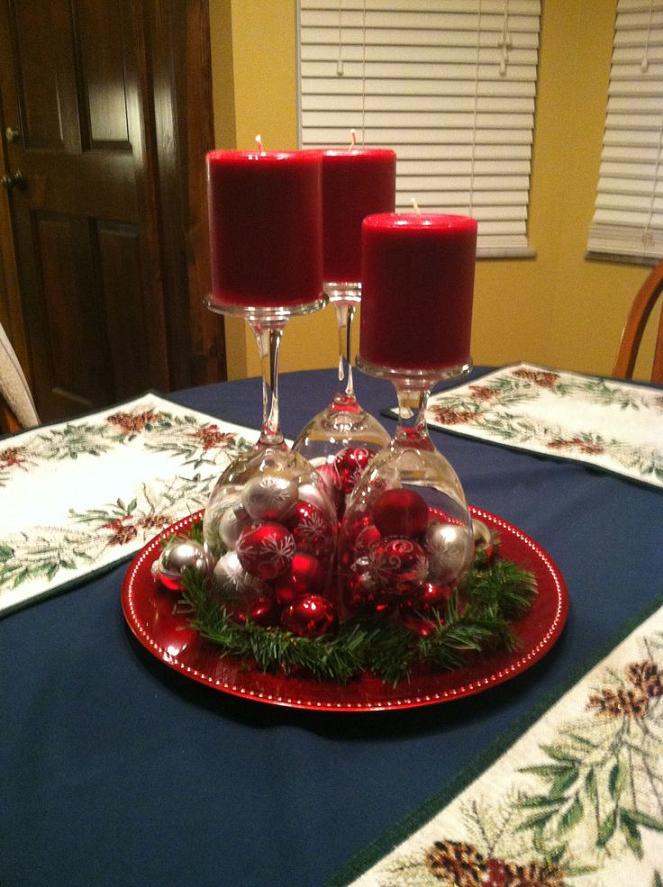 Very simple and attractive Christmas Center Piece. All you need to make it this yourself is a red plate, 3 wine glasses , 3 christmas candles and some Christmas Ornaments. We can make some variants by adding a small Santa clause or snow man.
Source: http://www.thexerxes.com/christmas-centerpiece-decoration-ideas/
Wheat Centerpiece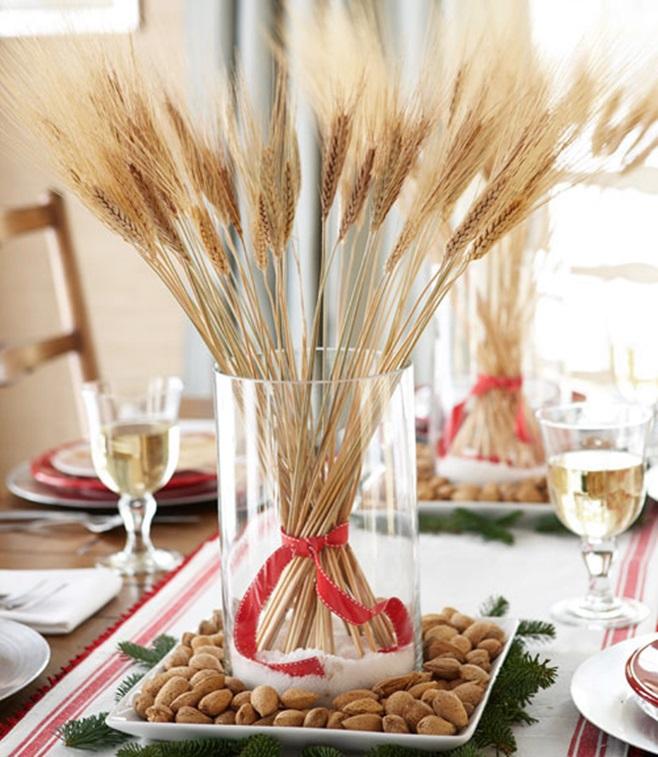 See how some body had made a wonderful Christmas centerpiece by using a bunch of wheat bundle and a Christmas ribbon.
Source :http://www.prettydesigns.com/26-last-minute-decorations-for-christmas/
Cute Christmas Centerpiece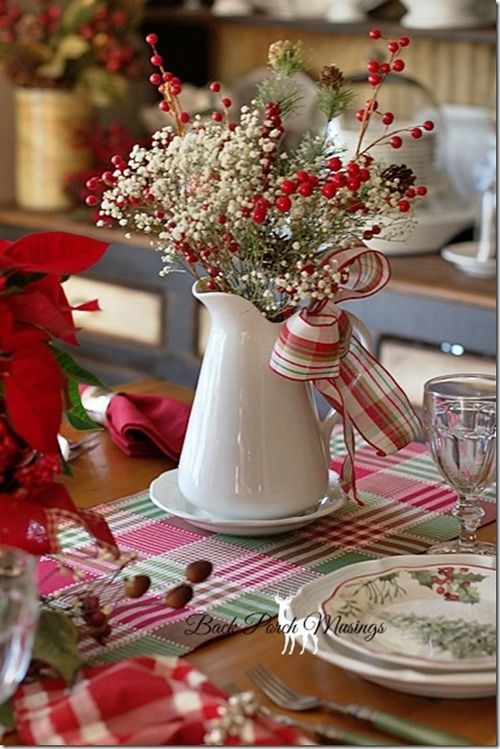 The above Christmas Center Piece is really simple and cute. Anybody can make it.
source :http://www.countryliving.com/diy-crafts/g644/christmas-tables-1208/
Christmas Candle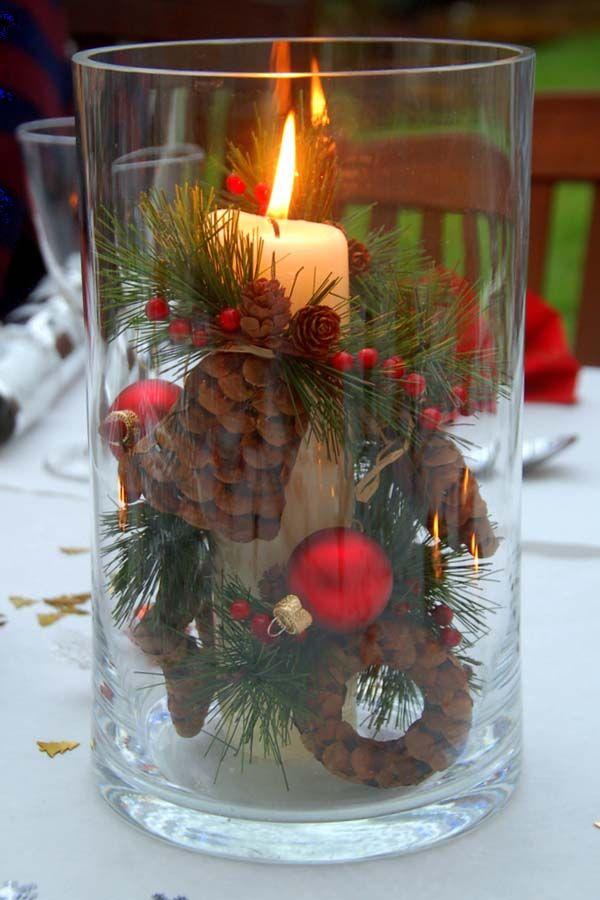 Look at the above Christmas Candle. So simple and cute. When you look at this decoration, we can feel as if it spread the christmas spirit to us.
Source :https://www.flickr.com/photos/robwallace/2155676389/sizes/s/
Bow Wreath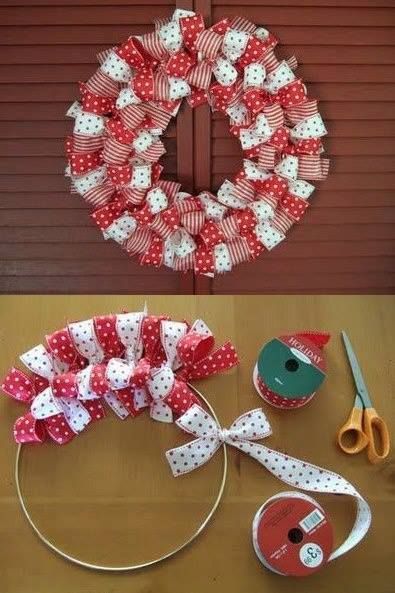 You can make this simple Christmas decoration yourself. Visit shelterness.com to get step by step instructions and guide.
Christmas Porch Ideas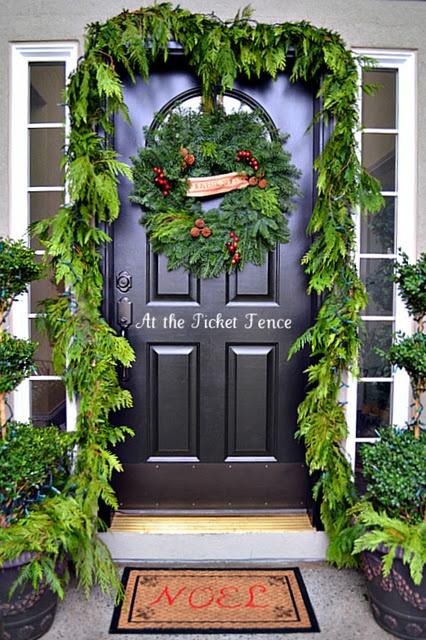 Wonderful Christmas Porch. I have found it on digsdigs.com. Very Easy to create, looks simple and great
Decoración Navidad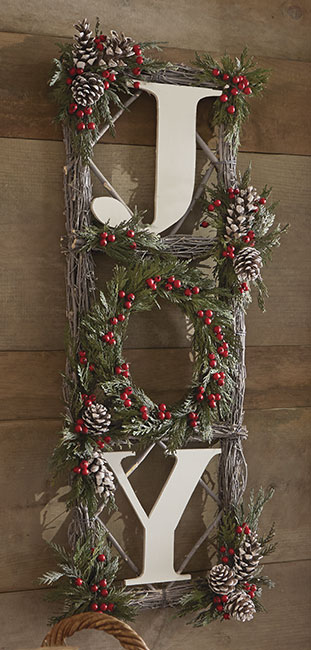 I found this easy and simple decorations, ready made at http://www.orvis.com/ You can visit their store to buy this for this Christmas
Bowl Christmas tree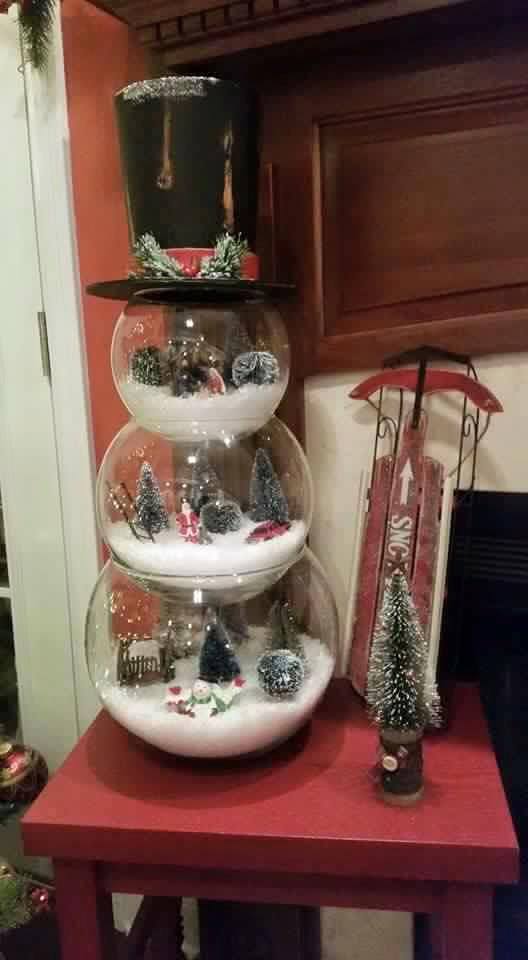 very simple, yet cute Christmas tree. Visit Facebook Page for details
christmas hanging baskets for outdoors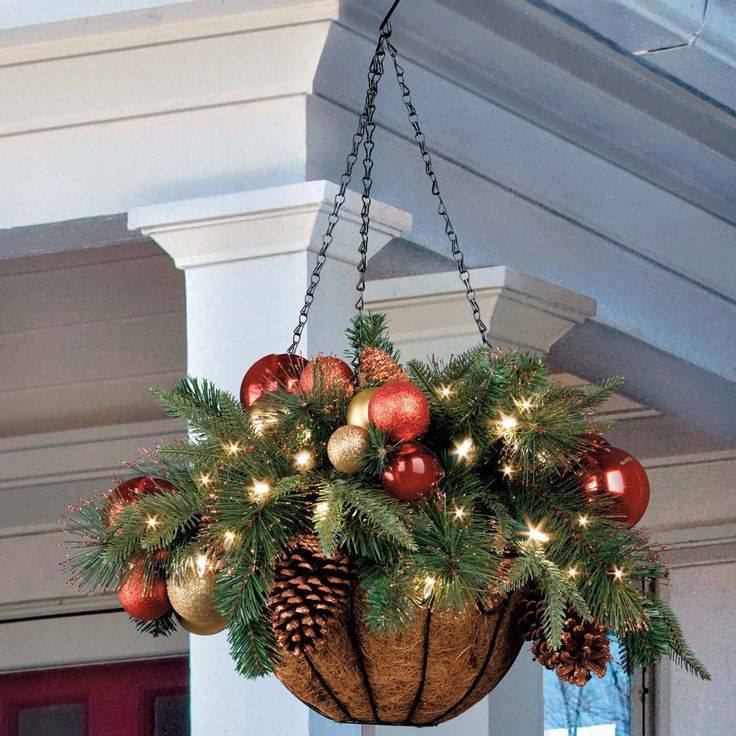 Hey I am really inspired by the above decoration idea. very simple. Buy a hanging basket or make yourself one. Fill it with Christmas ornaments and hang it on the corners or on your porch. I am sure that this will spread Christmas spirit and holiday joy to your home and surrounding
Src: https://au.pinterest.com/pin/555350197774854750/