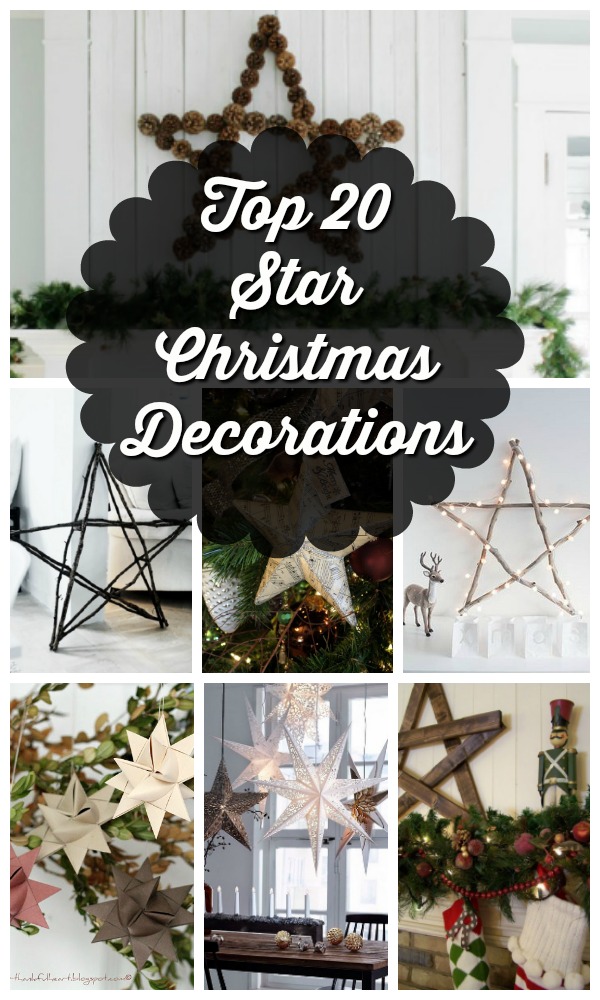 Christmas is almost here friends! And its time for some awesome holiday projects right? Why don't we start with Christmas STARS! After what's Christmas without the legendary stars! There are lot of DIY star decoration ideas which you can try out for yourself. Various materials can be used to make stars like paper, wood, bells, you name it!
Lets check out some awesome Christmas star decoration ideas which will definitely help you to turn your house into magical house of lights!
1. Gold and Silver Stars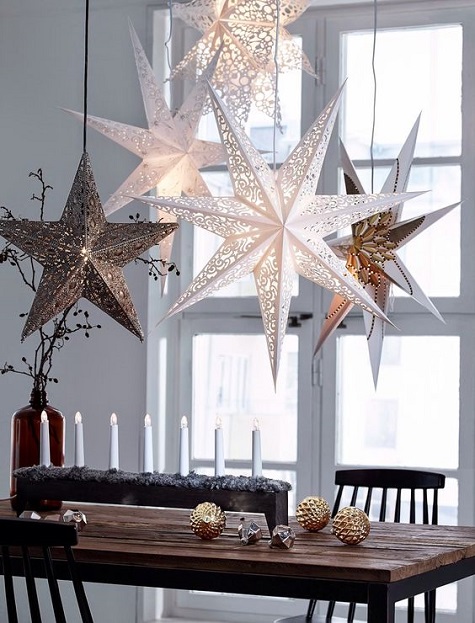 This combination of gold and silver stars are very elegant. It gives a real Christmas essence
Image Source : johanna-vintage.blogspot.in
2. SilverStars Garland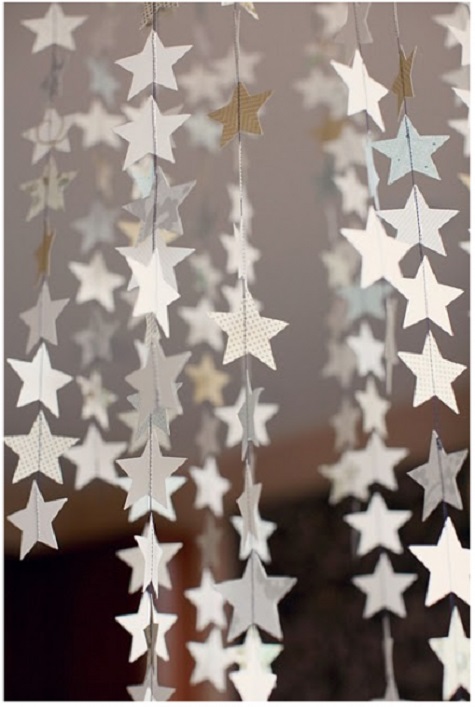 This DIY stars are really simple to make and will look so pretty in your home! Stunning glittering row of stars!
Image Source : todaysmama.com
3. A STARS upon Thars Mantel (WOODEN Stars)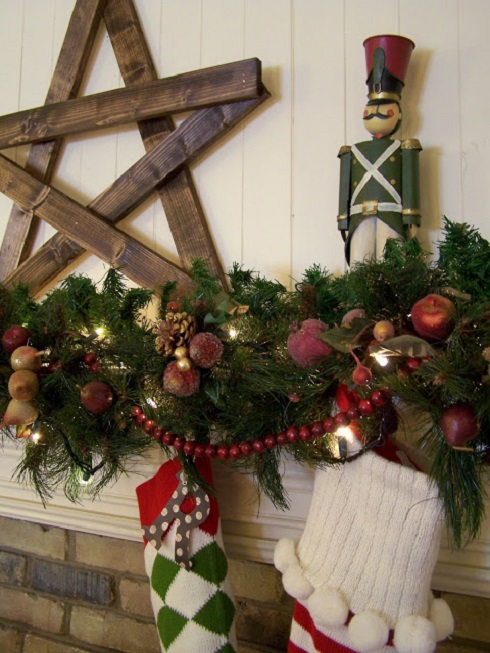 A perfect decoration above the fireplace! Cindy's Wooden stars are the talk of the town! Are you ready to get inspired? You must try this star decoration this Christmas!
Image Source : www.olderandwisor.com
4. Sheet Music Star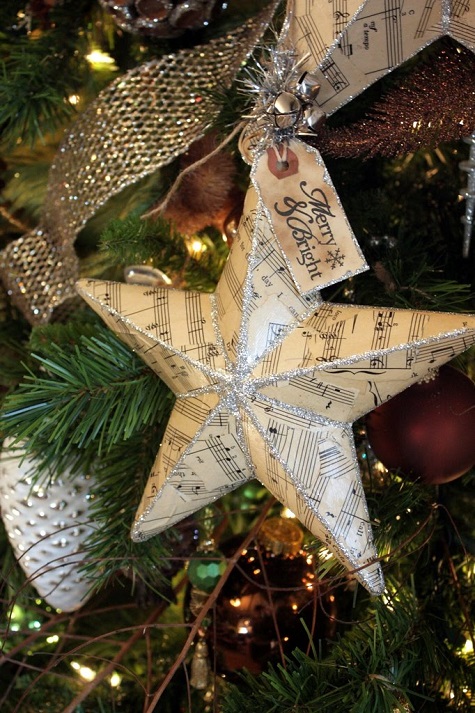 Are you a music lover?Well what better STAR decoration can you make better than a sheet music star! You can easily make this star with the help of music sheets.  Give it a try!
Image Source : sweetsomethingdesign.blogspot.in
5. Large Pinecone Star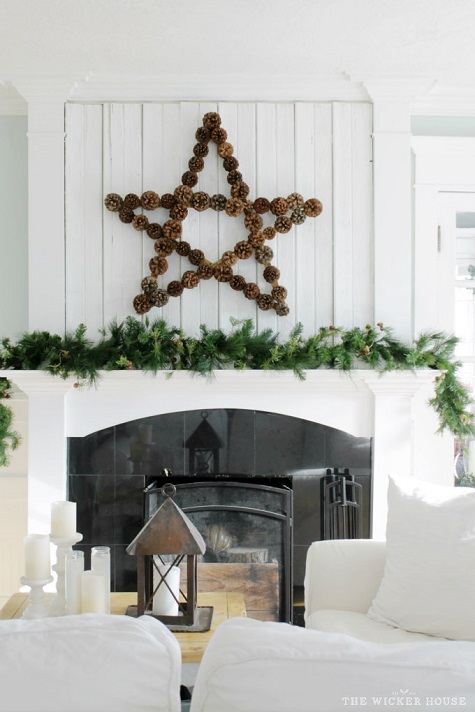 Another gorgeous fire mantel STAR decoration! You can easily make this star using yardsticks.  This will give the decoration a vintage look.
Image Source : ellaclaireinspired.com
6. 3D Star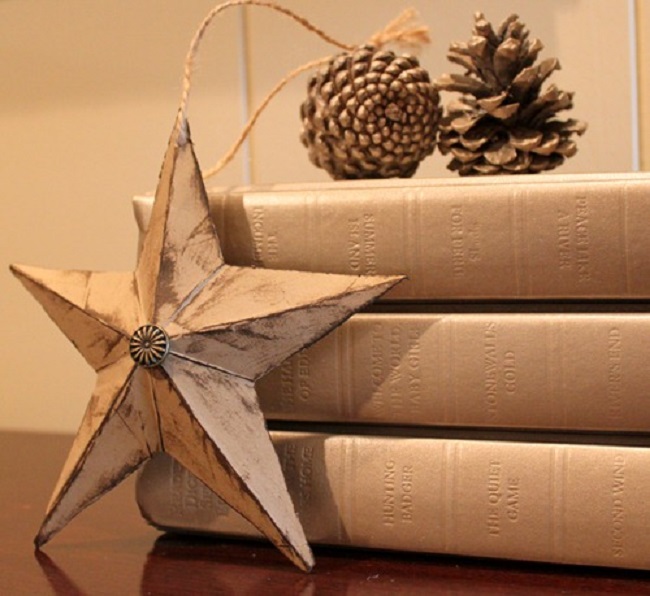 You can make this beautiful star with sheets of cardstock scrap book. Very cheap and so simple to make. And this will look really good if you hang it over your wall mirrors.
Image Source : tracys-trinkets-treasures.blogspot.in
7. German Paper Stars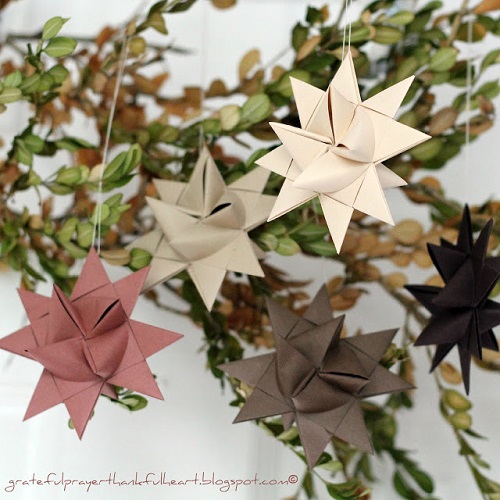 This is one of the most trending star decorations at Pinterest. You can make this stars from multi colored papers. The more colors, the more prettier it will look!
Image Source : gratefulprayerthankfulheart.com
8. Stars Out of Twigs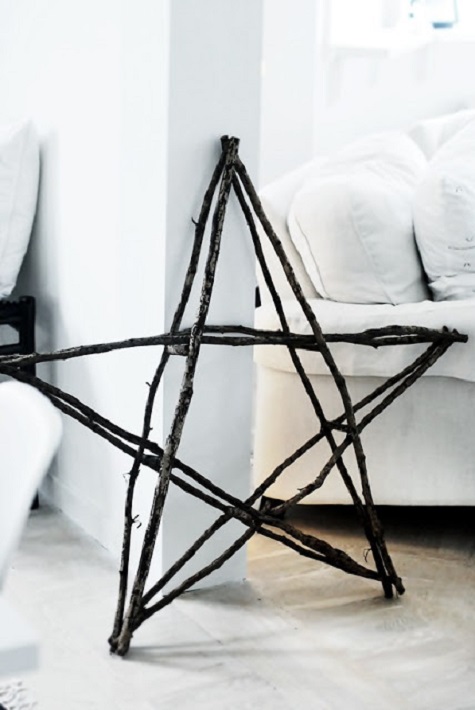 Ain't these stars super creative? It is made with twigs. Inexpensive yet elegant.
Image Source : marleyandlockyer.com
9. Rustic Wood Star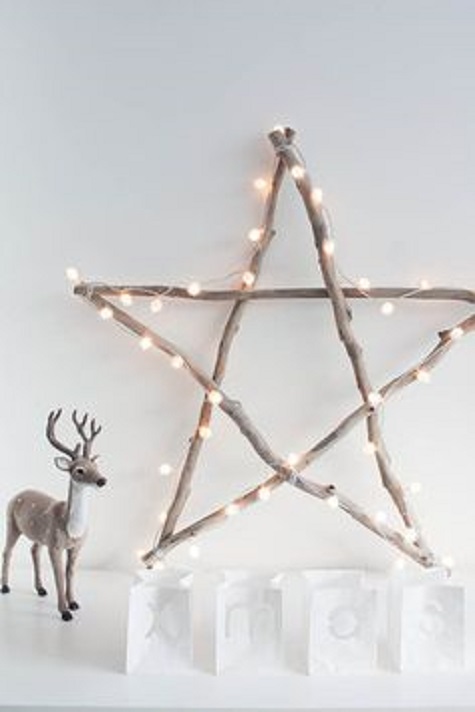 An eye catching combination of rustic wood elements wrapped up with pretty lights. Wow!
Image Source : houzz.com
10. Patch Work RUSTIC Stars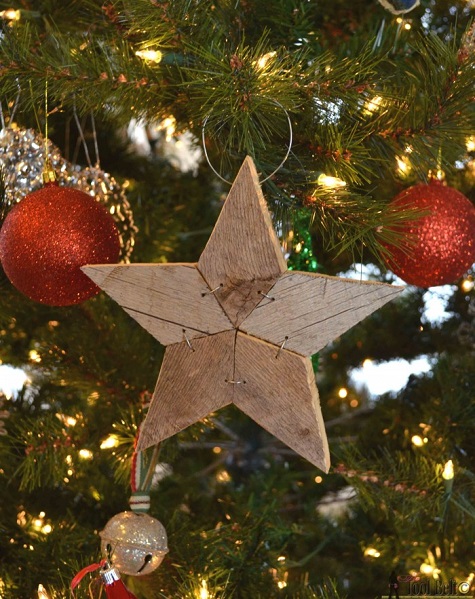 This star is unique because it looks very natural and raw. Made out of rustic wood. You can use it as an ornament on your dining table as well.
Image Source : madetobeamomma.com
11. Gorgeous Hanging Stars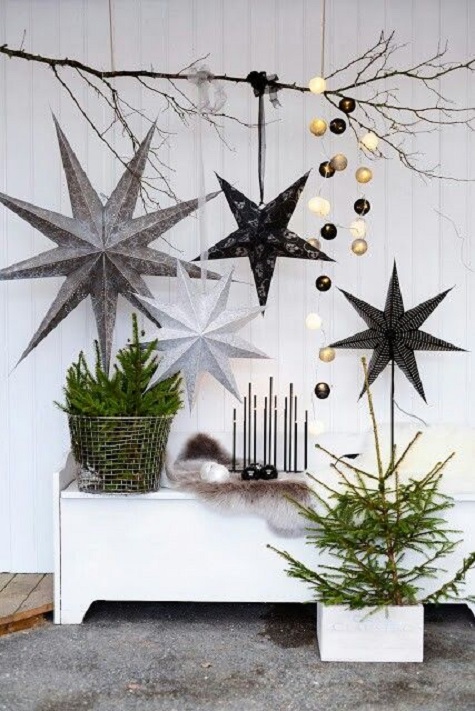 A rare and unique combination of stars with different patterns. U cannot stop looking at it!
Image Source : godfatherstyle.com
12. Window Stars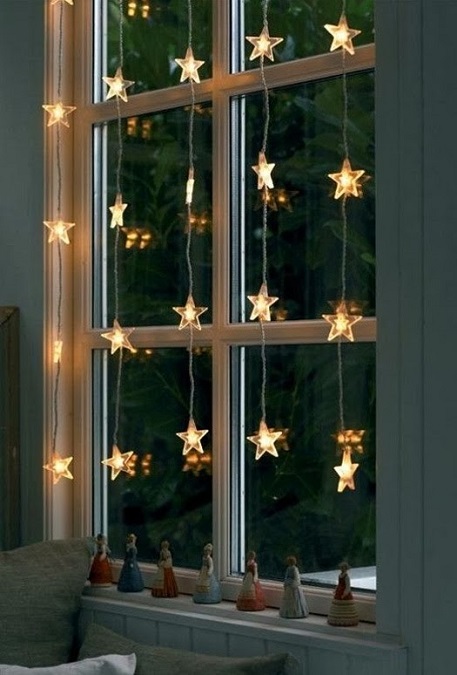 Stars hanging at your windows is the best! Anybody passing through your house will star at awe!
Image Source : bellemaison23.com
13. Cute Stars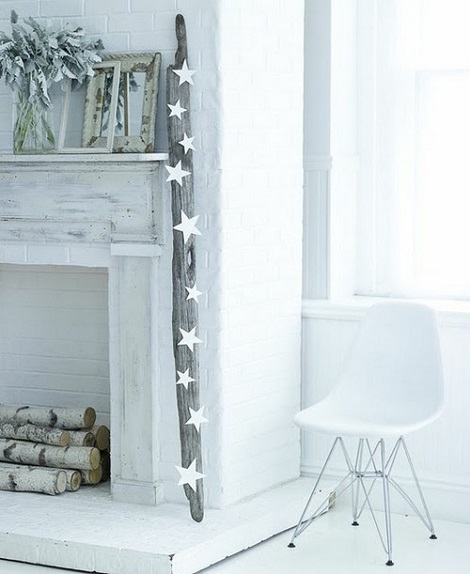 A wooden pole is used to arrange these  white cute little stars can be used for white Christmas theme.
Image Source : digsdigs.com
14. Paper Stars from Old Books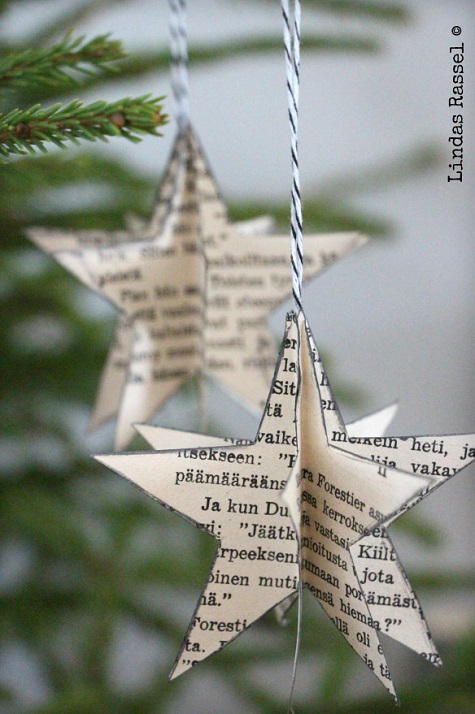 Now you don't have to run around places to look materials to make stars! Just collect some old scrap books of yours and start making this pretty stars!
Image Source : lindasrassel.wordpress.com
15. Twig Star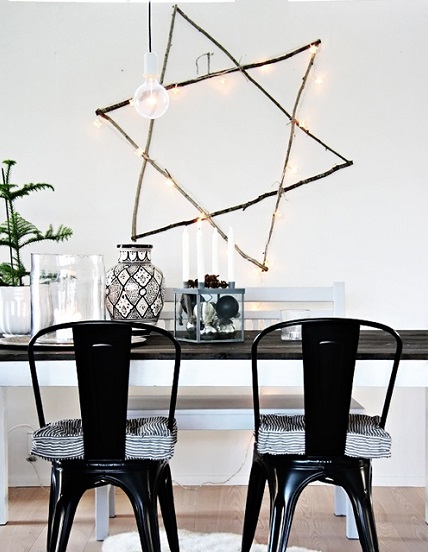 Another twig star decoration which you can set inside your living room or dining room.
Image Source: shelterness.com
16. Scandanavian Style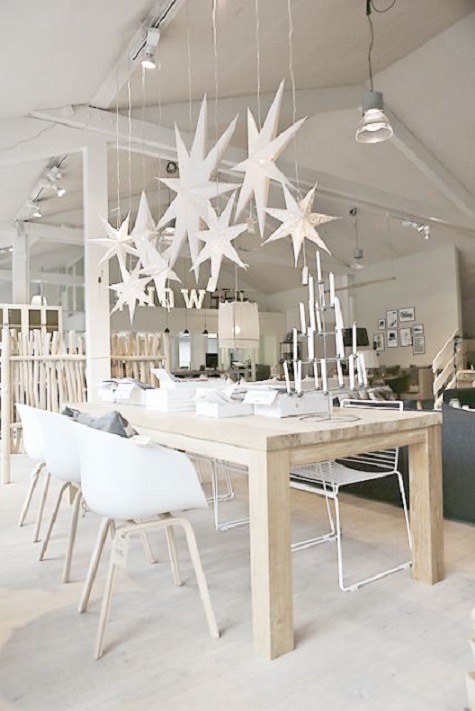 This star decoration is so lovely that we feel we don't have to go in search of heaven. Its right here in this small room!
Image Source : foreverlovecom.blogspot.in
17. Sparkling Star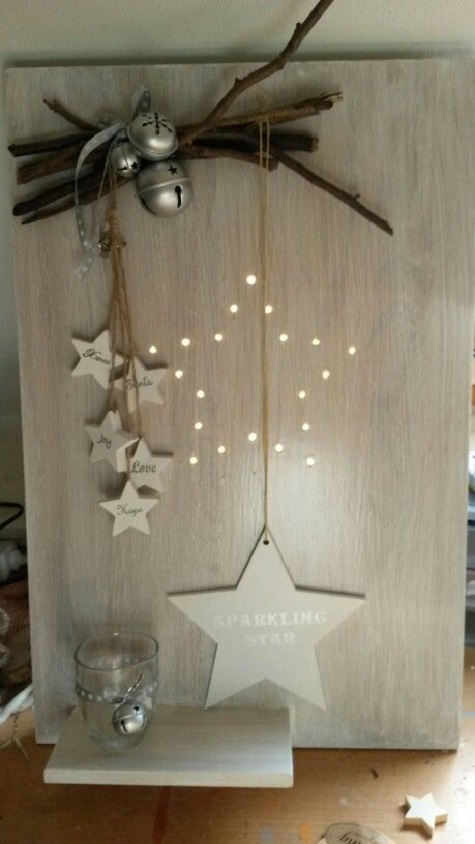 This is one other lovely idea for star decorations. You can set this in you main hall so that guests will catch the attention.
Image Source : s-media-cache-ak0.pinimg.com
18. Inside Home Stars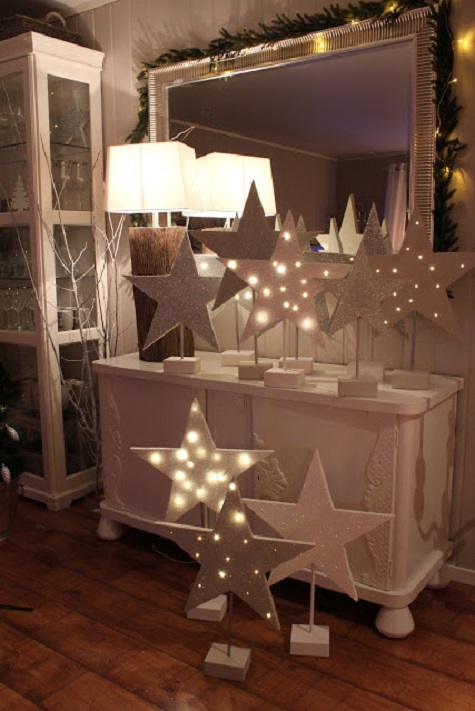 This STAR decoration is one of my personal favorite. Flaunt your interior home decor using this idea.
Image Source : lindevegen.no
19. Crochet Star Ornament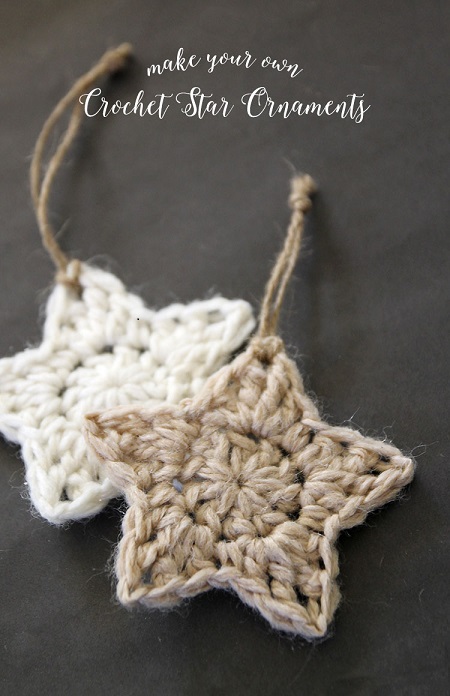 Who doesn't love the crochet pattern? Its so much fun and quick to make! You can hang them on Christmas trees, or it's your choice how to use them well!
Image Source : persialou.com
20. Rustic Wood Wall Stars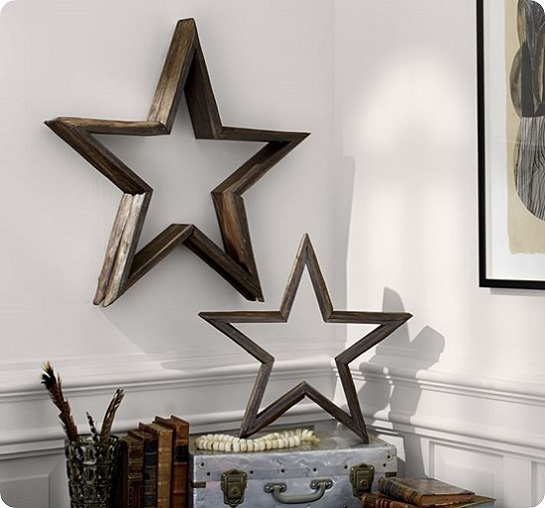 This stars are by far the most incredibly elegant made star decoration. Antique, rustic, its all of them what makes your Christmas look at the top notch.
Image Source : knockoffdecor.com
Please let us know of your comments and suggestions. New ideas are always welcome!