Candles are always on top of the list when you're shopping for Christmas. That's because a Christmas décor is incomplete with candle decoration. Candles are easy to work with and make everything look a bit more beautiful in their glow. Besides, changing candles totally transform the mood of the room, giving you a perfect chance to entertain yourself repeatedly during Christmas. So help yourself create a warm and cozy environment this Christmas with our beautiful Christmas candle decoration ideas.
You May Also Like To Read:
Wrap It In Cinnamon Sticks: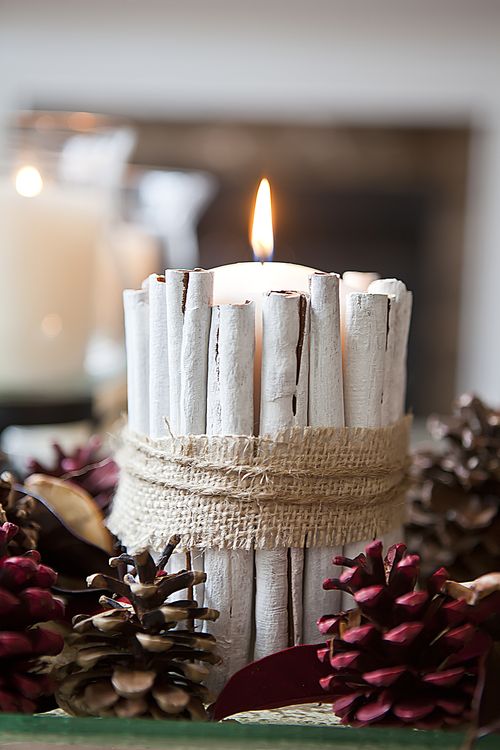 This is one of the most popular Christmas candle decoration ideas, and we don't see its popularity fading anytime soon. You can either leave the cinnamon sticks as they are or paint them white as seen in the picture.
Candles In Mason Jar: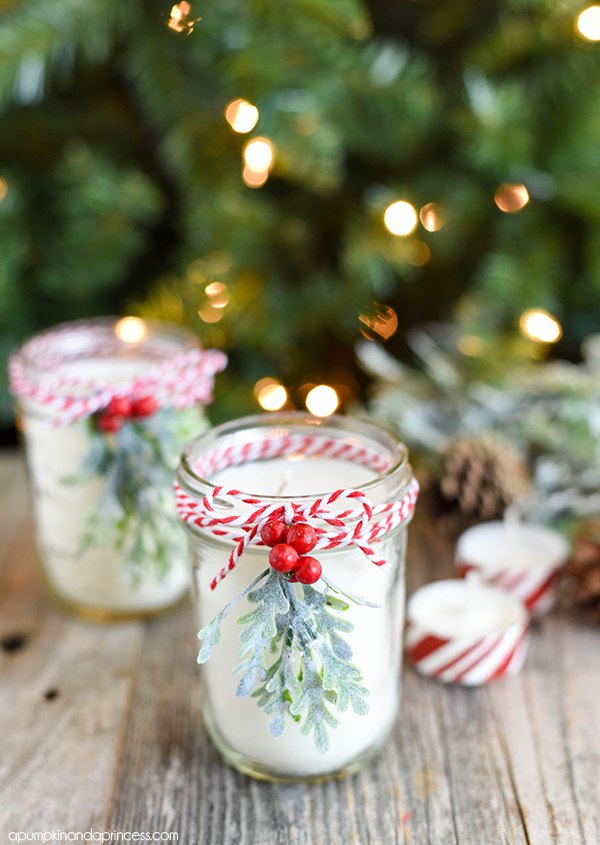 Nothing can match the beauty of your own handmade candles, especially when you're thinking of gifting it to your loved one. The candle here, decorated with baker's twine and holly leaves will make perfect return favor.
Candles On A Wreath: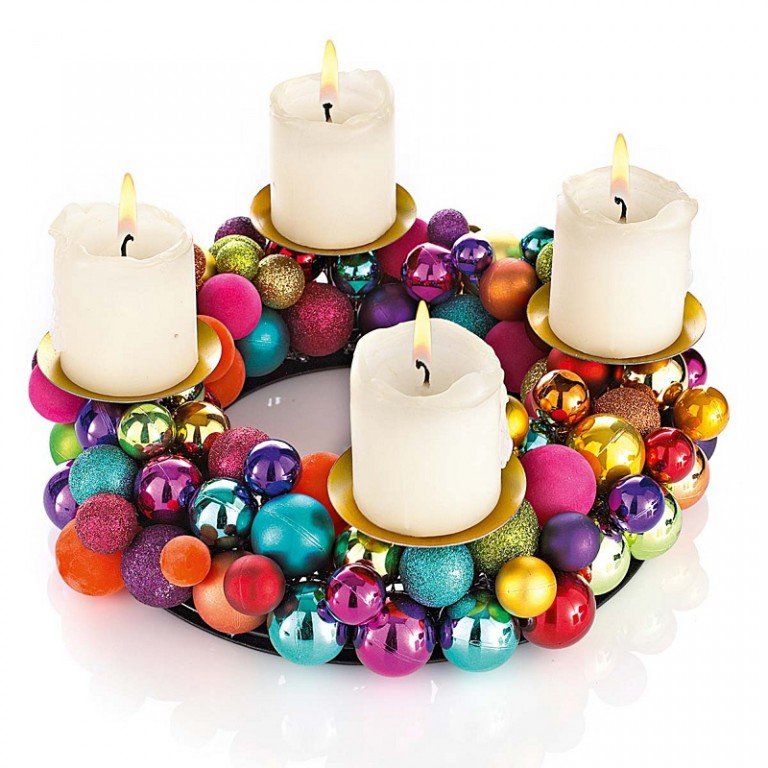 Honestly, we couldn't have come up with this idea even in our wildest dream. This is sheer genius.
Purple Wonder: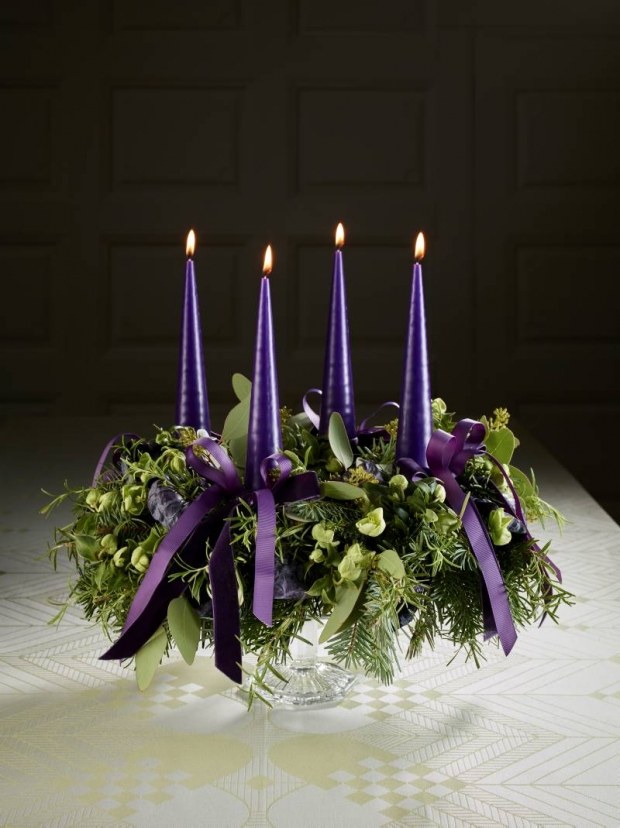 This got to be the most regal of all the Christmas candle decorations. After all, purple itself is a very royal color. Combine it with greeneries for a perfect centerpiece.
Christmas Jewelry For Candles: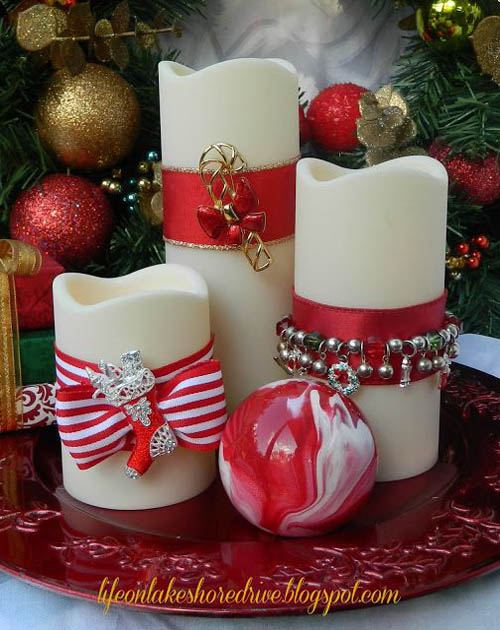 Jewelry isn't only for humans. Even candles can be dressed up using it, as seen in the picture here. So if you also have some jewelry lying in your drawer, you can put them to use by decorating the pillar candles for Christmas.
Ice Candles: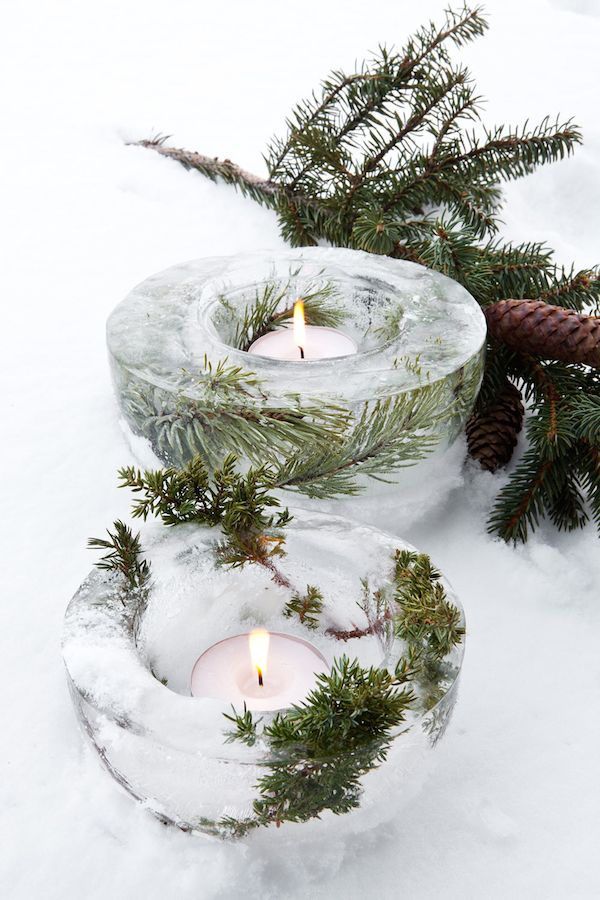 Decorate your yard and garden for Christmas with these amazing ice candles made with pine tree leaves and Bundt cake molds. Would work well if you stay in cold regions.
Affix It On The Artificial Christmas Tree: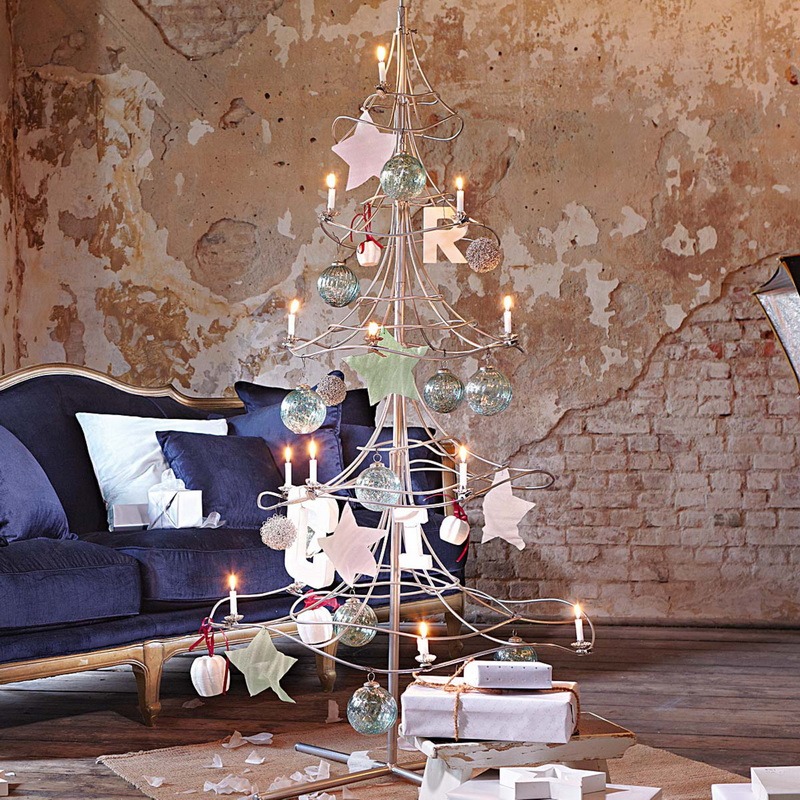 This is quite a classic idea, as we've seen several people putting up candles on the Christmas tree. But this one is different as it's on an artificial Christmas tree.
Reindeer Candle Holder: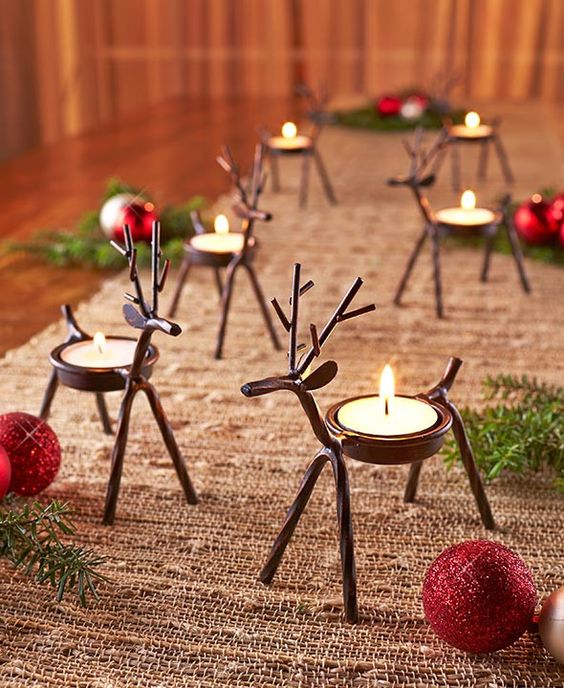 How adorable are these reindeer tea light candle holders? While it's set on a table runner in the picture, we feel it will look excellent on mantelpiece too!
DIY Christmas Candle Decoration: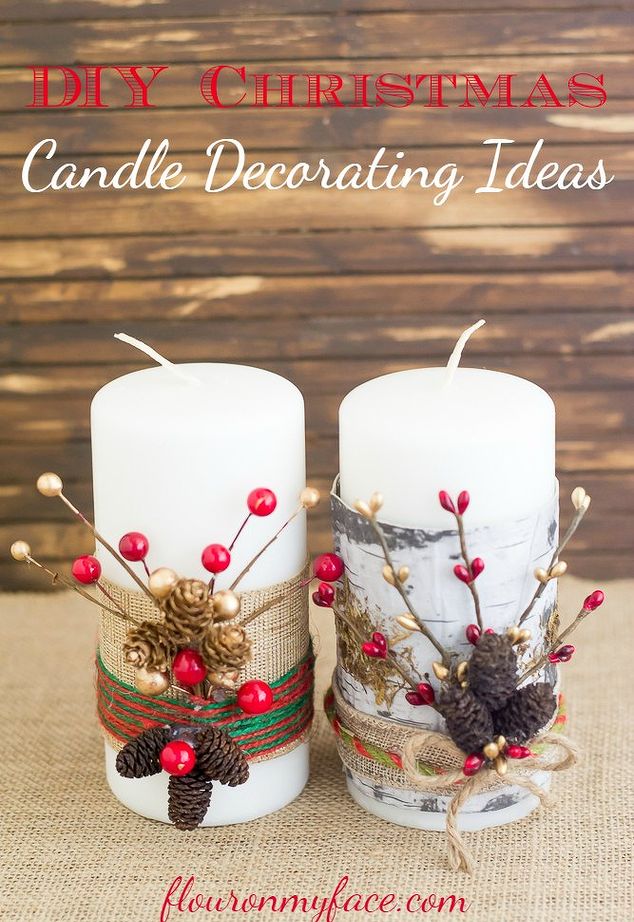 You do not always need to purchase elaborate candles for decoration. You can try making a few at home itself, with just a few elements. Have a look at the DIY from hometalk.com.
A Modern Candle Arrangement: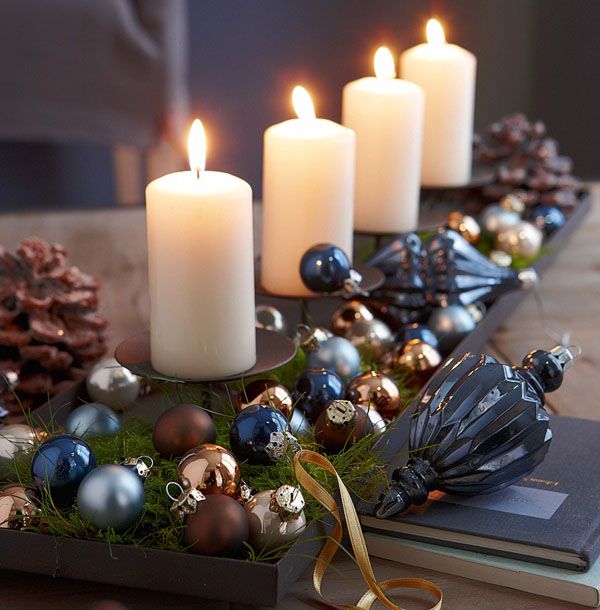 This is what we call candle arrangement goals! What we like the most about this arrangement is the unusual colors of ornaments chosen. Very different from what we generally get to see in Christmas.
Snowman Candles: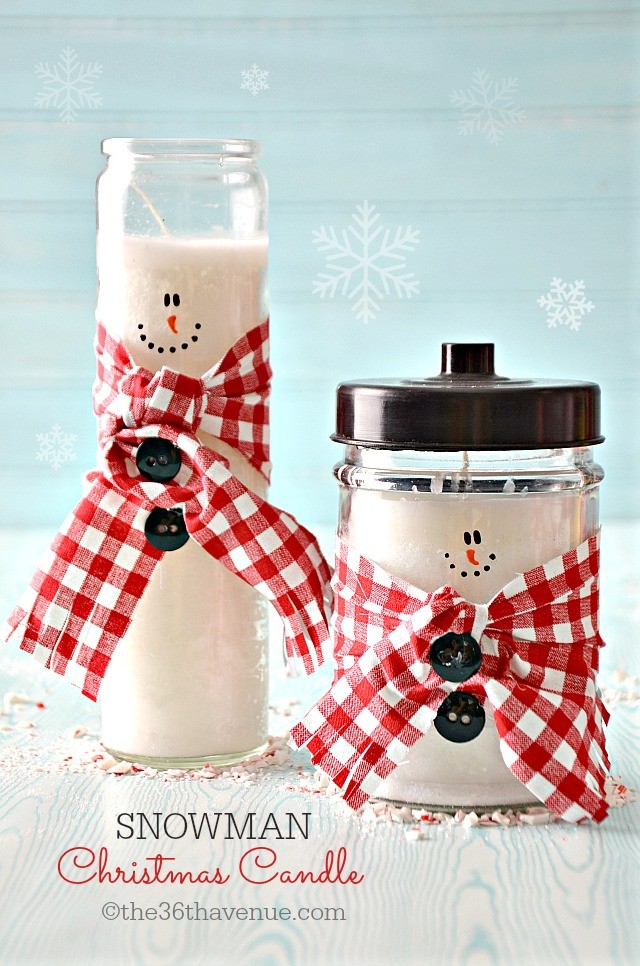 These snowman candles would look amazing placed in the children's room. Or they can present them as gifts to their friends.
Simple, But Effective: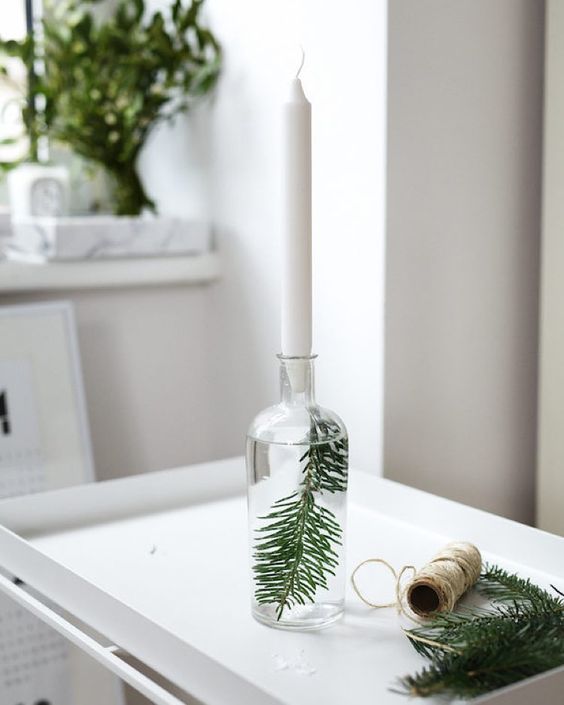 If you're planning to decorate the house the Scandinavian way, this decoration idea can come handy. It's relatively simple, but looks very effective.
Candles In Cups: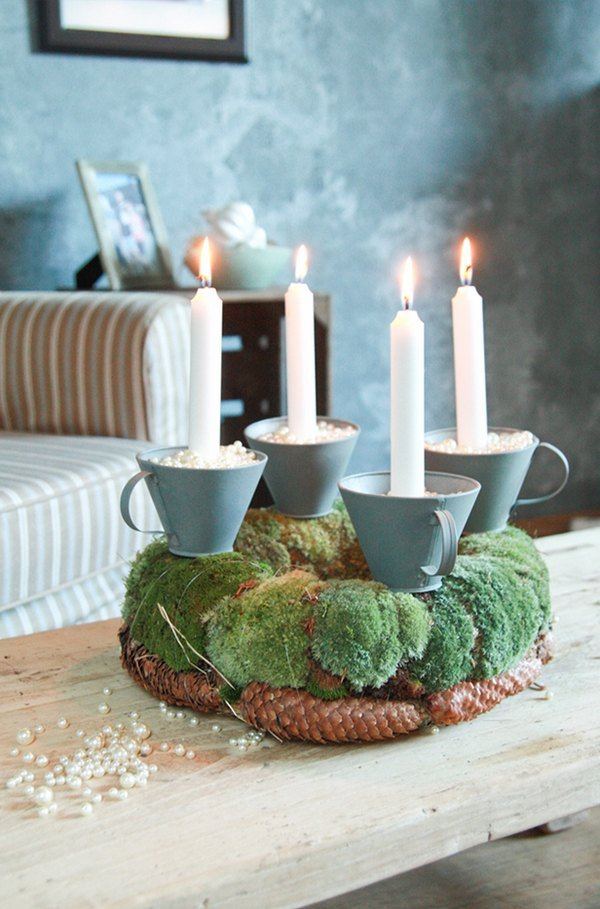 Isn't it a totally unique idea? Affix a few cups on the wreath and fill it with candlesticks. Decorate it as the centerpiece for the coffee table.
Ho Ho Ho: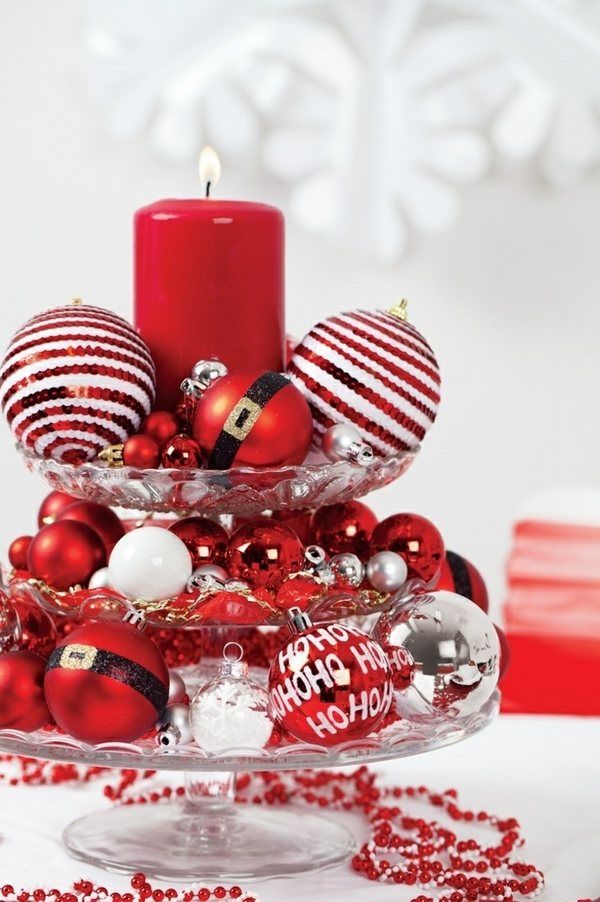 This got to be the most Christmassy of all the candle decoration ideas. It is red, white and thoroughly festive, exactly how Christmas decoration must be.
Use Mason Jar: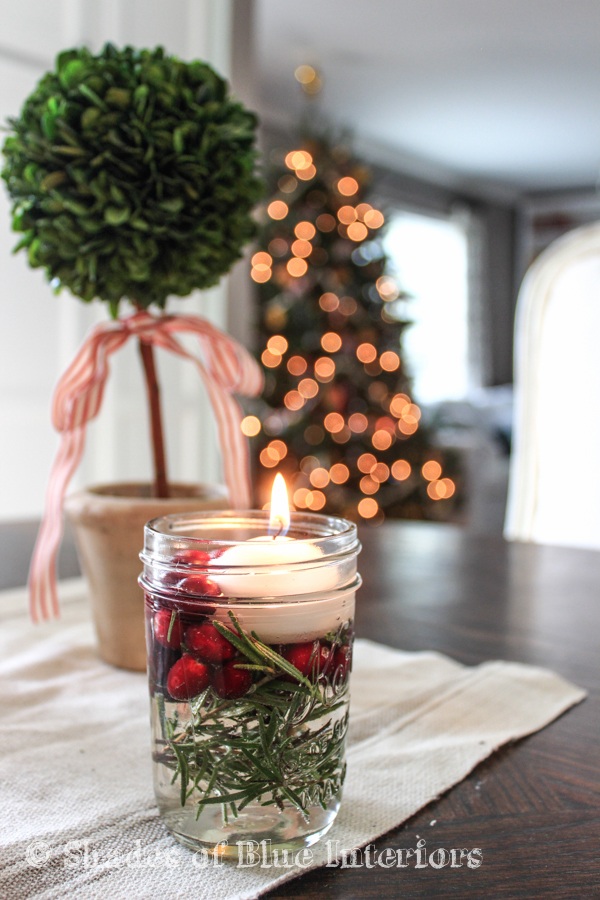 Mason jar can come very handy when it comes to candle decoration. Put some herbs or evergreen and fill it halfway with water. Put some cranberries and top it with a floating candle.
Candles Surrounded By Flowers: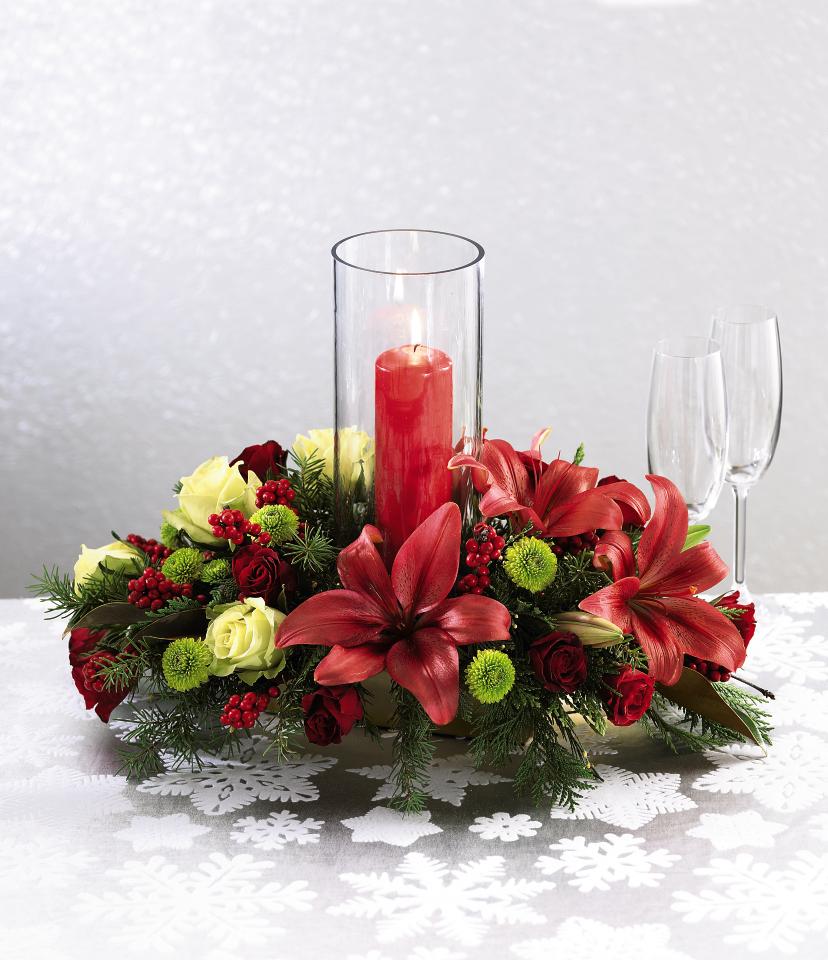 This candle decoration idea is perfect if you're organizing a Christmas wedding. But of course, it will work as a centerpiece too.
Place Candles In A Fish Bowl: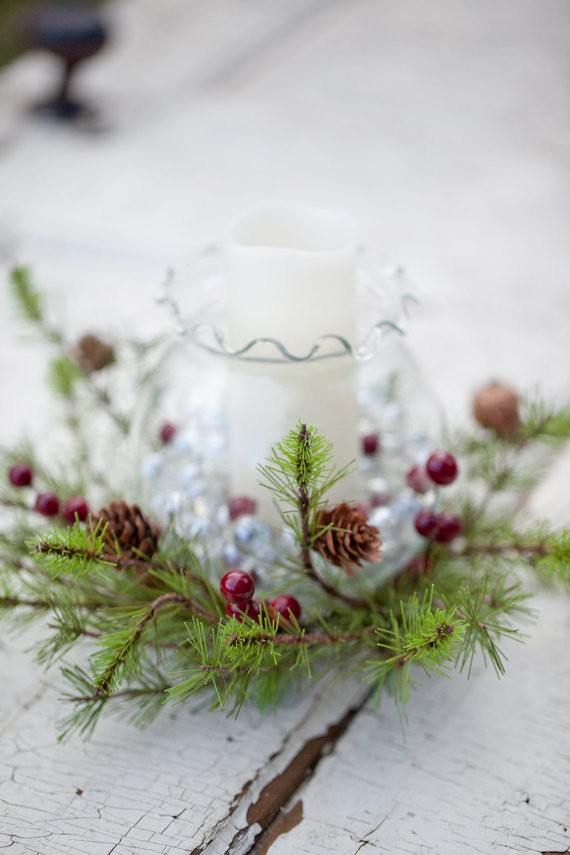 If you have a medium sized fish bowl in your house, you can use it for candle decoration. Cranberries, pinecones and pine branches should also be used.
Give It A Woodsy Look: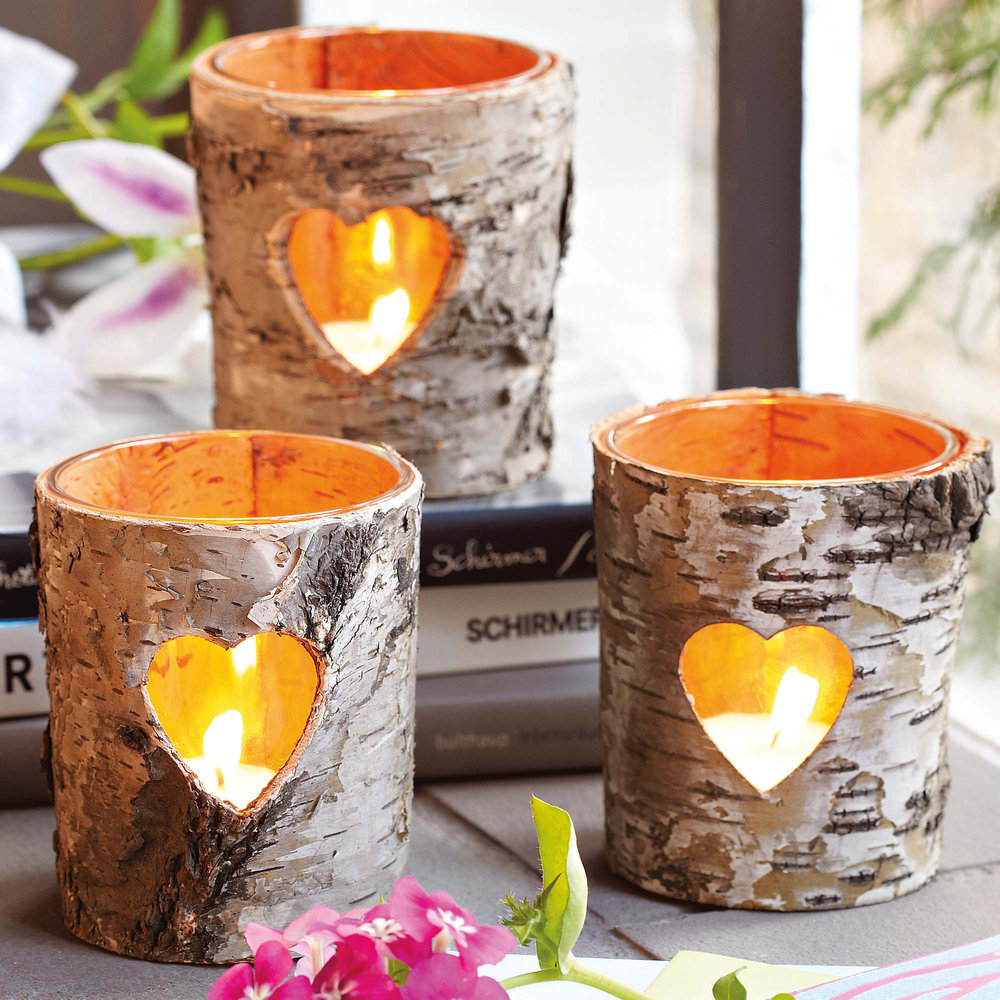 Create a lovely birch candle holder by following the instruction below.
Wreath Ring: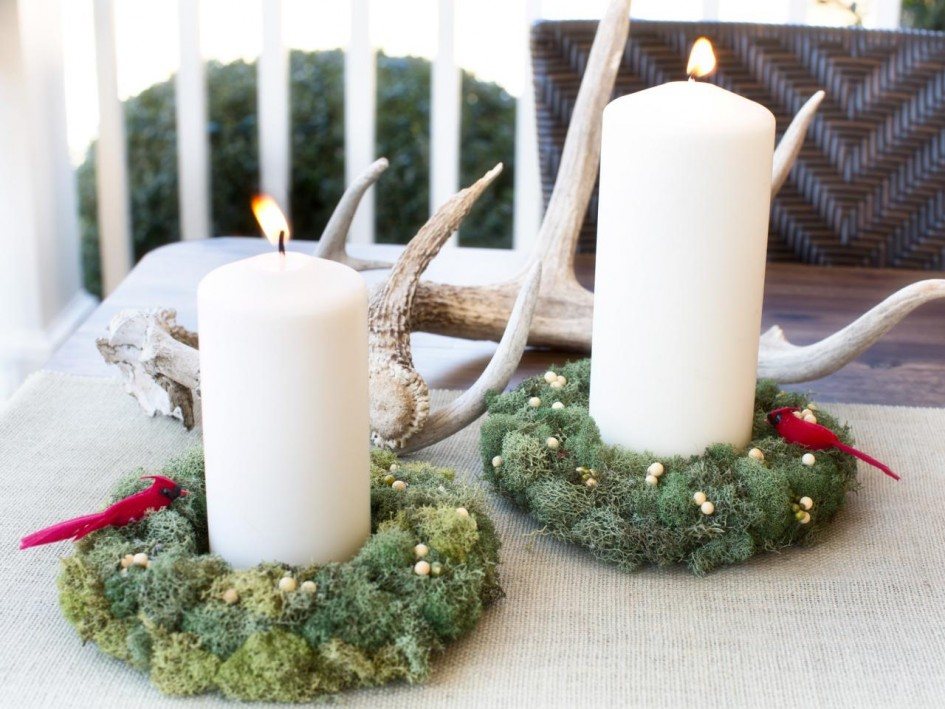 Tiny wreath rings can also be used as a candle decoration. The white berries and cardinals are perfect additions.
Artificial Candles On The Chest Drawers: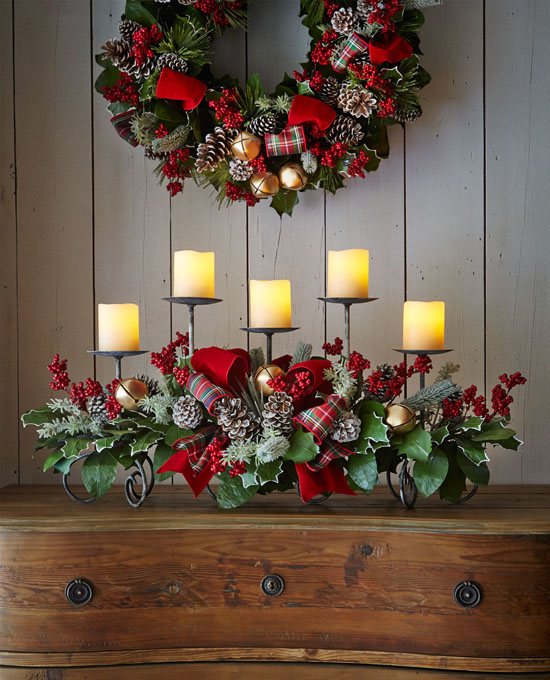 Here's a beautiful countryside candle decoration idea for you to try this Christmas. Instead of using real candles, you can try the artificial ones.
A Single Candle Amidst Greens: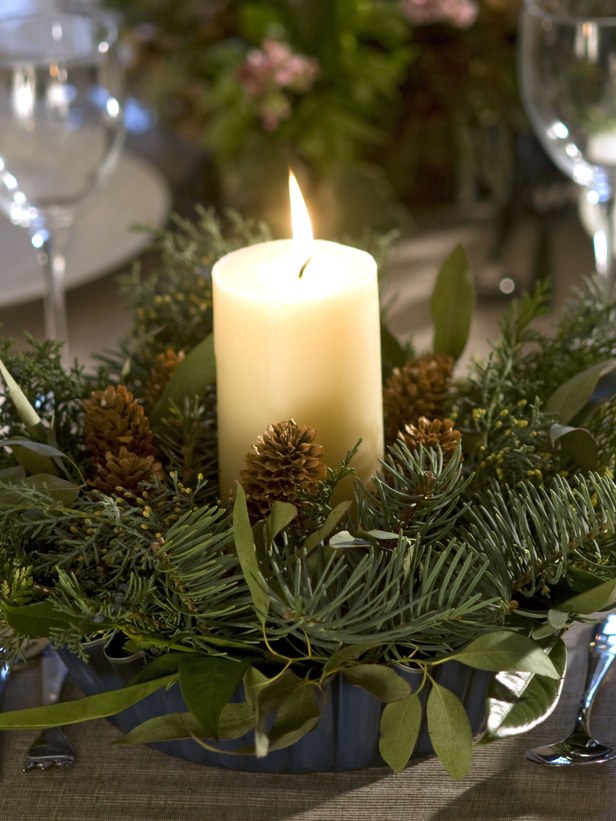 In this eco-friendly idea, a white pillar candle is surrounded by greenery. What could be a better occasion than Christmas to spread ecological awareness in the family.
Candles In Galvanized Buckets: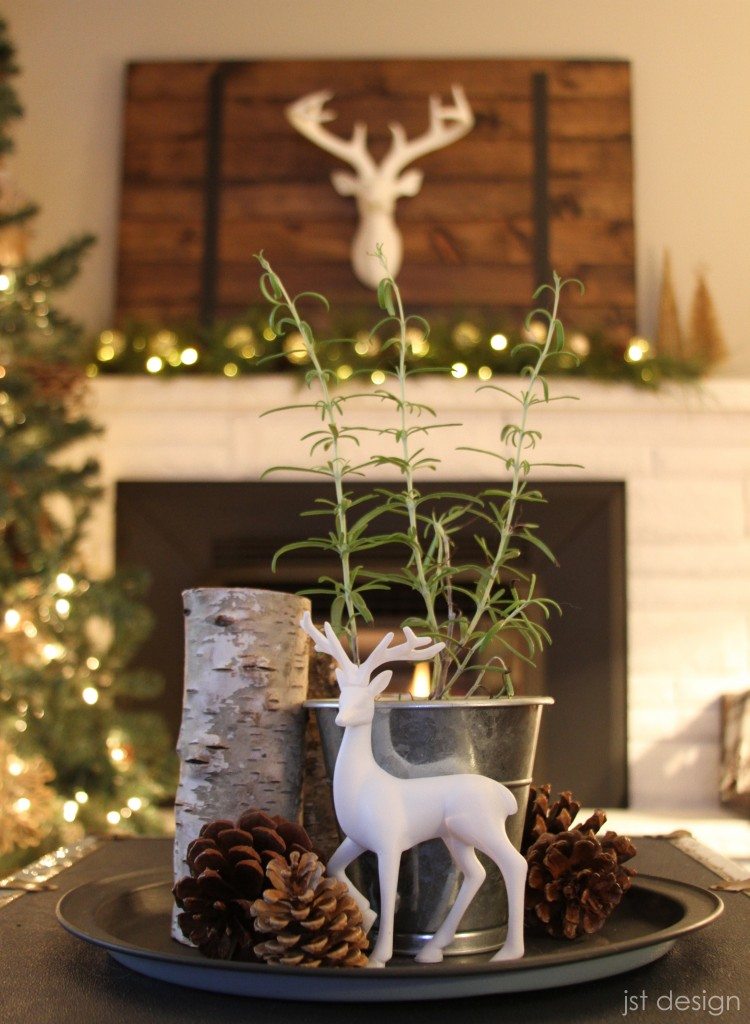 Here's a lovely way to give a rustic touch to your décor. Instead of using a standard candle holder, arrange the candle in a galvanized bucket. Place a white deer near it to make it stand out.
Advent Calendar: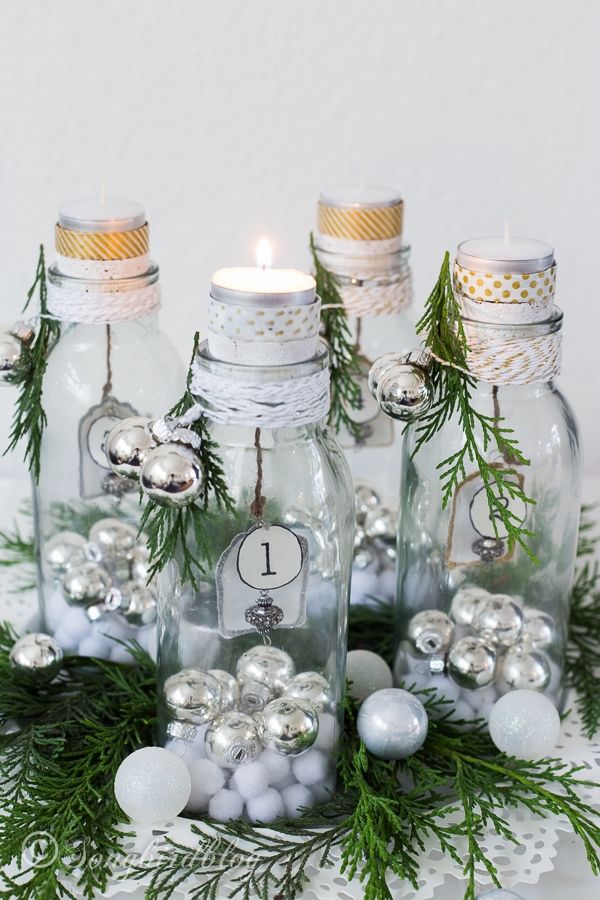 How cute is the idea of using candles as advent calendar? We think it's an absolutely cool idea and we can't wait to try it.
Surround It With Cranberries: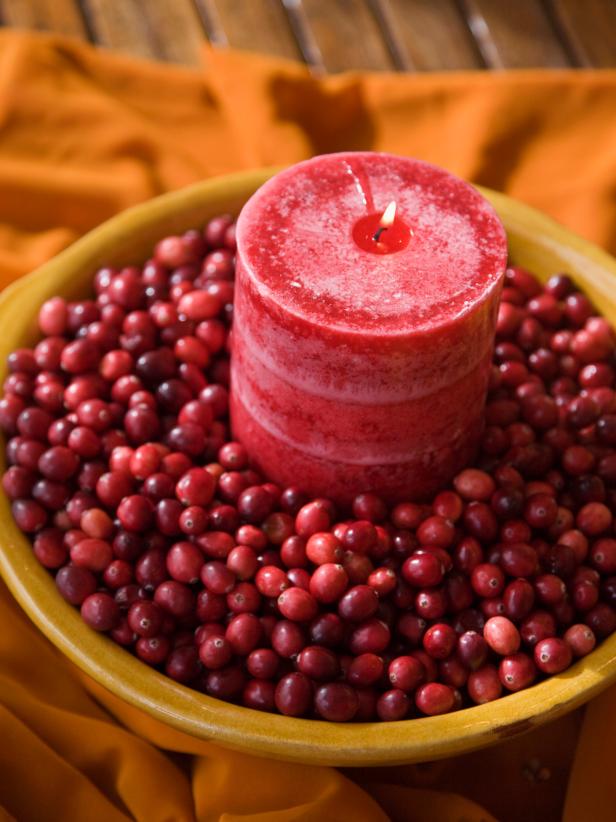 Red candles and cranberries, could there be any other thing more complementary? But if you want, you can replace the red candle with white.
On The Window Sills: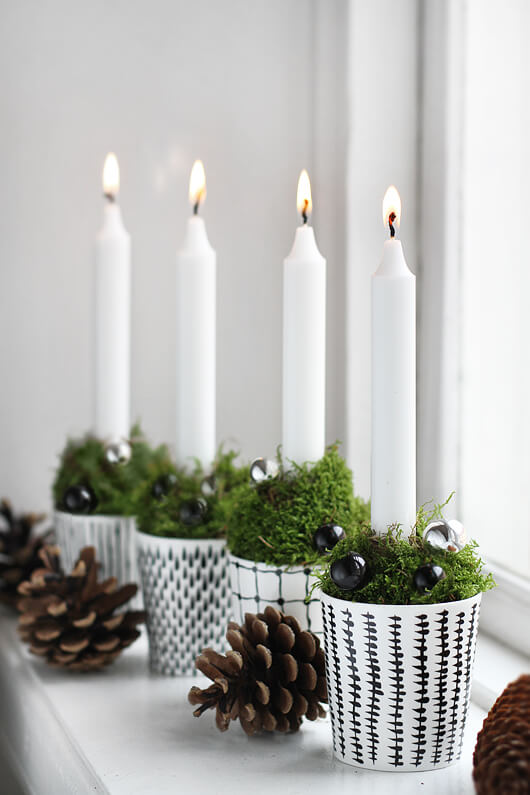 This one's truly beautiful. We think it would look great decorated on the window sill. But before anything, you need to get hold of cute plant pots.
A Typical Christmas Candle Decoration: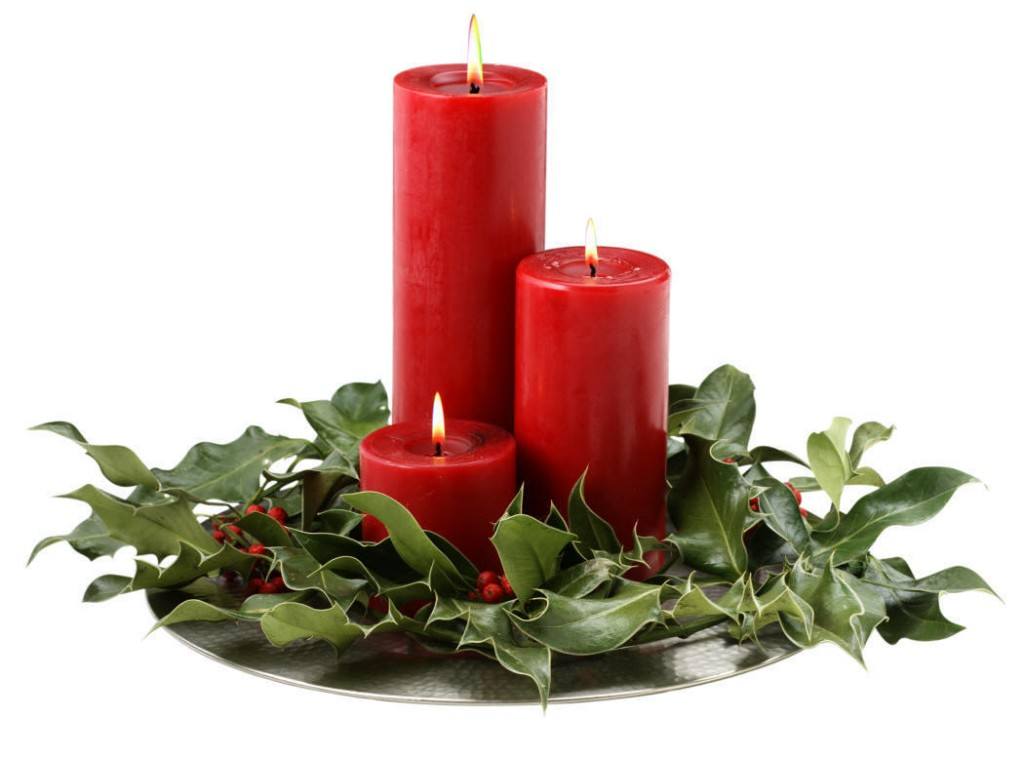 No candle decoration looks as festive and Christmassy as the one we see above. It's sure to fill the house with Christmas spirit.
Repurpose The Wine Bottles: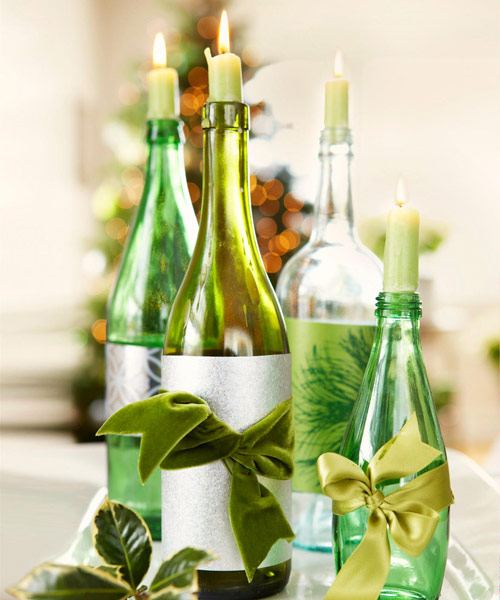 This idea requires you furrowing through the recycling bin to find some wine bottles. Then you need to arrange for some satin and velvet ribbons, candlesticks and silver decorative paper.
Arrange Candles On A Chandelier: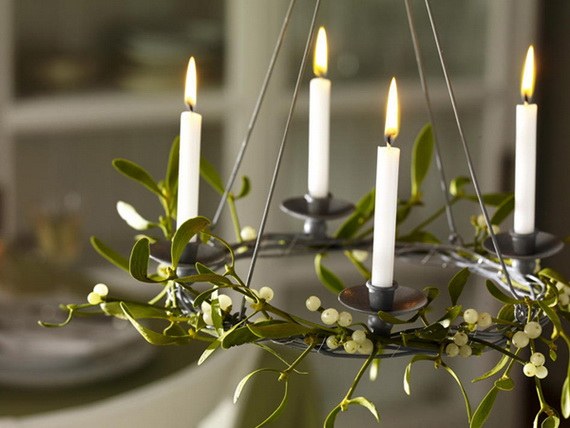 Isn't this idea looking absolutely festive and beautiful. The green berries and its sprigs are going very well against the stark white candles.
Green And White: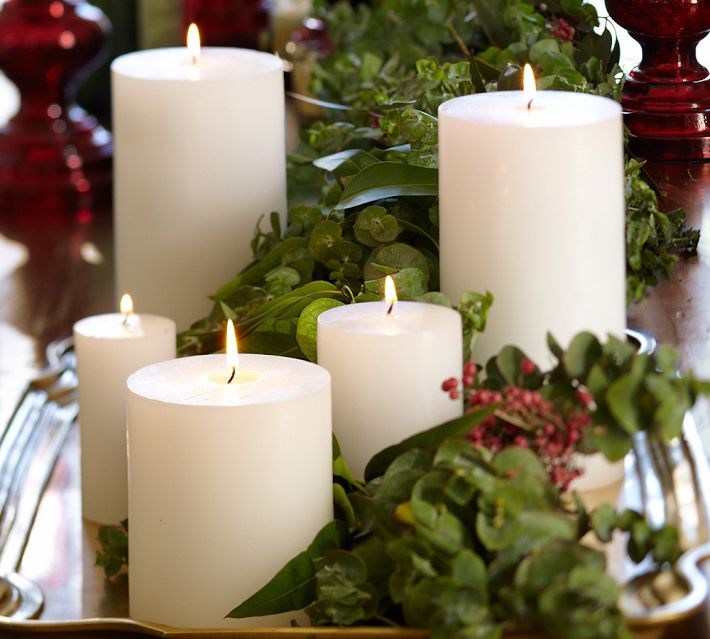 Green and white is one color scheme that finds a lot of takers during the Christmas season. So if you're also planning, have a look at the idea above.
Wrap Them In Knit: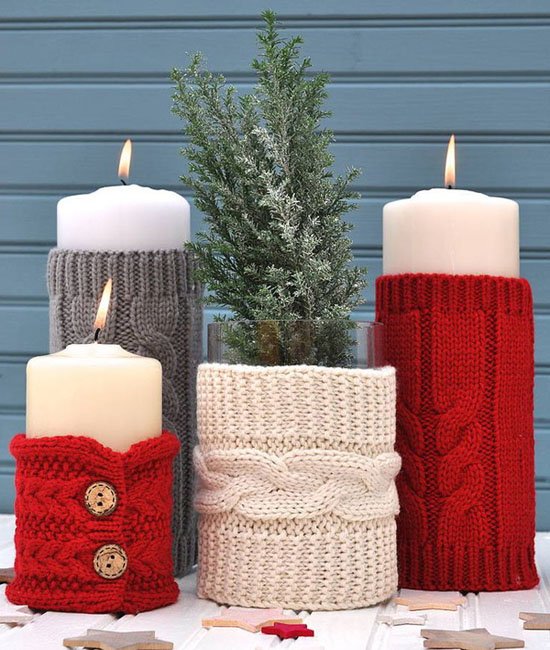 How about wrapping the pillar candles in woolen or knits? Your guests will feel warm and cozy just by looking at them.