Stockings are staple to Christmas decoration. It adds fun to the décor and also showcases the personality of each household member. Every year, parents put little gifts in the stockings and hang them at night before Christmas. It's a long-standing tradition, after all.
You May Also Like To Read:
While most of the people prefer hanging stockings from the mantelpiece, there are plenty of other ways to decorate using stockings too. Beneath we've listed some of the most magnificent stocking decoration ideas. Have a look!
Classic Stockings: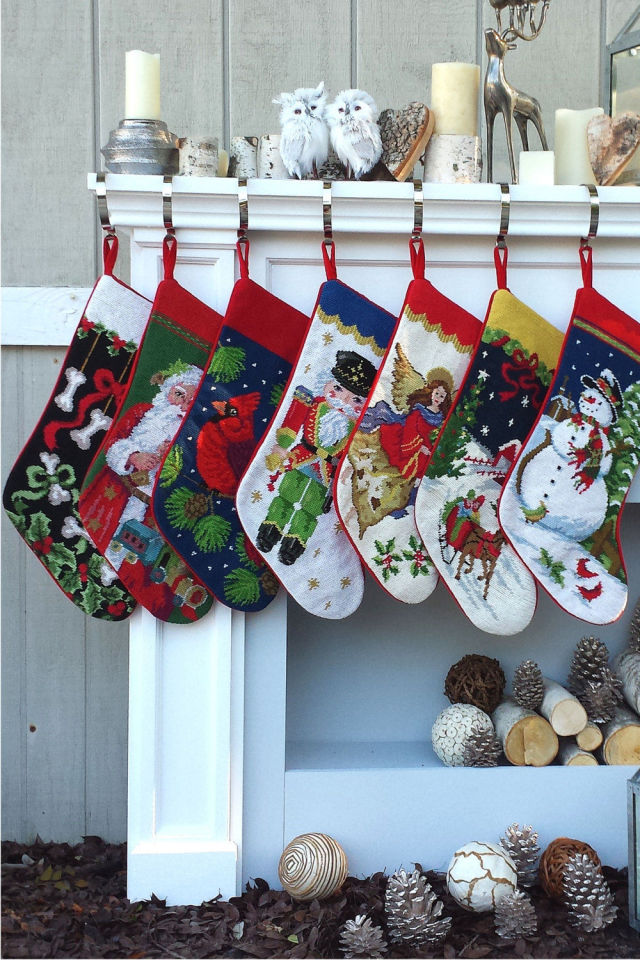 The stockings featured in this image shows all the important symbols of Christmas and all are printed in a very scenic way. Besides, all these stockings are cross stitched. Could you get any more classic?
Adorable Creatures: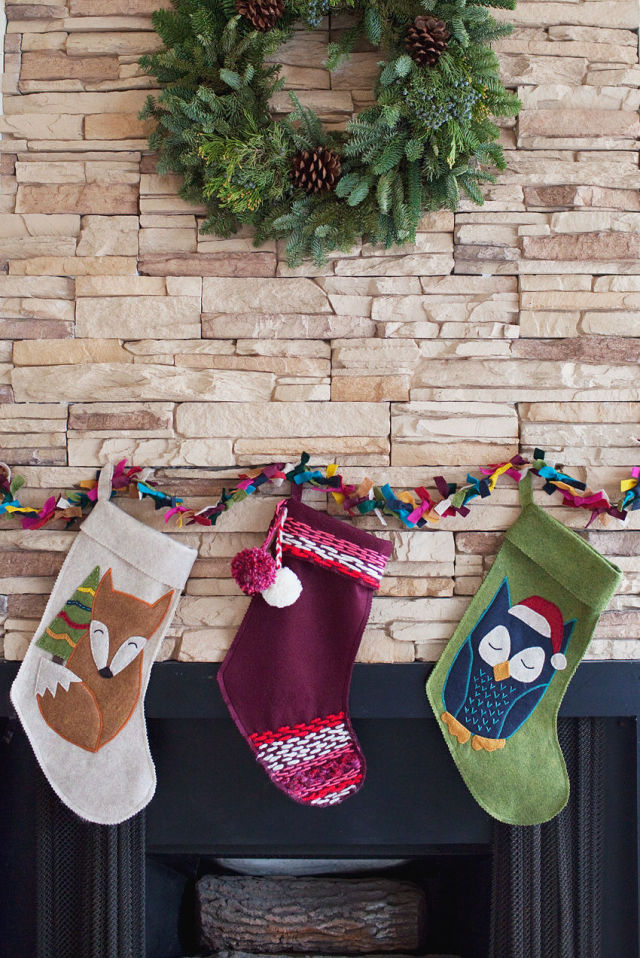 There's something about owls or foxes that scream Christmas. Probably because they're winter animals. Or because they're wearing Santa hats.
Burlap Beauty: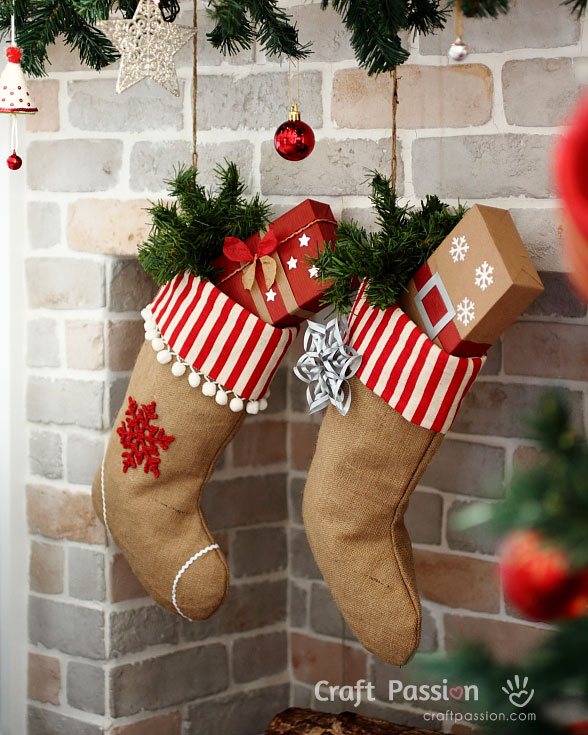 Spread Christmas cheer in your house by making these burlap stockings with your kids. You can even swap the burlap with cotton if you want.
Hang At The Entryway: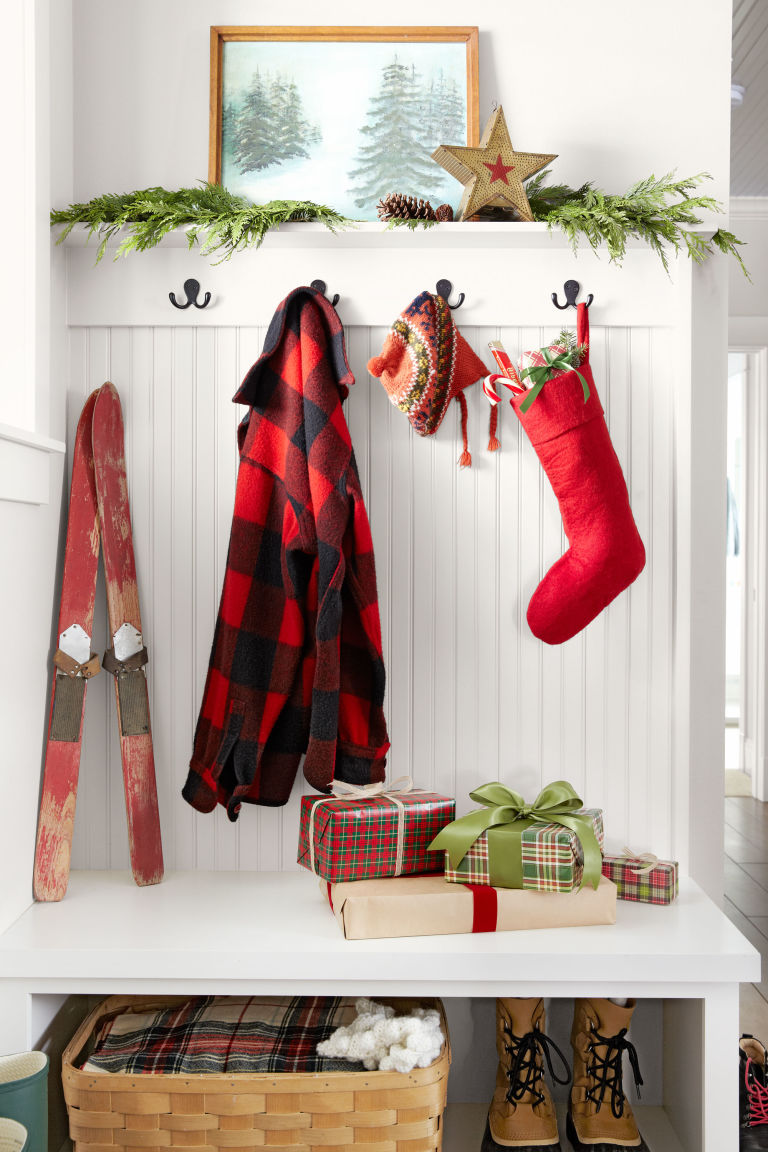 If you want the stocking to stand out, hang it in a highly unlikely place, like the entryway. And do not forget to fill it with gifts of your choice.
Green And White: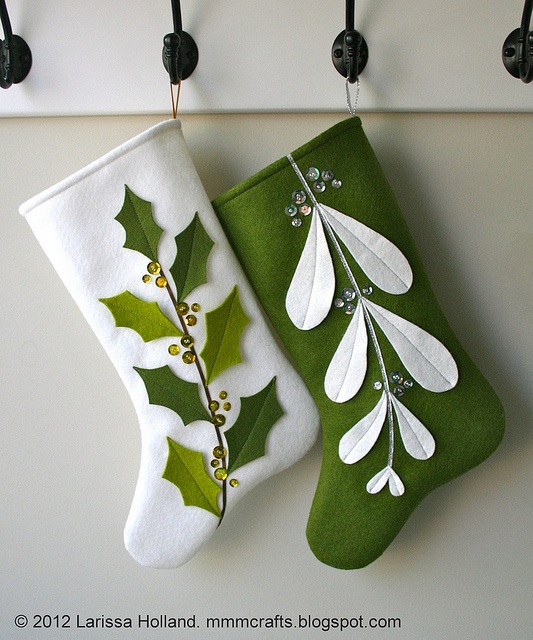 These got to be the most fun and whimsical looking stockings ever. The idea of affixing faux leaves on stockings looks novel.
Merry And Bright: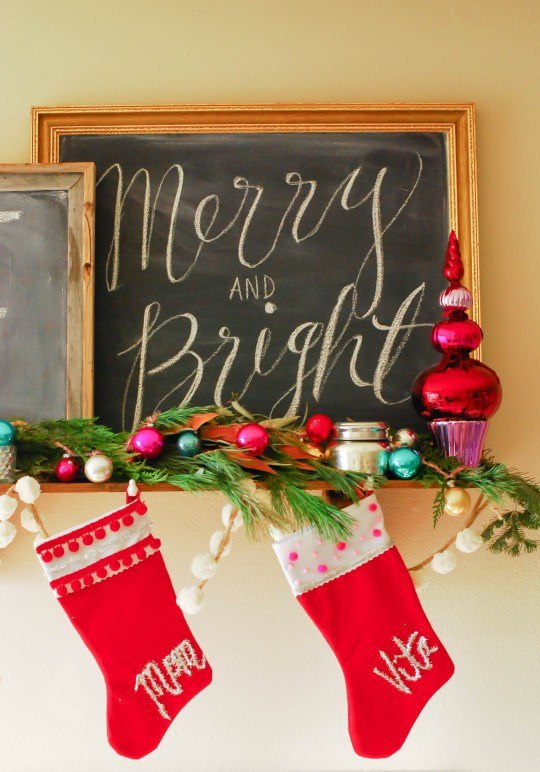 Not just the decoration, even the stockings look merry and bright in this picture. And by decorating your stockings with phrases, you'll make it look even more festive.
A Parade Of Stockings From The Mantelpiece: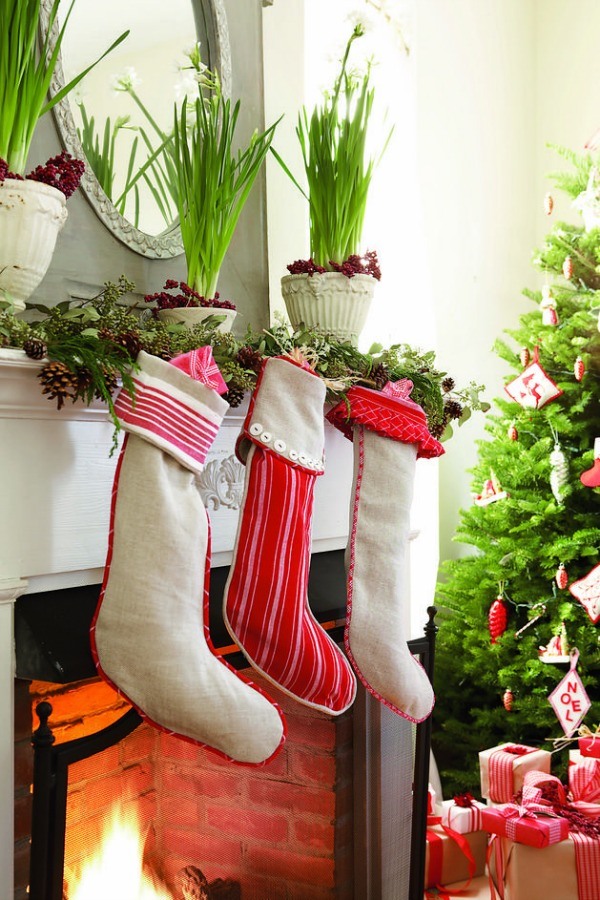 Knit some classic Christmas stocking, decorate with seasonal items and then hang them from the mantle.
No Sew Stenciled Stockings: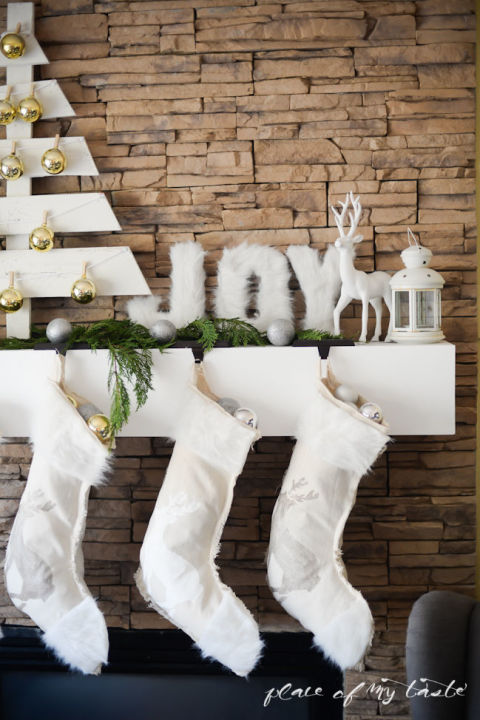 To make these beautiful stockings inspired by placeofmytaste.com, you'll need faux fur, a hot glue gun, drop cloth, scissors, stencil and paint. Even kids can make it, but you need to help them with the glue gun and scissors.
Sweater Stockings: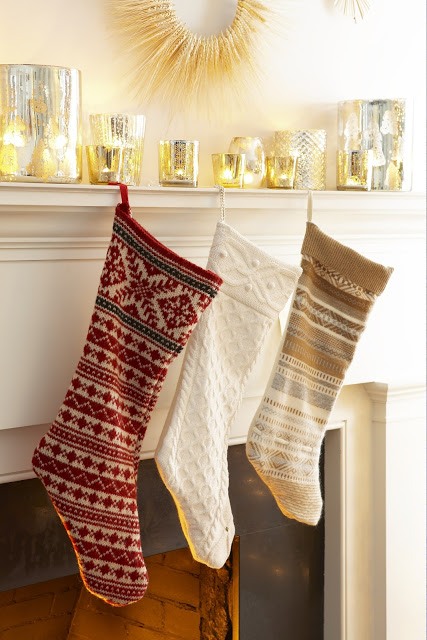 This is one practical idea we could come up with for you. If you have some old sweater lying in your house, turn them into lovely stockings.
Rustic Looking Stockings: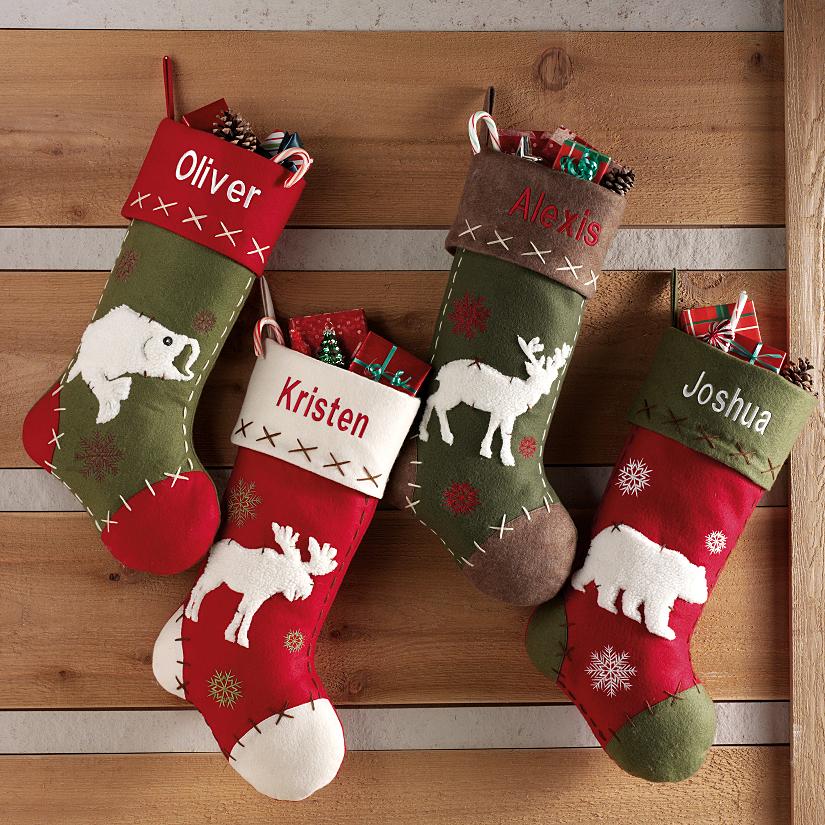 These have to be the most perfect rustic looking stockings ever. And we're not saying this because of the animals embossed on it. But because of the earthy color scheme.
Green Stripes: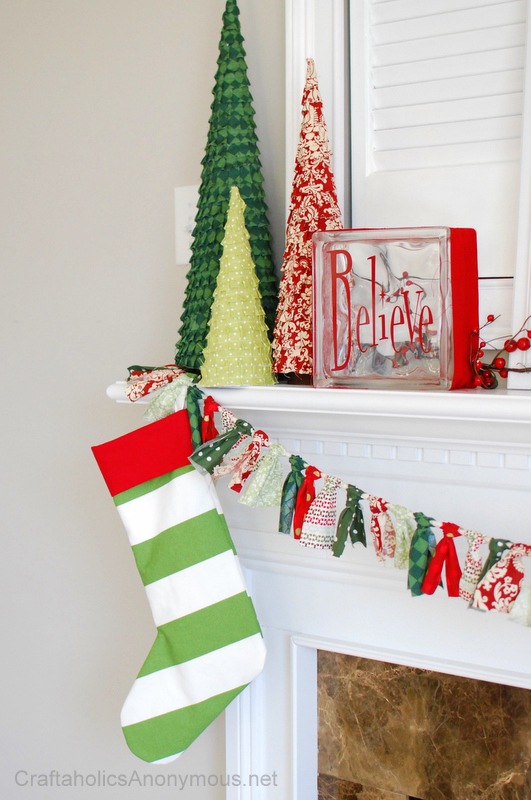 If you like to steer clear of bold and bright patterns and prints, you can opt for this simple green striped stockings. The color combination, white and green is popping against the background.
NOEL: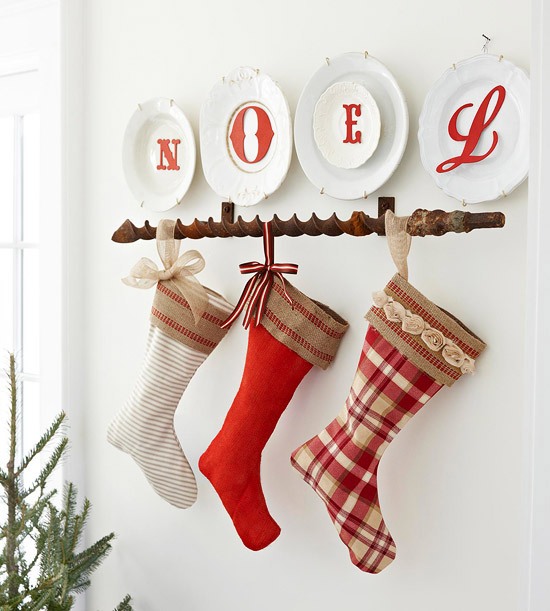 You can hang from stockings in your kitchen too, preferably in the above manner. Do not forget the NOEL plates.
Whimsical Stockings: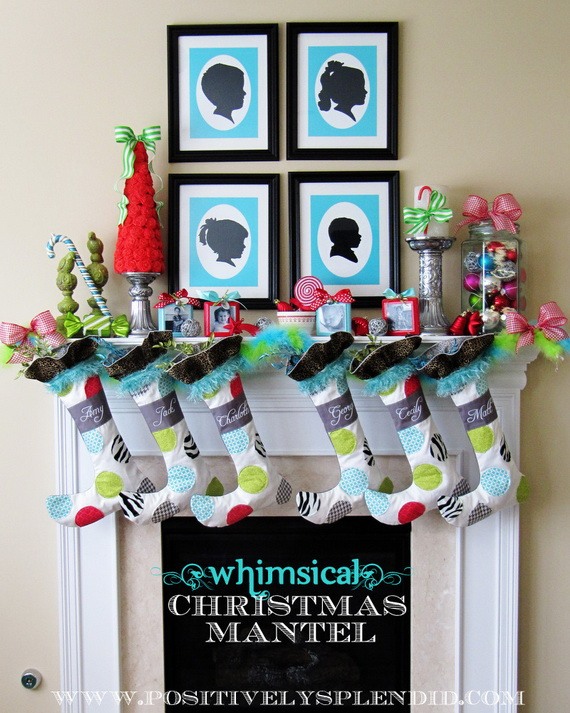 This has to be the most fun looking Christmas stockings. The entire mantle is done in a playful manner, right from the portraits to the mini Christmas tree.
Boot Shaped Stocking: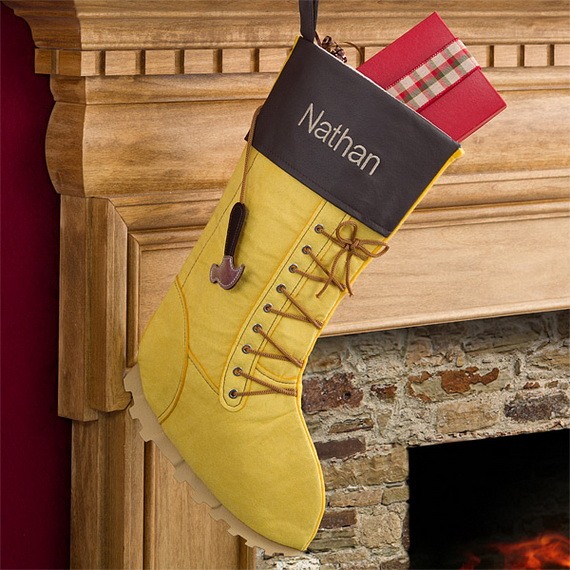 Another thoroughly unique stocking idea. In the picture, it's hung near the fireplace, but we think it will look great hung from the kids' room door. And don't forget to personalize it.
Burlap Stockings: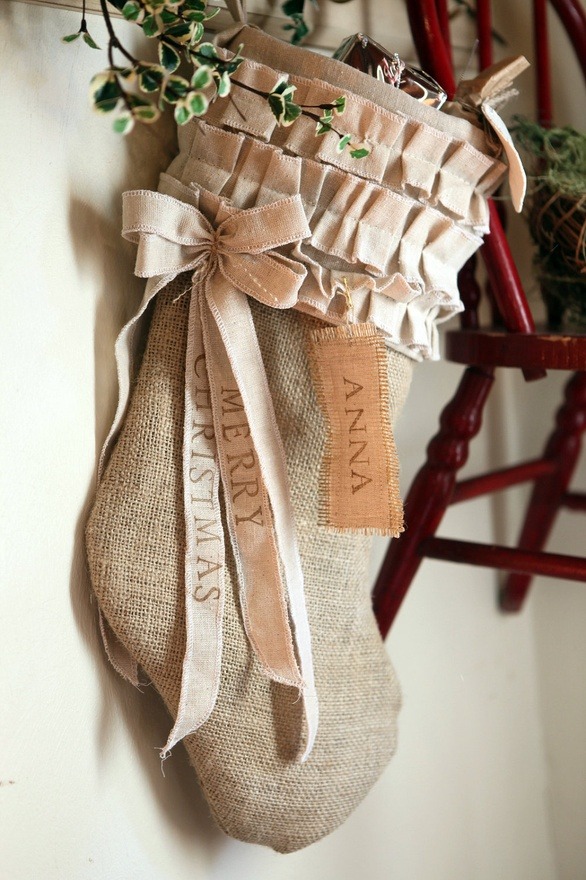 If you wish to keep things eco-friendly and understated, opt for something like this burlap stocking. We loved the idea of hanging a name tag from the stockings.
Patchwork: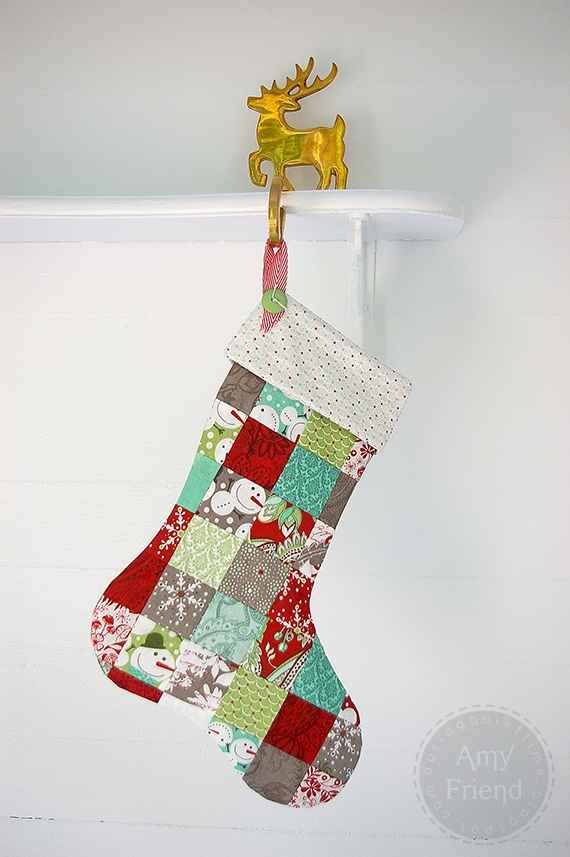 Patchwork technique is one of the favorites, especially in classic work. So the blogger from basicgrey.com used some scrap fabric to create this beautiful stocking. Hang from the mantle using a ribbon.
Red And White: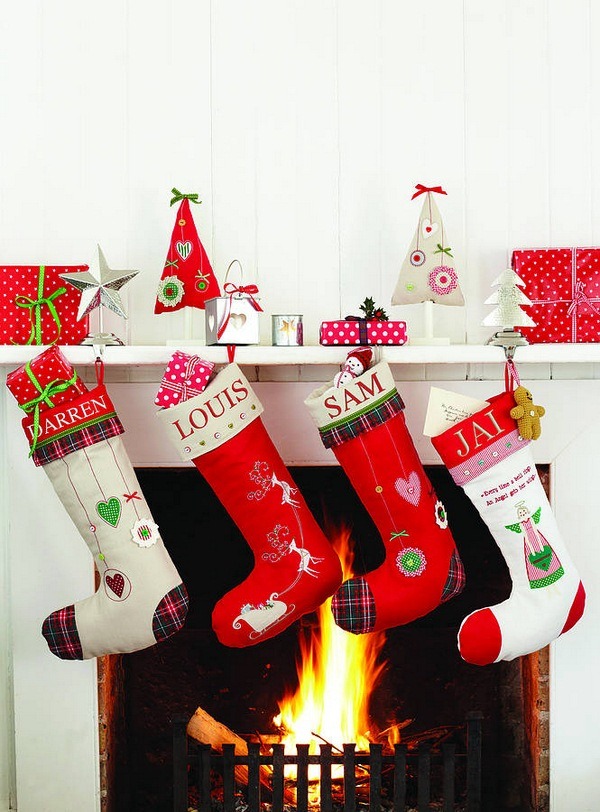 These unique, stockings will spread cheer to anywhere it's placed. Just look how it's enhancing the beauty of the décor.
For The Dog Lovers: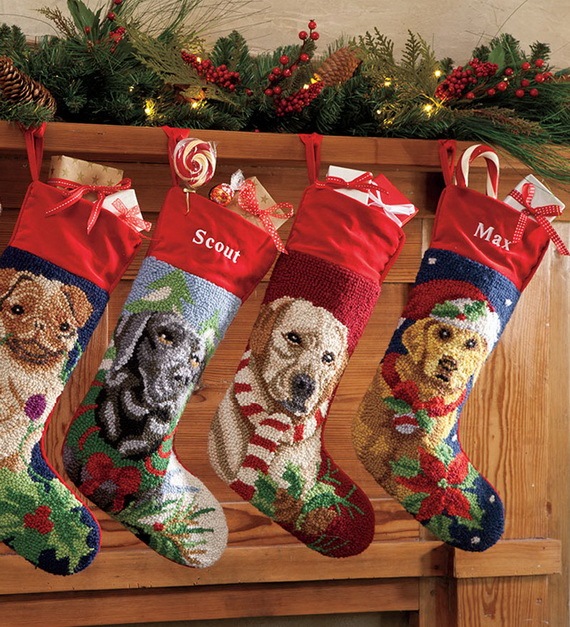 This has to be the best way to showcase the love you have for the canine. And believe us, this will be one of the most unique Christmas stocking ideas ever.
Hang From The Banisters: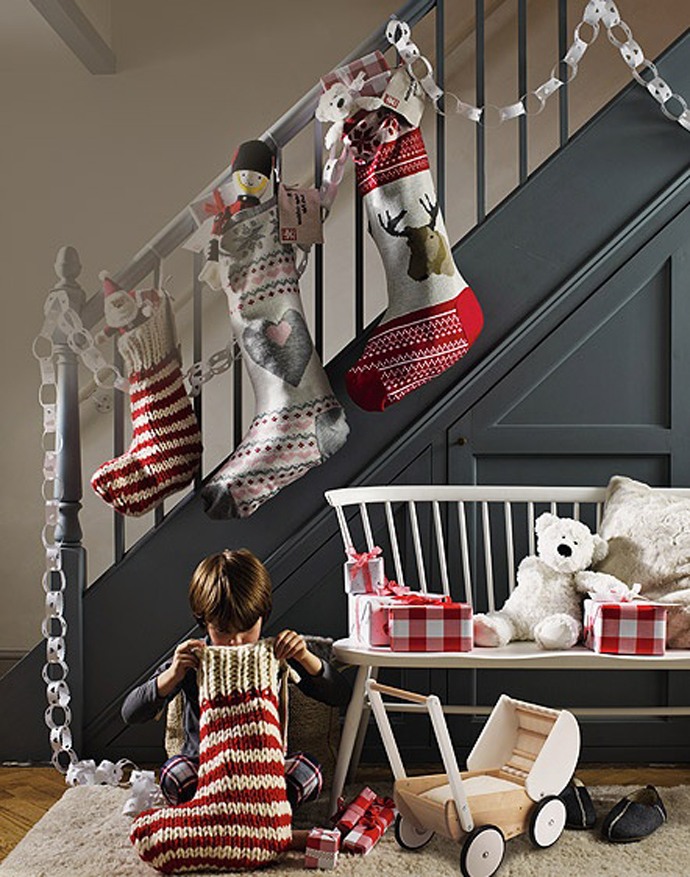 Stockings looks exquisite when hung from the banisters. So get a few printed ones and hang them from the banisters along with a simple garland.
Fun Christmas Stockings: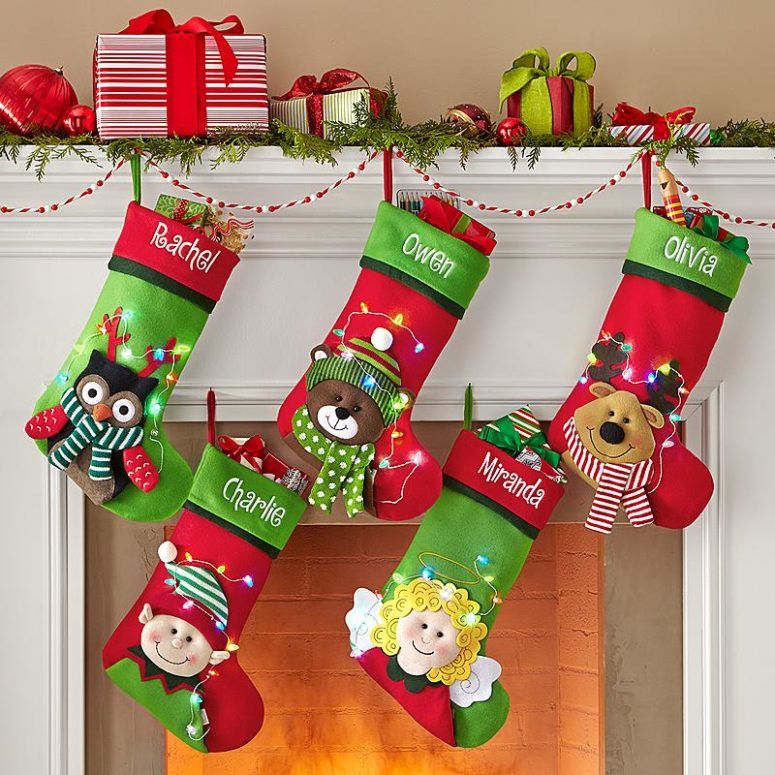 These Christmas stockings, featuring angel, elf, owl, reindeer and teddy, will bring a wide grin on your children's face. They'll be pleased less with the gifts, but more with the stockings.
Crochet Stockings: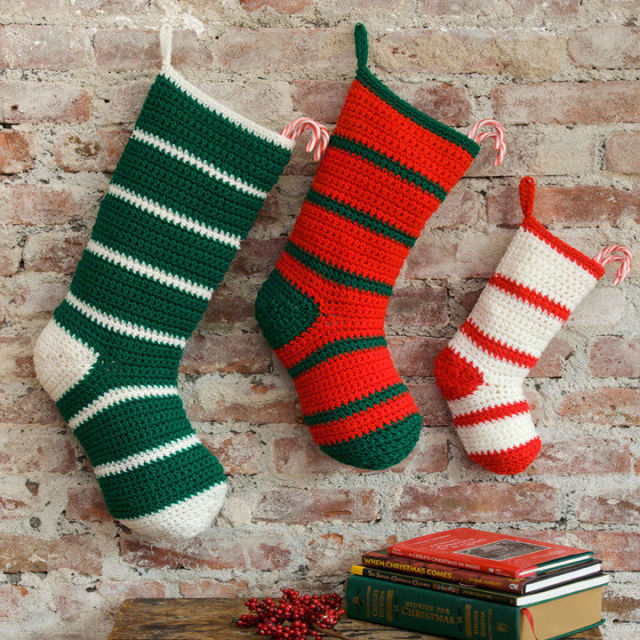 If you're well versed with a crochet needle, you can create beautiful stockings to stock the goodies.
Decorate The Stockings: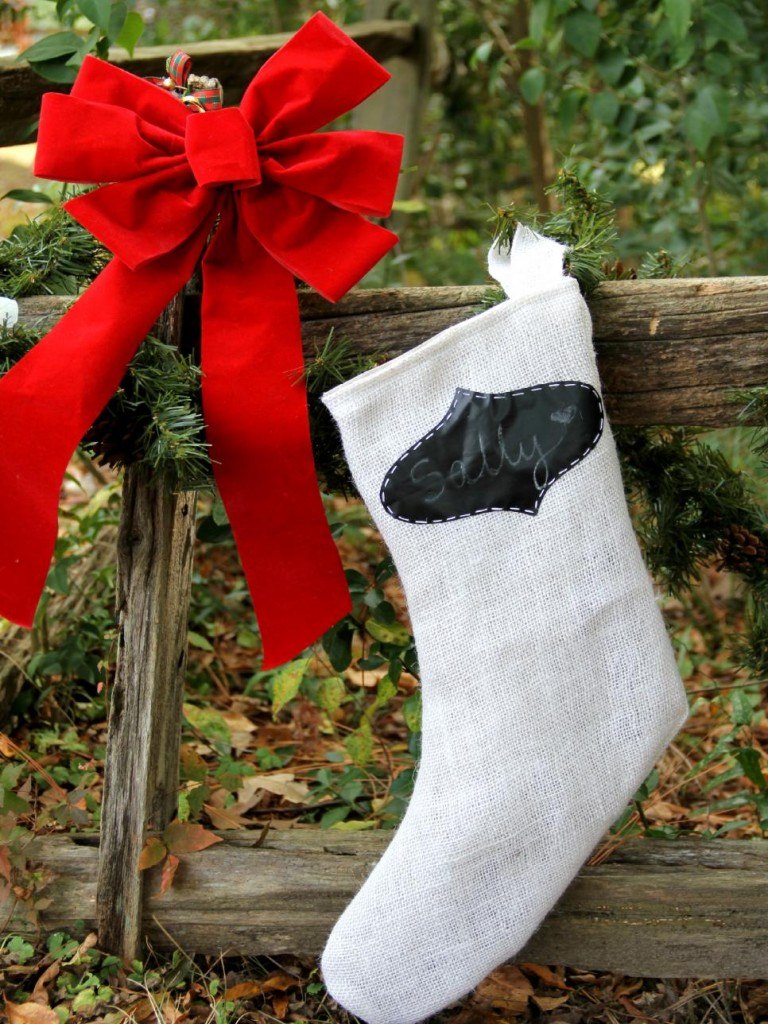 If you want, you can even decorate the outdoors with stockings. We think it will make a fresh change from typical lanterns and ornaments. Do not forget to write the name of your beloved.
Checked Stockings: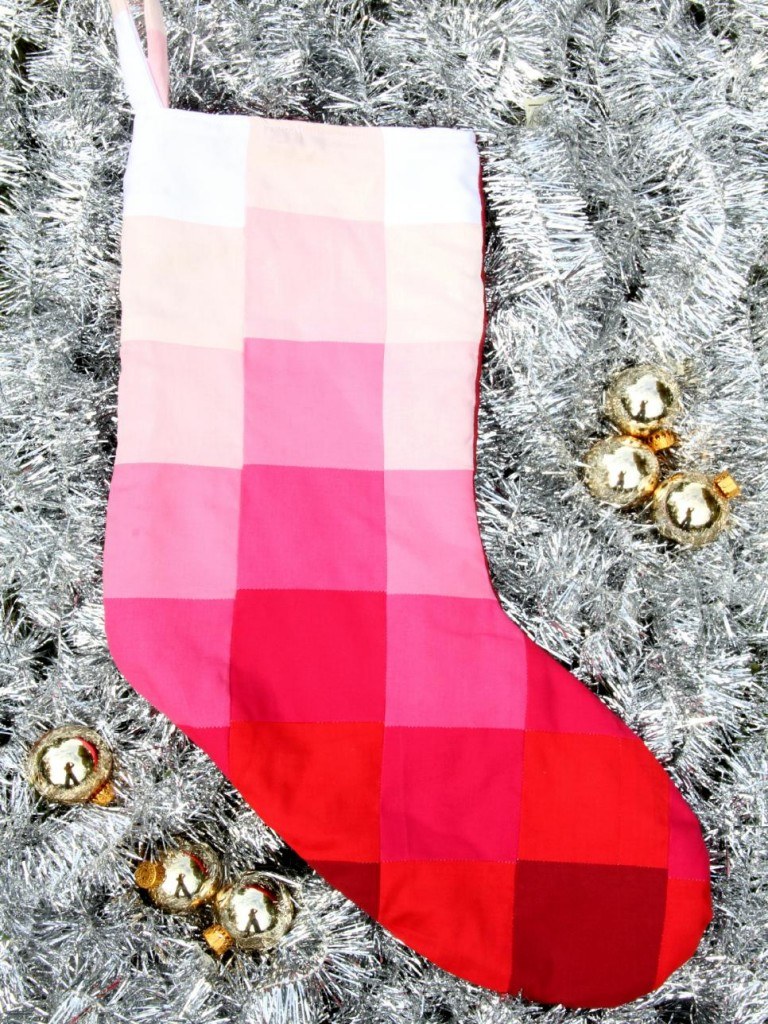 If you want something unconventional and unique to go with your modern décor, opt for this checked stocking.
Go For Gray: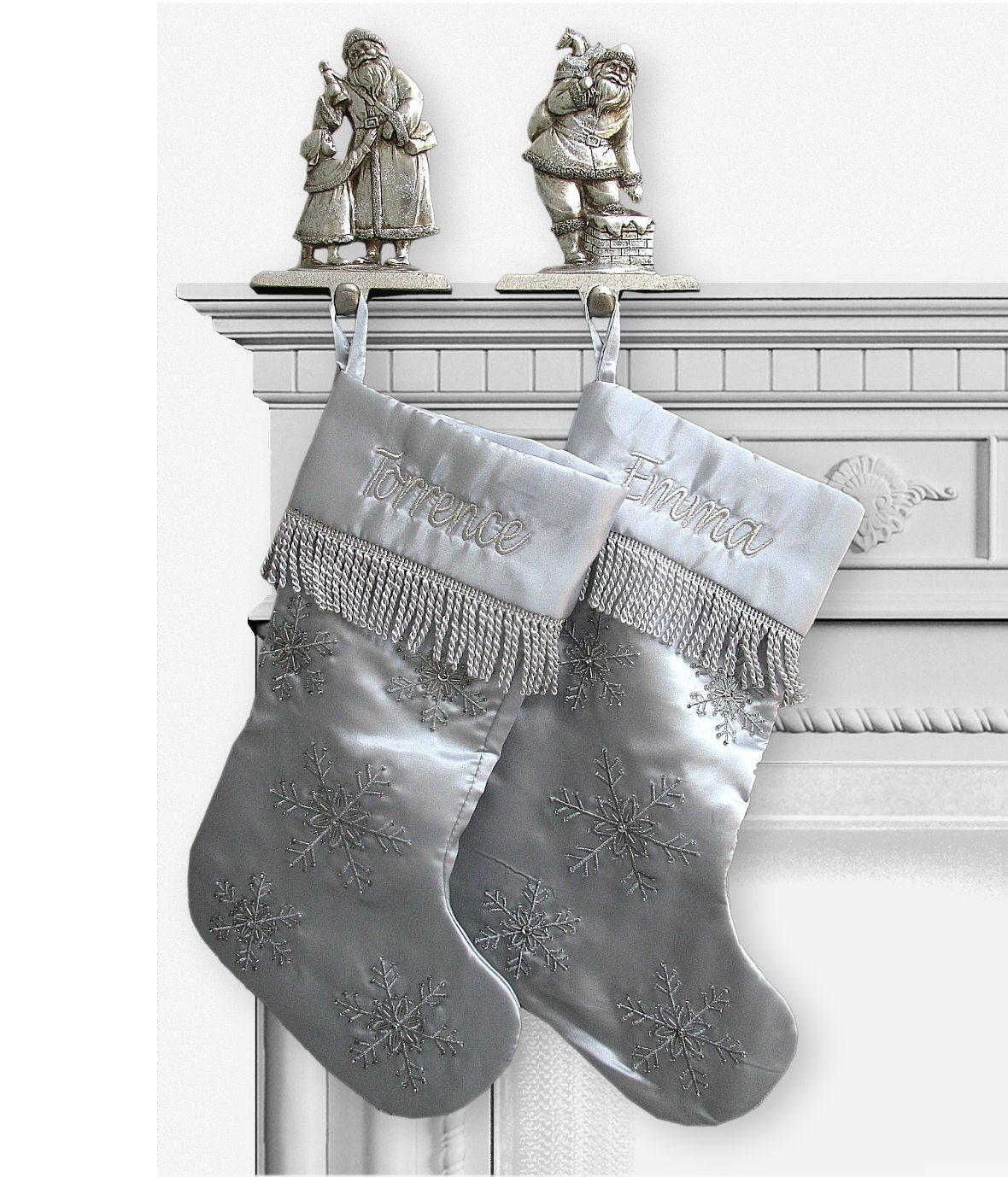 If you're confused regarding what color to opt for stockings, pick metallic gray, without a second thought. It goes with almost everything.
Use Colorful Felt: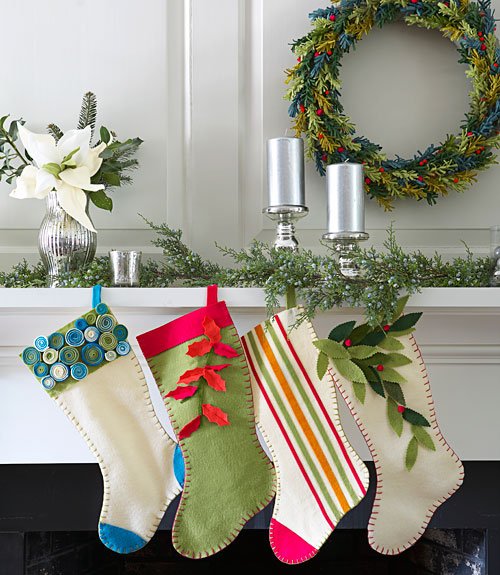 These homemade stockings, with blanket stitched edges, will look stunning hung from the mantelpiece. We loved the idea of decorating the stockings with different elements, like pinwheels, stripes, and faux leaves.
Vintage Stockings: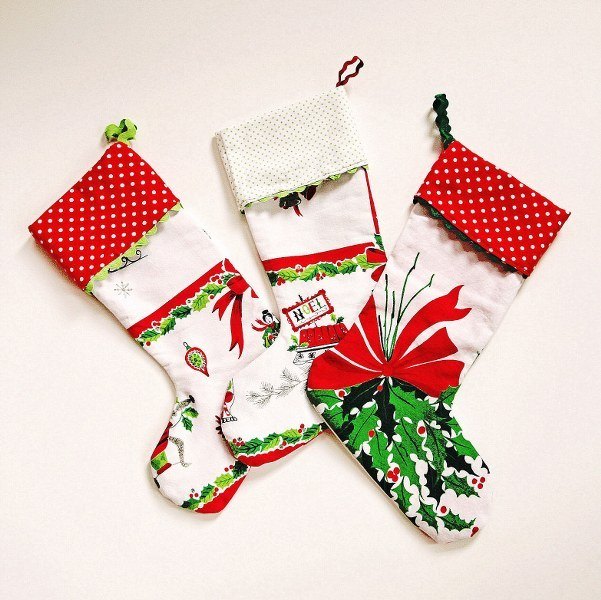 If you have some holiday tablecloths handed down from your grandmother, you can put them to use by turning into a stocking.
Personalize The Stockings: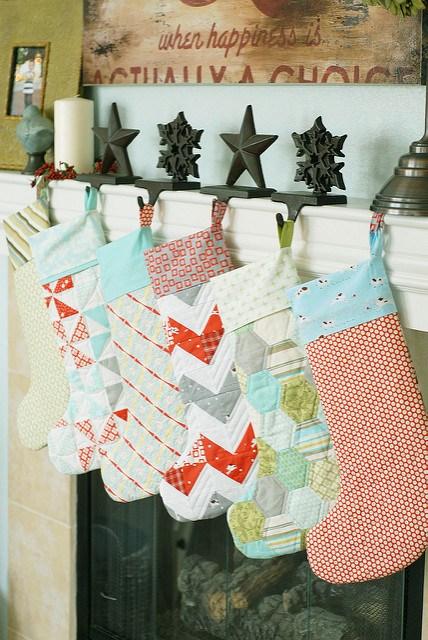 Here's a lovely way to personalize the stockings. Just give each of the family members their own pattern, just like the creative blogger.
Elegance Personified: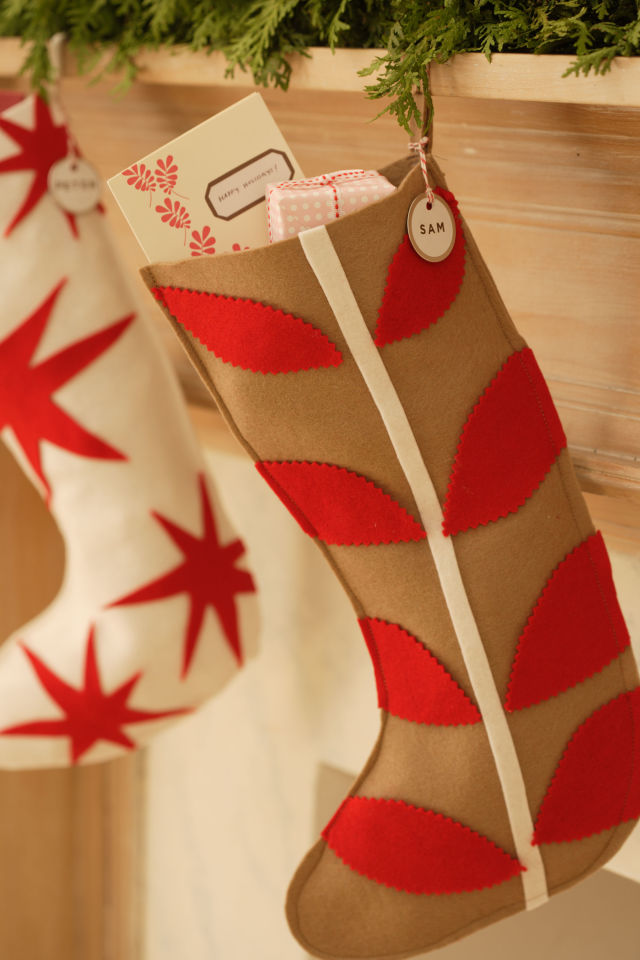 Here's an easy way to make your mantel merrier. But don't forget to stuff it with little goodies.
Fruity Stockings: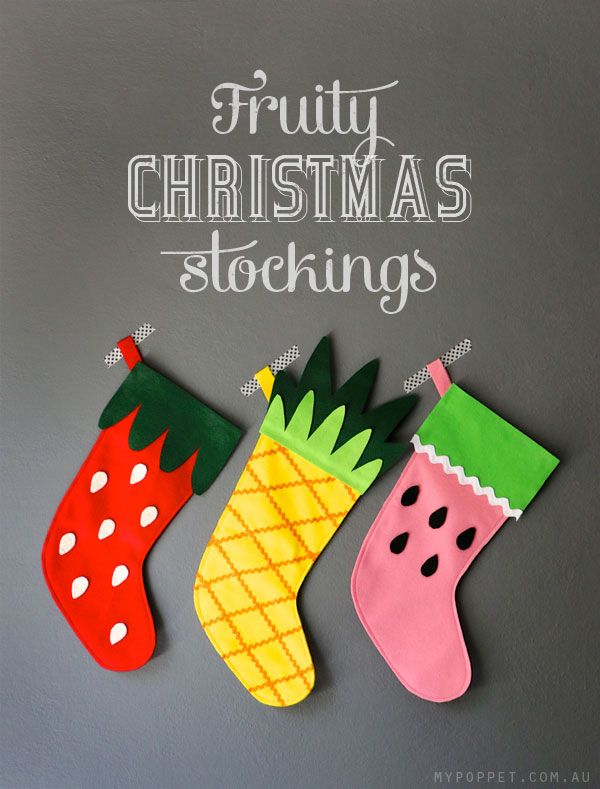 This got to be the cutest stockings ever. It will help you forget your yearnings for warm, summery days.
Crisp White: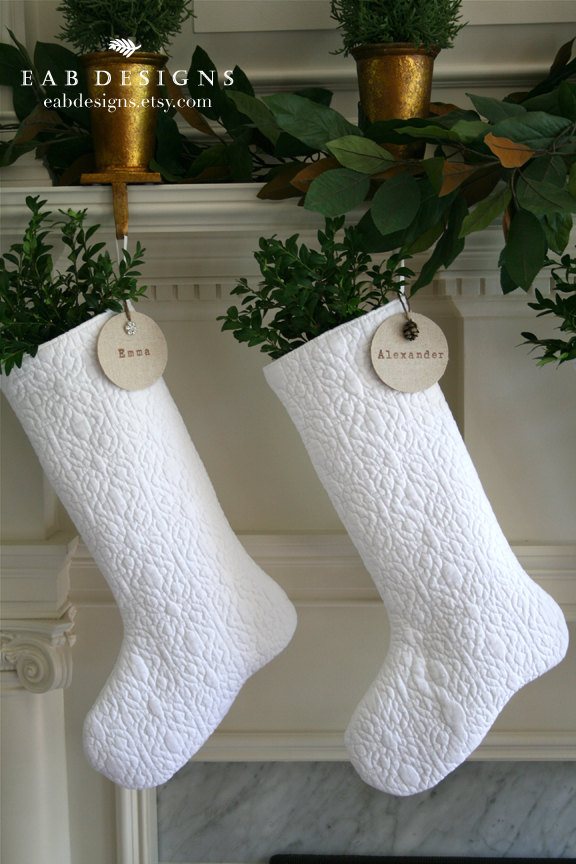 You know what's the best part of quilted muslin? They look great even in plain shades, like white. It will look great against neutral décor.