Christmas is fast approaching, so it's time to discard the pumpkins and gourds and start brainstorming of unique Christmas decorations. If you ask me personally, there's nothing better than walking in the yard during Christmas and seeing the festive decorations and twinkling lights outside everyone's house. So each one of us should try to make the porch of the house as festive and beautiful as possible, as it's the first thing guests will see on entering.
You May Also Like To Read:
If you need some help concerning decorating ideas for the porch, you've landed at the right place. Below we've collected some beautiful ideas to transform your porch worthy for the holidays. Have a look.
Pinecones And Berries: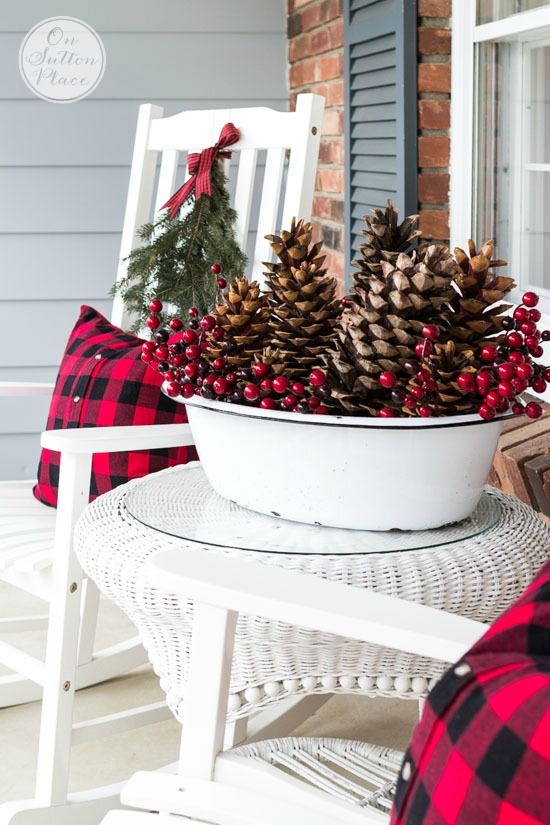 Such a lovely and frugal way to deck up the porch. Take a white vessel and fill it with pinecones and berries. The checked cushions are also looking adorable.
Galvanized Buckets: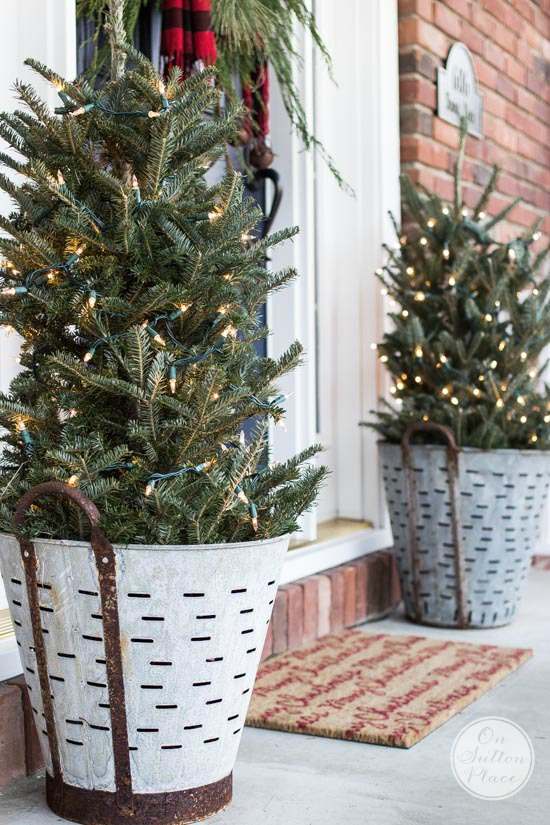 Instead of placing Christmas trees beside the door, you can arrange the pine trees in galvanized buckets and decorate it with tiny lights. It will look equally beautiful.
Go For Pleads: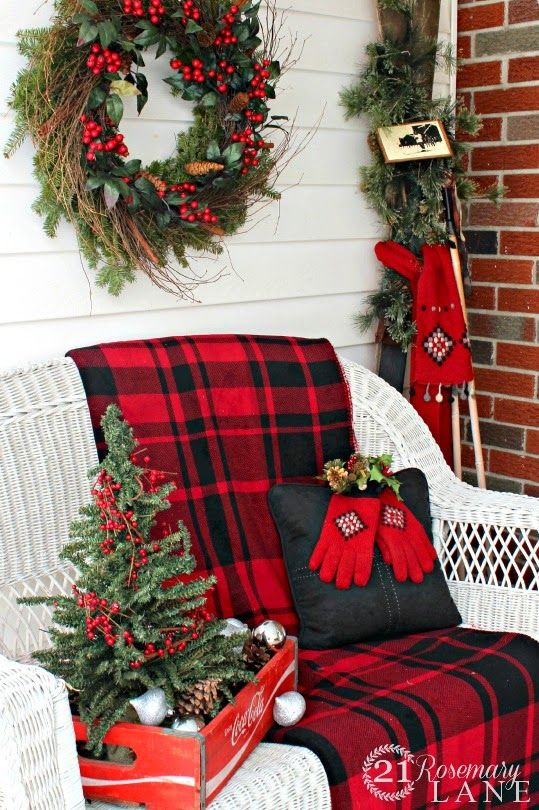 You can also use quilt blankets, mufflers, and gloves for decking up the porch. And don't forget the cranberry decorated tree.
Hang Santa's Clothes: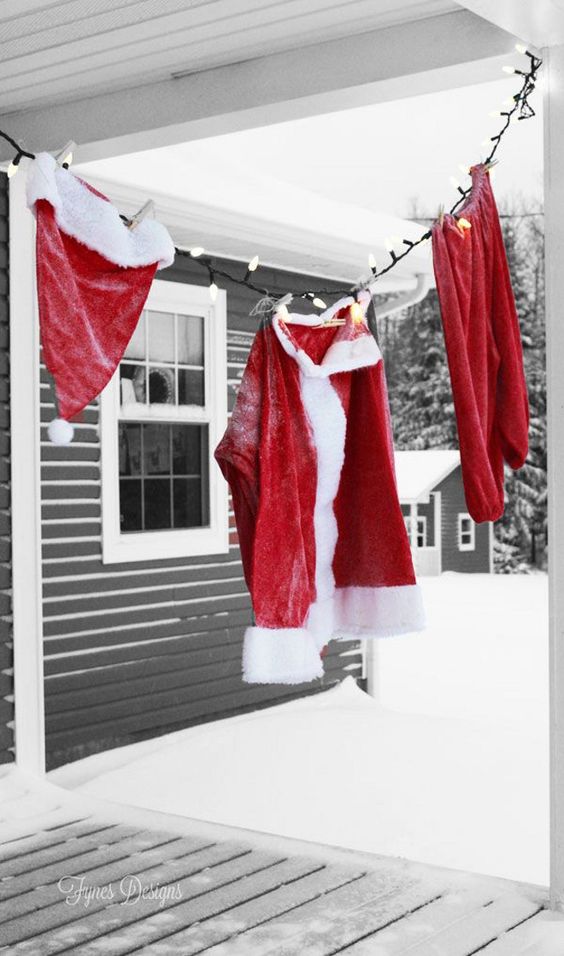 Confuse the kids by hanging Santa's clothes from the string lights on the porch. They are likely to believe that Santa resides in your house.
A Rustic Porch: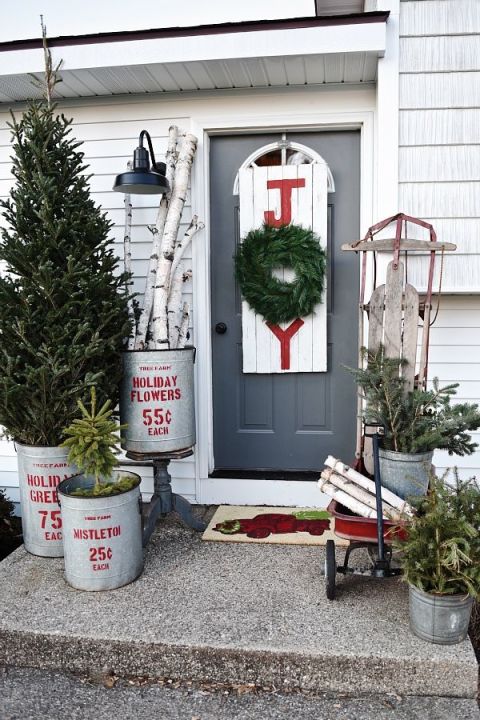 If you're a Southerner by heart, you'll love this rustic Christmas porch decorating idea. The porch is outfitted with the boughs in buckets and pine trees.
Simple, Yet Sophisticated: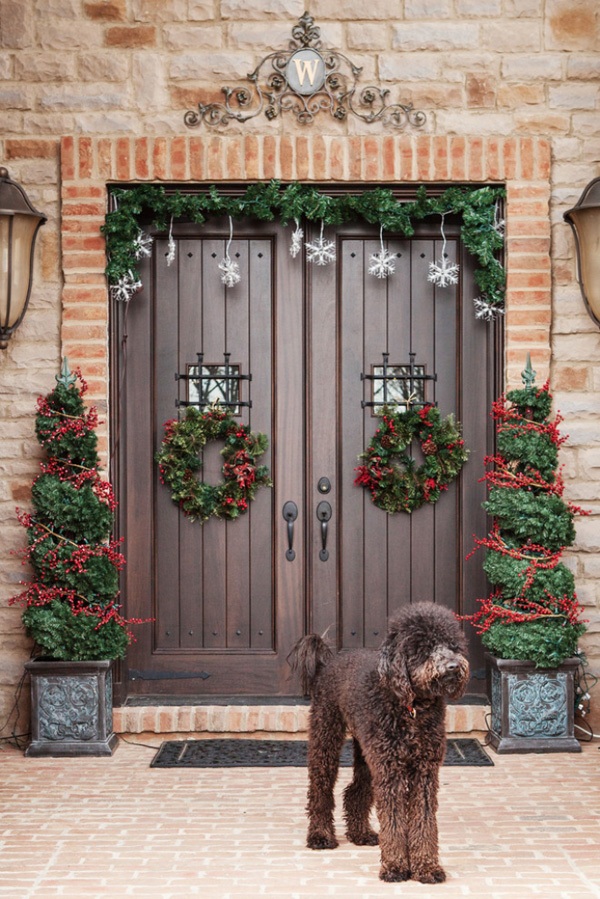 We don't know what we like more in this porch decoration, the simple and stylish décor or the cute doggy? Cranberries are adding a perfect pop of color.
A Traditional Porch: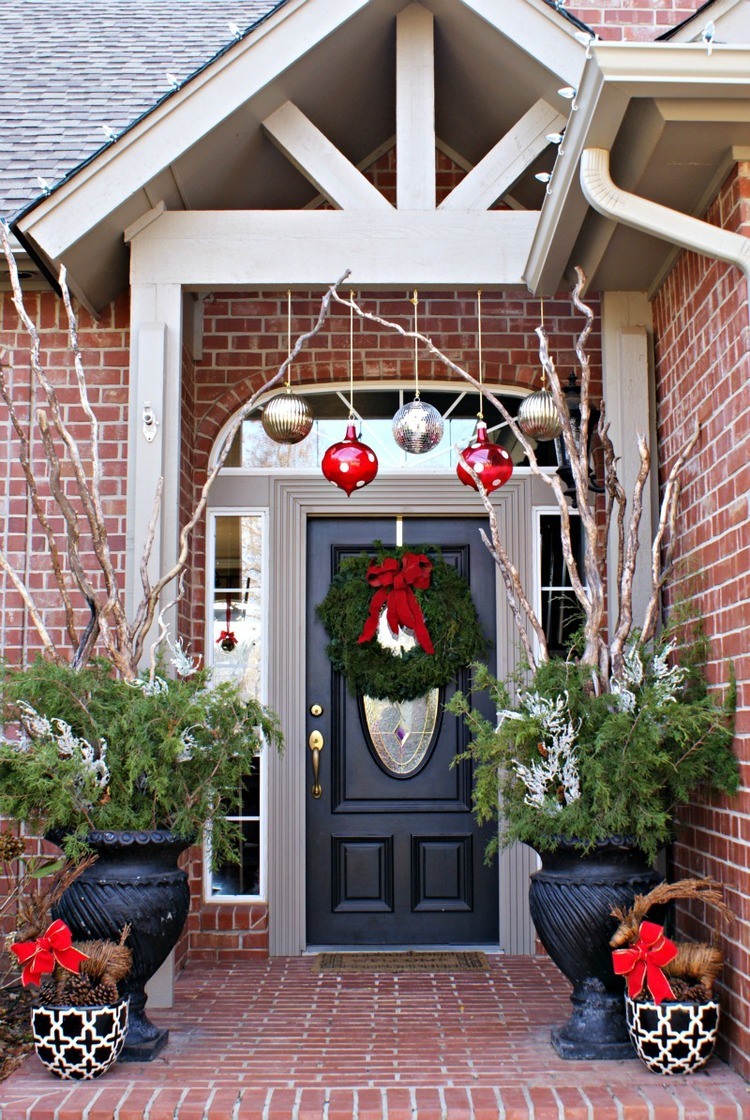 The porch in this picture is decorated in a very traditional way with an evergreen wreath beautified with a bow and baubles hanging from the door frame.
Fake Snowballs: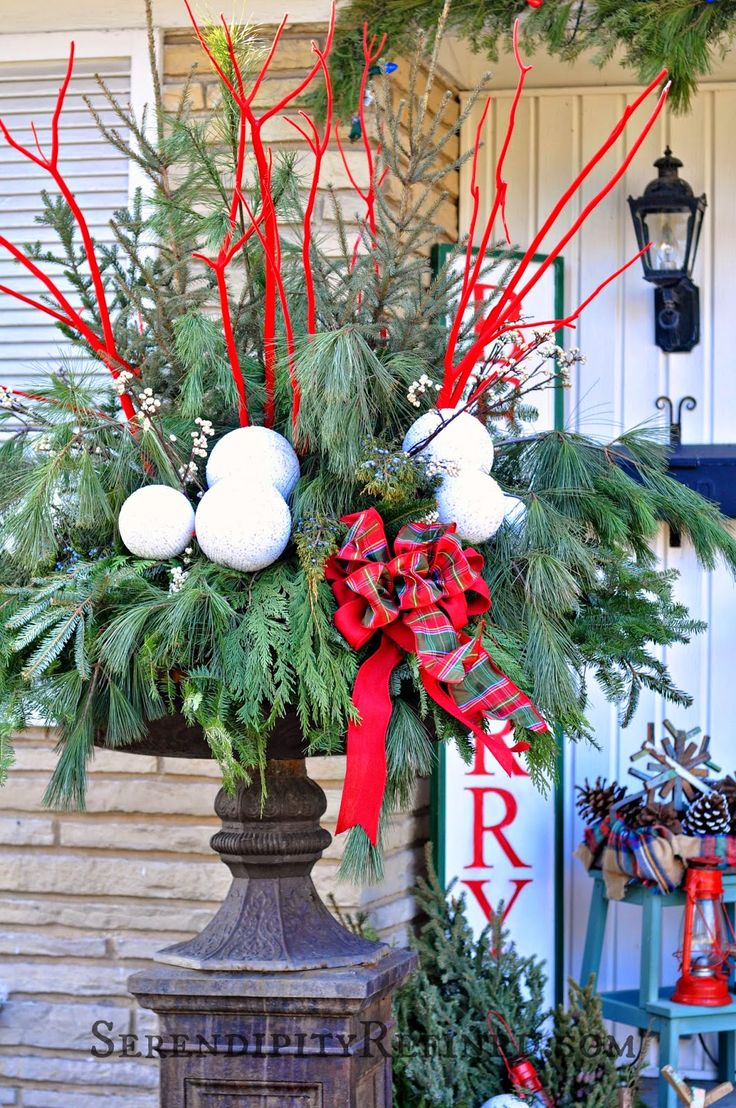 You can even use fake snowballs to decorate the urns filled with festive greens on your porch. The red ribbons and bows are further adding a beautiful look to the décor.
Use Urn Planters: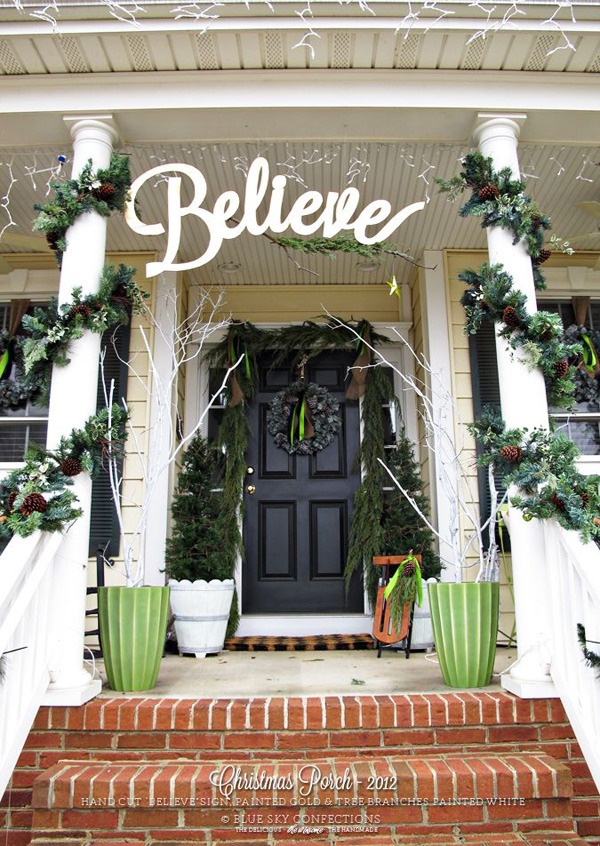 Urn planters can also play an excellent role in bringing life to your porch. And don't forget to use pine cones, colorful balls, and garlands to accentuate the look.
Thoroughly Rustic: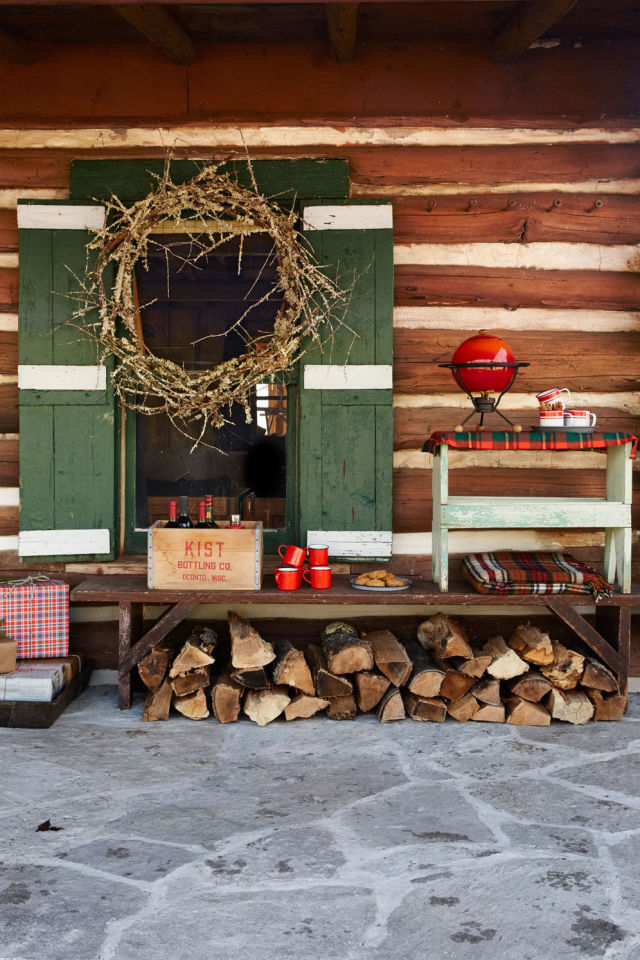 This idea is thoroughly rustic! The moss and twig wreath, the logs, everything, is setting an unfussy and rustic tone. Mulled wine served from Danish Muller is also adding to the warm feeling.
Happy Holidays Board: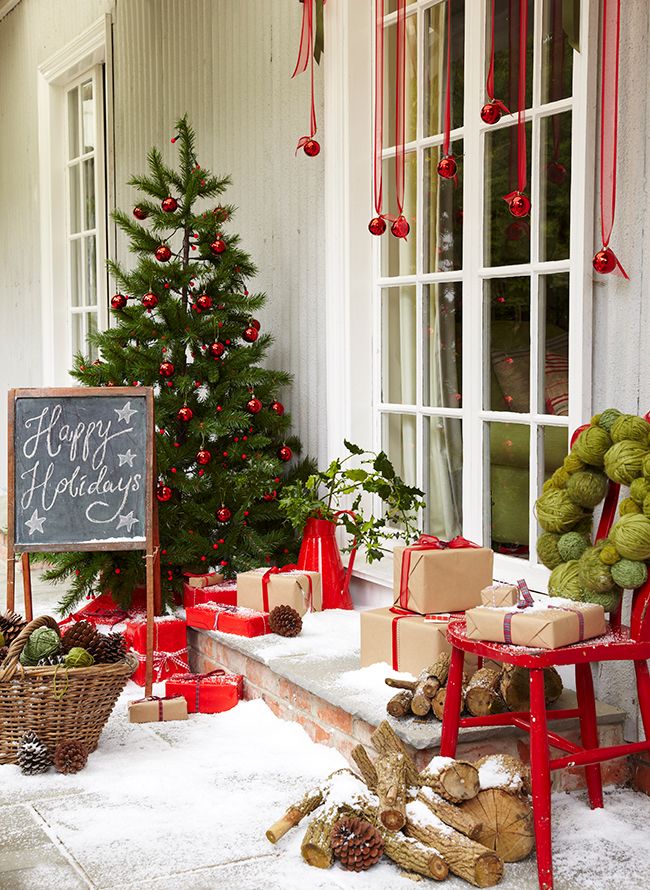 While the Happy Holidays board is looking fantastic, the yarn wreath is definitely the icing on the cake. Did you notice the basket filled with pinecones and yarns?
Red Boots: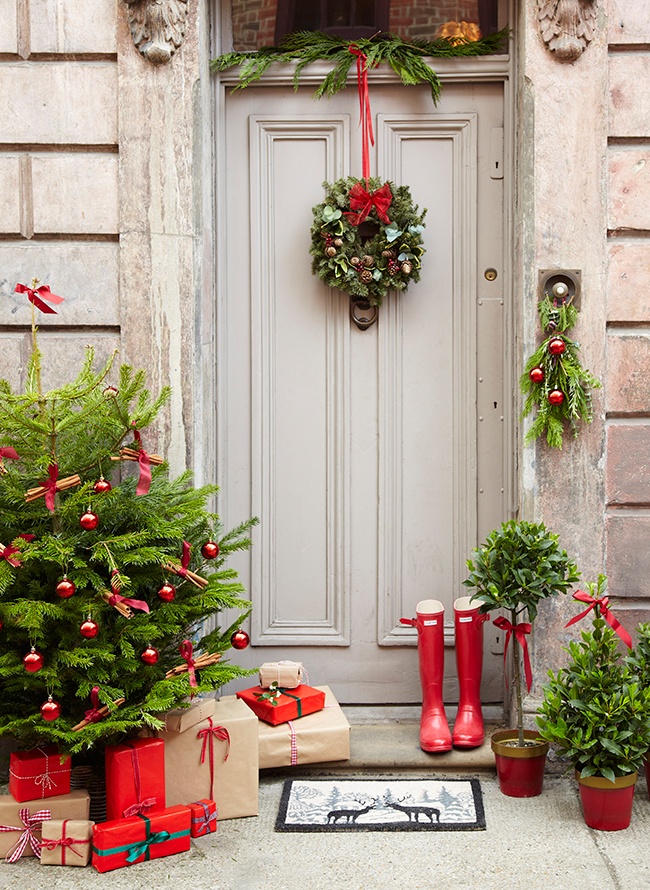 This porch decoration idea is a combination of traditional and modern. It has all the traditional elements of holidays like tear drop wreaths, Christmas tree, plants, round wreaths and gift boxes, but everything is decorated in a modern way.
Whimsical Christmas Porch: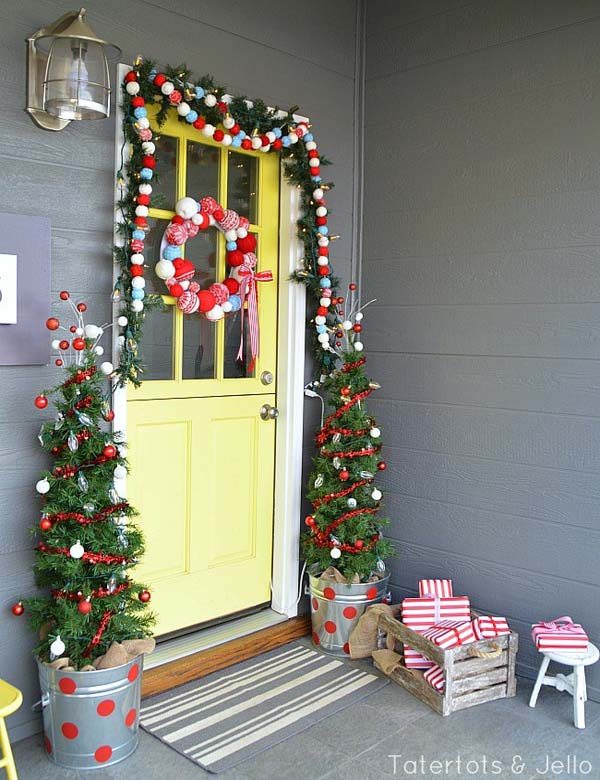 Polka dot accents, pompom garlands, galvanized buckets, it seems that Santa himself has decorated this porch. Beautiful in the truest sense.
Pops Of Red: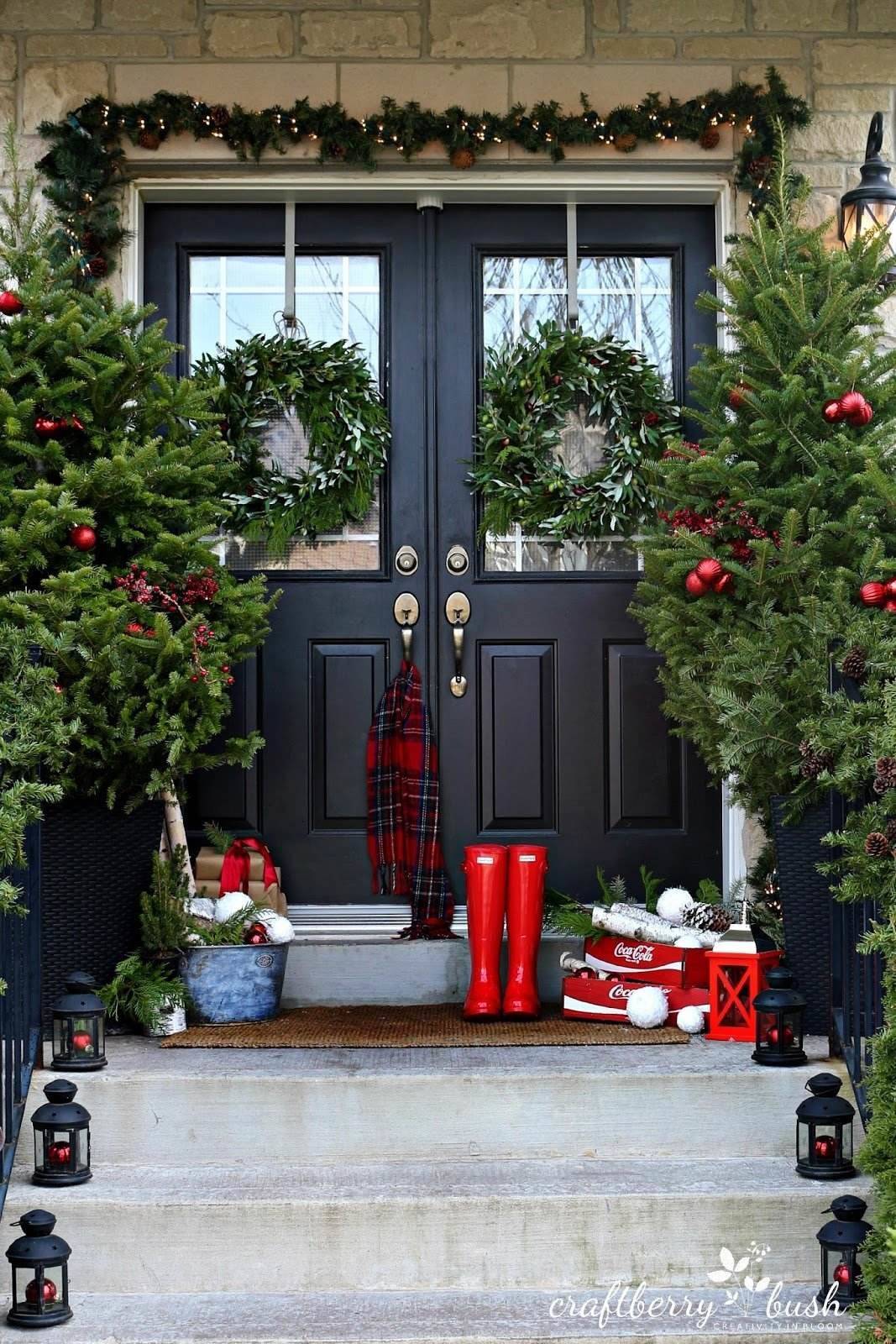 A plaid scarf, rain boots, lanterns, and crates are just a few things that make up this porch. Isn't it looking beautiful?
Winter Wonderland Porch: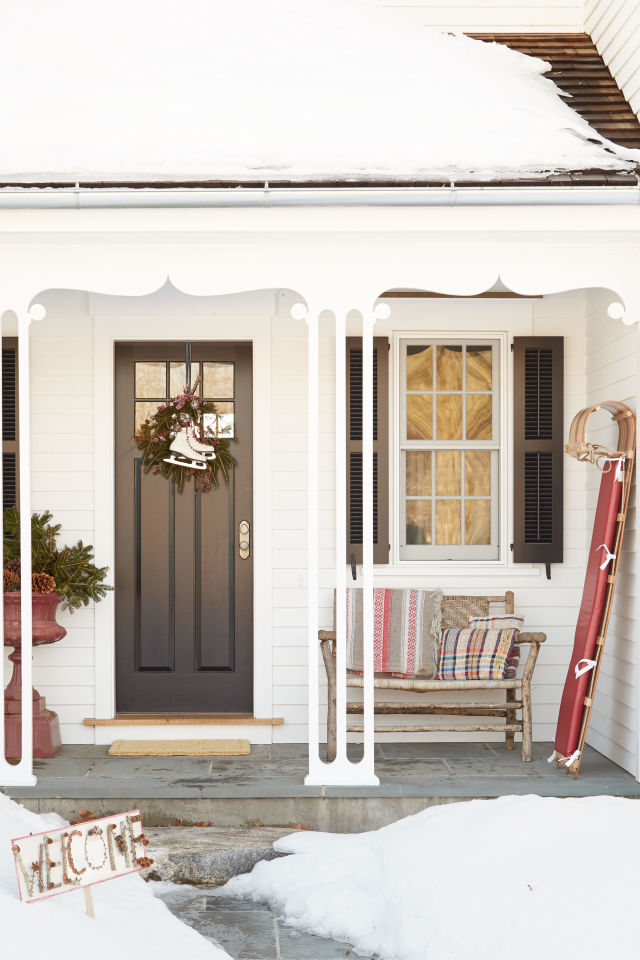 The ski boots, sled, and snow are making this porch look no less than a scene from the winter wonderland. Very fresh and straightforward.
A Bold Star: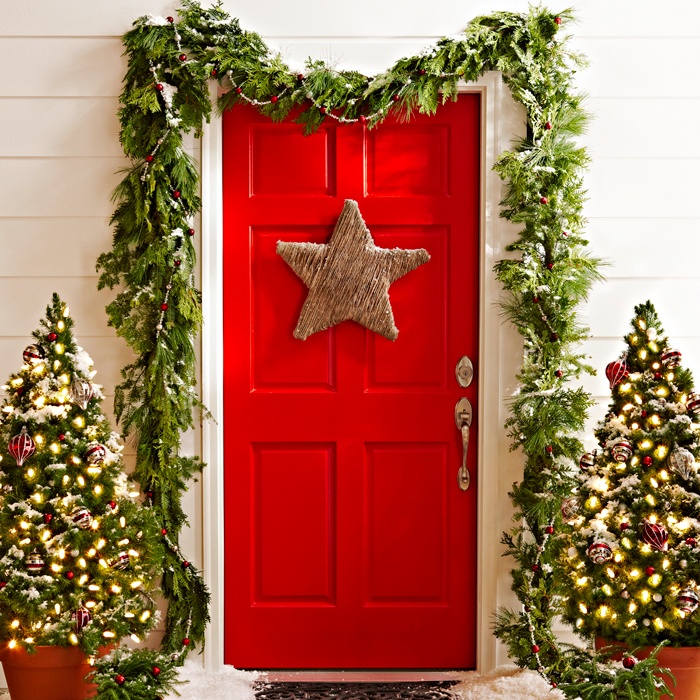 The twine star is stealing the show of the porch. And when it's set against the bright red door, it's looking even more beautiful. The well-lit Christmas trees are icing on the cake.
Place Two Planters: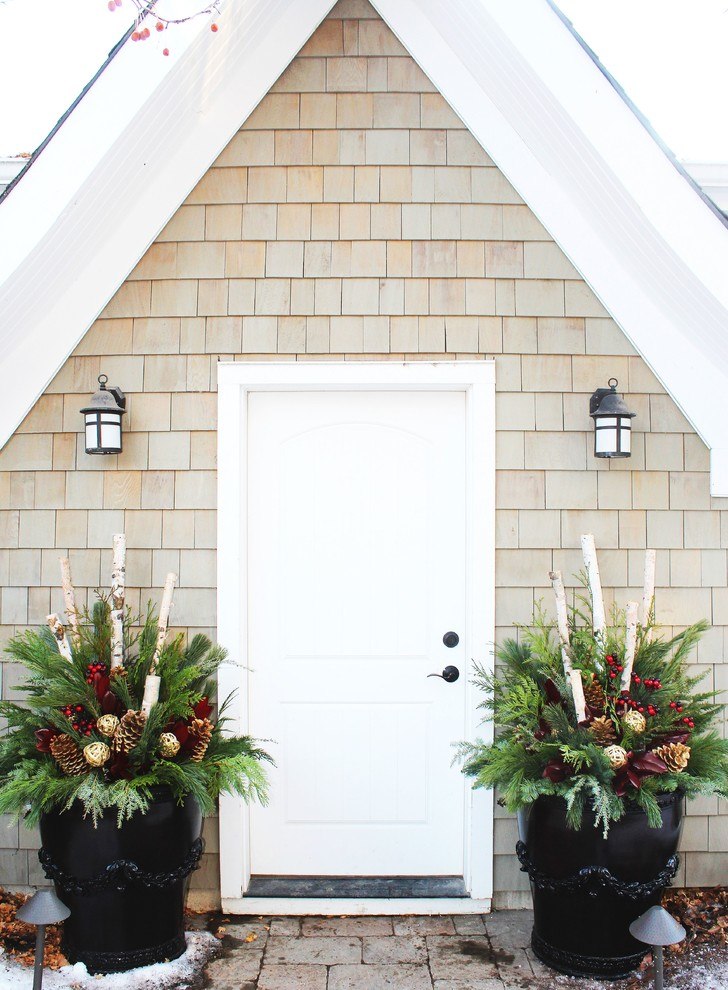 If you want to keep things simple, place two planters on the sides of the door to instantly lift up the décor.
Make Use Of A Carriage: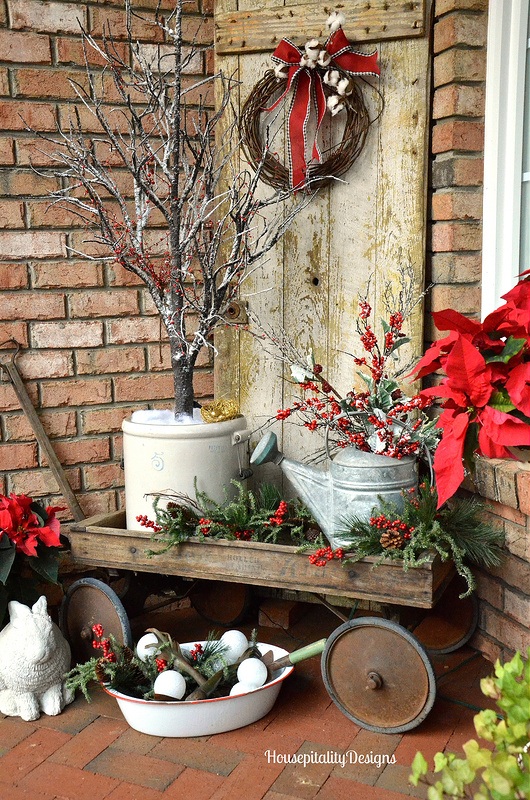 If you want to give a rustic look to your house, take an old sled carriage and place some rustic decorative items on it. Greeneries and cranberries are also required to lift up the decoration.
Use Porch Swing: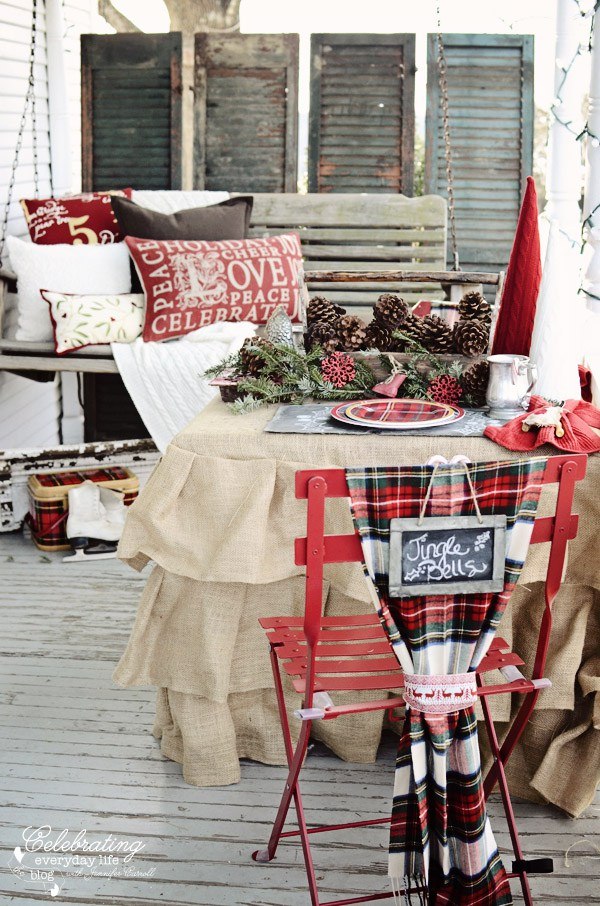 If you have a swing in your porch, throw in a blanket and Christmassy pillows and its done. To make thing more fun, use Christmas trees or any other Christmas element you can find in your house.
Pinecone Wreath And Cloth Christmas Tree: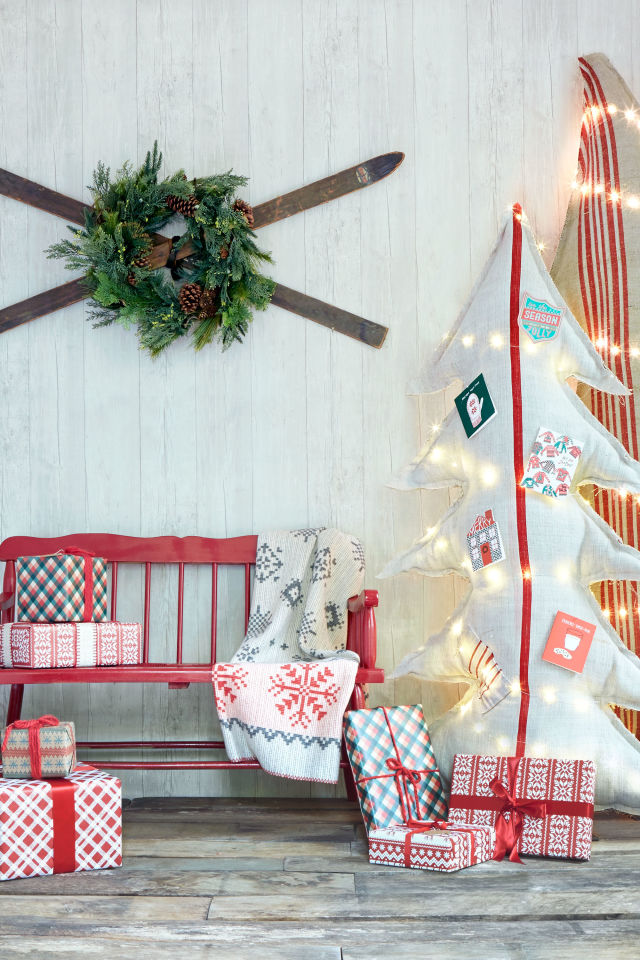 We're loving this beautiful porch arrangement done using pinecone wreath, old wooden skis, and a felt Christmas tree. Unique and distinctive.
Magnolia Wreath: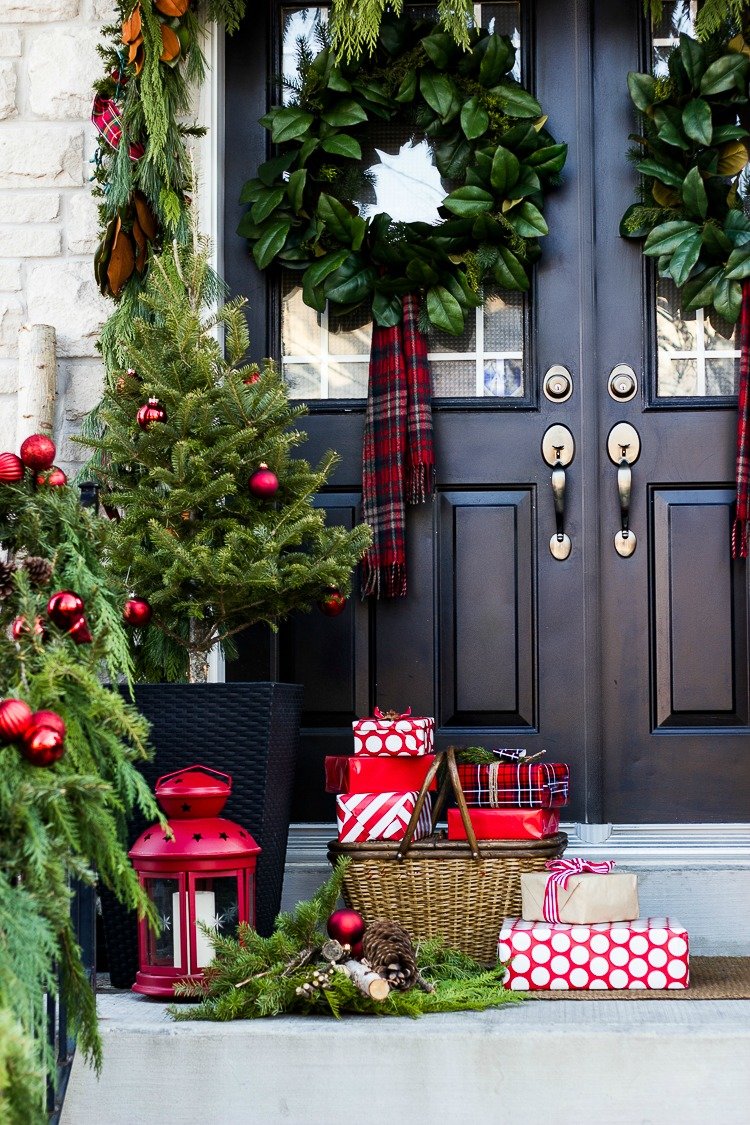 We absolutely adore the magnolia wreath used for decorating the porch. Apart from that, there are other lovely elements also used like a plaid muffler, tiny Christmas tree, lanterns, stacks of gifts and much more.
Burlap Christmas Tree: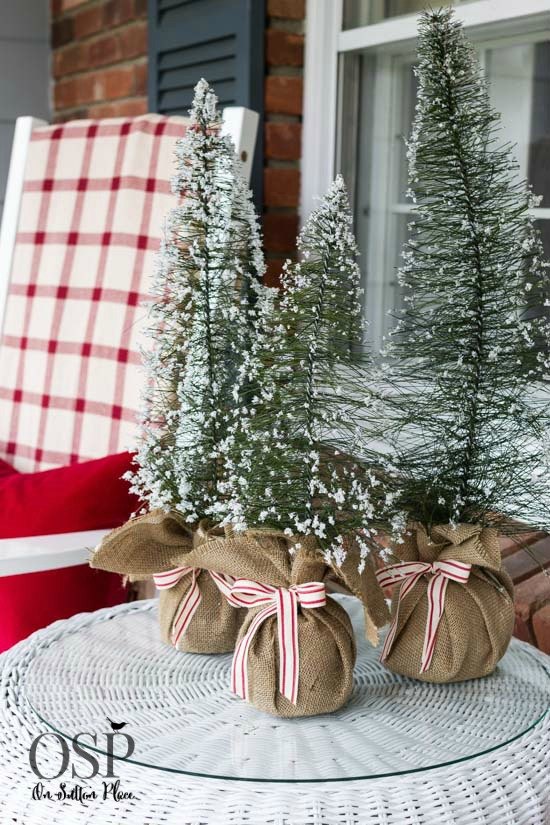 We're sure each one of you can create this DIY porch decor item. Purchase some faux, bottle brush Christmas tree, burlap and ribbon and get started.
Christmas Tree Farm: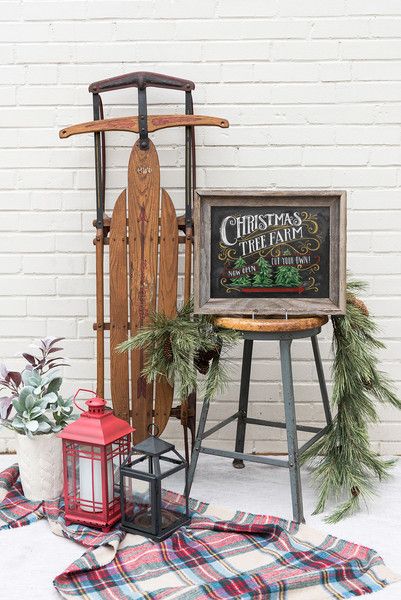 You can also display a board art on your porch for a quick decoration.
Add Traditional Elements: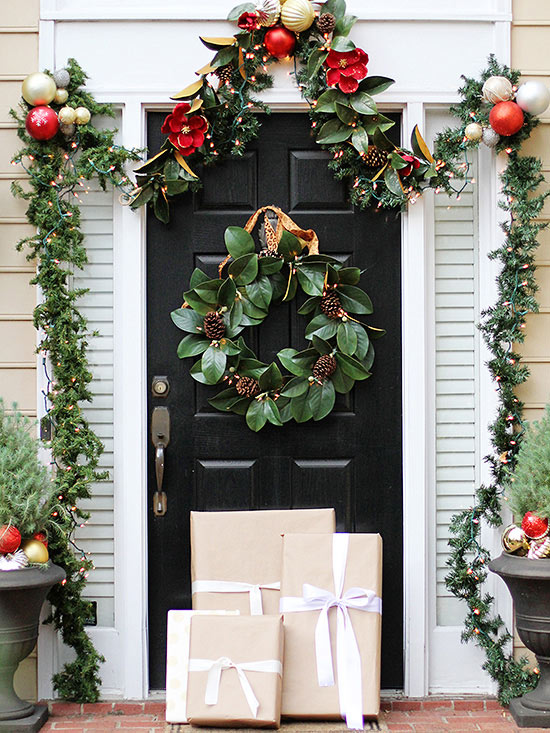 Add traditional elements like a magnolia wreath, flowers, and garlands to add beauty to your door. The brown underside and glossy green front of the leaves are adding a two-tone effect.
A Red Entrance: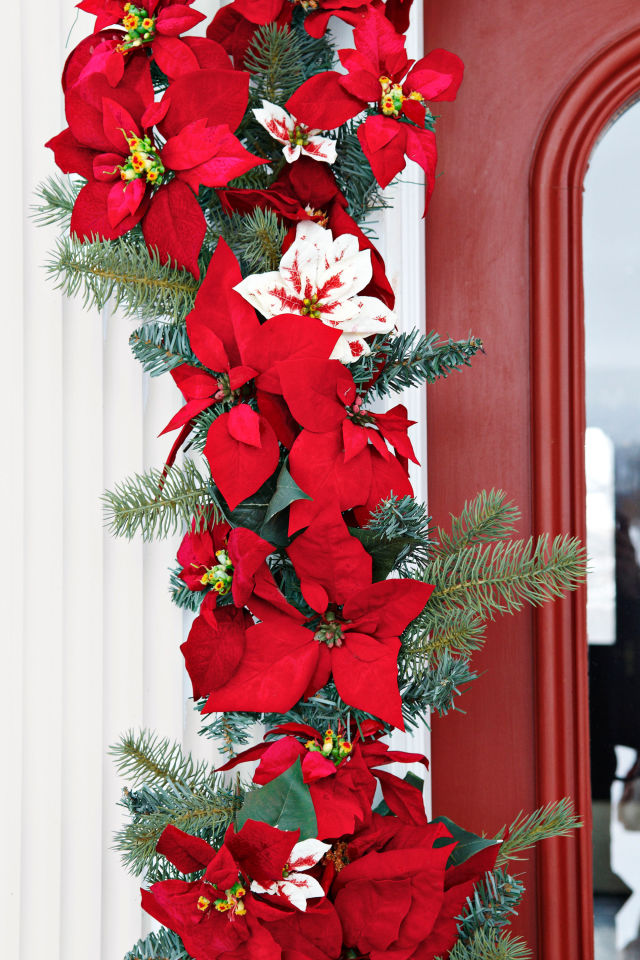 Use a garland of fir sprigs and poinsettias to hang over the doorway. It will create an unbelievably beautiful entrance.
Wooden Christmas Tree: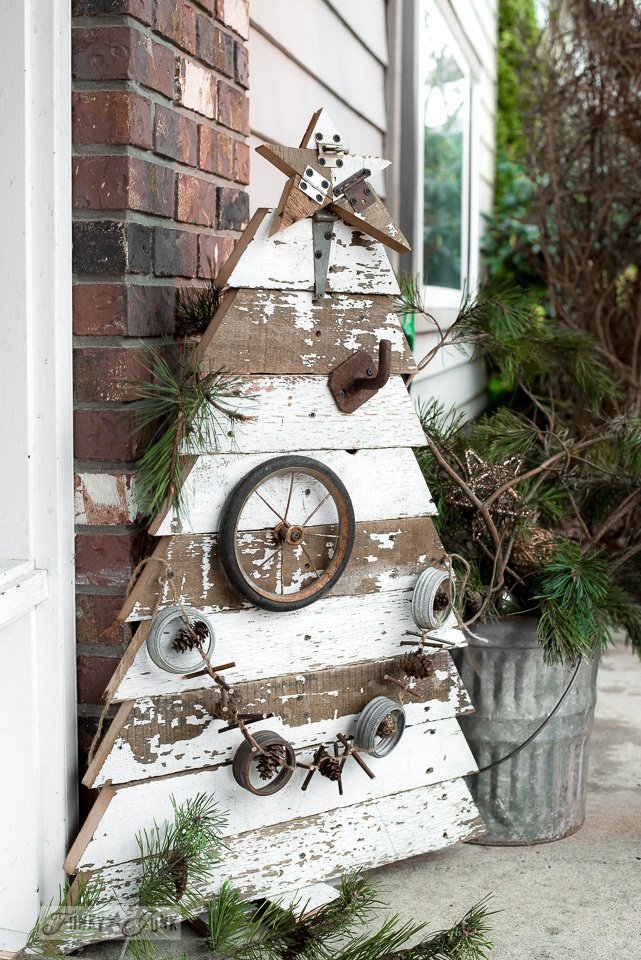 How about using a reclaimed wood Christmas tree for decorating the Christmas tree? Your friends will be astonished seeing this decorative item.
Reindeer Showpiece: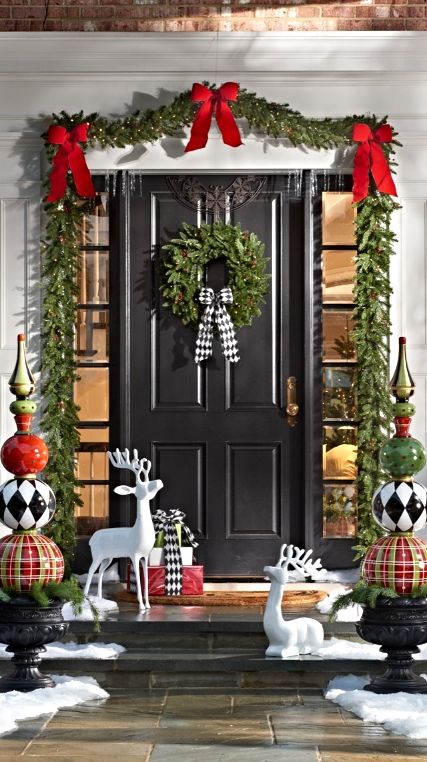 Wrap your home for the holidays with these reindeer showpieces. The black and white bow on the wreath is looking distinctive.
Hang Lanterns: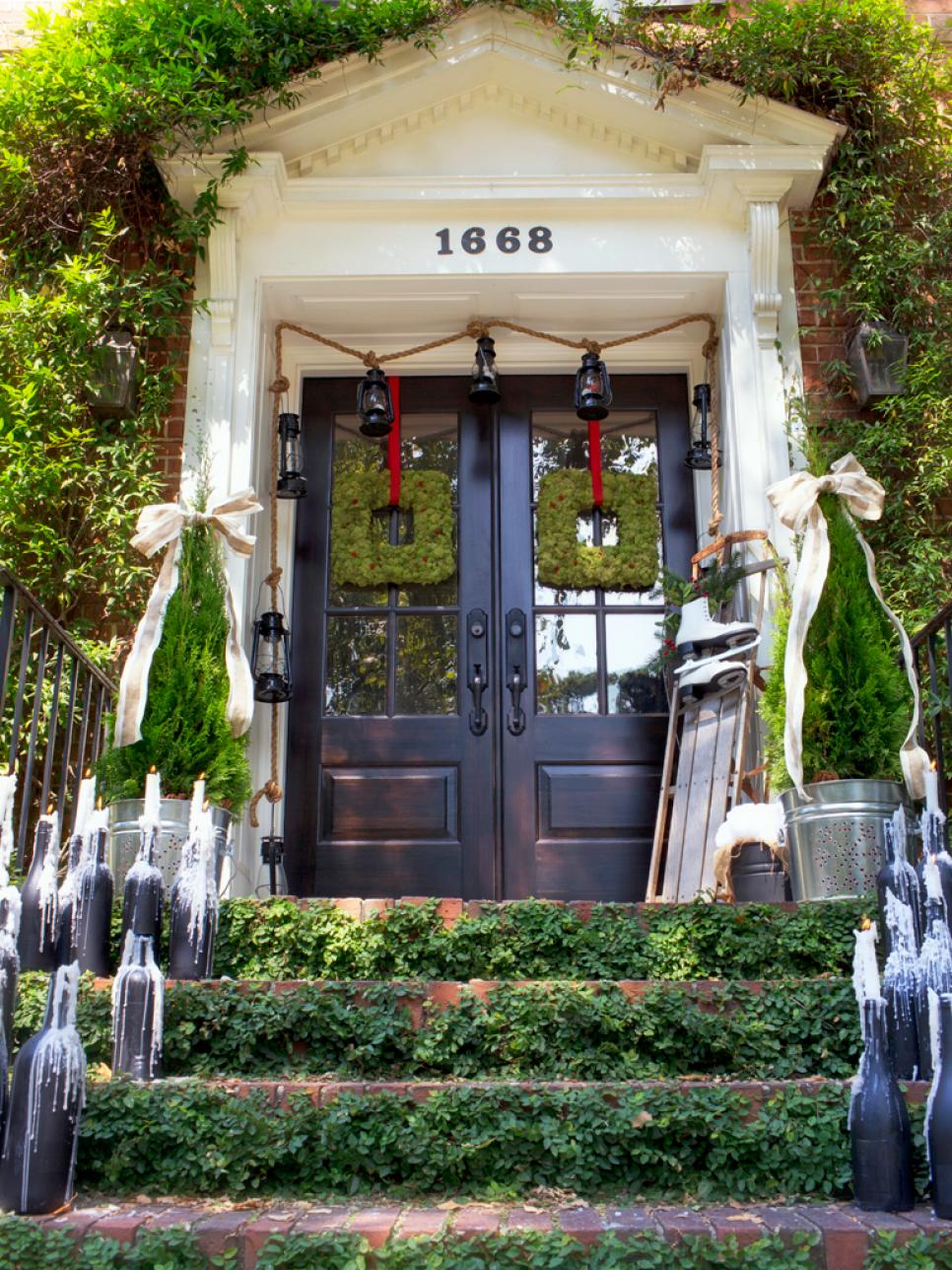 For a change, you can even hang lanterns for maximum effect. And the square shaped wreaths are looking stunning.
Embrace The Colors: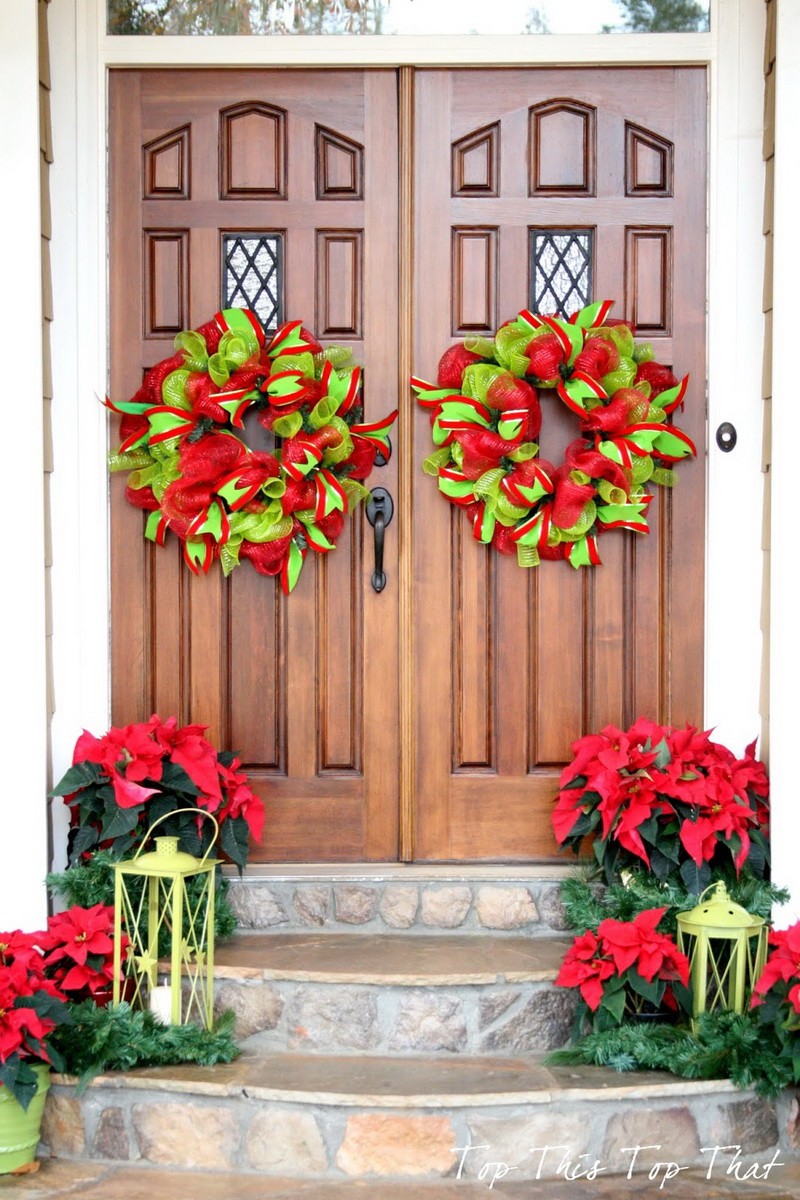 This bright idea has appealed to us greatly.
Vintage Sled: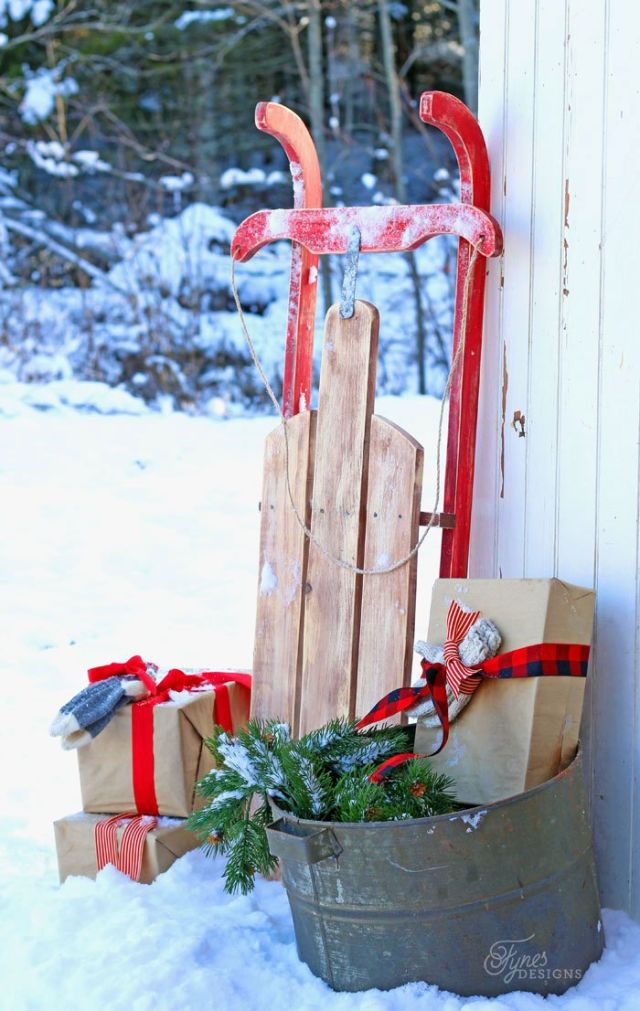 Last, but not the least, how about decorating the porch with a vintage sled? It won't even break your bank and will look freakishly cute.