Advent, means the arrival of the season of love, caring and compassion, Christmas. And just like the holiday, even the advent calendar is all about revealing little magic and surprises every day.
You May Also Like To Read:
Since we've reached the end of November, it's time to start preparing for advent calendar already. In case you're looking for some ideas, check out our compilation below. You can use any of these you want for reference.
Rainforest Themed Advent Calendar: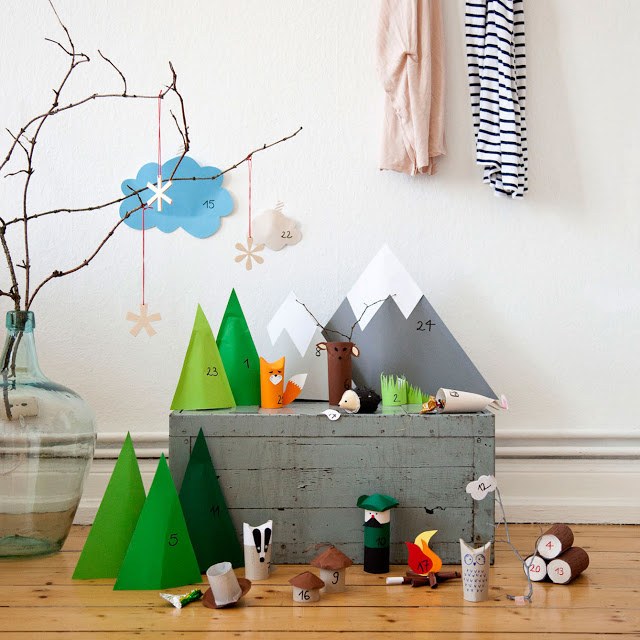 The top spot goes to the most adorable of all the advent calendars we've seen all this time. The animals, trees and other elements that you see here are made from nothing else, but toilet paper rolls. Trees, on the other hands, are made with construction paper.
Garland Christmas Advent Calendar: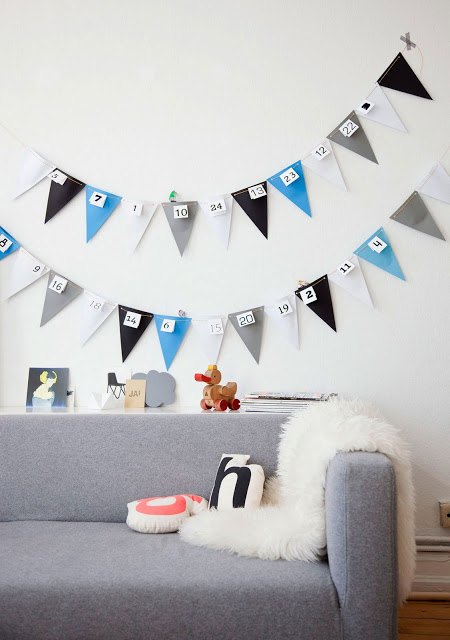 Shoot two birds with one stone with this advent calendar idea. First, you need to make a felt garland as shown in the picture and then stitch the countdown on it.
A Tree Shaped Advent Calendar: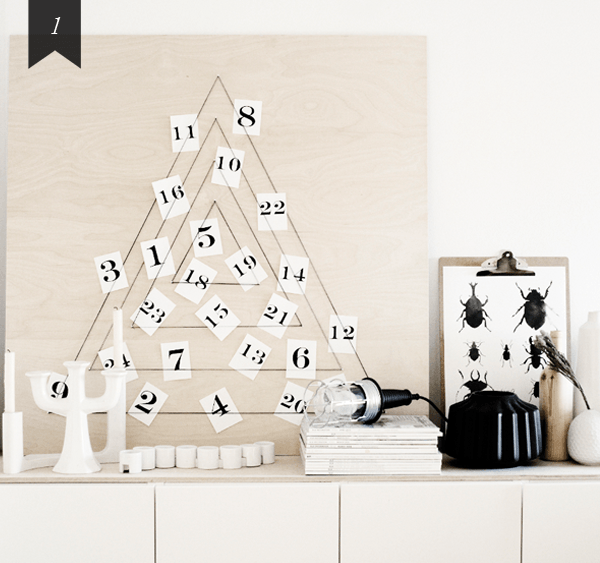 Please ignore the creepy crawlies clipboard and concentrate on the Christmas tree shaped advent calendar. We're amazed at the creativity.
Clothes Hanger Advent Calendar: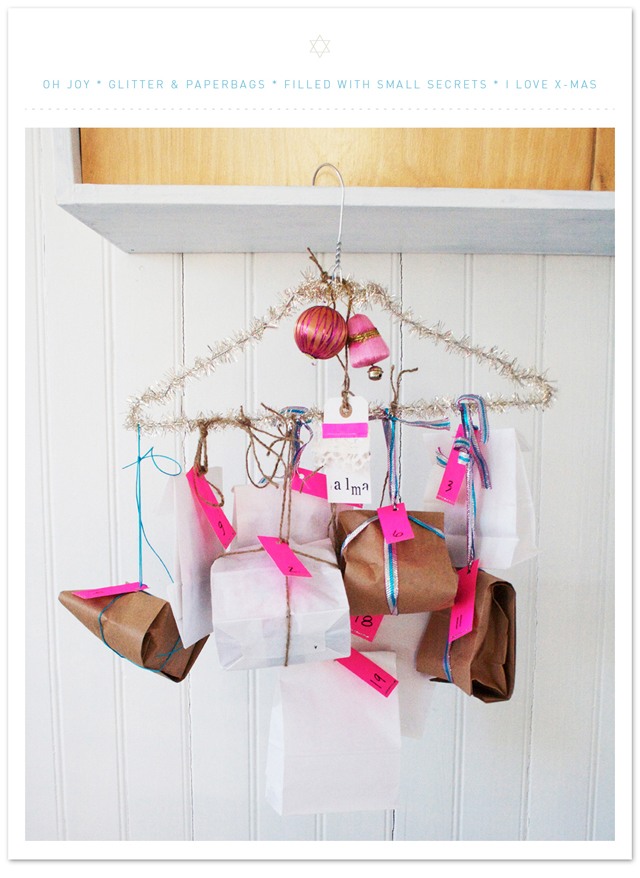 Here's another unique and beautiful advent calendar idea. The best part is hanging the calendar from a hanger.
Galvanized Bucket Advent Calendar: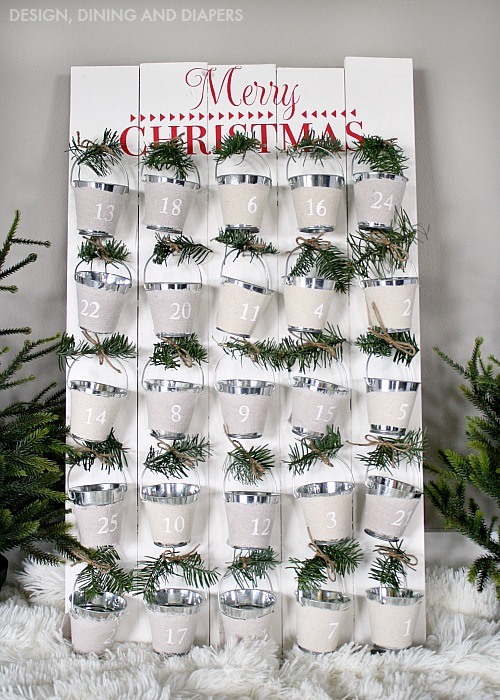 This small, galvanized bucket calendar will not just remind the children of the days leading to Christmas, but can also be used for storing tiny treats like chocolates, notes and more.
Wooden House Advent Calendar: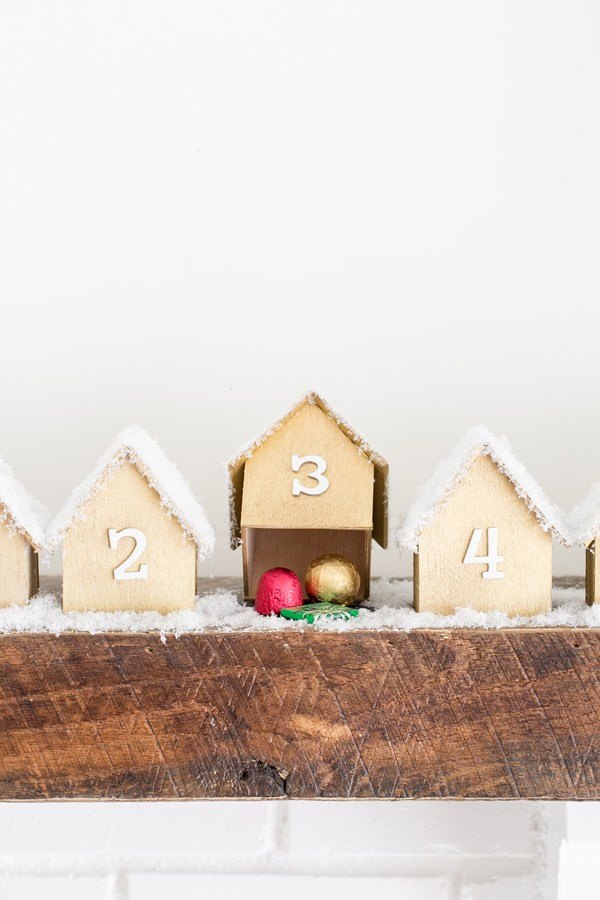 How gorgeous is this wooden house advent calendar? Don't you think it will add the perfect touches to enhance the beauty of the décor? We'd suggest you line these houses on your mantelpiece.
Mason Jar Christmas Tree: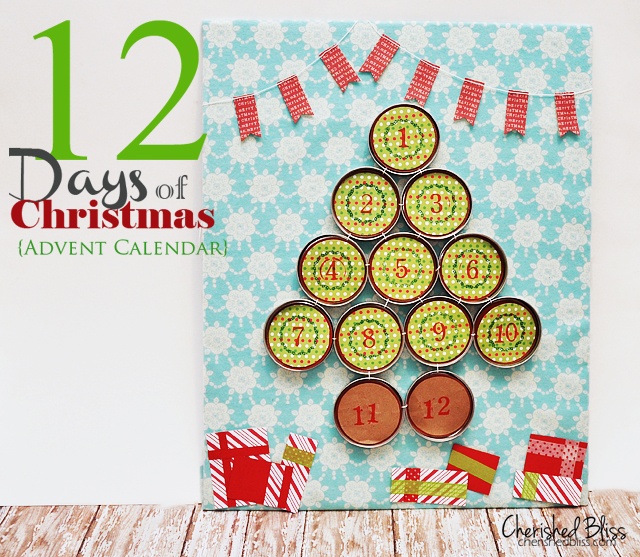 Scour your store room and pick all the canning and mason jar lids to create this beautiful Christmas advent calendar. It looks so cute that you can hang it all year long.
Pretty Boxes Arranged As Christmas Tree: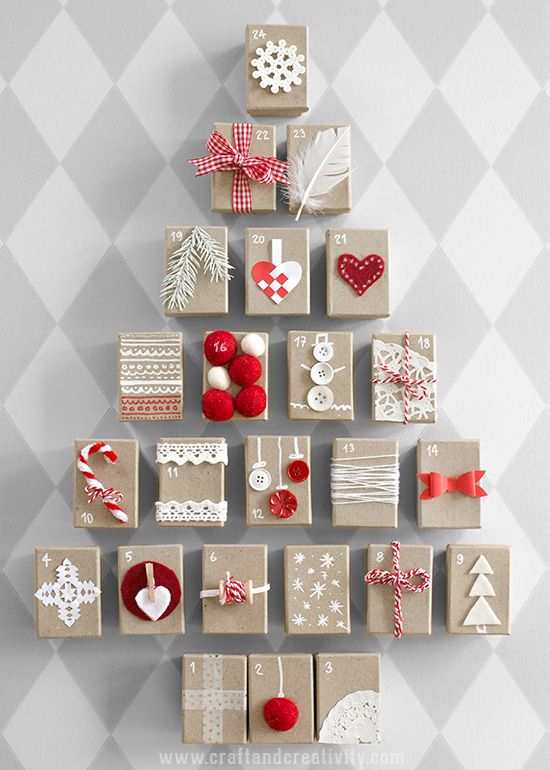 The USP of this Christmas advent tree isn't just the boxes arranged in the shape of a Christmas tree, but also the drawings and embellishments used on these boxes.
A Tidy Arrangement: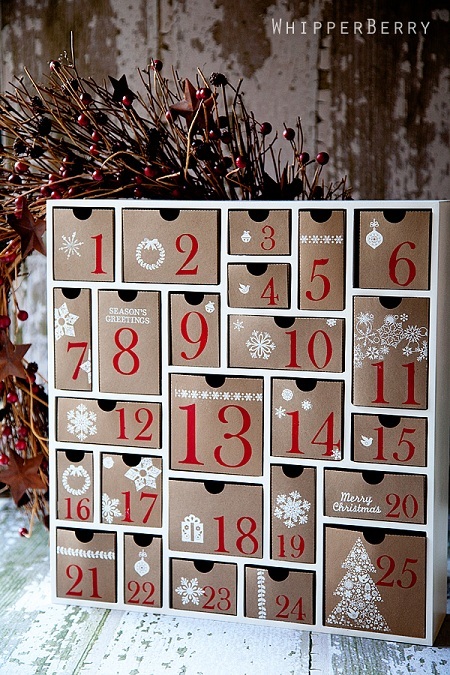 The arrangement of the advent calendar boxes looks immaculate and clean here.
Candy Bowl Advent Calendar: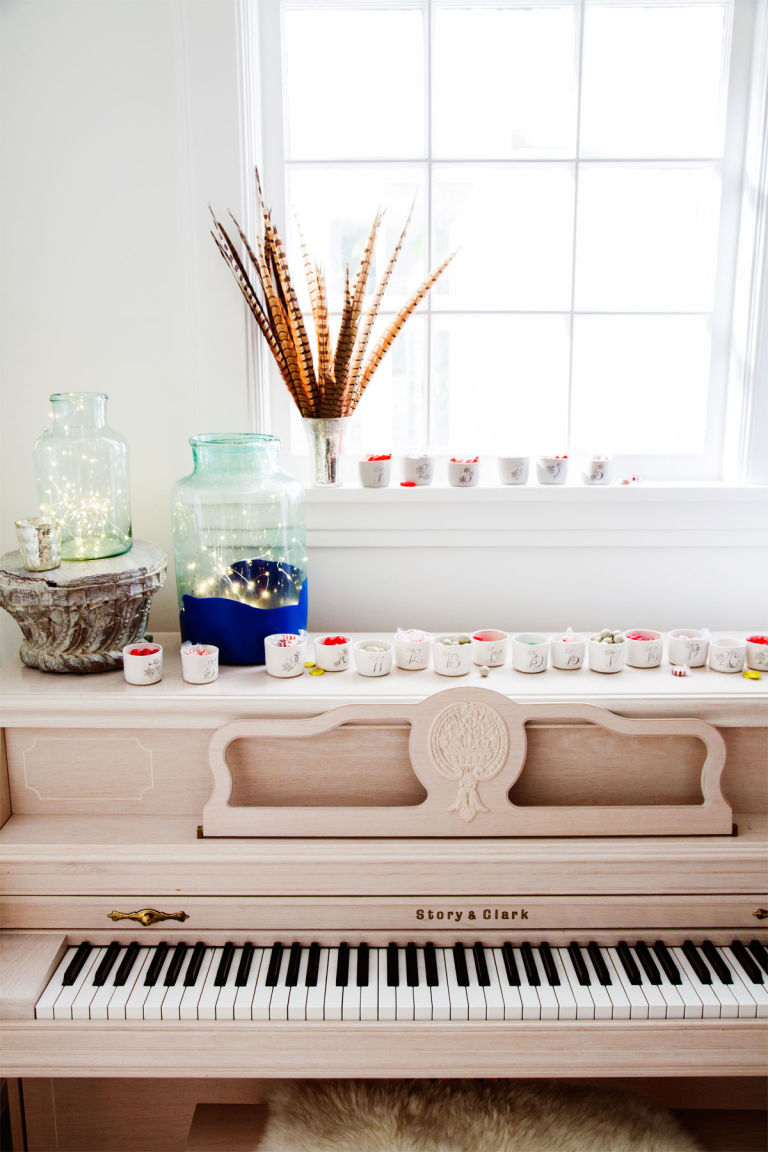 This got to be one of the most unique advent calendar ideas ever. It features ceramic mugs with numerals written on it. The cups are then filled with sweets.
Mini Tree Christmas Advent Calendar: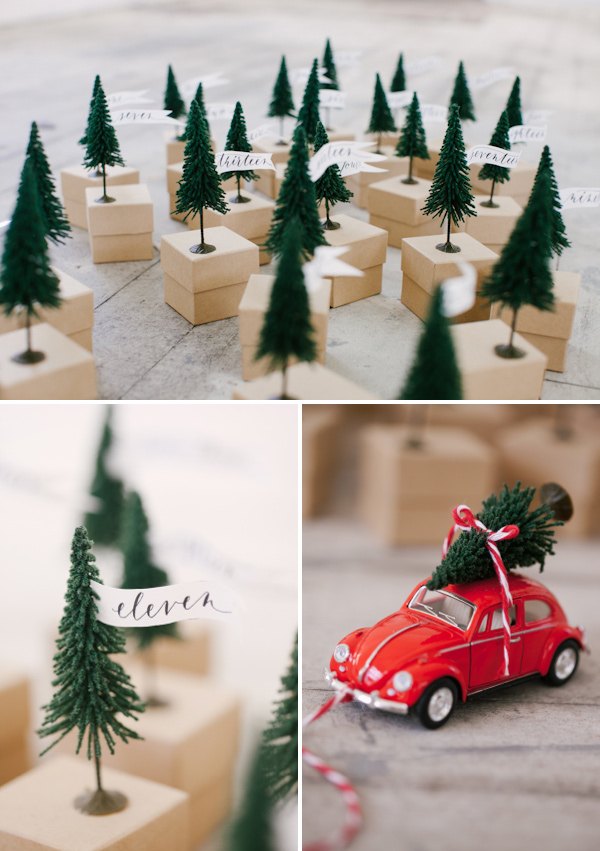 ohhappyday.com takes the cake here by making this unique and outstanding Christmas advent calendar. If you want to give it an appearance of a winter wonderland, arrange the tiny trees on a spread of faux snow.
Library Pocket Calendar: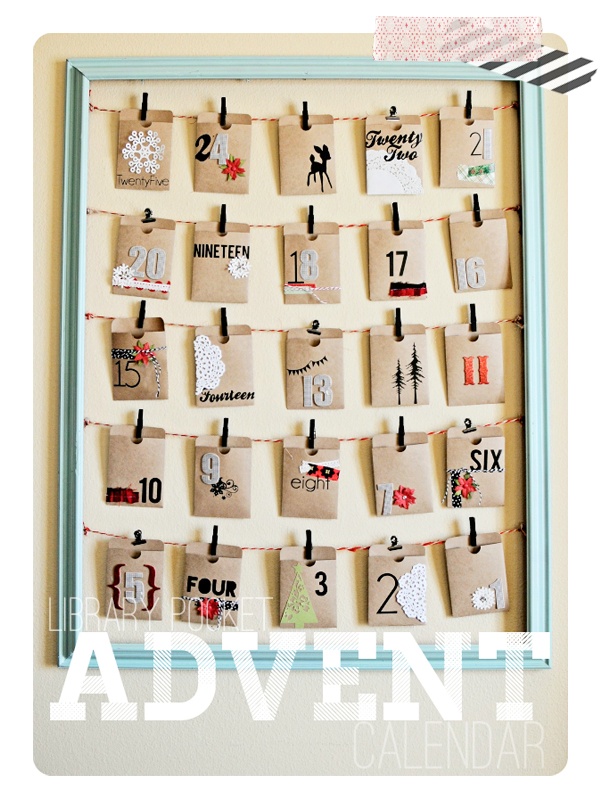 These library pocket calendars look too pretty to avoid. We loved the fact that different elements are used to decorate different pockets. Sure to bring a smile on anyone's face.
DIY Christmas Advent Calendar Treat Bags: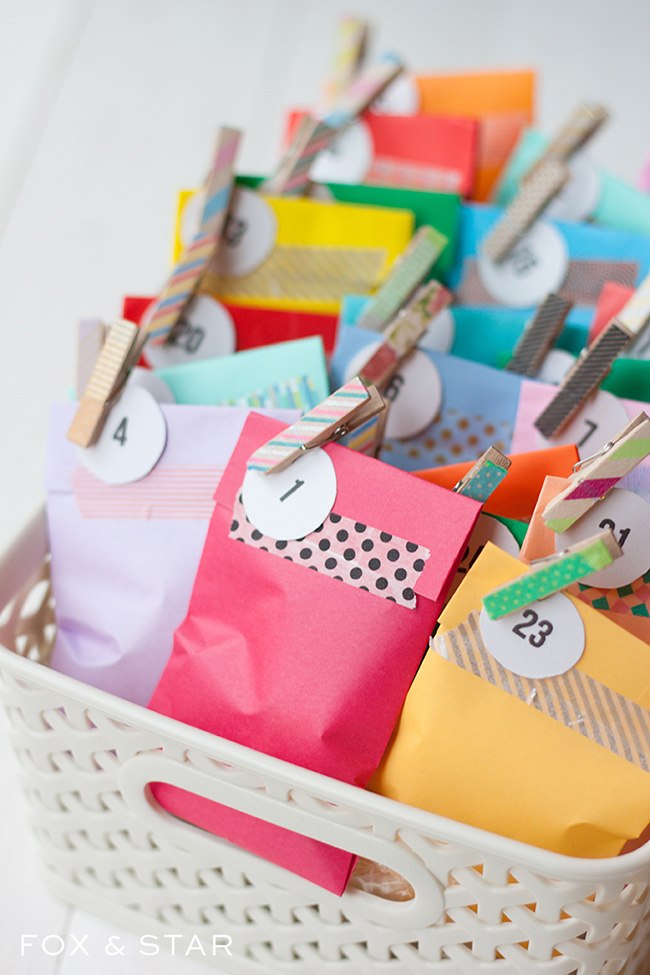 Purchase some sweets and put them in these cute advent calendar treat bags for the children.
Christmas Bulb Advent Calendar: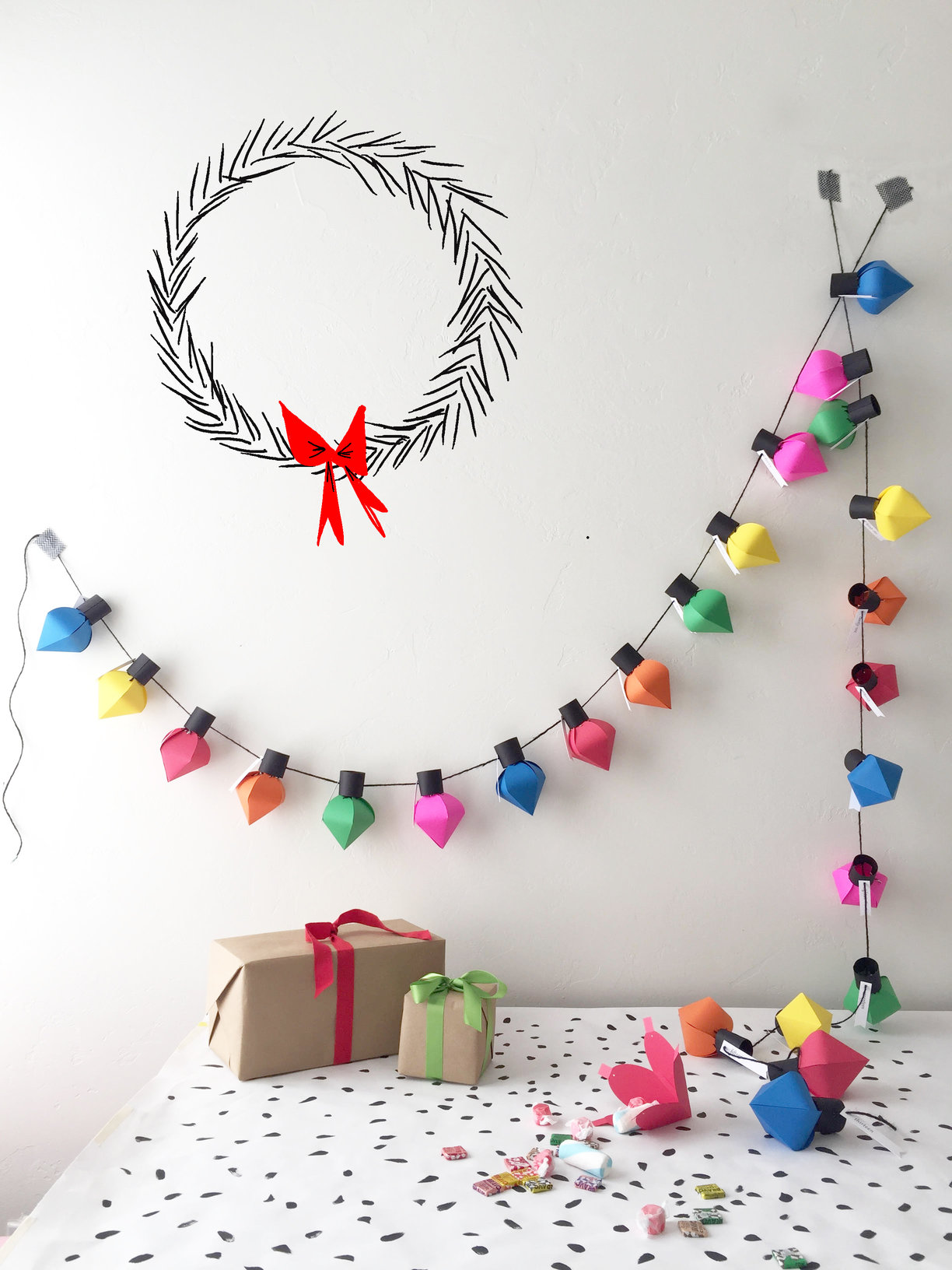 Another unique idea for the advent calendar. More than the calendar, we loved the drawn wreath here.
Make A Christmas Tree Out Of It: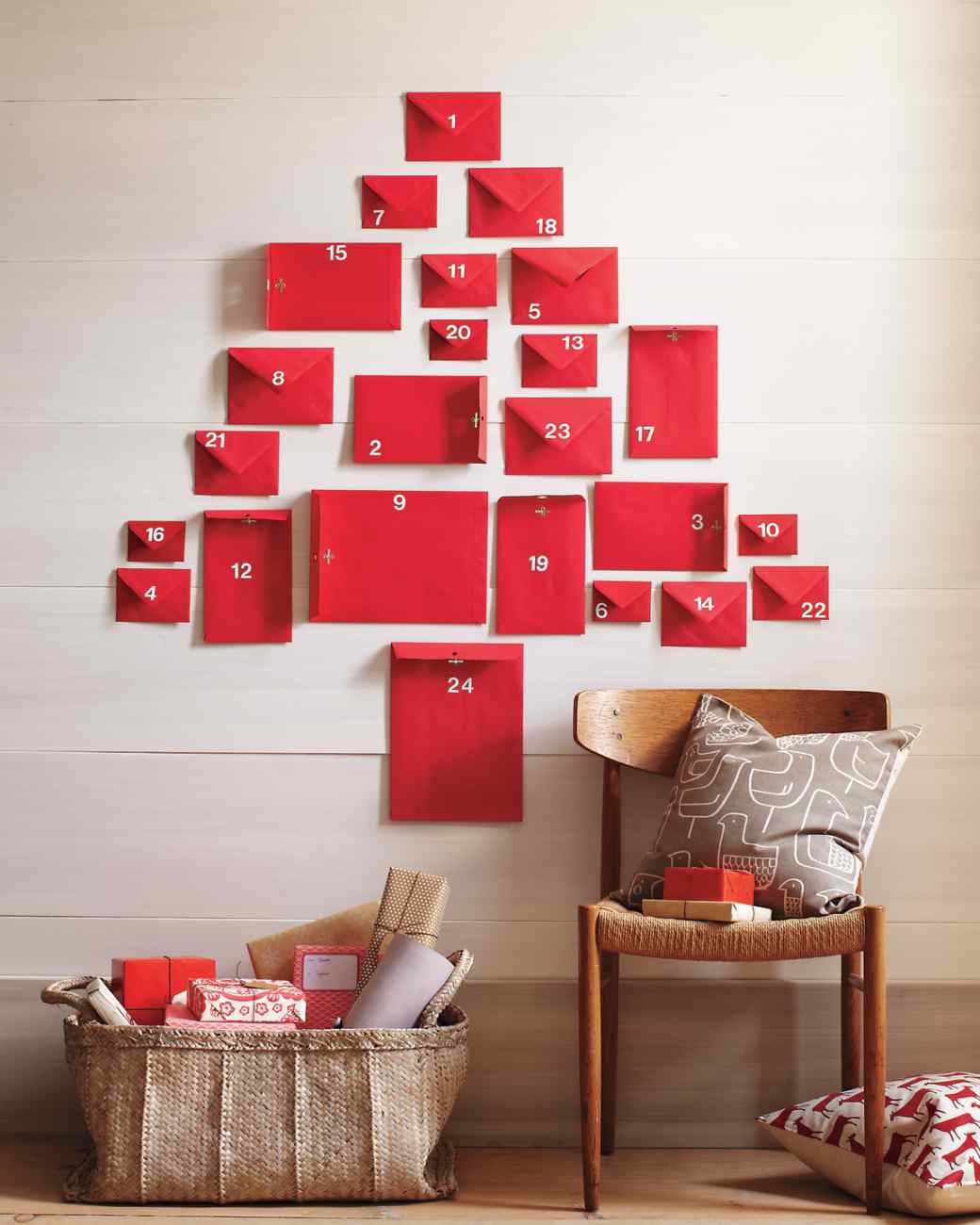 This is one of the most exciting ways to have the kids count down to Christmas. If you're replicating this idea, ensure that you use the red envelopes. They are a must.
Advent Christmas Tree: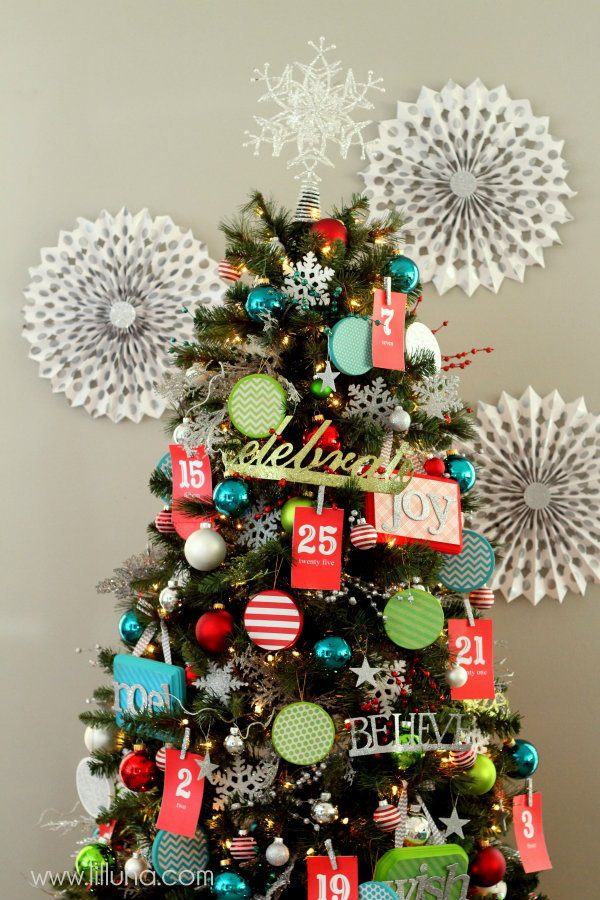 If you're short of space and are thinking about accommodating either the calendar or the Christmas tree, we've come up with a solution for you. What do you feel about the advent Christmas tree? Isn't it looking incredible?
Hanging Branch Advent Calendar: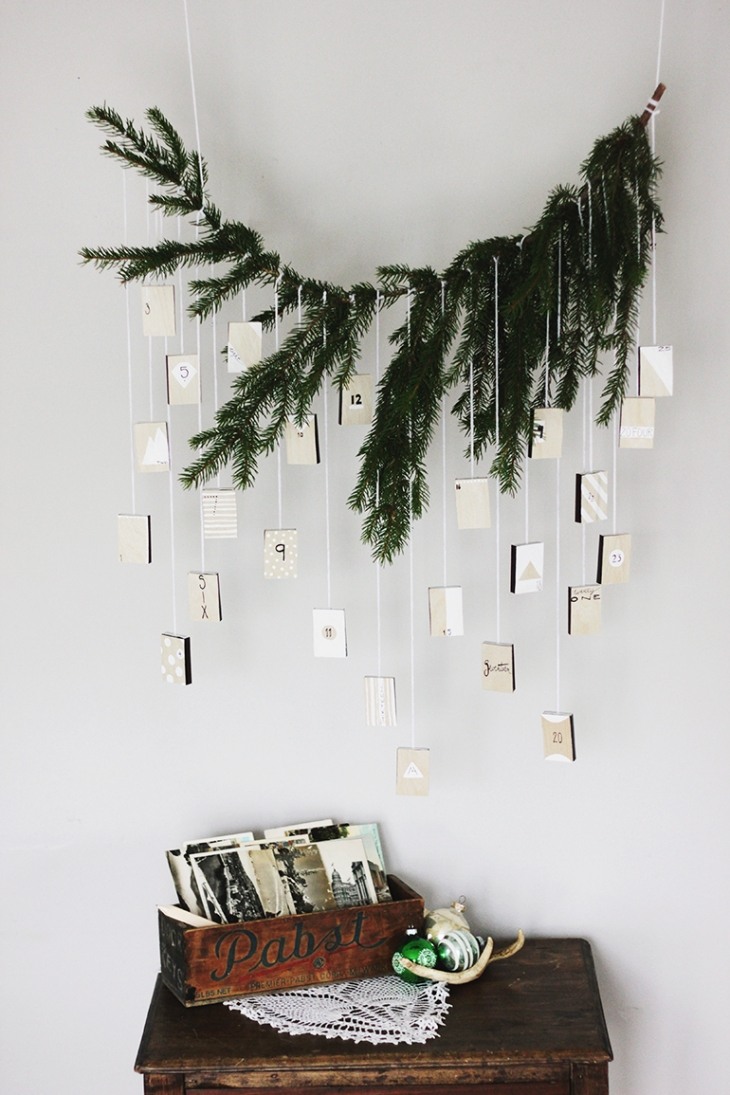 Honestly, we wouldn't mind keeping this calendar on all year long. So put it throughout the year to keep looking back at the memories. It looks festive, without being overboard.
A Thorough Modern Calendar: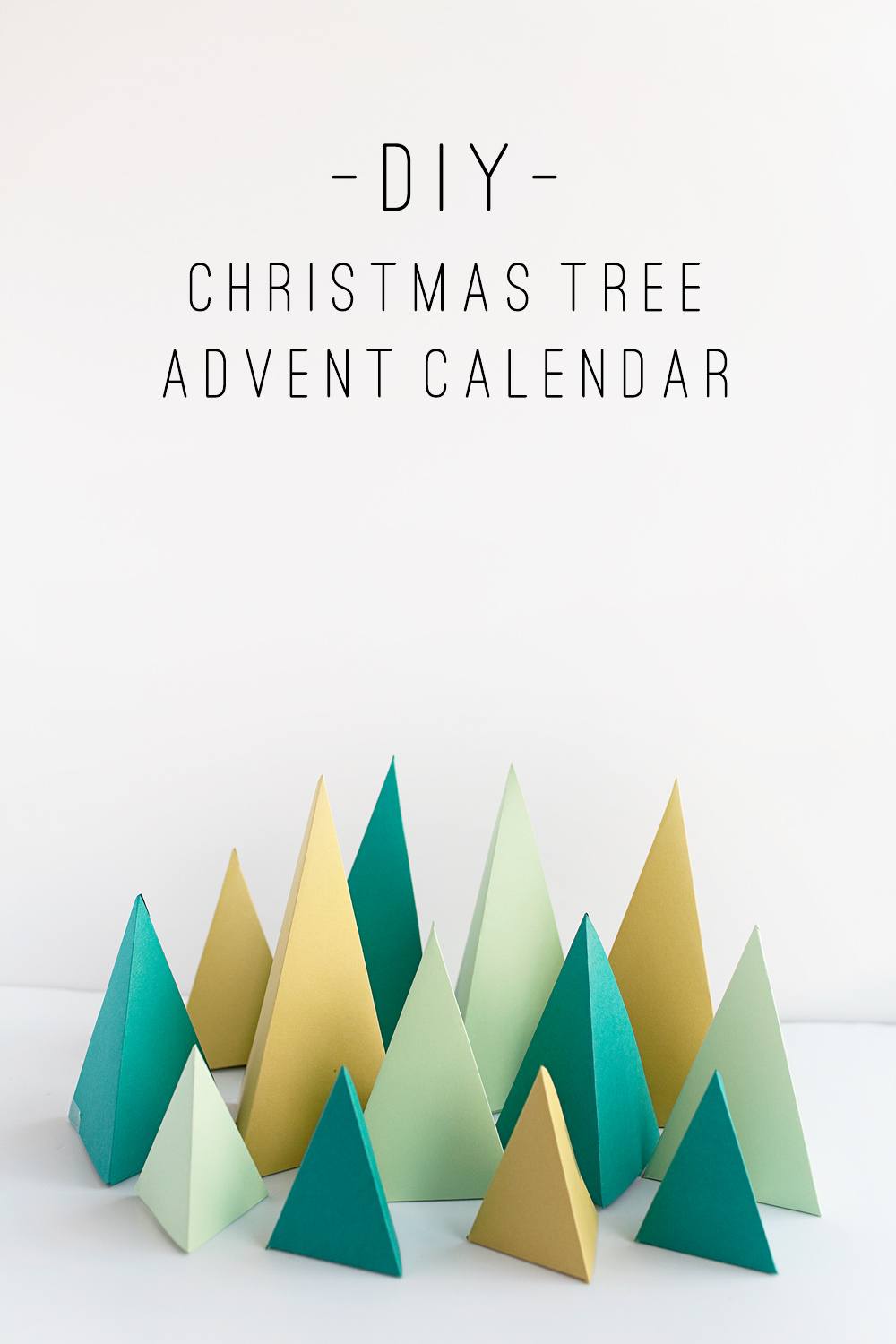 This is one of the most modern advent calendar decoration ever.
Wooden Clock Advent Calendar: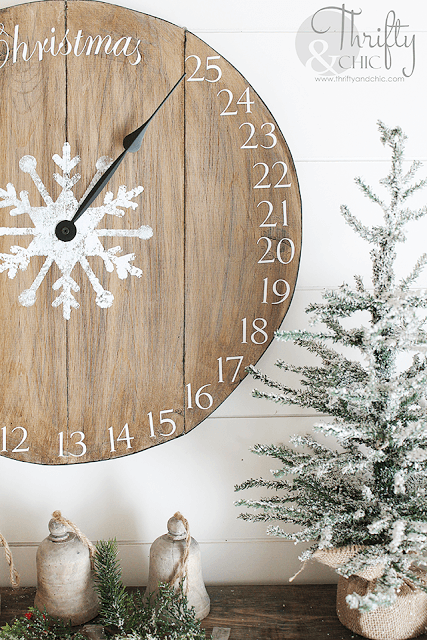 thriftyandchic.com always surprise us with their unique and practical ideas. Have a look at this advent calendar for instance.
Tiny Packets Advent Calendar: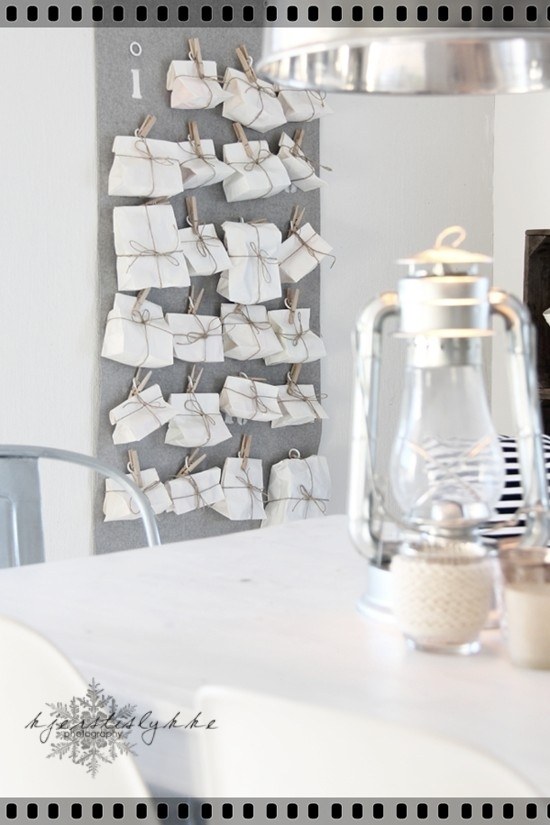 In this advent calendar idea, little bags are first tied with a twine and then hung on the board using the clothespin. To add a pop of color, tie the bags with baker's twine.
Take Out Box Advent Calendar: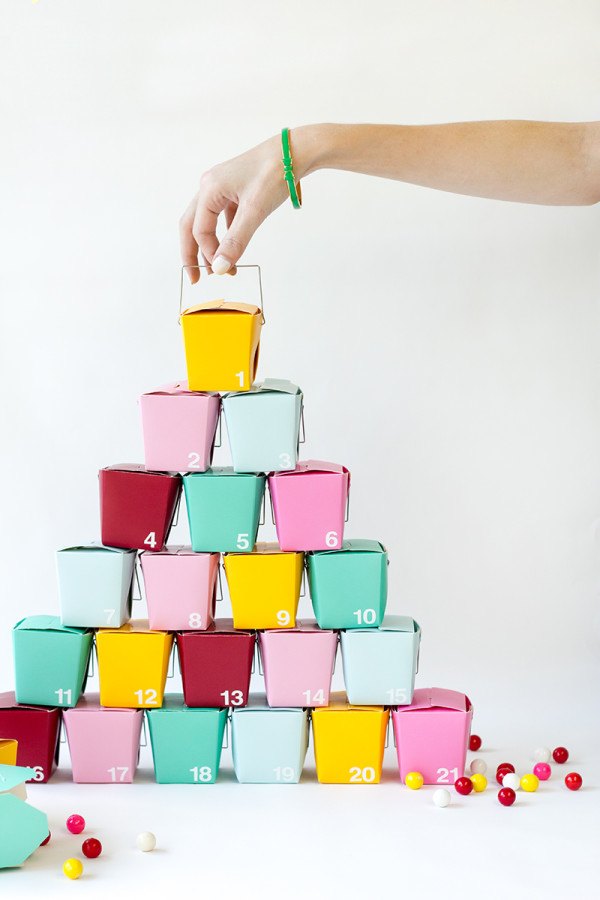 Next time when you go Christmas shopping, pick some colorful box to create a Christmas calendar. Feel free to fill the boxes with candies, toys, chocolates or anything you like.
Cookies Advent Calendar: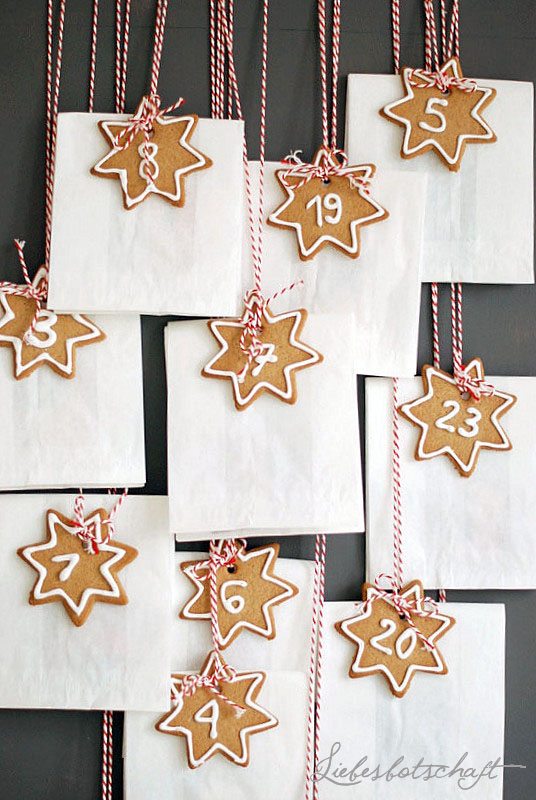 This advent calendar looks not just adorable, but is cost effective as well. Almost all the things required for this advent calendar would be lying in your house itself.
A Wooden Tree Calendar: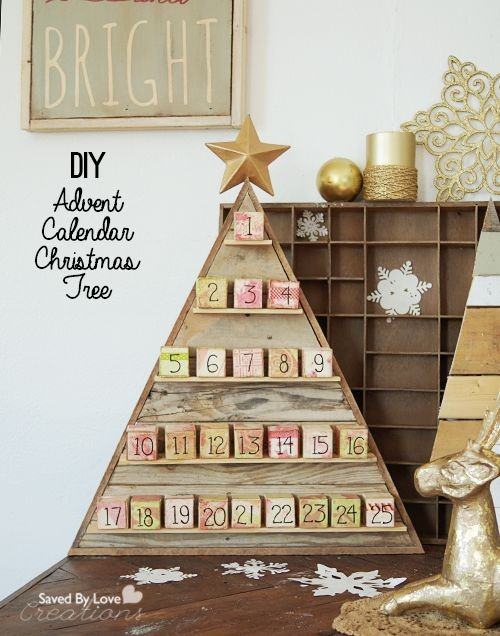 If you have some wooden pallets lying your house, turn them into Christmas tree to create this beautiful palette. The box you see here can be made out of cardboard also.
Use Corks To Make Advent Calendar: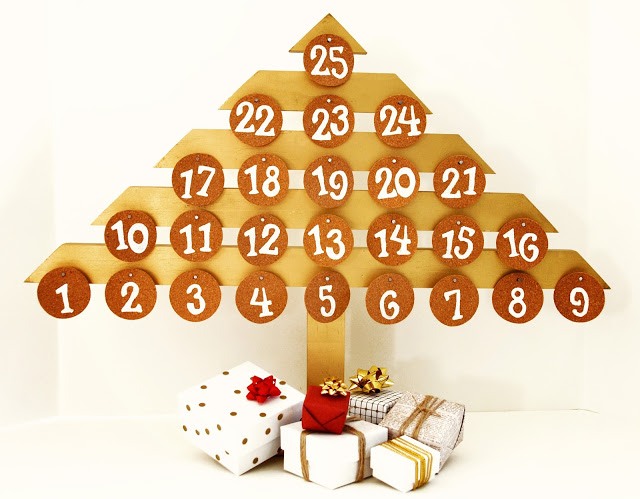 We've got you a perfect way to make use of all the corks of the wine bottles lying around your house. Just turn them into advent calendars.  We loved the metallic hint used in this calendar.
Box Advent Calendar: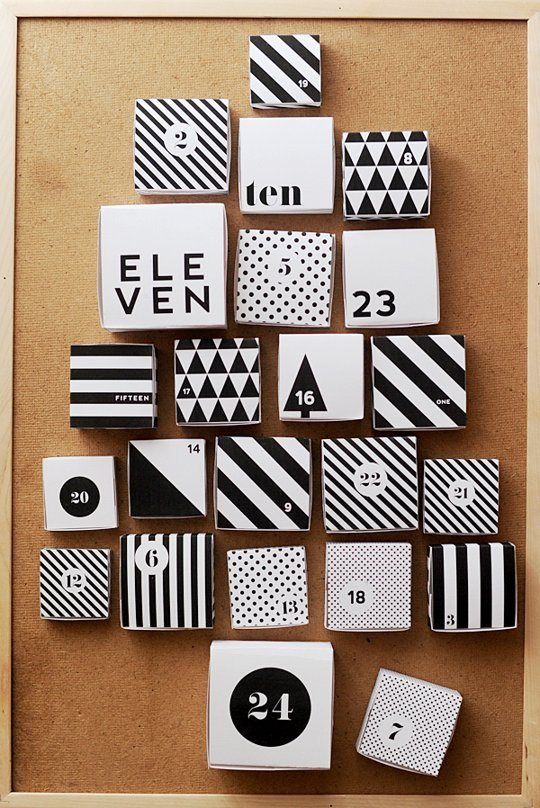 This advent calendar may not be as colorful as most of the ideas mentioned here, but that's what makes it look unique. We'd suggest you fill the boxes with goodies and notes for the children.
Take Out Food Container Advent Calendar: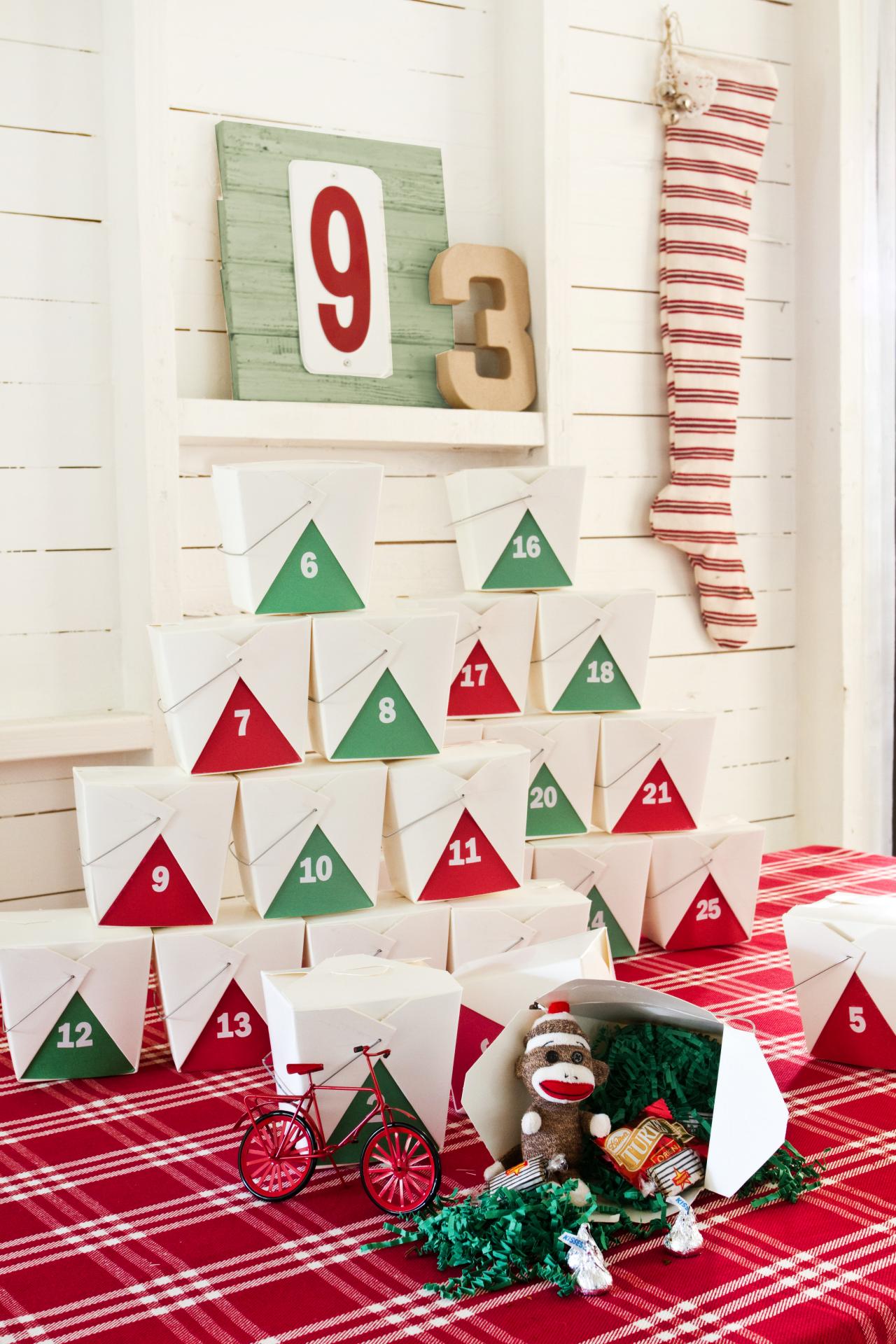 Would you believe us if we say that this advent calendar is made using takeout food box? So the next time when you bring home food from restaurant, do not throw away the boxes.
Make It Grand: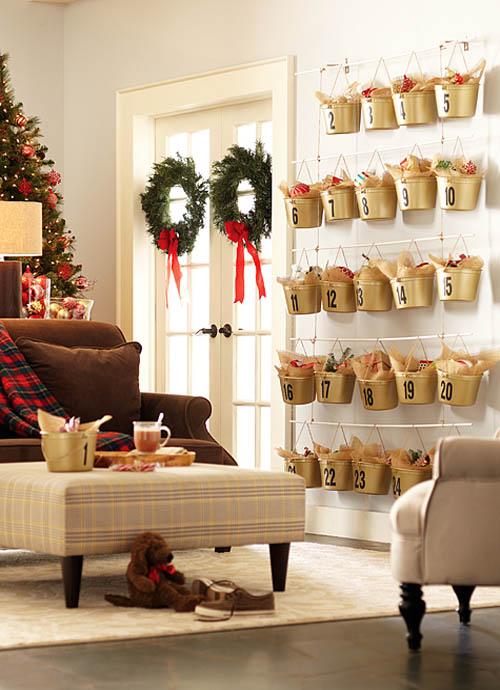 Make it grand and gorgeous with this beautiful, golden bucket Christmas advent calendar.
Street Advent Calendar: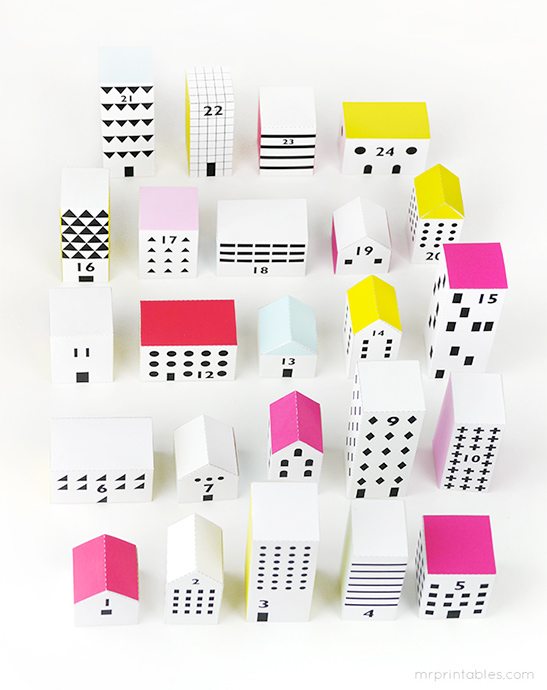 The calendar you see here has houses lined from street one to twenty-four. The kids have to walk through these streets once every day until the Christmas day.
Stacked Can Christmas Tree: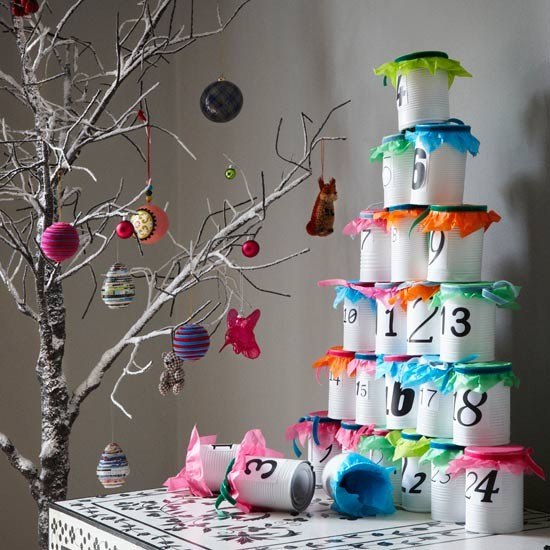 If you want to combine play with décor, you can opt for this stacked tin Christmas advent calendar. It's quite easy to replicate if you try.
Punch Box Advent Calendar: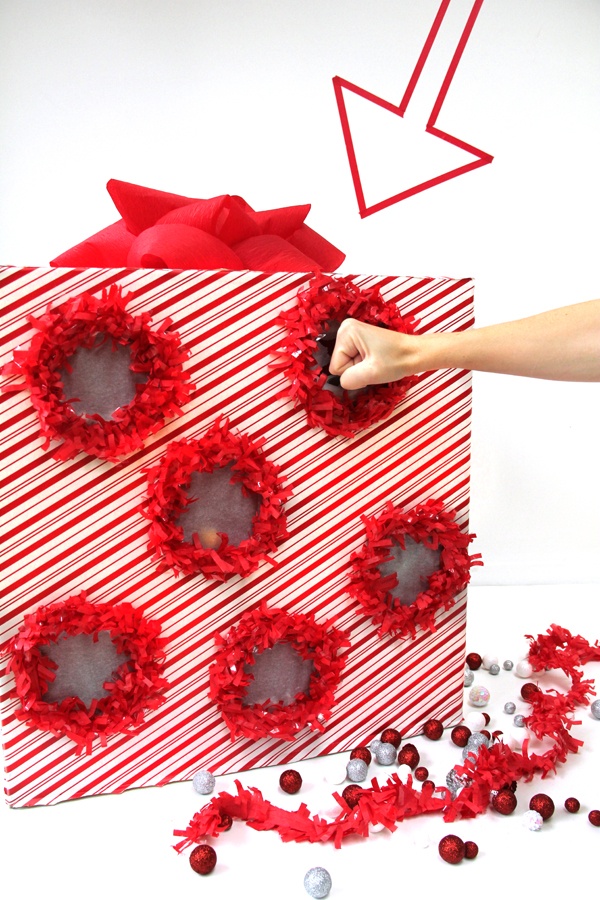 The creative blogger of studiodiy.com has totally transformed the idea we have of advent calendars. It's less of a calendar and more of a game for children. It features 24 holes filled with 24 different kinds of prizes. Exciting, right?