We all have a typical style or theme in mind that we follow every year while decorating for Christmas. But this Christmas, why don't you break the monotony and opt for something unconventional, like Scandinavian décor.
You May Also Like To Read:
Scandinavian style Christmas decoration is characterized by white interiors, Nordic threads, and minimalist elements. It usually comprises of pinecones, evergreen sprigs, wreath and branches and of course, reindeer. So if you wish to decorate your house along the Scandinavian lines, have a look at our collection below. We've handpicked some of the dreamy Scandinavian decoration ideas for you.
Minimalistic Entrance: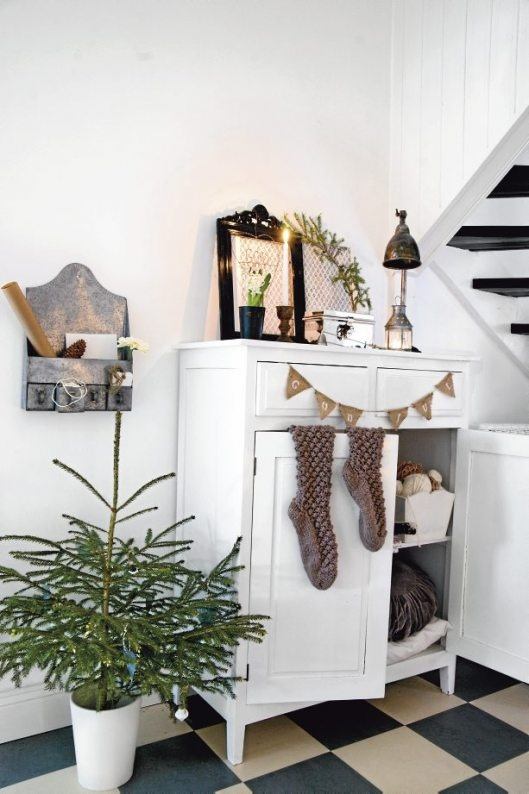 When it comes to the entrance, it's always better to play safe with minimalistic decoration. As you can see in the picture, just a potted Christmas tree is placed near the cupboard, and a paper garland hangs from the drawers.
Black And White For The Windows: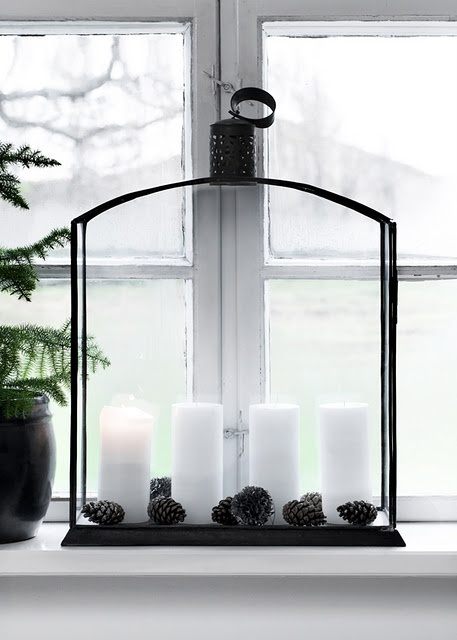 For the white windows, get hold of a similar candle holder, and place white pillar candles on it along with painted pinecones. Chic in the truest sense.
Scandinavian Style Living Room: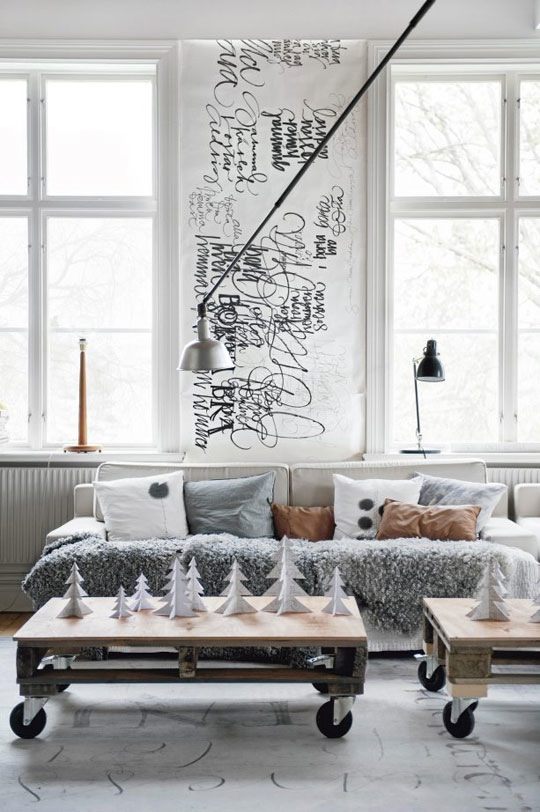 This image features a modern, Scandinavian Christmas room decorated in a very subtle way. Just some mini, decorative Christmas tree are placed on the coffee table.
Hang Pinecones From The Window: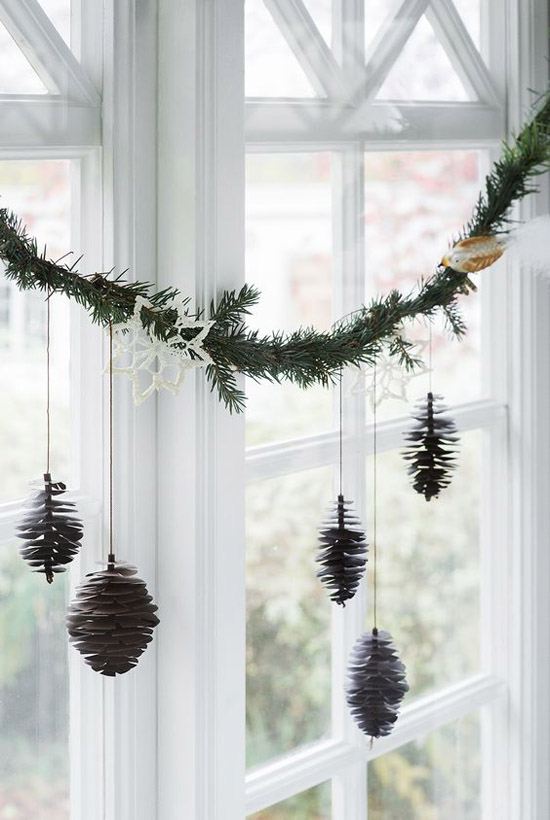 If you've been dreaming of a Scandinavian Christmas, hang a garland with pinecones and snowflakes from the window. It will give a surreal effect to the house.
Beautiful Candle Arrangement: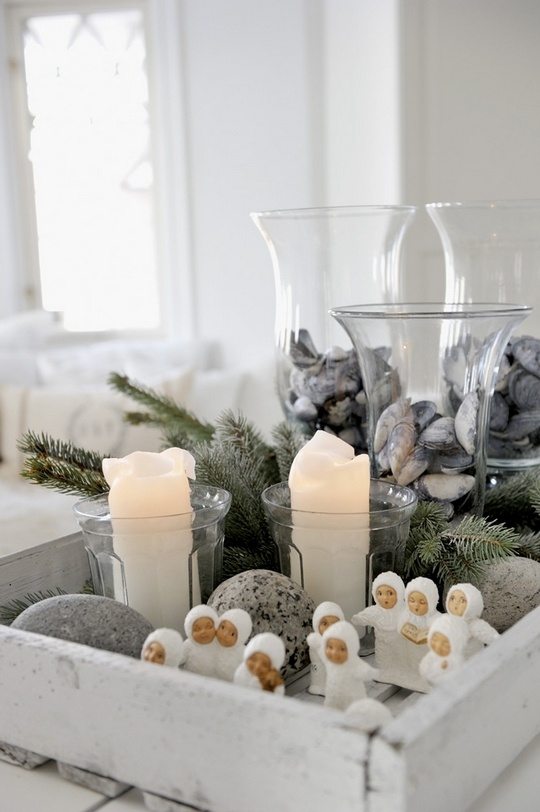 This is the cutest candle arrangement we've seen. Apart from the fresh color combination of gray and white, we loved the little choirs gracing the tray.
Pops Of Red: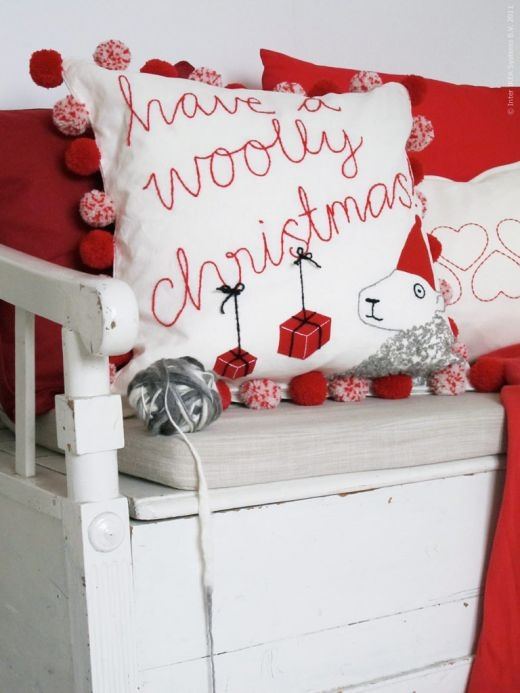 The upholstery used for this sofa set has the perfect amount of red to make your Scandinavian Christmas décor stand out without looking too much into the face.
A Table With Wreath: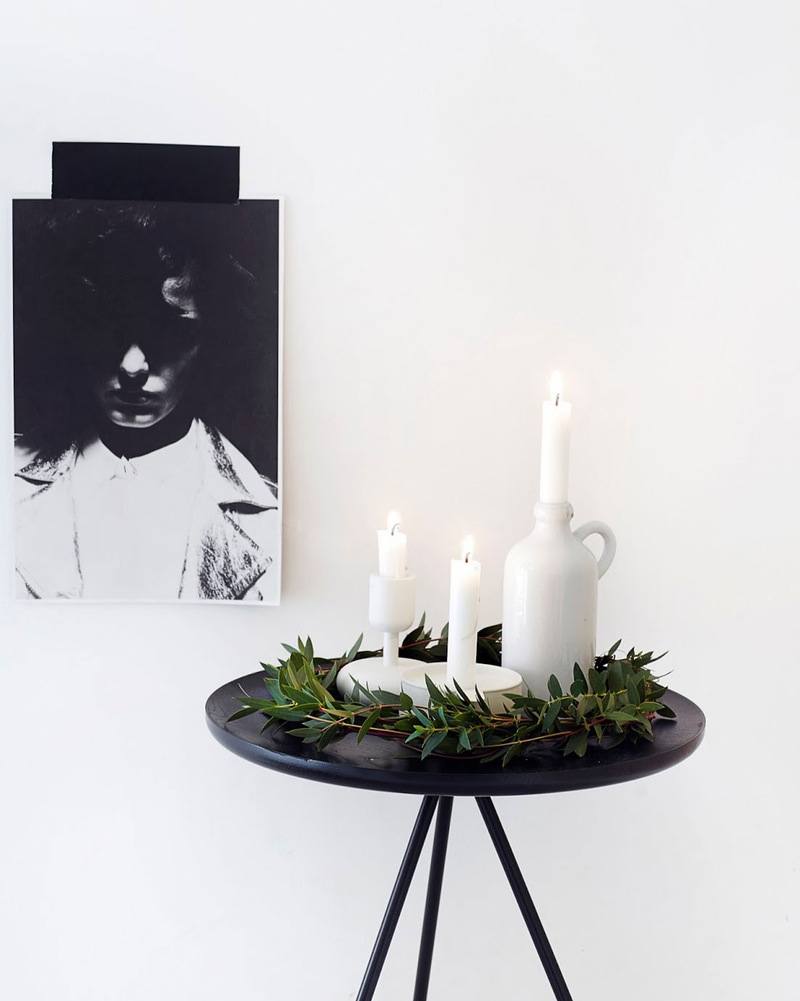 In this picture, a modern table is decked with an evergreen wreath and white candles and candle holders. Very elegant!
Floating Trees: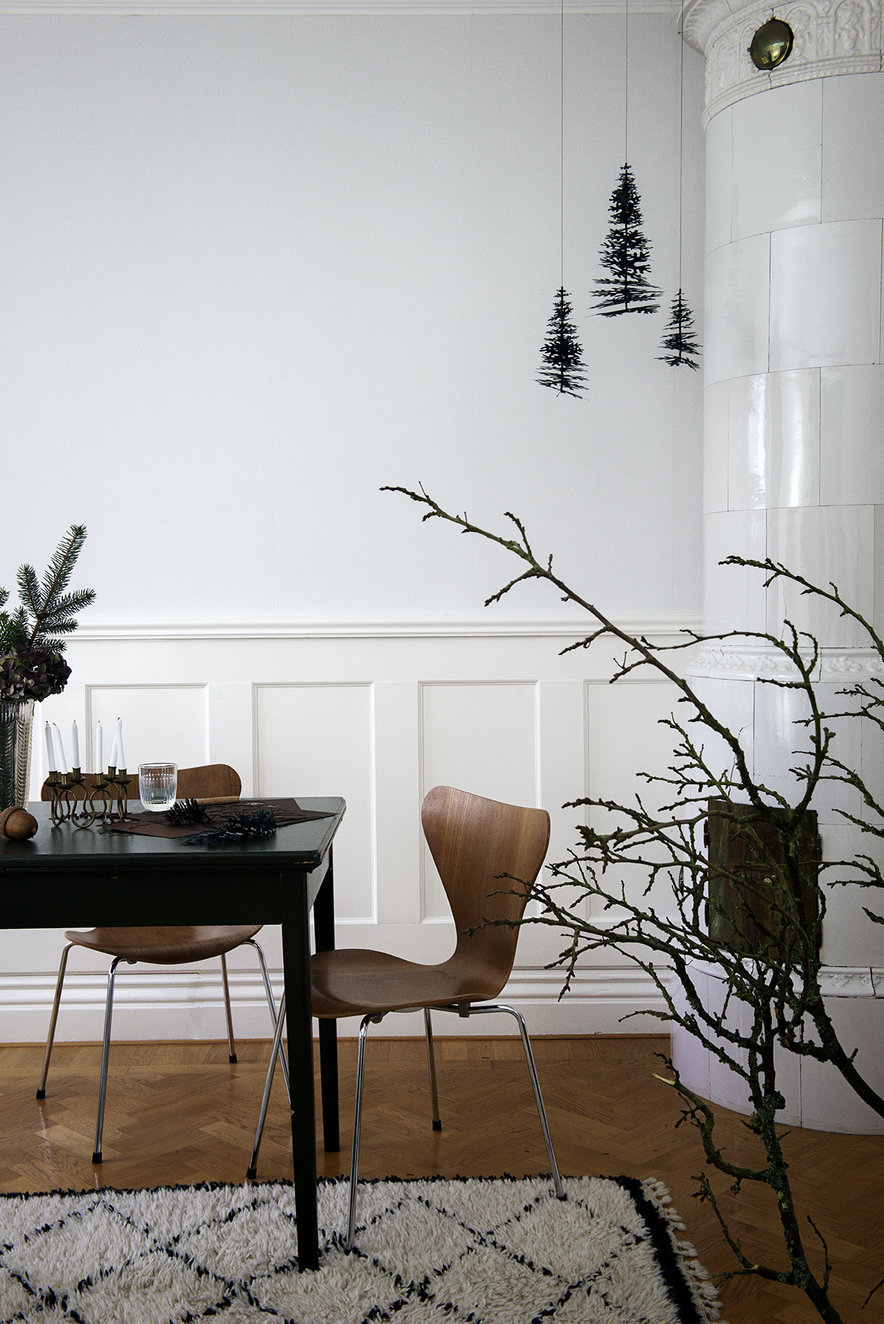 If you're finding hard to get into the Christmas spirit, just hang a few of these floating Christmas trees from the ceiling. In no time you'll find yourself yearning for Christmas.
Leaf Wreaths: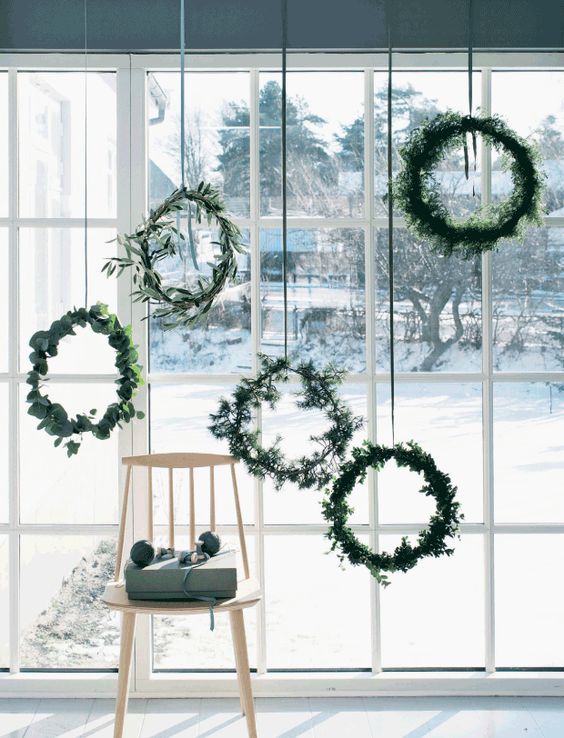 You can also consider hanging a few leaf wreaths from the window. Just ensure that wreaths are thin and slightly small in size.
Hints Of Black: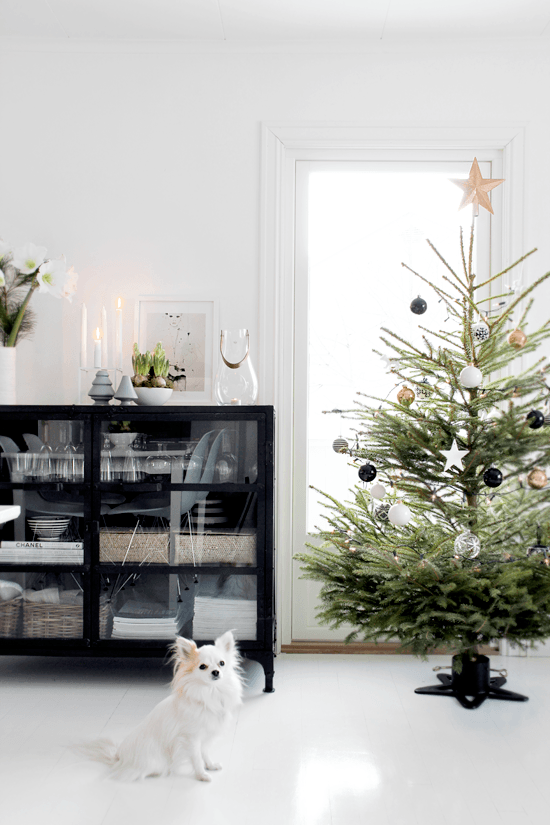 Black and white combination is classic and will never go out of style. So this year, decorate the Christmas tree with black and white ornaments. It will add a sophisticated touch to your décor.
NOEL Sign: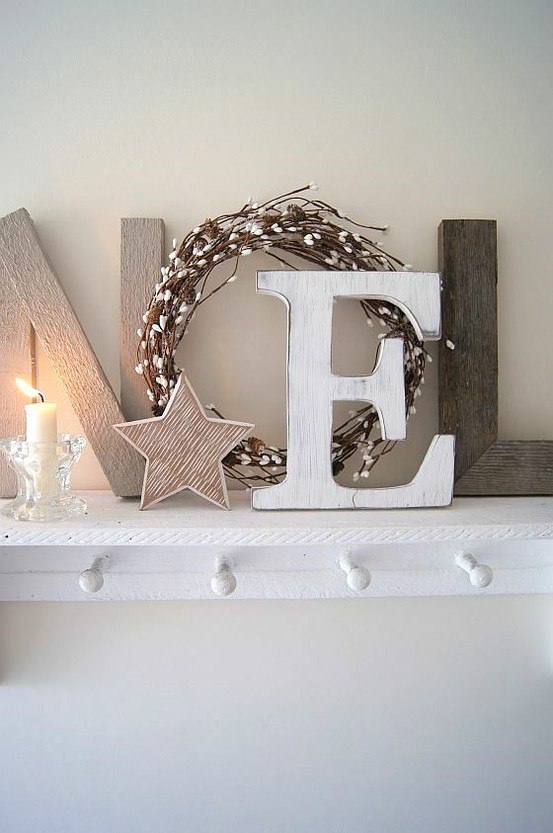 This NOEL sign will look gorgeous gracing your mantelpiece. The sign is very easy to make. You can either make the alphabets at home or purchase it from Walmart.
The Christmas Star: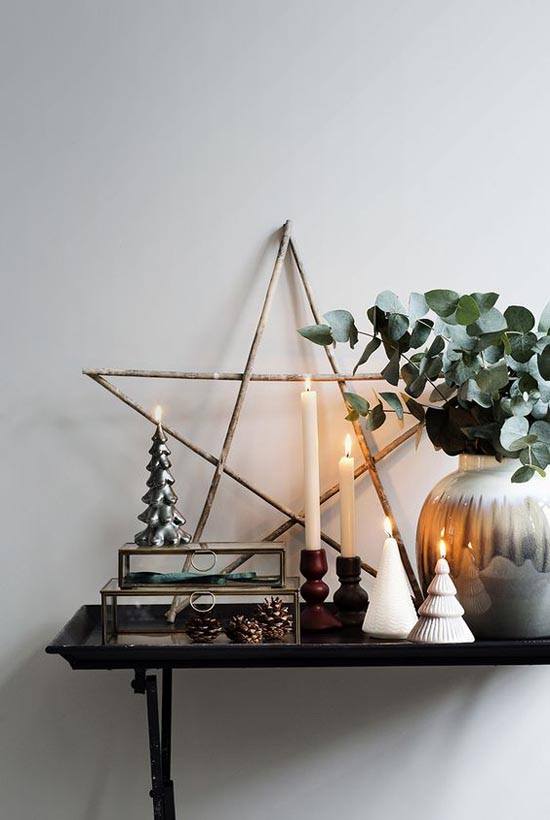 To get your house into the Christmas spirit, place a wooden star on the coffee table, along with other elements, like candles, pinecones, and miniature Christmas trees.
Potted Plants For Outdoor Decoration: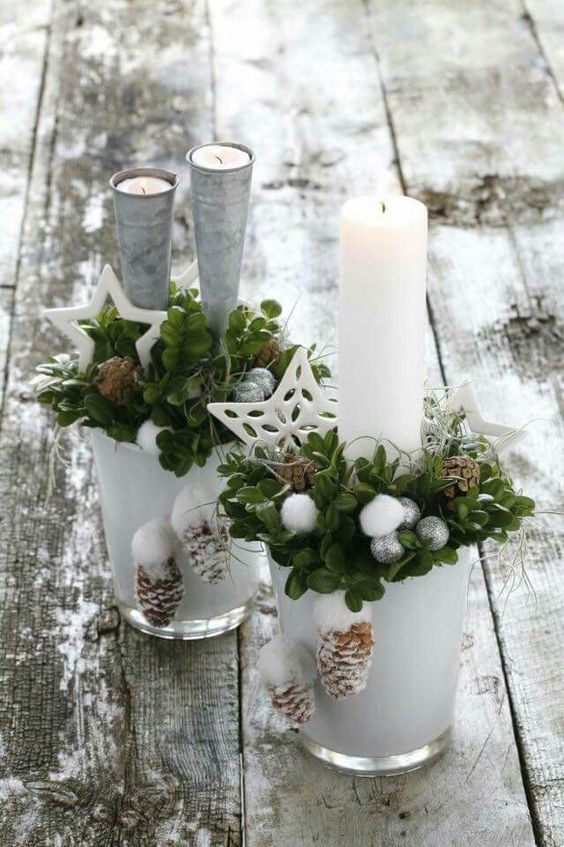 This idea is perfect for outdoor decoration. Take potted plants and fill with greeneries, tiny ornaments, pinecones, and candles.
Black Candles: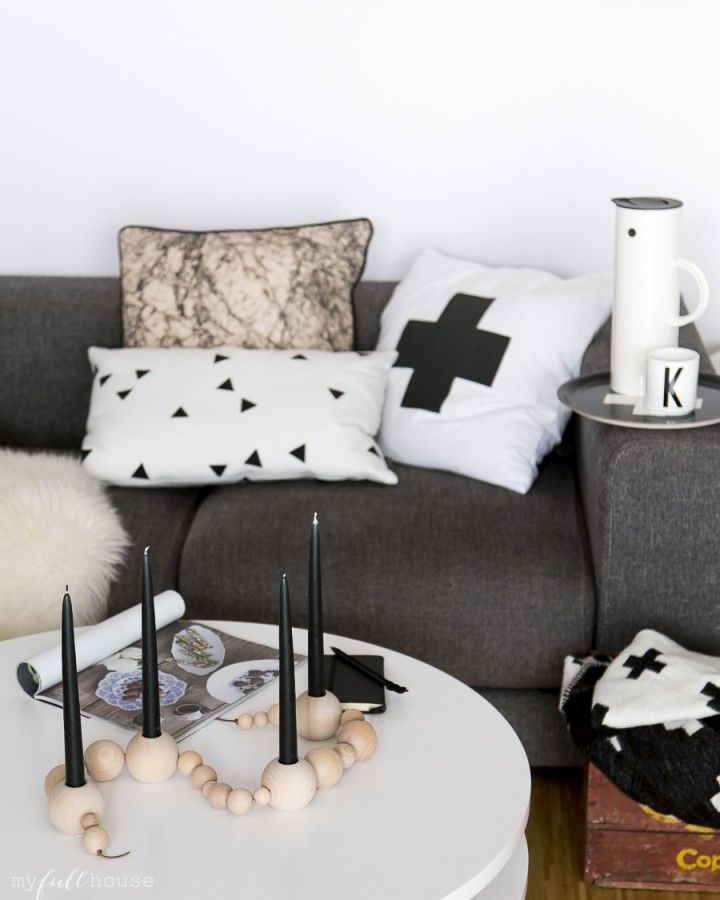 White candles are super common. How about going for black candles this Christmas. Even the candle holder is looking very chic.
A Dreamy Candle Decoration: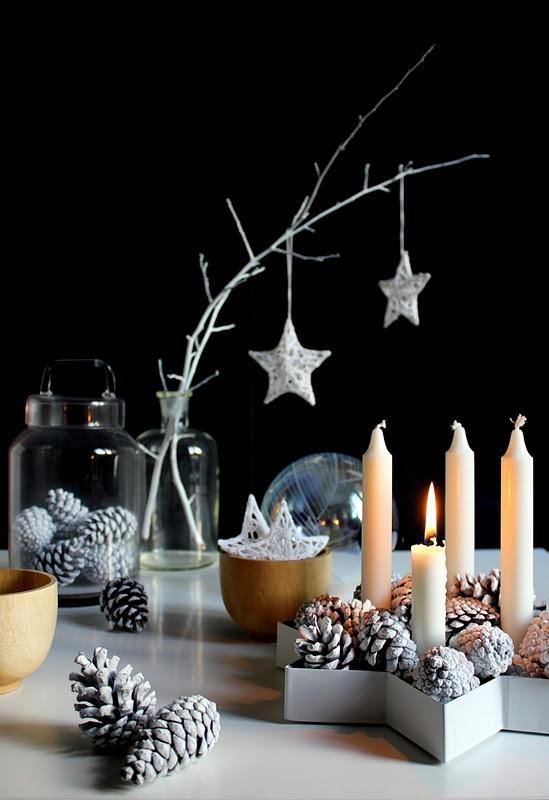 This looks so dreamy and sort of unbelievably beautiful. If you're trying to enact this idea, you need to paint the pinecones white and arrange a few jars.
Branch Chandelier: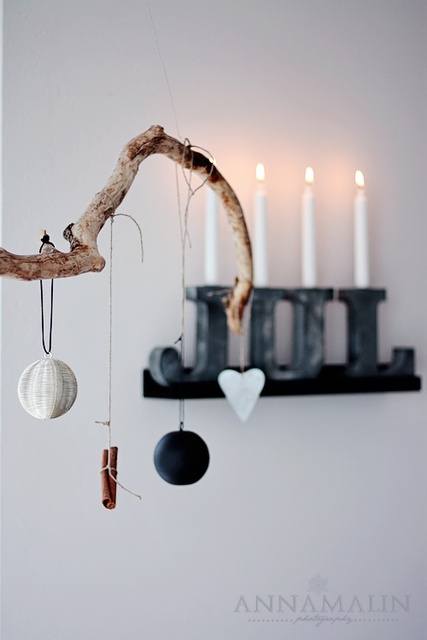 Branch Chandelier is gaining extreme popularity off late, and it goes very well with the Scandinavian décor as well. The ornaments used for the chandelier are also unique.
Scandinavian Christmas Window Décor: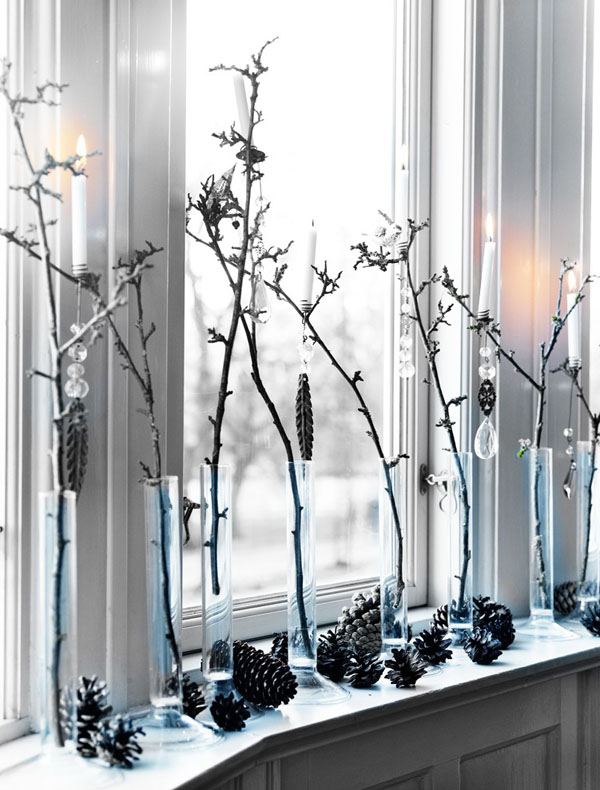 To give your window an elegant look, decorate it something like shown in the picture.
A Half Wreath: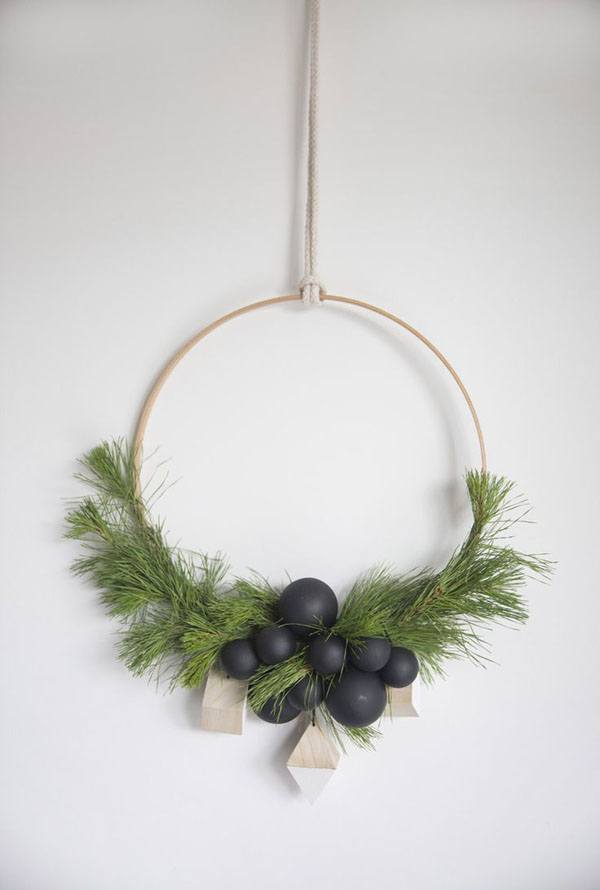 Since wreaths are common and also a staple during Christmas, how about opting for a half, Nordic style wreath? It will break the monotony as well.
Simple, Yet Beautiful Candle Decoration: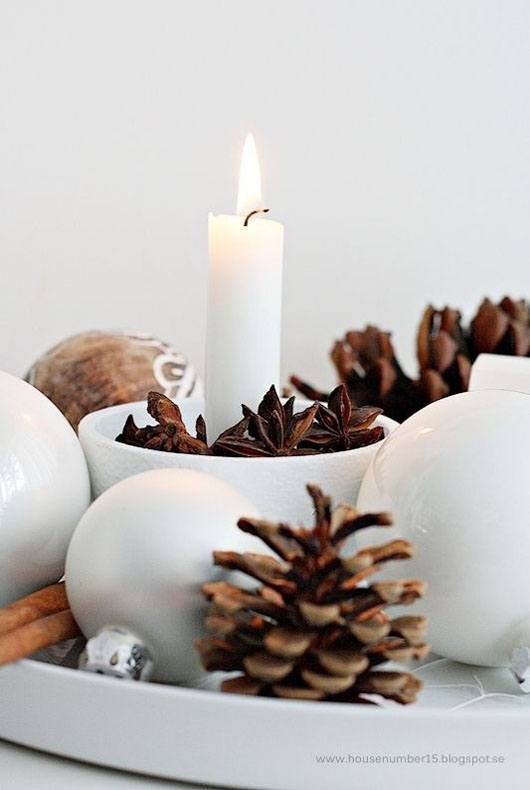 With just a few pinecones, a few sticks of cinnamon, white ornaments, and candles, you can make this simple, yet beautiful candle decoration.
Add A Pop Of Red: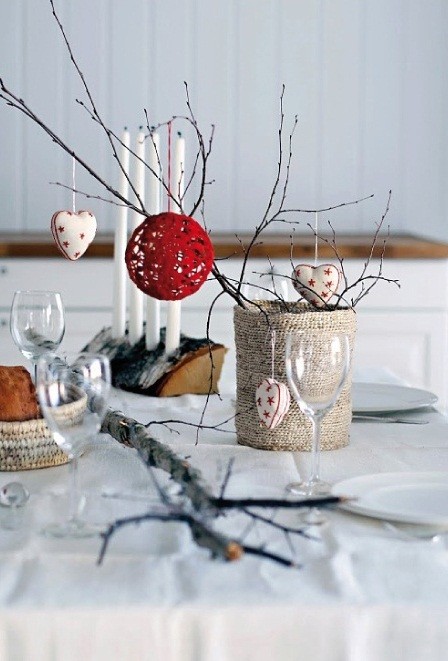 If you're finding hard to part with your favorite color, then you can add it to the décor, but not in an over the top manner. Hang a red ornament, a yarn ornament preferably, for a pop of color.
Chandelier Candles: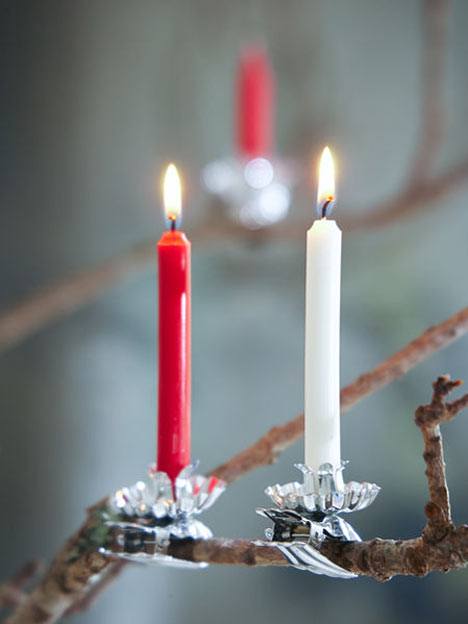 Candles are absolutely staple to a Scandinavian decoration. While these red and white candles look amazing on the chandelier, it will look great on the Christmas yule log cake and mantelpiece as well.
Wooden Christmas Tree: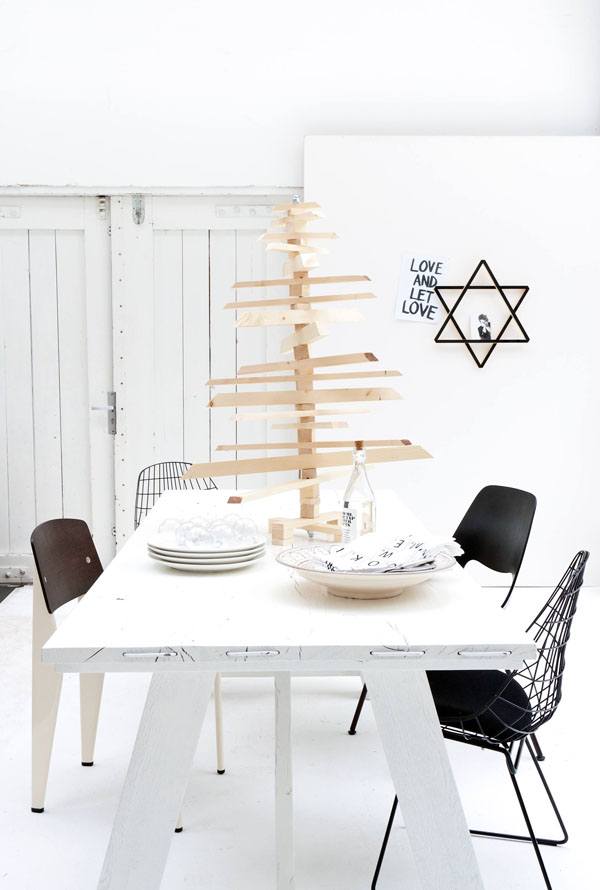 Got scraps of wood lying around your house? Then create a modern Christmas tree, as shown in the picture. It will complement the theme wonderfully.
Decorate With Stars: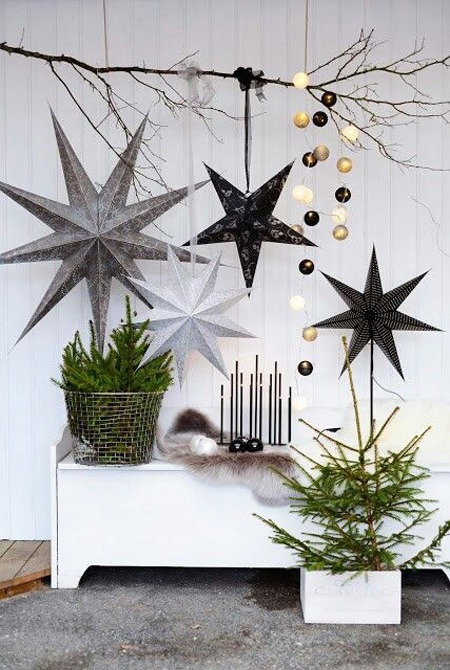 If you want one corner to stand out from the crowd, decorate is in a pompous way, as shown in the picture. It will look luxurious!
Wreath Chandelier: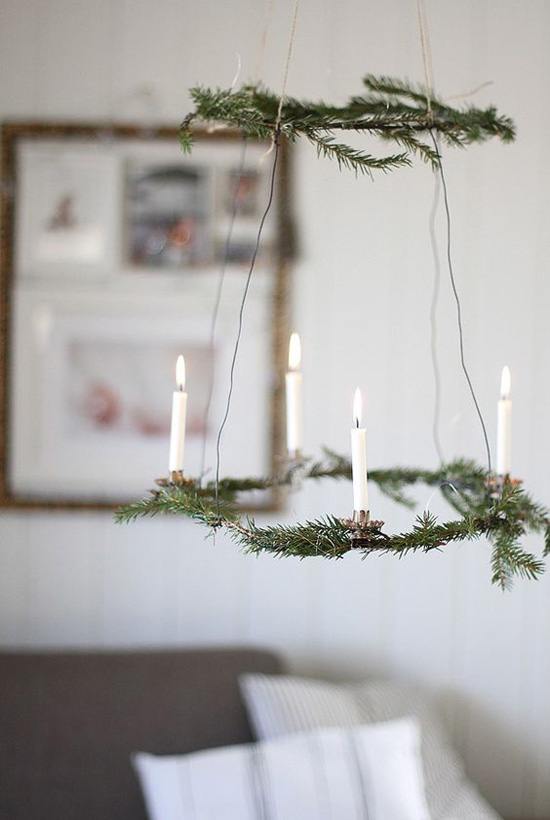 Another gorgeous chandelier idea for Scandinavian décor. And instead of using bright Christmas lights, use soft, candlesticks in white.
Play With Pinecones: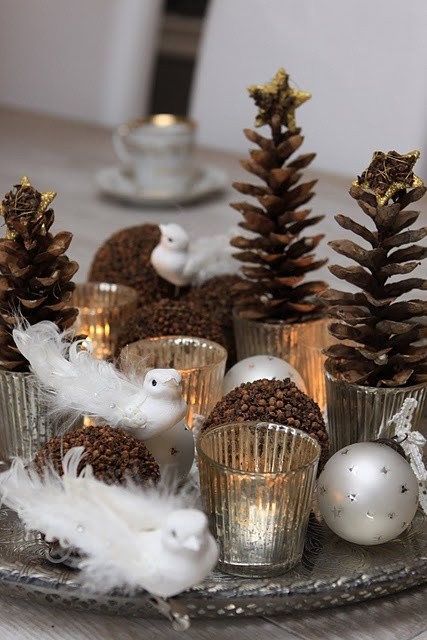 If you receive plenty of pinecones in your backyard during the winter season, this decoration idea is just for you. The cute pigeon figurines give it a dreamy touch.
Hang Stockings On The Mantelpiece: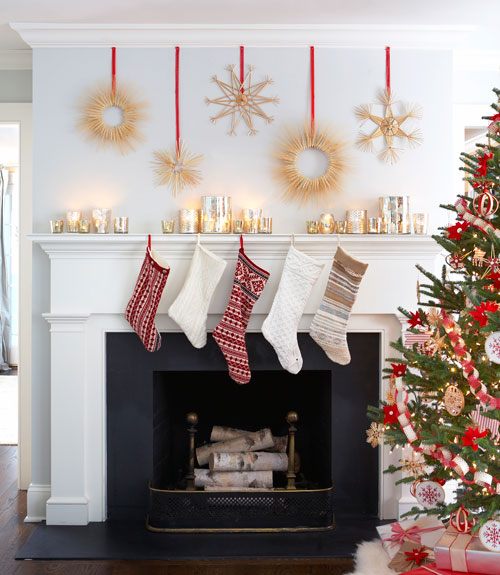 To get into the Scandinavian Christmas feel, hang some red and white sweater stockings from the mantelpiece. The Nordic style wreaths are also a must.
Pinecone Wreath: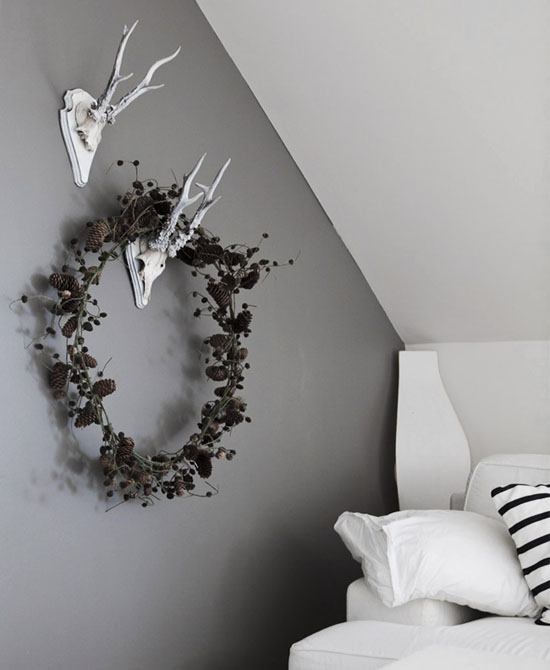 Another genius way of incorporating Scandinavian theme to your décor. Make or purchase a pinecone wreath and hang from the reindeer's antlers.
Scandinavian Ornaments: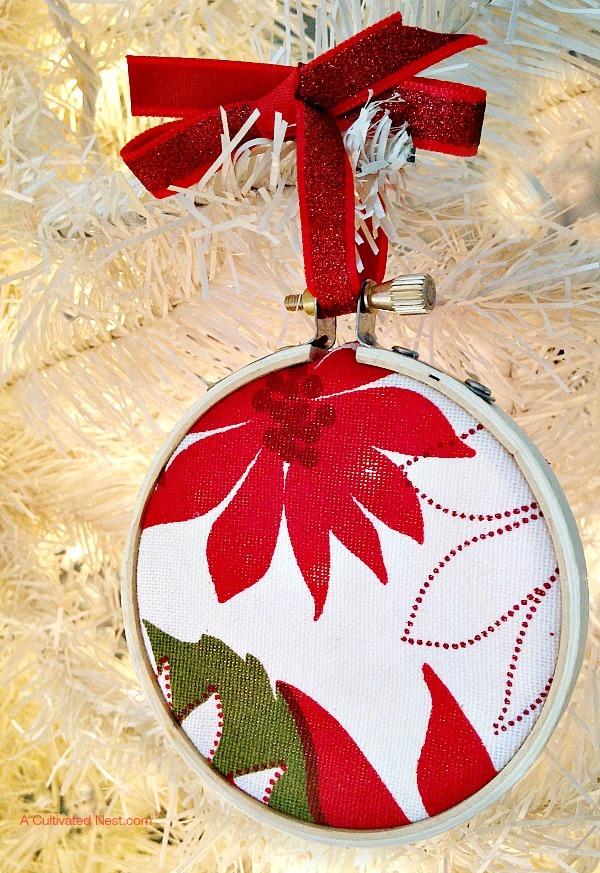 The ornament you see here is typical Scandinavian and Nordic ornament. You can make a few of them just by purchasing a 4-inch embroidery hoop and a white cloth.
Scandinavian Style Banister: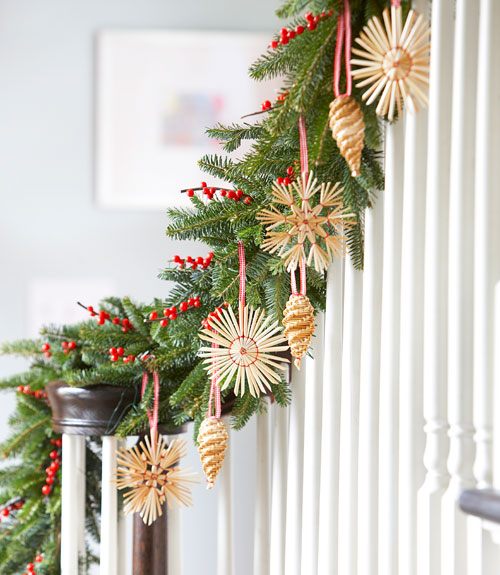 The banister here is decorated along the Scandinavian lines. An evergreen garland is woven with berries, and Nordic ornaments are hung from it.
An Unusual Decoration: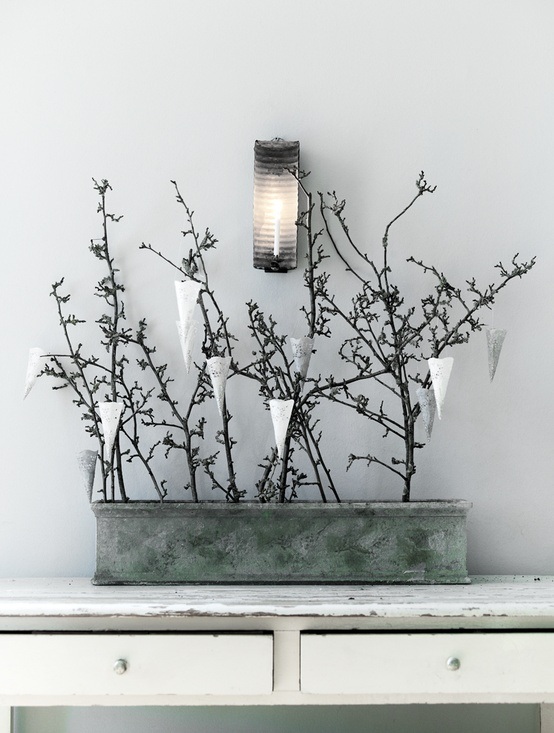 Here's an entirely unusual and unique Scandinavian decorating idea for you. It's difficult to source such a decorative piece, so you need to start hunting for it soon.