Halloween is the time of the year when you can unabashedly present spookiest and scariest recipes and people will love you for it. Cupcakes, especially, are easiest to work with. You can make them gross or scary, but people will still love devouring it. So if you are looking for some quirky ideas, you've landed at the right place. Below we've got some awesome Halloween cupcake recipes to choose from.
You May Also Like To Read:
30 Yummy Halloween Cupcake Recipes
Monster Strawberry Cupcakes: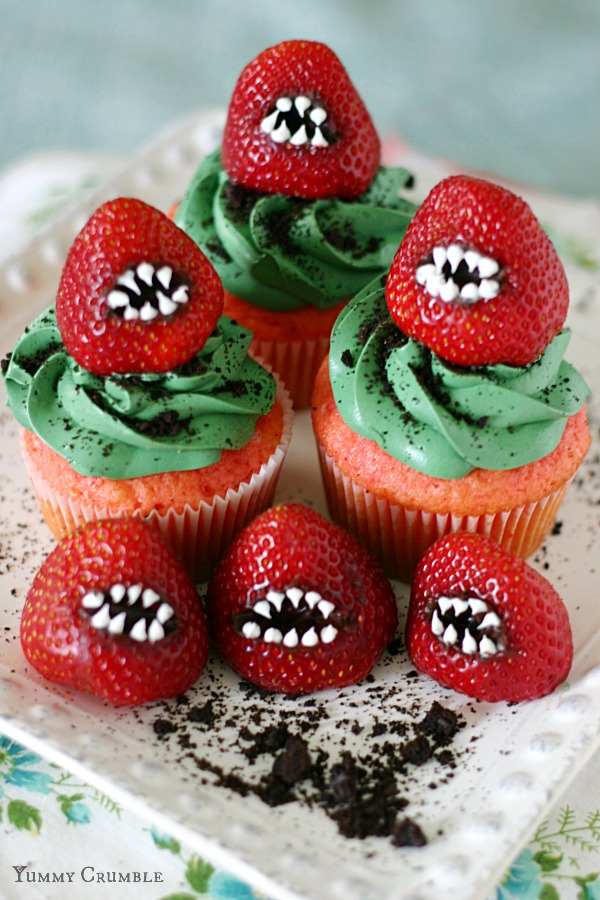 Who thought that even pink can look scary? But if done the right way, even the cutest of things can look terrifying. It's basically the strawberry, which has been given a terrifying look here. We can't wait to get them into our bellies.
Devil's Cupcake: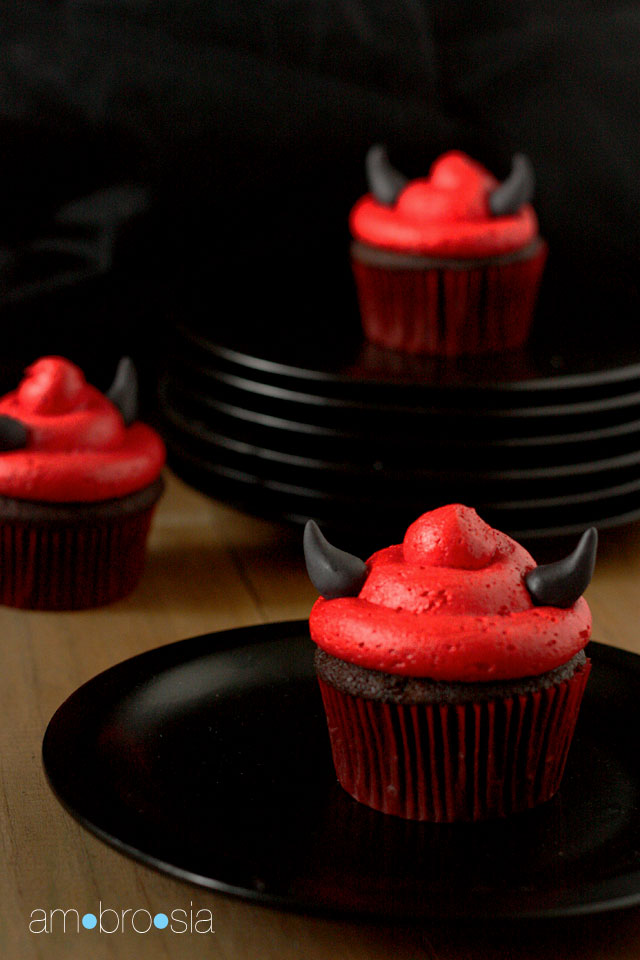 Unleash your inner devil by making these absolutely gorgeous and scary devil's cupcake. The presentation is simply amazing. And believe me, it's easy to make too.
Frankenstein Cupcake: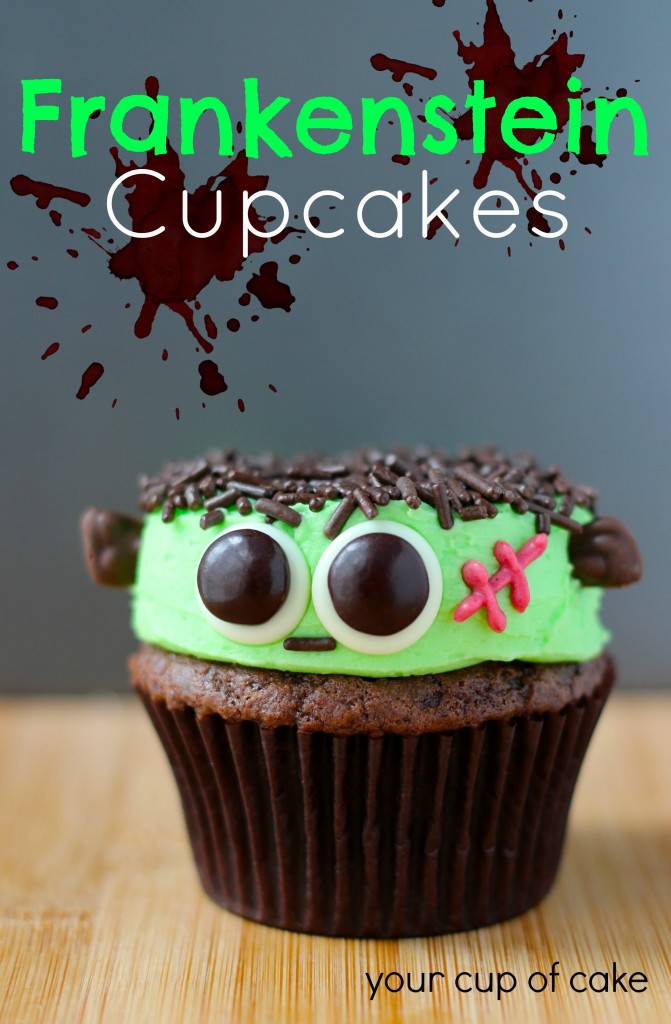 Isn't this Frankenstein cupcake absolutely amazing? And cute too? The detailing has been in an amazing way.
Monster Cupcakes: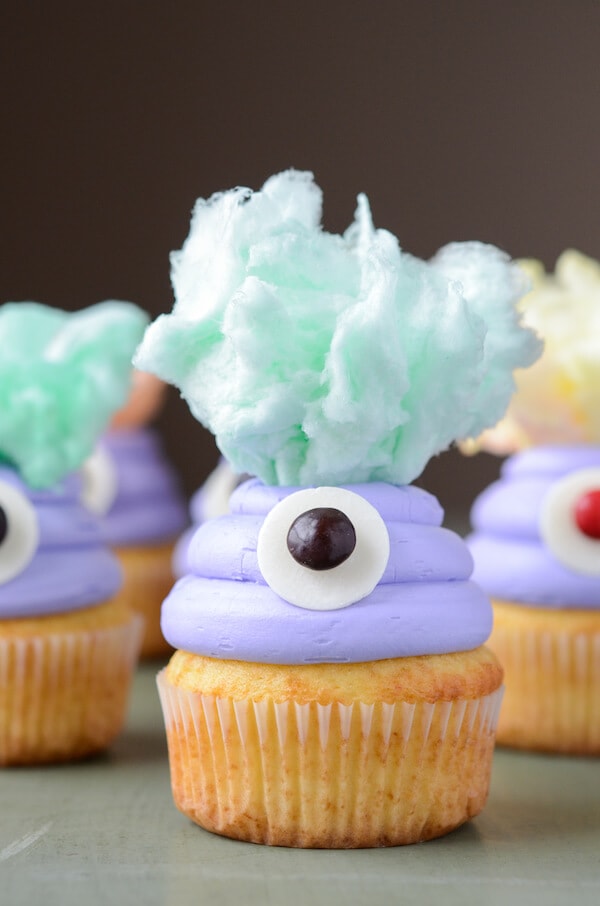 These one eyed monsters are so easy to make that your children will insist you serve it to them all year long. And don't you think these monster cupcakes resemble the negative minions from the movie "Despicable Me"?
Wicked Witch Cupcakes: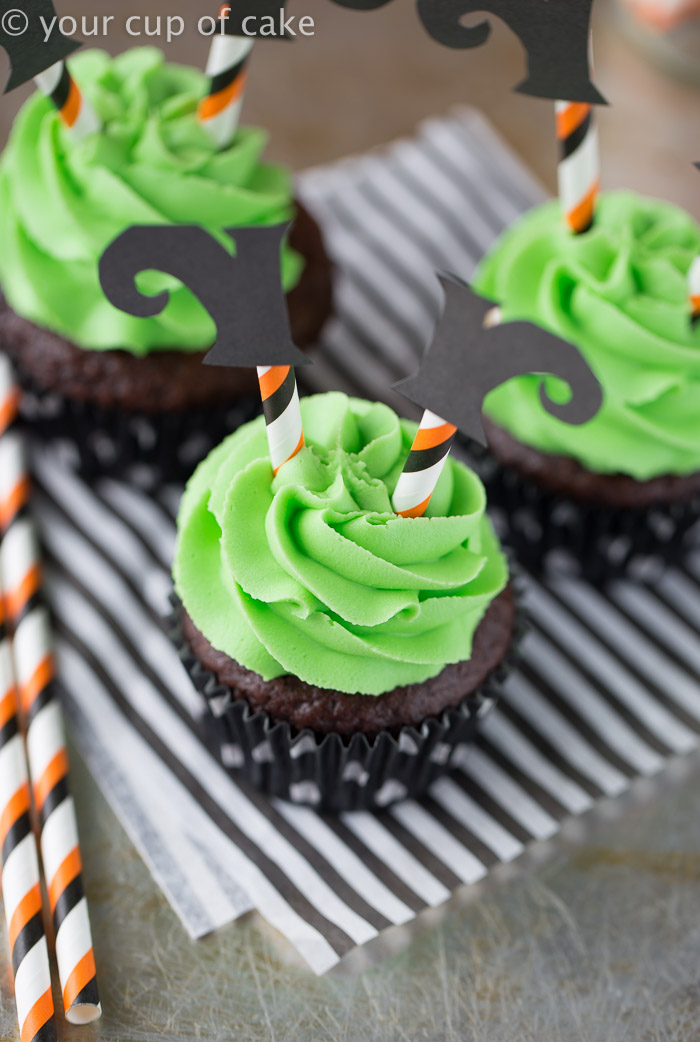 The witch may be wicked, but these cupcakes are absolutely heavenly and delicious. It's basically a simple, green frosting laden cupcake. The presentation has been done in a lovely way, using straw and boot cutouts.
Frankenstein Cupcakes: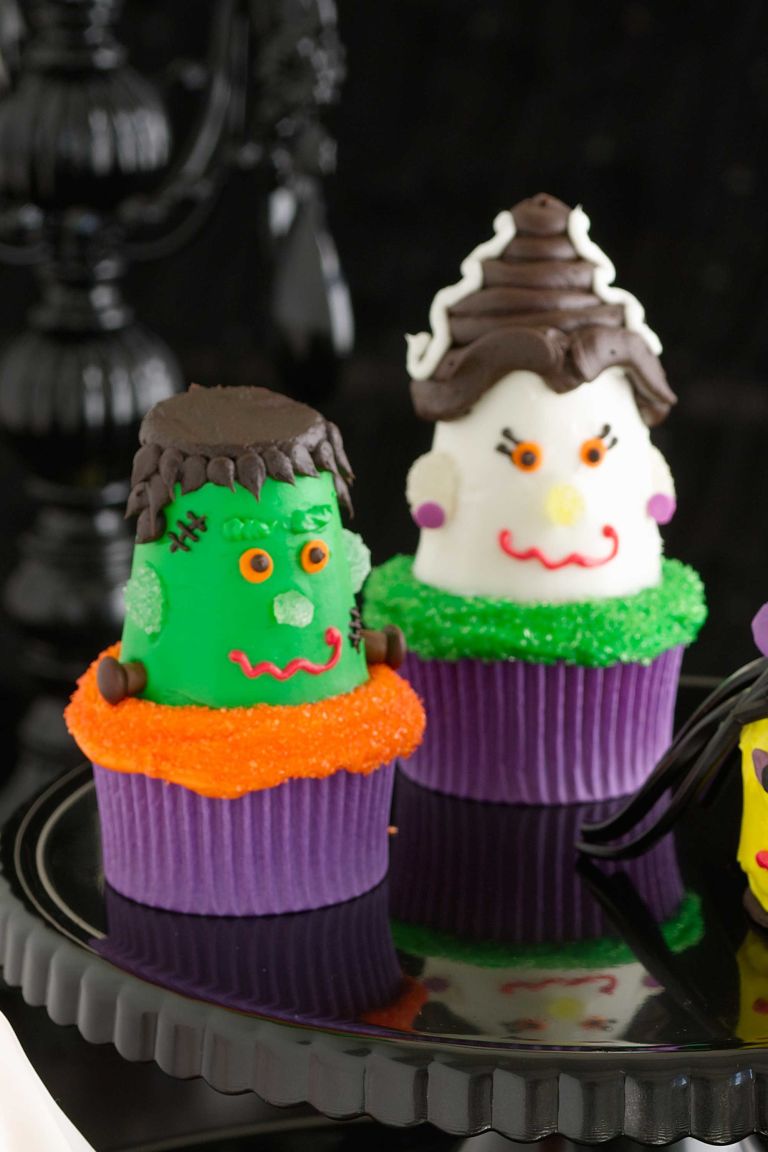 Here's yet another Frankenstein cupcake, but it's a lot different from what we generally get to see. Gumdrop has been used for the ears and nose, and some Tootsie rolls and M&M bolts for decoration.
Dirt Pudding Cupcakes: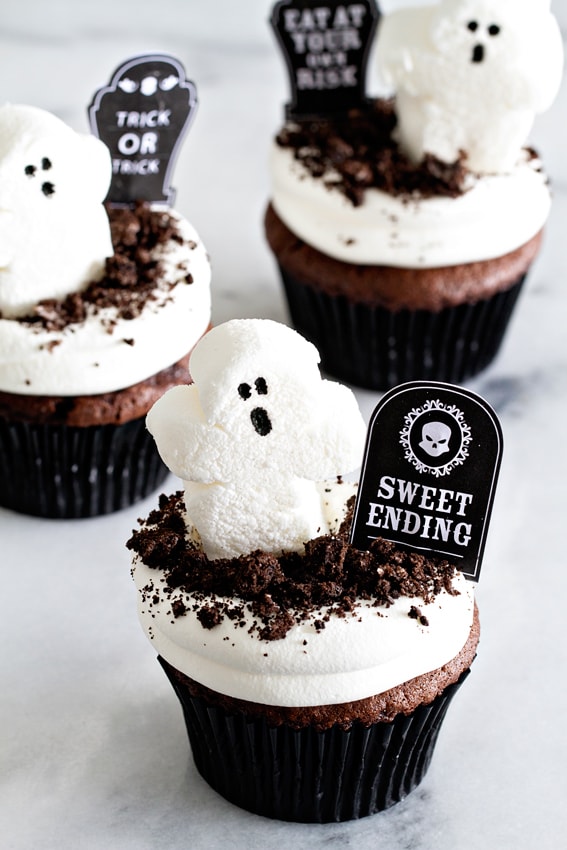 OMG, how are those ghosts rising from their graves? Don't fret. These are basically dirt pudding cupcakes, which will make your dining table more adorable than ever. You just need to top the cake with white chocolate pudding and finish with crushed Oreos and ghost marshmallows.
Pumpkin Pie Cupcakes: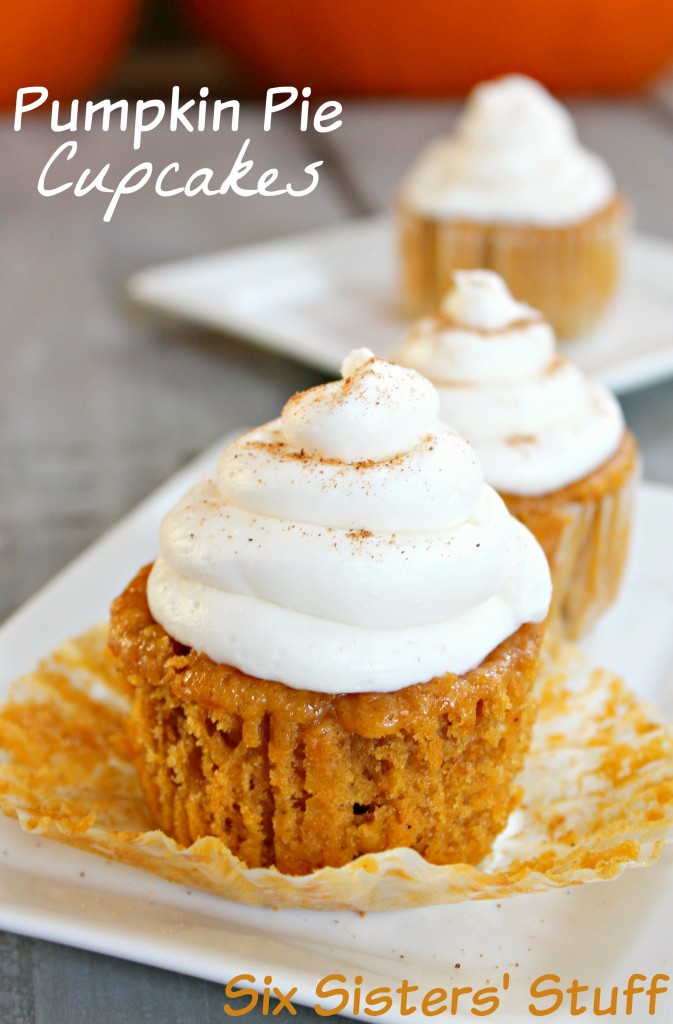 This one's a Halloween classic. It's a delicious pumpkin pie cupcake with a little nutmeg on top. It's sure to make your guests feel both cool and cozy, which is what everyone wants in fall.
Oreo Spider Cupcakes: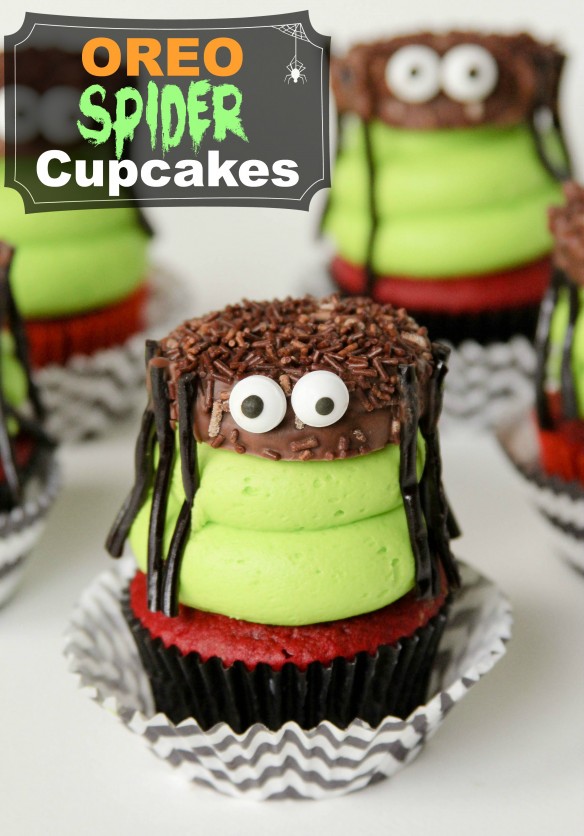 We've never seen such cute spiders before. It's a lovely red cake topped with green frosting, chocolate covered Oreos and chocolate sprinkles. The feet are made using black licorice rope.
Skeleton Cupcakes: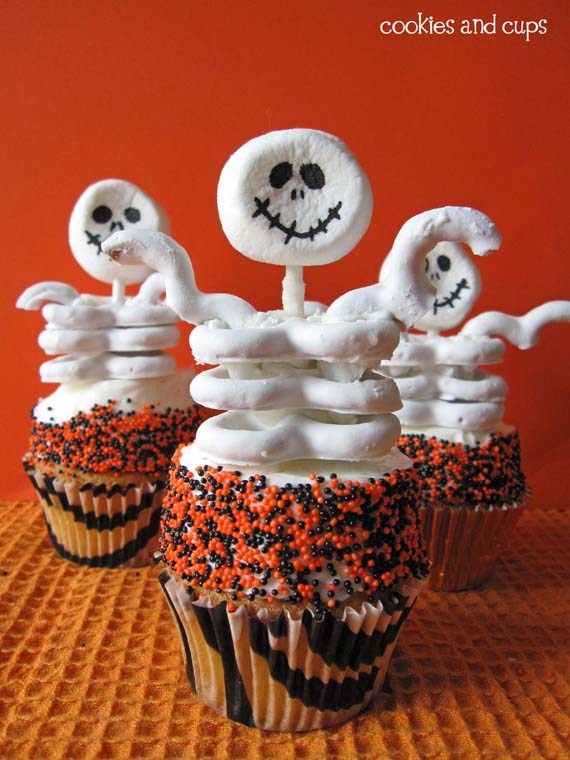 Show off your creativity with these skeleton cupcakes. The skeletons are made using marshmallow. You can make the eyes, mouth, and nose using food markers or black frosting.
Spider Web Cupcakes: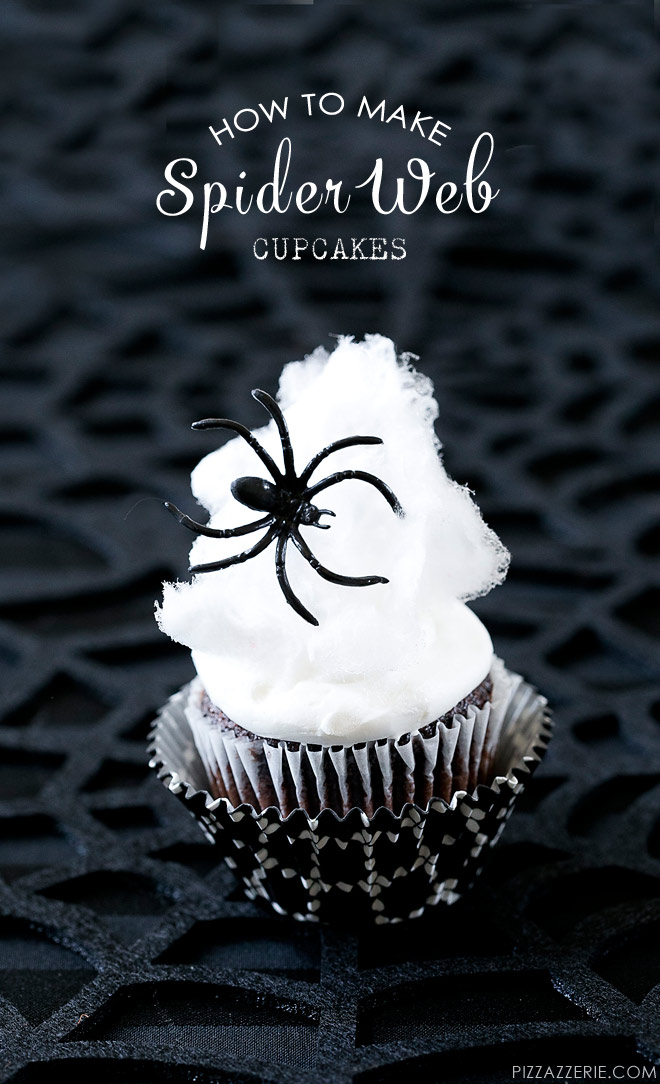 This is such a realistic spider web cupcake. A cotton candy is used to give the cupcake a spider web like appearance. Plastic spiders are used to give a creepy effect, but if you can source, you can use edible spiders too.
Pumpkin Spice Pudding Halloween Cupcake: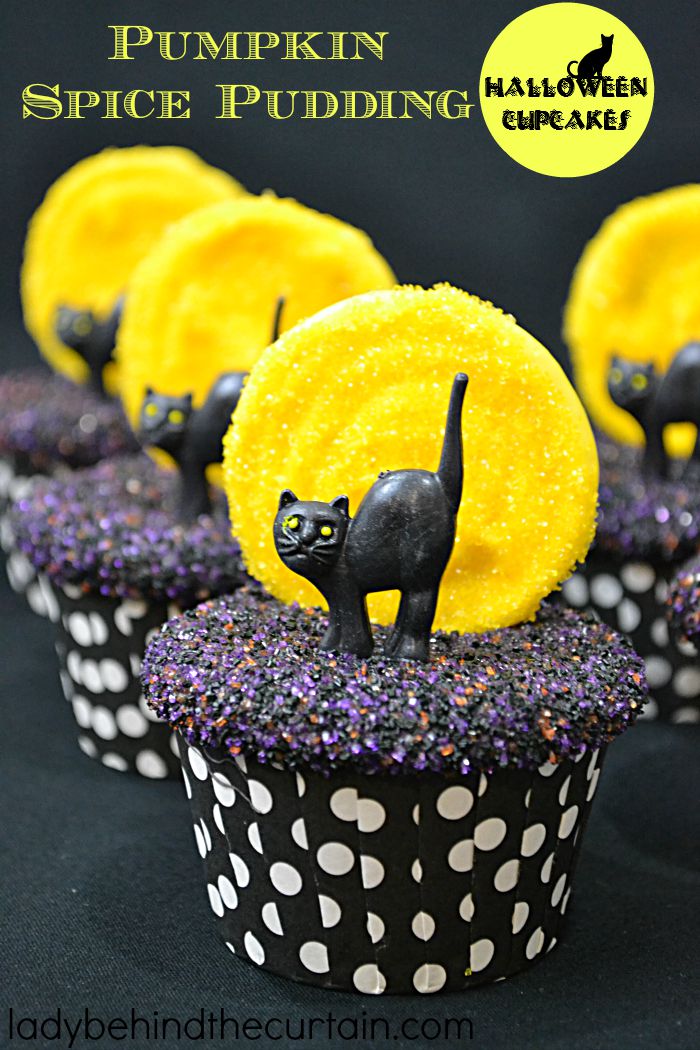 We must say these are most Halloween friendly cupcakes we've seen. It has a creepy cat, shining moon, and a shimmery background. Creativity is indeed top notch.
Graveyard Cupcakes: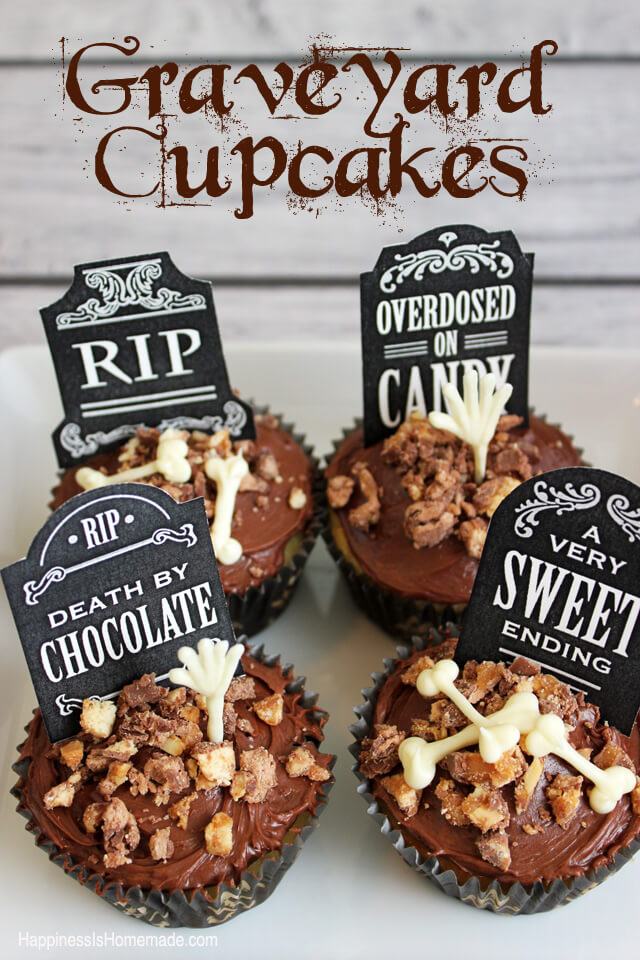 These graveyard cupcakes will go very well with the Halloween theme. More than anything else, we love the phrases written on the tombstones of these cupcakes.
Spider Web Cupcakes: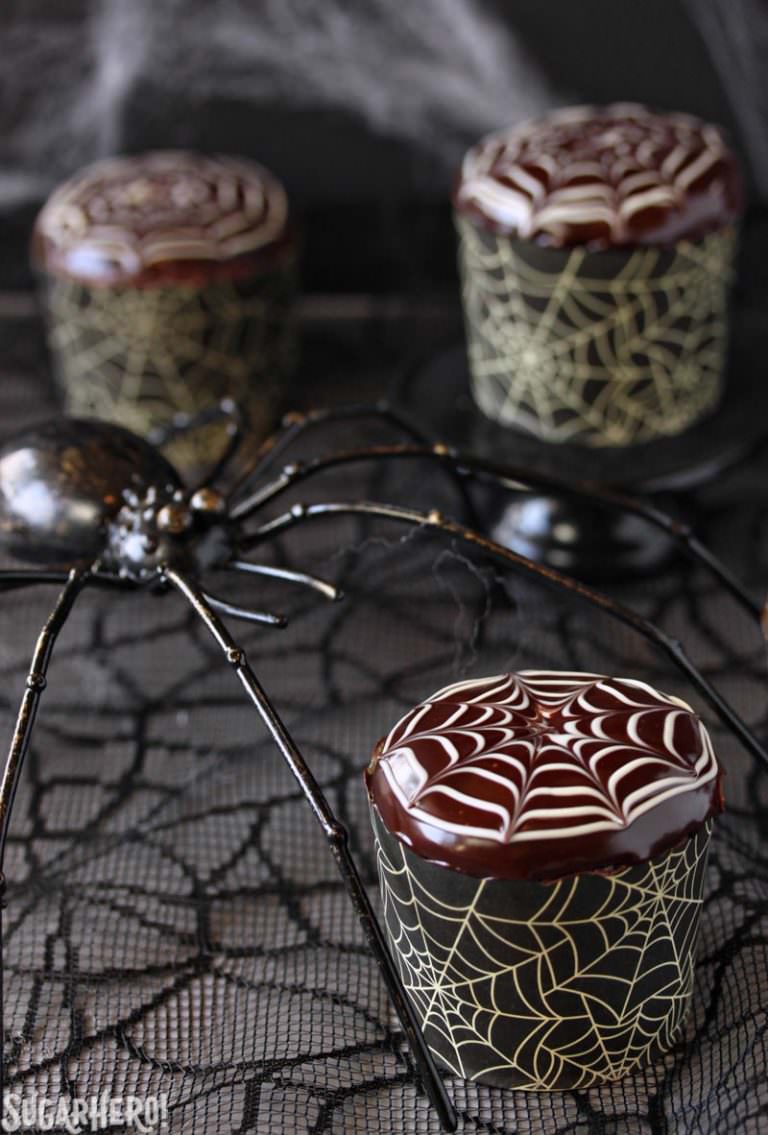 We are confident that these spider web cookies taste as good as they look at the picture. The chocolate spider is giving a perfect finishing touch. You can even use chocolate sprinkles to make them look a bit spookier.
Monster Claw Cupcakes: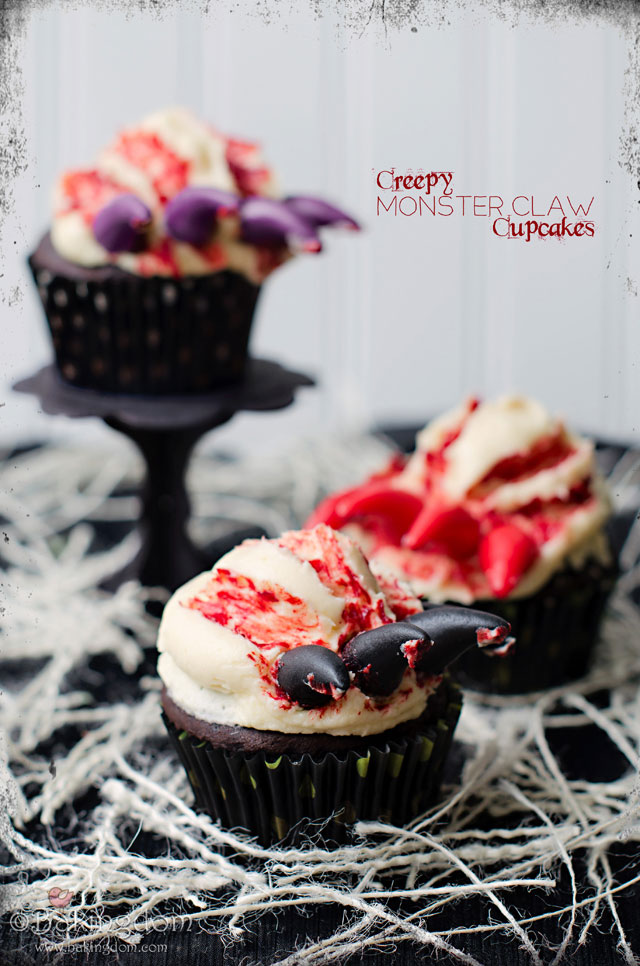 Alright! These actually look pretty terrifying, especially with a little blood on the nails. The icing is also given a clawed effect and is further accentuated with red edible paint.
Pumpkin Spice Hi-Hat Cupcakes: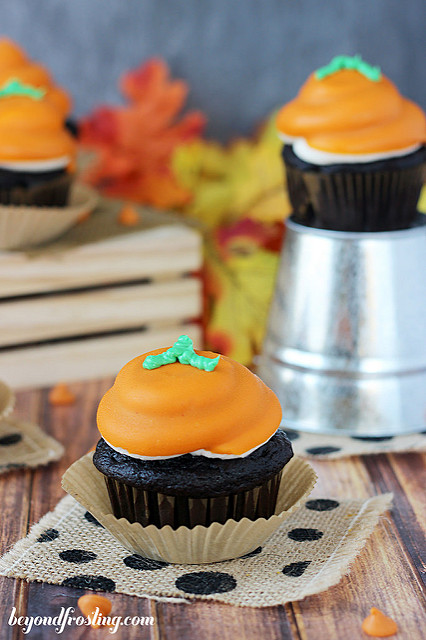 These yummy Licious cupcakes are filled with vanilla dough and topped with vanilla buttercream and further dipped in pumpkin spice magic shell. It will give you a warm and fuzzy feeling.
Reese's Owl: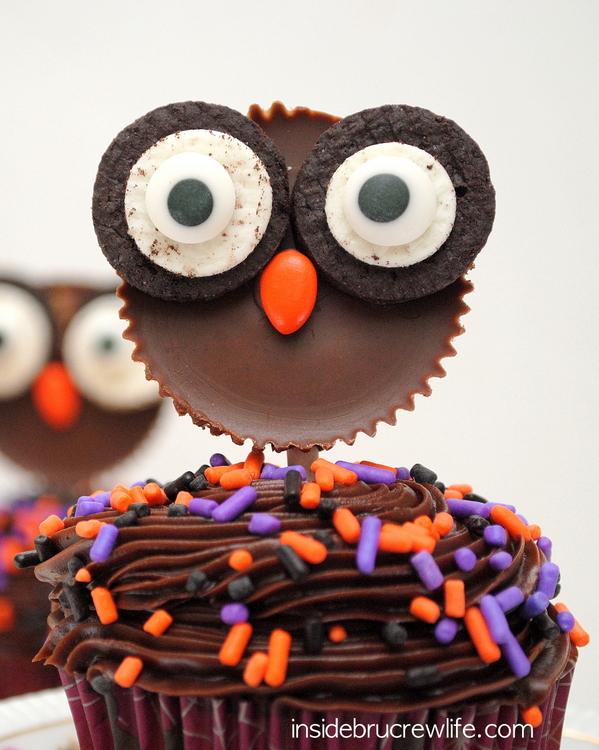 Now, this is one hell of an amazing cupcake topper. You can make it all year round, not just during Halloween. But since owls are mostly associated with Halloween, we think these cupcakes will make an amazing addition to your Halloween feast.
Reese's Cup Werewolf Cupcakes: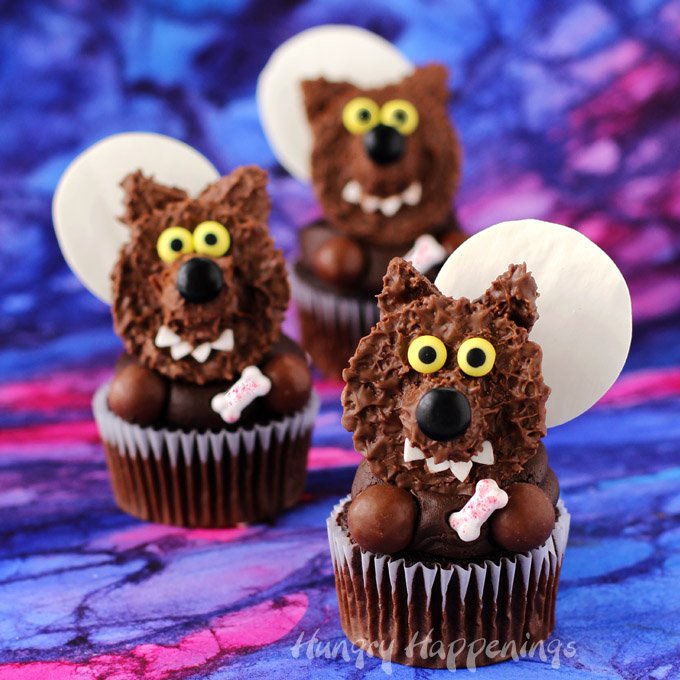 No! We're not scared of these werewolves. And we're sure even you won't be. In fact, your guests will be howling for more after having one.
Caramel Stuffed Chocolate Cupcakes With Caramel Skulls: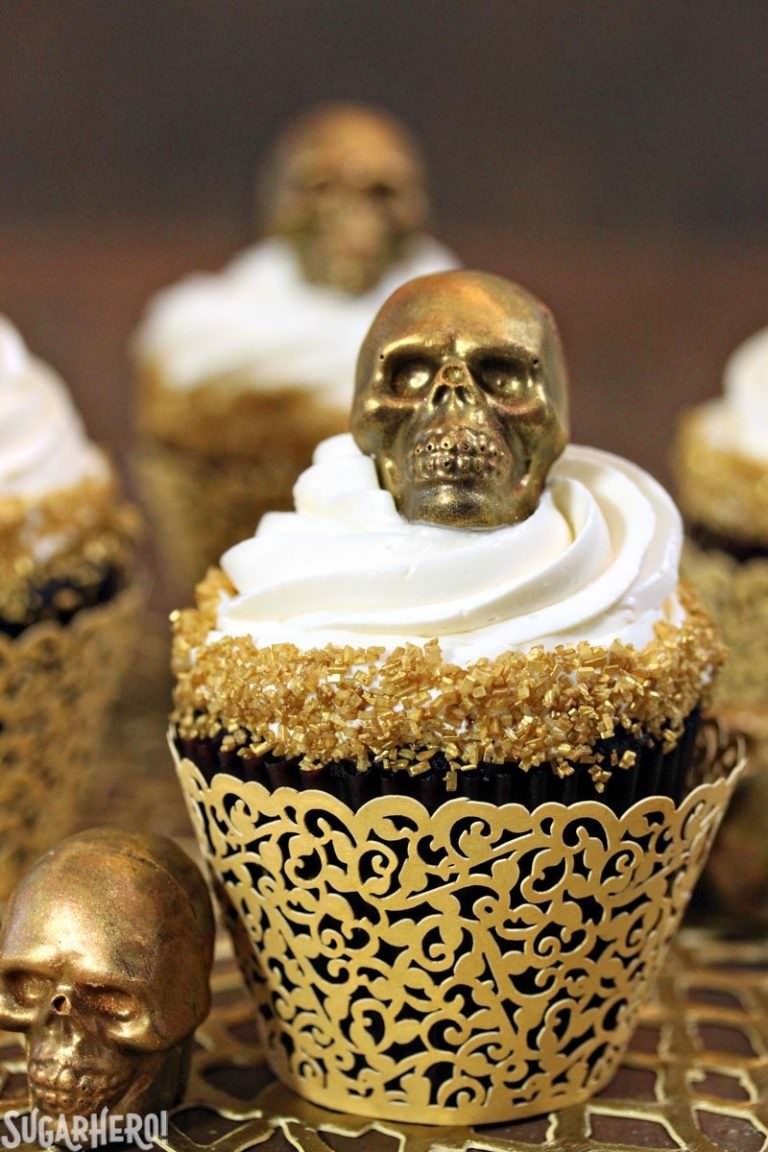 This is one of the unique Halloween cupcake recipes in our opinion. While the gold plated skull is an excellent topping, the caramel oozing out of it is making it irresistible.
Witches' Brew Cupcakes: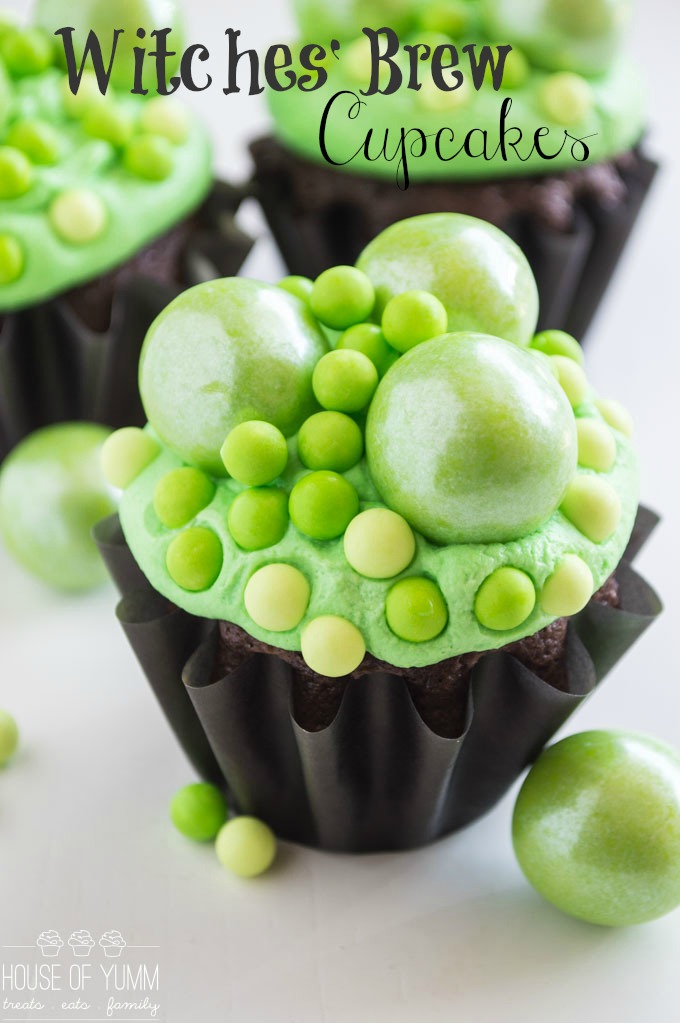 You don't need any spell to make a batch of these gross, yet delectable cupcakes. The gum balls bubbles are making it look eerie.
Pretzel And Chocolate Spiders: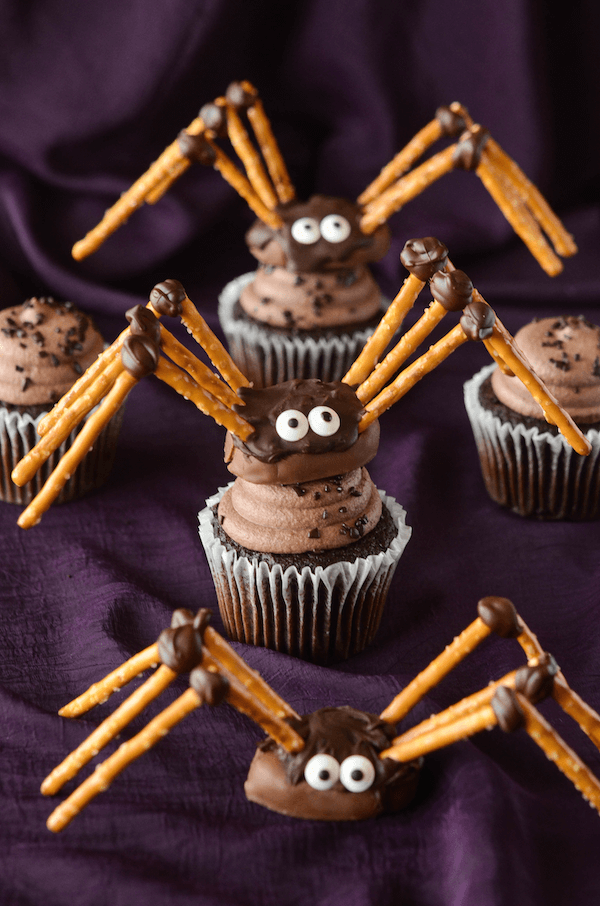 These spooky cupcakes topped with chocolate are simply perfect for the little guests. These cupcakes require just a handful of ingredients and come together in minutes.
Witch Hat Mint Chocolate Cupcakes: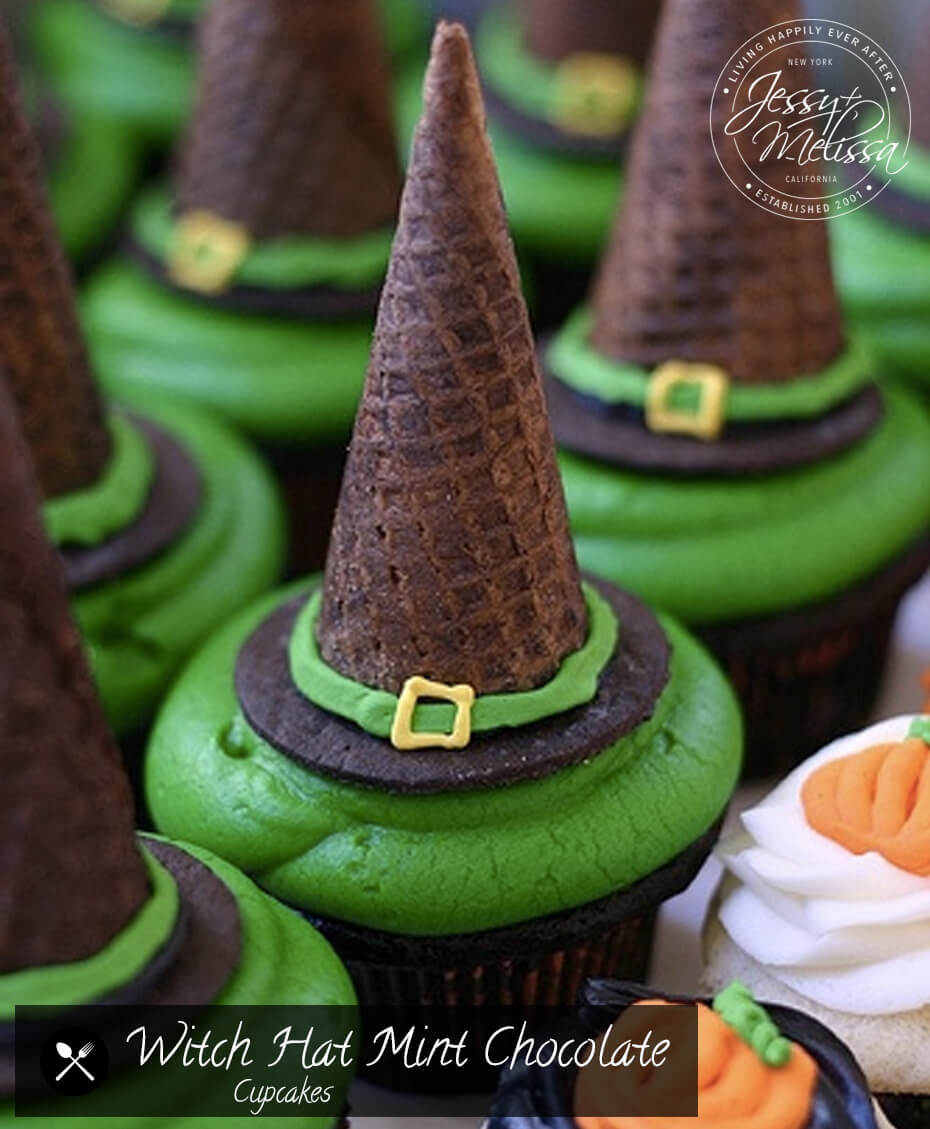 Get hold of some ice cream cones to make witch hats for these amazing cupcakes.
Axe Cupcake: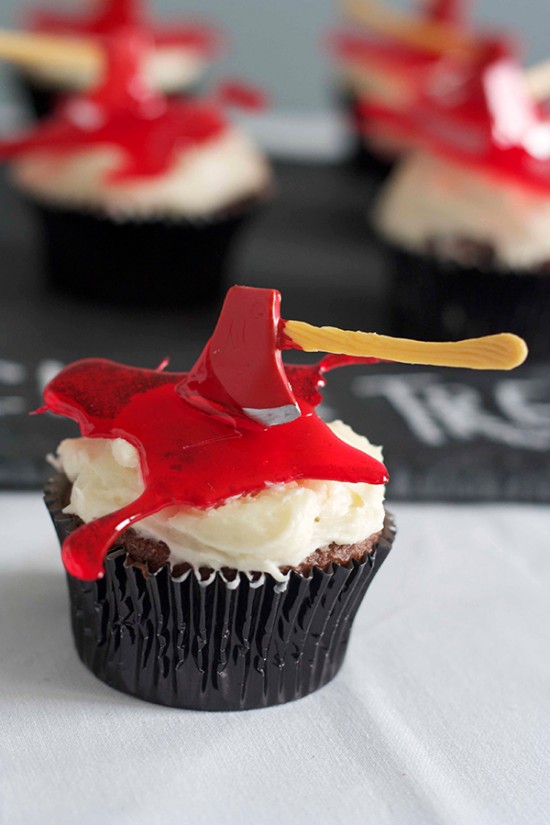 This cupcake reminds us of Patrick Bateman from "American Psycho", isn't it? The cupcakes are a bit gory, just perfect for Halloween.
Vampire Bite Cupcakes: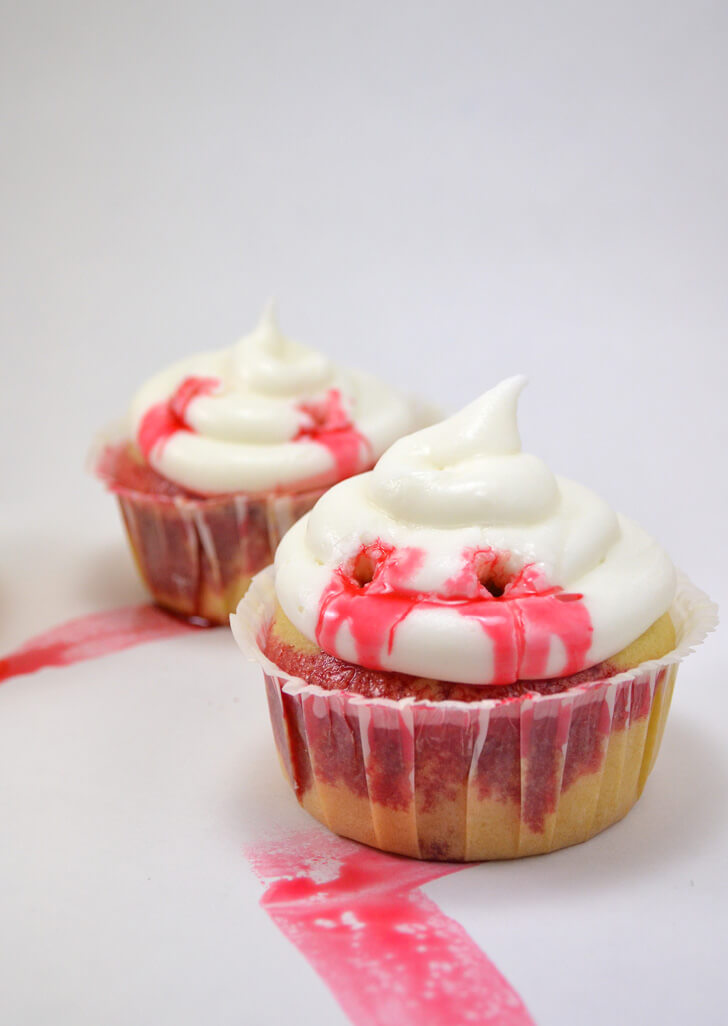 These cupcakes are punched with candy blood. And honestly speaking, they look very realistic. Can't wait to dig in.
Pumpkin Cupcakes: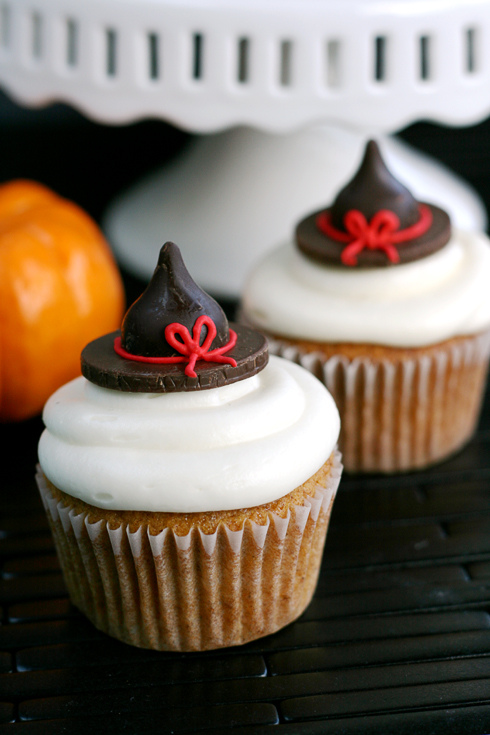 Put on your creative hats to makes these cute and adorable pumpkin cupcakes. The frosting looks really smooth here.
Cookies & Cream Tombstone Cupcakes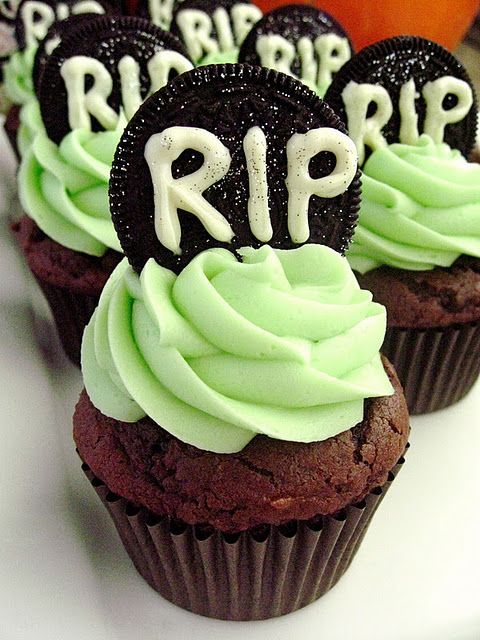 One of the easiest versions of tombstone cupcakes. And it's cookies and cream. What else do you want?
Creepy Halloween Cupcakes: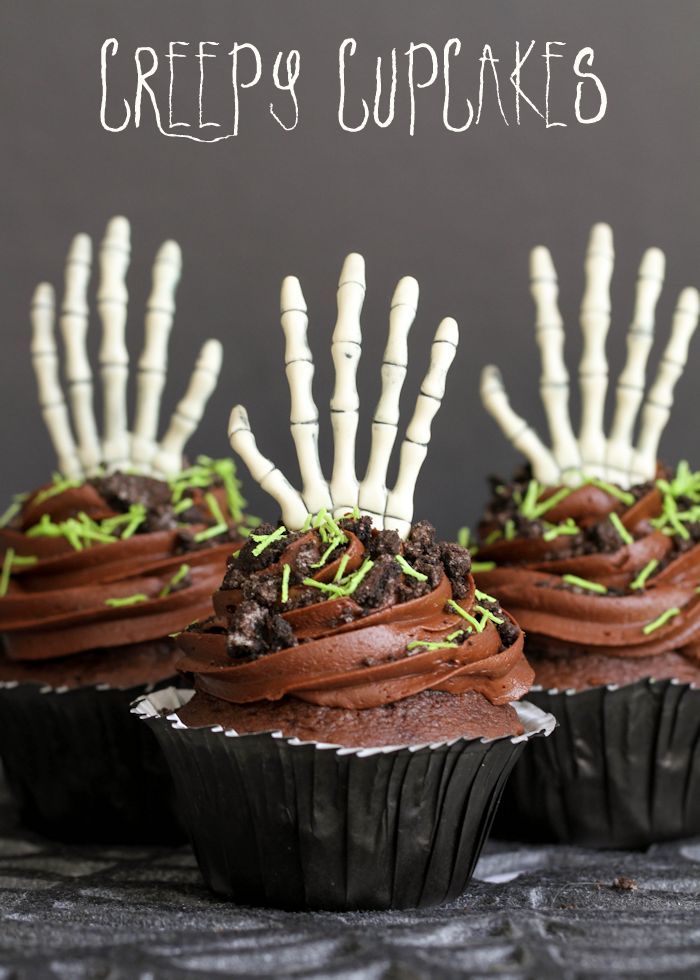 Creepy? Yes! But also amazingly made!
Broken Glass Cupcake: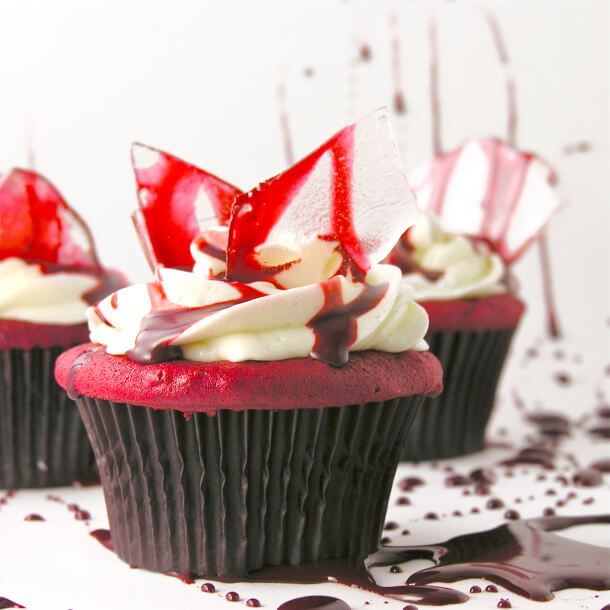 Broken glass cupcakes are highly popular during Halloween. So here's one for your reference.
Cauldron Cupcake: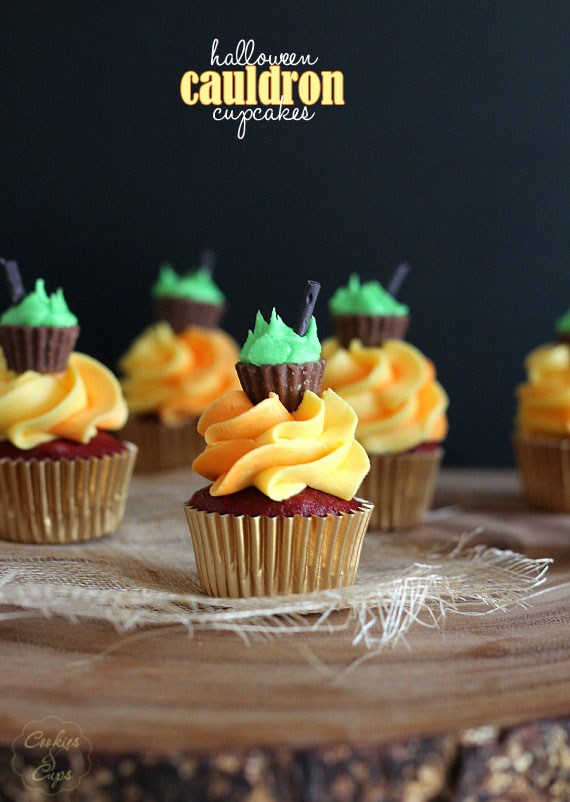 A very easy to make cauldron cupcake. At least children won't freak out seeing these cupcakes.
Meringue Ghost: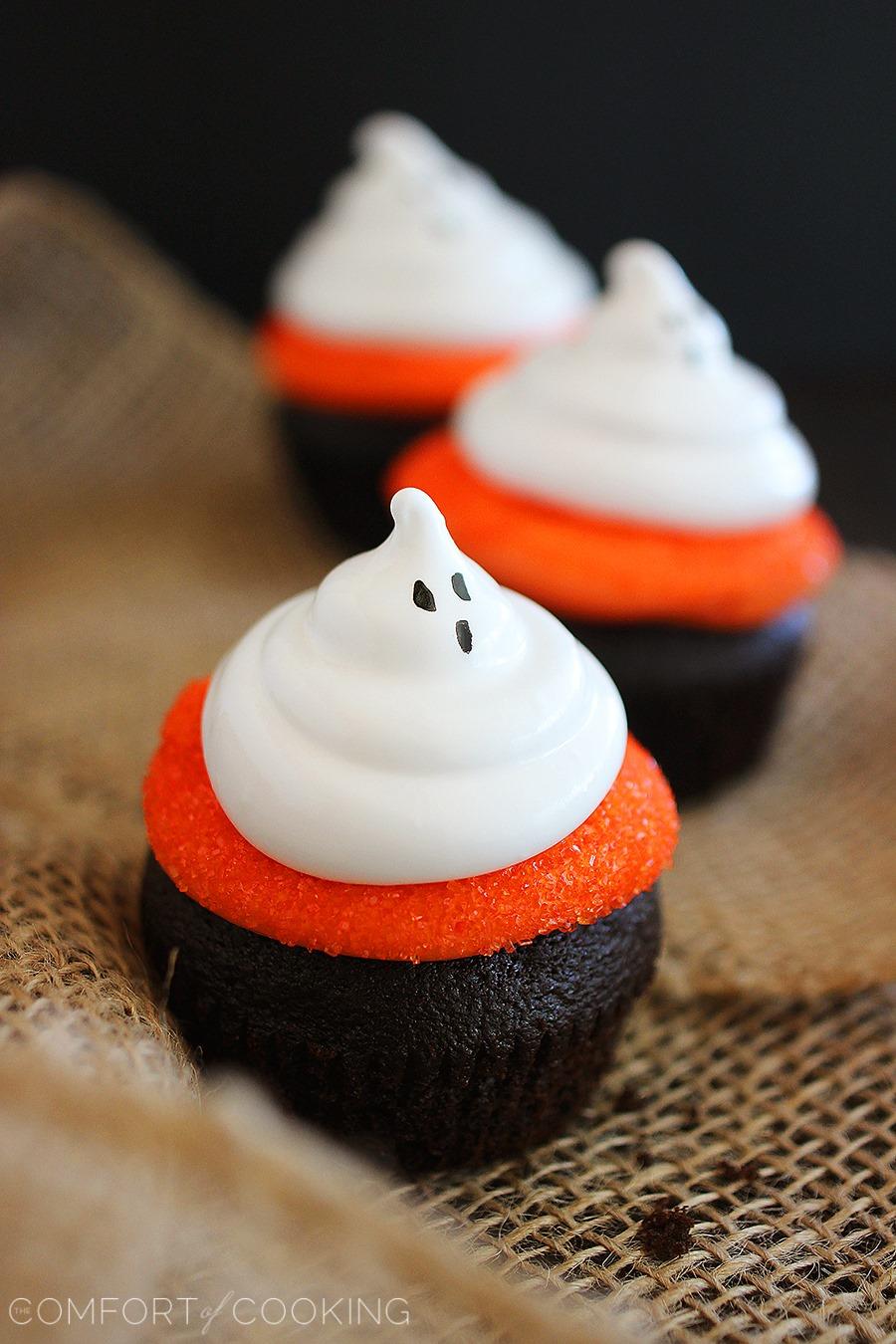 How cute are these meringue ghosts? Look at the expression!
We hope you find our list of Halloween cupcake recipes helpful. If you have any more to share, leave us a comment below.